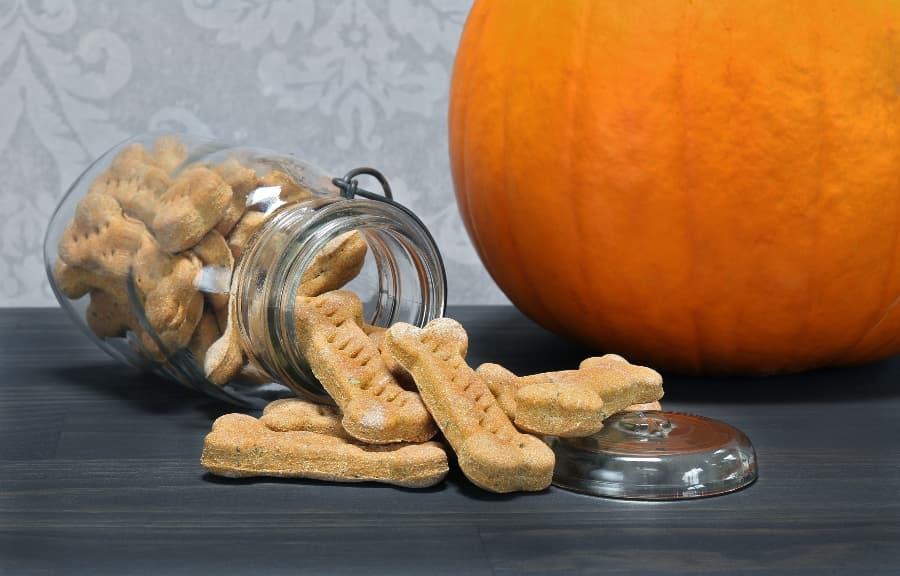 Let's make pumpkin spice season all year round with these irresistible homemade pumpkin dog treat recipes to spoil your pup. Every year around late September, we start to see signs of fall, and that means it's pumpkin season! Are you a pumpkin spice junkie like us? Are you looking forward to all of your favourite fall desserts?
But what about Fido? It'd be a shame if he didn't get a taste of your favourite fall flavours. Pumpkin is a very versatile fruit. It's not only generally loved by dogs, but it's loaded with nutrients that can help support your dogs health.
Is Pumpkin Good for Dogs?
Pumpkin is becoming a common ingredient in dog food and dog treats, but why? Sure it's tasty, but is pumpkin good for dogs?
Check out a few of our favourite benefits of pumpkin for dogs:
Digestion
Regularly feeding your dog pumpkin is a great way to support digestion, nutrient absorption, and consistent bowel movements. Pumpkin is also recommended during times of digestive distress as temporary support for dogs who are recovering from illness.
Pumpkin is one the most natural digestive aids for dogs (and cats, and people, too!). The fibre in pumpkin helps to regulate the speed of digestion, lessening symptoms of both diarrhea and constipation.
Weight Loss
Another benefit of the high fibre content of pumpkin is its ability to support weight loss. Pumpkin is filling, so it can help your pooch feel fuller for longer without adding extra calories.
Replacing a small amount of your dog's food with a tablespoon or so of pumpkin can support your dog's diet changes and reduce begging and overeating. No dog likes to be put on a diet, but by feeding pumpkin, he might not even notice a difference.
Learn more about the benefits and facts about weight loss dog food to help your dog shed unwanted weight and keep it off.
Picky Eaters
If you have a picky pooch, you might be tempted to offer some people food or treats to bribe your dog into eating his dinner, but these flavour boosters aren't always healthy. Pumpkin is a great food topper option that most dogs absolutely love.
Canned pumpkin, like Fruitables Switch, can be added to any type of diet to provide a little extra excitement to the meal. This is especially helpful for dogs that are picky about texture. By adding a dollop of this creamy puree to dry kibble, you can have even the pickiest pets gobbling up their meals.
We love to share our snacks with our pets, but not everything we eat is safe for them too. Fortunately, there are a ton of ways to let your dog enjoy the taste of autumn with these 10 healthy, delicious, and simple homemade pumpkin dog treats.
Dog treats aren't just about the taste, though. Natural supplements and boosters can be added to your treat recipes to give your dog's diet some extra nutrients.
Tips for Making Homemade Pumpkin Dog Treats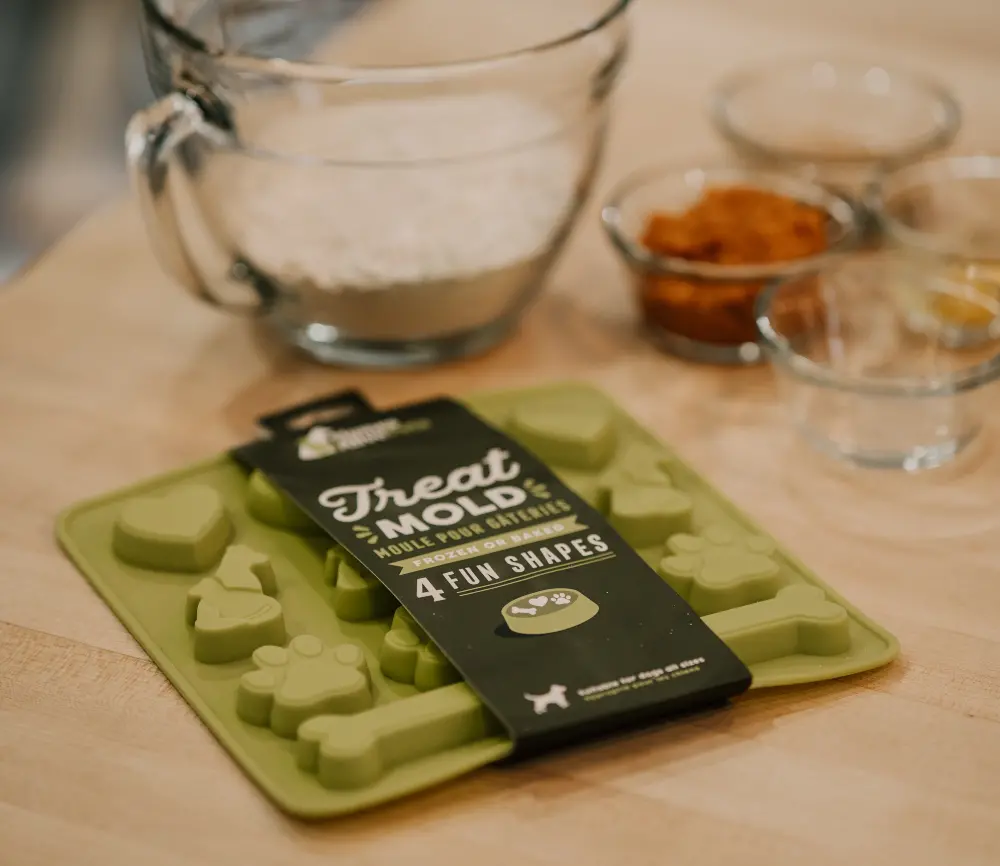 Are you ready to start baking? Before you start whisking and preheating, we have a few tips for making pumpkin dog cookies at home that will make your homemade dog treats healthier and tastier.
Use Treat Moulds
Use an oven-safe treat mould, like the Homes Alive Pets Silicone Treat Mold, to make the perfect-sized adorable dog cookies or frozen treats. This Treat mould is made from BPA and PVC-free silicone and is freezer, microwave, and oven-safe up to 450 F.
Try Canned Pumpkin
The easiest form of pumpkin to use is pure canned pumpkin, like Fruitables Switch Food Transition Supplement. The pureed pumpkin is easy to measure and mix into cooked or frozen dog treat recipes. No chopping, grinding, and none of the mess of using fresh pumpkins.
Another option for adding pumpkin to your homemade dog treats is dehydrated pumpkin. Diggin Your Dog Firm Up is a flaked, dehydrated pumpkin supplement that can be mixed with water to make only as much as you need.
Healthy Substitutions
Substitute highly nutritious liquids for water in homemade pumpkin recipes for dogs. Goat's milk and bone broth are both very flavourful and loaded with nutrients that can support digestion and dog skin and coat health.
10 Best Pumpkin Dog Treat Recipes
Making dog treats at home is a great way to ensure quality and flavour, plus it's fun! Even if you are not a pro in the kitchen, there are plenty of easy recipes for dog treats that anyone can learn to make at home.
With all the benefits of feeding your dog pumpkin, it's the perfect ingredient to add to your next dog treat recipe. Here are our favourite pumpkin dog treat recipes to give your furry friend a taste of fall.
1. Pumpkin Peanut Butter Dog Treats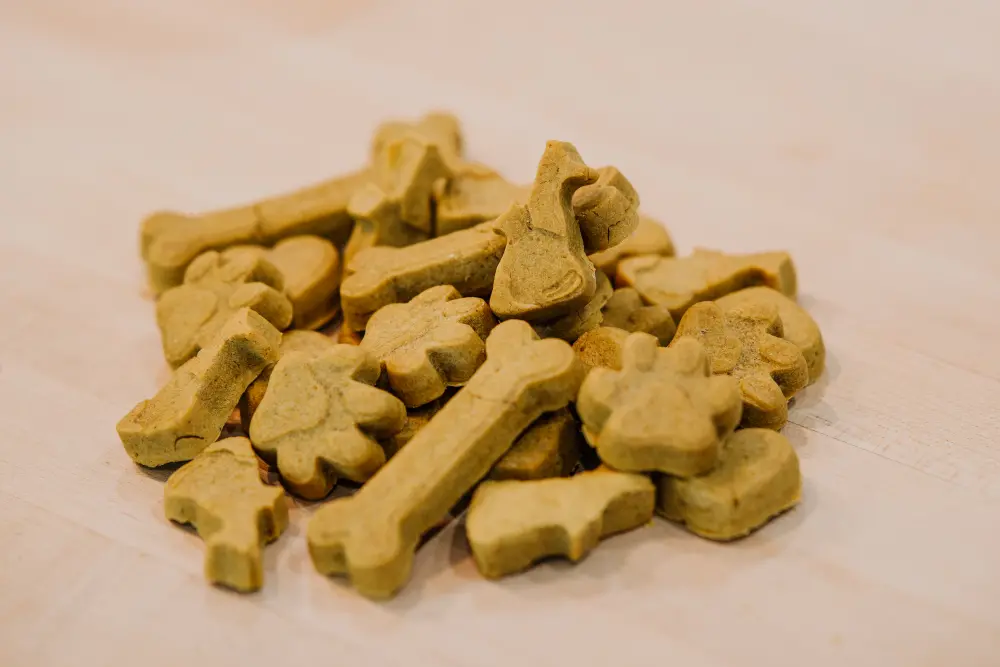 Photo Credit: Eatingbirdfood
Are there any two flavours that go together better for dogs? Pumpkin and peanuts are a staple in a lot of packaged pumpkin dog treats, which makes them some of the most popular ingredients for homemade dog treat recipes.
One of the reasons that peanut butter is an ideal ingredient for dog treats is that is a great binding agent in dog cookie recipes. This simple recipe uses healthy ingredients like pumpkin, peanut butter, whole wheat flour, and a dog-friendly bone broth of your choice to make simple, crunchy biscuits that your dog will love.
Make sure you use pet-safe peanut butter. Some peanut butter brands contain Xitytol, an artificial sweetener that is highly toxic to dogs. Use your favourite cookie-cutter shapes or an oven-safe treat mould.
Learn how to make Instagram-worthy pumpkin dog treats at home
2. Dehydrated Pumpkin Dog Treats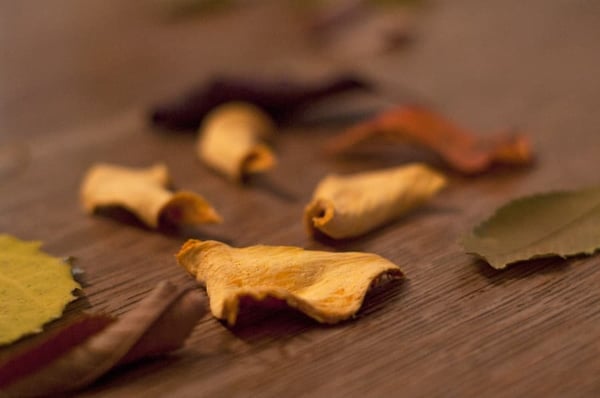 Sometimes the best treats are the ones with just one ingredient. Dog cookies are fun and cute, but not every dog can handle all the extra ingredients, like wheat or eggs. Keep it simple with this dehydrated pumpkin recipe.
Don't have a dehydrator? Us neither. You can just as easily use your oven and baking sheet to make these chewy dehydrated pumpkin dog treats.
Find out how to get started in this helpful recipe from Lazybudgetchef.com
Not sure if your dog will like pumpkin chips? Why not try ValuePack Pumpkin Strips to find out if it's worth going through the trouble of making these dog treats at home?
3. Frozen Pumpkin Dog Treats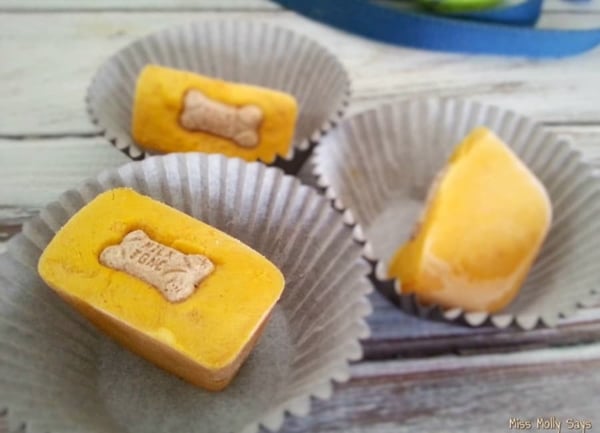 Photo Credit: Missmollysays
Looking for a no-bake recipe? Then frozen pumpkin puree dog treats are just what you need. These super easy treats can be whipped up in minutes and frozen into individual portions for later treating, or can be used as a delicious meal topper.
Use an ice cube tray, or for an even cuter option, grab a set of our super adorable frozen treat moulds. The possibilities are endless with frozen treat recipes.
Here is a fun and easy frozen pumpkin dog treat recipe to help you get started
If your dog is a fan of this recipe, then check out one of our other recipes in Two-Ingredient Frozen Dog Treats.
4. Pumpkin Oat Dog Treats Recipe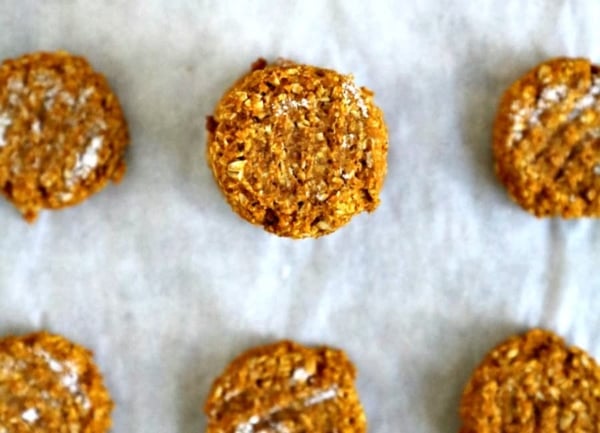 Photo Credit: Pookspantry
For dogs that are watching their weight, try swapping out the wheat for a low glycemic whole-grain, like oats. Oats are high in fibre but have a lesser effect on blood sugar levels than other grains like wheat.
With just one egg, some old-fashioned oats, and some tasty pumpkin puree, you can make an easy dough that can be cut into whatever adorable shape you want.
Here's the full recipe from pookspantry.com
5. Pumpkin Bacon Dog Treats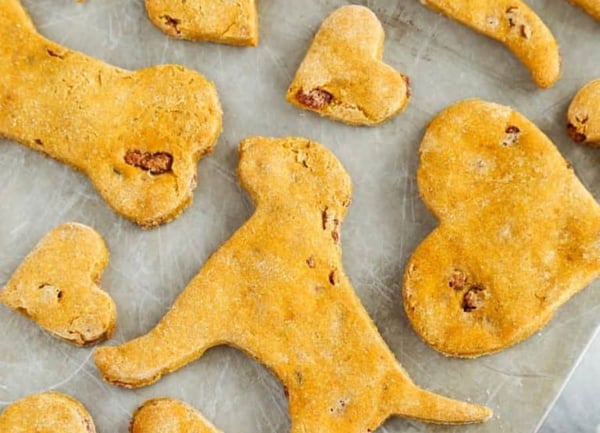 Photo Credit:Afarmgirlsdabbles
No dog can pass up bacon, so why not give them what they want? These savoury snacks are perfect for picky dogs that just won't settle for less than the meatiest of flavours.
This is the perfect blend of all your dog's favourite flavours, like pumpkin, peanut butter, and of course tasty, tasty bacon. A crunchy cookie with little pockets of bacony goodness will have your dog chomping at the bit.
Here's the full recipe for this yummy snack
6. Salmon Pumpkin Dog Treats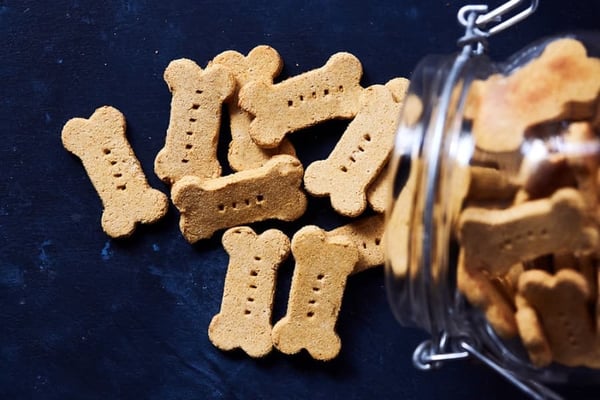 Photo Credit: Tasty-yummies
Whether you are dealing with dog food allergies or just looking for a fun new flavour combo, these fishy pumpkin dog food recipe cookies are going to be a crowd-pleaser.
Salmon is rich in healthy omega fatty acids 3 and 6, which have natural anti-inflammatory properties to support skin & coat and digestion. Plus, dogs can't get enough of that fishy flavour. What makes this salmon pumpkin dog treat recipe even better is that it's grain-free and low glycemic.
Hop over to Tasty Yummies to see the how recipe
7. Two Ingredient Pumpkin Dog Treats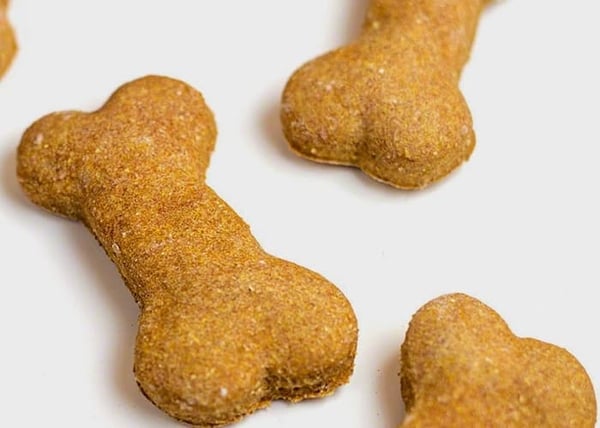 Photo Credit: Bakeatmidnite
Not so handy in the kitchen? That's ok. Not all dog treat recipes require a lot of culinary skills. Some of the simplest recipes can be the tastiest too. This recipe is more of a baker's choice when it comes to ingredients, but we highly recommend pumpkin puree for this one.
What could be easier than two ingredients? That's right! Mix the flour of your choice with some pureed pumpkin and simply roll and cut to your favourite shapes.
Check out the full recipe here and get creative!
8. Pumpkin and Banana Dog Treats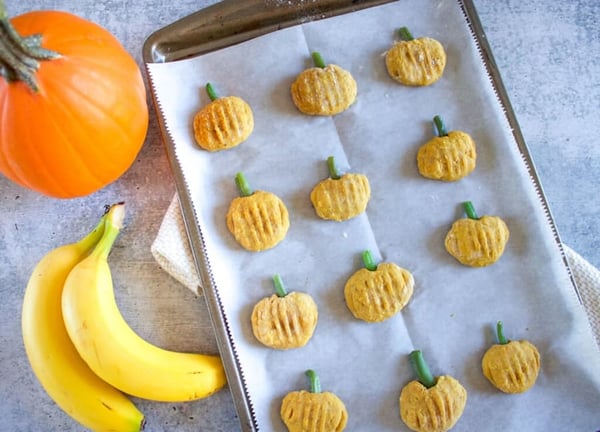 Photo Credit: Theproducemoms
Another nutrient-dense dog-friendly fruit is Bananas. High in both potassium and vitamin B6, bananas are an excellent fruit for active dogs. Potassium helps support muscles and nerves, and vitamin B6 helps in the synthesis of fats and proteins.
Pumpkin banana dog treats also perfectly complement the flavour and nutrient profile of pumpkin, so add in an egg and some flour to make cute little pumpkin cookies. Use a piece of green bean for a stem, and you'll have authentic-looking pumpkin cookies.
Learn how to make your own pumpkin and banana dog treats
9. Pumpkin Applesauce Dog Treats Recipe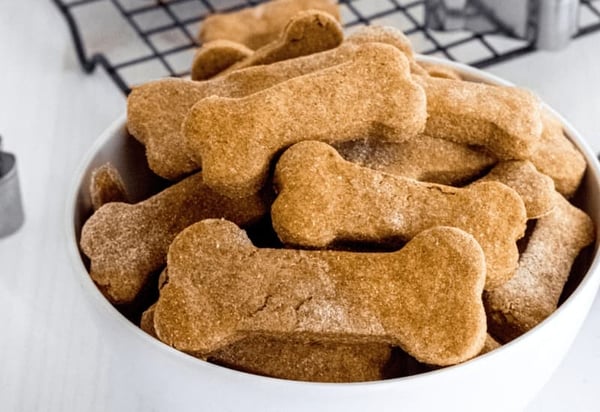 Photo Credit: Realhousemoms
Apples are another favourite dog fruit, and applesauce is a common substitute for oil or dairy in human baking, so why not use it in your homemade dog cookies too. Stick to unsweetened applesauce to make sure your treats are safe and healthy for your pooch.
Apples are loaded with essential nutrients like vitamin A and C that can support your dog's skin and immune system. Plus, apples are rich in a naturally occurring sugar called pectin, which helps support digestion by feeding your pup's healthy gut bacteria.
With whole wheat flour, a dap of nutrient-dense coconut oil, and a sprinkle of cinnamon, you can easily make a super healthy and tasty doggy snack.
Make these pumpkin and applesauce dog treats at home
10. Pumpkin Ginger Dog Biscuits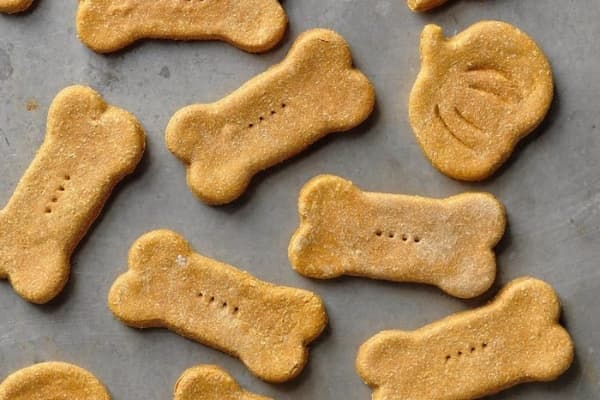 Photo Credit: Preprod.tasteofhome
Did you know that ginger can help soothe an upset puppy's tummy? A little bit of ginger can encourage movement in the stomach and speed up the digestion process. This is great for dogs that are feeling nausea from overeating or eating something that didn't agree with them.
Ginger also has anti-inflammatory properties, so when digestive issues are caused by irritation in the digestive tract, ginger can help to reduce inflammation and allow the body to heal itself.
Ginger is a potent flavour, so just a small dash of fresh ground ginger is plenty for this tummy-friendly DIY dog treat.
Check out the full pumpkin ginger dog treat recipe
Can Dogs Eat Pumpkin Pie
Pumpkin is so healthy and so delicious you might be tempted to give your dog a taste of your holiday dessert. If they can have pumpkin, then what about pumpkin pie? Can dogs eat pumpkin pie?
Sadly, the answer is no. Pumpkin by itself is great for dogs, but pumpkin pie contains many other ingredients that are not so good for your dog and one that is very toxic.
Let's start with the most dangerous ingredient for dogs in your pumpkin pie - Nutmeg. Nutmeg is toxic for both dogs and cats. In high enough quantities, nutmeg can cause seizures, high blood pressure and disorientation.
You might be thinking, "well, I could just leave the nutmeg out of the recipe!"
Even though nutmeg is the only highly toxic ingredient, pumpkin pie is loaded with sugar that can quickly lead to some digestive issues. Dogs that eat too much sugar are going to have some loose stool, gas, and an upset tummy.
DIY Pumpkin Pie For Dogs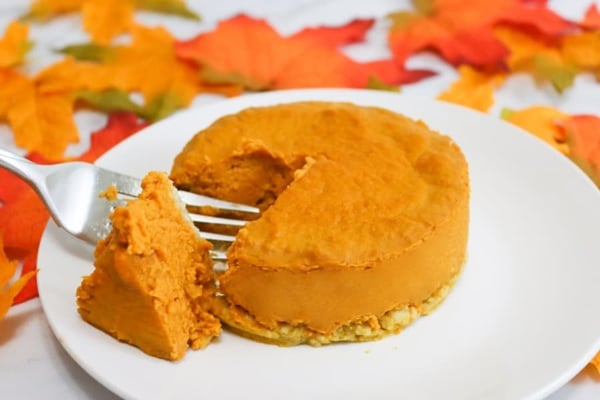 Photo Credit: Easyrecipewithfoodie
As tempting as it might be, don't share your pumpkin pie with your pooch. Do one better and make them their own dog-safe pumpkin pie, instead.
Skip the canned pie filling and sugary crust and stick to safe, natural ingredients like pure canned pumpkin and a simple oat flour crust to give your dog a tasty and healthy holiday dessert.
To give your dog's dessert that authentic look of homemade pumpkin pie, add a dollop of plain greek yogurt instead of whipping cream and a tiny sprinkle of cinnamon.
Check out the full recipe for even more tips for making DIY Pumpkin Pie for Dogs
How to Make Dog Treats With Pumpkin Guts
If you are carving your own pumpkin for Halloween, then you might be wondering what to do with all those slimy pumpkin guts. You might be familiar with cooking and eating the seeds, but those stringy guts can be used to make delicious snacks for your pooch.
There is no need to waste any part of your spooky decoration. The guts of the pumpkin have many nutrients and are loaded with that pumpkin flavour that dogs love.
Homemade Pumpkin Puree for Dogs
This one is so easy. Just separate the seeds from the pumpkin guts, and toss them in a food processor. Blend the pumpkin guts until you get the smooth texture you want. You can add a little coconut oil or a sprinkle of cinnamon to boost the nutrition and taste of your pumpkin puree.
This puree can be added to your favourite pumpkin dog treat recipes or used as a tasty food topper. Just store it in the fridge for up to a week, or freeze it for later recipes.
Can Dogs Eat Pumpkin Seeds?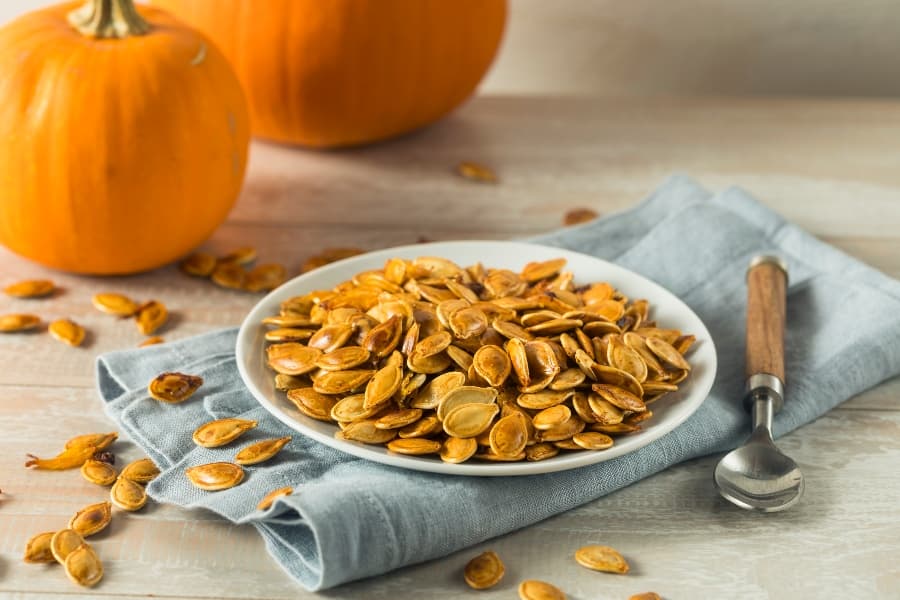 Have you ever finished carving a pumpkin and toasted up the pumpkin seeds for a nice and healthy snack for yourself? Well, quit hogging all the snacks because you can share this one with your pooch.
Before you start offering your dog pumpkin seeds, it's important to know how to prepare them safely. Like most seeds, pumpkin seeds have a shell, and even though these shells are quite soft, they can be a little harder to digest.
The majority of the nutrients are from the seeds and not the shell, so it's best to remove the shells to give your dog a more nutrient-dense and easily digestible treat. In fact, whole seeds, in general, are typically safe, but digest easier when they are ground up.
Benefits of Pumpkin Seeds for Dogs
You might be wondering why you should even bother feeding pumpkin seeds to your dog. Pumpkin seeds are highly nutritious and offer a nice boost of essential vitamins and minerals that can support your dog's health.
Here are a few benefits of pumpkin seeds for dogs:
Blood Sugar
Pumpkin seeds are rich in magnesium, which can help to regulate blood sugar levels. Stabilizing blood sugar can help to reduce craving and overeating habits in chubby dogs and can help distribute calories better to help your dog build muscle.
Antioxidants
The seeds of the pumpkin are particularly high in antioxidants that can support skin and coat health, immune system, and fight disease-causing free radical cells.
Fatty Acids
Pumpkin seeds also contain a variety of omega fatty acids that support overall health from several fronts. Their natural anti-inflammatory properties can improve your dog's skin and coat, boost your dog's immune system, and support good digestion.
Get Creative in the Kitchen
If you are new to making your own pumpkin oatmeal dog treats at home, then we recommend trying out a few recipes to find your dog's favourite flavours. Of course, pumpkin is the staple of all our recipes, but don't be afraid to get creative with your recipes.
A little bit of fresh spinach or some shredded carrots can be a great inclusion to your next dog treat recipe. Check out our favourite dog-safe vegetables to find more ways to add nutrients and flavour to your homemade dog treats.
Not quite sure if your dog is a pumpkin fan? Start with a high-quality packaged Pumpkin Dog Treat from the pet store. Check out our 12 Favourite Pumpkin Dog Treats to get you started.
Is your dog a pumpkin fanatic? Share your pumpkin recipes for dogs with us in the comments below!