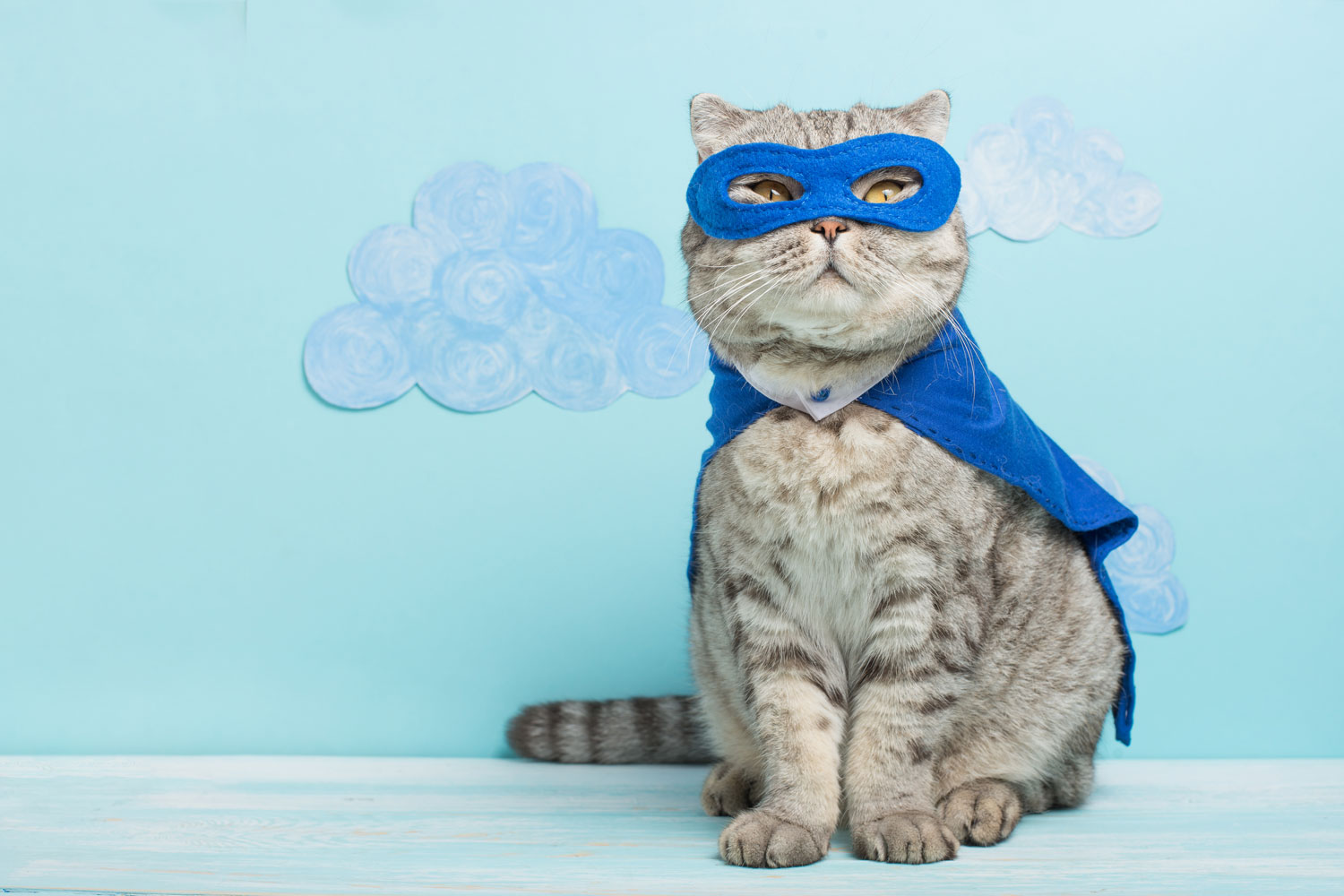 Whether you are gearing up for a spooky Halloween party or just want some adorable and memorable photos, you want a pet costume that is cute, creative, and yet easy enough to put together in minutes.
Quality-made dog clothes can be practical, but for fun events like Halloween, these easy DIY pet costumes for dogs are sure to please but simple enough that anyone could pull them off (and they don't break the bank).
Additionally, most of these are comfortable enough that even sensitive pets shouldn't have a problem wearing them. Here are 15 Easy, Simple DIY Pet Costumes:
1. Simple Spider Pet Costume
Spider dog, spider dog, does whatever a spider dog does! This simple spider costume is super easy to make and great for dogs who don't like wearing costumes. There's not a big cost involved, and just a short trip to the craft store or dollar store, and you should be all set for this one.
It really is that easy to turn your dog into a spooky Halloween critter. Just keep them off the ceiling, please!
Difficulty Level: 2/5
Materials: Thick black pipe cleaners
2. Beanie Baby Pet Costume
Is your dog or cat cute enough to be a Beanie Baby? It doesn't get any easier than this DIY Ty Beanie Baby costume. Guaranteed you have materials for this at home. In 10 minutes, your dog can have an adorable, creative outfit for tricks (but mostly treats). No tutorial required!
Difficulty Level: 1/5
Materials: Paper, scissors, markers (or printer), cardboard could help for sturdiness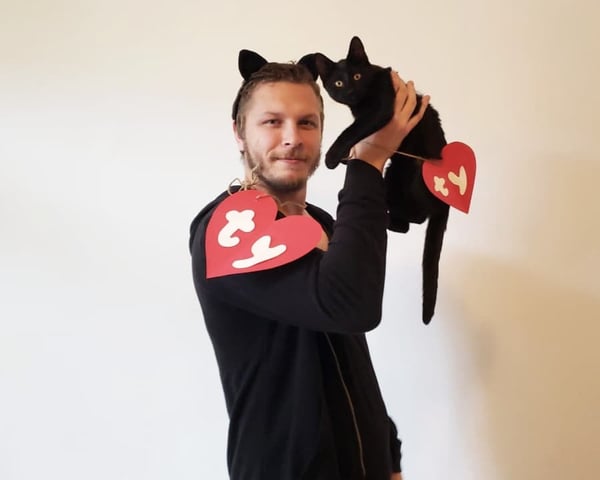 Photo Credit: Meowbox
Another idea that works great for large breed dogs, especially if they are brown, is to cut out a square and draw the Scooby Doo logo. Pair it with a blue or teal collar and Zoiks! You are ready to go trick or treating for Scooby Snacks!
3. TMNT Costume
Cowabunga, dude! Transform your dog into your favourite hero in a half-shell! This simple costume can be made with only a few simple materials. To create your dog's ninja turtle costume, just grab an old t-shirt or a dog sweater and a disposable basting pan for the shell. Then just get creative!
Difficulty Level: 3/5
Materials: Foam sheets, old shirt, or dog sweater, non-toxic paint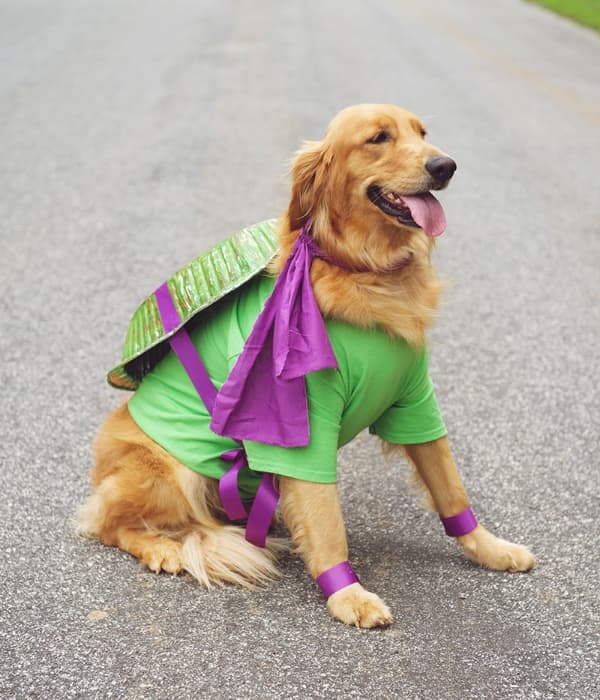 Photo Credit: Craftsbycourtney
4. Ballerina Costume
If your dog is graceful and elegant, then they need a costume to match. If your dog is a huge clutz, then they can ironically don this adorable ballerina costume. This dog tutu costume is simple and pretty, and unlike kid/baby tutus, its bare underbelly won't get soiled by potty breaks.
Difficulty Level: 4/5
Materials: Fabric elastic, tulle, velcro fastener (although you could skip this part)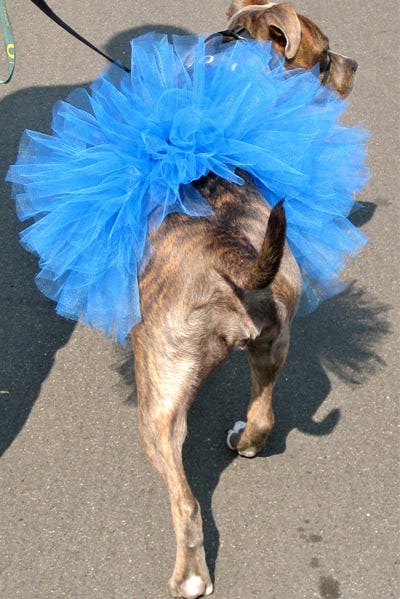 Photo credit: Pitlandia.blogspot
5. Pinata Pet Costume
Find an old dog sweater. Hot glue fringed strips of crepe paper (or my suggestion would be felt for a more durable costume) to it. That simple. See the full tutorial dog pinata costume.
Difficulty Level: 5/5
Materials: Old dog sweater, crepe paper or felt, hot glue gun
Photo Credit: Modpodgerocksblog
6. CTO(Chief Treat Officer) Pet Costume
This is so, so easy. Just cut and glue. And did we mention it's absolutely adorable? In just minutes, your dog can become a dapper business dog, ready to wheel and deal for his favourite goodies!
Difficulty Level: 1/5
Materials: Hot glue gun, old tie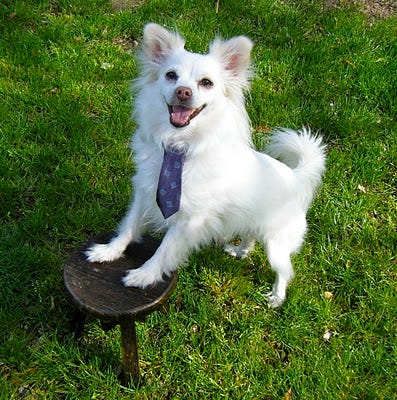 Photo Credit: Sew Doggystyle
As simple as this costume is, you might be looking for something even simpler. Don't worry. We got you! The Fuzzdog Mr. Carrington Necktie is the easiest instant pet costume. The white collar and polka dot neck tie combo will have your dog looking like he's ready to storm the boardroom!
7. Super (Easy) Pet Costume
Dogs are not the hero we deserve, but they are the hero we need! Ever thought your dog or cat would look great in a cape? She totally would. And this DIY superhero costume is so easy! Be as creative or as lazy as you want with this one. Some extra felt can be cut out to make a custom logo or a copy of your dog's favourite superhero!
Difficulty Level: 2/5
Materials: Fabric, velcro fasteners, hot glue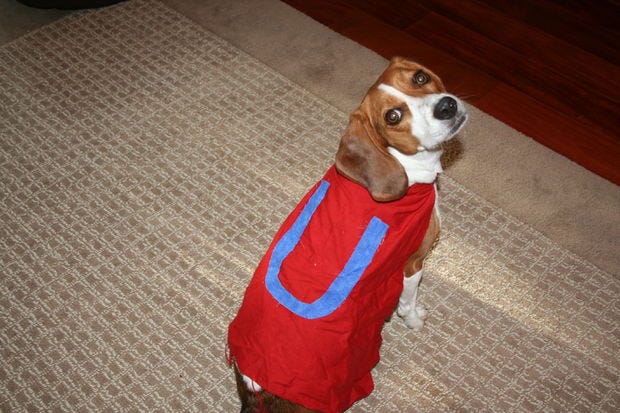 Photo Credit: Instructables
8. Pet Groom Costume
Want your dog to look sharp on Halloween? Why not try to make your own DIY dog groom costume? This design is easy to wrap around your dog's colour, making it comfortable and secure for your Halloween adventures.
Not feeling crafty? That's ok. You can create a quick formal look with the FunDog Tuxedo Bandana. Now all your dog needs is a lady friend!
Difficulty Level: 3/5
Materials: white button-up shirt, black felt, hot glue, 3 small buttons, scissors
9. Lego Dog Costume
For dogs who are a little more tolerant of DIY dog costumes, these cute dog costumes and easy DIY Lego brick gets top points for creativity. This is probably the pet DIY costume with the most steps involved on this page, and even then, it's not difficult.
While the original project used foam cylinders, you could easily swap toilet paper tubes or plastic cups for it, and paint could be used instead of foam sheets for colour.
Difficulty Level: 3/5
Materials: foam sheets (paint or felt would work, too), foam cylinders (or toilet paper tubes), fabric elastic for fastening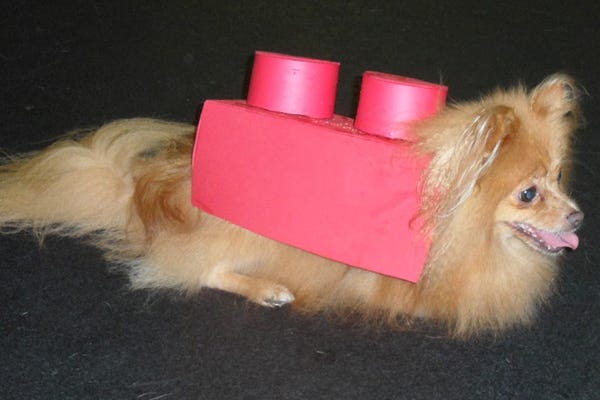 Photo Credit: Fivelegsbetweenus.blogspot
10. Unicorn Pet Costume
Who doesn't love a good pasteled rainbow unicorn, right? This DIY Unicorn pet costume may look professional, but it's easy enough to make yourself. This mythical pet costume is sure to have your trick or treaters cooing over your adorable dog.
Difficulty Level: 4/5
Materials: white felt, shiny gold fabric, hot glu, rainbow yarn, poly-fil, needle and thread, white ribbon, scissors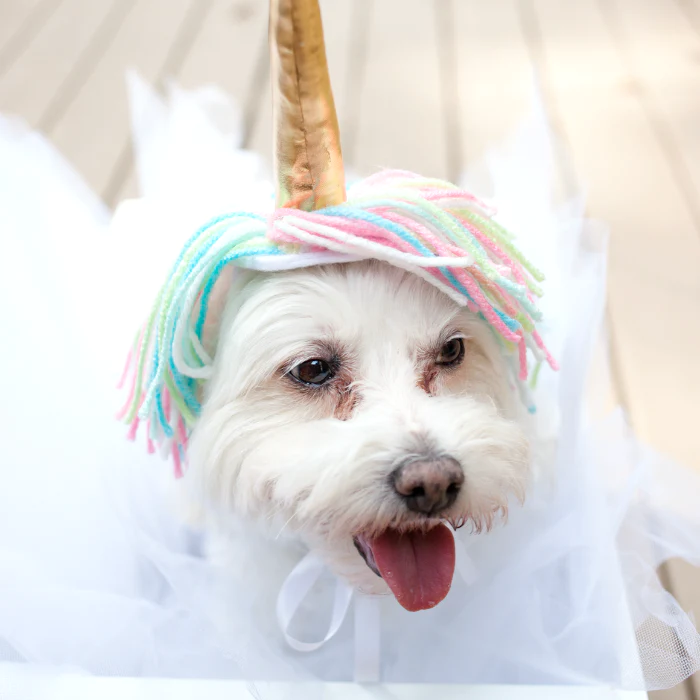 Photo Credit: Craft Box Girls
11. Shark Attack Dog Costume
Duun dun...duun dun..dundundundundun. This fun "couples" costume is so easy that even the uncraftiest of dog parents can throw together this simple last-minute costume idea.
Difficulty Level: 2/5
Materials: Foam board, long strip of stretchy fabric, self-adhesive velcro strips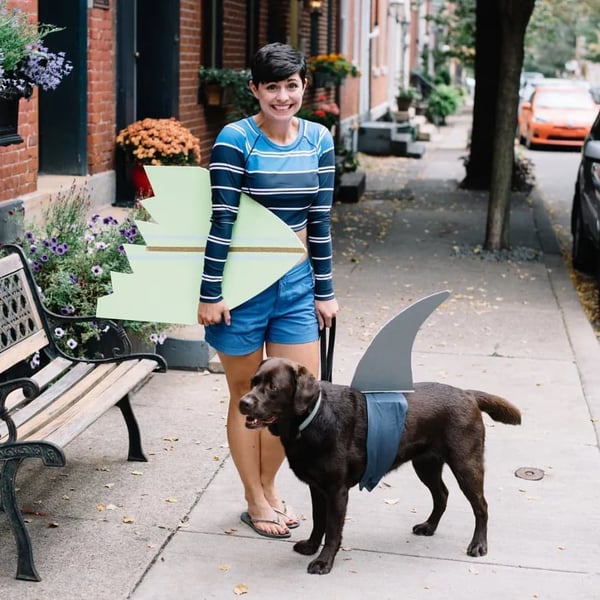 Photo Credit: Wearwagrepeat
12. Ewok Dog Costume
OK, so it's technically a teddy bear costume, but let's call a spade a spade, shall we? It's a very adorable Ewok costume for dogs. As long as you are willing to sacrifice a stuffed bear, then this costume requires no tools and no skill, and it's heckin' cute!
Difficulty Level: 1/5
Materials: A teddy bear or similar stuffed toy that is as tall as your pet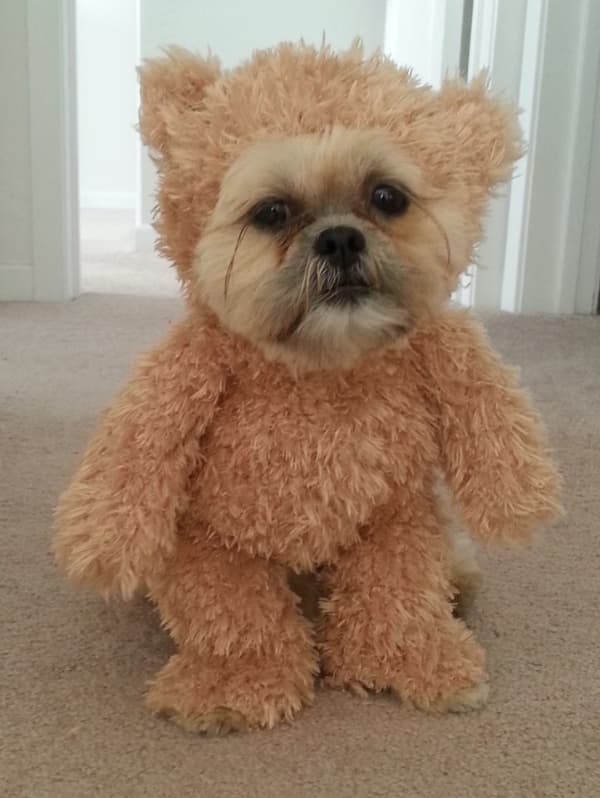 Photo Credit: Makezine
13. Martini Dog Costume
This is a really inventive idea, but would only work well for pets who don't mind wearing a cone collar (or if your pet already happens to be wearing one). Olives and a skewer can be made with a number of objects you have on hand at home or a few supplies from the craft store.
Difficulty Level: 2/5
Materials: clear dog cone collar, foam balls (hockey balls, etc.), non-toxic green and red paint, wooden dowel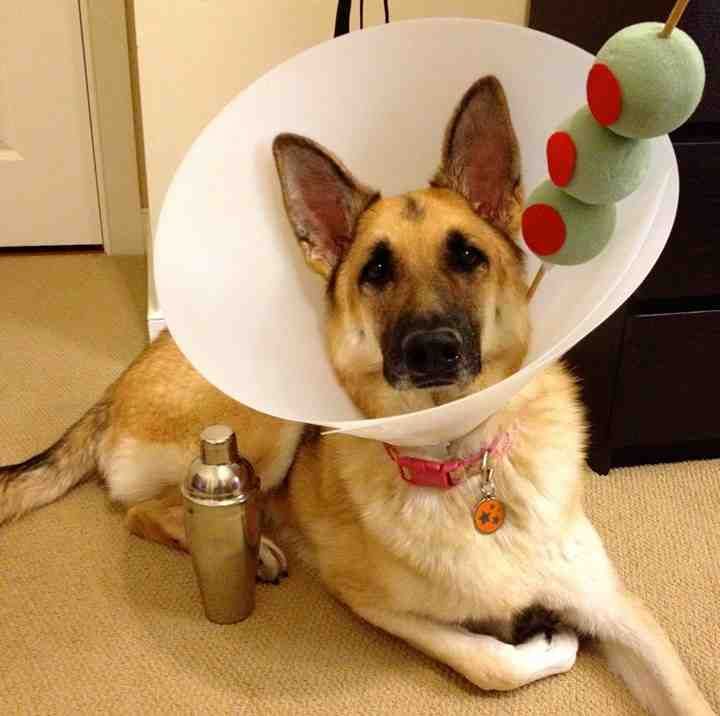 Source: Unknown
14. Spooky Ghost Costume
Another super simple but very classic costume idea for getting that perfect Halloween photo with your dog is the good old-fashioned white sheet with eye holes (and a snoot hole) cut out. This one won't be the easiest to keep on or walk in, but it makes for an excellent spooky photo shoot with your pup.
Difficulty Level: 0/5
Materials: a white sheet or pillowcase, scissors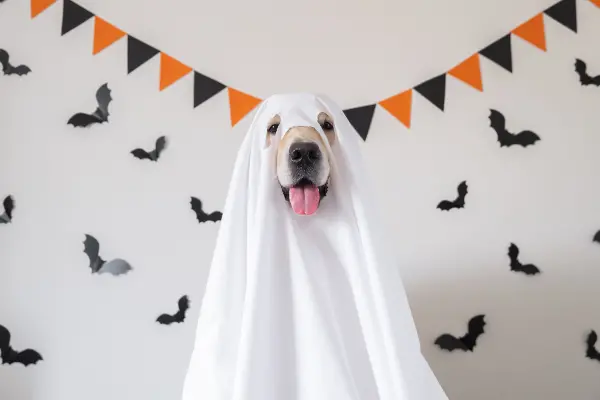 15. Corn Dog Costume
We just had to include this one. This corn dog costume is a little more complex than some of the others on this list, but the juice is worth the squeeze on this one. Hit up your local craft store for some basic materials and you can show your friends and neighbors just how much your dog loves corn!
Difficulty Level: 5/5
Materials: yellow pom poms, green felt, fabric glue, velcro dots, non-toxic green paint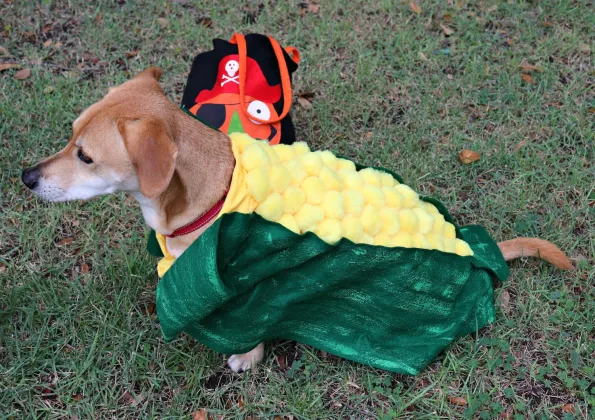 Photo Credit: Morena's Corner
Want more? Check out our gallery of 20 Funny, Creative, & Outrageous Pet Costumes, or check out the Best Pumpkin Treats for Dogs for some dog snacks worth trick or treating for. Happy Howl-oween!
Will your dog or cat be wearing a pet costume this Halloween? Post a pic and tag us @homesalivepets!