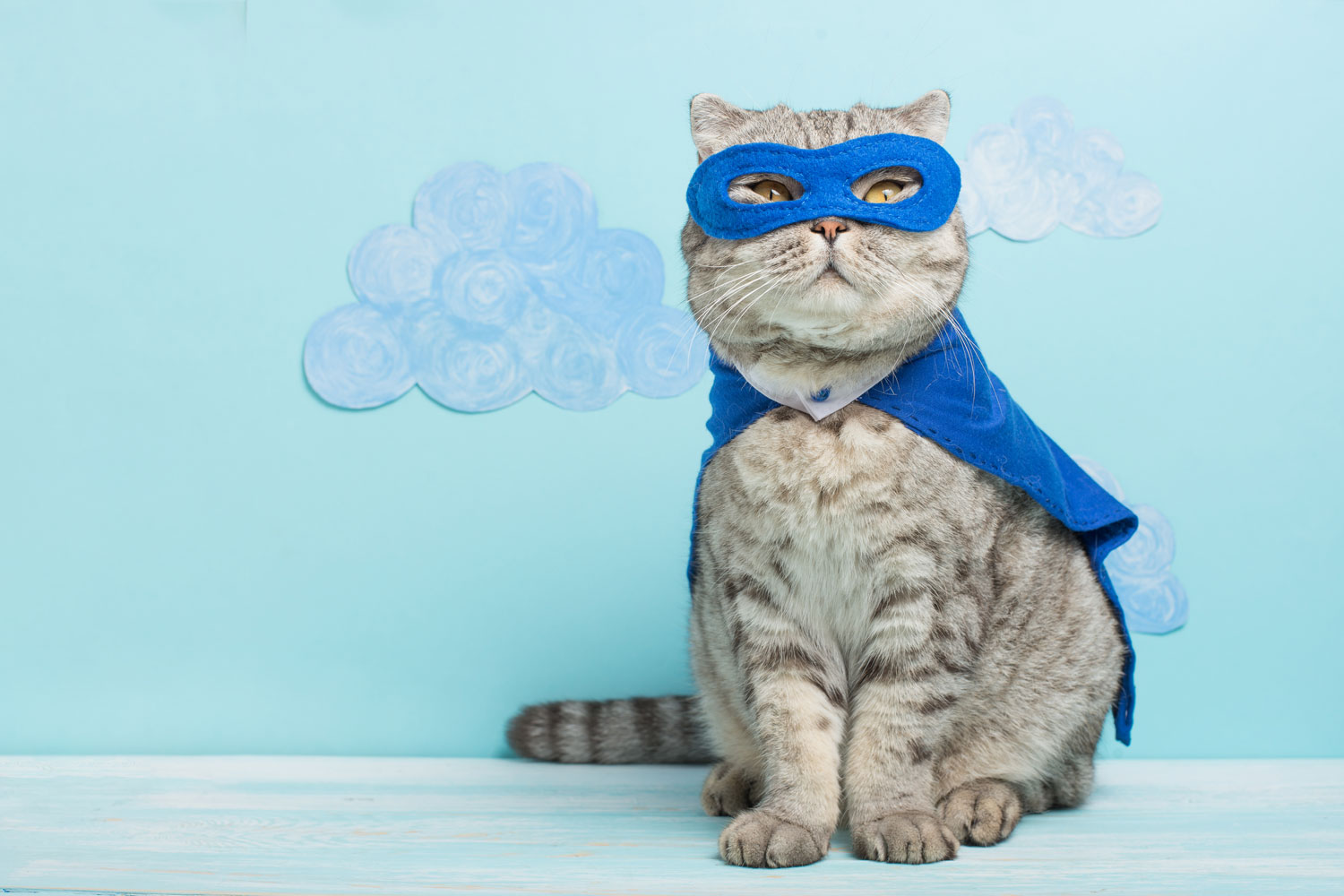 Whether you are gearing up for a spooky Halloween party or just want some adorable and memorable photos, you want a pet costume that is cute, creative, and yet easy enough to put together in minutes. Quality-made dog clothes can be practical , but for fun events like halloween, these easy DIY pet costumes are sure to please, but simple enough that anyone could pull them off (and they don't break the bank). Additionally, most of these are comfortable enough that even sensitive pets shouldn't have a problem wearing them.
Here are 15 Easy, Simple DIY Pet Costumes:
1. Simple Spider Pet Costume
You want a cute Halloween outfit for your dog, but he hates wearing them. This simple spider costume is super easy to make and great for dogs who don't like wearing costumes. There's not a big cost involved, and just a sort trip to the craft store or dollar store and you should be all set for this one (Unless you happen to keep dozens of pipecleaners around. We won't judge, honest.)
Skills: Twisting Pipecleaners
Materials: Pipecleaners
2. Beanie Baby Pet Costume
Is your dog or cat cute enough to be a Beanie Baby? It doesn't get any easier than this DIY Ty Beanie Baby costume. Guaranteed you have materials for this at home. In 10 minutes, your dog can have an adorable, creative outfit for tricks (but mostly treats). No tutorial required!
Skills: Virtually none
Materials: Paper, markers (or printer), cardboard could help for sturdiness
Source: Unknown
3. Easy Dinosaur Costume
Use an old kids' shirt, or try it with an older dog sweater that you already have. Make it no-sew by using hot glue.
Skills: Simple sewing (or hot gluing)
Materials: Foam sheets, old shirt or dog sweater
Source: The Next Bird
4. Tutu Costume
This tutu costume is simple, pretty, and unlike kid/baby tutus, its bare underbelly won't get soiled by potty breaks.
Skills: Simple sewing (or hot gluing)
Materials: Fabric elastic, tulle, Velcro fastener (although you could skip this part)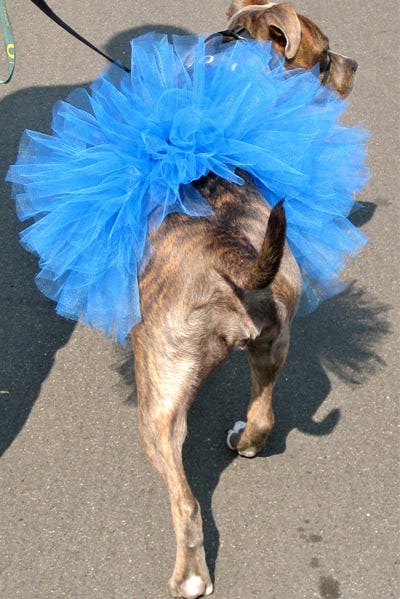 5. Pinata Pet Costume
Find old dog sweater. Hot glue fringed strips of crepe paper (or my suggestion would be felt for a more durable costume) to it. That simple.
Skills: Gluing
Materials: Old dog sweater, crepe paper or felt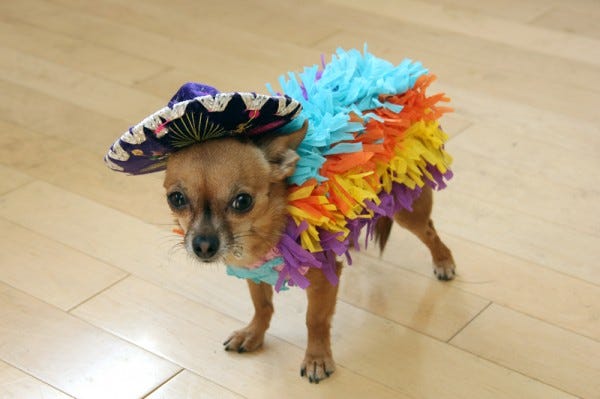 6. Horse and Rider Pet Costume
This easy horse and rider costume is original and very easy to make with a few materials.
Skills: Simple sewing or hot gluing
Materials: Two pieces of felt or fabric, old stuffed animal, fabric elastic for attaching "saddle", yarn for "bridle" (optional)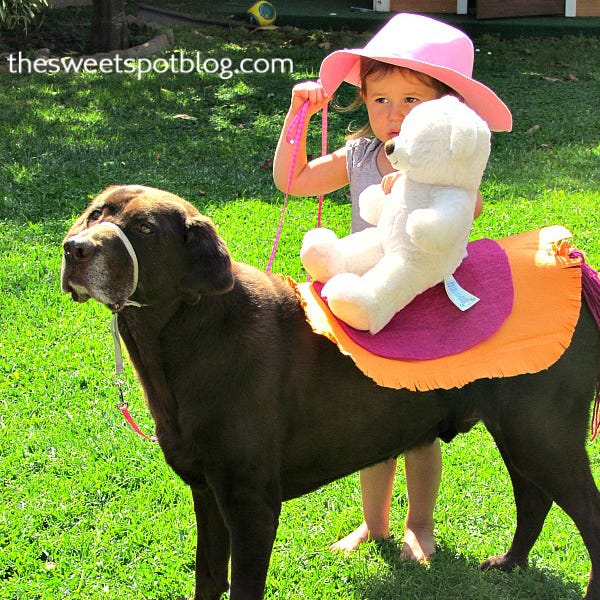 7. Tie Pet Costume
This is so, so easy. Just cut and glue. And did we mention it's absolutely adorable? I think this would work great for a dog in a wedding...
Skills: None
Materials: Glue, old tie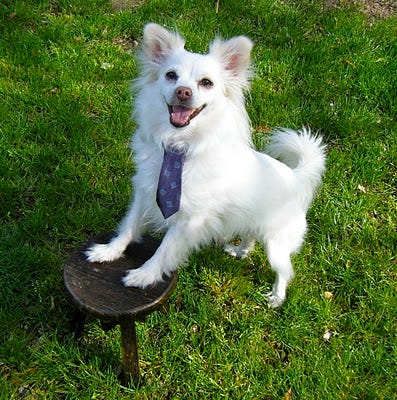 8. Super (Easy) Pet Costume
Ever thought your dog or cat would look great in a cape? She totally would. And this DIY is so easy, you can make that happen.
Skills: Gluing
Materials: Fabric, Velcro Fasteners, Glue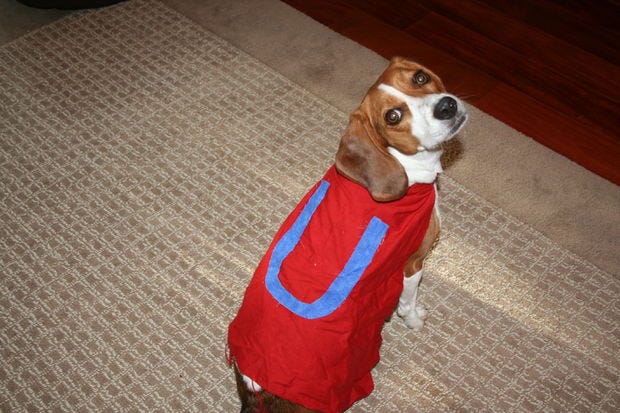 9. Pet Bride and Groom Costume
What a cute costume for a pair of pets! There are many simple ways you could recreate this DIY, using tulle affixed to a collar for a bride's veil, or attaching a homemade or costume bow-tie to a collar for your groom. Or, if you are short on time and skills, or simply want a more professional look, you can buy this for a good deal straight from the Etsy merchant.
Skills: None!
Materials: tulle or costume veil, costume bow-tie or ribbon/felt to make your own, ribbon, glue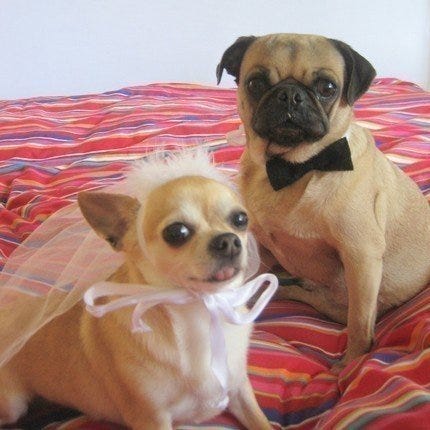 10. Lego Dog Costume
For dogs who are a little more tolerant of dog costumes, this cute and easy DIY gets top points for creativity. This is probably the pet DIY costume with the most steps involved on this page, and even then, it's not difficult. While the original project used foam cylinders, you could easily swap toilet paper tubes or plastic cups for it, and paint could be used instead of foam sheets for colour.
Skills: Gluing
Materials: foam sheets (paint or felt would work, too), foam cylinders (or toilet paper tubes), fabric elastic for fastening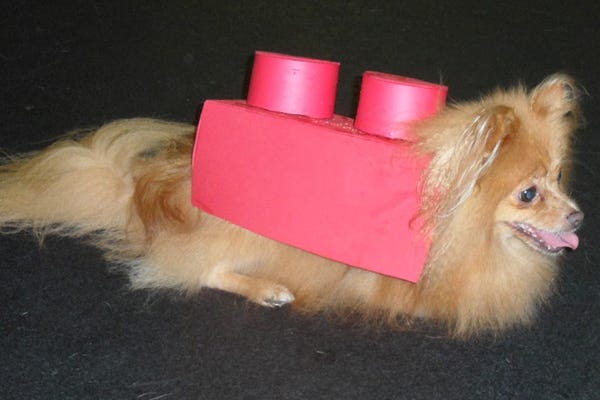 11. Tuxedo Pet Costume
This costume works especially well if you have a black dog or a cat. Just find an old dress shirt and use some scissors to make a quick collar. To be safe, affix a Velcro fastener instead of the button for easy removal.
Skills: Scissor skills
Materials: Old dress shirt, Velcro fasteners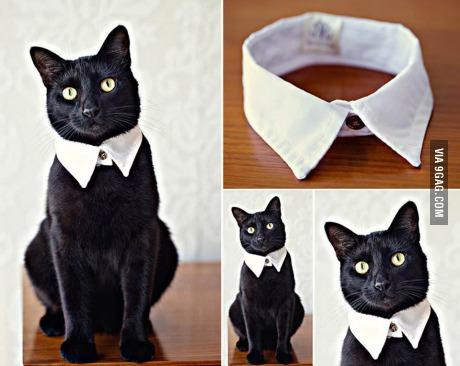 12. Flower Pet Costume
This simple sew flower pet costume is easy if you have some rudimentary sewing skills, but you can also get by just gluing fabric or cardboard "petals" onto an old collar.
Skills: Simple sewing, hot gluing
Materials: Fabric (or Cardboard) for petals, Fabric elastic (or an old collar)
13. Pop Case Dog Costume
This is a choice one for all you self-confessed procrastinators. If you have an empty pop case (or a full one that can be emptied), it can make a super simple and funny small dog costume in a pinch. This one may need modifying for shorter dogs, but works great as is for daschunds.
Skills: None
Materials: Empty pop case box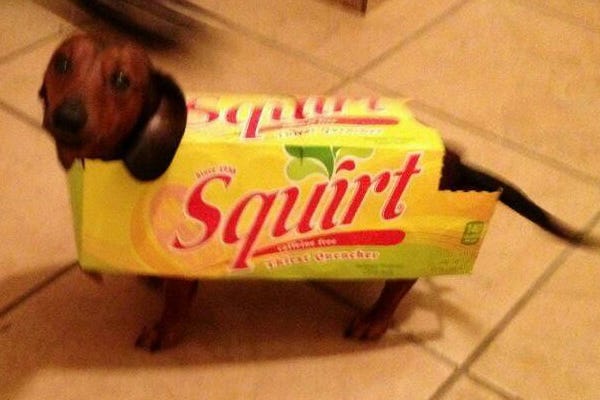 14. Hula Dancer Pet Costume
This hula dancer DIY dog costume is so cute, and you can probably use dollar store costume finds to make it with a few slight adjustments for your dog. I would suggest removing the bottom fringe for easy pee breaks.
Skills: None
Materials: $ store hula skirt (or make your own with an elastic fabric band, glue gun, and raffia or cut strips in a brown paper bag), lei.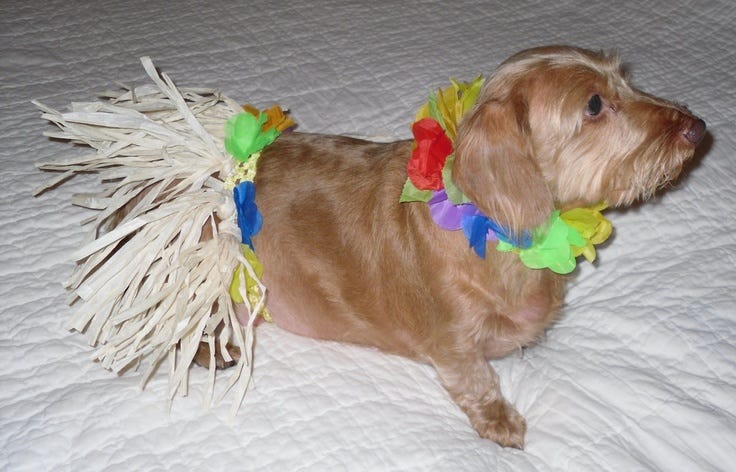 15. Martini Dog Costume
This is a really inventive idea, but would only work well for pets who don't mind wearing a cone collar (or if your pet already happens to be wearing one). Olives and skewer can be made with a number of objects you have on hand at home, or a few supplies from the craft store.
Skills: none
Materials: dog cone collar, foam balls (or tennis balls or something similar), green paint, red foam/cardboard/construction paper or paint, wooden dowel.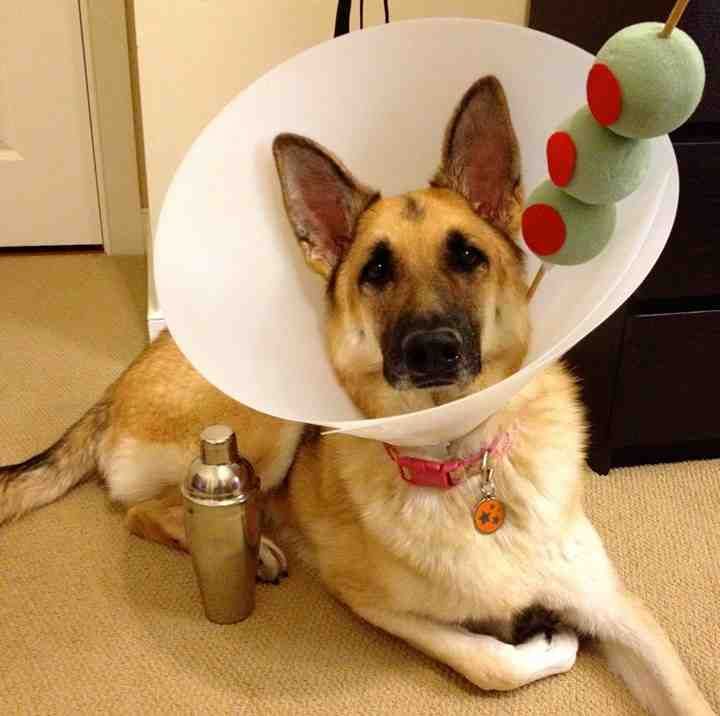 Source: Unknown
Want more? Check out our gallery of 20 Funny, Creative, & Outrageous Pet Costumes, or check out the Best Pumpkin Treats for Dogs. Happy Howl-oween!
Will your dog or cat be wearing a pet costume this Halloween? Share with us in the comments below.