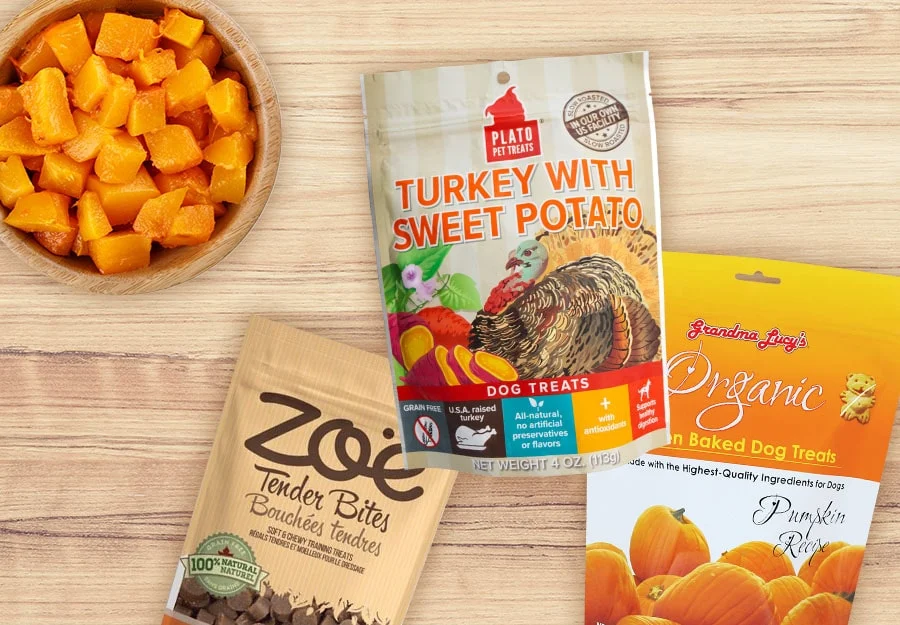 No need to wait for pumpkin spice season. You can share your favourite fall flavour with your pooch all year round! Our list of the best pumpkin dog treats is sure to have your dog begging for more.
Benefits of Pumpkin
We are obsessed with pumpkins. Pumpkin pie, pumpkin spice, pumpkin, everything! Why shouldn't our dogs get to enjoy this fall classic too? After all, with a great pumpkin dog treat recipe, it is super easy to make snacks and treats.
We love sharing our favourite treats with our pets, and we want to tell you some great ways that you can help your dog get on board with our pumpkin addiction. Not only is it delicious, but pumpkin also contains natural and healthy nutrients to promote your pet's well-being.
Digestion
Pumpkin aids in digestion by providing a nutritious fibre source that helps regulate the speed of digestion and acts as a bulking agent to improve stool quality. It's great in a pinch for quick digestive relief but can also be used preventatively to support regular digestion.
Skin & Coat Health
Pumpkin also contains high quantities of Vitamin A, E, and Zinc play an important role in skin and coat health and vision and provide antioxidants to protect against disease-causing free radicals that can damage cells, leading to possible health concerns like cancer.
Weight Control
When managing your dog's weight, Pumpkin can provide a feeling of fullness, allowing reduced-calorie diets or portion control to aid in weight loss without leaving your dog starved.
Check out 10 Benefits of Pumpkin for Dogs to learn more about how to add pumpkin to your dog's diet.
15 Best Pumpkin Dog Treats
Dogs love treats. They can reward good behaviour, help build a positive routine, and enhance your dog's training, but they can also help to boost your dog's health too! Pumpkin is an excellent ingredient for healthy dog snacks because it's loaded with nutrients.
Even better, dogs love pumpkins! Check out our 15 best pumpkin dog treats to spoil your pooch with!
1. Grandma Lucy's Organic Pumpkin Oven-Baked Treats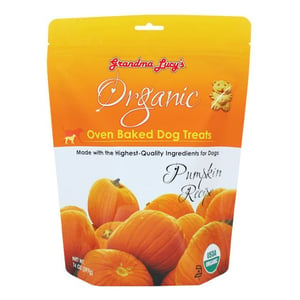 These Pumpkin Oven-Baked Biscuits are a tasty snack anytime. They are made using 100% organic, human-quality, GMO-free ingredients and have no preservatives. The adorable teddy bear shape and all-natural formula will make it easy to feel good about rewarding your dog.
2. ValuePack Pumpkin Strips for Dogs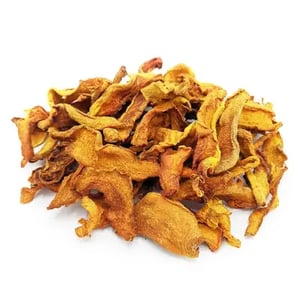 Looking for a simple, healthy, and single-ingredient option? Check out our ValuePack Pumpkin Strips for Dogs. These thin, crispy, and delectable dog snacks are low in fat, low in protein, and high in fibre. Support your dog's digestion, help him feel fuller for longer, and give him a much-deserved reward with these tasty dehydrated pumpkin dog treats.
3. Benny Bully's Beef Liver Plus Pumpkin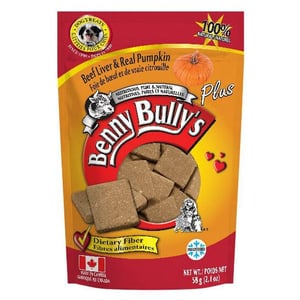 The perfect blend of mouth-watering beef liver and irresistible pumpkin, Benny Bully's Plus Pumpkin is a simple but delicious treat that is perfect for training, rewarding, and even as a meal topper. These treats are loaded with essential nutrients and help to support digestion by offering valuable dietary fibre.
4. Cloud Star Dynamo Pumpkin & Ginger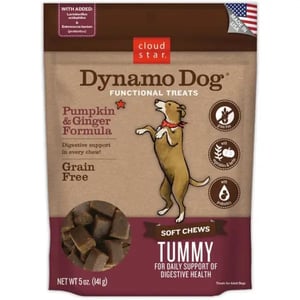 Cloud Star Dynamo Dog Treats are the perfect daily soft chew to show your dog some appreciation. They are soft and chewy, making them very palatable. These functional dog treats are designed to support your dog's health and complement her diet.
For sensitive stomachs, try the Dynamo Pumpkin and Ginger Dog Treats. They can aid in digestion and reduce nausea and indigestion.
5. Fromm Crunchy-Os Pumpkin KranPOW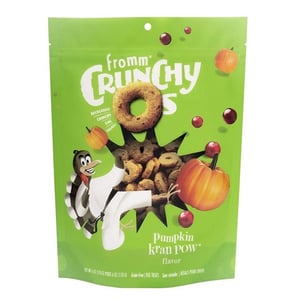 With all the whimsy of your favourite childhood cereals, Fromm Crunchy-Os is a crowd-pleaser. The Pumpkin KranPOW flavour is an explosion of digestion-friendly pumpkin, and antioxidant-rich cranberries ad contains only 2 calories per treat. They are excellent for training and for treating overweight dogs.
6. Northern Pumpkin Pie Training Treats

This Canadian product comes in two formats, a crunchy biscuit and a soft, chewy treat. Northern Biscuit Pumpkin Pie treats are great for training or reward, depending on your dog's texture preference. Softer treats may be better for young puppies as they have a stronger scent to help keep them focused on you during training.
7. Shameless Pet Pumpkin Nut Partay Soft-Baked Biscuits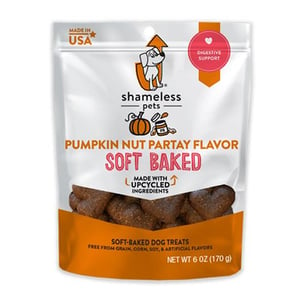 Ain't no party like a pumpkin party! Even better, this is one party that you can feel extra good about. Shameless pet treats are made using over 45% upcycled ingredients, like unused ingredients from farms, canneries, and cider presses that would normally just be discarded. Shameless Pet Pumpkin Nut Partay is loaded with upcycled pumpkin and peanuts for a tasty and eco-friendly treat.
8. Portland Pet Food Company Pumpkin Biscuits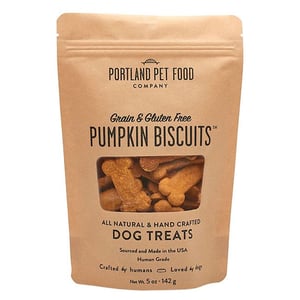 Looking for a wholesome and delicious biscuit? Portland Pet Food Company Pumpkin Biscuits are made with just 5 natural, human-grade ingredients. These popular pumpkin dog treats are twice baked to give dogs that irresistible crunch.
9. Fruitables Pumpkin & Cranberry Crunchy Biscuits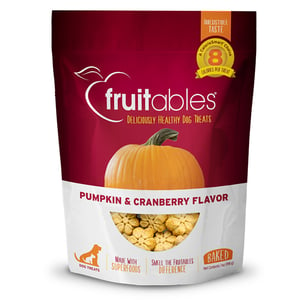 This typically fruit-based line has a strong, irresistible scent. Cinnamon is not only a nose pleaser but can help regulate blood sugar and increase insulin resistance. With only 8 calories per treat, Fruitables Pumpkin and Cranberry biscuits are perfect for overweight pets that still need to be rewarded for being a good boy.
10. Plato Turkey and Pumpkin Meat Bar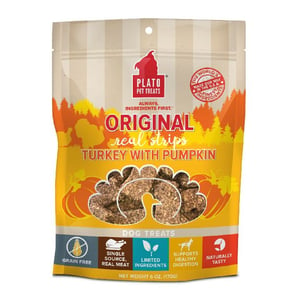 Plato Turkey and Pumpkin Meat Bars are slow-roasted semi-soft treats made from USA-raised turkey. These grain-free treats are great for instilling positive routine behaviours, or they can be quickly broken into bite-sized training treats.
11. Awesome Pawsome Super Pumpkin Dog Treats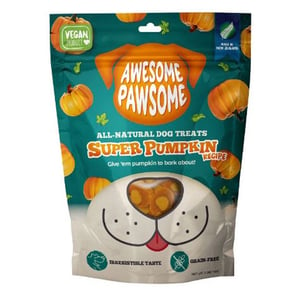 Super, being the keyword - Awesome Pawsome Super Pumpkin treats are soft and chewy pumpkin-shaped snacks for dogs of all ages and breeds. This vegan formula is loaded with antioxidant-rich ingredients to support your dog's health. Whether you are training or just treating your good dog because he deserves it, Awesome Pawsome has you covered.
12. Oven-Baked Chicken and Pumpkin Treats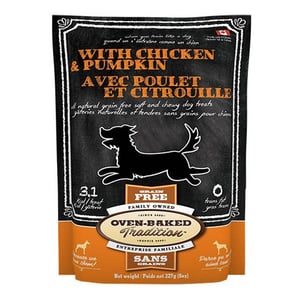 In addition to nutritious pumpkin, Oven-Baked Traditions Chicken and Pumpkin treats are grain-free, soft, and chewy. They are packed with additional omega 3 and 6 fatty acids to help support your dog's skin and coat. With only 3.1 calories per treat, you can confidently offer these meaty pumpkin treats to dogs of all life stages.
13. The Honest Kitchen Goat's Milk N' Cookies Pumpkin & Cinnamon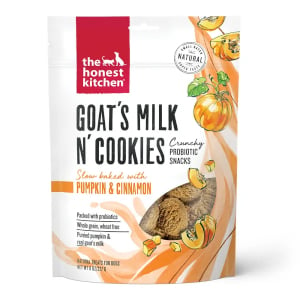 An adorable doggy twist on a classic favourite, milk and cookies, The Honest Kitchen Goat's Milk N' Cookies Pumpkin & Cinnamon Dog Treats are made with human-grade and highly nutritious ingredients like goats milk, pumpkin, rolled oats, and vanilla. Additional probiotics in these snacks make them especially digestion-friendly.
14. Buddy Jacks Gently Air-Dried Plant-Based Pumpkin Dog Treats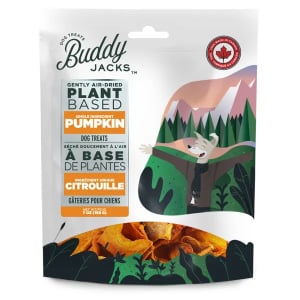 Sometimes the best snacks are the simplest. Buddy Jacks Gently Air-Dried Plant Based Dog Treats - Pumpkin is a one-ingredient, minimally processed, natural treat for dogs that love pumpkin. As a good source of fibre, these dog treats are great for supporting digestion and healthy weight and contain skin and coat-boosting nutrients.
15. Primal Pumpkin For My Pumpkin! Freeze-Dried Dog Treats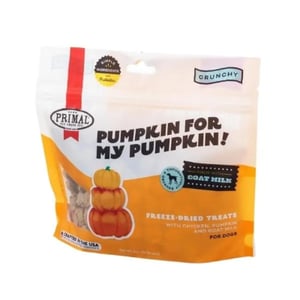 Freeze-dried treats are one of the most popular treat styles due to their bold flavour, soft texture, and high nutrient content. Primal's Pumpkin For My Pumpkin treats are made from some of your dog's favourite flavours, like chicken, pumpkin, and goat's milk, to please even the pickiest of pallets.
Looking for more ways to sneak pumpkin into your dog's diet? Try adding it to your dog's favourite Homemade Pumpkin Dog Treat Recipe. Canned or powdered pumpkin can be added to your favourite homemade recipes to provide digestive support and great flavour.
Choosing the Right Treat
The treats in this list are our favourites, and we hope they will be yours too, but remember to select a treat that is appropriate for your pet's needs and the purpose of giving the treat. Smaller breeds and young puppies may need smaller portions to avoid overfeeding and digestive repercussions.
Treats can be up to 10% of a dog's diet, and the other 90% is coming from a complete and nutritious diet.
Don't be afraid to give a few extra treats when training a new puppy or providing mental stimulation using a puzzle or interactive game. Just make sure you offset these extra calories by temporarily reducing their food or increasing physical and mental activity.
Whether you are looking for a new idea for training treats, increasing your pet's health, or just wanting to share some of your favourite seasonal flavours with your dog, this list offers something for all.
Frequently Asked Questions
Why are pumpkin dog treats popular?
Pumpkin is rich in fibre, which aids in digestion and can help with issues like diarrhea or constipation in dogs. Also, pumpkin is a great source of vitamins and minerals, including vitamin A, which promotes healthy skin and coat.
Can I give pumpkin treats to all dogs?
Pumpkin treats are safe for most dogs. However, always consult your veterinarian before introducing new treats into your dog's diet, especially if your dog has specific dietary needs or health conditions.
How much pumpkin treat can I give my dog?
The amount of pumpkin treat your dog can have depends on their size, age, and dietary requirements. Always, read the feeding guidelines on the treat packaging and adjust based on your dog's individual needs.
Can pumpkin treats help with dog allergies?
Pumpkin treats themselves are unlikely to address allergies directly. If your dog has food allergies or sensitivities, pumpkin can be a helpful ingredient due to its limited allergen potential.
Are homemade or store-bought pumpkin treats better?
Both homemade and store-bought pumpkin treats can be suitable options, but it's important to consider the quality and ingredients. Store-bought treats should be chosen based on reputable brands with natural and high-quality ingredients.
How should pumpkin treats be stored?
Pumpkin dog treats should be stored in a cool, dry place to prevent spoilage. If you've made homemade treats, refrigeration might be necessary if they contain fresh ingredients.