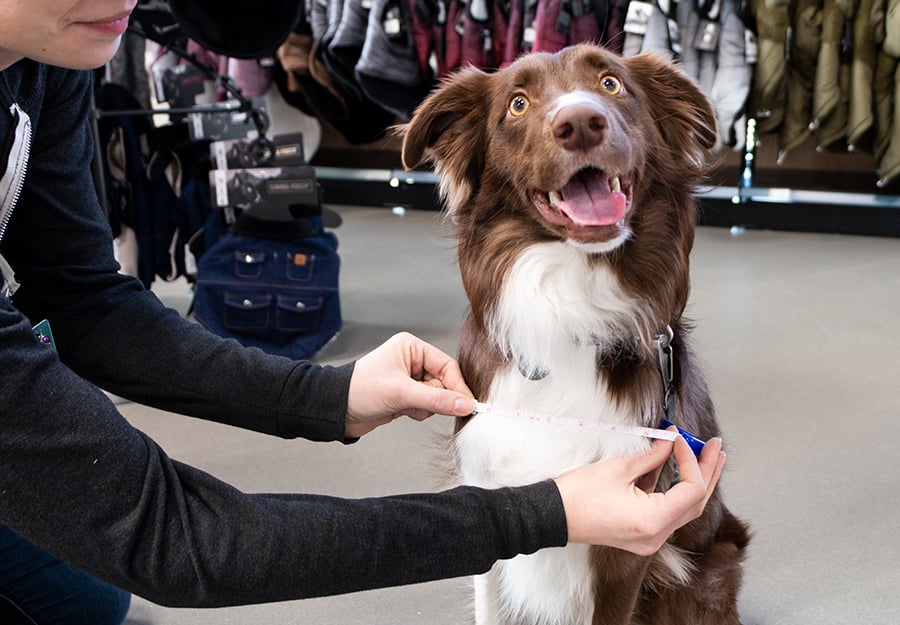 You brought home a new sweater for your dog, only to find that it doesn't fit. You looked at the tag, and it said 40-60 lbs. Your dog is right in that sweet spot, so why doesn't it fit? Before you head back to the pet store, check out our tips on how to measure your a for clothes and other gear.
It's frustrating to waste time and money only to discover that the sizing guidelines that you were given weren't totally accurate.
Many dog clothing brands provide a vague range of measurements, and one of the most notoriously unhelpful ways that dog clothing brands size their garments is by providing a weight. Unfortunately, weight is one of the least helpful measurements to use when sizing dog apparel.
Sizing your dog's clothes can be a struggle. Every type of clothing is going to fit a little bit differently, and the wrong fit defeats the purpose.
This guide will help you measure your dog properly for clothing, harnesses, muzzles, and anything else that needs to be the right fit for your dog.
In short, you want to begin at the base of the neck, using a tape measure to get chest girth, neck girth, the size of its shoulder blades, and more--especially if you are measuring your dog for harnesses.
One Size Does Not Fit All
When choosing any of your dog's outdoor gear, you need to consider the style and whether or not it's going to work for your dog's shape. Just like our clothes, not every style of dog apparel is suited to every body type.
Keep that in mind when you find a cute rainbow sweater for your mastiff or a thick thermal parka for your whippet. It's possible that it just won't fit. How to measure a dog for clothes?
Let's start with the dog measurements. There are a number of measurements that you should track for your dog. I recommend keeping a file of your dog's measurements that you can update yearly. This will make it much easier to find the appropriate gear each season.
You'll need a soft measuring tape. This will give you the most accurate values. If you don't have one, you can make do with some string and a flat ruler, but you'll want to triple-check your measurements to avoid mistakes.
Here's a quick reference chart of the measurements that you'll need for your dog: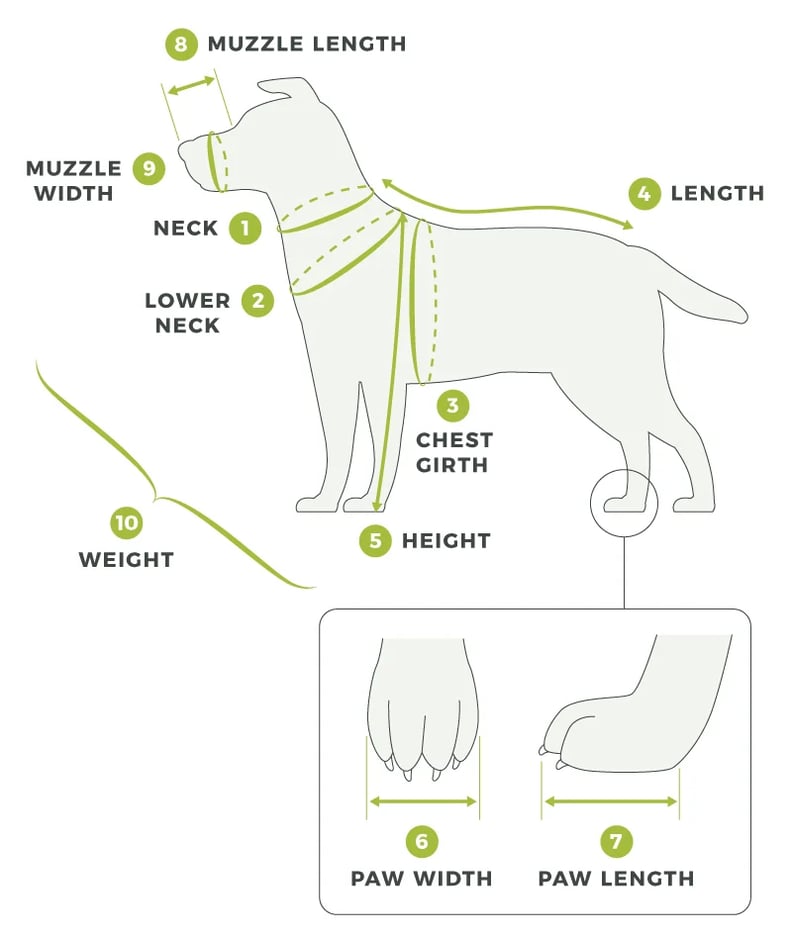 You may not need every measurement right now, so take the measurements that suit the apparel or gear that you are looking for. This chart will help you decide which measurements you'll need for each type of gear: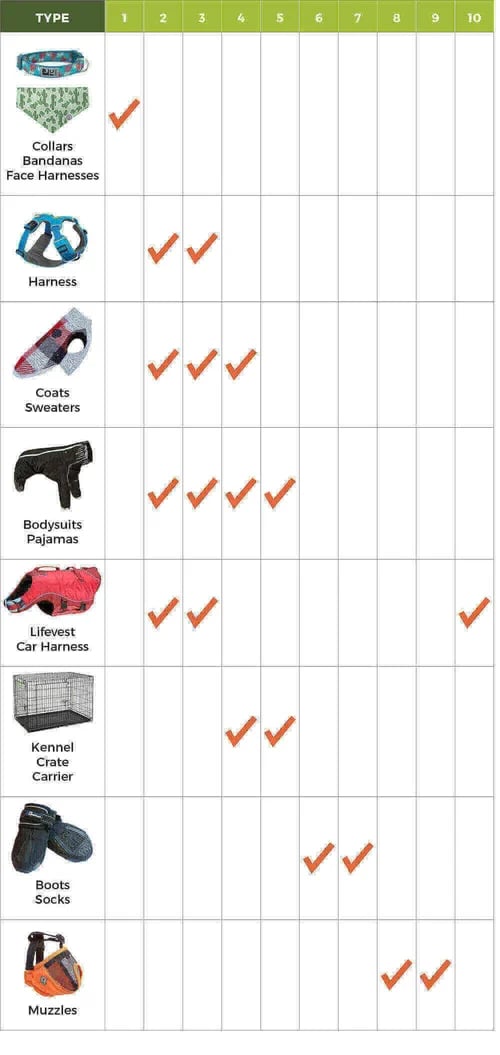 Measuring Your Dog
How to measure your dog? Your goal is to make your dog comfortable wearing clothing or walking accessories that help to support your dog's active lifestyle.
Whether you are going for a hike or just a stroll around the block, the right gear will keep you and your dog safe. How to measure a dog for a sweater?
How to measure your dog?
Finding the perfect fit is vital to keeping them comfortable and safe. Measuring your dog isn't overly complicated, but there are a few best practices that will make the process easier and less stressful for both you and your dog.
5 Tips for Measuring Your Dog
Choose a calm, quiet environment. This will help you avoid distractions, keeping your dog calm and relaxed.
Your dog must be standing when you

measure dog height

. If your dog is sitting or lying down, your measurements will not be accurate. Get a helping hand to keep your dog standing if needed.
If you are in Canada, or if the product is made outside of North America, then the measurements that they give you might be in centimetres instead of inches. It's smart to write down both, just in case.
If your dog is fidgety or won't stand still for you, then try to use an incentive like food to keep him still. Giving him a chew like a bully stick can be helpful, but may encourage him to lay down to chew it. Instead, smear some dog-safe peanut butter on a dinner plate or a Kong toy and have someone hold the treat up near your dog's face. This will keep them standing and keep them still.
Measure twice. Always, always measure twice. Mistakes happen, and it'll save you the time and hassle of having to make multiple trips to the pet store because the measurements were slightly off.
For tips on choosing the right collars and harnesses, here are a few helpful resources to help you find the right type and fit:
Using these tricks and tips, getting your dog's measurements should be simple and quick. Write them down, save them on your phone, or file them with your dog's medical documents. Re-measure your dog once or twice a year to keep the file accurate. This way, when you need to buy new gear at the start of the next season, you don't have to repeat the process.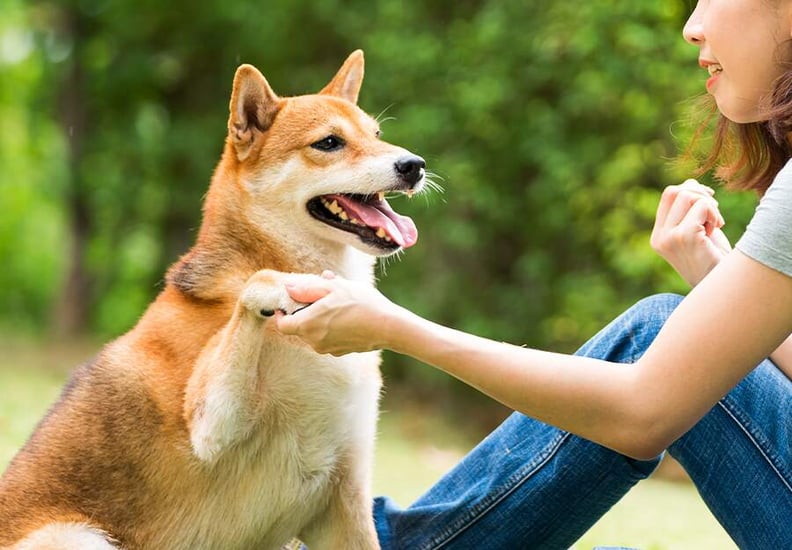 Tips for Sizing Dog Coats & Sweaters
Whether you are dressing your dog for cold weather, trying to keep them dry in the rain, or just looking to show off your dog's trendy fashion, getting the right measurements can help you find the best style and fit for your dog.
Use the Two Finger Rule. When taking measurements, you should be able to fit two fingers between your dog's body and the measuring tape. This will prevent the clothing from being uncomfortable or chaffing.
Measuring girth means measuring the widest part of the chest circumference. Don't measure right behind the armpits unless that is the widest part of your dog's rib cage.
Start length measurements where your dog's collar would sit, and go just to the base of the tail. You may find that some clothing will be the right fit for their girth but not length. That's ok. Girth is more important than length.
If your dog is slimmer in the hips than the chest, then look for a coat that has leg straps to prevent the coat from flipping up at the back.
Check their underbelly when trying on dog clothing. If the coat covers too far down their belly, you may need a smaller size. We want them to be warm, but the clothing shouldn't impede their ability to go to the bathroom.
Tips for Sizing Dog Boots & Socks
Dog boots are one of the most challenging types of apparel to size. There are many different styles of boots, and not all of them will work for every pair of front legs.
Not every paw will be the same size. Front paws and back paws often differ, sometimes enough to require different boot sizes. Make sure you measure all of their paws.
When trying boots on your dog, make sure you try all four, and allow them to walk around indoors. This will let you know how snug the boots are and if they will stay in a comfortable position. Poorly sized boots will fall off.
Dogs with wide paws, even smaller breeds, may need larger boots. This may mean that the boots are looser above the paw. Opt for boots that can be securely fastened around their ankles to prevent them from sliding or twisting as they walk.
Choose boot styles that suit the shape of their paws. Some boots will have a hard, flat sole that can help to keep their paws stable when they walk. Others are made with softer, more flexible materials that allow the boot to bend with the shape of their foot.
6 Bonus Sizing Tips
You've measured your dog, and you've seen your options, but there are still a few small things to consider before you run the checkout. These bonus tips will help you make sure you are considering all variables before making a purchase.
When possible, it's best to bring your dog to try the item in-store. If that is not possible, or if you are shopping online, then make sure that you can return or exchange the item before you spend your hard-earned money on it. Not every sizing chart will be 100% accurate, so despite your best efforts, you could still end up with an ill-fitting item. Keep the packaging and receipt, and always inquire about the return policy.
If your dog is an "in-betweener", meaning he falls between two sizes of an item, always go for the larger size or pick a different style. Poorly fitted gear can lead to chaffing, discomfort, and even injury.
Don't fret about the weight guidelines for the product. Two dogs that both weigh 50 lbs may still need to wear different sizes to accommodate their body types. Life jackets and car safety harnesses are an exception because they are designed to support your dog's weight. For this type of gear, keep the weight limits in mind.
Always consider your dog's mobility. Harnesses and clothing that cover the shoulders could limit movement and might not be right for a dog that runs or participates in sports. Choose the style that fits your dog's normal activity.
When sizing a kennel, crate, or carrier, always consider your dog's comfort. Your dog should be able to stand, turn around, and lie down comfortably. Don't forget to take into account what is going on in the kennel with them. Beds, pillows, and even toys take up space. Make sure you account for those things when you are determining your sizing needs.
Muzzles should be secure but never tight. Dogs need to pant, so stick to muzzles that allow them to open their mouth still. Cage-style muzzles are best for allowing your dog this freedom of movement while still being a protective barrier.
Using these tips, you should spend less time fretting over finding the right size and waste less money buying items that just don't work for your pet. Find your dog's perfect fit and get back to your adventures knowing that your dog is comfortable and safe.
Frequently Asked Questions
How do I measure my dog for a harness?
To measure for a harness, use a flexible measuring tape to determine the circumference of your dog's chest right behind the front legs. Ensure the tape is snug but not tight when measuring the girth.
What measurements are needed for a dog collar?
For a collar, measure your dog's neck circumference, where the collar will sit comfortably. Leave enough room so that two fingers can slip snugly between the collar and your dog's neck.
How should I measure for a dog coat or sweater?
To measure for a coat or sweater, start from the base of your dog's neck and then measure to the base of their tail. Also, measure the circumference of the widest part of your dog's chest.
What's the process for measuring paw size for dog boots?
To measure paw size for dog boots, press your dog's paw onto a piece of paper to mimic the weight-bearing shape. Measure the width and length of this imprint so you can ensure you pick the proper dog bootie or shoe size for your pup.
How do I measure for doggie boots with adjustable straps?
Measure the circumference of your dog's paw at the widest point. Then, measure the length from the tip of the longest toenail to the back of the paw pad.
What's the best way to measure a dog's for various clothing?
To measure your dog's girth, wrap the measuring tape around the widest part of your dog's chest, just behind their front legs. This measurement is crucial for choosing clothing like vests and coats.