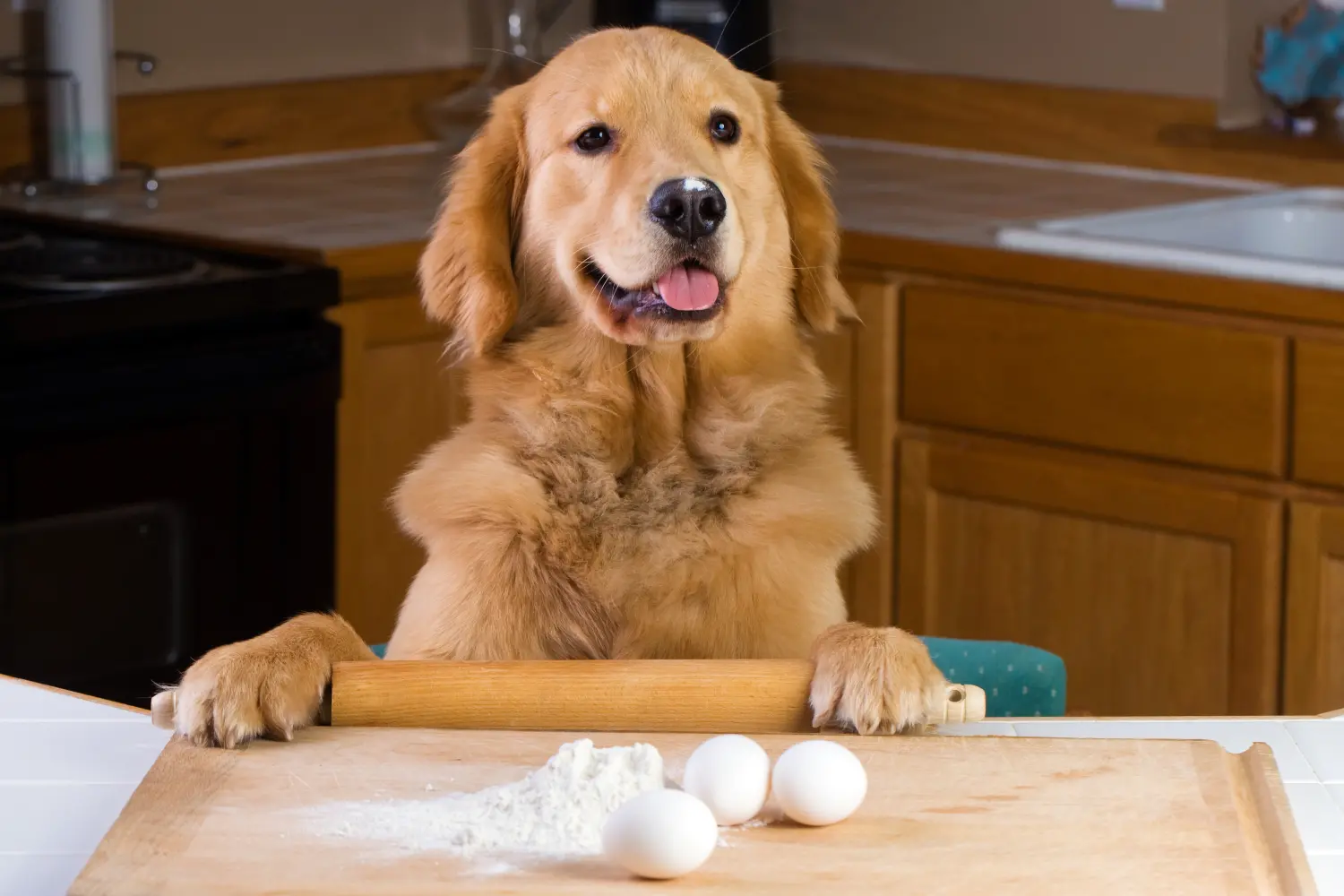 Keeping our dogs happy and healthy is the recipe for a successful long enjoyable life. Show them how much you love them by making your very own homemade dog treats.
We've compiled a few doggone good and simple to make dog treat recipes in our latest dog treat roundup. Each one is full of fruits, veggies, and dog-approved goodness.
1. Sweet Potato Fries For
Dogs
Dogs love every good-for-them ingredient in this homemade recipe, so we put it at the top of our list. Sweet potatoes are the superstar veggie of this show but coconut oil and a healthy touch of cinnamon and turmeric complete this healthy powerhouse treat!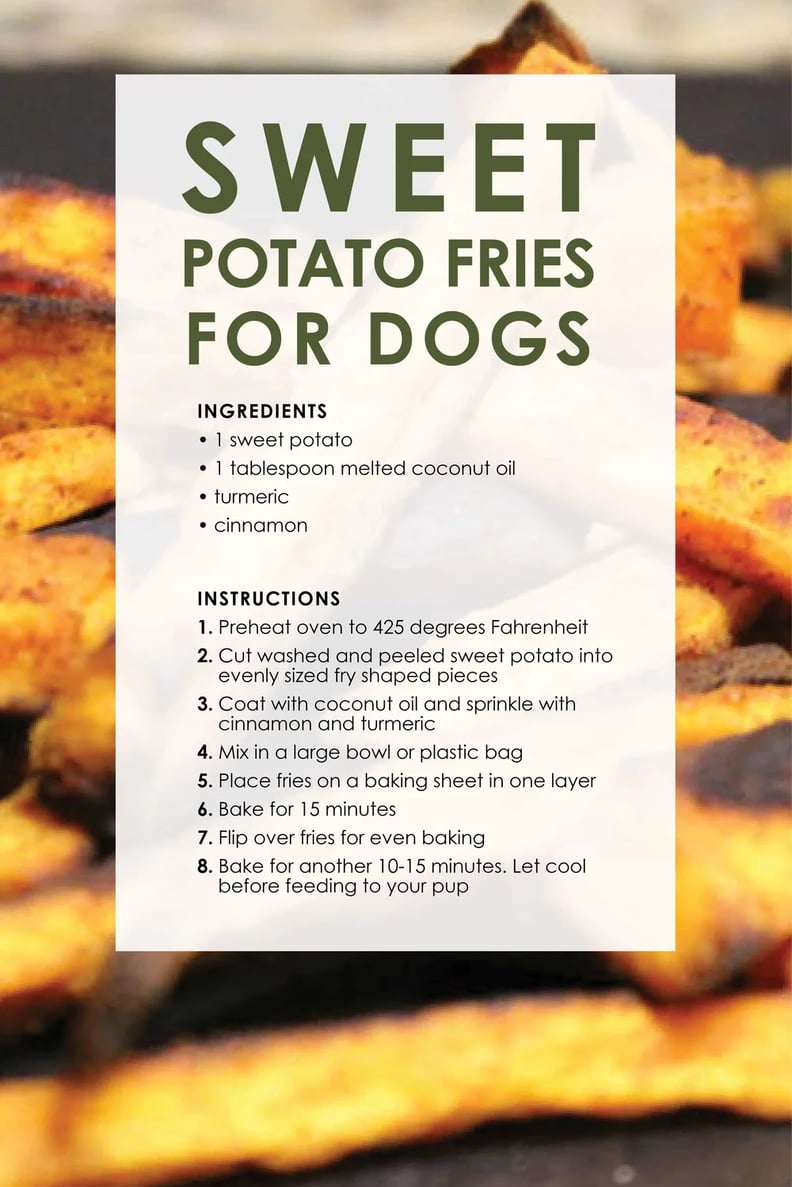 Full Recipe: Baked sweet potato fries dogs
What's so great about turmeric? Check out Turmeric for Dogs to find out about its amazing benefits.
2. Peanut Butter and Pumpkin Dog Treats
This tail-wagging good dog treat recipe has three tasty ingredients that your dog is going to love. The best thing about peanut butter is that dogs love the taste and will love you right back!
Peanut Butter and Pumpkin dog treats have a secret ingredient... heart-healthy oats! This trio of ingredients is loaded with everything good for your pup's overall health, digestion, and so much more.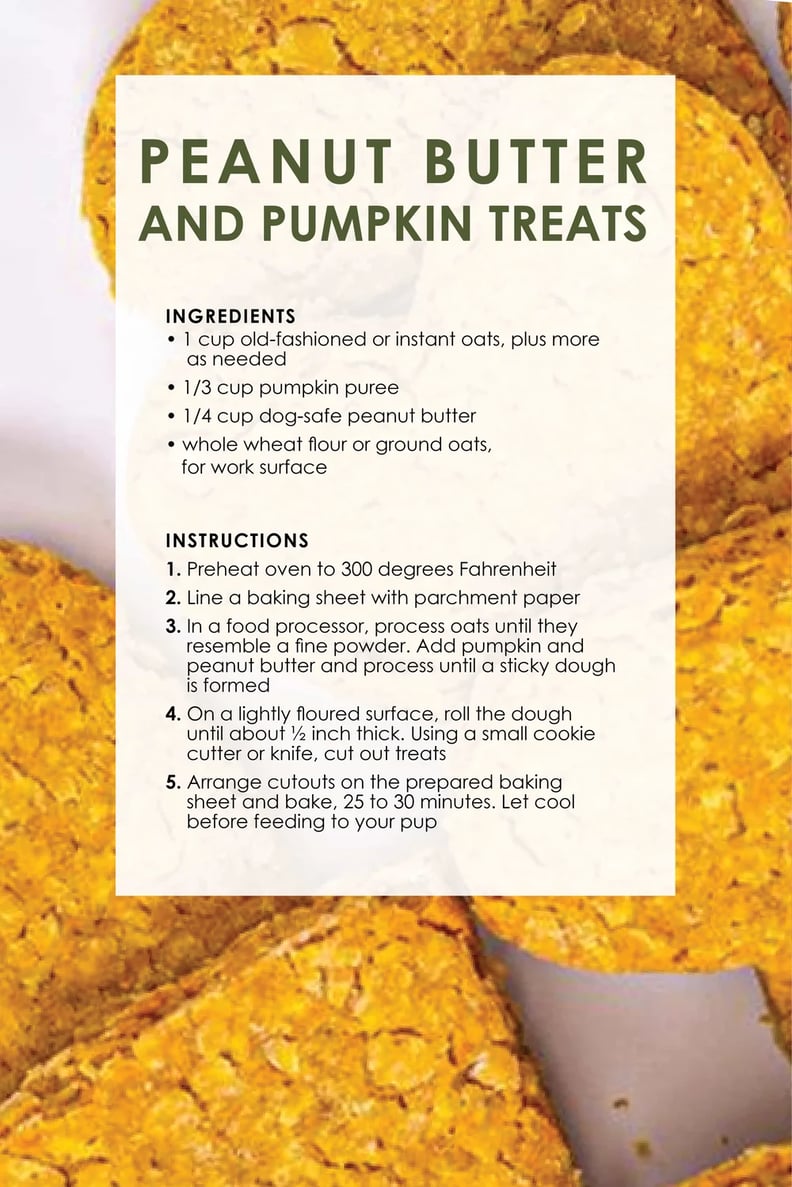 Full Recipe: Peanut butter dog treats with pumpkin susan holmes mckagan
Hop over to 10 Health Benefits of Pumpkin to learn more about this amazing superfood.
3. Frosty Paws Homemade Dog Treats
This fruity and creamy frosty pooch-tacular recipe will have your dog begging for more. It's full of sweet nutritious delicious fruit, and healthy yogurt combined together and frozen to create the coolest, healthiest frosty treat on the street.
You can add peanut butter and honey for even more nutritional value, too. This is a perfect frozen treat for everyday fun or to celebrate your four-legged pal's next birthday celebration.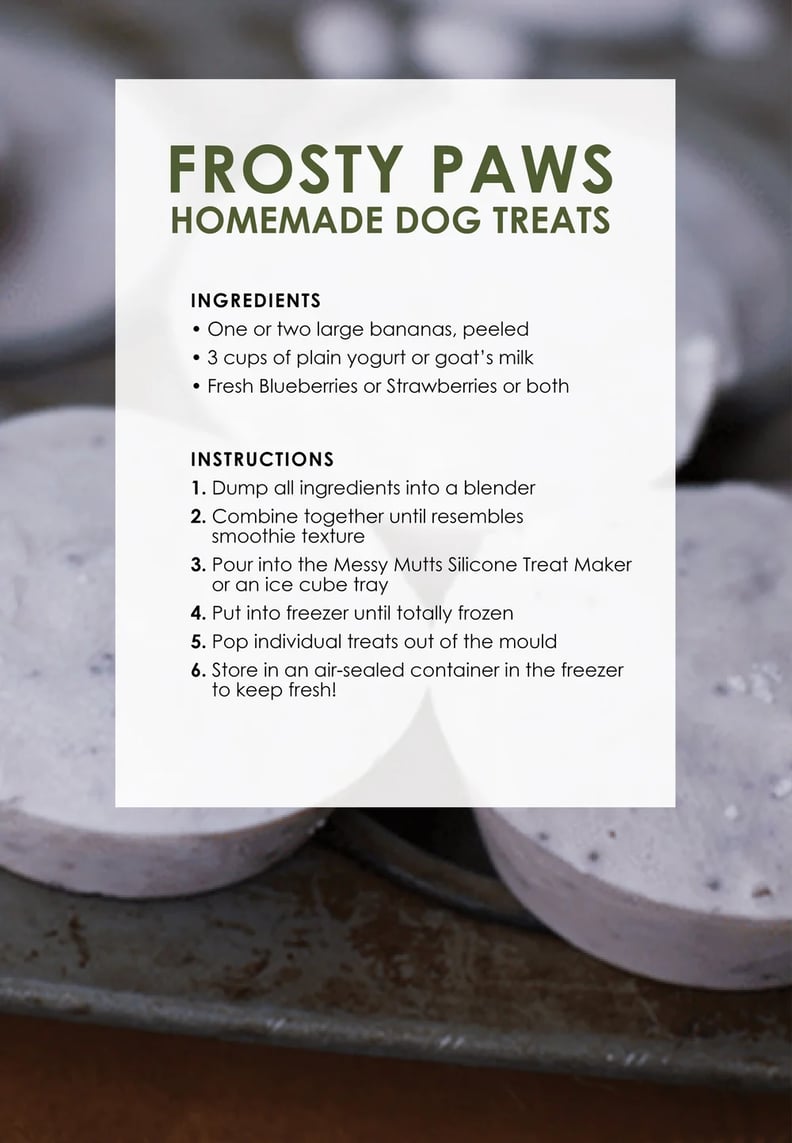 Full Recipe: How to make frosty paws or homemade frozen dog treats
Want more frozen dog treat ideas? Check out our 10 favorite Frozen Dog Treat Recipes to find the coolest DIY snacks for your dog.
4. H
omemade chicken dog treats
The bark on the street is that meat is what makes your dog's heart sweet. We've got you covered with these homemade paw-licking treats full of delicious protein-rich chicken, energy-boosting rice, nutrient-rich eggs, plus a sprig of fresh parsley for fabulous fresh breath.
The original inspiration for these heartwarming treats was Valentine's Day, but your top dog will enjoy these heart-shaped goodies anytime, anywhere.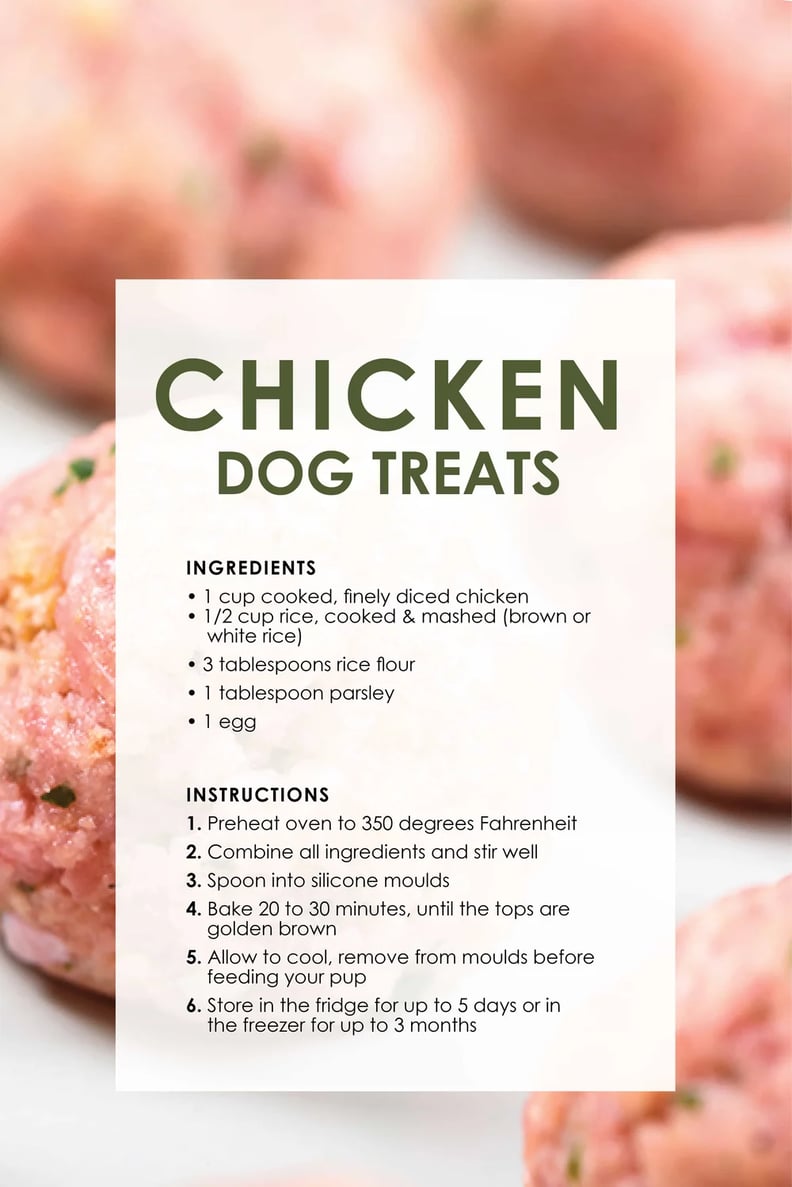 Full Recipe: Tasty Tuesday hearts for my valentine chicken dog treats
Don't feel like baking? Combine all the ingredients plus a splash or two of Open Farm Bone Broth into a blender, pour into silicone trays, and freeze. Pop-out of trays when totally frozen and store in sealed containers.
5. Grain-free Carrot and Spinach Dog Treats
Dogs with grain allergies and tummy sensitivities can still enjoy a special homemade doggie treat made by you with TLC. Carrots, pumpkin, and spinach combined with eggs, almond flour, and nut butter create a super good, super nutritious packed treat.
No bones about it, this grain-free goodie is paws-itively a keeper.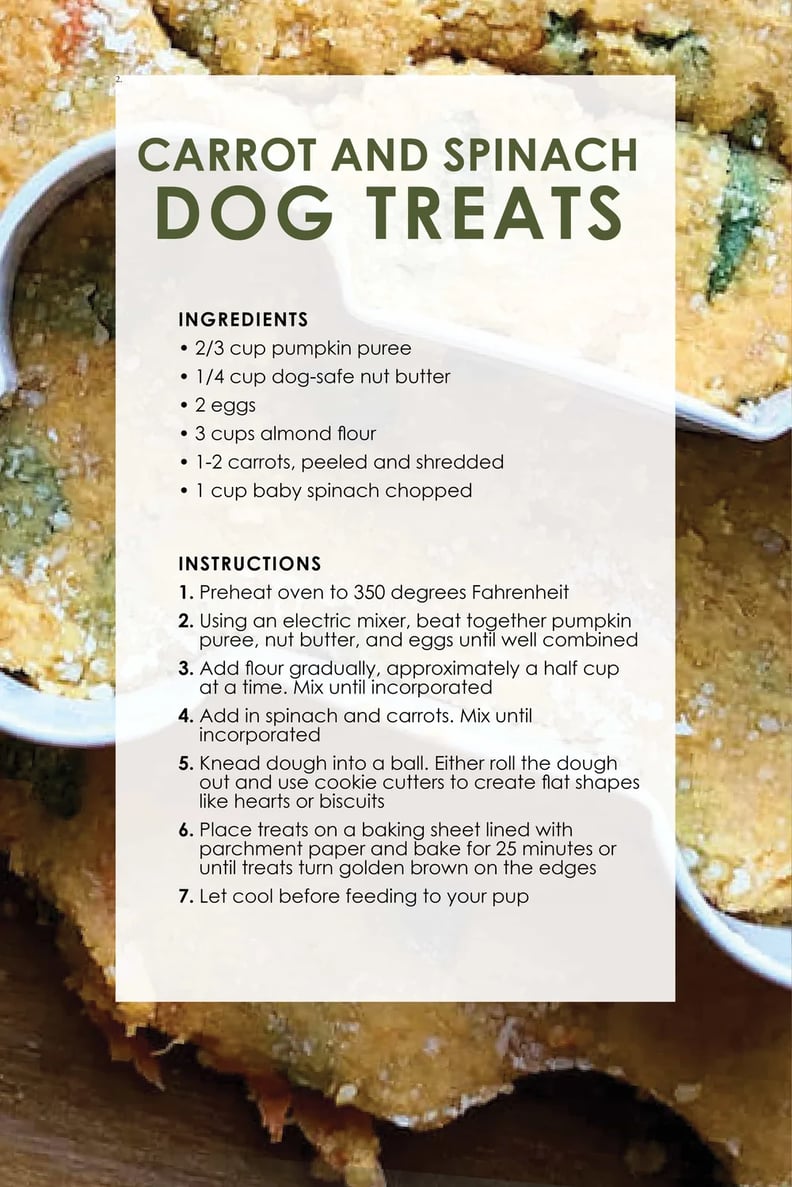 Full Recipe: Grain-free carrot and spinach dog treats
6. Pupcake Frosting
This one is a dog's icing on the pupcake! It's frosting made to top a cake for your top dog!
Celebrate a special occasion or simply reward your pet with a really creamy and tasty frosting, whipped up with nutrition-packed potatoes, creamy yogurt, and a touch of sweet honey. Two paws up for this over the dog house goodie!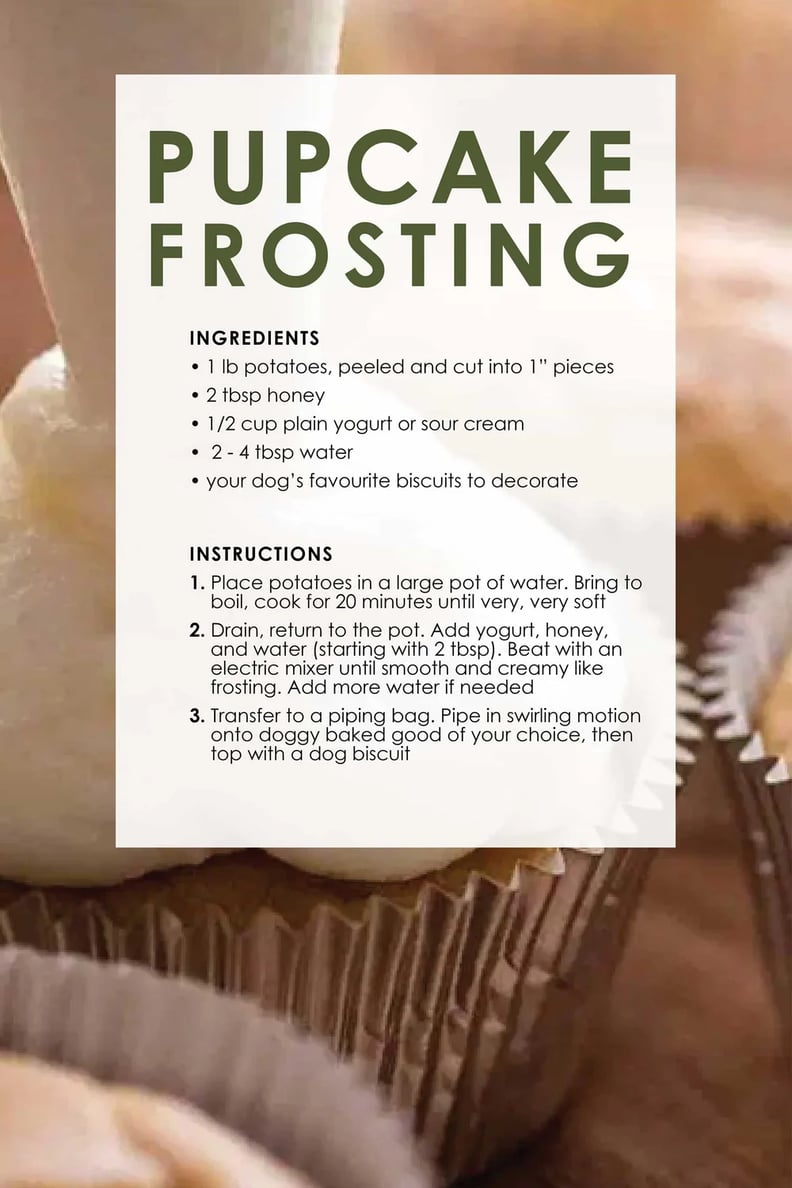 Full Recipe: Pupcakes easy dog cupcakes with frosting
You can replace yogurt with goat's milk for a tasty digestive boost. Just remove the water from the recipe. Check out the Amazing Benefits of Goat's Milk for Dogs to find out how it can help support your dog's health.
Customizing your Homemade Dog Treats
These recipes are perfect just the way they are, but if you are feeling adventurous in the kitchen or if you want to make your dog treats even healthier for your pet, then get creative and test out some fun substitutions.
Many healthy fruits and veggies can be added or swapped to improve the flavor and nutrition in your dog's goodies.
Allergies, sensitivities, and picky eaters are all good reasons to customize your dog's homemade treats to better suit his needs. Substitute grain-free carbs, replace chicken with beef or fish, or sneak some supplements, like kelp or goat's milk, into the treats to make them even healthier.
Want even more fun dog treat recipes? Click the link below for all of our favorite tasty homemade dog treats, food, and meal topper recipes to spruce up your dog's meal routine.
Homemade Dog Treat FAQs
Are homemade dog treats safe for my pet?
Homemade dog treats can be safe when prepared with dog-friendly ingredients, but avoiding harmful substances like chocolate or xylitol is essential.
What ingredients should I avoid when making homemade dog treats?
Avoid ingredients like chocolate, onions, grapes, and xylitol, as they can be toxic to dogs. Stick to fresh meat, whole grains, and dog-safe fruits and vegetables.
Can I customize homemade dog treats to cater to my pet's dietary needs?
Yes, homemade treats allow you to tailor the ingredients to accommodate your dog's specific dietary requirements, such as allergies or sensitivities.
How long can I store homemade dog treats?
Homemade dog treats typically have a shorter shelf life than commercial treats. Store them in an airtight container in the refrigerator to keep them fresh for up to two weeks, or freeze them for longer storage.
What are some simple homemade dog treat recipes for beginners?
Beginner-friendly recipes include peanut butter and oat treats or sweet potato dog chews, which are easy to make and loved by many dogs.
Can homemade dog treats help with training and rewarding my dog?
Homemade treats are a great way to reinforce positive behaviour during training sessions and offer your dog a healthy reward.