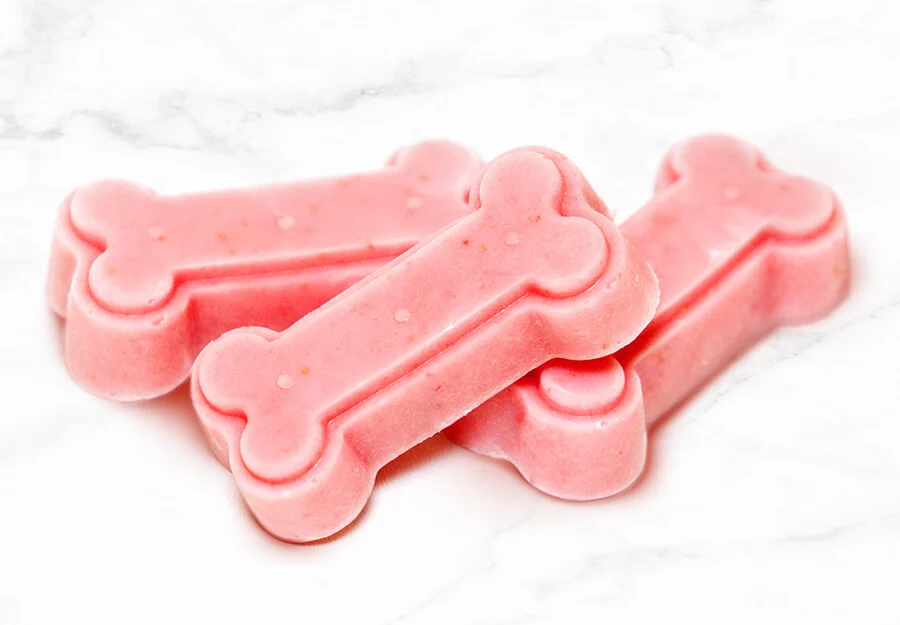 We all love to spoil our pets, so why not share one of your favourite summer treats, popsicles, or should we say Pupsicles! We have collected ten of the best and easiest frozen dog treat recipes, easily made from common ingredients like plain greek yogurt shaped in fun baking molds.
These tasty snacks include fresh, dog-safe, human foods that offer natural nutrients to boost your dog's health like chicken broth. Plus they are an excellent way to add much-needed moisture to your dog's diet using simple silicone molds.
The possibilities are endless when it comes to frozen puppy treats. If it is dog-safe and can be blended, you can probably put it in one of our recipes, but we wanted to keep it simple. That's why we put together some of our favourite 2 ingredients frozen dog treat recipes.
10 Frozen Dog Treat Recipes
Are you ready for some super tasty frozen dog treat recipes? Here are our favourite 2-ingredient recipes to inspire you to get creative in the kitchen and treat your small and big dogs with some extra special and extra tasty snacks.
1. Creamy Peanut Butter Rounds
These healthy snacks are a fan favourite. It uses two simple ingredients that most of us eat every day: Peanut butter and yogurt.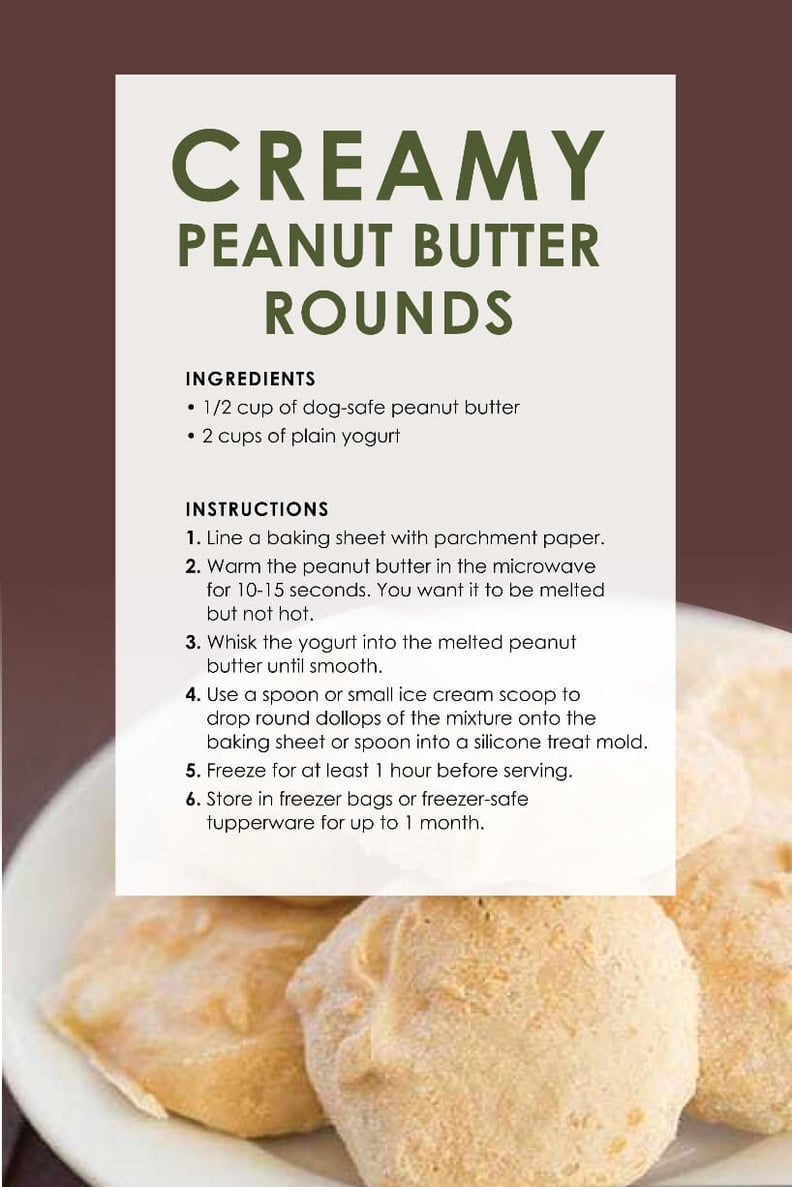 Photo Credit:
browneyedbaker.com
This recipe can be as simple or as complicated as you want. Though this version only uses two ingredients, you can bolster this recipe further by adding pureed fruit or pumpkin or sprinkling in some spirulina for a nutrient boost for senior pets.
2. Pumpsicles
Even your dog's fall favorites can be incorporated into your frozen treats for dog popsicle recipes. Pumpkin is an excellent digestive aid and dogs love it. The fiber in the pumpkin can help regulate the speed of digestion, allowing for better nutrient breakdown and absorption. A bone-shaped ice cube tray makes these even better!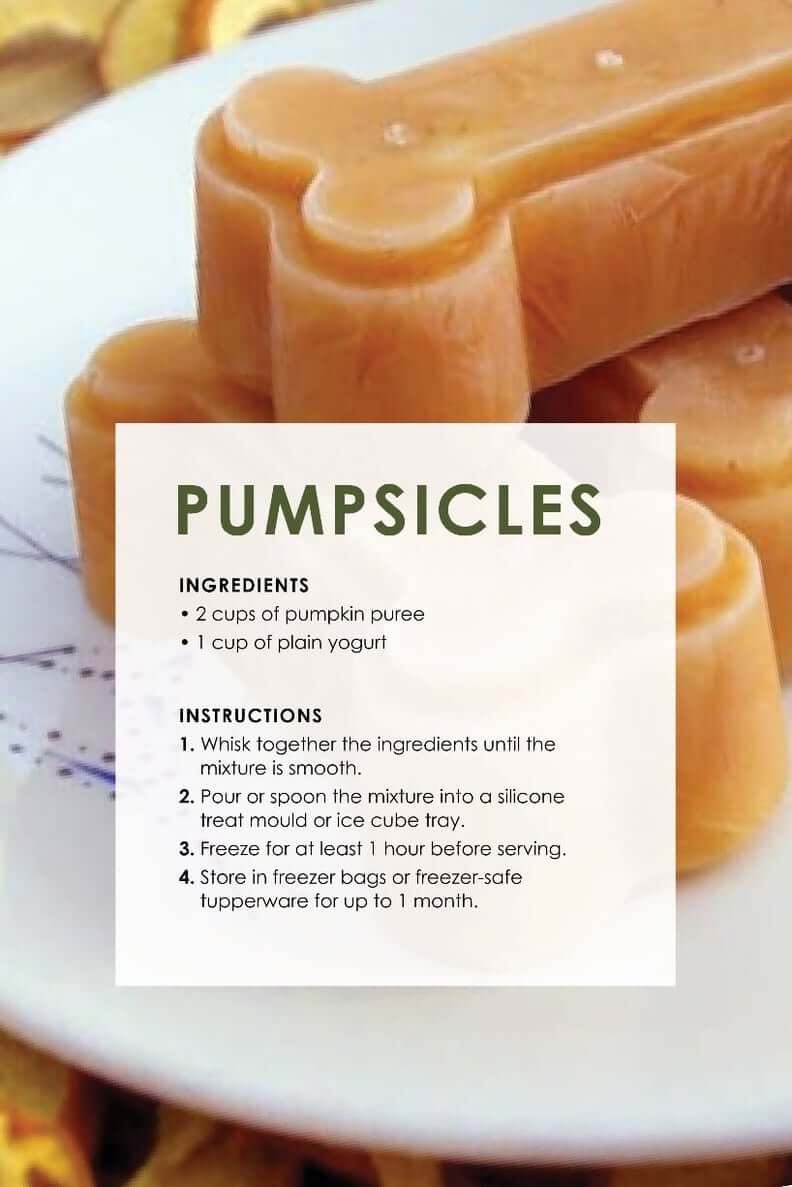 Photo Credit:
Kiki Kane @rover.com
While we all love pumpkin, it's nice to change it up a little sometimes. Swap out the pumpkin for some sweet potatoes, or blend up some other dog-safe veggies to spruce up this recipe.
3. Frozen Banana Bites
Bananas are loaded with nutrients like potassium, vitamin C, and Vitamin B 6, so why not add them to your dog's favorite summer snack? The yogurt in this easy recipe helps to give these banana treats a nice creamy texture that dogs (and people) love.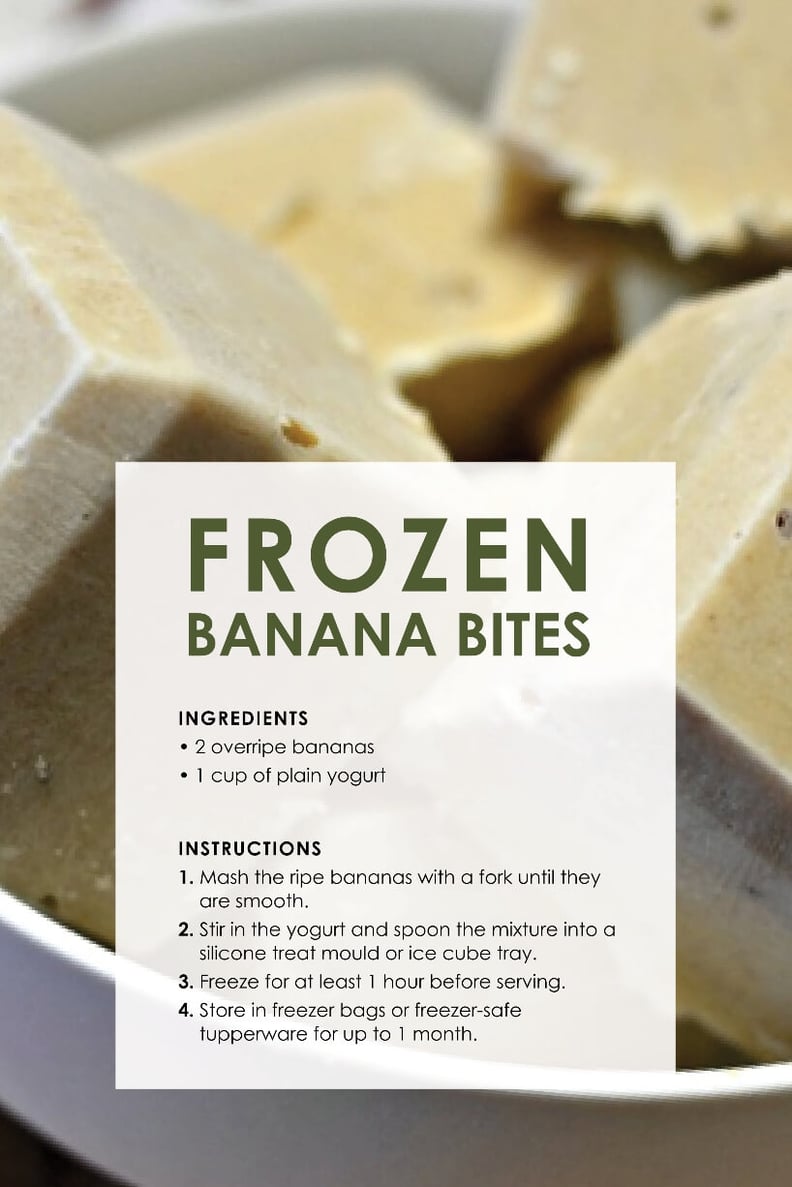 Photo credit: www.threelittleferns.com


For dogs with sensitive digestion, try swapping out the yogurt for 3/4 cups of raw goat's milk, like The Honest Kitchen Goat's Milk. It is loaded with probiotics to improve and support digestion.
4. Apple Snax
These are super easy, and an excellent source of vitamins C and E. With a little creamy yogurt, these frozen snacks are an excellent food topper for picky eaters and sensitive tummies.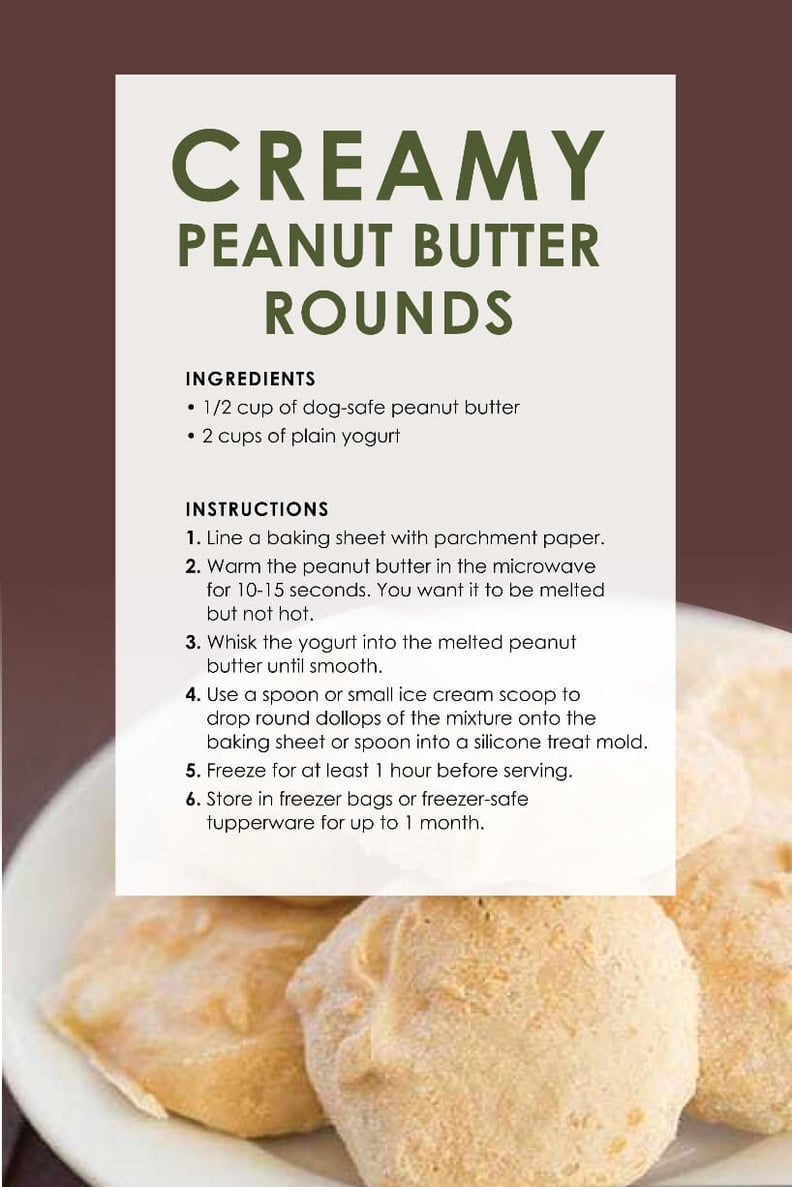 Photo credit:
Irresistiblepets.net
For a non-frozen twist, skip the treat mould and freezing steps and serve as a creamy, dog-friendly applesauce food topper. This version is excellent for picky eaters and older dogs that may be missing a few teeth.
Spread the sauce onto a lick mat, like this one from Big Country Raw, for a longer-lasting treat experience.
5. PB & F(ruit) Freezies
A doggy twist on a classic flavour. To make your favourite childhood snack a little more doggy-friendly, we swapped out the sugary jam for a simple fruit puree and a dollop of peanut butter for a sweet and healthy treat.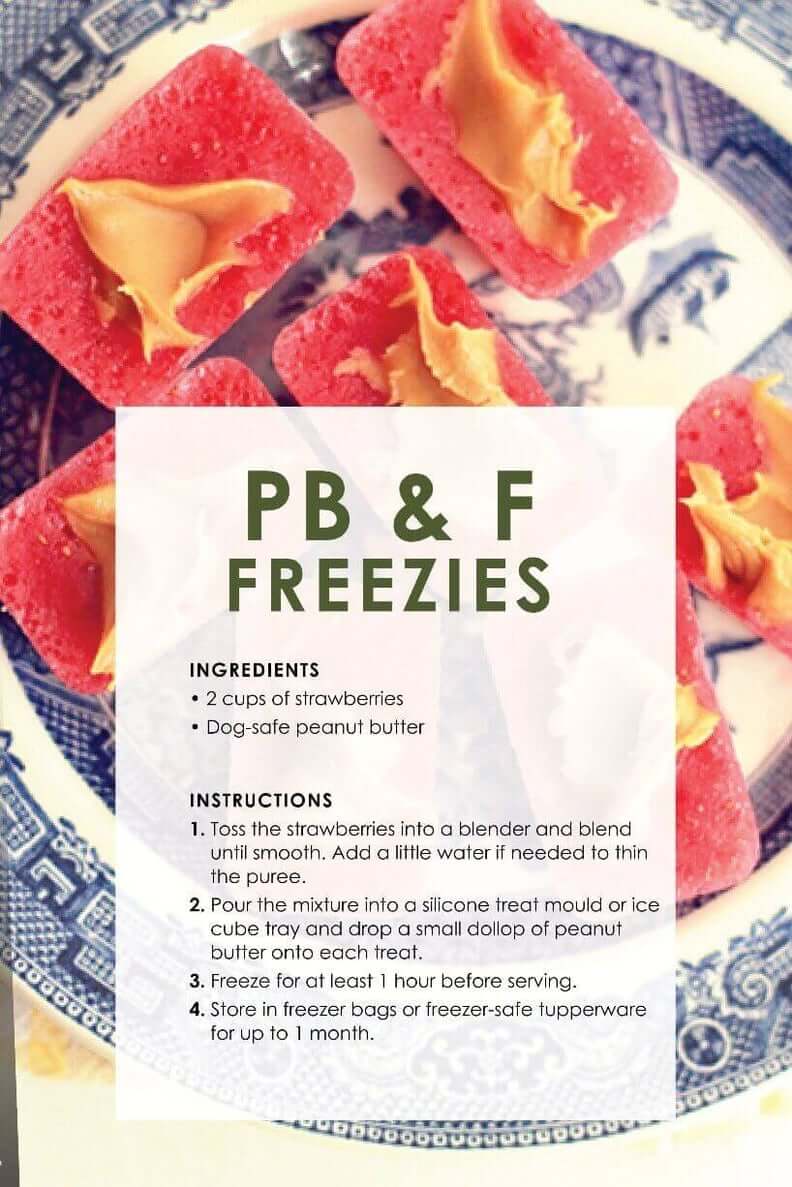 Photo credit:
Pawsh-magazine.com
If strawberries aren't your preferred jam fruit, then feel free to swap them out for a different berry, like raspberries or blackberries. Or a mix of all three for a delicious mixed berry puree.
6. Strawberry Banana Smoothies
Strawberry banana smoothies are one of the most popular flavours for humans. Fortunately, they are also healthy and delicious for dogs too!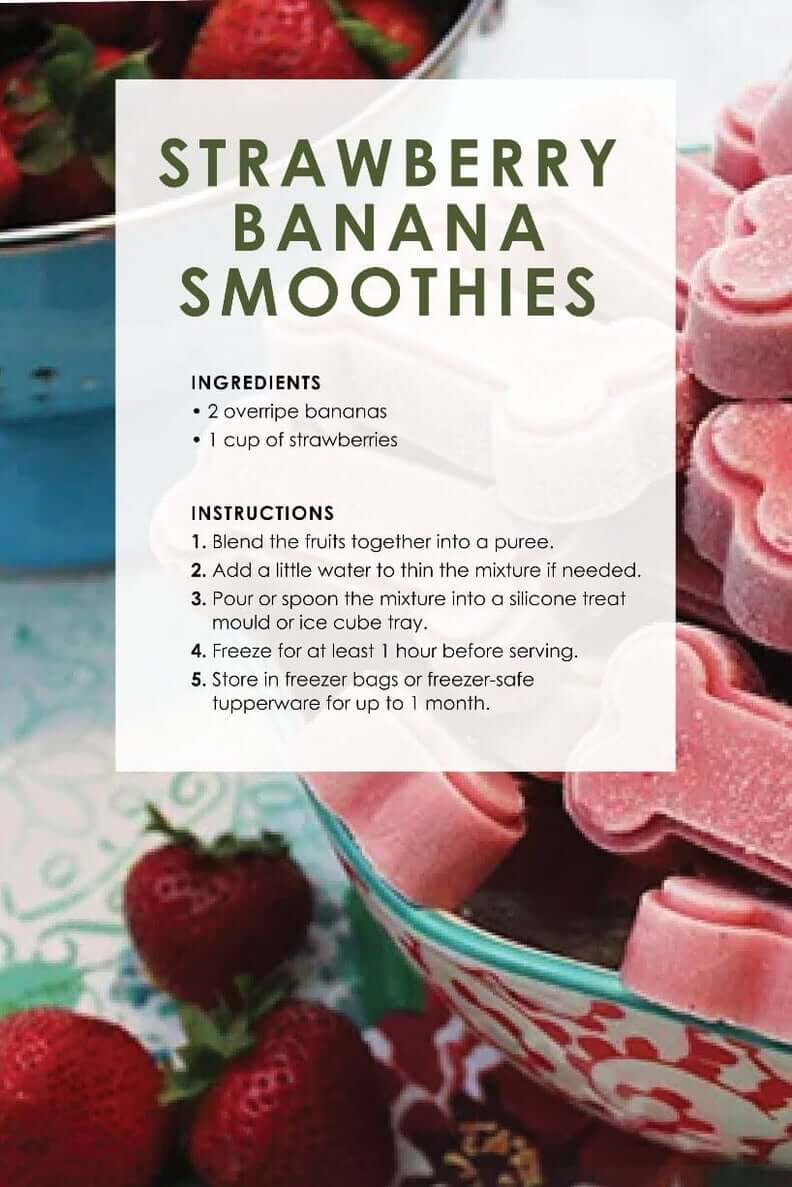 Photo credit:
Thecottagemarket.com
This basic smoothie dog popsicle recipe is just one option. Add other nutrient-dense pet-safe fruits, like pineapple for some variety. A few tbsps. of goat's milk or plain yogurt can also be added for a creamier smoothie consistency.
7. Savoury Frozen Pops
Though we all love a sweet treat, savory food toppers are typically more popular among dogs. Bone broth is an excellent source of minerals and collagen and is a great dietary addition for older dogs and large breeds.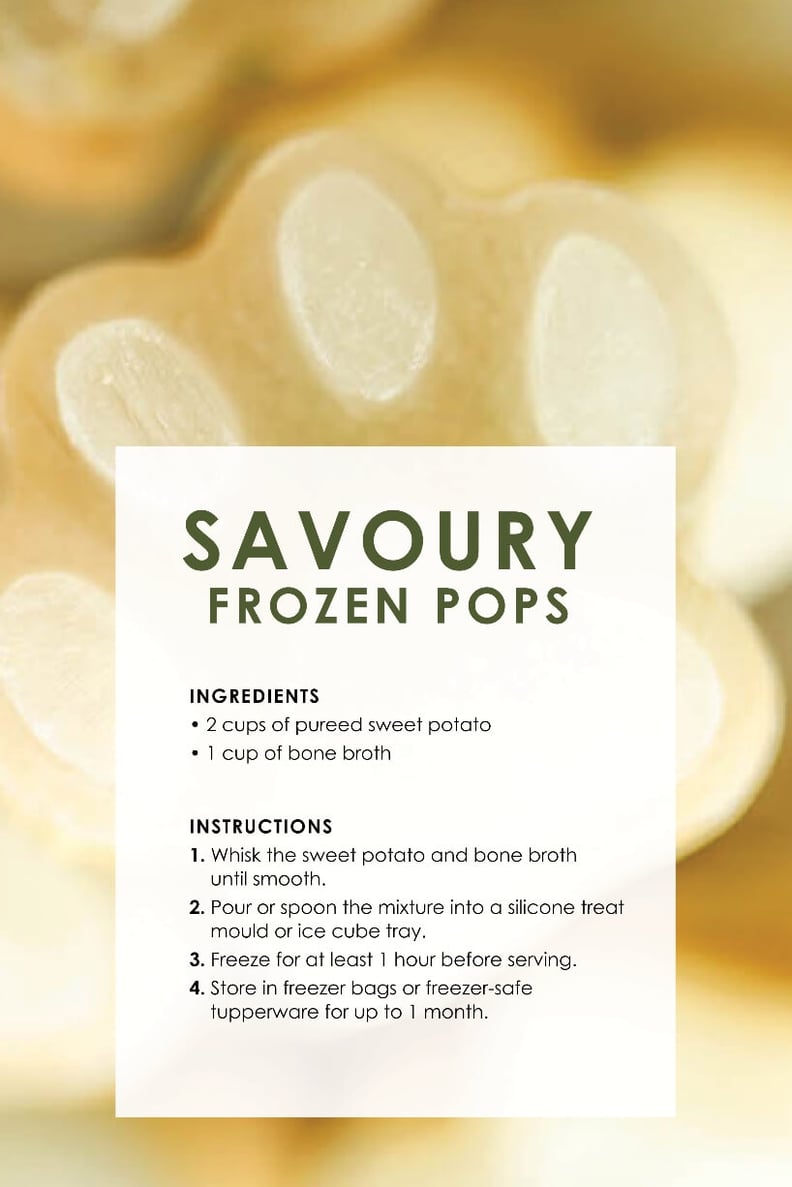 Photo credit:
Damndelicious.net
This is a great way to sneak in some fresh veggies too. Blend some fresh dog-safe veggies and add to your mixture. Broccoli, spinach, or bell peppers are all great, nutritious options.
You can use store-bought bone broth for dogs, or you can make your own. Check out our bone broth recipe to find out how you can customize your dog's bone broth to boost his health.
8. Cantaloupe Ice Cream
If you have a senior pet that might not have all the teeth that they once did, great soft-serve ice cream is a fantastic frozen treat for dogs. Try it with any fruit, but we chose cantaloupe for its texture and sweetness.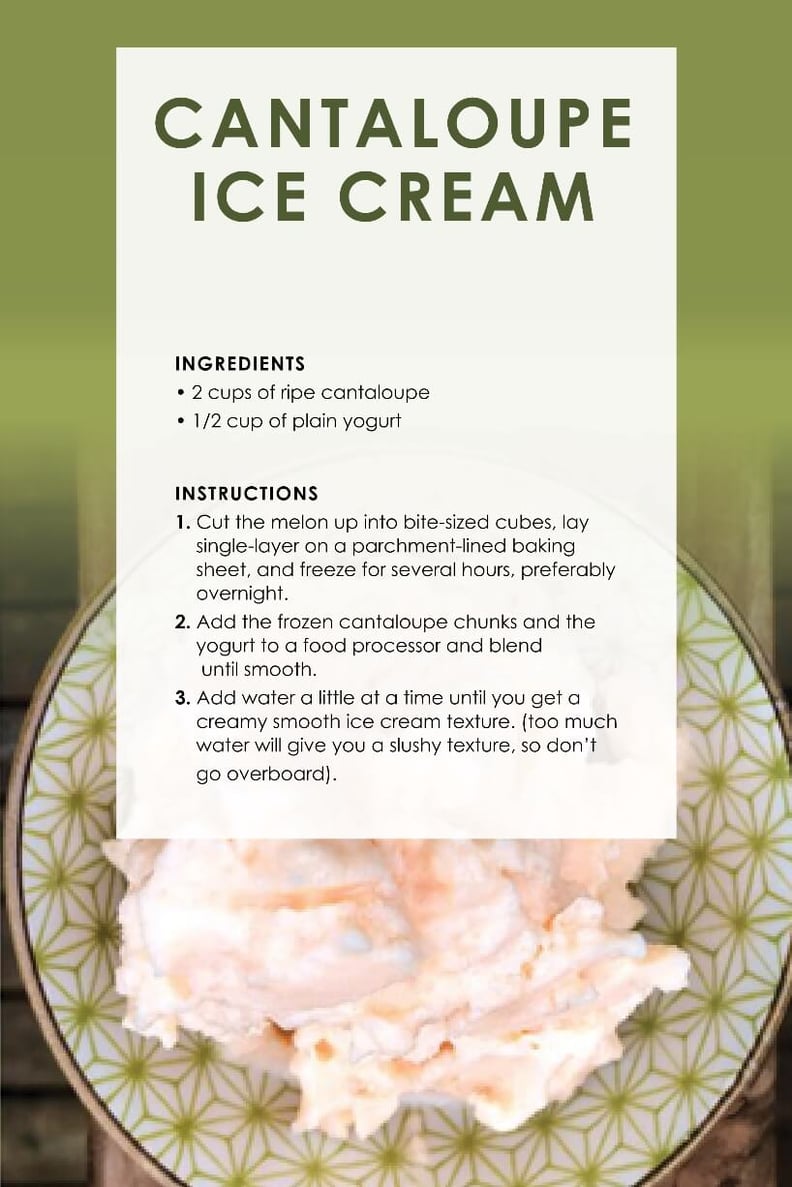 Photo Credit:
Kiki Kane @rover.com
For an even creamier texture, use goat's milk instead of water to thin out the ice cream recipe. Supplements like cranberry powder or kelp can also be added to this diet to further boost nutrients and flavour.
9. Watermelon Sorbet
This is a refreshing treat for both you and your dog that can also help make sure your senior pet is getting enough fluids. Watermelon has a very high moisture content that can aid in digestion and urinary health.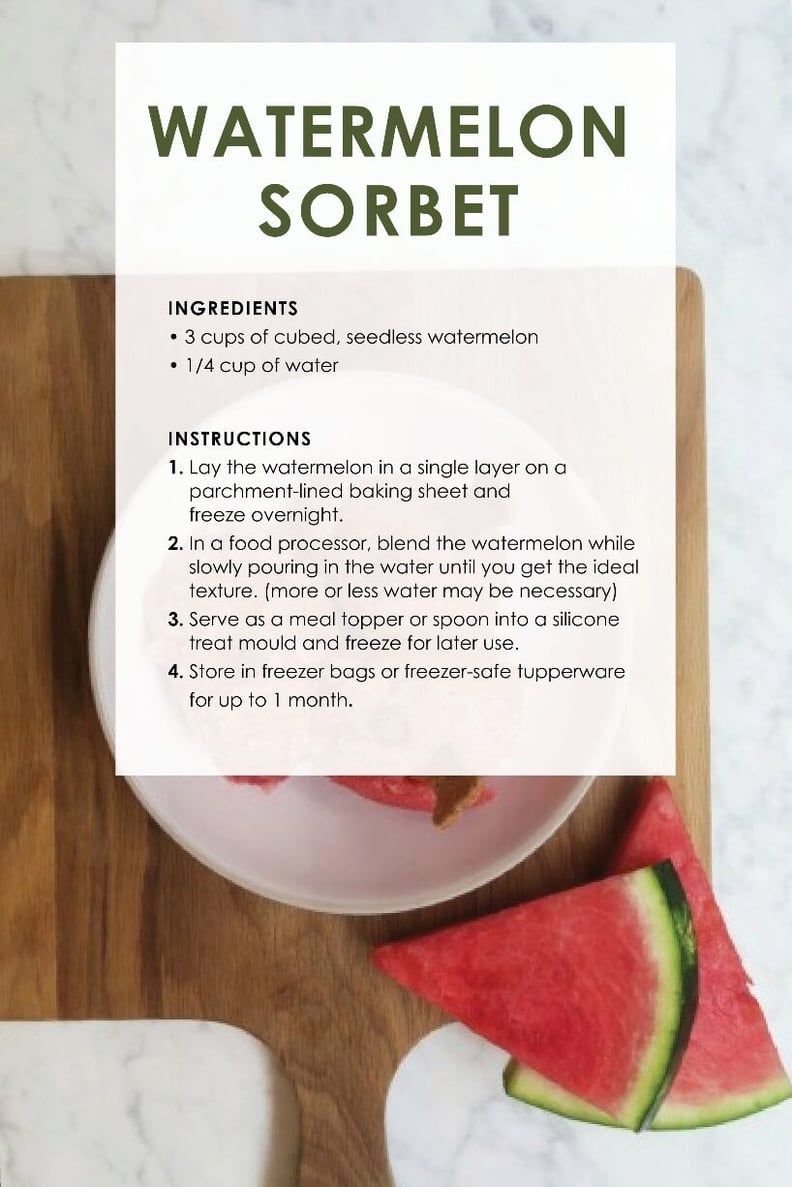 Photo credit:
Chewy.com
In addition to being moisture-rich, it also contains many essential vitamins and minerals like vitamin B6, potassium, and lycopene. Want a few more fun ways to feed your dog watermelon? Check out Top 10 Dog-Safe Fruits for more tips, recipes, and benefits.
10. Tropical Carrot Cubes
These are a great treat for senior dogs and puppies as they are packed with vitamins and are super tasty. These are great vegetarian homemade dog treats or homemade frozen treats for dogs that are suitable for dogs suffering from sensitivities and allergies.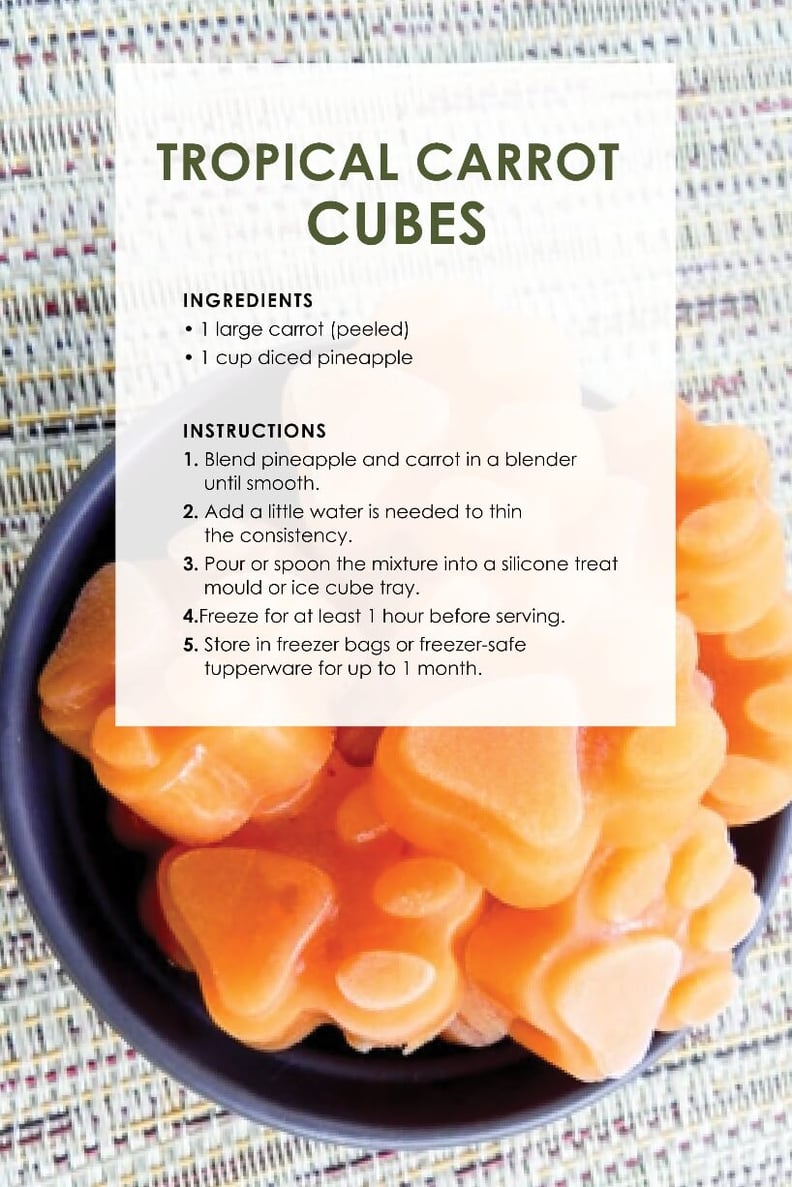 Photo credit: Vegetarianmamma.com
Carrots are rich in vitamin a which is excellent for eye health, and skin and coat health. Want even more veggie options for your next frozen treat for dogs recipe? Check out our 10 favourite dog-safe vegetables.
Frozen Dog Treat Safety
These frozen treats for dogs recipes are perfect meal toppers or stand alone snacks. If you want to add a stick to your pupsicles, make sure you hold it and take it away from your pet when they are finished, as the wood shards can be dangerous.
For a safer option, consider an edible stick, like a biscuit or cookie, or try a dental chew like Greenies.
Get Creative
Our pets are like family, and these are just a few great cool treats for dogs you can make for your pet this summer or all year long. Adding supplements, customizing recipes, and creating treats that your pet loves can be fun and super rewarding.
Get creative, add fresh seasonal ingredients that you have on hand, or add your favourite supplements to help boost the vitamin content they need to be healthy.
Frequently Asked Questions
What are two-ingredient frozen dog treats, and why are they popular?
Two-ingredient frozen dog treats are homemade treats made with just two simple ingredients. They are popular because they are easy to make and provide a refreshing treat for dogs, especially in hot weather.
What are some common two-ingredient combinations for frozen dog treats?
Common combinations include plain yogurt and banana, chicken broth and peas, peanut butter and banana, or apple and carrot puree.
Are two-ingredient frozen dog treats suitable for all dogs?
While most two-ingredient treats are safe for many dogs, it's essential to consider any dietary restrictions or allergies your dog may have before making or offering them.
How can I make sure the frozen treats are safe for my dog to consume?
Check the ingredients for any potential allergens or toxic substances. Always consult with your veterinarian if you have concerns about your dog's dietary needs.
Are there any precautions to take when introducing frozen treats to my dog's diet?
Introduce frozen treats gradually, monitor your dog's response, and ensure they are consuming treats in moderation to prevent stomach upset.
What are the benefits of making homemade frozen dog treats instead of buying commercial ones?
Homemade treats allow you to control the ingredients, avoid additives or preservatives, and tailor the treats to your dog's preferences and dietary needs.