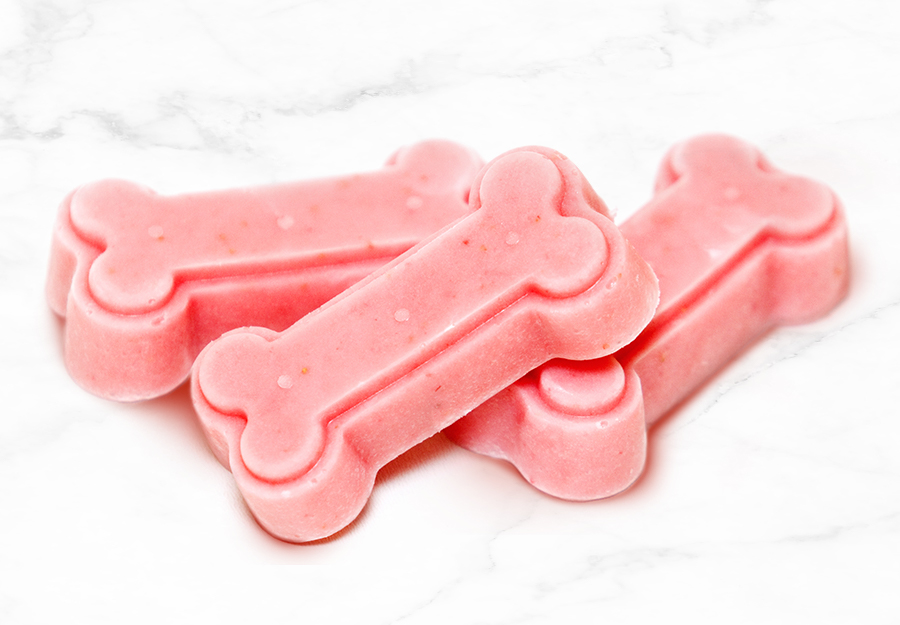 We all love to spoil our pets, so why not share one of your favourite summer treats, Popsicles, or should we say Pupsicles! We have collected ten of the best frozen dog treats that you can make for your pet this summer.
These tasty snacks include some of the best fresh foods that you can feed your dog, plus they offer a refreshingly cool treat to beat the summer heat. Frozen dog treats can also help to keep your dog properly hydrated in hot weather.
Tailoring Treats to Your Dog's Age
Different life stages can benefit from certain nutrients. You can use frozen dog treats to include ingredients and nutrients that can help to support your dog at each life stage.
Growing puppies need a higher concentration of vitamins to grow properly. Adding supplements to your puppy's frozen treats can help to support growth and development. Diggin' Your Dog Firm Up! Pumpkin & Cranberry is an excellent option if you are looking to add extra vitamins and nutrients to your frozen dog treat recipe.
Adult dogs are a little more specific when it comes to creating treats for them. Adult dogs need more protein than puppies and older dogs to meet their energy needs. Add a little extra protein to your dog's frozen snacks with high calorie treats, like Boss Dog Pro Puffs.
As dogs age, it can get more difficult to get seniors dog to eat right and get all the nutrients and vitamins they need to support them through their golden years. If they take supplements or medication, it can be doubly difficult.
Frozen treats are a great way to make sure they are getting all they need. If you are looking for a great supplement for your senior dog, The Honest Kitchen has a powdered Goat's Milk supplement that has all your senior dog needs.
10 Frozen Dog Treat Recipes
Are you ready for some super tasty frozen dog treat recipes? Here's our top 10 favourite recipes to inspire you to make your dog a tasty summer treat that is packed with nutrients: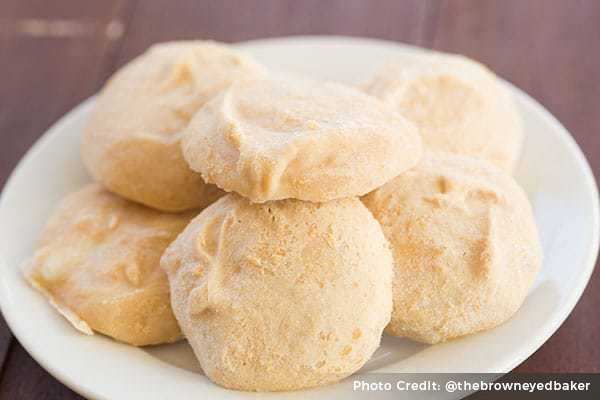 This recipe uses plain, unsweetened yogurt, pet-safe peanut butter, like Nature's Logic Peanut Butter, and fresh or frozen blueberries. Pups love fresh strawberries as well, so you can add strawberries or another favourite pet-safe fruit to the recipe.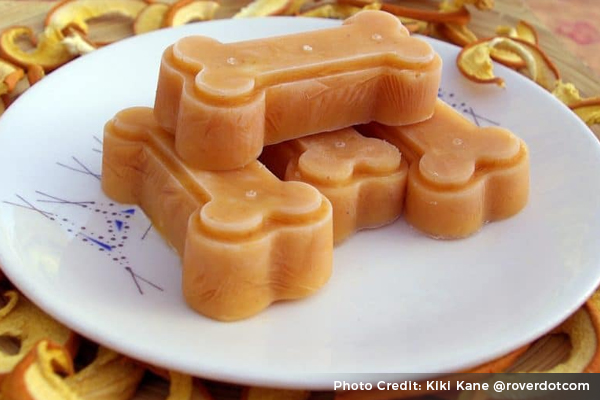 Even your dog's fall favourites can be incorporated into your summer dog treat recipes. Fruitables canned pumpkin or sweet potato and plain, unsweetened yogurt pair together to make a tasty off-season snack.
3. Frozen Banana Treats

Bananas are loaded with nutrients like potassium, vitamin C, and Vitamin B 6, so why not add them to your dog's favourite summer snack. Using pet-safe peanut butter, banana, and some plain unsweetened yogurt, you can make a tasty chilled delicacy.
For dogs with sensitive digestion, try swapping out the yogurt for raw goat's milk, like Primal Goat's Milk. It is loaded with probiotics to improve and support digestion.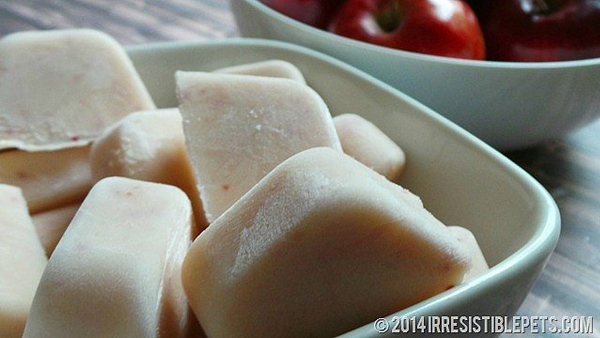 These are super easy, and you do not have to have any special equipment to make them. Just take an apple, slice it, and remove the core and seeds. Toss the apple slices into a blender with some plain Greek yogurt, and blend until smooth. Add the mixture to an ice cube tray or a treat mould, like the Messy Mutts Silicone Treat Mold, and freeze.
5. PB & F(ruit) Freezies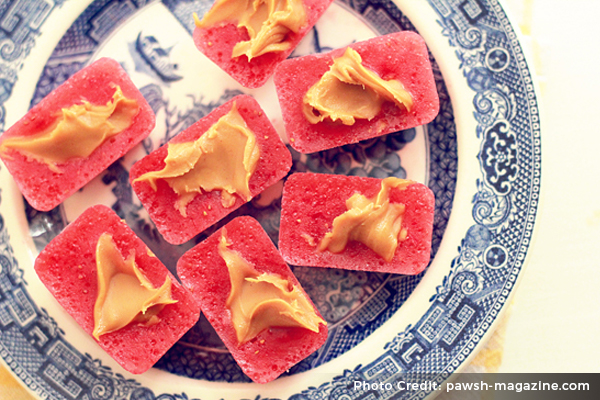 A doggy twist on a classic flavour. Take a dog-safe fruit of your choice, strawberries work well, and blend them. Add the pureed fruit to an ice cube tray and freeze solid. Add a smear of pet-safe peanut butter to the top and freeze again for a tasty treat.
You can mix the peanut butter right into the fruit smoothie before freezing, but like to class up our pup treats with the smear technique.
6. Frozen Smoothies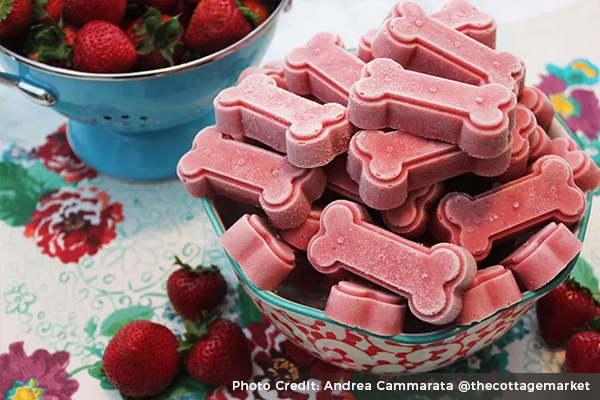 This is another great way to get your dog some extra vitamins. Nutrient-rich fruits like blueberries, are great to add to your pup's smoothie. Using plain yogurt and some seasonal fruits, this smoothie is easily customizable.
Don't forget about healthy veggies too. Fresh pet-safe vegetables or a pre-made veggie product like Green Juju can add even more nutrition to your dog's smoothies.
7. Savoury Frozen Pops
This is a great way to get your pup to eat some much-needed veggies. Take sweet potato and cook well. Puree in a blender. Adding chicken stock, beef broth, or a pet bone broth like Open Farm, is another great way to up the protein factor to craft this ultra savoury snack.
8. Cantaloupe Ice Cream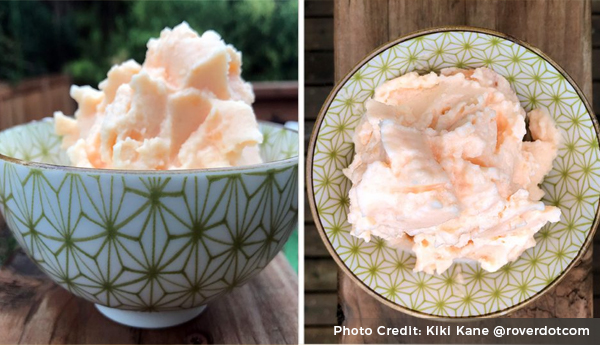 If you have a senior pet that might not have all the teeth that they once did, a great soft-serve ice cream is a fantastic frozen treat. Try it with other fruits as well. Pineapple is a great substitute and is loaded with nutrients
For older pets, you may want to add something, like Cranimals, for a bit of extra flavour and to help with their urinary tract health.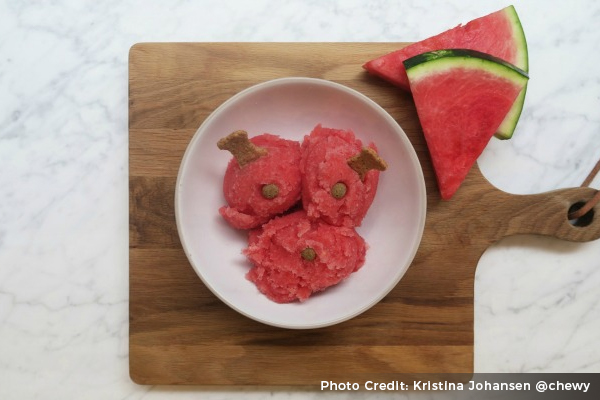 This is a refreshing treat that can also help make sure your senior pet is getting enough fluids. Take one and a half cups of frozen watermelon flesh, seeds removed, of course. Add some plain yogurt or goat's milk and freeze the mixture until it is just barely frozen. Give it a stir, scoop, and serve.
Want a few more options for feeding watermelon? Check out Can Dogs Eat Watermelon for tips, recipes, and benefits.
10. Apple and Carrot Dog Cubes

These are a great treat for senior dogs and puppies as they are packed with vitamins and are super tasty. These are a great vegetarian option if you have a senior pet that might not be able to metabolize high protein as well.
Frozen Dog Treat Safety
If you want to add a stick to your pupsicles, make sure you hold it and take it away from your pet when they are finished, as the wood shards can be dangerous.
Instead, consider an edible stick, like a biscuit or cookie, or try a dental chew like Greenies. They are a perfect popsicle stick and will improve your dog's breath.
Get Creative
Our pets are like family, and these are just a few great treats you can make for your pet this summer or all year long. Adding supplements, customizing recipes, and creating treats that your pet loves can be fun and super rewarding. Get creative, add fresh seasonal ingredients that you have on hand, or add your favourite supplements to help boost the vitamin content they need to be healthy.
What's your favourite Pupsicle recipe? Share your tips in the comments below!