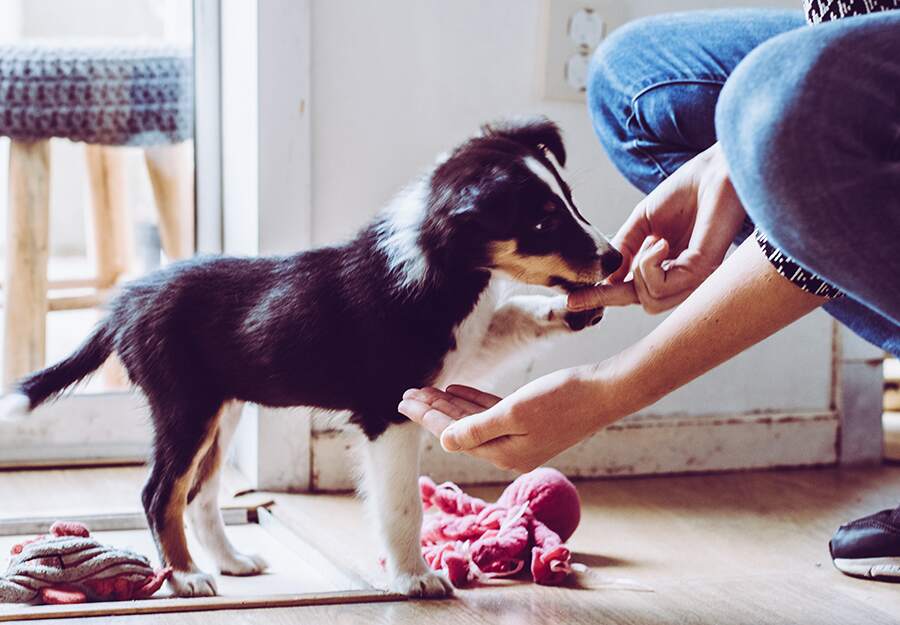 Sit! Stay! High-Five! Oh boy, training your new pup is gonna be a full-time job, but using the best puppy dog training treats can help your puppy learn to roll over and shake like a pro. Training is easier when your puppy has a good reason to pay attention.
Picking the best treats to train your puppy will have them drooling in anticipation and focused on your instructions. Healthy puppy training treats can make training less of a nightmare and have you feeling good about rewarding your dog with nutritious goodies.
Puppy Training Treat Basics
Welcoming a new puppy into your home can be equally exciting and nerve-racking, especially if it's your first time. From the second they are born, puppies are learning, growing, and adapting to their environment.
To make sure you are ready for your new addition, make sure you have everything from our new puppy checklist including some of the best dog training treats.
When you bring your new pup home, it's important to help them through this transition by providing the stability and routine that they need to succeed. Just like kids, puppies require a structured environment to thrive and develop.
It may sound strict and boring, but dogs are instinctively eager to please. They desperately crave that "good boy" title, and with the right tools and puppy reward treats, any dog can be a great dog. Choosing the best puppy snacks for training is a great place to start.
Why You Should Treat Train Your Puppy
Your puppy training adventure starts with day one. You'll likely need to potty train, crate train, or just teach them the basics of good manners. They need to know what's theirs and what's yours, and what is or isn't appropriate good behavior and dog training treats help instill these positive behaviours.
Incentivizing good behavior and cognitive development is the best way to help your puppy to connect with the lessons that you are teaching. There are many different ways to reward your dog for a job well done.
For some basic tips to get you started on your puppy training journey, check out some common puppy training mistakes and their simple solutions in Puppy Training Tips.
Show Your Enthusiasm with Dog Training Treats
Never underestimate the value of a compliment. Regardless of whether they understand the words or not, your tone can convey the message perfectly. Verbal rewards are high value and complementary to other training tools and methods.
Quick and high-pitched tones communicate excitement, so keep your congratulatory remarks short and consistent. I like saying YES! It is short and easy to sound excited about.
In no time, your pup will be just as excited about their success as you are. Remember to use the same or similar words to help your dog connect the action to the words, and make sure your feedback is appropriately timed. You want to respond right away to avoid them not understanding which action was correct.
Keep Your Cool
Training your puppy takes patience. Negative verbal correction is an ineffective way of training, especially with very young puppies. Puppies tend to be more timid and easy to spook, so a harsh tone can be very discouraging.
Acting out can also be a way of getting attention. Remember that to a frustrated puppy, any attention is good attention. If they are stubborn or uncooperative, ignore them until they can calm themselves down. Once they have settled, you can resume training.
Benefits of Treat Training Your Puppy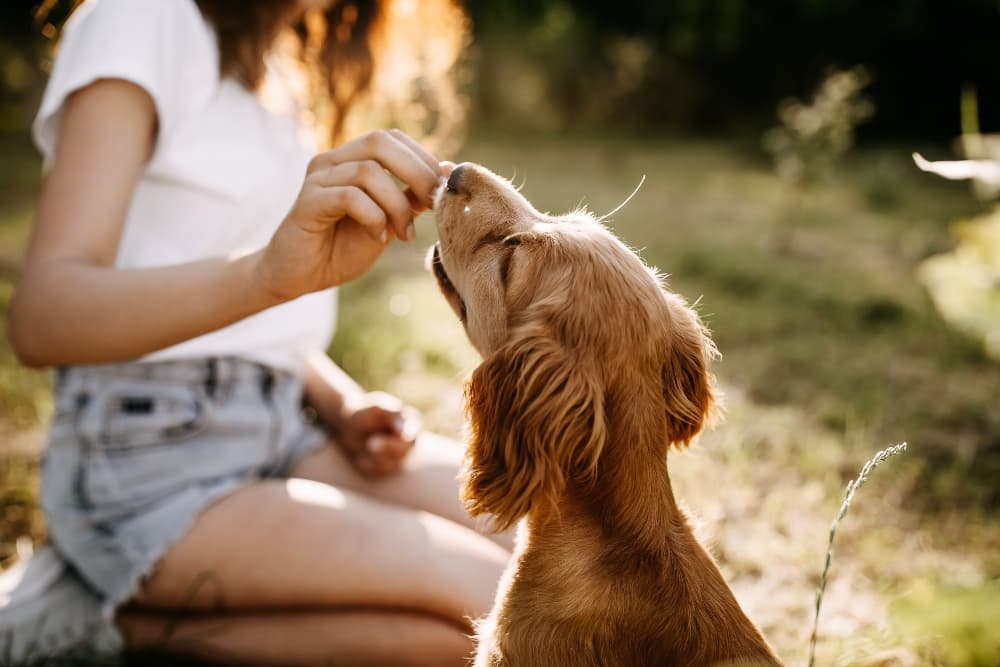 Treats are the most common tool for training young dogs in basic commands, new tricks, and manners. Puppies are easily distracted and excitable, so having a physical reward to complement the verbal praise will help keep them focused on the task at hand.
Here are a few more benefits of treats great for training your puppy:
R+ Puppy Training
R+ is a style of reward-based training, also called positive reinforcement training. Puppy respond best to positive reinforcement, which is exactly what treat training is - follow a direction, get a reward.
This works in a few ways. First, it helps your dog associate training sessions with yummy snacks, so your puppy is more likely to stay focused on you. Second, it helps clearly demonstrate to your puppy which actions should follow each verbal or hand command.
Check out Force Free Dog Training for more tips on positive reinforcement training for puppies.
Calories In and Calories Out
Excessive treating can lead to unwanted weight gain, especially in larger breed dogs, but using your dog's training sessions to burn off some extra calories can help make sure your puppy is using those extra calories for energy and development.
Nutrient Boost
During the puppy stage, your pooch may need some extra calories and nutrients to support its growing body. As long as you pick healthy puppy training treats, your treat training sessions can help to supplement your puppy's dietary needs during growth spurts and times of higher activity.
Healthy Puppy Training Treats
Pet stores are full of dog and puppy training treats, but it can be hard to know which ones are healthy enough for your pooch. Puppy training snacks should always be appropriately sized for the animal, free of artificial colours, and flavourful or aromatic enough to be attention-grabbing.
That being said, we see a lot of treats that are full of fillers, sugar, salt, or other undesirable ingredients. Occasionally giving a junk-food type treat is OK, but if you're consistently treat training, you may want to elevate the quality of the treats to avoid digestive upsets and poor nutrition.
Look for treats with minimal or even single ingredient formulas, like freeze-dried or dehydrated dog treats so that you always know exactly what you are offering your dog.
What is the Best Treats for Puppies?
Training treats should be small and easy to take on the go, that way you can always have a tasty reward available to make any situation a training opportunity for your puppy. Safe puppy treats for training are small enough for your little puppy to quickly chew and swallow without being a choking hazard.
So what is the best puppy training treat? What are the healthiest puppy treats? Fortunately, you don't have to choose just one. In fact, having a little variety can help keep your training fresh and exciting for your pup. To help you get started, here's a list of what we think are some of the best puppy training treats:
Crunchy Puppy Training Treats
When it comes to high-value puppy reward treats, it's not just about flavour. Texture can play an important role too, and some dogs just love the crunch of a cookie. Here are our favourite crunchy training treats for puppies.
1. Northern Biscuit Minis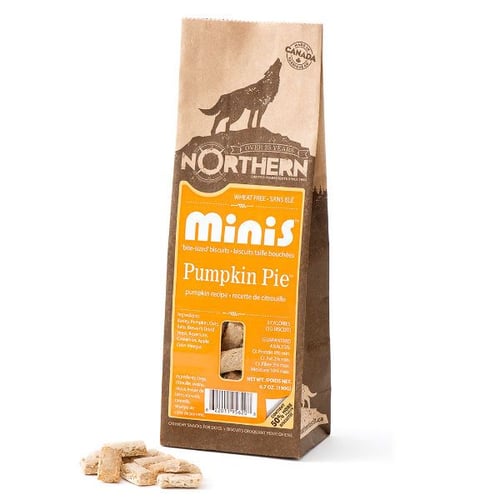 Different textures are appealing to puppies during their teething stages. Northern Biscuit Minis Biscuits are lightweight with just the right amount of crunch for those sharp puppy teeth. Choose from four delicious flavours like Canadian Bacon with Blueberries, or Pumpkin Pie.
Northern Biscuits have fewer ingredients than many popular biscuit brands, which makes them more natural and ideal for sensitive stomachs.
2. Polkadog Chicken Littles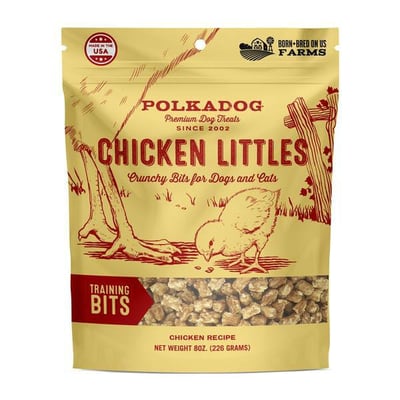 With only 3 nutritious ingredients, Chicken Littles are crunchy treats that are packed with flavour. They are dehydrated at a low temperature to make them softer than the average biscuit, but still crunchy enough to satisfy your dog's munchies.
These little bits are high in protein and very low in fat to provide a hearty meat flavour without being too calorie-dense. We recommend these good training treats for puppies.
3. Grandma Lucy's Organic Oven-Baked Treats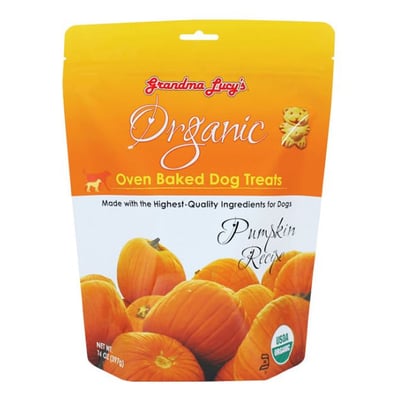 Remember Teddy Grahams? One of our favourite childhood snacks is now a healthy treat for your pup too. Grandma Lucy's Organic Oven-Baked Natural Dog Treats are offered in a wide variety of flavour options like blueberry, pumpkin, and apple.
All of their oven-baked cookies are made with organic, human-quality ingredients. Each bear-shaped cookie is not only a delicious snack but they are easily snapped into smaller pieces for high-value training rewards.
Pro tip: It may sound crazy, but give them a try yourself. They are quite possibly the tastiest, flavoured treats we've ever tried.
4. Darford Grain-Free Mini Biscuits

Better for larger breeds because of their size, these cookies are both healthy and yummy. Darford offers a huge variety of flavours to appease picky pets and has grain-free and vegetarian options for dogs with sensitivities or allergies.
The mini sizes of these biscuits are easily snapped in half to lengthen training sessions without spoiling their appetite. Naturally flavoured and packed with organic fruits and veggies, Darford biscuits are a nutritious reward for your puppy's hard work.
Soft & Chewy Puppy Training Treats
During the teething process, your puppy may have sore gums. That's why soft and chewy dog treats might be a better option for treat training your pup. This type of treat is easy to cut or break into small sizes to suit your puppy's size and training style.
Plus, moister puppy treats have a stronger scent and flavour to keep your pup's attention during longer training sessions.
5. Farm Fresh Dog Treats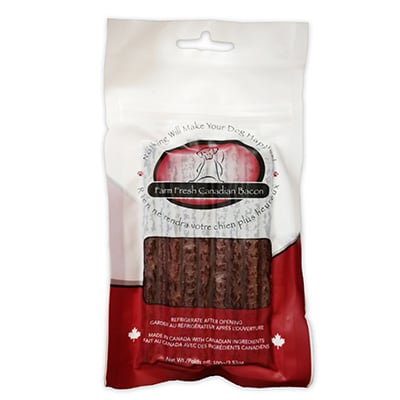 With only nine ingredients, these thin pepperoni sticks are a tasty and healthy treat for your puppy. The soft texture allows you to tear or cut them into any small in size training treats for puppies you would like or feed them whole for a larger reward.
Farm Fresh is a Canadian company that only uses Canadian sourced ingredients. Choose from either their beef or bacon formulas. Containing both heart and liver, these meaty treats will quickly grab your puppy's attention.
6. Plato Small Bites
Plato soft puppy bites offer a perfectly sized, 2 calorie reward for lengthier training sessions. The softer texture allows you to break them into even small pieces for very tiny pups and anyone worried about over-feeding. Additionally, these treats are ideal for teething puppies.
Rotate between salmon, chicken or duck flavours to provide a healthy, delicious and exciting reward.
7. Coco Therapy Coco Charms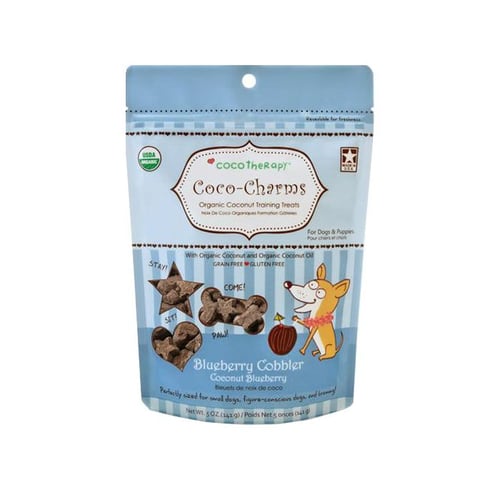 If you are wondering what are good treats for 8 week old puppies, then coco-charms are the answer. Size is the key to training treats, and these are some of the tiniest biscuits for the tiniest puppies.
Coco-Charms come in two delicious flavours, pumpkin pie and blueberry cobbler, and they smell as good as they sound. Coco Therapy uses only organic, GMO-free ingredients that are packed with nutrition and flavour.
As you can probably guess from the name, coconut and coconut oil are used to supply a healthy fat source, and with only 1 calorie per treat, you won't feel bad about rewarding a little more enthusiastically than normal.
Chicken-Free Puppy Training Treats
If your puppy suffers from allergies or digestive issues, then you may be looking for a chicken-free treat to help you train your puppy. Chicken is one of the most common food allergies in dogs, so it's usually the first ingredient you might want to eliminate from your pet's diet.
Here is our favourite chicken-free training treat for puppies:
8. Vital Essentials Duck Nibs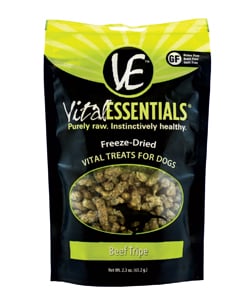 If you want huge flavour in a tiny package, then look no further. Vital Essentials Duck Nibs are freeze-dried ground duck, bone, organ meat and herring oil, making these rich meaty treats ideal for pickier pets without harmful ingredients like corn wheat.
Organ meat is full of essential vitamins, minerals, and fish oil provides a healthy source of omega fatty acids to support healthy skin and coat. Not sure about duck? Try out the rabbit, beef, tripe, or Alaskan salmon bites instead.
Single-Ingredient Puppy Training Treats
Tried the chicken-free route and your puppy is still itchy? Try a single ingredient treat to give yourself total control over what your puppy eats. These are great for unknown food allergies and digestive issues.
These aren't training dental treats technically, but are super flavourful and can easily be broken into training treat-sized pieces for dogs of any age.
9. Snack21 Fish Treats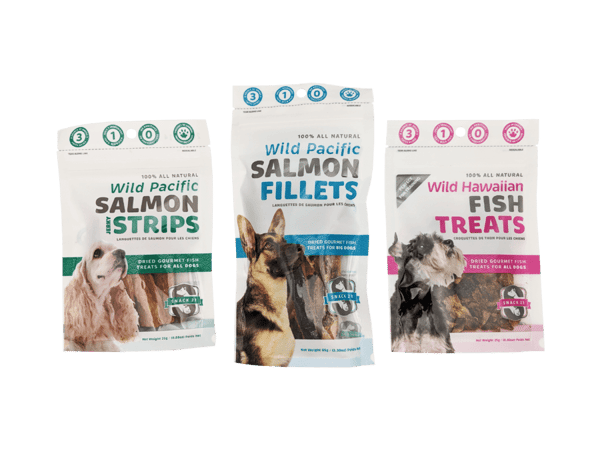 Fish-based treats have a pungent odour and are useful for encouraging pickier pets to stay attentive. Snack21 fish treats are available in Wild Hawaiian, Salmon, Herring, and Freshwater Rainbow Trout.
No additives, preservatives, or artificial flavours make these fishy snacks ideal for sensitive tummies. Fish is also rich in omega fatty acids, which can aid in digestion and promote healthier skin and coat health.
10. ValuePack Canadian Beef Liver Lover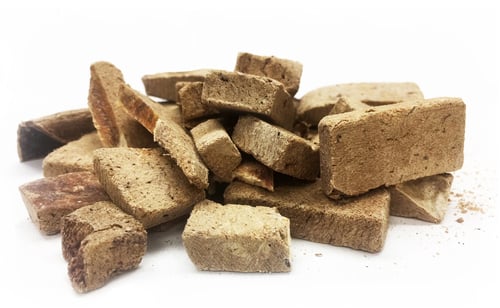 Another of our bulk products, beef liver lovers are all-natural single-ingredient beef liver chunks that are sure to get your puppy's attention. They can be easily broken into smaller bite-sized pieces for training and have a strong liver scent to keep your pup focused on training.
These treats are great for dogs of any size and can even be fed to cats!
Healthy Dog Training Treat Recipes
Looking for a DIY dog training treat recipe? Sometimes you just can't find a simple training treat that your dog will flip for, so why not try making your own. Not only does this allow you to pick your own healthy ingredients, but you can also make the treats as small as you want to suit your dog's size.
Peanut Butter Banana Morsels
With just four simple ingredients, you can easily whip up a tasty and healthy dog training treat recipe.
Ingredients:
Directions:
Mix together all ingredients in a large bowl or stand mixer. The dough will be thick.
Roll out your dough ball on a lightly floured surface to about ¼ inch thick.
Use a bench scraper or a pizza cutter to cut the dough into your desired training treat-sized squares. ½ inch by ½ inch is great if you are doing lots of treat training, but you can cut your squares a little bigger if you have a bigger dog.
Place your cut treats onto a parchment-lined baking sheet, single-layer, and bake at 350 for 25 minutes or until you reach desired crunchiness.
Store in an air-tight container at room temperature.
This is just one example of a basic and easy homemade puppy training treat recipe. You can customize your recipe by swapping out ingredients like for some of your dog's favourite flavours, like pumpkin, chicken, bone broth, or their favourite dog-safe veggies or dog-safe fruits.
Keep Your Training Treat Fresh and Fun
Treat are meant to be exciting, so switch up your flavours and textures to keep treat training both effective and fun. We recommend, if you are using a treat pouch, or even just your pocket, throw a mix of different treats in there that you know your puppy loves, this way he gets something different every time.
Treats can be changed much easier than food. If you are trying a new treat, test out the new treat in a training session by feeding a small amount with your normal treat mix. If your puppy has no difficulties with the new treats, then you are safe to incorporate them into your regular treating routine.
How Many Treats to Give a Puppy When Training
There is no magic number of treats for puppy training sessions. Every puppy is different based on breed and activity level. When doing long training sessions throughout the day, it's easy to overfeed your dog.
Treats shouldn't be more than about 10% of their caloric intake for the day, so try to keep your treats as small as possible, and reduce meals to accommodate heavier treat days.
Even if the treat seems too small, that's ok. Most puppies will happily work for even the smallest morsel if it's meaty and delicious. This will allow you to train for longer without spoiling their appetite.
Many softer, freeze-dried or chewy treats can be broken or cut into small pieces. Try freezing the softer treats that you've cut to prevent them from going stale before you can use them.
Whatever your training method or methods are, be consistent and positive. It can be frustrating when it seems like they just aren't catching on, but it will eventually click. Consistency and repetition will work, so keep calm and treat on!
What's the go-to puppy training treat at your house? Share your best puppy treat training tips with us in the comments below.