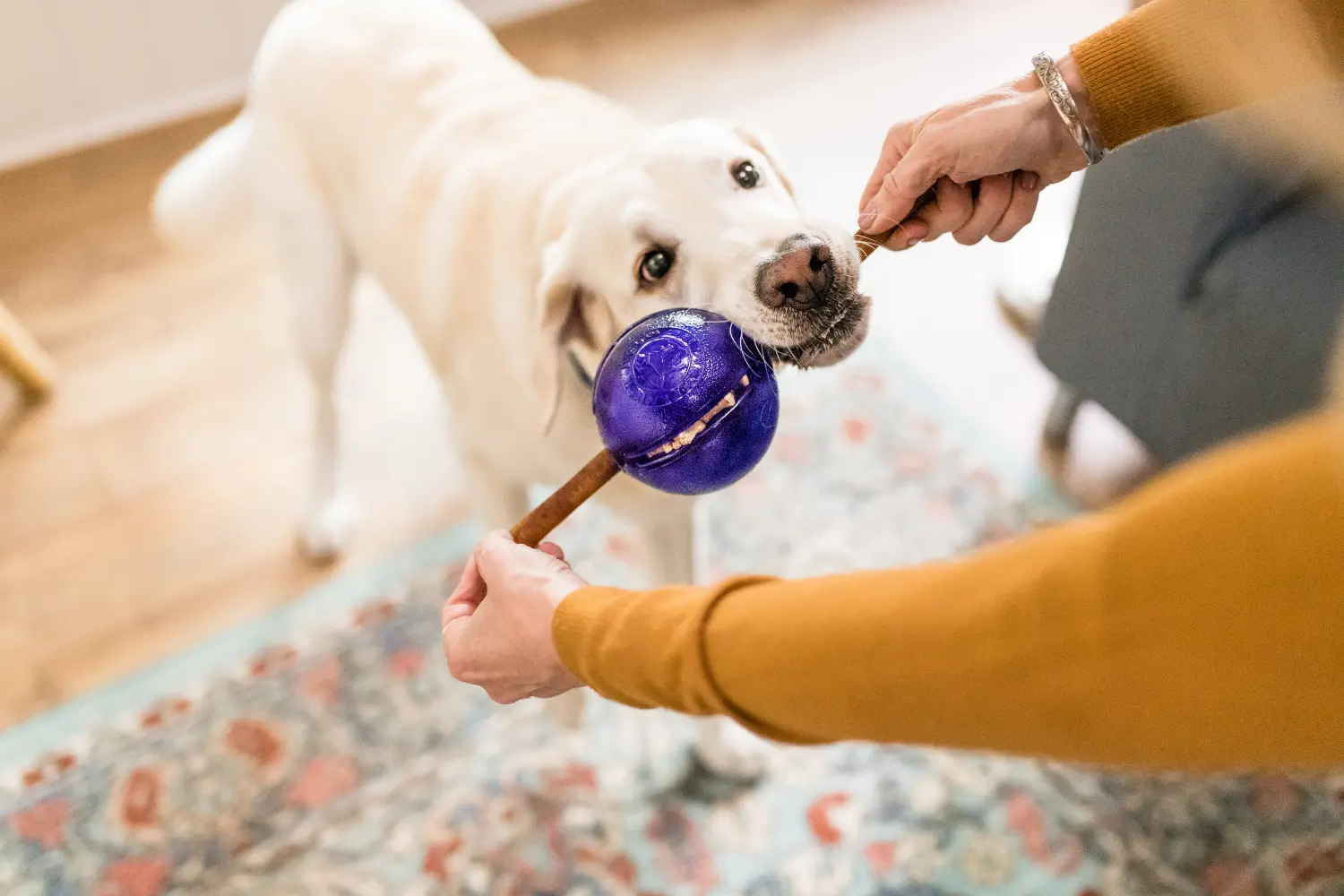 Dogs love bully sticks, but some dogs get a little too excited and try to swallow that last few inches whole. Try one of our 5 best bully stick holders to help make your dog's favourite chew safer and last longer.
Bully sticks are an all-natural chew that dogs love. They are long-lasting and healthy, and dogs love the taste, so it's no wonder they are one of the most popular natural dog chews on the market.
You'll find a wide assortment of variations of the popular chew under a variety of names, such as bull pizzles, steer sticks, pizzle sticks and puzzles, and they can come in all different sizes and shapes to best suit your unique dog.
Long-lasting dog chews are a great way to keep your dog busy, and bully sticks are one of the best options. For some dogs, especially larger breeds and aggressive chewers, standard bully sticks just don't stand up to a powerful jaw.
A bully stick holder is a popular accessory to help make bully sticks safer and help them last longer.
What is a Bully Stick Holder?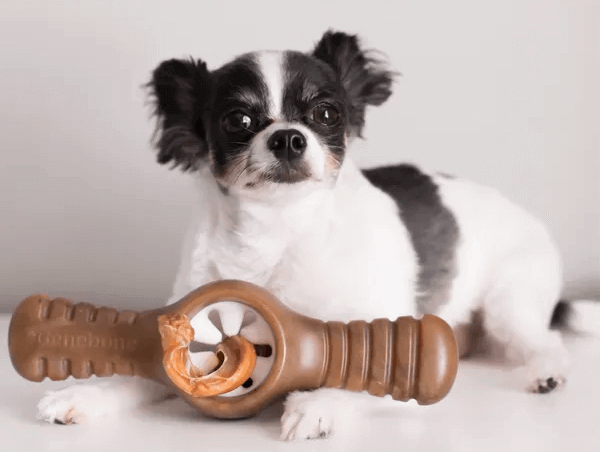 While these chews are safer than something like rawhide for dogs and more natural than some dental chews for dogs, a major concern that many pet owners share is that some dogs try to swallow large sections of the bully stick whole.
This is when a bully stick holder can be a useful tool. A bully stick holder is typically a hard chew toy that you can slide a bully stick through to prevent your dog from swallowing the last piece of the chew.
A bully stick holder can also make the entire chewing process a fun and challenging game for your pup. Heavy or aggressive chewers especially benefit from a dog chew holder because a well-designed bully bone holder makes the chews, like bully sticks, more formidable, so the fun lasts longer.
The Best Bully Stick Holders for Dogs
Bully bone holders come in many shapes and sizes. Though the purpose is the same, the bully stick holder you choose should suit both the size of your dog and the size and shape of their bully sticks. Here are 5 of our best bully stick holders:
1. West Paw Design Qwizl Treat Toy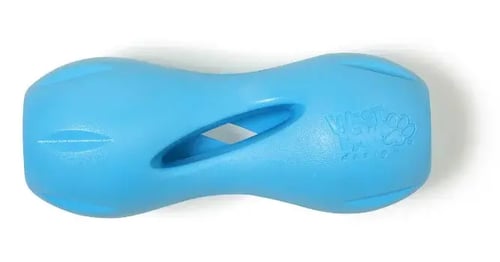 The West Paw Design's Qwizl Treat Toy will cradle a bully stick to ensure it lasts longer while stimulating your pup's mental prowess. The aqua-blue Qwizl is shaped like a bone. It will hold not only bully sticks but also other types of dog chews and spreads.
Once the bully stick is placed in the toy's depth, it will keep your dog active for hours as your pup tries to work the bully stick out of the toy. The slit located strategically on the side of the toy encourages your dog to chew at different angles.
The Qwizl bully stick holder is made entirely from Zogoflex, which is a recyclable and eco-friendly material. It not only bounces like a ball but also floats in the water. The durability scale released by West Paws rates the bully stick holder a four out of five for durability.
They also back the chew holder with their 100% Guaranteed Tough design, so if your dog should destroy the toy, then they will replace it with a new one.
Choose from either a small or large size. The USA-made toy is dishwasher safe, BPA, phthalate, and latex free.
2. Planet Dog Orbee Tuff Guru Ball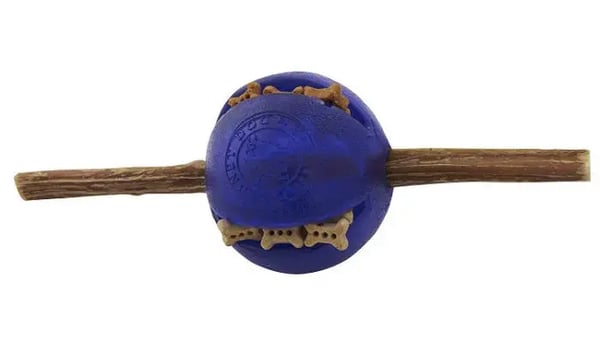 Is your dog crazy for balls? The Planet Dog Orbee Tuff Guru Ball is one of the best bully stick holders for ball lovers. The interactive toy meets a dog's need to play fetch and is also ideal for chewing.
There are four slots located around the ball that you can fill with bully sticks to create a challenging puzzle for your pup. They can roll, chew, and squeeze the toy to work the treat out of the grooves. It not only stimulates your dog's creativity while meeting the dog's mental challenges.
This toy lets you play a game of fetch with Fido. It can also float in the water. Hide the bully stick in the ball's depths and get your pup moving with an exciting game. The Orbee Tuff can stand up to the dog's voracious chewing while remaining gentle on the canine's mouth.
The Planet Dog Orbee Tuff Guru Ball is made from recycled, non-toxic TPE material that is FDA-approved. This toy is ideal for medium to giant dog breeds.
3. Benebone Pawplexer - Bacon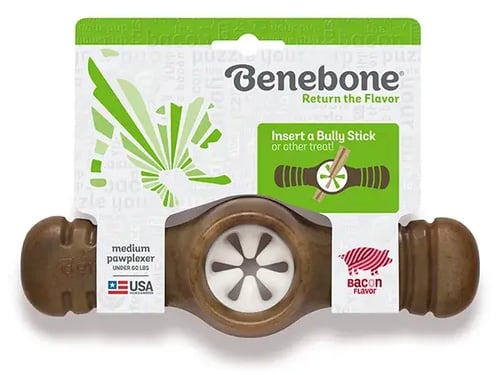 Benebone Pawplexer is more than just a toy and bully stick holder combo. It's also a fully flavoured chew that provides optimum dental benefits. The toy is fashioned from extra strong nylon material infused with the all-natural flavour of bacon which dogs adore. Position the bully stick in the center of Benebone Pawplexer to truly challenge the pup.
Even though the Benebone Pawplexer tastes fantastic, it is not edible. You should always supervise when your pup is enjoying this Benebone bully stick holder to ensure it does not actually eat the durable nylon in his enthusiasm to get the bully stick. Even though the nylon contains no harmful chemicals and is entirely sourced in the U.S.A., your dog should still not eat it.
The Pawplexer has an ergonomic design for ease of chewing and to ensure your dog benefits from maximum dental stimulation to help remove plaque and tartar buildup to keep the pet's gums and teeth healthy.
4. Sodapup MKB Cross Bones Treat Pocket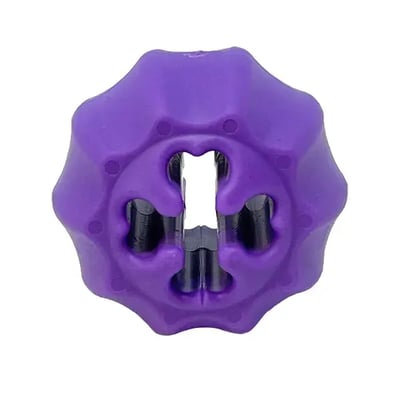 The Sodapup MKB Cross Bones Treat Pocket cradles not just bully sticks but also yummy spreads and other treats. The U.S.A.-made bully stick holder is made from durable rubber that is entirely animal and plant free. The non-toxic holder is dishwasher-safe.
The small size of this toy makes it the ideal bully stick holder for small dogs who weigh from 15 to 30 pounds only. Place the bully sticks directly in the heart of the holder for hours of chewing entertainment.
Along the outside of the Sodapup MKB Cross Bones Treat Pocket are ridges that stimulate your dog's gums and help keep the teeth clean while chewing. This toy is designed to stand up to moderate to tough chewing and should keep Fido happily busy for hours.
The Sodapup MKB Cross Bones Treat Pocket is similar in shape to the popular Himalayan Bonehead Dog Chew Holder.
5. KONG Treatster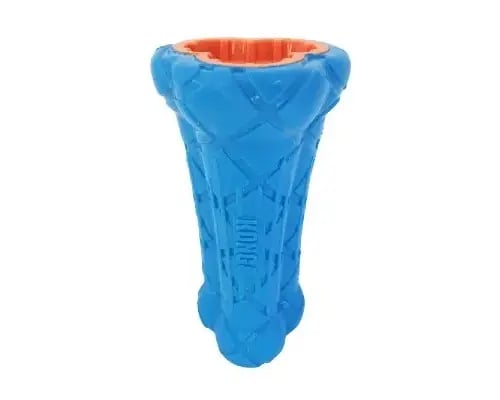 The KONG Treatster is made tough for long-lasting entertainment. You simply add the bully stick to the desired depth in the center of the toy. The depth determines the level of difficulty for attaining the coveted treat.
If you don't want to add a bully stick to the KONG Treatster, then you can use a spread like dog-safe peanut butter or purchase KONG StuffN' to apply onto the toy's outer ridges to add an even greater taste treat to entice the pooch.
The bully stick holder is ideal for light to moderate use. If your dog is a voracious and aggressive chewer, then this might not be a perfect choice. The toy should always be used under supervision.
Picking the Best Bully Stick Holder
Virtually all dogs adore bully sticks, but the cost of the natural chews can add up quickly if your furry friend chomps them down with gusto. Some owners might even drag their feet about buying bully sticks because they know their dog is going to devour the chew stick at lightning speed.
However, the best bully stick holders Canada ensure that your pup leisurely enjoys the chew by slowing them down.
Many dogs love bully sticks so much that they will chew the first portion of the stick with so much gusto that they rapidly swallow the remaining piece of the stick whole, which can make the dog choke.
A bully stick holder prevents your dog from eating the bully stick too rapidly. Instead, your dog must work to get the stick out of the holder, and it becomes an intriguing puzzle.
With a bully stick holder, your dog not only gets to enjoy the action of chewing but also the intrigue of working at the toy like a puzzle to gain the yummy reward.
Things to Consider When Buying Bully Stick Holders
When shopping at Homes Alive Pets for a bully stick holder, you'll find a wide array of materials, sizes, and shapes to pick between. Below are a few things to consider when buying a bully stick holder.
Size and Chewing Capacity
Always pick a bully stick holder that is suitable not only for your dog's size but also for your pup's chewing capacity. Even small or medium-sized dogs are often ravenous chewers, so you'll need to pick a holder made from tough material to stand up to the sharp teeth.
If your dog enjoys chewing or is overly destructive, then a bully stick holder Canada is ideal. Your pup will spend the day actively trying to break the bully sticks out of the holder.
Bully Chew Holder Shape
Bully stick holders come in many shapes. Some are easier for dogs to grip than others. Ideally, you should invest in more than one type of holder to offer your pup variety and keep the dog guessing about how to reach the delicious bully stick.
Gripping Strength
When picking a bully stick holder, you'll want to consider the size of the bully stick that you'll be placing in the holder. You don't want to purchase a bully stick holder that is too big for the stick, or your pup won't be challenged enough.
The dog will easily pull the stick out of the holder, which will end the chewing fun too quickly. The best bully stick holders firmly grip the sticks, so your dog feels perplexed and determined to reach the chew.
Cleaning Options
With bully sticks, as with all-natural dog chews, there is a risk of bacterial contamination. However, a canine's intestinal tract is different from that of a human, so it can readily handle more bacteria, but you need to protect yourself.
When picking a bully stick holder, you may want to consider one that is dishwasher safe for fast and easy sanitization. Check out How to Clean Dog Toys to learn how to keep your dog's toys clean and safe.
A Must-Have for Your Doggo
A bully stick holder is a must-have addition to your dog's toy box if your pup adores bully sticks. More experienced chewers can get through their favourite chews faster and faster, so a bully stick holder is just the toy to help get the most out of these popular dog chews.
The above dog food brands are a few of the best bully stick holders offered by Homes Alive Pets. Each one will get your dog's tail wagging in anticipation of the chewing fun!
Frequently Asked Questions
What is a bully stick holder for dogs?
A bully stick holder is a device designed to secure and hold bully sticks, which are natural dog chews made from dried bull or steer pizzles. The holder keeps the bully stick in place to stop it from being chewed too quickly or becoming a choking hazard.
How does a bully stick holder work?
Bully stick holders typically have a gripping mechanism that holds the bully stick securely in place. Some holders have adjustable clamps or grooves that allow you to adjust the stick's position for optimum controlled chewing.
Are bully stick holders safe for dogs?
Bully stick holders help prevent dogs from swallowing the last small pieces of the bully stick, which can be a choking hazard.
Do all dogs need a bully stick holder?
Not all dogs require a bully stick holder. If your dog chews bully sticks quickly without any issues, a holder might not be necessary.
Can I use any type of bully stick with a holder?
Most bully stick holders are designed to accommodate a range of bully stick sizes.
Are there any alternatives to using a bully stick holder?
If you're concerned about your dog's safety while chewing bully sticks, you can also consider holding the stick yourself during the chewing session.