Watermelon is the ultimate summer treat, and we love to share our treats with our pets. So, can dogs have watermelon? Let's look at the benefits and safety of feeding watermelon to your dog.
Dogs Can Eat Watermelon
Yes, watermelon is safe for dogs to eat, but before you toss your dog a slice, you need to know how to feed it safely and how much your dog should have. Even foods that are safe to eat, should be fed in appropriate portions, so let's talk about some of the do's and don'ts of feeding watermelon to dogs.
Watermelon Don'ts
for Dogs
Watermelon flesh is safe, but never feed your dog the seeds or rind of the watermelon. They are difficult to digest and can potentially cause intestinal blockages. Look for seedless watermelons or be prepared to start picking out all the seeds.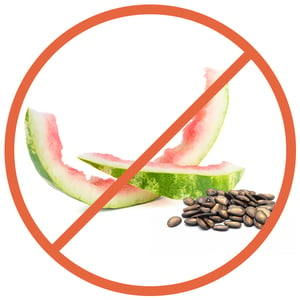 Watermelon is loaded with vitamin A. Dogs need vitamin A to support retinol and heart function, but too much of a good thing can be bad. Vitamin A is fat-soluble, meaning that excess vitamin A gets stored in the body. This can lead to Vitamin A toxicity.
This toxicity builds up over time, so you may not see symptoms of too much vitamin A in your dog's diet until it's too late and the damage is done.
1 cup of watermelon has over 850 micrograms of vitamin A, and dog's only need about 12 micrograms per pound of body weight. This means that a 25 lbs dog should only have about 300 micrograms of vitamin A per day, so a cup is way too much.
You also have to factor in the vitamin A they get from the rest of their daily diet. If they are already getting a healthy supply of vitamin A from their dog food, then you'll need to limit their watermelon portions even more.
This is why it's best to feed watermelon in moderation. We suggest it as a weekly treat and in appropriate portions. Here's a quick reference chart for watermelon feeding guidelines: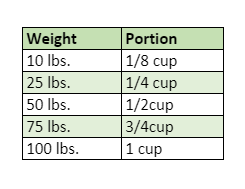 Check out Which Fruits and Vegetables are Safe for Dogs, for more treat ideas and appropriate feeding guidelines.
Also, do yourself a favour, and don't feed watermelon on furniture or carpet. It's high moisture content and bright colour make it a messy treat that will stain. Stick to outside, a bowl, or at least an easy to clean surface.
Watermelon Do's for Dogs
In addition to vitamin A, watermelon contains other nutrients that are beneficial for dogs, like:
Vitamin B6 and B1

Calcium

Potassium

Lycopene (antioxidant)

Fibre
These nutrients can help to support digestion, prevent cancer, and improve immune system function.
Watermelon is loaded with moisture, too. In fact, it's over 90% moisture, so it's a great snack for keeping your dog hydrated and cool on a hot summer afternoon.
It's also only about 50 calories per cup, so it's a great snack for dogs looking to limit calories.
How to Feed Watermelon to your Dog
Not only can dogs eat watermelon, most dogs love it! The best and easiest way to feed watermelon to dogs is fresh. Remove the rind and seeds and cut the watermelon flesh into bite-sized cubes. Pretty much the same way you eat it.
But we can get more creative than that. Here are 4 fun ways to feed your dog watermelon:
1
.
Frozen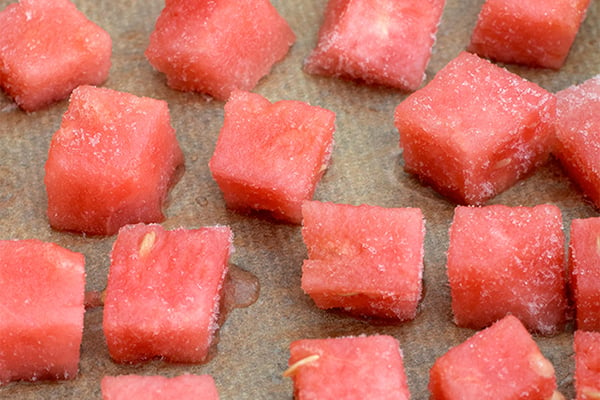 This one is simple. Just cut up the watermelon in to cubes and toss them in the freezer overnight. The next day your dog will have a watermelon cube to crunch on. It's a great way to store watermelon too. This way you can offer your dog his weekly watermelon snack well past watermelon season.
You can do this with other fruits too, like pineapple.
2
.
Watermelon Pupsicles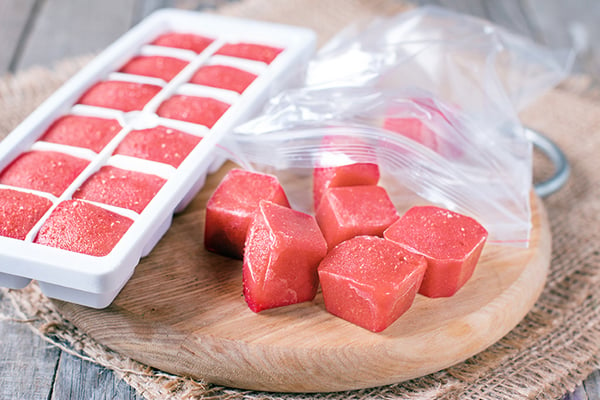 Blend up your watermelon cubes with some raw goat's milk, plain yogurt, or a splash of coconut milk to make a smoothie texture. Pour the mixture into an ice cube tray or a treat mould, like the Messy Mutts Treat Maker. Drop a teat, a piece of kibble, a small treat, or a blueberry into each ice cube, and freeze.
These tasty snacks are great for cooling your pooch or just adding a little pizzazz to his Sunday dinner.
This is just one of many frozen dog treat recipes. Get creative and substitute some of your dog's favourite ingredients, or hide some of his supplements in the recipe.
3
.
Watermelon Sorbet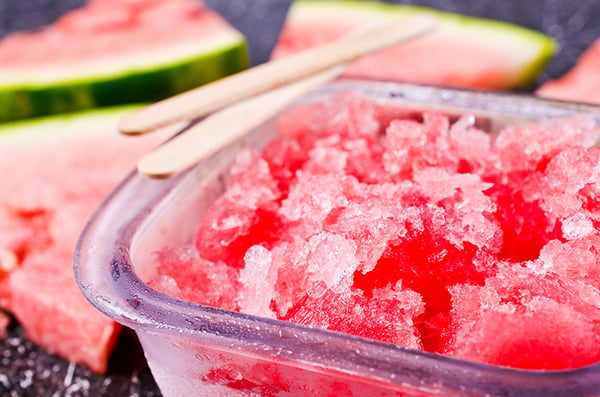 Ice cream is a summer favourite for us, but why not make something your dog can eat too. Freeze 1 cup of watermelon cubes overnight on a baking sheet. Toss the frozen cubes, ¼ cup of water, and a teaspoon of lemon juice into a food processor.
Blend and voila, you've god delicious watermelon sorbet for both you and your pooch.
4
.
Watermelon Jerky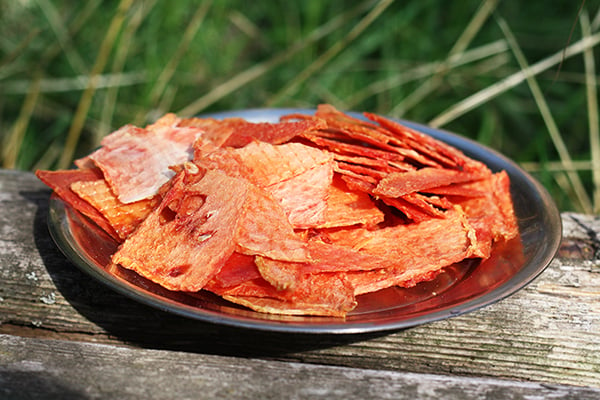 If you want to get super creative, then this watermelon jerky recipe is for you. I mean your dog... And you.
Slice the watermelon in ½" slices, rind removed. Make sure you take out all the seeds. Place the slices on a parchment lined baking sheet and bake in the oven at 135 F for 12-18 hours. This chewy watermelon jerky will have a texture like fruit leather but is safe to share with your pup.
These are an excellent snack to bring along on outdoor adventures like hiking and camping, too.
What's your dog's favourite way to eat watermelon? Share your tips and recipes in the comment below.
---
Posted by Krystn Janisse

Krystn is a passionate pet nutrition enthusiast. She has worked in the pet industry for over a decade and loves to share her passion for animal welfare with others. She loves all animals but is currently channelling some crazy cat lady vibes with her five lovable, but rebellious cats.
---