Keeping our dogs happy and healthy is the recipe for a successful long enjoyable life. Show them how much you love them by making your very own homemade dog treats. We've compiled a few doggone good and simple to make dog treat recipes in our latest dog treat roundup. Each one is full of fruits, veggies, and dog-approved goodness.
1. Sweet Potato Fries For Dogs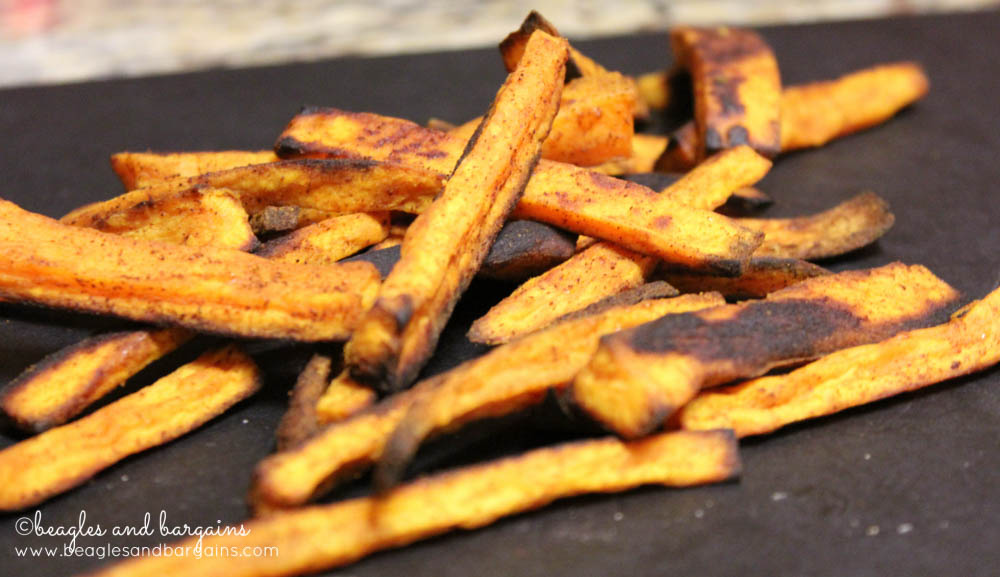 Full Recipe: https://www.beaglesandbargains.com/baked-sweet-potato-fries-dogs/
Dogs love every good-for-them ingredient in this homemade recipe so we put it at the top of our list. Sweet potatoes are the superstar veggie of this show but coconut oil and a healthy touch of cinnamon and turmeric complete this healthy powerhouse treat!
What's so great about turmeric? Check out Turmeric for Dogs to find out about it's amazing benefits.
Sweet Potato Fries Recipe
Ingredients
1 sweet potato
1 tablespoon melted coconut oil
turmeric
cinnamon
Instructions
Preheat oven to 425 degrees Fahrenheit
Cut washed and peeled sweet potato into evenly sized fry shaped pieces
Coat with coconut oil and sprinkle with cinnamon and turmeric
Mix in a large bowl or plastic bag
Place fries on a baking sheet in one layer
Bake for 15 minutes
Flip over fries for even baking
Bake for another 10-15 minutes. Let cool before feeding to your pup.
2. Peanut Butter and Pumpkin Dog Treats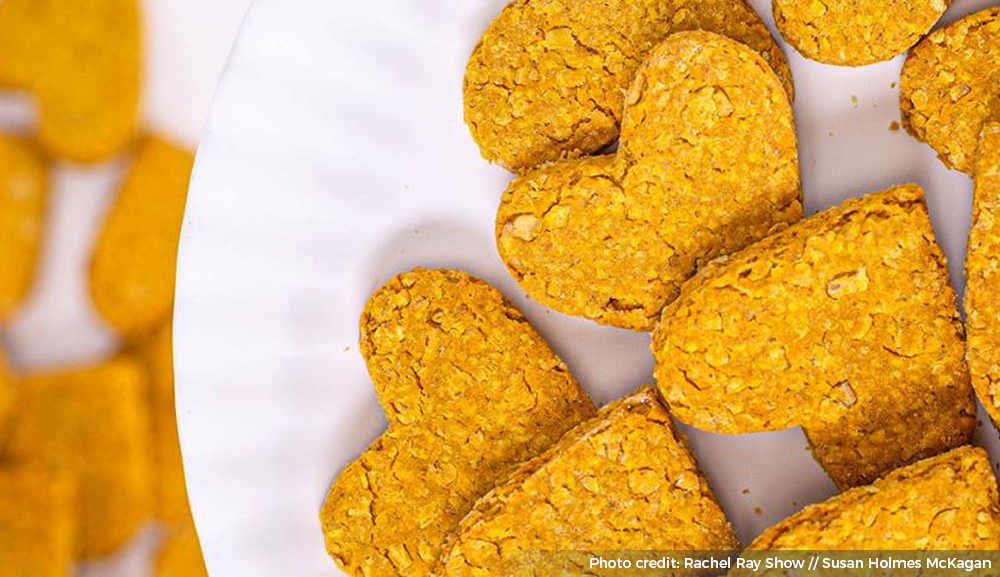 Full Recipe: https://www.rachaelrayshow.com/recipes/peanut-butter-dog-treats-with-pumpkin-susan-holmes-mckagan
This tail-wagging good dog treat recipe has three tasty ingredients that your dog is going to love. The best thing about peanut butter is that dogs love the taste and will love you right back! Peanut Butter and Pumpkin dog treats have a secret ingredient... heart-healthy oats! This trio of ingredients is loaded with everything good for your pup's overall health, digestion and so much more.
Hop over to 10 Health Benefits of Pumpkin to learn more about this amazing superfood.
Ingredients
1 cup old-fashioned or instant oats, plus more as needed
¼ cup Hero peanut butter
whole wheat flour or ground oats, for work surface
Instructions:
Preheat oven to 300 degrees Fahrenheit
Line a baking sheet with parchment paper.
In a food processor, process oats until they resemble a fine powder. Add pumpkin and peanut butter and process until a sticky dough is formed.
On a lightly floured surface, roll the dough until about ½ inch thick. Using a small cookie cutter or knife, cut out treats
Arrange cutouts on the prepared baking sheet and bake, 25 to 30 minutes. Let cool before feeding to your pup.
3. Frosty Paws Homemade Dog Treats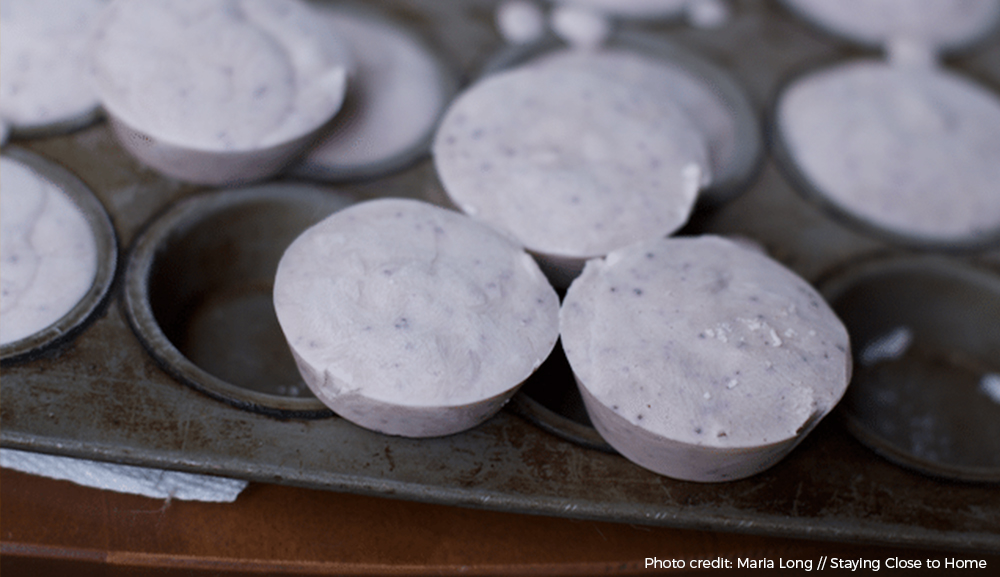 Full Recipe: https://stayingclosetohome.com/how-to-make-frosty-paws-or-homemade-frozen-dog-treats/
This fruity and creamy frosty pooch-tacular recipe will have your dog begging for more. It's full of sweet nutritious delicious fruit, healthy yogurt combined together and frozen to create the coolest, healthiest frosty treat on the street. You can add peanut butter and honey for even more nutritional value, too. This is a perfect frozen treat for everyday fun or to celebrate your four-legged pal's next birthday celebration.
Ingredients:
One or two large bananas, peeled
One 36 ounce container plain, no fat Greek Yogurt or substitute some Honest Kitchen Goat's Milk
Fresh Blueberries or Strawberries or both
Instructions:
Dump all ingredients into a blender
Combine together until resembles smoothie texture
Pour into the Messy Mutts Silicone Treat Maker, or an ice cube tray
Put into freezer until totally frozen
Pop individual treats out of container
Store in an air-sealed containers in freezer to keep fresh!
Want more frozen dog treat ideas? Check out our 10 favourite Frozen Dog Treat Recipes to find the coolest DIY snacks for your dog.
4. Chicken Dog Treats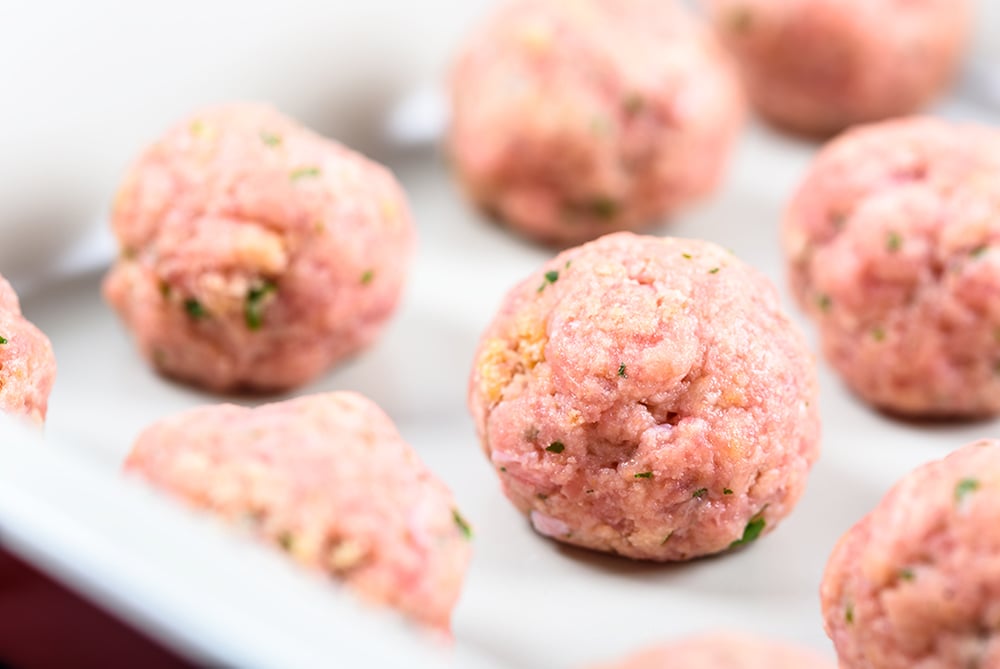 Full Recipe: https://kolchakpuggle.com/2012/02/tasty-tuesday-hearts-for-my-valentine-chicken-dog-treats.html
The bark on the street is that meat is what makes your dog's heart sweet. We've got you covered with these homemade paw licking treats full of delicious protein-rich chicken, energy-boosting rice, nutrient-rich eggs, plus a sprig of fresh parsley for fabulous fresh breath. The original inspiration for these heartwarming treats was Valentines' Day but your top dog will enjoy these heart-shaped goodies anytime, anywhere.
Ingredients
1 cup cooked, finely diced chicken
1/2 cup rice, cooked & mashed (brown or white rice)
3 tablespoons rice flour
1 tablespoon parsley
1 egg
Instructions
Preheat oven to 350 degrees Fahrenheit
Combine all ingredients and stir well
Spoon into silicone molds
Bake 20 to 30 minutes, until tops are golden brown
Allow to cool, remove from molds before feeding your pup
Store in the fridge for up to 5 days or in the freezer for up to 3 months
Don't feel like baking? Combine all the ingredients plus a splash or two of Open Farm Bone Broth into a blender, pour into silicone trays, and freeze. Pop-out of trays when totally frozen and store in sealed containers.
5. Grain-free Carrot and Spinach Dog Treats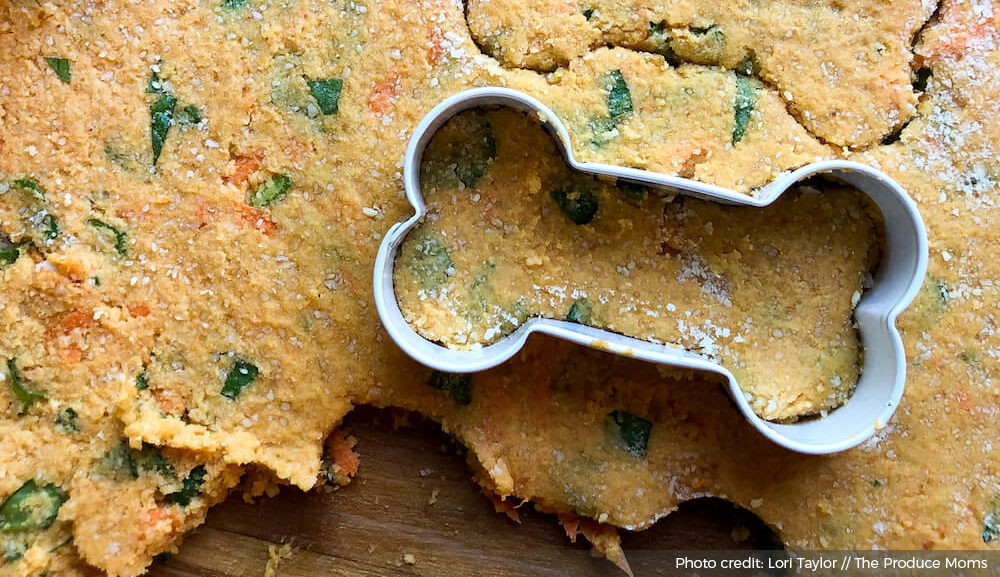 Full Recipe: https://www.theproducemoms.com/2019/08/26/grain-free-carrot-and-spinach-dog-treats/
Dogs with grain allergies and tummy sensitivities can still enjoy a special homemade doggie treat made by you with TLC. Carrots, pumpkin, spinach combined with eggs, almond flour, and nut butter create a super good, super nutritious packed treat. No bones about it, this grain-free goodie is paws-itively a keeper.
Ingredients
2/3 cup pumpkin puree
1/4 cup nut butter no added salt, sugar, or additives
2 eggs
3 cups almond flour
1-2 Carrots peeled and shredded
1 cup baby spinach chopped
Instructions
Preheat oven to 350 degrees Fahrenheit
Using an electric mixer, beat together pumpkin puree, nut butter, and eggs until well combined
Add flour gradually, approximately a half cup at a time. Mix until incorporated
Add in spinach and carrots. Mix until incorporated
Knead dough into a ball. Either roll the dough out and use cookie cutters to create flat shapes like hearts or biscuits.
Place treats on a baking sheet lined with parchment paper and bake for 25 minutes or until treats turn golden brown on the edges
Let cool before feeding to your pup
Substitute a cup of Green Juju for the fresh veggies for a simple and nutritious option.
6. Pupcake Frosting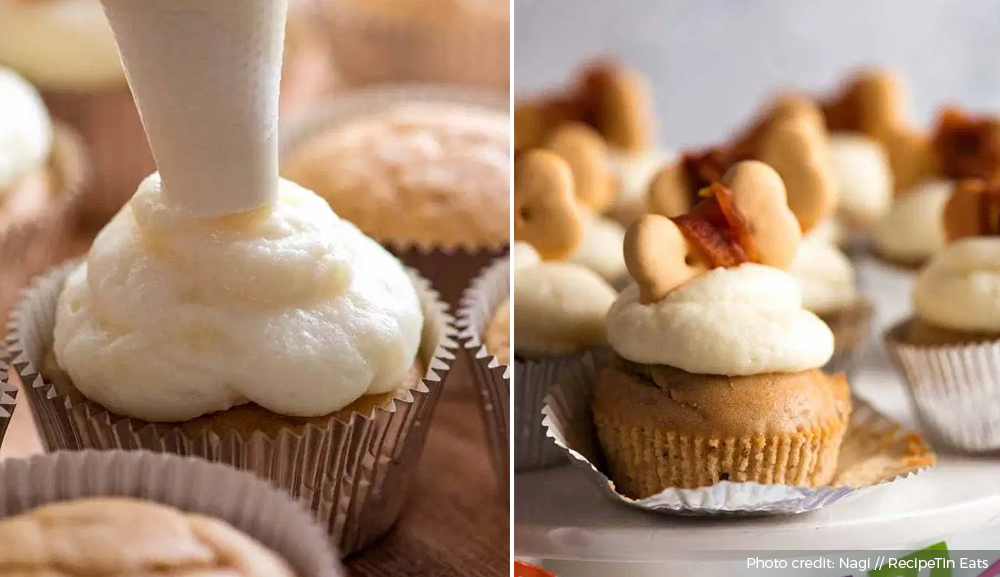 Full Recipe: https://www.recipetineats.com/pupcakes-easy-dog-cupcakes-with-frosting/
This one is a dog's icing on the pupcake! It's frosting made to top a cake for your top dog! Celebrate a special occasion or simply reward your pet with a really creamy and tasty frosting, whipped up with nutrition-packed potatoes, creamy yogurt, and a touch of sweet honey. Two paws up for this over the dog house goodie!
Ingredients:
1 lb potatoes, peeled and cut into 1" pieces
2 tbsp honey
1/2 cup yogurt, plain low fat (any unsweetened type) OR sour cream
2 - 4 tbsp water
12 Grandma Lucy's Organic Oven-Baked Treats (optional topper)
You can replace yogurt with goat's milk for a tasty digestive boost. Just remove the water from the recipe. Check out the Amazing Benefits of Goat's Milk for Dogs to find out how it can help support your dog's health.
Instructions
Place potatoes in a large pot of water. Bring to boil, cook for 20 minutes until very, very soft
Drain, return into pot. Add yogurt, honey, and water (starting with 2 tbsp). Beat with an electric mixer until smooth and creamy like frosting. Add more water if needed
Transfer to piping bag. Pipe in swirling motion onto doggy baked good of your choice, then top with dog biscuit
Customizing your Homemade Dog Treats
These recipes are perfect just they way they are, but if you are feeling adventurous in the kitchen, or if you want to make your dog treats even healthier for your pet, then get creative and test out some fun substitutions. Many healthy fruits and veggies can be added or swapped to improve the flavour and nutrition in your dogs goodies.
Allergies, sensitivities, and picky eaters are all good reasons to customize your dogs homemade treats to better suit his needs. Substitute grain-free carbs, replace chicken with beef or fish, or sneak some supplements, like kelp or goat's milk, into the treats to make them even healthier.
What's your favourite homemade dog treat? Share you tip and recipes in the comments below!
---
Posted by Homes Alive Pets
---