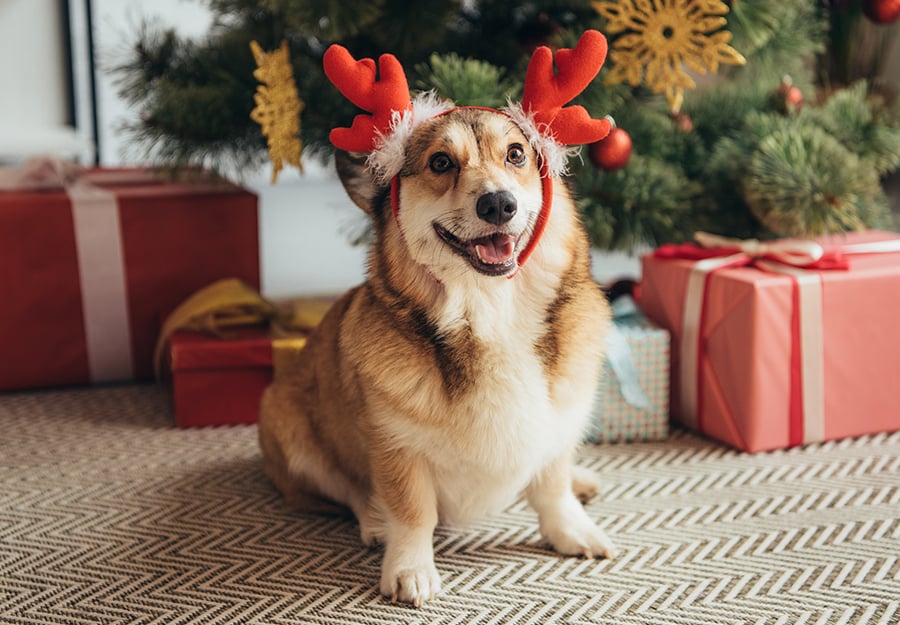 Deck the halls with chew toys and biscuits! Is Santa Paws coming to spoil your lucky pooch this year? To help share your festive spirit with your pet, we put together a list of the best Christmas gifts for dogs.
Christmas Gifts for Dogs
Your doggo did his best to stay off Santa's naughty list this year, even if he did inspect the bathroom garbage can once or twice. He deserves a special treat on Christmas morning just like the rest of us. Tis the season of giving after all, and there is no one more appreciative than your dog. As dog owners ourselves, we understand your wanting to express your love for them amid the holiday season.
Let us help you find the perfect stocking stuffer for your furry friend this year.
Toys
Let's start the list off with the fun stuff. Toys! If your dog is toy crazy, then this list is sure to be helpful. Every dog is different, so find the toy that best suits your dog's personality and play style.
For the Destroyer of Toys
...and furniture, shoes, or whatever they can sink their teeth into!
West Paw Hurley Bone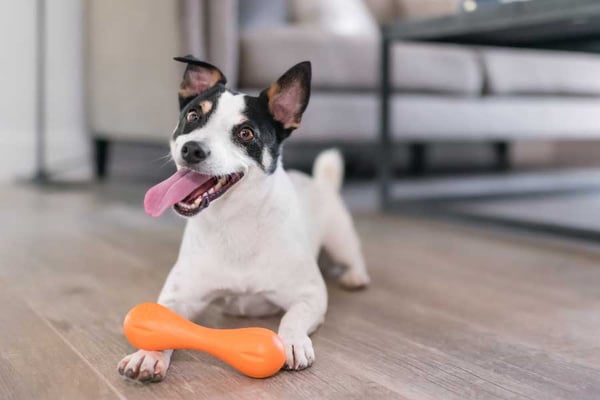 Photo Credit: @westpawus
If your dog can demolish most toys in minutes, then the West Paw Hurley Bone is just what you need when shopping for Christmas gifts for dogs. Part of West Paws ultra-durable line, the Hurley is made from 100% recyclable materials but can still stand up to most aggressive chewers.
It's latex, BPA, and phthalate-free, and is FDA compliant, meaning it is non-toxic and safe. Three sizes are available, x-small to large because little dogs can be powerful chewers too. It's also dishwasher safe, so you can keep this toy clean and fun for longer.
The best part? It's guaranteed. West Paw offers a one-time, hassle-free replacement if your dog manages to destroy it. This might just be the one toy that your dog can't kill.
Planet Dog Orbee Tuff Cosmos Luna Ball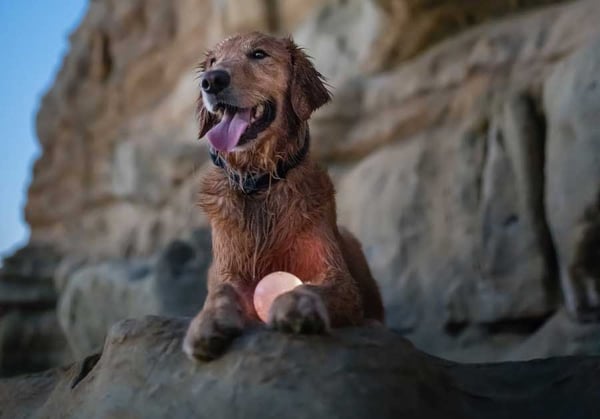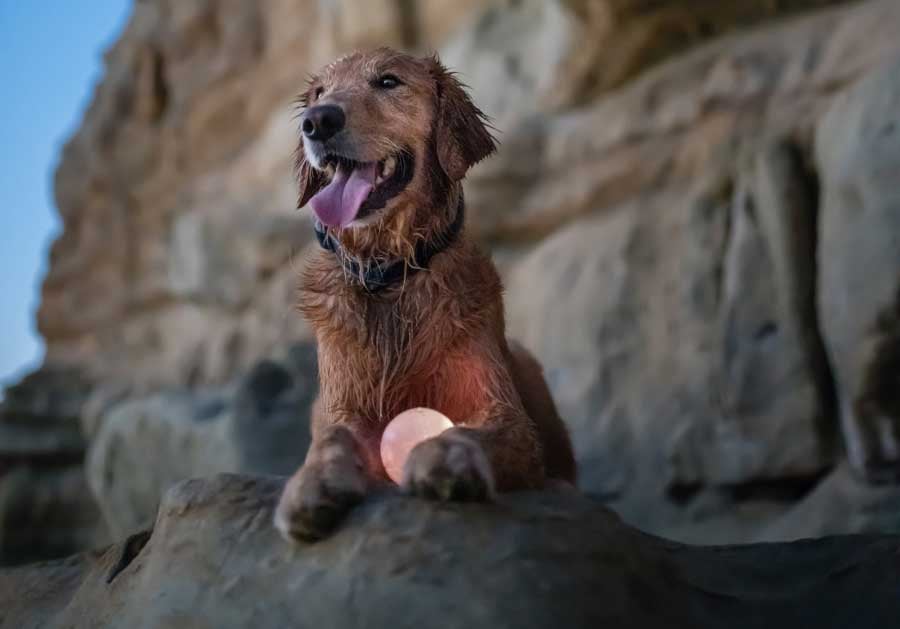 Photo Credit: @planetdoglife
The game of fetch may be most dog's favourite game, but finding a ball that can stand up to more powerful chewers is tough. Solution: the Luna Ball from Planet Dog. Rated a 5 out of 5 on their durability scale, the Luna ball can stand up to tough chewers and still be a fun and engaging toy. Better yet, they are available in large sizes for large breeds!
The Luna ball glows in the dark, making it great for winter and evening rounds of fetch. Don't let the setting sun dampen your outdoor fun, and never lose it in the snow. (Just don't mix it up with the yellow snow!)
Luna balls are also infused with a small amount of mint oil to engage your dog's senses and keep them interested. We are so sure that your dog won't destroy this toy, that Planet Dog offers a 100% money-back guarantee on this bad boy.
Want more gift ideas for your power chewer? Check out Tough Dog Toys for extreme Chewers.
For the Tug-of-War Champion
Because you totally let them win… right?
Beco Pets Ball with Rope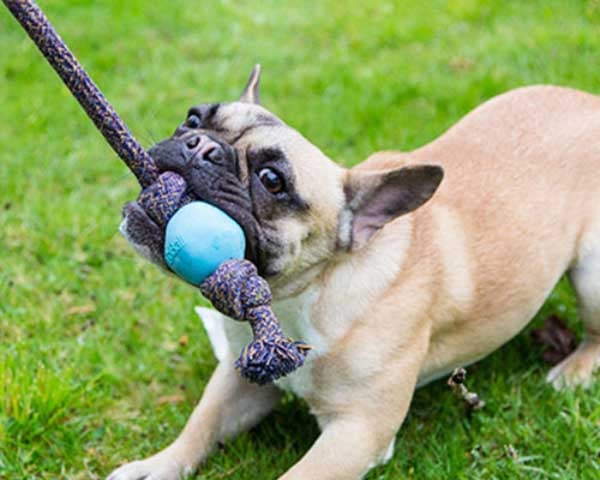 Photo Credit: @beco_pets
Challenge your dog to a friendly game of tug-of-war with the Beco Ball with Rope Toy. The durable ball is made from 100% rice husk rubber and gives your dog a good grip. Grab onto the natural cotton rope and hold on for dear life.
This is a great way to exercise your dog both mentally and physically, as well as an excellent bonding game. The soft materials are gentle on your hands and their mouth, so it's suitable for dogs of any age.
When your done playing tug, and by that, we mean when your dog inevitably shames you by winning, this toy also makes an excellent throw toy. The rope helps you get more distance from your throw, and will give your dog a high-intensity workout.
Ruffwear Pacific Loop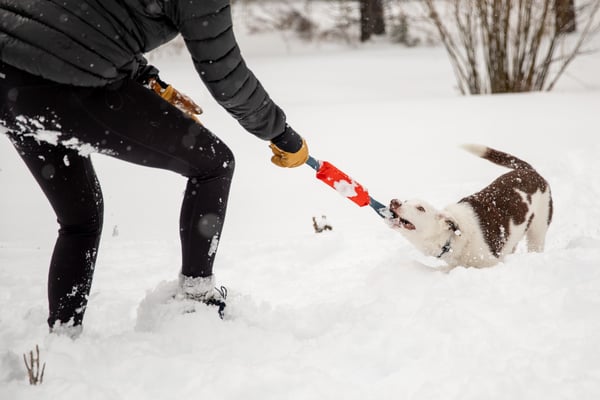 Photo Credit: @ruffwear
This rugged toy is made for dogs that won't give up. The ballistic nylon finish covers sturdy nylon webbing so your dog can tug to their heart's content. This double-ended toy gives both you and your dog a comfortable grip.
Designed for medium to large breeds, the Pacific Loop is over 20 inches long, keeping your fingers safe and out of the way of your dog's over eager teeth. The bright colours and reflective stitching make the toy easy to spot, even when tossed around at the dog park.
For the Cuddle Bug
The cutest stuffies for the cutest dogs.
Multi-Pet Lamb Chops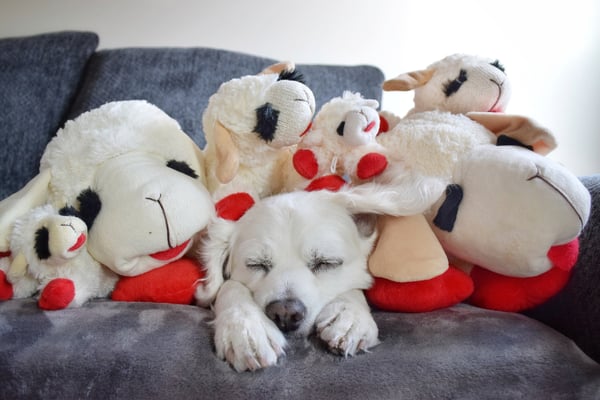 Photo Credit: @mountainmuttandgirl
This is the song that never ends, it just goes on and on my friend! That's right folks, Lamb Chops is back and softer than ever. Your pet can now cuddle with one of your favourite childhood characters.
Toys aren't just for roughhousing. Some dogs treat their toys like their best friend, so give them something soft and comfy to snuggle up to, like Lamb Chops!
Lamb Chops comes in three sizes, so no matter how big or small your dog is, he can find a friend in our favourite TV lamb.
Kong Comfort Kiddos Elephant
Photo Credit: @kongcompany
Finding a plush toy without a squeaker is tough. The squeaker is fine for playtime, but sometimes you just need some peace and quiet. The Kong Kiddos Elephant is just the toy you need for your pup.
Time for bed, or just need a break for the shrill noises of your pet playing? Take the squeaker out, and you have a perfectly quiet cuddle toy for your pup instead.
For the Brainiac
The ones that are too smart for their own good!
Flipo Busy Bone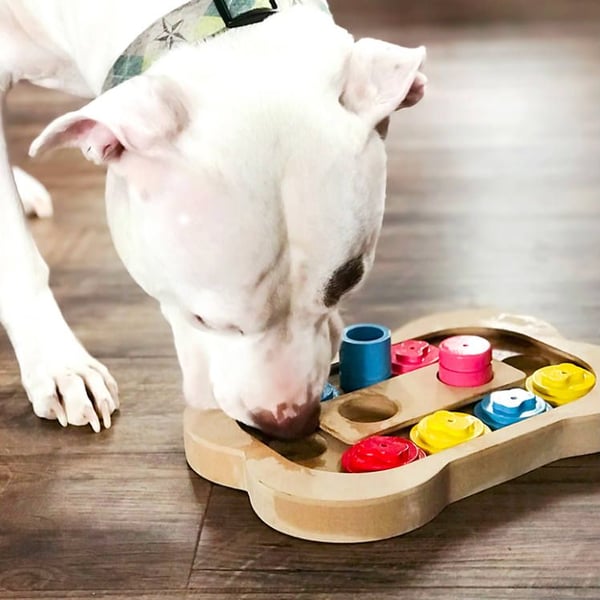 Puzzles are great for mental stimulation. A bored dog can develop some annoying and destructive behaviours, so keep them occupied with the Flipo Busy Bone. The Busy Bone is perfect for dogs that are new to puzzle games and toys.
The puzzle feature eight chambers to hold treats, kibble, or snacks to grab your dog's attention. Puzzles allow your dog to learn how to play by using their nose, mouth, and paws. Pieces need to be either lifted or slid side-to-side to uncover the goodies.
My Intelligent Pet Two Towers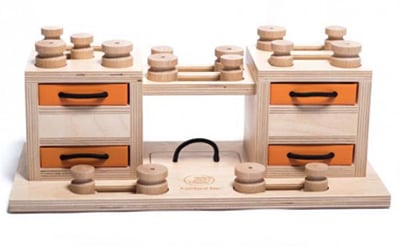 Get ready for the ultimate dog puzzle. If you think your dog is a smart cookie, then this toy will test just how smart. The Two Towers combines several challenging puzzle formats to keep your dog guessing and learning.
This puzzle is made for only the smartest of dogs. Just kidding, it is a tough one, but if you stuff it full of high-value treats, then your dog will stop at nothing to get those tasty rewards.
Looking for even more toys? This was just the tip of the iceberg! We have many more to choose from.
Treats & Chews
Christmas is the time of year that we indulge in all sorts of delectable goodies, many of which can't be shared with our pets. Instead, fill their stocking with snacks and treats that are both delicious and healthy.
For the Show Off
Sit? Down? Ha! Too easy. Try literally jumping through hoops!
Benny Bully's Beef Liver Plus Apples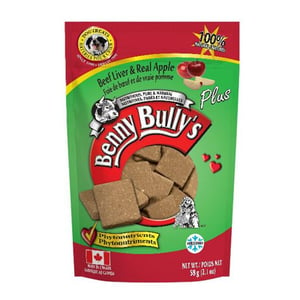 Your dog trains hard, and they deserve and tasty reward. Benny Bully's Beef Liver Plus Apples are a versatile high-value reward to keep your dog focused and engaged. With only two ingredients, these healthy snacks are loaded with rich meaty flavour essential vitamins.
These freeze-dried beef liver squares are easy to snap into smaller pieces for longer training sessions. At less than 4 calories per treat, these meaty snacks can be just the motivation your dog needs to master their next trick.
Farm Fresh Bacon Treats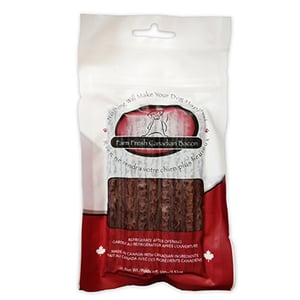 What dog doesn't love bacon? If you are looking for a way to get your dog excited about training, then Farm Fresh Bacon treats are exactly what you need. These soft, chewy sticks are loaded with flavour and are great for any type of training.
For extended sessions, tear or cut the sticks into small pieces. The smell is enough to make you salivate, no less your dog. Even dogs that aren't enthusiastic about training will sniff out these treats in a heartbeat, and stand (or sit) at attention.
For the Home Wrecker
Idle paws and all...
Eldon's Free-Range Bully Sticks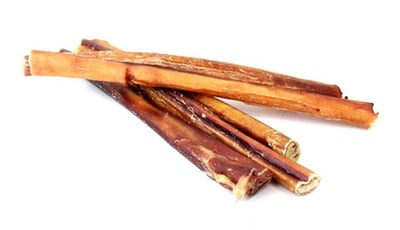 It should be no surprise to see bully sticks on your dog's Christmas wishlist. We can't speak highly enough of bully sticks and their benefits. They are low fat, easy to digest, and great for dental health.
For dogs that love to chew, offering them a safe and delicious natural chew can't prevent them from destroying more expensive items like shoes and furniture. Eldon's Free-Range Bully Sticks are available in multiple sizes and shapes to accommodate your dog's chewing habits.
Want to learn more about bully sticks? Check out What are Bully Sticks: The Facts, Myths, and Nutrition.
Himalayan Dog Chews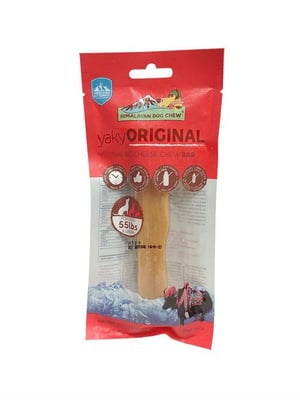 Looking for something a little tougher? Dog lovers praise Himalayan Dog Chews. They are made from only 4 ingredients: yak and cow cheese, lime juice, and salt. This long-lasting chew is excellent for dogs that need a harder chew to keep them busy.
Yak cheese is low in fat and high in protein, making them ideal for dogs with weight issues, sensitive digestion, and even food allergies. Yak cheese chews are not recommended for puppies and dogs with compromised dental health due to there hard nature.
For the husky Pooch
No, we don't mean the breed…
Zukes Mini Naturals
Diet and exercise go hand-in-hand. Short training sessions are a great way to encourage activity, and Mini Naturals Pumpkin & Turkey treats are the perfect low calorie training treats to keep your dog excited.
Remember, they are on a diet, so be stingy with the treats. Cut them in half or even quarters to extend training and activity. If your dog is food motivated (I can't imagine they packed on those extra pounds by not loving food), then they will do whatever it takes to get that scrumptious morsel, no matter how small it is or low calorie it is.
Eldon's Angus Beef Strips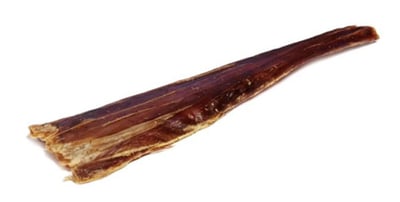 Chubby dogs love to chew too. Unfortunately, many natural chews are too calorie-dense to feed often. You'll find the best of both worlds in Eldon's Angus Strips. This 12" long strip of beef esophagus is low fat, high protein, full of flavour.
Your dog's food obsession shouldn't keep them from getting the health benefits of natural chews. This chew is small enough to give weekly and tough enough to offer dental benefits and relief from boredom.
Did our list leave you wanting more? Click the link below to check out our full line of popular dog treats.
Festive Favourites
Our holiday gift guide is missing something...
Oh ya, dinner! There's no better holiday tradition that sitting down to a delicious family dinner with all the bells and whistles, so make sure your family dinner includes your dog too!
Portland Pet Food Company Grandma Ada's Turkey & Yams Holiday Meal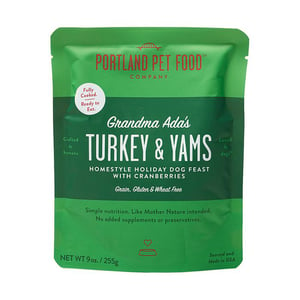 One of our favourite things about Christmas is the food. Now your dog can have his own special holiday meal too with Portland Pet Food Company's Grandma Ada's Turkey & Yams. This homestyle meal comes in a convenient easy-pour pouch that you can slightly warmed in the microwave for to really get that holiday aroma stirring.
In addition to turkey and yams, this festive meals features some classic holiday ingredients like green beans and cranberries. This fancy meal is perfect for picky eaters and sensitive stomachs, but to help your dog celebrate the holidays by your side, this special treat can be fed just for the fun of it.
Northern Biscuit Pumpkin Pie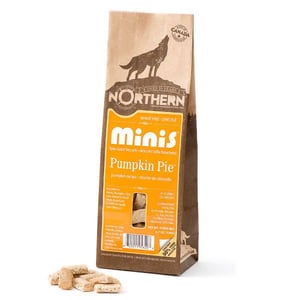 No holiday meal is complete without dessert. Give your dog a taste of your family's favourite dessert with Northern Biscuits Pumpkin Pie treats. Pumpkin is great for digestion and is loaded with flavour. Who can say no to this holiday classic? Your dog won't, that's for sure - especially if they are fans of peanut butter, pumpkin, and other sweet flavors.
But Wait, There's More
Haven't quite found everything on your dog's wishlist this year? Check out the rest of our great gift ideas for dogs and cats.
What's in your dog's stocking thing year? Let us know in the comments below!