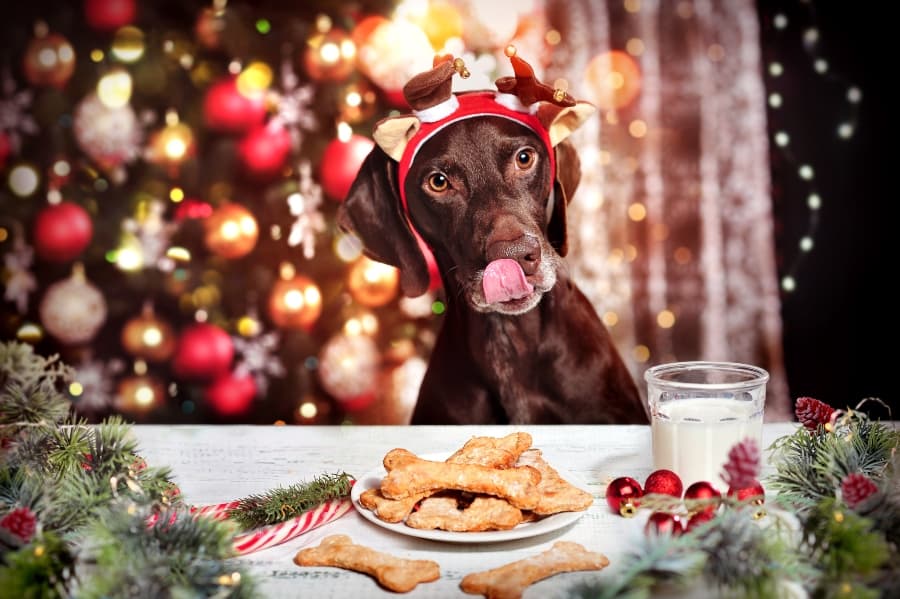 Your dog deserves a fancy holiday treat just as much as you, so why not get crafty in the kitchen and whip up one of these delicious homemade holiday dog treat recipes?

The holidays are a time to share and laugh with friends and loved ones, and that includes your furry family, too. Unfortunately, not all of our favourite holiday traditions are pet-friendly, but if there is one Christmas custom that your dog can get behind, it's those special holiday meals and goodies.
It's hard to resist those sad puppy dog eyes when you are enjoying your favourite holiday meals. They just want a taste, but not everything we eat is safe or healthy for your pup to try. Instead of sharing your holiday meal, a safer option is to make them one of their own.
Homemade Dog Food Recipes for Christmas
Christmas dinner is a staple of most family holiday traditions. If your dog is on Santa's good boy list this year, then a simple homemade Christmas meal for your dog is the perfect way to help your dog enjoy the holidays.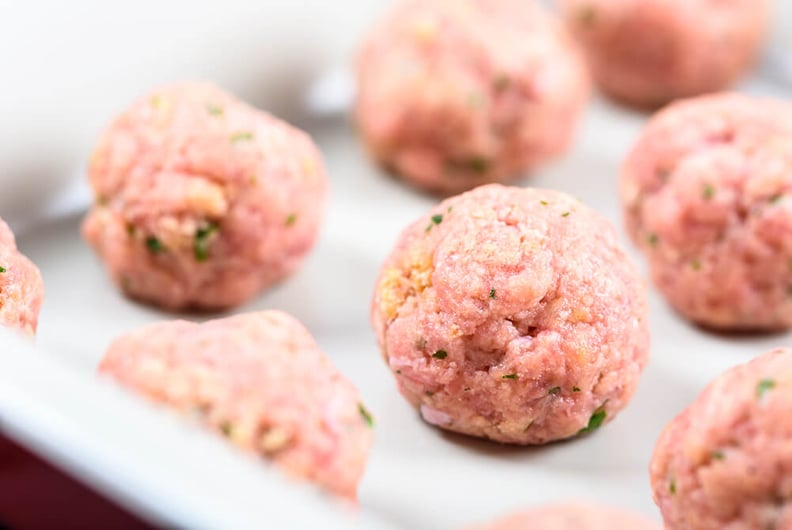 Here are some mouth-watering dog food recipes to make your dog's Christmas dinner extra special:
Turkey Meatloaf Dinner
Sometimes, the best meals are the simplest. This turkey meatloaf recipe combines lean ground turkey and your choice of dog-safe vegetables and fruits to make an easy-to-serve holiday meal for your dog.
We chose carrots, zucchini, and apples, but you can get creative with some of your dog's favourites. This makes an excellent and extra special meal to serve your pooch for Christmas.
Ingredients:
1 lb of ground turkey
1 ½ cups of rolled outs
½ cup grated carrots (peeled)
½ cup grated zucchini (peeled)
½ cup grated apple (peeled and cored)
2 eggs
Instructions:
Preheat oven to 350 F
Using cheesecloth or paper towel, wrap grated carrots, zucchini, and apple and squeeze excess liquid out.
In a large bowl, mix all ingredients together until well combined.
Press mixture into a loaf pan.
Bake for 30-40 minutes or until the internal temperature exceeds 165 F. Allow to cool completely before slicing and serving.
Store meatloaf in the fridge for up to 3 days or freeze for up to two weeks.
If you feed raw dog food, then this recipe can easily be modified to work for raw fed dogs, too. Toss all your veggies in a food processor instead of grating them to make them easier to digest, and cut out the oats if you want to limit carbs.
You can also muddle or grind up your eggshells to provide a healthy source of calcium in your pup's raw meal. Learn more about feeding raw dog food in Raw Dog Food for Beginners.
Roast Beast Dinner Roll for Dogs
Hailing from the fictional town of Whoville, Roast Beast is a fun holiday recipe that can be easily adapted to be safe and nutritious for your dog.
Though we suspect Roast Beast is closer to turkey, chicken is a great substitute and will offer much more manageable portions to feed your dog a Christmas dinner he won't forget. Stuff the breasts with some classic holiday fruits and veggies for a colourful and nutritious holiday dog meal.
Ingredients:
Chicken breast
1 tbsp chopped carrots
1 tbsp frozen spinach (drained)
1 tbsp cranberries
2 tbsp instant oats
2 tbsp bone broth
Butcher'stwine or skewers
Instructions:
Preheat the oven to 375 F. Line a high-sided baking sheet with parchment paper/
Butterfly the chicken breast. Lay the breast out flat and pound the meat to flatten it to about ½" with a meat tenderizer.
Mix the carrots, spinach, cranberries, and oats together. Pour the bone broth over the mixture and stir to incorporate. Let sit for about 5 minutes to hydrate the oats.
Spoon the filling onto the flattened chicken breast and spread, leaving about an inch of space on the two shortest sides of the breast.
Roll the chicken breast all the way up and use the butcher's twine or skewers to secure the roll.
Place the roll on the baking tray and cook for 18-22 minutes or until the meat is cooked. Allow the roll to cool completely before slicing and serving to your pooch.
Store the roll in the fridge for up to 3 days, or freeze for up to 2 weeks.
Doggy Christmas Meatballs
Meatballs are the easiest way to put all of the best holiday dinner flavours into one dog-safe recipe. This recipe is easily customizable and easy to feed. Just top your dog's regular food with a meatball or two, or feed them as a separate high-value snack.
Ingredients:
8 oz ground turkey or beef
½ cup canned pumpkin or sweet potato puree (try Nummy Tum Tum)
½ cup Spinach (chopped)
¼ cup Cranberries
1 egg
Instructions:
Preheat the oven to 350 F
Chop the cranberries and spinach finely.
In a bowl, mix all ingredients together and roll into 1-inch meatballs.
Place on a lined baking sheet and bake for 15-20 minutes. Allow the meatballs to cool completely before serving them to your pooch.
Can be fed as a treat or as part of your dog's regular meal.
Store in the fridge for up to 3 days, or freeze for up to a month.
Homemade Christmas Dog Gravy
No Christmas dinner is complete without gravy, but the gravy that we eat can be too fatty and too salty to be safe to offer some to your pooch. Instead, try this dog-safe gravy recipe and use it as a tasty topper for your dog's regular food.
Bone broth is highly nutritious and a tasty snack for dogs. Make your own bone broth for this recipe, or pick up an easy store-bought one, like Open Farm Bone Broth.
Ingredients:
1 cup of bone broth
1 tbsp cornstarch
2 tbsp coconut oil (try Thrive Baie Run Coconut Oil)
Instructions:
In a small saucepan, melt the coconut oil and whisk in the cornstarch. Break up any lumps that you can.
Whisk in the bone broth and bring to a gentle simmer. Stir the gravy frequently until the mixture thickens to desired texture.
Allow the mixture to cool completely, and add a spoonful or two to your dog's regular meals.
Doggy gravy can be stored in the fridge for up to 2 days or frozen for up to a month. For easy portions, pour the gravy into an ice cube tray for the perfect serving size.
Tips for Homemade Christmas Dog Food Recipes
Not every pooch can handle an impromptu diet change, so completely swapping their diet out for one of these Christmas dog food recipes isn't the only option. Instead, you can use these recipes as meal toppers for their regular diets over the holidays by only replacing a portion of their meal with one of these tasty recipes.
10% of their diet is the standard amount for a meal topper or a side dish, so keep this in mind when you are planning an extra special holiday meal. You can make half-sized recipes and portion them out to feed over the course of several days.
If you are concerned about dog food allergies or digestive issues, then you may be better off skipping these diets or substituting ingredients that you know your sensitive pooch can handle.
Homemade Christmas Dog Treats
Are you a Christmas baker? Holiday goodies like cookies and cakes are something we look forward to every year. It just wouldn't be fair not to do a little extra baking for your pooch, too! Plus, these recipes can make great gifts for your dog-loving friends and family.
Apple Pie Pup-Cakes
Apple pie is a great dessert any time of year, but it is most popular in fall and winter, especially around the holidays. Of course, pie is too sugary for your pooch, but these mini apple pie pup-cakes are a great substitute.
Apple is one of the most popular dog-safe fruits and is loaded with many vitamins and minerals like vitamin C and potassium. Here's a recipe to help cut the sugar and fat so your dog can enjoy a fun spin on a classic dessert.
Ingredients:
1 cup unsweetened apple sauce
1 large egg
2 tablespoon honey
1 cups whole wheat flour
1 cup oat flour
1 tsp baking powder
1 cup finely chopped apples
¼ tsp cinnamon
Instructions:
Preheat oven to 350 F.
Mix all applesauce, egg, and honey in one bowl and all dry ingredients (except the chopped apples) in another.
Stir the dry mixture into the wet mixture and combine. Fold in apple pieces.
Spoon the batter into mini muffin pans, about ¾ of the way full and bake for 22-28 minutes, or until a toothpick inserted comes out clean.
Store in the fridge for up to a week or freeze for up to a month.
Christmas Cake for Dogs
Another quintessential Christmas baked good is Christmas cake, but is this nutty and fruity dessert safe for dogs, too? Nope! This is one human dessert that your dog shouldn't be given.
Not only is it high in sugar and fat, but fruit cake contains raisins, which are toxic for dogs. Sharing your Christmas cake with your dog is a no-no, but you can make a doggy Christmas cake at home that is both safe and nutritious for your furry friend.
Here's a dog-safe fruit cake recipe that will be a welcome snack for Christmas.
Ingredients:
½ cup cranberries
½ cup blueberries
1 apple (peeled, cored, and chopped finely)
1 cup of oat flour
1 cup of all-purpose flour
¼ cup molasses
1 tsp baking powder
1 cup of unsweetened applesauce
1 tsp cinnamon
Pecans (halved)
Instructions:
Preheat oven to 350 F.
Roughly chop the fruit and mix together.
Combine all other ingredients in a large bowl and fold in the fruit pieces.
Spoon into mini muffin tins or an oven-safe treat mould and top with a pecan half.
Bake for 18-20 minutes or until a toothpick inserted comes out clean.
Healthy Dog Treats for Christmas
Christmas goodies should be exciting and delicious, but that doesn't mean they can't be healthy either. Here is a recipe that helps to support digestion and immunity, and it just tastes great, so your dog will love this classic festive snack.
Dog Nog Recipe
Nothing says the holidays like a delicious cup of eggnog (especially with a little dab of rum in it!), but what about Fido? Doesn't he deserve a cup of yummy Christmas cheer, too?
Most people don't even know what's in eggnog, but based on its sweet, creamy flavour, it's not hard to realize that it's not exactly dog-safe. You can make a homemade replacement by replacing the milk and cream with goat's milk and a little bit of pumpkin to give your dog a delicious snack or a tasty meal topper that can help support digestion.
Ingredients:
Instructions:
Blend all ingredients together with a hand blender until frothy.
Pour into a shallow dish and add a sprinkle of cinnamon. Alternatively, you can pour the dog nog over their regular food.
Store in the fridge for up to 3 days, or freeze into ice cube trays for up to a month for easy portioning.
This recipe contains a raw egg. If you feed raw dog food, then you may already be familiar with the benefits of raw eggs for dogs, but this recipe can easily be made without the egg if that is your preference.
Dog-Friendly Christmas Cookies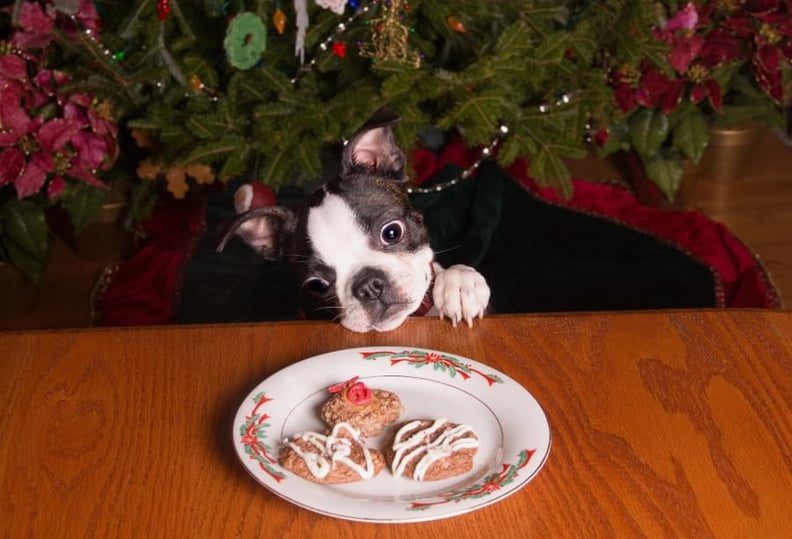 Christmas cookies are one of the most popular baked goods around the holidays, and cookies also happen to be one of the most popular types of dog treats, too! Whip up a batch of one of these fun and simple dog-friendly Christmas cookies to help spoil your pooch this holiday season.
Dog Snickerdoodles
Snickerdoodles for dogs?!? Yep, these chewy and buttery cinnamon cookies might be your go-to Christmas snack, but your dog needs something a little less sweet.
Using low-glycemic oat flour and honey to sweeten these special snacks, your dog can have his very own snickerdoodle experience for the holidays or any time of year. Though this is not quite Nana's Snickerdoodle recipe, they're still pretty good for people, too!
Instructions:
3 cups of oat flour
2 tsp of cinnamon
1 egg
¼ honey
½ water
Instructions:
Preheat your oven to 350 F.
Combine all ingredients and stir until well combined.
Roll the dough into 1 inch balls and place on a cookie sheet lined with parchment paper.
Flatten the balls to about ½ inch thick.
Bake for 20 minutes or until the treats are golden brown.
Store in a Tupperware container at room temperature.
Ginger Snaps for Dogs
Ginger snaps are a holiday classic, but your favourite Christmas cookies shouldn't be shared with your pets. The fat and sugar in our favourite cookie recipes can quickly lead to some digestive issues.
Our pet-safe ginger snaps still include the staple ingredient, ginger. Ginger has many benefits for pets and people. It's a natural anti-inflammatory, anti-nauseant, and digestive aid. Learn how to make your dog his very own ginger snaps
Ingredients:
2 cups brown rice flour
1 tbs ground ginger
1 tsp of cinnamon
1 tsp turmeric powder (like Baie Run Turmeric +)
¼ cup coconut oil (melted)
3 tbsp honey
1 egg
¼ cup applesauce
Instructions:
Preheat oven to 325 F
Whisk dry ingredients together until well combined.
Whisk coconut oil, honey, egg, and applesauce together and stir into the dry mixture.
Chill the dough in the fridge for 30 minutes. Line a baking sheet with parchment paper.
Roll the dough out to about ½ inch thick and use cookie cutters to cut out desired shapes. Alternatively, you can roll the dough into 1-inch balls and flatten them on your baking sheet with your palm.
Bake for 12-14 minutes or until golden brown. Cool completely before treating your pooch.
Store in an air-tight container at room temperature.
Why coconut oil? Traditional human recipes call for fatty ingredients like butter to help give cookies their texture and taste, but butter can cause digestive issues in dogs. Coconut oil is a great healthy fat alternative. Check out The Benefits of Coconut Oil for Dogs to find out more.
Candy Cane Dog Cookies
What's Christmas without candy canes? This holiday staple is one of the biggest holiday hazards for pets. Not only are they a popular snack, but candy canes are also a popular decoration. While your pooch may be interested in trying this minty candy, candy canes are not safe for pets.
Most candy canes contain artificial sweeteners like xylitol, which is highly toxic for dogs. Cook up some dog-safe candy cookies for your curious pooch instead.
Ingredients:
Instructions:
Whisk pumpkin, peanut butter and egg together.
Add half of the flour and mix well. Add the rest of the flour.
Turn the dough out onto the counter and knead until a firm dough forms.
In a small saucepan, bring water and cranberries to a simmer and boil down until the cranberries split and the water is bright red.
Strain the cranberry reduction and let the liquid cool completely.
Split your dough into equal halves.
Add the cooled cranberry juice to one of the halves. Add it gradually until the mixture is the desired colour and not too wet.
Roll the dough from both halves into 2-inch balls and roll each ball into long, skinny logs. Keep the two colours separate during this process.
Take one red and one plain long and twist them around each other to make a striped pattern. Form a candy cane shape with the twisted strips and pinch the top and bottom edges lightly to seal the two strips.
Place on a parchment-lined baking sheet and bake for 20-24 minutes or until the bottom begins to brown.
Cool completely before serving. Store in an airtight container at room temperature.
Pumpkin is more than just a tasty dog-safe ingredient; it's also a highly nutritious and excellent digestive aid for dogs. Check out 10 Health Benefits of Pumpkin for Dogs to learn more.
Fun, Simple, and Healthy Dog Treat Recipes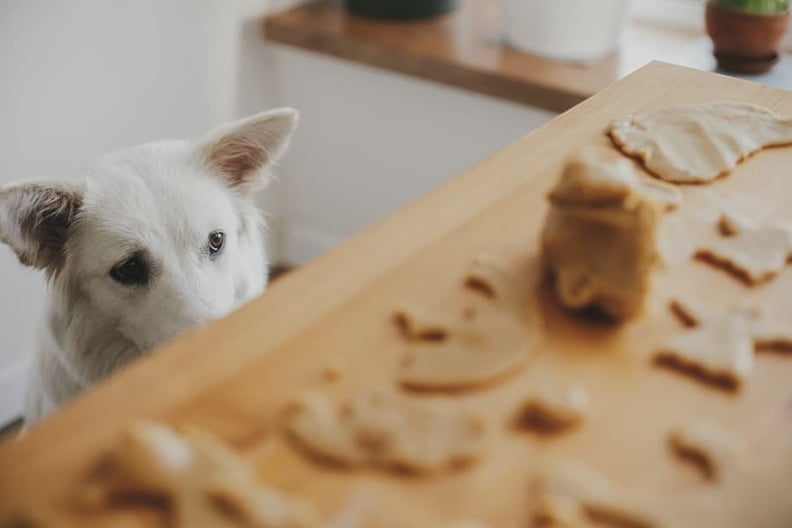 Not everyone is a master chef, so some recipes on our list might seem a little challenging. Cooking and baking for your dog should be fun, so start with simple dog treat recipes and get creative from there.
If you go off books with your dog treat recipes, make sure you stick to only safe ingredients for your dog. Remember the calorie, carb, and fat content of your homemade dog treats and meals.
Some special treats aren't meant to be fed in large quantities or daily. Consider your dog's weight and activity level when offering high-calorie or high-fat holiday treats to your pooch.
Frequently Asked Questions
Can I share any of my holiday leftovers with my dog?
While it's tempting, it's best to avoid sharing human holiday leftovers with your dog, as some ingredients, like onions and cooked poultry bones, can be harmful to them.
Are there any special considerations for dogs with dietary restrictions during the holidays?
Yes, it's important to stick to their prescribed diets and choose holiday treats that align with their specific dietary needs.
How can I make sure the holiday treats I give my dog are safe?
Instead of sharing human holiday snacks with your dog, stick festive treats and foods that are formulated specifically for dogs. This will reduce your dog's risk of consuming toxic ingredients like chocolate or xylitol.
Can I include my dog in our family's Christmas dinner?
You can prepare a special dog-friendly meal to include your pet in the festivities, but avoid sharing your holiday meal as it may not suit them.
What are some creative ways to incorporate holiday themes into my dog's treats?
Get creative by using holiday-themed cookie cutters or adding a touch of dog-friendly yogurt "icing" to create festive and safe holiday treats for your furry companion.