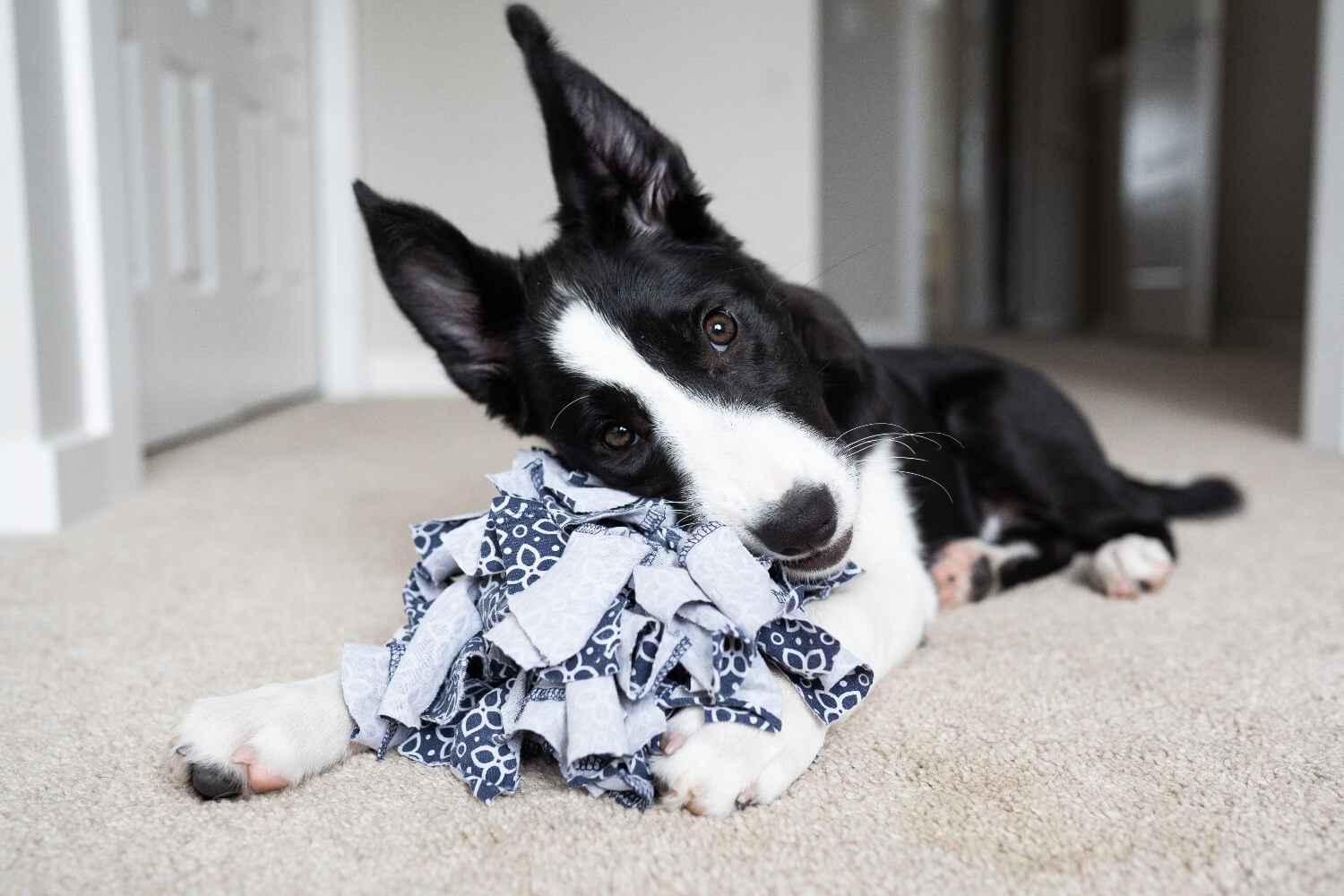 Raise your hand if you love spoiling your dog with lots of new toys and natural chews! We do too. Introducing new toys is a great way to keep our dogs mentally and physically stimulated.
But buying a new dog toy every week isn't always feasible!
If you love treating your doggo to new toys regularly, you should try making your own. It's easy and fun to get creative with what you have on hand. All it takes is a little bit of crafting, and you can give your dog's playtime a whole new twist!
From homemade puppy toys to challenging dog puzzles for your genius, full-grown pooch, here are 4 fun and easy DIY dog toys you can try. Let's get crafty!
4 Easy DIY Dog Toys
When it comes to making homemade dog chew toys, it's important to remember that our four-legged pals need mental exercise too! DIY interactive dog toys, treat dispensers, and puzzle toys for dogs are excellent ways to provide them with a mental challenge.
1. DIY Snuffle Ball
A DIY snuffle ball is a fun foraging toy! Use small treats or kibble that are easy to sink down into the center of the ball, making it a challenge to shake free. You can also create a DIY snuffle mat instead of a ball by using a rubber sink mat instead of the ball in our instructions below.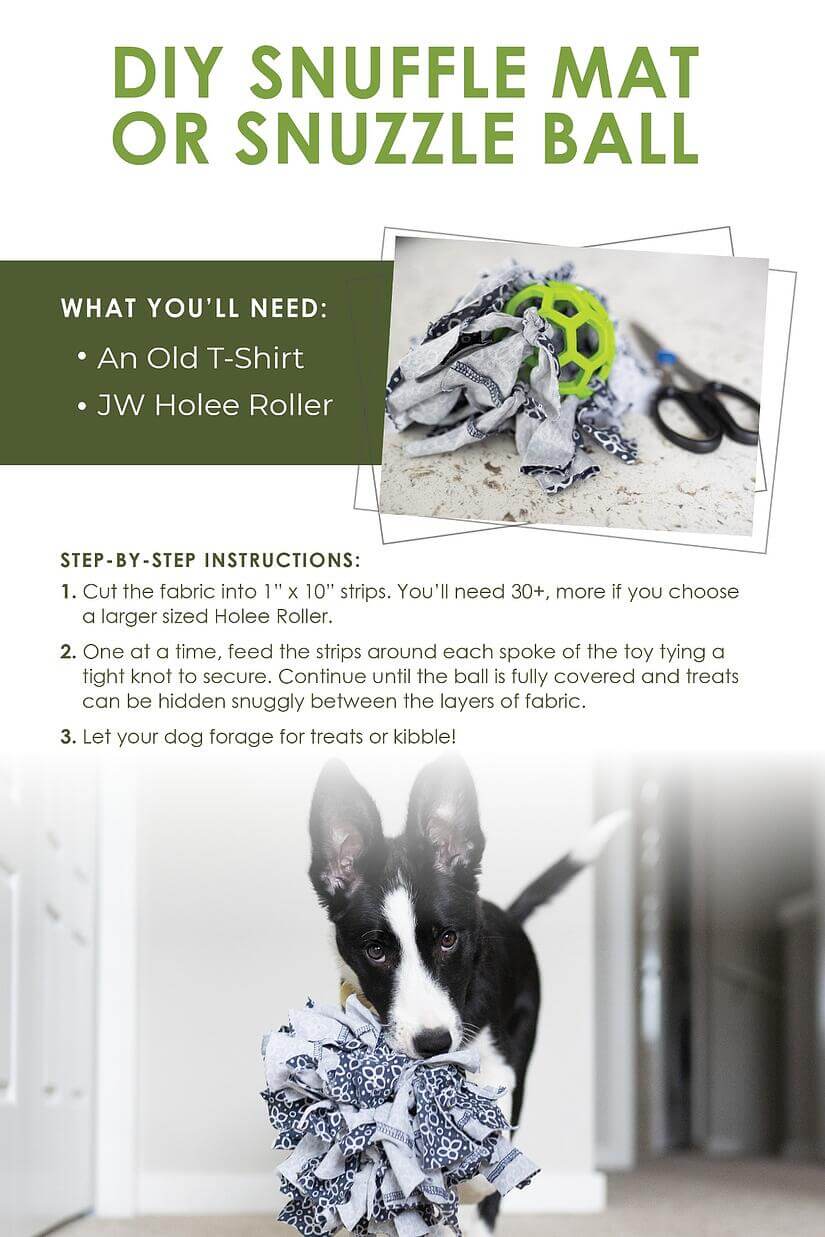 The snuffle ball is an excellent toy for helping your dog explore their natural foraging instincts. It's great for mental stimulation and indoor playtime. It's easily customizable too. Use different fabrics to suit your dog's play style and prolong the life of your dog's new DIY toy.
Denim, for example, is a tougher material that might stand up to more aggressive play. Just keep in mind this is not a chew toy, and it should only be used when your dog is supervised.
Wanna see it in action? Check out how much our friend Farley loves her new snuffle ball!
2. Upcycled Puzzle Toys
If your dog is bored of his usual puzzle toys, make a new one out of your recyclables! Entertain your pet with treats while making a sustainable choice. It's a win-win. This DIY dog toy is also and excellent slow-feeder for dogs that tend to scarf their food down too quickly!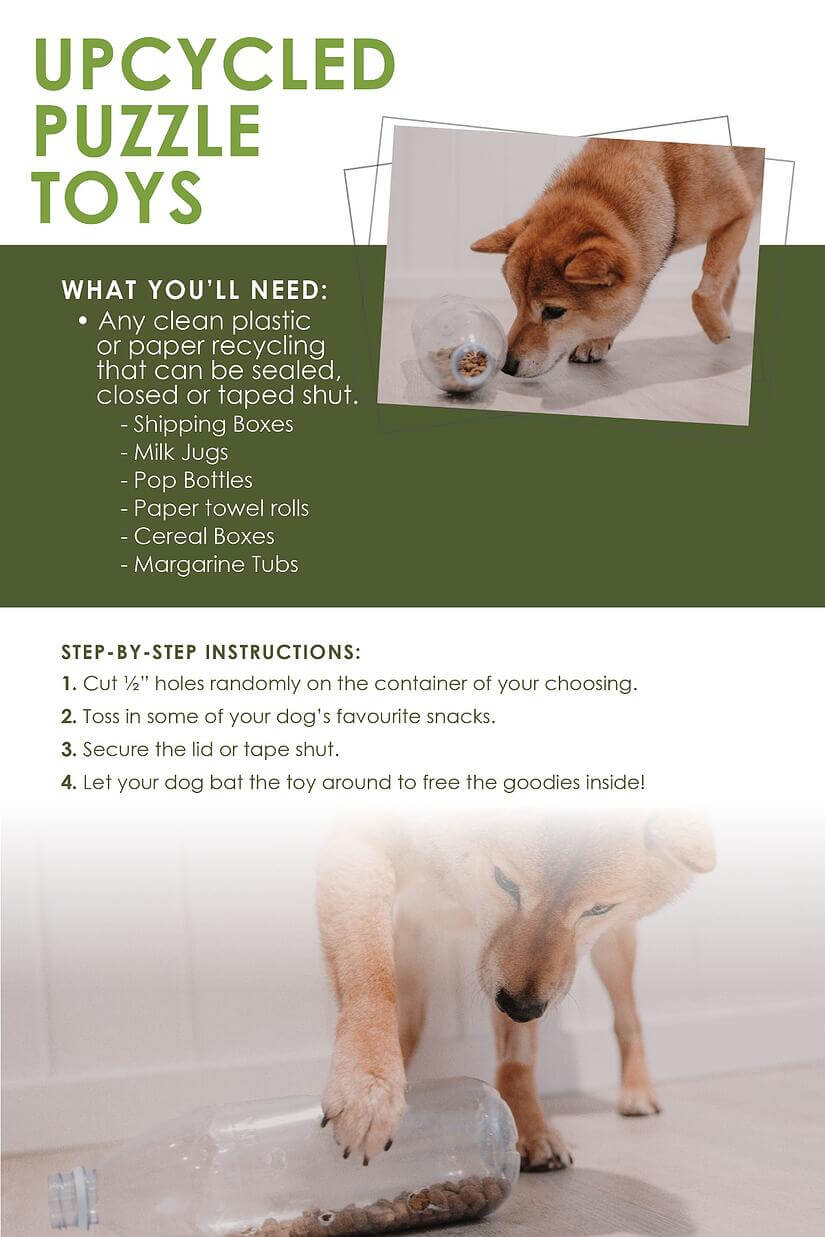 The best part of this toy is that it is so easy to make, and you can use whatever recycling you have laying around. Try different things to find the upcycled toy that is the most challenging for your dog.
3. Muffin Tin Puzzle
No baking is required for this DIY dog puzzle – just the bakeware! Enjoy watching your pooch nudge with his paws and snout to remove the tennis balls and reveal the treats. Great for physical activity as well if your dog starts chasing any runaway balls!
4. The Shell Game
Play a classic memory game with your dog! The Shell game is a fun way to stimulate your dog's mind and test their attention to detail.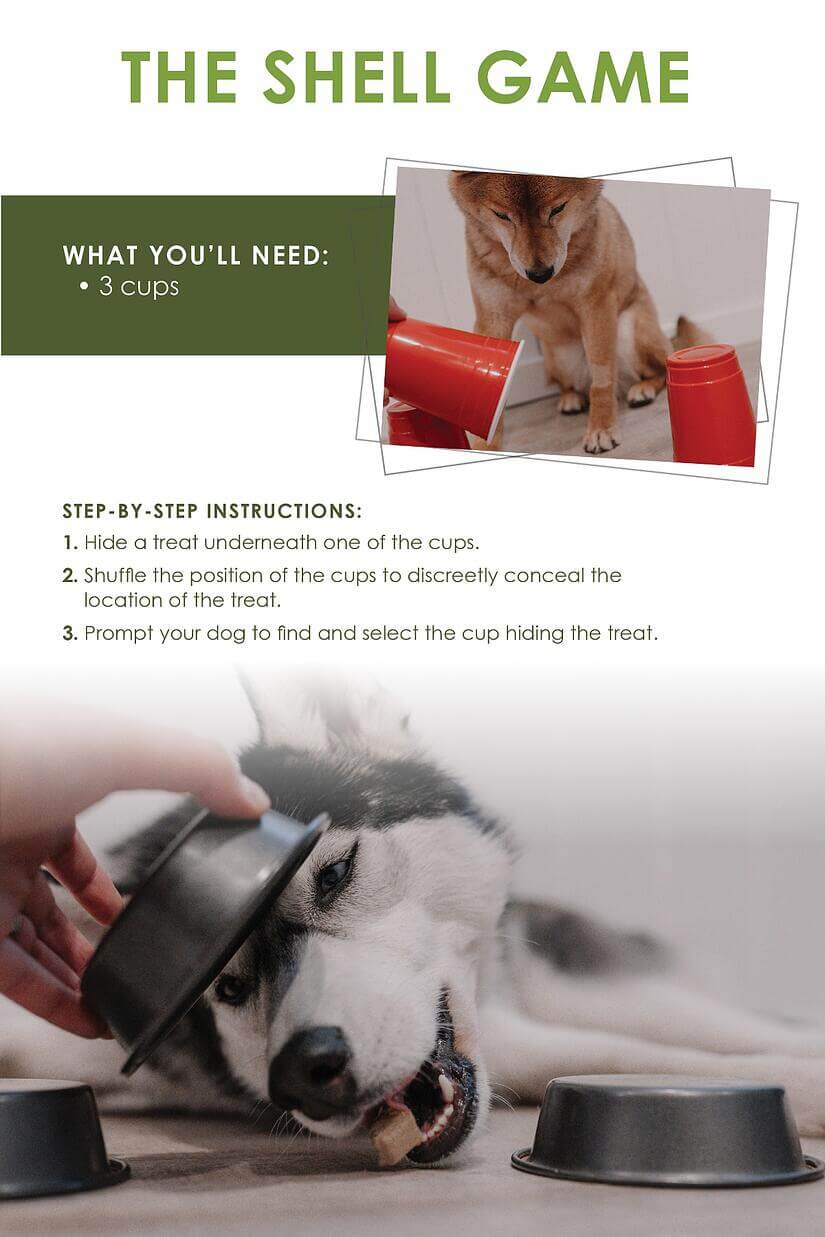 The shell game is a classic and requires no construction or craftsmanship. Just use whatever household items you want, like bowls, cups, mugs, or Tupperware. You can level up the game when your dog starts to catch on to the basic trick.
Add more cups, change the pattern you use to hide the treat or have your dog turn around so they can't see where the treat is hidden. This will teach them to follow their powerful noses.
This is a less challenging game, but it's great for dogs that are just starting out. Our pal Cricket is already a pro at the shell game, but he doesn't mind the rewards!
Switch It Up
Mixing up your dog's usual routine is essential to keeping his mind sharp and physical health in check. Treating your pet to a new stimulating activity or interactive toy allows you to engage your pet more and maintain a healthier lifestyle.
Remember, all dogs are unique and require different levels of difficulty. Certain games and the best homemade dog toys may be too complicated for your pet. If you notice your dog showing signs of frustration, take it slow, simplify the game or try something new.
Interactive toys are not only fun for your pet but for you too! So for your next DIY project, skip the candle-making and make something really worthwhile – a special toy for your dog :)