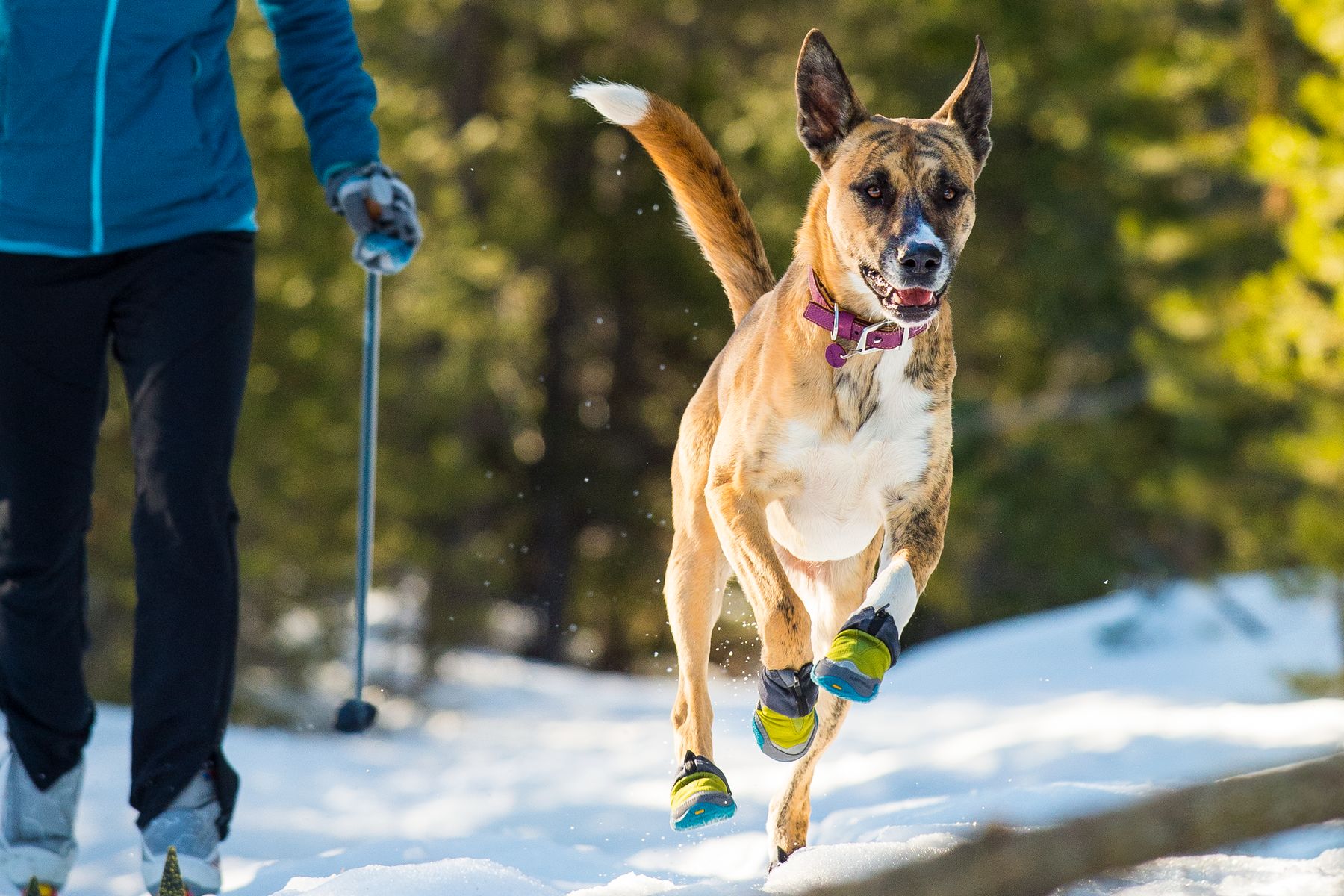 For many pet parents, the thought of outfitting your dog with a pair of boots doesn't really cross the mind, but protecting you dogs paws from the elements is more important than you think. To help you find the right set for your dog, we ranked the best dog boots for a variety of different seasons and activities.
We take our doggos for strolls around our neighbourhoods, through park and fields, and even on challenging hikes without really worrying about their paws. It's easy to assume that letting your pooch go bare-paw is appropriate for any and every situation.
Do dogs need boots? Dogs can benefit from wearing boots in more situations than you might think.
While dogs have pretty tough feet, there are definitely some scenarios that call for a nice pair of dog booties! Dog boots can keep their paws protected from severe weather conditions, harsher terrains and the not-so-natural substances like chemicals, fertilizers or other waste that might be left behind by humans.
We can all agree that the last thing you want to happen when out and about with your doggo is an unexpected injury! That's why we've put together the following guide to outline the different occasions that may warrant a little extra paw protection and our top picks for the best dog boots!
Dog Boots for Winter
The winter season brings some extreme weather, making it tricky to do the usual outdoor activities that you and your dog enjoy together. Not only can they have a harder time getting around on slippery or wet surfaces, but colder temperatures can cause discomfort or pain without the proper protection for their paws.
Rain, snow and ice can all be harmful as they get stuck between the toes. Other factors that can be dangerous are salt and ice-melting chemicals, which are commonly used during the winter and might not be easy to see while out on a walk.
The best dog boots for cold weather should be water-resistant or water-proof and offer extra grip for ideal traction to keep your doggo from slipping. Because it can take time for your pooch to get used to wearing boots, it's also important for any type of boots to be flexible and comfortable.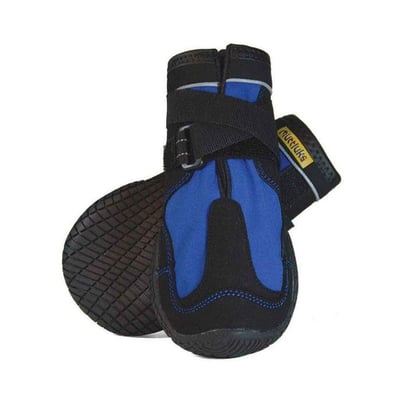 For the best winter dog boots, Canada-made Muttluks Snow Mushers are a great choice! They are designed specifically for the colder temperatures and more extreme conditions of winter. They're made with fleece lining to keep your dog's paws warm and cozy, as well as durable nylon material that ensures they are built to last.
Their rubber soles protect the paws from winter terrains such as snow, salt, and ice while providing the right grip to help them move comfortably. They are easy to slip on and off and have a large stretch cuff for a versatile and snug fit that works for any dog.
Some of the features of the Snow Musher that make them extra suitable for winter conditions include the double wrap to keep them in place and a 3M reflective material for visibility.
For extra protection from cold, snow and water, the Muttluks Muttgators can be added on as a sleeve accessory to protect their legs. These sleeves are water-resistant and made with a convenient velcro strap to easily take them on and off.
Dog Boots for Hiking
Hiking is an exciting activity for both you and your dog. It is a great way to enjoy the great outdoors and get some exercise! Dog boots can help protect your dog's paws from the different terrains you might encounter while out on a hike.
Dog boots for hiking adventures should be comfortable, flexible and fit securely! If you're an avid hiker, you'll also want to make sure your dog's boots are durable and designed to brave the wear and tear of an active lifestyle.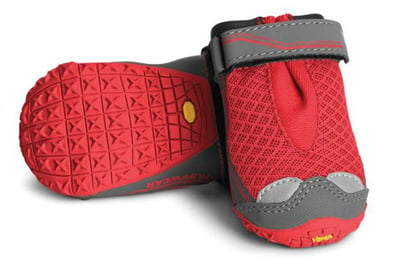 Ruffwear is an awesome brand that we think offers some of the best dog boots in Canada and all over! Ruffwear Grip Trex is a high-performance dog hiking boot that provides traction and protection for your dog's paws. These boots are for serious hikers. They are durable and comfortable enough for longer hiking excursions and trail running, even on more challenging terrains.
These boots are designed with breathable mesh to prevent overheating and high traction soles to allow your dog to handle any terrain. It's made with a gusset-style opening for easy on and off, as well as a hook and loop cinch to keep the boot nice and snug on your dog's paw.
Disposable Dog Boots
If you're struggling to get your dog in a pair of thicker winter or hiking boots, try starting with an easier, thinner pair like disposable dog boots. These types of boots can still offer protection from hot or cold temperatures, water, dirt, salt or other chemicals that could hurt your dog's paws. They're typically made from a rubber material and slip on like a sock! This is a great way to get your dog used to the idea of wearing something on their feet while also preventing any unexpected injuries while exploring outdoors.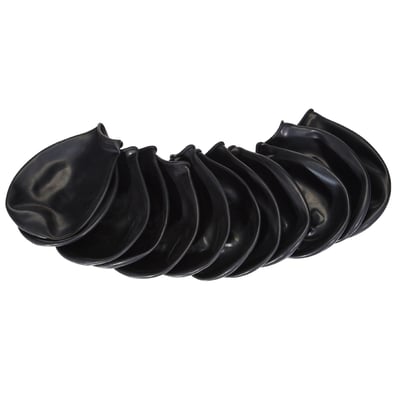 A pawsome option for disposable dog boots is Pawz Rubber Boots. These boots are made with 100% natural and biodegradable rubber material so that they can be safely disposed of after use. However, they can also be reused multiple times so you can make the most out of a single pair.
Despite being disposable, they're still designed to be durable and waterproof. Pawz rubber boots help protect your dog's paws from hot pavement, wet surfaces, fertilizers, pesticides, chemicals or salt, and prevent skin allergies or irritations. These are also helpful as a post-surgery or injury boot to keep the paws safe during the recovery process.
Dog Boots on a Budget
If you can't afford to purchase a different pair of dog boots for every season and occasion, you can opt for a single pair that will work all year round and won't break the bank. It's best to pick a durable dog boot that won't wear out too quickly.
Our Top Pick: Silver Paw Neoprene Boots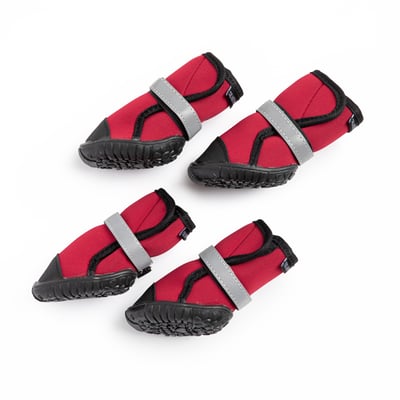 Silver Paw Neoprene Dog Boots are an affordable option that your dog can wear all year long. They're designed to keep paws protected, warm and secure no matter the terrain or weather. Made with neoprene, elastic and velcro siding, these boots offer an adjustable fit that provides the comfort and stability that your dog needs.
The cool thing about Silver Paw boots is their cutting-edge SilverShield technology. This means each pair of boots is treated with a pet-safe coating that eliminates bacteria that can cause odours, mould and mildew after becoming wet and dirty.
Dog Boots for Indoor
If your dog is one of the few that really enjoys rocking a pair of boots, you might want to treat him to a pair for indoors as well as outdoors. Indoor dog boots can keep your dog's paws warm while protecting your hardwood floors from scratches at the same time.
Our Top Pick: Canada Pooch Secure Sock Boots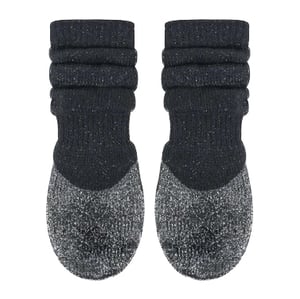 Canada Pooch Sock Boots are as comfortable as they are adorable! They're made with silicon soles for high traction to keep your dog from slipping and sliding across tile or hardwood floors. They stay snug on your dog's paws without feeling too tight or uncomfortable.
While not intended for super icy, snowy and freezing winter weather, Sock Boots can be worn outside too! And fortunately, they're machine-washable to make for easy cleaning if you don't plan on limiting them to indoor use.
Dog Boots for All Weather
Not all dog boots are designed with different weather conditions in mind, but certain ones are! If you're in search of a versatile boot that your dog can rock during winter, spring, summer and fall, you want to be sure it checks all the boxes to provide the best protection as well as comfortability.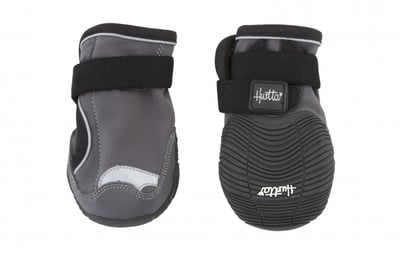 The Hurtta Outback Dog Boots are designed with any adventure in mind. They are flexible, durable, and comfortable, making them suitable for just about any outdoor activity during any season. They are ideal for casual to moderate hikers and explorers.
These boots are lightweight and breathable for the hotter summer months while still providing protection from rain, sleet, snow, ice and other rough terrains during the winter. Hurtta boots are designed to handle any terrain with high traction soles and reflective material for visibility on your night-time outings. They're also lined with polyester on the inside to keep your dog's paws warm and dry.
The versatile nature of Hurtta Outback Boots also makes them one of the best dog boots for large dogs. Hurtta has great options for larger breeds that might not fit into other brands of dog boots.
Water-Resistant Dog Boots
One important feature that you want to look out for when choosing a dog boot is whether or not they're water-resistant. You want to be sure your dog's paws are fully protected from any rain, snow, or ice that you might encounter on your outdoor adventures.
Wet paws can be uncomfortable for your pooch in any weather, but especially in cold temperatures. It can also make it more difficult for him to explore safely. Water-resistant dog boots can prevent water or ice particles from getting inside the boot and causing major discomfort.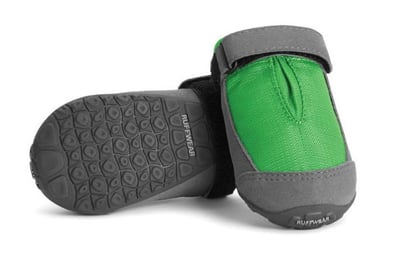 We love the Ruffwear Summit Trex dog boots because they're made with highly water-resistant material that will keep your dog's paws warm, dry and comfortable. They're designed to keep up with your dog's adventures during any season and most terrains.
For extra protection from wet conditions, these boots are made with 420-Denier nylon with a PU-coating and synthetic suede that reflects water. They're also built with a velcro hook and loop cinch strap that keeps water from getting inside the boot.
My Dog Won't Wear Boots
No matter how hard you try, some dogs just won't wear boots. Whether they panic as soon as you pull the boots out of the closet, or if they just run and play so hard that the boots won't stay on, you need to consider other ways to protect your dog's paws from the elements.
Paw waxes can be used to form a protective layer on your dog's paws. Waxes aren't a perfect replacement for dog boots, but they may be the only alternative that you have.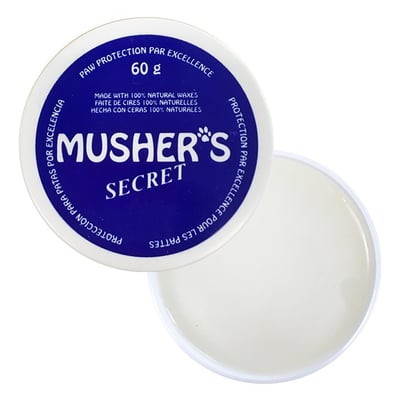 As an alternative to dog boots or as additional protection, Musher's Secret Paw Protection Wax is made from food-safe, natural ingredients. This wax is gentle on paws but designed for tough protection from snow, ice, hot pavements, chemicals, fertilizers, and pesticides. It can even prevent bug bites.
Paw Care
Your dog's paws are an easy target for bacteria that can cause odour and infection. Boots are an excellent way to protect your dog's feet, but there's more you can do to keep your dog's paws healthy.
Clean feet are a vital part of paw care, so whenever your dog's paws get muddy or wet, make sure to rinse off debris and bacteria, and dry their paws thoroughly. Reducing moisture in between their paw pads can reduce foot odour caused by bad bacteria.
Cracked and dry pads are at a higher risk of infection and irritation. During dryer seasons, it's a good idea to use a paw cream or balm, like Reliq Paw Spa Cream, to moisturize your dog's paw pads.
How do you keep your dog's paws healthy? Let us know your favourite paw protectors and tips in the comments below!