We all love the delicious sweetness of fresh-cut pineapple, but have you ever wondered if you can share this tasty treat with your dog? Can dogs eat pineapple? Yes, they can!
You'll be happy to know, and so will your dog, that pineapple is completely safe for dogs.
If you've never tried offering your dog pineapple, then your dog is missing out on some awesome benefits. Not only can dogs eat pineapple, it's also very nutritious. Let's check out some of the benefits of pineapple for your dog:
What's So Good About Pineapple?
We determined that dogs can eat pineapple, but why should they? It's not harmful, but is pineapple healthy for dogs?
Your dog needs several nutrients to stay healthy, and many of those vital nutrients can be easily sourced from different foods, like pineapple. Pineapple is rich in many vitamins and minerals that help to support your dog's overall health.
Fresh pineapple contains vitamins C, B1, B2, B3, B6, and B9. Your dog naturally produces his own vitamin C, but feeding vitamin-rich foods like pineapple can help to buffer those levels and can help to keep your dog healthy.
Pineapple is rich in Manganese, a mineral that your dog needs for protein and carbohydrate synthesis, proper enzyme function, and is used in the production of many fatty acids.
In addition to vitamins and minerals, pineapple also provides your dog with antioxidants. Antioxidants help to protect your dog's body from free radical cells and prevent cell damage. They can help support healthy skin and coat, as well as cognitive function as your dog ages.
A lesser-known benefit of pineapple is its ability to support your dog's digestion. Pineapple contains bromelain, which is a digestive enzyme that helps to breaks down protein. This can be especially helpful for dogs that are eating meat-rich and high protein diets.
A Little Goes a Long Way

Pineapple sounds amazing, right? While all the benefits seem pretty awesome, it's important to consider the dangers of feeding your dog too much pineapple. Like most delicious things in life, pineapple should be fed in moderation.
The issue with feeding pineapple too frequently or in too large of quantities is its high natural sugar content. Your dog's body can use sugars for quick energy, but those sugars can also affect digestion if you overdo it.
Unused energy from excess sugars can contribute to unwanted weight gain, too, so bear that in mind when sharing your fresh pineapple with your dog. Most of his calories should be coming from a complete and balanced diet, not from indulgent snacks.
Feed your dog pineapple in small quantities to avoid upsetting your dog's sensitive tummy. Stick to bite-sized pieces or smaller with the core and rind removed. These harder parts of the pineapple can be dangerous if consumed and are much harder to digest.
For more feeding tips and other dog-safe produce ideas, check out Fruits and Vegetables Safe for Dogs.
Tips for Feeding Your Dog Pineapple
Pineapple can be fed many ways but stick to only the pineapple flesh. The core and tough skin of pineapple can lead to injury or obstructions, so make sure to keep these odds and ends out of your dog's reach.
If you are ready to try giving your dog pineapple, then check out some of the ways you can feed this tasty tropical fruit:
Food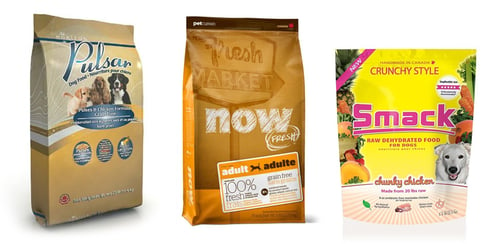 While pineapple isn't exactly the most common ingredients in commercial pet foods, there are a few brands that have embraced the power of pineapple. Kibbles like Horizon Pet Foods, and Now Fresh have been using pineapple for years, to offer essential nutrients and support digestion.
To maximize the benefit of pineapple, try feeding a raw diet containing this nutritious ingredient. Smack is an easy-to-feed, dehydrated diet that uses pineapple to supply many of the vitamins and minerals that most kibble diets would need to buffer with supplements.
Treats
Admittedly, there are not a lot of treat options with pineapple available, but if you know your way around the kitchen or are just feeling ambitious, then you might enjoy some of these simple DIY pineapple treats for dogs.
1. Just Pineapple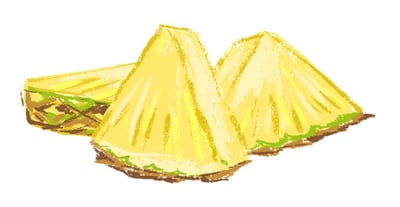 Even those of us with zero culinary prowess can manage this option. Cutting up fresh pineapple into small bite-sized pieces is a great snack for both you and your dog. Remember to core and remove the rind of the pineapple before feeding pineapple to your pup.
You can also freeze the pineapple chunks to give your dog something to crunch on, or add them to their favourite treat ball or Kong feeder to keep them busy.
2. Pineapple Pupsicles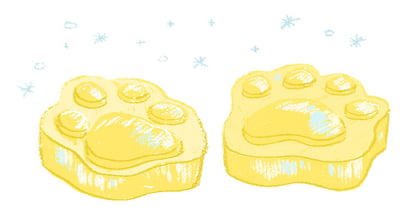 During the warmer months, dog popsicles are an excellent snack for keeping your pet cool and hydrated, so why not add some pineapple to them. We like to use goat's milk and pureed pineapple, but you can use wet food or bone broth instead of goat's milk. Just pour the mixture into a silicone mould and freeze until solid.
3. Puppy Pastries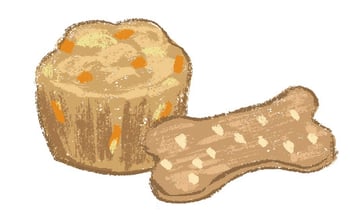 If you really want to make your dog something special, we rounded up some fun pineapple baking recipes that will surely get your dog's stamp of approval.
Food Topper
Another fun way to offer your dog the benefit of pineapple is to save the juice left over after you've cut up some fresh pineapple for yourself. Pineapple is very moist, so keep the liquid and add a little to your dog's regular meals.
It can provide valuable nutrients and moisture, but also boosts the flavour for dogs that desire a little enhancement to their meals. Even just a couple tablespoons of this sweet juice can transform their boring kibble into a tropical treat.
Fresh is Always Best
Offering your pet fresh, raw pineapple is always the best. Canned pineapple and juices may seem convenient, but they are often chocked-full of added sugars. Many canned pineapples made for us use a simple syrup as the base. Even those that say "pineapple in juice" may be using a sweetened juice, so avoid these processed choices whenever possible.
If pineapple is out of season, then opt for frozen pineapple, or canned options that only use water instead of syrup of juice. Check the ingredients to make sure other additives haven't snuck their way into your dog's healthy snack.
Does your dog like pineapple? Let us know your favourite ways to feed your dog pineapple in the comments below.
---
Posted by Krystn Janisse

Krystn is a passionate pet nutrition enthusiast. She has worked in the pet industry for over a decade and loves to share her passion for animal welfare with others. She loves all animals but is currently channelling some crazy cat lady vibes with her five lovable, but rebellious cats.
---