Most pet owners have a love/hate relationship with plush toys. Most dogs love them, but their instincts tell them to rip them apart. It's hard to justify spending money on something that will be destroyed so quickly. Before you rule out plush toys forever, take a look at our favourite, most durable plush dog toys that are totally worth it.
They shake and chew and stalk these little creatures, just like they would if they were hunting real prey. They throw fluff and bits of fabric shrapnel all over your house, and worst of all they try to eat all the inedible shreds of fuzz and squeakers.
It may be annoying, but plush toys are still a great toy to rotate into your dogs routine. Plush toys can provide mental stimulation and satisfy their natural impulse to hunt.
Try using plush toys for group play and games. Hide-and-seek is a great game to incorporate plush toys and keep them from getting shredded. If your dog goes cray for them, then they'll be excited to investigate the house to find the coveted toy.
You don't have to give them plush toys all the time, but it's an occasional, appreciated treat. Next time you're looking for a pleasant surprise for your dog, try one of these tough plush dog toys. It'll make your dog's day.
Top 5 Durable Plush Dog Toys
5. Spot Skinneez
Skinneez, named for their lack of stuffing materials, are available in a huge selection of animal styles and sizes to help you find the best most exciting option for your dog. They are extremely lightweight and of course, still contain that precious squeaker to encourage your dog's hunting habits.
They may not look tough, but they are surprisingly durable. Their stuffing-less nature makes them perfect for fetch, tug, or hide and seek games. These realistic looking toys are ideal for hunting and retrieving breeds too.
4. Smart Pet Love Tender-Tuffs
Tender-Tuff toys use a proprietary TearBlock technology to provide a more durable plush toy experience. Smart Pet love makes toy options for all types of playing and for all sizes of dog. Although your dog will play however they feel comfortable during solo play-times, Tender-Tuff has specific lines to encourage fetching, tugging and shaking during interactive play.
Perfectly sized options for both small or large breeds are available, and the comfort line is ideal for new puppies who desire to nap with a soft, cozy friend.
3. Tall Tails Natural Leather
These toys are made using natural leather, wool felt coverings and heavy duty stitching in a variety of sizes and adorable shapes. Tall Tails has tug options that are made of natural untreated cotton rope to make this plush more versatile and interactive.
All of their natural leather products are free of any chemicals and artificial colours or flavours, making this toy not only durable but safe. They can be chewed, tossed, or tugged to spice up your dog's play routine.
2. Outward Hound Invincibles
Invincibles are awesome for dogs that play a little rougher with their plush toys. These toys have no stuffing materials, and instead, use giant squeakers that continue to squeak even after they are punctured. All Invincibles are double layered and double stitched for extra durability and extended play-time.
Made for breeds of all sizes, these toys are lightweight and come in a variety of shapes and sizes. They Invincibles Snakes are great for tug games and more interactive play.
1. Tuffy's

Another of our favourite brands here at Homes Alive Pets, the Tuffy's line definitely lives up to it's name. They have an assortment of cute and cool animals, dinosaurs and shapes to try. They rate their toys based on durability, and although the shapes are usually the most durable, we can't resist the dinosaurs.
They make toys for all shapes and sizes from extra small to extra giant - up to 27 inches tall! Seven rows of stitching holding together seven rows of fabric are then improved upon with an additional layer of webbing for the mega and ultimate sizes to make this the most intense plush toys in the game.
Safety Precautions
Although many of the plush toys on this list are durable, they are far from indestructible. If ingested, squeakers can be very dangerous. Most squeakers are small enough to be swallowed whole and could be a potential choking hazard.
Furthermore, squeakers are made of inedible materials that can cause severe digestive issues, including but not limited to intestinal blockages. If your dog does remove the squeaker from the toys, remove it and throw it away immediately.
Encourage Interactive Play-time
We know that plush toys aren't the staple toy in every household, but they are fun and exciting. Try using plush toys as a reward in lieu of treats for pet's with weight or health issues.
They also make excellent gift ideas for your pet or a friend's. Gifts should be exciting and something they wouldn't normally get, so if plush toys are something you've been avoiding, they could be the perfect stocking stuffer or birthday gift to make your pet's day.
To extend the life of plush toys, use them exclusively during monitored play. Put them away when your dog is unsupervised, and they will be all the more excited to include you in their play routine when that coveted plush toy makes another appearance.
If your dog is basically a canine wood chipper for toys, then you are better off choosing an even tougher toy, like the ones from our list of toughest dog toys for extreme chewers.
Does your dog have a plush toy addiction? Let us know in the comments which plush toys are a staple in your house!
Want even more toys to choose from?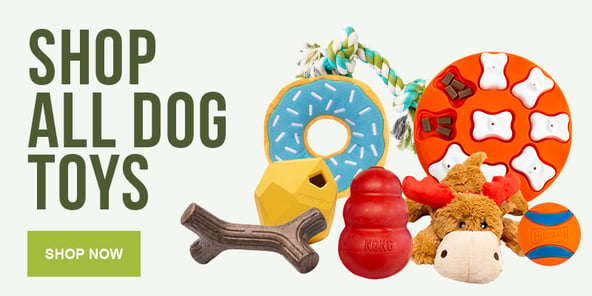 ---
Posted by Krystn Janisse

Krystn is a passionate pet nutrition enthusiast. She has worked in the pet industry for over a decade and loves to share her passion for animal welfare with others. She loves all animals but is currently channelling some crazy cat lady vibes with her five lovable, but rebellious cats.
---