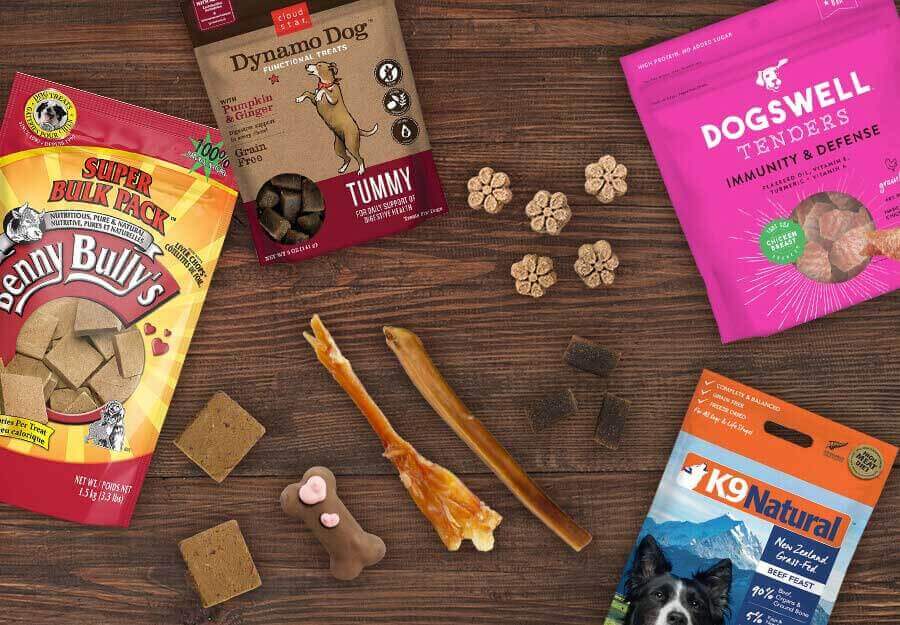 A good dog treat should be delicious and exciting, but choosing the best dog treat should be healthy too. We all love to treat our dogs, but making sure those treats are healthy and appropriate is important. We can help you find the best dog treats for your pooch so that you can spoil them the way they deserve to be spoiled.
Low-Calorie Dog Treats, Diabetic Dog Treats & More
Every dog is different and has its own needs and preferences when it comes to treats. However, with so many dogs treat options available, it can be hard to know if you are making the best dog treat choices for your pet.
Choosing the Best Dog Treats
In this guide, we will dig deep to provide all the information you need to find the best low-fat dog treats for your dog. By the end, you will feel much more confident about whether or not you are giving your dog the best treats for the right purpose.
There are a lot of factors to consider when it comes to your pet's health, and we don't often realize how much of an impact your dog treat choices can have. Treats are meant to be exciting and desirable, but you should still try to find treats that are healthy and free of unwanted ingredients like by-products and corn.
But before we dive into these different categories for treating our dog, let's discuss some general tips for choosing the right treats for your furry best friend!
Tips for Choosing Treats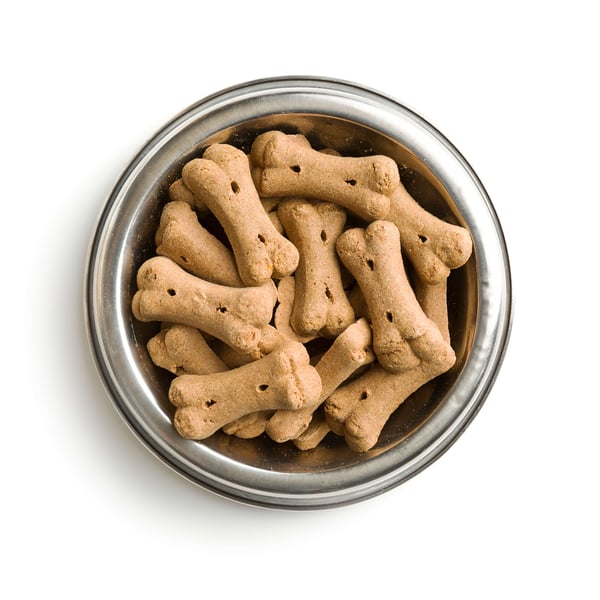 Every dog has different tastes, so don't be afraid to test out different flavours and brands to find the ones that your dog will flip for - or at least roll over for.
Unlike their staple diet, treats can be more fun and diverse, so you can change it up and surprise your dog with exciting new treats whenever you want. For pets dealing with sensitivities or digestive issues, always introduce new treats in small portions to make sure that their bodies can adjust to the new ingredients.
For treat training, try finding a good dog treat pouch to hold your treat mix. That way, you can reward your dog whenever the opportunity arises. Rewarding should always be timely, so using a treat pouch is not just convenient. It also helps you reward quickly.
Reward treating works best with vocal commands or physical praise, so there should be plenty of belly rubs and make sure you tell them what a good dog they are. This will help your dog relate to more than just the snack but see, feel or hear the praise from you.
For many overly excited pups or nervous dogs who get anxious around fast movements, try routinely using a hand motion as part of your praise. Something as simple as a thumbs up can be an additional visual aid to help them understand their success.
This will not only help your dog build confidence, but it will strengthen your bond too.
How Do We Treat Our Dogs?

Treats for Training
The most obvious reason for treating our pets is to train them. Training can involve many different types of techniques, methods, and philosophies. Positive reinforcement training is the best way to train, and treats make this type of training much more enjoyable for your dog.
Rewarding good behaviour and using treat association to teach commands will have your dog actively anticipating your direction.
Treat training your dog is not without its shortcomings, though. For most pet parents, a large part of their pet's training process is focused on their puppy years. As our pets age, we find it harder to find appropriate ways to reward our pets, and the value of treat training can diminish.
Throughout their lives, we should be maintaining our treat routines by offering fresh and exciting treat options in a variety of ways. You can teach an old dog new tricks or simply continue to reinforce the ones that they already know.
As long as you are making them work, focus or exercise for the reward, then it's recommended to continue treating them into their senior years, although the type of treatment may change.
This method of training can also be challenging for dogs that struggle with allergies, weight problems, or other illnesses that can limit what you are able to treat and how often. Treats must be chosen very carefully, and variety may be limited, but if possible, you should still try to find an option that works for your pet's needs.
Extremely food-motivated dogs can present some hurdles when treating training as well. Dogs can become dependent on a reward to behave appropriately or take direction, and it can be difficult to wean them off.
Use low-calorie dog treats for specific purposes, and try to incorporate other positive reinforcement techniques, like clicker training or vocal praise. For more information about clicker training, check out this super helpful blog - Clicker Training 101: A Quick Beginners Guide.
Treating for Boredom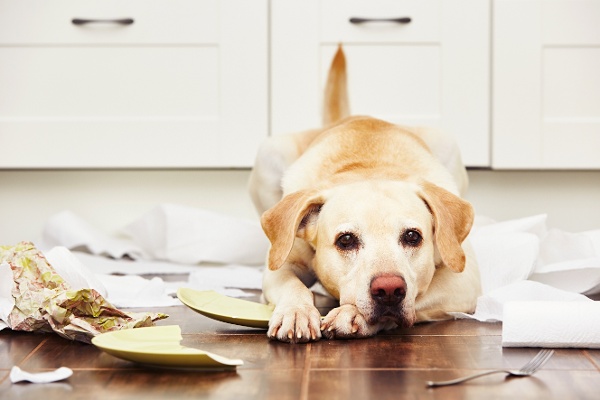 Another very common reason for treating is to help ward off boredom and destructive behaviours.
When our dogs are home alone, we want peace of mind in knowing that they aren't destroying the house. When we are home, we need to give them something to keep them occupied while we go about our daily chores and routines.
Treats provide a safe and completely edible tool to keep your dog busy. Dogs don't express boredom in traditional ways, so it's important to be able to recognize the symptoms. Chewing, digging, excessive barking, and even self-harm can all be a symptom of boredom.
Destructive behaviours are very common among bored pets, especially when they are home alone. Combat these habits by providing a distraction that is both exciting, healthy and long-lasting.
1. Puzzle Toys - these are excellent solutions for keeping your dog's mind engaged while they have to work for their treats. These interactive toys are great for high-energy dogs and for slowing down how many treats your dog consumes.
2. Natural Chews - chews are the best option for dogs that eat or chew everything. Bully sticks, tendons, raw bones or yak chews are all great options to give your pup a good jaw exercise.
Natural chews should be appropriately sized and can have a choking risk if your dog is a gulper, so only choose options that you know your dog can't break down into large chunks that are tempting to try and swallow whole.
For more ways to keep your dog entertained, check out Dog Boredom: Symptoms & Solutions for Dogs.
Solution-Based Treats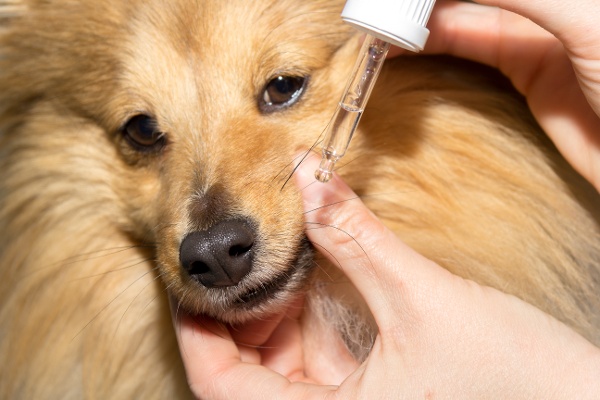 Advancements in holistic healing have created new opportunities in the pet industry by introducing naturopathic and homeopathic remedies to common ailments that used to require a pricey vet visit.
Pet owners are more educated than ever, largely because the information is more widely available to us, and being able to make healthy decisions for our pets is easier than it was 20 years ago.
As DIY and home remedies became more popular, many pet owners looked for a simpler way to administer medications and supplements. This is where treats come in handy. Health aids and supplements can be added to treat recipes to offer a tasty snack that can double as medicine.

Keep in mind that not all solution treats are as effective as the packaging may lead you to believe. Navigating the industry is complicated, and as pet owners, it's important that we are mindful of marketing tactics.
The effectiveness of a supplement can be altered depending on the cooking process, and some supplements and ingredients aren't as potent when sourced from synthetic ingredients vs real food sources.
Limited Ingredients
Pets that suffer from food sensitivities may be left out due to a lack of variety in ingredients. Solution treats are a niche product and aren't often available in a wide variety of flavours and formats. This may mean that dogs with food allergies or common diseases aren't able to eat the treats due to the non-active ingredients.
Always read the full ingredient list in any solution-based treat. The treat will be counter-productive if it fixes one problem just to create another.
Nutrition Boosters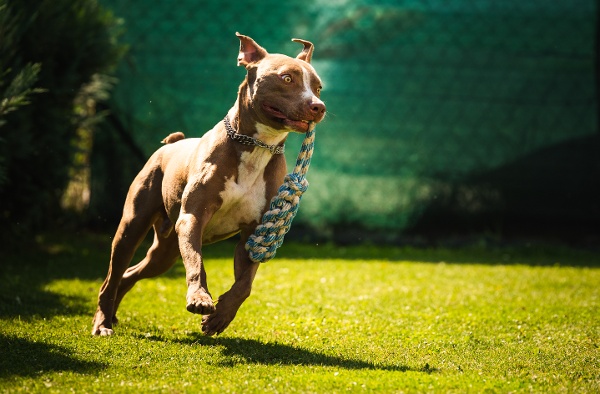 An often overlooked method of treating is to use treats to add extra nutrition to a dog's diet. Underweight, recovering, and high-energy dogs may need a few extra calories to maintain activity levels and muscle mass. Using treats to buffer protein or calories is a great choice when feeding larger meals is not an option.
When training a new puppy, treat training can help your puppies transition through a growth spurt or finish bulking in the later adolescent months.

With this method, you should be routinely monitoring your pet's weight and muscle mass. Putting on weight should be done gradually to avoid unhealthy weight gain. Treats used for enhancing nutrition should be high quality, so choose your treats carefully.
Many types of treats can be used as meal toppers too. Feeding a picky pet can be stressful, but adding a small amount of crushed-up treats into their food may invigorate their appetite. Always use this method in moderation, though. Overusing treat toppers could make your pet reliant on the treats just to eat their dinner.
To Show Affection or Appreciation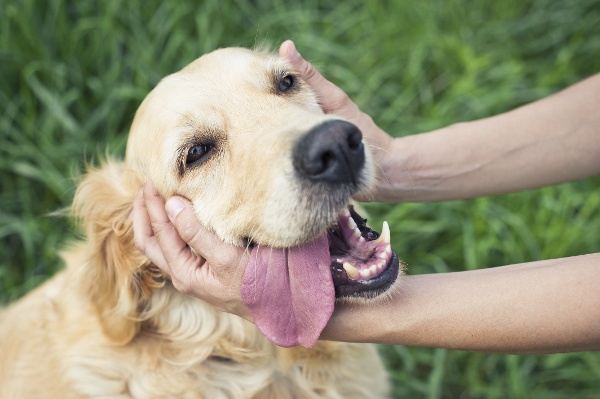 Treats are a part of our pet's routines. They anticipate getting them as much as we anticipate giving them, and not every treat needs to be a reward for a specific action or command. Sometimes we use treats just to show them we love them.
Most of us are guilty of wrapping a dog birthday cookie for our pets or giving them a new dog toy for a special occasion. They are members of our family, and we want them to participate in our festive routines, whether they understand them or not.
There is joy in sharing joy, especially with our dogs, because their love is unconditional.
Types of Dog Treats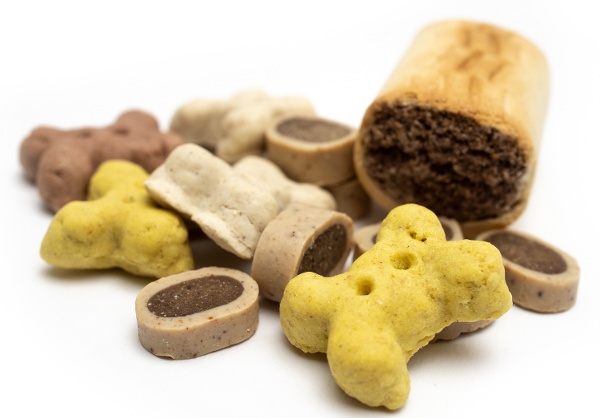 There are many different types of dog treats on the market, each with pros and cons. If your dog is allergic to common ingredients, you should pay close attention to what you give them by browsing the ingredients.
Understanding what they are and how they are intended to be used can help you make the right choice for your dog. Read on to learn more about the different types of dog treats and our top picks for each!
Best Treats for Training Dogs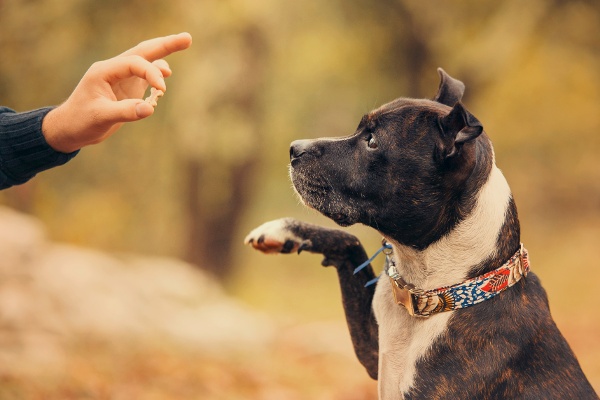 Are you ready to try treat training, or are you looking for a way to spruce up your routine? You may have already read our blog about the best training treats for puppies, but what if your dog isn't a puppy anymore?
Selecting high-value training treats can help you keep your dog focused on their lessons by associating a reward with an action. Treat training your dog isn't the only method, but it is highly effective and is the most common method for beginners and easily distracted dogs.
From the second we bring them home until the day we say goodbye, our dogs are learning from us. They crave structure and direction as they find their place in your family.
Whether you are training a new addition to your pack or trying to reinforce behaviours in your old dog, consistent, positive training will help teach your dog manners and quell anxiety and destructive behaviours.
Tips for Treat Training a Dog
When you are treat training, you need to make sure that your dog is engaged in the activity. For more food-motivated dogs, treat training is always exciting, but over time or for dogs with more discerning taste buds, it is important to create excitement by using treats that keep your dogs attention.
Variety is important, but finding the right texture, aroma, and flavour will make all the difference for some dogs. Finding treats that satisfy these criteria and are still healthy can be challenging.
For easily distracted dogs, try starting with something that is really high value, like sliced hot dogs, and slowly work in healthier treats. Hot dogs are definitely not the healthiest option, but for the short term, they will absolutely get their attention and help you build a consistent training routine.
The first rule of treat training is the smaller, the better. The repetitive nature of treat training means you will be feeding a lot of treats, so the smaller the morsels, the more you can responsibly reward without upsetting your dog's digestion or eating routine.
High calorie dog treats are great for times of increased activity, but for low-impact and at-home training, look for something not so calorie-dense.
10 Best Training Treats for Dogs
Primal Beef Jerky Training Treats are small jerky pieces made from grass-fed beef and beef bone broth that are perfect for any treat pouch. The small size makes them perfect for longer treat training sessions. Without grains, gluten, wheat, corn, or soy, these treats are loaded with nutrients and flavour!
This Canadian-made brand offers a little piece of adventure in every bite. Mini Trainers are grain-free and have limited ingredients, so they are great for pets with food sensitivities. These treats are softer and should be stored in a sealed or Ziploc bag to retain texture, but the aroma is bold enough to keep your dog drooling and ready for training.
These little B-shaped treats are packed with flavour, and the chewy texture makes them a more desirable treat for fussy dogs. They are grain-free and are only four calories per treat! Sweetened with maple syrup, these little snacks are great for treat pouches, walks, or just everyday at-home training.
These one-ingredient chunks of freeze-dried meat are loaded with flavour, so they are the go-to treat for picky pets. These treats are not only great for training, but they are also super healthy. Freeze-drying can produce a more crumbly texture, so try using the crumbs to season other training treats or as a meal topper.
These soft and chewy snacks are crowd-pleasers and are the ideal treat to keep on hand for on-the-go training. Toss a few in your treat pouch or even just in your pocket. They can easily be cut into even smaller pieces for longer training sessions and small breeds.
At only three calories per treat, these soft-baked treats are great for training. For true carnivores, try the grilled bison, or for a meat-free alternative, the pumpkin mango flavour is tropical and delicious. Fruitables are wheat, corn, and soy-free, so they are great for sensitive tummies and pets that are watching their figure.
Who says you can't teach an old dog new tricks? Cloud Star offers two options for training, chewy or crunchy. Each three-calorie treat is formulated without wheat, corn, soy, or artificial colours or flavours.
These perfectly sized, soft, and chewy training treats are made in Canada using only North American sourced ingredients. Tender Bites are available in four flavours, pumpkin & ginger, peanut & butter banana, vanilla mint, and apple & cinnamon.
Crump's Naturals want you to get the most out of your dog's training experience, so they've come up with the smallest training treat to allow you to engage in longer training sessions without fear of overfeeding. They are less than half the size of any of the other training treats on this list.
This high-value dog treat is the perfect addition to our treat pouch. Meaty and delicious, Acana Singles treats are soft, freeze-dried morsels that will keep your dog focused on the task at hand. Each of the three proteins is paired with a nutritious superfood to provide additional flavour and nutrition.
Always Be Treating
When you're walking, at the dog park, at home, or in the backyard, take every chance you can to keep training. For convenience and to keep your pockets from smelling too delicious, we recommend a treat pouch. Your dog will recognize the pouch and be ready to work for his goodies.
We like to mix a variety of treats together in our pouch to keep our dogs from getting bored, but you can use sandwich bags to separate different treats in the pouch too. That way, you can treat more difficult tricks or distractions with varying levels of reward.
Puppies require a lot more training than adults, so make sure you are consistent and patient in your training. Start your puppy training right away and make sure that you have all the tools you need to provide structure and a positive learning environment.
Dog Treats for Weight Loss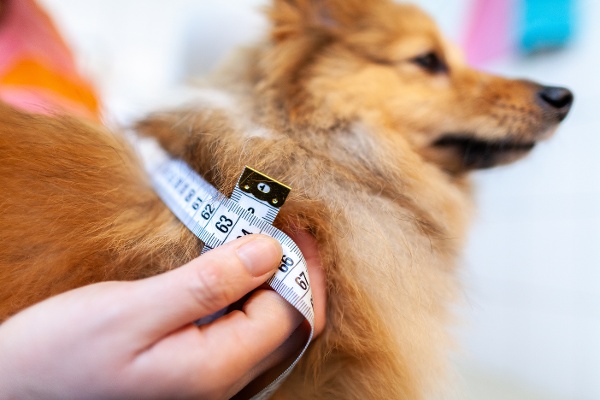 When it comes to treats for overweight dogs, it can be difficult to tell if you're helping them to shed the excess fat or if you may be contributing to their weight issues. If you've read our post on how to tell if your dog's overweight, you may be taking a closer look and your feeding practices and may have even noticed your furry pal is carrying a few extra pounds than he used to.
No dog owner can stand to withhold treats when they look up at you with those big, wet eyes, right? The good news is you can still fit treats into your pet's healthy diet. There are a lot of options out there for healthy treats, but choosing treats to manage your dog's weight can be tricky.
To complement a weight loss diet, you need to know the difference between low-fat treats and low-calorie treats.
Pet food companies and pet owners often treat low-fat and low-calorie options interchangeably, even though the two are quite different. Both are marketed as "health food" for your dog, and it's left at that. But just like healthy human snacks, healthy dog treats require a closer look before you buy in.
Tips for Treating Fat Dogs
So your dog's overweight. You might think the answer is simple: feed him low-fat dog treats. Unfortunately, the answer is not that simple. If you take a close look at the ingredients in most low-fat dog treats, you might be surprised to learn they are still quite high in calories and sugary carbohydrates.
By cutting down on meat and replacing it with sugar, low-fat treats can be not only unhealthy but may also contribute to your dog's existing weight problems. Pay attention to ingredient labels and keep in mind that low fat doesn't necessarily mean low-calorie dog treats.
That being said, there is still a purpose for giving your dog low-fat treats. Many dogs have health issues that require lower-fat foods. A dog with pancreas issues, for example, may need to switch to low-fat treats that can be more easily broken down in their digestive tract, putting less stress on this organ.
Low-fat dog treats can support specific areas of your dog's body and are usually recommended by a veterinarian or other dog health specialist.
Because low-fat treats consist of leaner cuts of meat or don't have as much meat, fillers, etc., they make a great alternative to more complex threats that can cause problems to their already compromised state.
Low-calorie dog treats, on the other hand, are the direction you want to go if you want to limit the number of calories your dog is taking in. These dog treats are usually made with leaner cuts of meat, have fewer fillers, and can be given to your dog more often (was that a cheer from Fido?).
Calories from high-quality animal protein, low glycemic whole grains, and fruits and vegetables are much easier for a dog's body to process appropriately. Low-calorie options also include a wider range of natural, limited, or single-ingredient dog treats.
Depending on what your dog needs, both low-calorie and low-fat treats are viable options. If your furry friend has health issues and requires a low-fat diet, then the low-fat treats are perfect for your dog.
However, if you're looking for something to help maintain a healthy weight, low-calorie treats are the better choice. With a fraction of the calories, these treats make it easier to balance the calories in with the calories out, making them excellent for training/rewarding.
You can feed your dog multiple treats without stacking those calories to epic proportions.
Offering treats using a mentally and physically stimulating toy or game is another great way to help them enjoy their favourite goodies and still work off those extra calories quicker.
Best Low Fat Dog Treats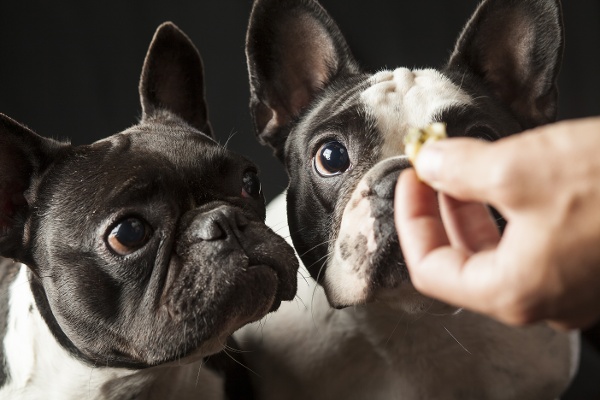 1. Bully Sticks
They're low fat because your dog's mostly chewing! They're made from all-natural protein sources that deliver a long-lasting, healthy chew. There is a wide variety available, some even coming from free-range, grass-fed cattle.
What dog doesn't like some good old jerky? Homegrown in Kentucky, this chicken jerky comes in a variety of flavours and will target unique features for your dog. From skin & coat to hip & joint, this is a great low-fat dog treat with multiple benefits.
Mmm, sweet potato fries– Wait, those don't sound low fat… but they are! Grown and manufactured right here in Canada, these slow-baked slices are rich in vitamins, minerals, and beta-carotene, and they have a similar texture to rawhide for dog.
These tasty morsels are made with only 3 ingredients, chicken breast, brown rice, and potatoes. They are low-calorie dog treats, but also very low in fat. They are also bite-sized for training and rewarding without overfeeding.
Packed full of greens like broccoli, peas, asparagus, spinach, and green beans, this is a high-energy, healthy treat. It boosts your dog's immune system and can help support skin and coat health.
Best Low-Calorie Dog Treats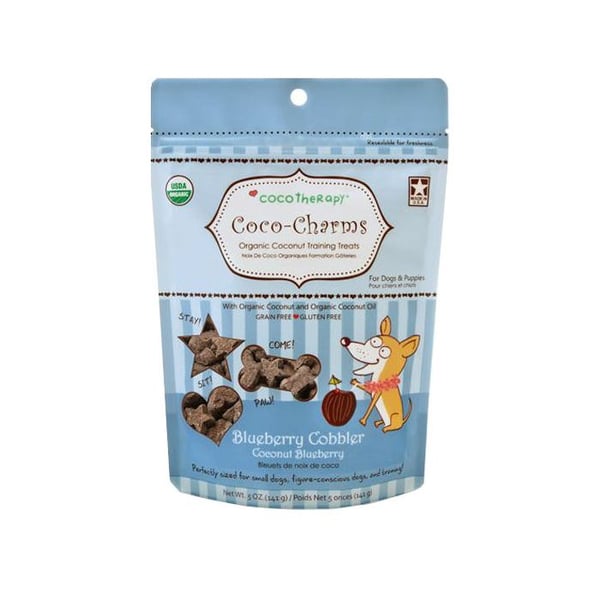 Coco-Charms come in two delicious flavours, pumpkin pie, and blueberry cobbler, and they smell as good as they sound. Coco Therapy uses only organic, GMO-free ingredients and only 1 calorie per treat!
With just 3 calories per treat, these treats are great for training, not only because they're a good protein source, but also because they're pocket-friendly. There's no grease, no crumbs, and no smells to contend with.
What's better than bison when it comes to dog treats? It's not only delicious but also a very lean cut of meat, slicing the calories to only 2.5 each. This makes Skinny Minis an excellent training treat.
Mmmmm, cheese… These moist and delicious dog treats take the cake. With only 3 calories per treat, these cheesy treats are soft and chewy with just a hint of sweetness. Though cheese is the most popular, Tricky Trainers are available in salmon or liver, and even have grain-free options.
Coming in at just 1.5 calories each, these miniature beefy bites are a high-protein treat made in Canada. Their soft and moist texture makes them a desired treat, and only FDA-approved chicken and beef go into the all-natural flavoured ingredients.
Diabetic Dog Treats
Diabetes is a common disease in dogs these days. Managing diabetes through diet is achievable, but you must carefully choose all aspects of their diet, including treats. Believe it or not, there are many options in terms of diabetic dog treats. Although diabetes can often be successfully managed through diet, it's still essential that you are consulting with your vet to monitor your pet's progress.
Finding the right treats for dogs with these special needs can be challenging. Many treats marketed as diabetic dog treats aren't the most palatable options and your choices are limited to only a few flavours. A quick search for diabetic dog food Canada will return a bounty of results.
Sometimes it's hard to say no when they give you those big ol' puppy eyes. It's easy to underestimate the effects that a few small treats can have on our pet's blood sugar levels, but what else can you do? Cut out treats altogether?
Instead of putting a kibosh on all treats, look for treats that will complement their diet and help manage their diabetes.
Tips for Treating Diabetic Dogs
Treats should never be more than 10% of your dog's diet, but this is especially important for dogs suffering from diabetes.
If your dog is overweight, treats should be the first thing that you try to limit. Shedding some pounds - or pound depending on the size of your dog - will help them regulate their blood sugar better and improve their overall quality of life.
When looking for the right treat, you shouldn't just find one option and strictly feed that. Just like with food, variety and rotational feeding are important. This will give you treat options for different occasions and types of treating, and it will prevent your dog from getting bored of eating the same treat every day.
Best Treats for Diabetic Dogs
1. Ziwi Peak Lamb Tripe Chews
Tripe is not as low in fat as many of the other treats on our list, but this single-ingredient treat is low glycemic and high protein, making it an excellent chew for helping manage your dog's diabetes. Tripe is exceptionally palatable, and the texture provides abrasion to help clean your dog's teeth as they chew.
Check out our blog on the benefits of tripe for more information.
Granville Island biscuits are hand-crafted in small batches from their facility in Vancouver BC, to ensure quality and consistency in each cookie. The cookies are made using chickpeas, eggs, blueberries, and a variety of herbs which all contribute to this treat's low glycemic score and low-fat content.
While some organ meats can be very rich, lung tissue is the perfect low-fat choice. Lung is packed with vitamin A and B12 and is both high in protein and low-glycemic. Beef lung is quite light and crunchy, so it's easy to break into small training-sized bits.
These chicken tenders are a tasty chunk of chicken breast made from 100% farm-raised chickens, free of grain, gluten, and starches. Both high protein and low-fat, Dogswell chicken tenders are a great low-glycemic, diabetes-friendly snack. Unlike most chicken jerky treats, Dogswell chicken tenders are soft, chewy nuggets that are perfectly sized for portion-controlling your pet's snacking preferences.
Hagen Sweet Potato Chews are made from locally sourced Canadian sweet potatoes. If you are looking for a vegetarian option for your diabetic dog, stop looking, you found them. Sweet potatoes are delicious and low-glycemic, but also super low in fat.
We don't recommend carb-based treats very often for diabetic dogs, but starches have a smaller effect on blood sugar because they digest much slower. Always watch your portions, though. This type of treat can be fed occasionally to offer a wider variety to your dog.


Best Dog Treats for Bad Breath
When we have a particularly onion-y sandwich for lunch, we use gum or mints to freshen our breath quickly and avoid offending our co-workers or friends. They are not a permanent solution, but will quickly reduce bad breath and limit bacteria growth.
While we can't give gum to our dogs (never give gum to your dog), dental treats can be a quick and effective option for avoiding some seriously nasty dog breath. Many dental treats can aid in removing bacteria and providing abrasion as they chew.
There are many different formats of dental treats, some with more benefits than others, that could be a great addition to your existing dental routine. Check out some of our favourite dental treats.
Tips for Dog Dental Treats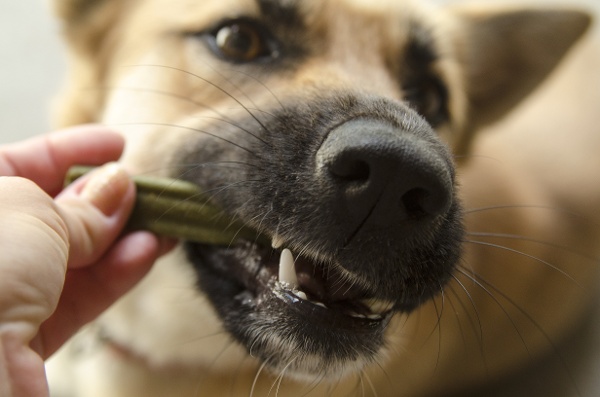 With a proper dental routine, improving your dog's oral health is pretty simple. A combination of the right products, diet, and some consistency on your part, will keep your dog's chompers pearly white.

Dental treats are a simple and practical method for curbing bad breath and encouraging chewing. Whether you are trying to get rid of your dog's bad breath or just acting preventatively, dental treats are a great way to complement any dental routine.
Dental treats should always be given in moderation due to the larger size and higher caloric content. They come in a variety of shapes and sizes so that you can find the appropriate option for your dog's dental needs.
Dental treats should never be small enough to swallow whole, so offer your dog a large enough option to encourage proper chewing. Monitor your dog when trying new treats.
Puppies should always be monitored when eating dental treats as they are the most likely to try to skip chewing and gulp the treat out of excitement, leaving them at higher risk of choking and digestive upsets.
Best Dental Treats for Dogs

Aptly named "Breath Beaters", this extra minty biscuit will surely freshen your dog's breath. They are grain-free and use a small amount of cane molasses to sweeten them, making them very palatable while retaining their minty aroma.
This brand offers two types of dental cookies, the Tartar Control Biscuit and the Fresh Breath Biscuit. The fresh breath biscuits use natural bad breath fighters like spearmint, parsley, and fennel. Baking soda is used in their crunchy tartar control biscuits to provide a grainier abrasive texture during chewing.
Fresh Kisses have a uniquely soft texture to allow your dog to bite into this treat, letting the chew clean hard-to-reach places near the gum line. It's available in both a fresh mint formula and coconut with botanical oils, like mint and lemongrass. This line is completely grain and potato-free, making it a digestion-friendly option.
The most well-known dental treat for dogs is Greenies. Greenies have a unique texture allowing your dog's tooth to sink all the way into the chew, helping to remove bacteria all the way down to the gum line.
These delicious chews use the power of The Plaque Off System(TM) to reduce plaque build-up and keep your dog's teeth healthier.
PlaqueOff powder, a type of seaweed that according to ProDen is thought to affect the ability of plaque to stick to surfaces in the mouth and softens hard tartar deposits.
Alfalfa in the chews also provides chlorophyll to reduce bad breath-causing bacteria. This dental bone is available in four yummy flavours and is backed by a 100% satisfaction guarantee.
Best Dog Treats for Allergies
Is your dog itchy, dry, or flaky? Does he chew at his paws and lick constantly? Your dog might have allergies. Finding the right hypoallergenic dog food is hard enough, but now you have to find treats too!
Don't stress. We did our homework, and we broke down some treat options to help you manage your pet's allergies without depriving them of their favourite goodies.
We've been hearing the term hypoallergenic dog treats for some time now, but what does it really mean?
Calling something hypoallergenic simply means it is less likely to cause an allergic reaction, but this isn't a guarantee.
Hypoallergenic foods and treats don't mean they are allergen-free or that a hypoallergenic treat will be suitable for all dogs. They are simply limited and, therefore, helpful for narrowing down and eliminating possible allergens.
The fact is every dog is different. What may be an unlikely allergen for one dog could be a trigger for another. When it comes to allergies, there is a lot of trial and error involved in determining which hypoallergenic products will work the best.
Tips for Treating Dogs with Allergies
Instead of using the term hypoallergenic, let's use a more appropriate term - limited-ingredient. When it comes to finding the right treats for dogs with allergies, digestive issues, or other ailments that may require eliminating certain foods from their diet, a great starting point is to look for treats with fewer ingredients.
A treat with fewer ingredients will allow you to determine which ingredients your dog can tolerate and remove the ones that you know they are likely to react to, but that is not the only factor. How the treat is processed, preserved, or cooked can affect how your dog's body is able to use it.
High heat and heavy preservatives can denature (alter the natural qualities of) the treat, which could trigger a reaction to an ingredient that your pet isn't even allergic to. Basically, your dog's body won't recognize the nutrients as food and will attack.
The Honest Kitchen, a pet food manufacturer, makes a good case for minimally processed and limited ingredient diet choices in their blog, Hypoallergenic Pet Foods: Myths and Facts. Treats and food should be treated the same when it comes to allergies and sensitivities.
Best Hypoallergenic Dog Treats
This is one of the best treats to start with or choosing the best dog treats. These freeze-dried cod treats are single-ingredient and perfect for dogs with skin issues and sensitivities. They make great training treats, so they are great for on-the-go and walks. Smaller pieces and crumbs can also be used as meal toppers to encourage healthy eating habits.
Another single-ingredient option, fish skins are flavourful and rich in omega fatty acids to aid in healthy skin and coat. Our favourite is Plato Hundur's Crunch. Hundur's crunch is made from 100% cod skins and is available in 3 sizes, making them a perfect snack for any size breed.
Long-lasting and low-carb, natural chews are an excellent choice for pets with sensitivities. The size, shape, and texture options are nearly endless, allowing you to pick the right option for your unique pet. Natural chews are ideal for dental health and are great for giving your dog something to keep them occupied.
Look for natural chews that are either only one ingredient or are strictly meat-based. Bully sticks are the most popular natural chew, but we also recommend trying a variety of options to keep these treats exciting and to prevent your dog from learning how to chew them quicker and quicker each time.
If you are having trouble determining which animal proteins that your dog can handle, you may want to try a vegetarian treat instead. Not all meat-free treats are single-ingredient but look for treats with as few ingredients as possible.
Whimzees dental chews have a unique hard texture, unlike most dental chews, allowing for a long-lasting chew session. All the Whimzees products are naturally flavoured and coloured, using ingredients like alfalfa and paprika.
For mystery allergies, or pets with multiple food sensitivities, it may be best to choose a novel or exotic protein. Choosing a protein that they have never had is less likely to cause a reaction.
Try to stick with single-ingredient options, like Wag Kangaroo Cubes. Wag makes a variety of kangaroo formats so that you can have exotic treat options for different treating methods.
Other proteins to look for are rabbit, venison, bison and alligator, but you may not find as much variety. The kangaroo trend has introduced a number of kangaroo treats and foods to the market so they are affordable and easy to find.

Best Dog Treats for Anxiety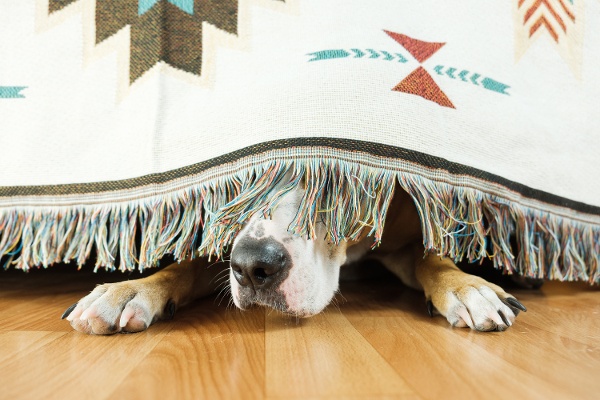 There are a number of unique situations that can stress your dog. Like us, they can feel uneasy meeting new friends and in unfamiliar or crowded situations. With Halloween just around the corner and Christmas soon after, your pet may start feeling the pressures of the holiday season.
The good news is that there are plenty of natural remedies to help ease anxiety symptoms and help your dog learn to react appropriately in times of stress. Natural calming treats may help settle your dog's nerves and make them feel more relaxed during crowded family gatherings.
What Causes Stress in Dogs?
I'm sure we can all think of a time when we've felt stressed, and we each have our own methods for managing that stress. We need to be able to recognize our anxiety symptoms so that we can quickly take control. Recognizing symptoms in our pets is the first step towards helping them overcome their anxiety and to learn how to better respond in the future.
Tips for Dogs Anxiety
Here are a few symptoms to help identify when your dog is stressed:
Aggression
Aggression is the most concerning and dangerous symptom of anxiety and can present in different ways. An aggressive dog isn't necessarily a bad dog, but often a scared dog. Signs of fear aggression can be barking, growling, snarling and sometimes even biting.
These are very obvious warning signs that your dog is feeling overwhelmed in his current environment. If you see these signs of fear aggression, you need to act immediately. Calmly take your dog to a quiet relaxed space to allow him to calm down.
In many cases of aggression, we recommend a mixture of calming solutions and professional training to help correct the behaviour.
Body Language
Body language can be more subtle, but can often include involuntary physical reactions like shaking, excessive shedding, panting, drooling, or putting their tail between their legs. In cases of extreme anxiety, your dog may even urinate or defecate.
Looking for your dog's body language clues may give you the opportunity to intervene and take control of the situation before it escalates.
Compulsive Behaviours
These signs are a litter harder to notice but they may present in both negative and positive ways. Negative compulsive behaviours can include pacing, scratching and destructive behaviours like chewing.
Some positive compulsive behaviours can actually be your dog's natural stress relief methods. For example, my dog likes to carry his favourite toy or chew when he's meeting new people. It provides a calming effect similar to that of a baby soother or blanket. It gives him confidence in a situation that would typically make him feel very unsure.
There is no one-fix solution for every dog's anxiety, and anxiety treatments will require a little bit of trial and error, but calming treats may be a great first step to helping you and your dog conquer anxiety. Natural calming remedies are often most effective when used in combination with training, proper socialization, mental stimulation, a well-balanced diet and consulting with your veterinarian as needed.
Choose the anxiety relief format that is best for you and your pet. All of our calming treats have recommended feeding guidelines based on your pet's weight. Please follow these directions closely to get the most benefit from the products.
Best Calming Dog Treats
NaturVet Quiet Moments are a small soft chew containing both melatonin and L-Tryptophan. Both work to reduce stress by allowing the immune system, which can trigger that "fight or flight reaction", to communicate better with receptors in the brain, helping to ease the tension.
Natural calming aids like passionflower and chamomile also help to reduce stress and provide temporary anxiety relief. The use of ginger is to provide support for dogs with sensitive stomachs, which makes this product ideal for travel-related anxiety or motion sickness.
True Leaf offers treats in both a soft chew and a dental stick format containing hemp seed powder and cold-pressed hemp seed oil, and chamomile and lemon Balm which both offer calming properties.
The unique ingredient in this formula is called L-Theanine, which is an amino acid found in green tea that promotes normal chemical balance in the brain, producing a calming effect.
This unique formula is safely designed for both dogs and cats (yes, cats can get stressed out too!). This formula uses L-Theanine just like the True Hemp, and they've added a vitamin B supplement, Thiamine, and Bovine Colostrum, which both promote a calming effect in the central nervous system.
Besides the catchy name, these biscuits are still pretty unique compared to the other brands on this list. The Granville Island Pet Treatery uses a number of calming herbs in their formula. Some of the lesser-known herbs in this cookie are skullcap and ashwagandha.
Skullcap is considered a nervine, a medicine used to calm nerves. Ashwagandha, nature's antidepressant, can reduce anxiety according to a study done by Phytomedicine (the international journal of Phytotherapy and Phytopharmacology).
Another treat tapping into the power of hemp and L-Theanine, CannaBiscuits Calming dog treats offer the calming benefits of lion's mane and chamomille. In addition to their naturally calming effects, these functional treats are packed with valuable nutrients from sweet potato, pumpkin, and honey.


The Bottom Line...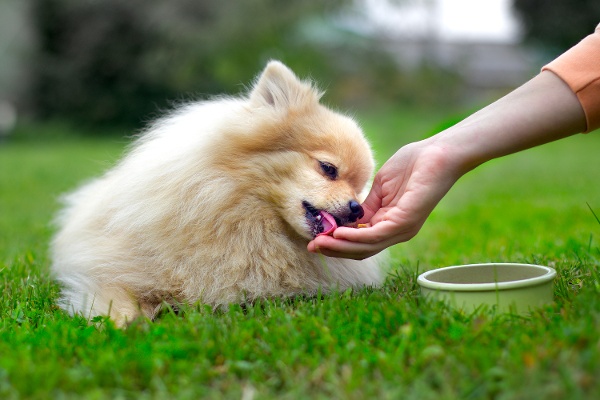 Regardless of why you are treating, the choices you make can have an effect on your dog's long-term health. For frequent treating, try to avoid "junk" ingredients like corn, soy, by-products or any of the others on our list of ingredients that you should avoid feeding your pet.
Take a look at the guaranteed analysis and the ingredient panel to make sure you know what you are about to put into your dog's body.
Some treats that are marketed as meat may actually contain a large number of starches or grains. Check for protein sources too. Just like food, lots of treats that are called beef may contain chicken or other animal products that you may be trying to avoid.
Treats should have healthy whole food ingredients, not bits and pieces of what may have once been food. Things like wheat gluten compared to whole wheat or oat bran instead of steel-cut oats can make a huge difference in the nutrient content of your dog's treats.
Sometimes food and treat companies use these parts of the grain as fillers or a fibre boost that is void of any real nutrients. This often leads to less nutritious and more sugar-packed treats that can contribute to weight gain or digestive and dental issues.
The key to choosing the right dog treat for your pooch is to go for quality! We hope this post helps you in your search for dog treats.
It seems like your dog's been extra good as you've read this article. One might think she deserves a treat. What kind? Well, that's up to you.
What kind of treats does your dog need? Let us know what your go-to dog treats are and how you use them in the comments below!