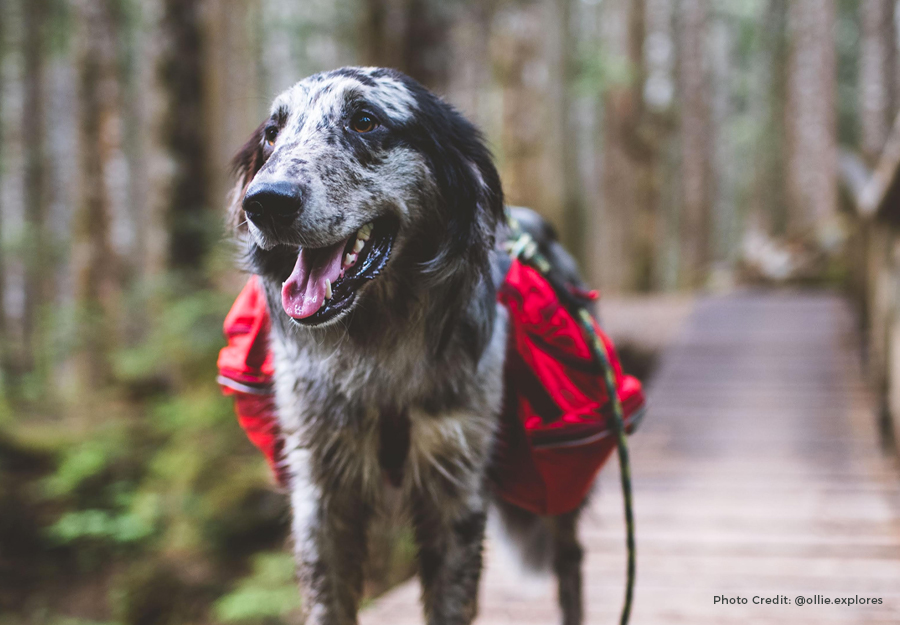 Is your dog a true explorer? If your adventure companion walks on all fours, then you need to make sure he has the right gear for the journey. Make sure your canine explorer is prepared to conquer nature with the best dog supply backpack.
Dog hiking backpacks are useful for hiking, camping trips, hiking trips, sternum strap, multi-day trips, waist straps, belly straps, or even just a long walk. They allow your dog to carry his own hiking gear, taking some of that weight off of your pack.
They are also helpful for giving your dog a good workout. The extra weight of their backpack helps to build and maintain muscle to support joint health. A great way dog hiking backpack is not just any old backpack, though. To keep your fur baby dog safe and comfortable, you need to find the best dog hiking backpack for your individual mutt.
To help you find the right pack for your pooch, we reviewed some of our favorite best dog backpacks with the help of some very fit two adorable and adventurous pups.
What to Look for in a Best Dog Backpack
Every dog is different. Different sizes and shapes require different backpack styles to be comfortable. Let's look at some of the features to consider a good fit and the right fit when choosing the best dog backpack for hiking.
Is it correctly sized?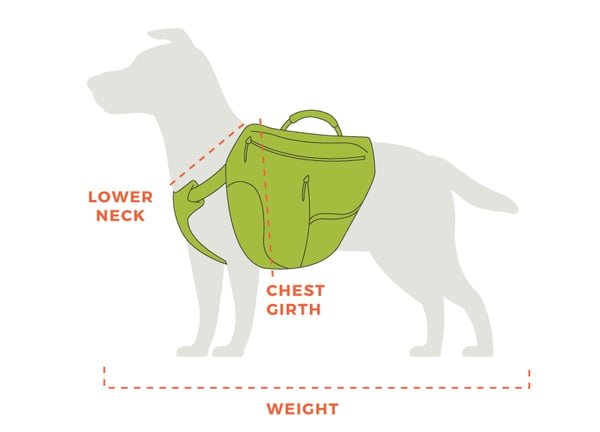 Dog backpacks are more complicated than a standard dog harness, dog collar, or other walking gear. You need to make sure the best backpack fits its size and shape properly to keep it secure and prevent chafing or discomfort. Look for a hound daypak-safe long hike and take your dog that is easily adjustable to ensure the best fit.
A small dog hiking pack comes adjustable dog will need great danes to have smaller saddlebags, storage bags, and narrower straps, compression straps, belly straps, and chest straps while a large dog backpack can hold designed to dog water bottle can carry reflective trim water-resistant around town more weight and will need a broader chest plate and chest girth to support your big dog.
Check out How to Measure A Dog to make sure you are choosing the sizing chart ripstop nylon canine companion designed to carry the right size backpack for your dog.
Does it do what you need it to do?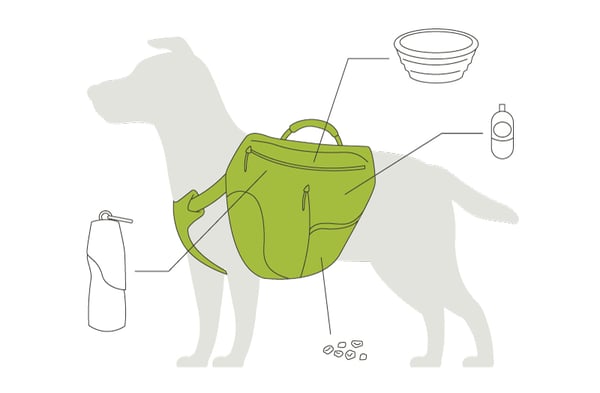 The function of the pack is important, too. What is your dog carrying? Will it fit? Is the pack versatile enough for your and your pet dog's needs? Is it easy to put on and take off? Does it have multiple side pockets for storing dog poop bags or separating water bottles or food from other gear? Does it have breathable mesh for comfort in warm weather?
Decide what is it you need for your hiking adventures and make sure you choose a dog pack or hiking backpack that can accommodate you.
Is it durable?
Consider your terrain. Your dog's backpack needs to be able to keep up tape measure attachment point with him while he climbs mountains, waist strap, Bernese mountain dogs and runs through forests. Look for packs made from durable material that will keep up with your adventurous pooch.
It costs how much?!?
A good quality dog backpack carrier is not going to be a steal, but you shouldn't have to sell a kidney just to get your pet the right gear. We'll rank our best pet backpacks on price as well as quality so you don't die of sticker shock. We'll rank the prices from $ to $$$, with $ being the budget-friendly choice for beginners, and $$$ representing backpacks for hardcore adventure dogs that prefer dog owners all the bells and whistles.
The Best Hiking Backpacks: Reviewed by Real Adventure Dogs
We picked our favorite hiking backpacks and asked some real adventure large dogs to give us their honest feedback to help you find the right pack for your dog's next adventure. We'll be reviewing the following top-rated dog backpacks carriers:
Ruffwear Palisades Dog backpack
Let's see what our adventure pups have to say:
Ruffwear Palisades Best Dog Backpack Carriers
Meet Ollie! Ollie is a mixed-breed adventure enthusiast! He loves all things outdoors but hiking and camping are his water bottle favorite activities. Durable gear 40 pounds that can stand up to wet weather exploring and all kinds of terrain are crucial to his packing list.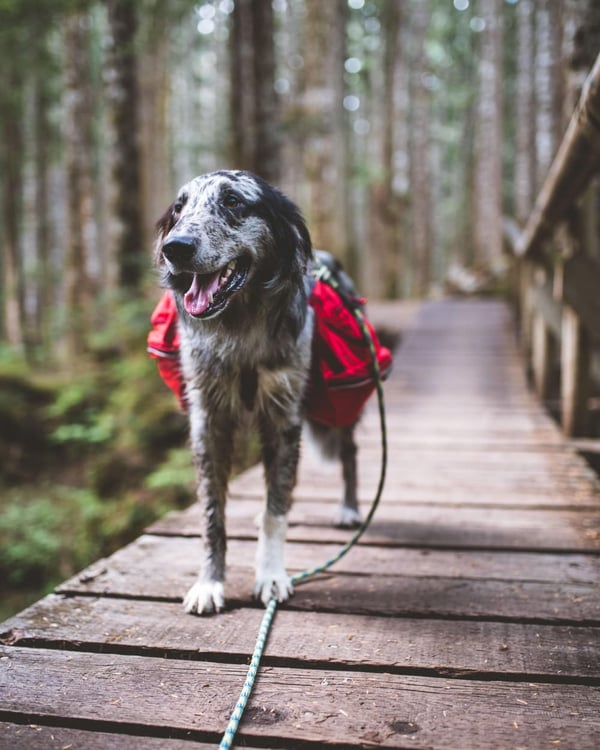 You can check out all of Farley's adventures on her Instagram - @ollie.explores
The Ruffwear Palisades Dog Pack enhances multi-day backcountry adventures. This is the largest backpack from Ruffwear and is designed for serious hikers and adventure dogs. As the backpack dog carrier backpacks and pet carrier, we want to ensure our dog's comfort while walking and hiking.
It's available in three sizes to fit almost any size or breed. The small has a 14 L capacity, the medium has a 17.5 L capacity, and the large/x-large carries up to 24 L.
Fit

5 points of adjustment to properly position the saddlebags and give and find the best Ollie a full range of sizes long hikes dog's weight adjustable straps of motion front and rear. Lots of adjustment options for optimal fit.
Unique adjustable compression tabs for when it's less full so it isn't awkward and bulky.
Non-slip girth straps offer more even load distribution between the two saddle packs.
Available in small, medium, large/X-large.
Function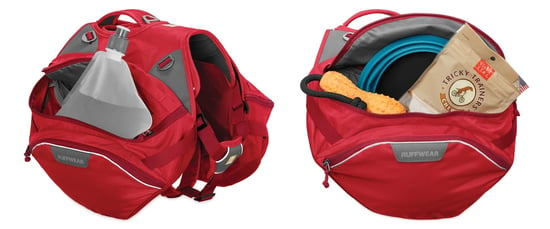 Detachable saddlebags, you are getting a harness and a human backpack!
Comes with 2 x 1 L water packs to keep Ollie well hydrated. They fit perfectly and sit close to the body for better weight distribution.
Lots of different compartments. Big enough to fit enough supplies for a multi-day backpacking trip. Just be careful what you decide to put inside the color options saddle bag dog pack ruffwear approach pack weight. If it's raining or you have a pup that loves to dip in the water, know that the pack of 25 pounds jack russell terriers is not waterproof.
Durability
Extremely durable material can hold up to running dog carrier backpacks through bushes and trees.
Reinforced areas where the saddlebag connects to the harness with aluminum hardware for extra security.
The padded handle is thick and secured great choice right size with reinforced stitching for guiding your dog or quick grabs.
Material is easy to hand wash and dry
Price - $$$
This is a pricey option, but it's the best overall dog needs choice for serious adventure enthusiasts. If you are looking for a backpack that has it all, then the Palisades is well worth the money.
Ollie's Conclusion
The Ruffwear Palisades pack has been a crucial addition to Ollie's overnight backpacking trips. Ollie carries his own sleeping bag and food, and the detachable saddlebags are easy to take on and off for breaks or tricky terrain! With so many adjustable features, it fits great and has plenty of room for a multi-day adventure!
Ruffwear Front Range Pack
This is Finesse, our 3-year-old border collie. Finesse is on the smaller size for a BC, weighing in at only 24lbs. While small, she is mighty and definitely lives up to her name while our family is out hiking and backpacking.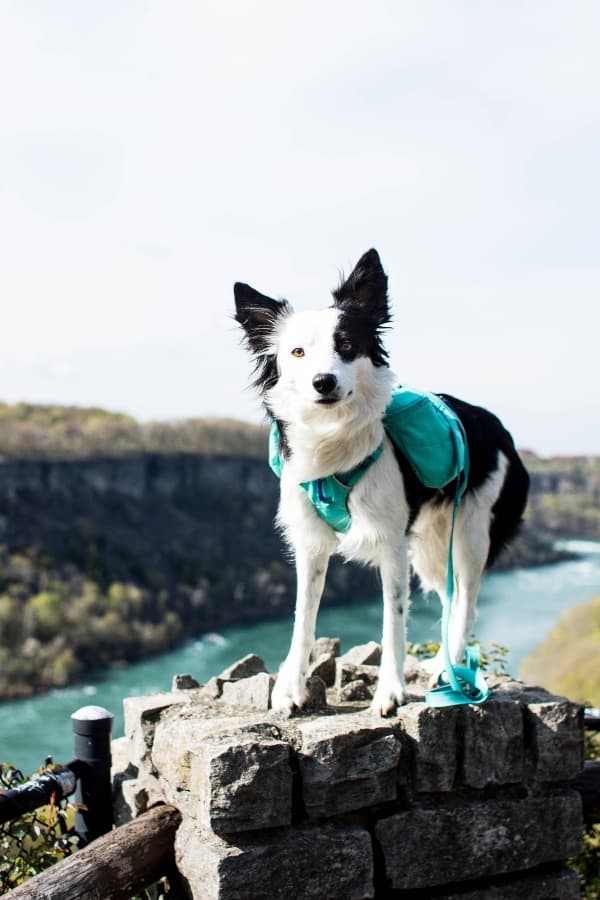 Photo Credit -@adventuring.with.finesse
She loves to run and navigates the forests, trails, and boulders with… well, Finesse! Now that she has finished growing and put on some muscle, we needed to fit her into a pack that would allow her to carry some gear on our longer backcountry trips and hikes.
Fit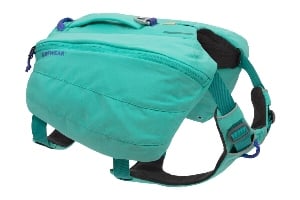 Comes in 4 sizes, extra small to large/extra-large, allowing even smaller adventure dogs to take a bit of the load off their humans (snacks, poop bags, leashes, etc.).

5 adjustment points at the neck, shoulders, and girth.

Finesse is typically hard to fit for harnesses, as she is long but very petite. It was easy to find a proper fit for her that still allowed for a full range of motion of 25 pounds while moving.
Function
A minimalist two-in-one harness and backpack make for the 25 pounds perfect pack for day hikes or shorter backpacking trips.

Three options for leash attachments - aluminum ring, webbed ring on top, and webbed ring on the chest strap ruffwear approach. The different options allow you to also attach reflector/safety lights for those sunset or sunrise hikes for older dogs.

Handle allows you to assist your dog to get through/over more difficult terrain good idea.

If you have a water-loving dog, be advised that this pack is not waterproof.
Durability
Finesse put this pack through the paces! It held up well during runs through brambles and burrs without tearing or seams ripping.

Washes well (yes, even the lighter-colored aurora teal!). We hand-washed and spot-scrubbed it with a brush, and it looks brand new!

Option to attach your leash points to an aluminum ring for bigger dogs, dogs that pull, or just for general peace of mind and safety buckles.
Price - $$$
The price point of this pack is on the lower end of the price range for comparable adventure packs. It doesn't have upgraded options, like detachable saddlebags, but the smaller saddlebags allow for it to be used as just a harness without being too bulky.
Finesse's Conclusion
This will be our go-to pack for all our long hikes and backpacking trips. The packs are proportionate for each size, which allows you to appropriately pack for each size of the dog. Finesse typically carries a water bowl, treats, poop bags, and a small first aid kit. The smaller packs ensure that we don't over-pack for a dog her size.
The minimalist style of the day pack allows it to be used as just a harness when it's empty, and given its durability and simple, classic look, this will be a long-standing favorite in Finesse's gear closet.
If you are looking for something less bulky, check out the Ruffwear Single Trek. This compact backpack is perfect for a single day. It has many of the same features as the front range back, just on a smaller scale. With two 0.6 liter collapsible water bladders. and two pockets to store basic gear for any casual day hike.
Ruffwear Switchbak Harness
Cornelius is a greyhound mix who weighs 82lbs. While a senior at roughly 10 years old, he is still a very fit and active boy.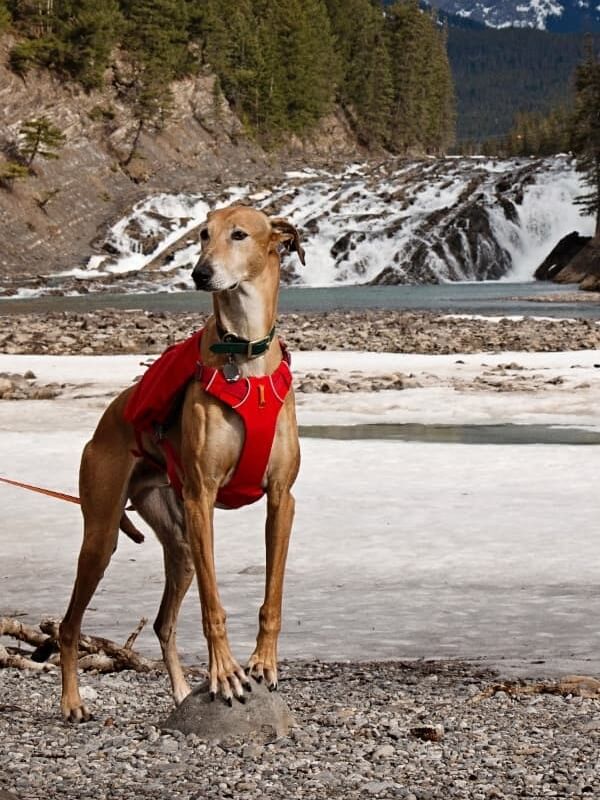 Photo Credit: @odd.dogsquad
Though he has never been one to carry a large pack or do longer overnight trips, I had always wished for something that would allow him to carry a few smaller items on our daytime adventures without having large saddlebags typical of dog day packs. Enter the Ruffwear Switchback Harness - the harness with pockets!
Fit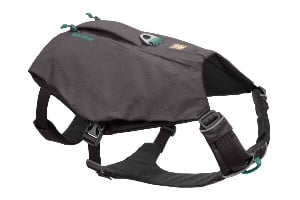 Owning a sighthound hasn't classically allowed for the easiest of sizing but this was quick to adjust to his chest. The two straps allowed for a large range in sizing to tailor it specifically to his shape [he wears a large/extra large and his chest is 32"].

The narrowness of the strap between his front legs and a four-legged friend allowed for ease of movement.

The pad on the second strap limited chafing on his belly and improved stability while in use.
Function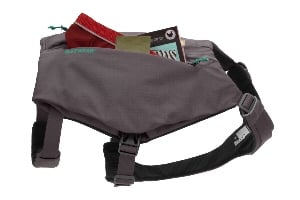 This 2-in1 walking accessory doubles as a harness and a lighter day pack.
Corn was able to carry treats and a couple of other essentials [notably he was able to pack out his own poop, therefore, eliminating the need for me to carry it out in my

storage bag

].
The harness doesn't slip from side to side while on his back like some packs may have a tendency to do.
Durability
Made with the same material as other Ruffwear products, it has held up well to trail and city use.
The reinforced leash attachment points on both the chest and back for small dogs that tend to pull.
Price - $$
While more expensive than a traditional harness, the 2-in-1 appeal may eliminate having to buy both a harness and a backpack depending on the type of outdoor activities your dog participates in. Due to its smaller size and limited holding capacity, the travel bowl Switchbak harness is more cost-effective than the other Ruffwear packs, making it ideal for shorter and more casual adventures.
Cornelius's Conclusion
This harness will be our new go-to for adventures, but we have also used it just around the neighbourhood. Cornelius can safely carry some smaller items without compromising comfort. We found the dual function of this harness to be most impressive especially given its sleek look, and we look forward to getting more use from it in the future.
More Dog Hiking Backpacks
Still haven't found the right best dog backpack carriers? Check out all of our dog backpacks and dog carrier backpacks or pet carrier to find the perfect pack for your dog's next adventure!
Ok, so we love Ruffwear, and so do our adventure dogs, but if none of this hiking with your dog packs are right for your dog, then don't fret because you have plenty more options to choose from. Here are a few more of our top best dog backpack carriers:
Kurgo Baxter Pack
Looking for best dog backpack carriers or dog carrier backpack, pet carrier backpacks that won't break the bank? The Kurgo Baxter Pack is proof that a quality dog backpack doesn't have to give you sticker shock. This standard dog backpack is made with durable and lightweight material to stand up to our dog's adventures.
With 8 points of adjustment, this pack will fit securely on your dog, giving him a full and comfortable range of motion. The contoured spine support makes outward hound daypak sure that weight is evenly distributed and won't affect your dog's gait.
RC Pets Quest Day Pack
Going on a longer trek with your adventure dog backpack? The RC Pets Quest Day Pack holds all your dog's adventure essentials, like poop bags, bottles, outdoor travel bowls, dog bowls, snacks, a dog-first kit, and any extra gear your pooch might need.
With 6 connection points, this backpack is also a best friend secure harness to keep your dog safe. Just remove the panniers, and you have a lightweight, durable dog harness.
Dog Carrier Backpack for Puppies and Small Dog Breeds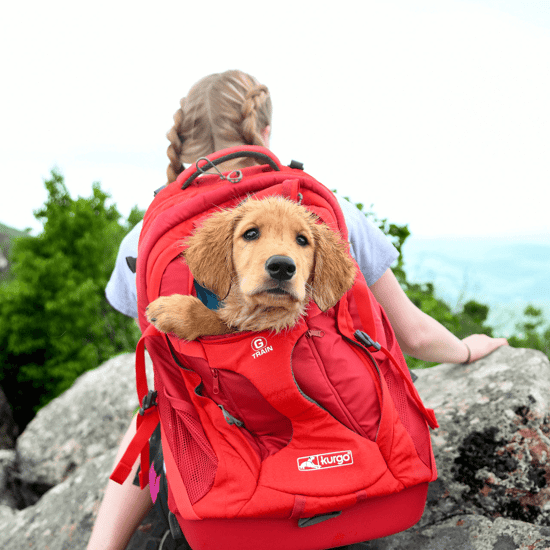 For really young or tiny dogs, your usual hikes might be more than they can handle. Instead of trying to fit a comically oversized backpack onto your little pup, look for a dog carrier backpack or pet carrier backpack that you can carry him in. If you are looking for the best dog backpack carrier in Canada, then the Kurgo G-Train is what you need.
With all the functionality of your regular hiking pack, the G-Train also has a comfortable, breathable compartment for most pets under 25 lbs. It's waterproof, proof, and well-ventilated to keep your dog cool and comfortable on your hike. The Kurgo G-Train is the best puppy backpack for any doggy adventure.
What Should You Put in Your Dog's Backpack?
The whole point of getting your dog a backpack is so that he can carry his own hiking gear, but what kind of stuff and how much?
For starters, it's important not to overload your dog, especially if he's new to dog backpacks. You should never make your dog carry more than 25% of his body weight. It's ideal to aim for 15-25% for experienced backpackers and 10-15% for newbies. You can gradually add weight to the backpack as your dog gets used to it.
Remember that the weight they can carry includes the weight of the backpack itself. Keep that in mind when calculating how much weight your dog should haul around. Most backpacks only weigh about 1-2 lbs. That might not seem like a lot for a larger breed, but for a 30 lbs dog, that's a lot.
Always make sure you pack the load evenly between the pouches. This is safer for your pet but will also keep the pack from sliding around during your hike.
So what kind of stuff should your dog do? Of course, he should carry his own things!
Depending on the type and length of your adventure, your dog toy breeds may need to pack different things. Here are a few basics that your dog should have in his bag backpack:
Water
Poo Bags
Camping gear
Is your dog an experienced backpacker? Share your backpacking tips with us in the comments below!