If you have an aggressive, powerful chewer at home, than the term "indestructible dog toy" is laughable. Finding a tough toy that your dog can't shred immediately can be very frustrating, but this doesn't mean we should deny them their favourite jaw exercising past time, right?
Of course not!
You need a toy that is safe, makes your dog happy, keeps him occupied, and doesn't feel like a waste of money.
Chew toys are great for dental health, mental stimulation, and anxiety. Destructive behaviours come from boredom and under-stimulation, so give your dog a goal that will keep him happy and prevent him from chewing on your shoes, your furniture, baseboards, and just about anything that they can get their teeth around.
We compiled a list of durable dog toys for extreme chewers. Though these toys may not be literally indestructible, they are pretty much as close as they come. Whether you have a compulsive cavalier or a ravenous rottweiler, the toys on our list are sure to impress.
Our Favourite Durable Dog Toys
1. Kong Classic Extreme

OK, so we realize that this toy is on everyone's list of "indestructible toys", but Kong has rightfully earned it's place in the dog toy durability hall of fame. Kong Extreme toys are not only durable, but they are also versatile.
A lot of chew toys are just designed for chewing, but they can be so much more. Kong can be tossed, stuffed, frozen, chewed, chased and more. It's intended for both solo and interactive play. Although it's marketed to power chewers, that doesn't limit this toy to large breeds and big jaws.
Kong dog toys are available in in small to extra, extra large! Power chewers come in all shapes and sizes and Kong has an option for all.

2. Jolly Pet's Jolly Egg
Not all toys are meant for chewing. Toys for play and fetch need to be tough too, right? The Jolly Egg doesn't look like your average toy, but it's great for rough interactive play time.
Available in two sizes, 8" and 12", this light weight egg is designed to be "ungrabbable". If your dog can't pick it up, then they definitely can't chew it to bits. It works great as an indoor toy too. The oblong shape makes it roll unevenly and requires your dog to learn to play without using their powerful teeth.
The Jolly Egg is not recommended for unsupervised play as it is not intended for chewing, but it will stand up to avid chasers and tactile players, and it floats!
3. West Paw Zogoflex Air Wox

Probably the silliest looking and named toy on this list, my personal favourite, the Wox. West Paw has a patented Air Technology core and soft elastic shell called Zogoflex, meant for tossing, bouncing, chewing and tugging. The Zogoflex line is 100% recycled, BPA and Phthalate-free material and it is completely dishwasher safe, so you can keep the Wox safer for your pet by sanitizing it as needed.
According the West Paw durability rating system, the Wox is only rated at a 3 out of 5 for toughness, but my own experience has shown that the unique shape and texture of this toy helps it far exceed that expectation. The design enables this toy to squish and bend with pressure from the jaw instead of slicing or tearing. The super flexible arms make it a really fun tug toy for interactive play.
Ready for the best part? It's guaranteed tough! West Paw will honour a one-time replacement or refund if your dog is able to significantly damage the Wox.
4. Beco Bone

The Beco Bone is made of natural, sustainably-sourced rice husk rubber. Rice husk rubber is non-toxic and completely safe for chewing. The vanilla scent and soft texture are enticing for teething puppies, but still durable enough for powerful chewers. The Beco Bone features a small opening on either side that allows you to stuff it with treats or food for mental stimulation or slow feeding.
It's available in small, medium and large so you can pick the size that's right for your dog's jaw. Similar to some of the other super tough chew toys on this list, the Beco Bone also has a lifetime guarantee.
5. Playology Dual Layer Ring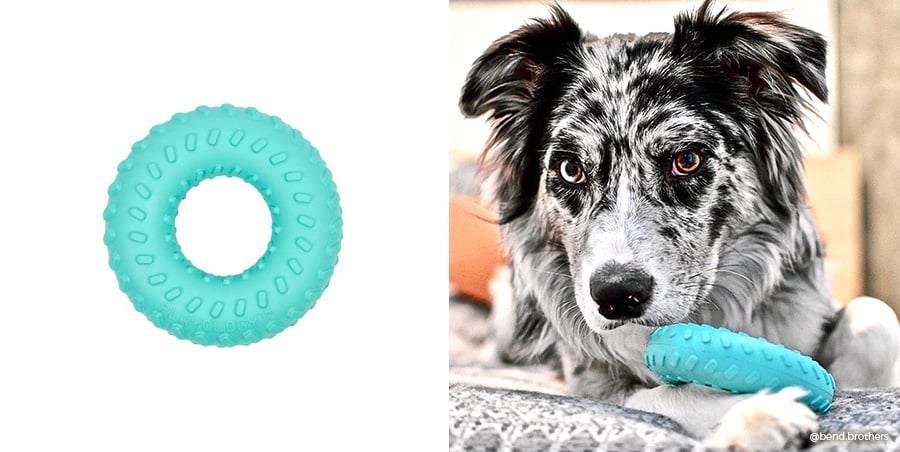 Not all chew toys are rock hard. The Playology Dual Layer Ring is perfect for tough chewers of all ages. It's soft outer layer is pleasing to the palate, but the durable inside makes this toy stand up to the most determined chewers.
Don't think this one is just some boring old toy. The Dual Layer Ring is infused with microscopic scent bubbles to keep your dog chewing and focused. Dogs are guided by smell much more than taste, so this toy is sure to have their tails wagging. It's not just a chew toy either. The Dual Layer Ring can be used for Fetch, tug, hide-and-seek and more.
All scents are naturally sourced from small amounts of protein. That means no chemicals or artificial ingredients. Choose from chicken, peanut butter, or beef. The Dual Layer Ring is available in three sizes to meet your dogs needs and preferences.
6. Tuffy Mega Ring

The only plush toy on this list, and for good reason. Anyone with a destructive chewer knows that most dogs can disembowel a plush toy in the blink of an eye. Fluff and squeakers are not edible, and if left unsupervised they may end up with a blockage from eating whatever they can swallow. We also know that (even though they just don't last as long) dog's love plush toys, especially if they squeak.
Enter the Tuffy Mega Ring. With no ears, eyes, limbs, tails, horns or any other extremities that can be sawed off with the razor-sharp teeth, the Mega Ring is the best in show for plush toys.
Tuffy uses 7 layers of fabric, as well as 7 layers of stitching to help this toys hold on for dear life. Inside, the squeakers are sewn into pouches to further protect your dog from harm in the event that they do breach the core. The tightly layered fabric muffles the squeakers to make this toy more enjoyable for us too. It's also machine washable (air dry only) and it floats for exciting outdoor playtime. While the Tuffy toy isn't indestructible, it's the closest a plush toy can get.
7. Tasty Bones

A durable nylon design and unique shapes make the tasty bone line an extremely popular chew toy. Tasty bone infuses their products with natural flavouring to make them more desirable. They are not simply coated, like other products of this nature, but saturated throughout to keep your dog engaged for longer.
There are four size options for the most popular bone style and a variety of alternative shapes and flavours, like their toughest option, the Trio Bone.
Tasty Bone offers a 100 day guarantee on any of their Trio Bone products because they are that sure that this toys will be able to hold its own. For most of us larger dog owners, 100 days may be the longest that any toy has ever lasted in our homes. Tasty bones are available in a variety of flavours including lamb, chicken, bacon and even some fancier two pack options like steak and prawns. Yum!
8. Planet Dog
The Tuff Guru ball is the perfect blend of durability and puzzle. It has Planet Dogs highest durability rating of 5 out of 5, meaning that it can stand up to even the toughest chewers.
The ball features 4 long vertical slits that can be stuffed with kibble, treats, or pet-safe peanut butter. Keeping your dog busy, thinking, and out of trouble has never been easier. Additionally, this toy is designed to hold larger treats to offer maximum chew time. Take your dog's favourite natural chew, like bully sticks, and slide them right through the center hole of the Guru Ball.
How To Choose
When choosing the right toy for your dog, remember to consider your dog's size, jaw shape, dental health, and chewing habits. A toy that is ideal for one dog, may be all wrong for another. Always choose toys that are too large to be swallowed whole to prevent a choking hazard.
Some chew toys are made of nylon or other non-toxic materials that are safe to be ingested in very small pieces, but that doesn't mean that the toys are edible in their entirety. All dogs should be monitored when chewing heavily to avoid ingestion of non-edible ingredients.
We've had great success with these super durable toys. What are your top picks for durable dog toys?
---
Posted by Krystn Janisse

Krystn is a passionate pet nutrition enthusiast. She has worked in the pet industry for over a decade and loves to share her passion for animal welfare with others. She loves all animals but is currently channelling some crazy cat lady vibes with her five lovable, but rebellious cats.
---