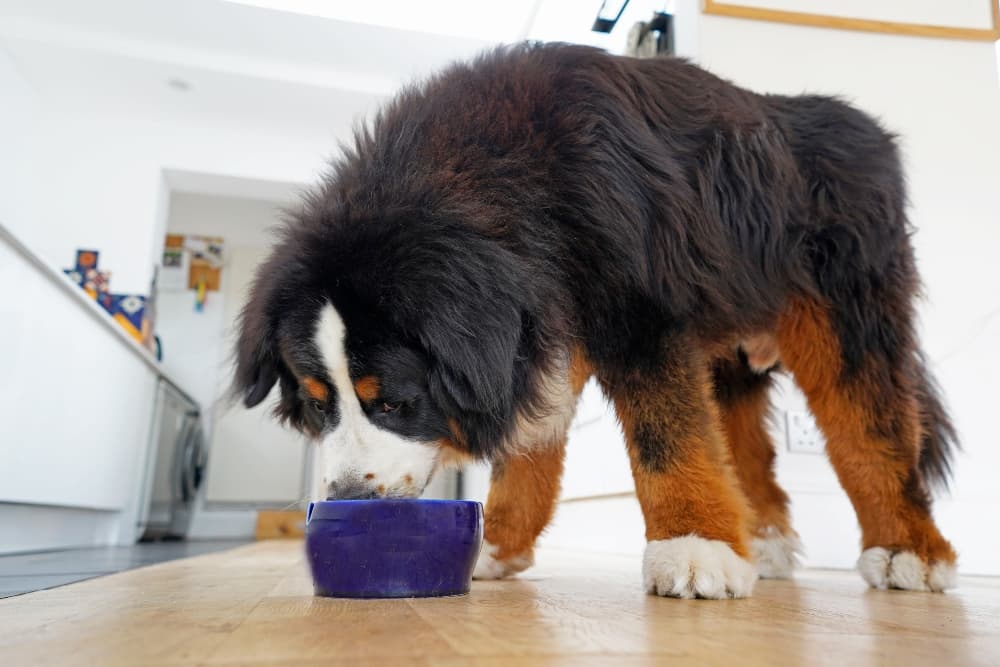 Big dogs have some extra special requirements to support their stature and weight, and to help you find the right diet, check out our list of the best large breed dog foods. What is large breed dog food?
Every dog is different, and their nutrition is a big part of what keeps them healthy and happy. Your dog is unique, and his food should be unique too.
There are plenty of dog foods that claim to offer one-size-fits-all nutrition, but can one food really suit all breeds? A 5-pound chihuahua and a 120-pound mastiff surely have different nutritional needs, right?
Does Size Matter When Choosing Dog Food?
So just how important is your dog's size? No matter how big or small, they are all made of the same parts, so why would a large or giant breed dog need anymore more (or less) than a more petite pooch?
All dogs need the same key nutrients, but just like dogs of different life stages, your pet's size may indicate that they need different quantities of certain nutrients. Large breed dogs, for example, have a much bigger skeleton that requires the right balance of minerals like calcium and phosphorus to maintain.
An average, all-life-stage, or all-breed formula may be perfectly suitable for small to medium breeds, but a large or giant breed doggo could benefit from a formula specifically designed for their size needs.
What is a Large Breed Dog?

Dogs come in all shapes and sizes, each with their own unique needs, but we can help narrow down their nutritional needs by categorizing them according to their size. When it comes to food, dogs are placed in three categories: Small, Medium, and Large.
A dog is considered a large breed if they are over 60 lbs at their full-grown weight. This is a general guideline but an easy way to tell if your dog is going to have a longer growing period and is more prone to suffer from common large breed issues.
We typically use weight to classify dogs, but that's not the only factor. Some breeds share the needs of large breeds even if they don't typically get that big. Stocky breeds like Staffordshire Terriers and Bulldogs sometimes only reach 30-40 lbs but should be treated and fed like a large breed.
Unique Requirements of Large Breed Dogs
So what is it exactly that makes large breed dogs different from small and medium breeds? While maintenance for a larger breed dog is important, feeding the right nutrients for growth during puppy stages is when size matters the most.
As stated above, their bone structure is the most obvious difference. It might seem that big bones require more calcium, but that is not always true.
Big dogs grow for longer than smaller dogs, so large breed puppy foods are designed to support slower and more even bone development over a longer period of time. This means they often have lower levels of calcium, phosphorus, and vitamin D, which are all vital to bone growth.
Larger breed dogs also use calories differently than small dogs do. They have a slower metabolic rate, so they require fewer calories to supply daily energy. This helps support healthier weight and muscle maintenance.
Benefits of Large Breed Dog Food
Feeding a large breed-specific food is not a requirement. In fact, many dogs do just fine on all-breed diets, but there are some unique benefits to large-breed formulas that can help prevent common issues in big dogs.
Bigger Kibble
The average size of kibble is perfectly fine for most dogs, but for big doggos, those small pieces are easy-to-swallow whole. Often, big dogs don't chew their kibble very well or at all, and this can lead to poor dental health and digestive issues.
Large breed kibbles are much larger and encourage your dog to chew more. Chewing starts to break down the food, making it easier for your dog's body to digest and absorb nutrients.
Dogs who don't chew may throw up food shortly after meals, too. The unchewed kibble will expand in your dog's stomach, and he will start to feel very full. If his meal was large enough, you may see some of that meal again soon.
Higher Protein, Low Fat
Many large breed dog foods offer a slightly higher protein content and a reduced fat content. This offers plenty of nutrients that your big pooch needs to maintain muscle mass and supply long-term energy, but can also help to reduce weight issues.
While big dogs can still have a lot of energy, they don't burn through calories as quickly as smaller breeds. All-breed diets may offer too many calories for your big pooch, and this could lead to weight gain as they age.
Hip and Joint Care
A common big dog issue is hip and joint issues, especially as your dog reaches his senior years. This is largely due to their size. Your dog's weight, even if he's at a healthy weight for his breed, puts a lot of strain on his joints.
Many large breed diets contain joint support aids like glucosamine and chondroitin. They help to maintain the connective tissues that keep the joints healthy.
Other ingredients like omega fatty acids, yucca schidigera, or green-lipped mussels are used to reduce inflammation and protect the joints from wear and tear.
12 Best Dog Food for Large Breed Dogs
There are plenty of foods that claim to be the best dog food for large breed dogs Canada, but finding the right food for your unique dog is about more than just a clever label or bigger pieces of kibble.
Choosing the right food for your giant pooch isn't always easy. Their size is just another factor that you need to consider on top of breed, activity level, age, and quality.
To suit your dog's individual needs, you may have to find a food that also suits your dog's allergies, sensitivities, and preferences.
When you put all these factors together, picking a dog food may seem daunting, but we can help you narrow down your options so that you can find the perfect diet for your enormous pooch.
So where do you start?
What is the Best Dog Food for Large Breed Puppies?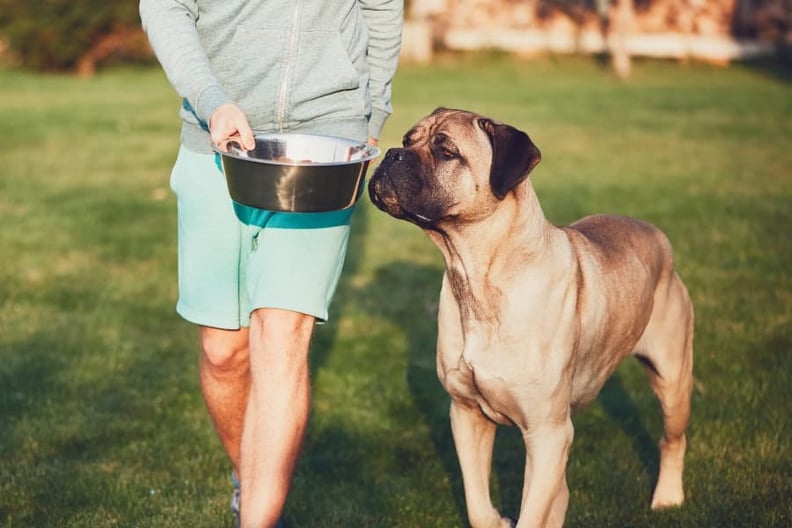 The first place to start when choosing a new dog food is their age, and for large breeds, age matters a lot. Bigger dogs age differently than smaller dogs, and that means each life stage works differently, and an all-life-stage diet may not be suitable.
We typically consider a dog as a puppy until they reach about 12 months old, but larger breeds have more growing to do, so the puppy stage is elongated. The bigger that dog, usually the longer they are considered a puppy.
Instead of 12 months, some big dogs are still considered puppies until 18 months or longer. Large breed puppy formulas do not require increased protein compared to a regular puppy option but will offer lower fat and calories to prevent excessive weight gain and growth in the early stages of development.
Nutrition is the foundation of your dog's health, and growing puppies require a careful blend of nutrients to support their development. Choosing a good dog food for large breed puppies means you need to find a formula that is both age-appropriate and will support your pup's growth and development.
Best Dry Dog Food for Large Breed Puppies
Kibble is the most popular food format. It's convenient, has a long shelf-life, and is generally a little easier on the wallet. Not every brand offers a puppy formula, no less one designed to specifically meet the needs of a large breed pup. Here is one of our top picks:
Multi-protein formula: chicken, eggs, and flounder
70% meat inclusion, including nutrient-dense organs
Anti-inflammatory fatty acids and supplements to support joints and mobility
Optimal calcium to phosphorus ratio for skeletal development
Best Large Breed Puppy Food Canada
If you are all about supporting local, then finding Canadian-made dog food might be at the top of your list. To get you started, here are some of our favourite large breed puppy foods that are made right here in the great white North:
Nutram Sound Large Breed Puppy Food
Single protein formula
Whole grain, low glycemic ingredients
Digestive support from chicory, pumpkin, psyllium, and more
l-carnitine helps boost metabolism and calorie distribution
Orijen Large Breed Puppy Food
Mimics the natural diet of your dog's ancestors
Multi-protein formula: chicken, turkey, eggs, flounder
High meat, high protein, low carb
All-natural ingredients, zinc chelate is the only synthetic mineral added
Best Large Breed Dog Food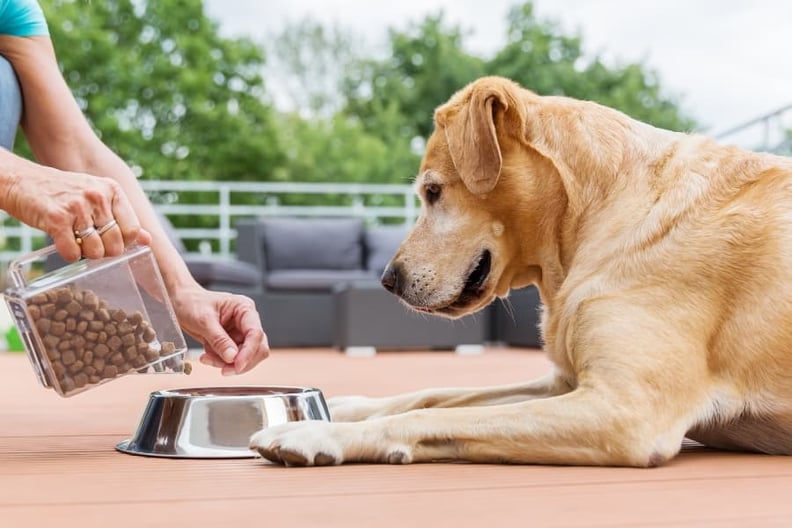 Once your big pooch has finished growing, it's time to start transitioning him to an adult formula. Adult large breed dogs still need a little more protein and less fat than small and medium-sized doggos, but they don't need as many calories as a puppy.
An adult formula will offer many of the same benefits as the large breed puppy foods will, but with subtle differences to the formula. While adults and puppies all need the same nutrients, they require them in different quantities.
What is the Best Dry Dog Food for Large Breeds?
There is often more variety in adult formulas than in foods for other life stages, so you may find more flavour and style options in this category. While there is no one food that works for every dog, there are plenty of high-quality adult dog foods that might suit your dog's dietary needs.
To help you choose the right one, we put together a few different food options that can help you narrow down the choices based on what you are looking for in a food.
Large Breed Dog Food Without Chicken
Allergies can be a real drag. Many dogs that suffer from dog food allergies have to avoid certain ingredients, and chicken is one of the most common pet food allergies in dogs. Unfortunately, chicken is also the most popular and affordable animal protein used in dog food.
Finding a large breed of dog food without chicken isn't easy. Specialty foods like life stage and size-specific options typically don't offer a lot of variety. If you are looking for the best large breed puppy food without chicken, then we have a great formula for you to check out:
Multi-protein formula: turkey, salmon, duck
Skin and coat support from coconut oil and canola
L-carnitine and low glycemic carbs support weight management
Glucosamine from green-lipped mussels maintains hip and joint health
Best Inexpensive Dog Food for Large Breeds
We all want the best for our pets, but sometimes our budget just doesn't account for extravagance. The good news is that you can still find high-quality dog food at a reasonable price.
The word cheap can be associated with poor quality, but that's not always true. Sometimes the inexpensive option is the best one. Take a look at our top pick for the best inexpensive dog food for large breeds:
Multi-protein formula: turkey and salmon
Low glycerin carbs like oatmeal and barley
Joint care protection from glucosamine, chondroitin, and MSM
Probiotics and other digestive aids improve nutrient absorption
Best Large Breed Dog Food Canada
Oh, Canada. We have so many natural resources, and our farmers and ranchers are some of the best in the world, so why not look for pet food that uses premium Canadian ingredients?
You don't have to travel the globe to find high-quality dog food, so check out a few of the truly Canadian brands that we love:
Single protein formula suitable for sensitivities
Probiotic blend helps to maximize digestion
Glucosamine and chondroitin help support joint health
Canadian sourced and manufactured with ingredients from local farmers
Large Breed Dog Food with Grain
The myth that grains are bad has long been debunked. Sure, dogs don't need a lot of carbs, but some carbs are a beneficial part of their daily diet. When it comes to dog foods though, many popular options use either way too much grain or only use poor quality and nutritionally deficient grain sources.
Sticking to low glycemic, whole grains will provide much more nutrition while limiting the number of sugary carbohydrates that can affect your dog's metabolism.
Single protein diet: chicken
Kibble is coated with freeze-dried raw meat for both flavour and nutrition
Low glycemic, whole grains provide healthy fibre to support digestion
Glucosamine and chondroitin support connective tissues around joints
Single protein diet: chicken
Low glycemic whole grains provide helpful fibre to support digestion
Lifesource Bits are cold-pressed vitamins and minerals that offer maximum nutrients
L-carnitine helps to support metabolism and healthy weight in large breed dogs
Best Weight Management Dog Food for Large Breeds
Big dogs are prone to weight problems, even in their younger years. This can be caused by a mixture of genetics, overeating, and inappropriate diets to suit their needs and activity levels.
While carbohydrates can play an important dietary role for your dog, many commercial diets are packed with way too many carbs. The slower metabolism of bigger breeds means they need fewer quick energy sources from carbohydrates and more long-term energy from animal protein.
Weight management dog food doesn't have to be called "diet" or "low cal" to be a good weight management dog food for your large breed pooch. Smaller portions of high-quality,calorie-dense foods make great weight management dog food for your large breed pooch.
Multi-protein formula: beef, lamb, boar, bison, pork, salmon, herring, and cod
High protein and calorie-dense to allow for smaller portions and muscle maintenance
Coated in freeze-dried raw meat and mixed with whole freeze-dried liver pieces
Glucosamine, chondroitin, and green-lipped mussels support hip and joint health
Weight management is about more than just choosing the right pet food. Check out our Guide to Weight Loss Dog Food to Manage Your Dog's Weight.
Large Breed Sensitive Stomach Dog Food
Nutram Sound Large Breed Dog Food
Oatmeal is a known digestion-friendly fibre source
Pre and probiotics support digestion
Anti-inflammatories from salmon oil and turmeric reduce inflammation in joints
Glucosamine supports connective tissues in the joints
Find out the root of your dog's sensitive tummy issues in Food for Dogs with Sensitive Stomachs to improve your dog's digestion.
Best Senior Dog Food Large Breed
Large breed dogs reach their senior stage much earlier than small dogs do. For most large breeds, seven is the age when you would consider them a senior, and for giant breeds as young as five.
This means that their nutrition needs to be geared towards reducing the signs of ageing and the common ailments that come along with it.
While most senior dogs will become less active and will require fewer calories to meet their daily energy needs, large breed senior dogs are more likely to experience mobility and joint issues due to their size and the wear and tear of their skeletal structure.
Multi-protein formula: turkey, duck, and salmon
Reduced-fat formula helps to limit calories for ageing dogs
L-carnitine and low glycemic carbs support digestion and weight management
Fish, coconut, and canola oils support skin and coat and reduce joint inflammation
Blue Buffalo Large Breed Senior Food
Added fibre from low glycemic whole grains support digestion
Vitamin and mineral-packed LifeSource Bits are cold-pressed to retain nutrients
Low glycemic whole grains provide helpful fibre to support digestion
L-carnitine helps to support metabolism and healthy weight in large breed dogs
Learn more about how to feed your senior dog in Dog Food for Senior Dogs: A Guide for Your Dog's Golden Years.
Raw Diets for Large Breed Dogs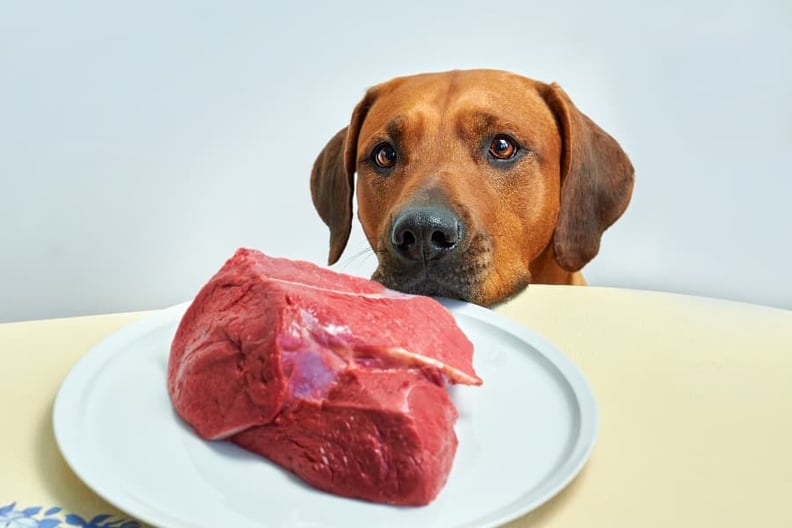 So far, we talked a lot about kibble for large breeds. This is because the large breed labels aren't often used outside of dry foods, but that doesn't mean that other dog food formats aren't suitable for bigger dogs too.
A popular option for big dogs is a raw diet. Much like their wolf ancestors, dogs are well suited to a raw, unprocessed diet. The nutrients in raw foods are easier to digest and are not denatured or altered by the cooking process.
Many large breed dogs do well on raw because the food is natural, allowing them to absorb and distribute nutrients that a cooked diet would need to buffer with synthetic nutrients to suit their size and age groups.
Raw diets are considered all life stages and all-breed, meaning they generally suit a variety of dogs well, but for large, and especially giant breeds, some minor supplementation or customization might be recommended.
Remember that large breeds need to watch how much calcium they are consuming. Too much calcium can lead to abnormal bone growth and hip and joint issues, especially during their growth stages.
While the commercial raw diets themselves don't offer excessive bone content, you do need to watch how many raw edible bones you are offering your dog to chew on. 10% bone is a good standard to stick to, so be aware of how much bone is already included in your dog's raw diet.
Frequently Asked Questions
What is the best type of dog food for large breed dogs?

Look for dog food labelled as "large breed" or "giant breed" on the packaging. The best dog food for large breed dogs is typically formulated to support their specific needs, including joint health and controlled growth.
What should I consider when choosing the best large breed dog food?
When selecting large breed dog food, consider factors like your dog's age, activity level, and any dietary restrictions or allergies. Look for foods that offer joint-supporting ingredients like glucosamine and chondroitin.
Are there specific ingredients I should look for in the best large breed dog food?
Yes, ingredients such as high-quality protein sources (like chicken, turkey, or salmon), whole grains, and controlled fat levels are ideal for large breed dogs.
Is grain-free dog food a good choice for large breed dogs?
Grain-free diets are perfectly suitable for large breeds, as are whole grain options. Just make sure you stick to diets that use healthy, real food ingredients and plenty of animal protein.
Should I feed my large breed dog puppy food or adult dog food
Large breed puppies should typically be fed a large breed puppy formula to support their growth and joint development. As they reach adulthood, you can transition them to an appropriate adult large breed dog food.
Can I make homemade dog food for my large breed dog?
Homemade dog food can be an option, but it's essential to consult a veterinarian to ensure your recipe meets all of your large breed dog's nutritional needs.