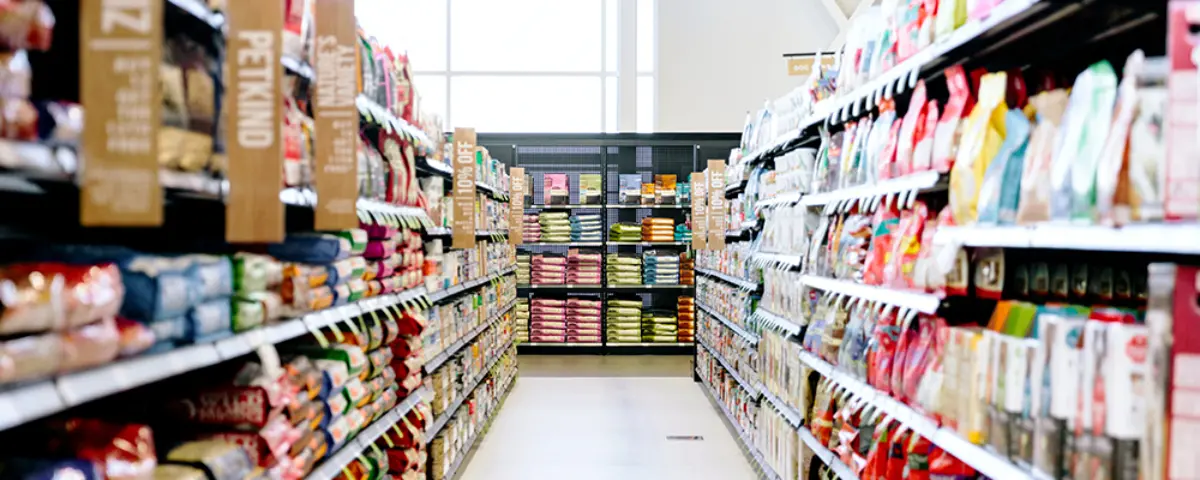 You want the best for your pooch, but it shouldn't have to cost you an arm and leg. With so many types, flavours, and formats of dog food today, it can be hard to know what's right for your dog and what's actually worth the price tag.
What's the best dog food? It's a common question, but one without a black-and-white answer. Chances are there are several dog foods that your dog would thrive on, and the most expensive one doesn't always mean it's the best one.
With our own grocery and household bills skyrocketing, the last thing you need to worry about is whether or not you can afford to feed your dog the right food.
Long gone are the days when dogs just ate the bones and scraps of their humans. A healthy dog starts with a healthy and balanced diet. That means real nutrients from real food ingredients.
Is Cheap Dog Food Bad?
We often associate the word cheap with quality, not just cost. While it's true that there are plenty of cheap quality products on the market, there are cheap dog foods that don't compromise quality to offer a good price.
Whether you are looking for a diet for your new dog or if you are looking to replace your dog's current diet with something that falls within your budget, you have options.
That being said, some dog foods are cheap because they use inferior ingredients and formulas. It can be challenging to know the difference between the two. Keep reading to find out how to find a good cheap dog food that doesn't break the bank and will still give your pet the nutrition they need to thrive!
Cheap vs Inexpensive Dog Food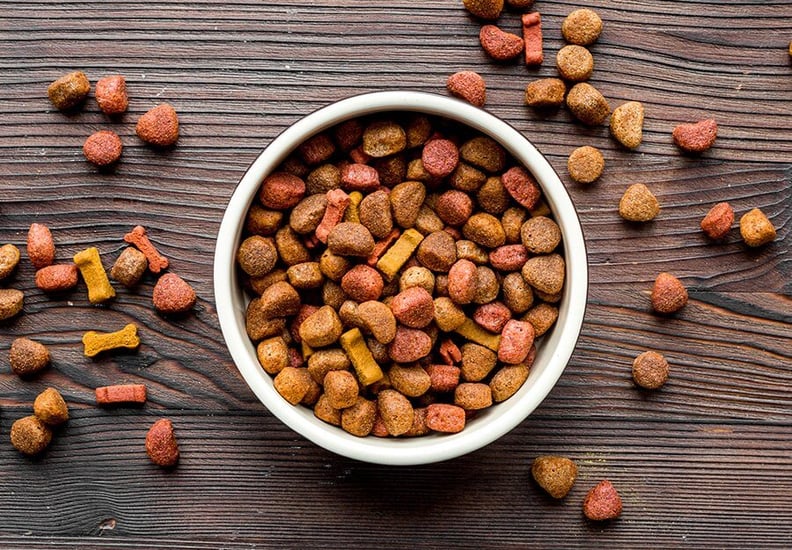 Why are some dog foods so cheap? You see them in the grocery store and online: the ones that look like lucky charms for dogs, all colourful and cute. While the price point might seem convincing, a quick look at the ingredients might have you quickly change your mind.
Poor quality or mystery ingredients, like poultry by-products or bone meal, might stick out. Hard-to-digest ingredients like corn and soy and other common ingredients in cheap pet food might also raise some red flags.
Good quality, inexpensive dog foods, on the other hand, keep costs low by sourcing from local farmers and ranchers, spending much less on advertising, and offering fewer formulas. This allows them to produce affordable, high-quality dog food.
Check out Dog Nutrition Requirements to get a better understanding of what makes your dog's diet complete and balanced so that you can choose the best dog food that fits your budget.
10 Best Cheap Dog Foods
You have many choices when it comes to choosing the right dog food, and the price is an important one. You still need to consider your dog's individual needs and the quality of the food, but when you need to find an inexpensive dog food that fits within your budget, it can be hard to tell what is cheap but good dog food and what is just cheap.
We'll start with kibble because it's the most common type of dog food and also tends to be the most affordable dog food. You'll find our top picks and a few extra recommendations for the best budget-friendly dry dog foods.
Not a fan of kibble? That's OK! We saved the last few recommendations for some of the most popular alternative dog food types, like raw, canned, and freeze-dried dog food.
Best Cheap Dog Food
It's hard to pick just one, but we had to make a top pick for the best overall cheap dog food. This is the best bang for your buck. The best quality dog food on a budget you can get for a great deal. There are cheaper foods, but none that offer this level of quality for such a good price.
Top Pick: Acana Classics Prairie Poultry
If you are looking for the healthiest budget dog food, then look no further than Acana Classics Prairie Poultry. These high-quality formulas are meat-rich and use fresh, never-frozen, preservative-free ingredients. Plus, they are locally sourced and made right here in Canada! We love that!
If a screaming deal is what catches your attention, then pick up their value size 37.5-pound bag for an even better price per pound. This deal is great for families with large dogs and multi-dog households.
Top Rated Dry Dog Foods on a Budget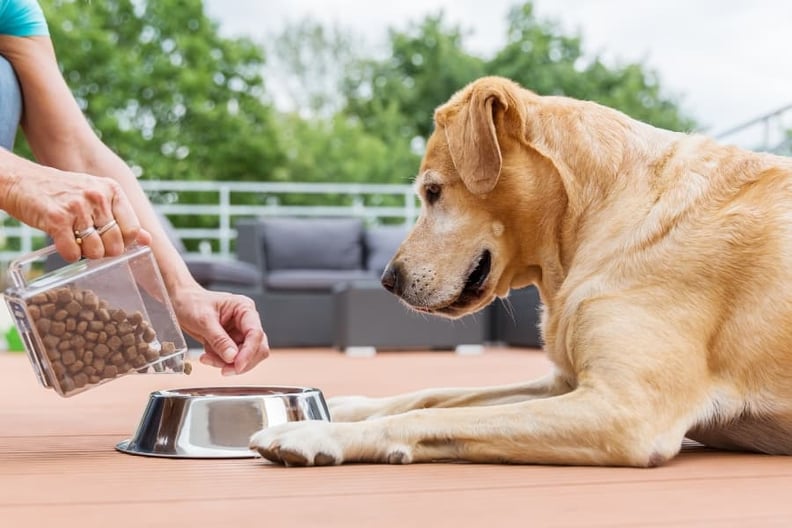 For dogs that don't require a specialized diet, then a well-balanced and natural kibble might be the way to go when you are pinching your pennies. The best budget dry dog foods should offer a decent amount of animal protein, healthy fats, and low glycemic carbohydrates to ensure your dog is getting the right nutrients in an easy-to-digest formula.
Kibble is the largest dog food category, and there are plenty of specialty dog kibble diets designed to suit your dog's age, breed, health, and tastes.
To make sure you find the right formula for your dog and your budget, we separated our top picks by diet type, like puppy, large breed, and hypoallergenic, so that you can find the right cheap dry dog food.
Best Affordable Chicken Dog Food
Chicken is the most popular animal protein used in kibble dog food, partially because it's one of the cheapest. When it comes to good inexpensive dog food, looking for a chicken-based dog diet is a good place to start.
In addition to being one of the cheapest animal proteins, chicken is loaded with nutrients. It is easier to digest than red meats and is considered lean meat that your dog can use to grow and maintain muscle.
Top Pick: Horizon Complete All Life Stages
If your dog loves chicken, then Horizon Complete All Life Stages is a great option. This budget pet food option is not only a remarkable price, but it uses Canadian-sourced ingredients like low glycemic whole grains and a pre and probiotic blend to maximize digestion.
Horizon Complete is great for multi-pet families, as the all-life stage food is suitable for dogs of all ages and breeds. The low glycemic and high fibre formulas are suitable for supporting healthy weight by helping your dog feel full longer and process calories better.
Most Affordable Grain Free Dog Food
Poor-quality grains have contributed to a lot of dog food intolerances, poor digestion, and even weight issues in dogs. Grain-free dog food is a good option to help avoid incomplete nutrition from heavily processed and overused grains.
Ingredients like potatoes, peas, and lentils have been a low glycemic and nutritious alternative to wheat and corn in dog food.
While grain-free is often considered better, that's not always the case. There are many cheap grain free dog foods on the market, but not all of them are good. Legumes and potatoes are healthy so long as they are part of a diet rich in animal protein and fat.
Top Pick: Taiga Grain-Free
Another value size option for frugal shoppers who like buying in bulk, Taiga Grain-Free dog food is available in two popular flavours: Chicken and Pork. These single-protein diets use low glycemic lentils and beans, which are both nutritious and great sources of fibre.
Low cooking temperatures leave a more nutritious final product, and the kibble is coated with a pre and probiotic blend to improve digestion and nutrient absorption.
Grains have gotten a bad reputation, but there are many healthy grains that are suitable for dogs. Low glycemic, whole grains, like oats and barley, are healthy and nutritious when fed in the right quantities. Taiga Whole Grain formulas are also available in the same flavours as the grain-free options.
While some people avoid grains in dog food because of suspected allergies, most choose grain free because they believe the food will have fewer carbs. This is often not the case, and you need to look at each brand individually to determine how much animal protein is offered.
Best Cheap Food for Puppies
Growing puppies need a lot of calories and nutrients to accommodate their growing bodies, which is why they get their own type of food. Some formulas are designed to meet the nutritional needs of all ages, but those require puppies to eat more to meet their nutritional needs.
Puppy-specific diets offer increased fat, calories, omega fatty acids, and other nutrients so that growing puppies can get more nutrition in smaller meals. Puppy food is often a little more expensive than those designed for adults, but that doesn't mean you can't find affordable healthy dog food for your baby pooch.
Top Pick: Nutram Sound Puppy
Puppies need plenty of high-quality nutrients to accommodate their short growing periods. Nutram Sound Puppy Food maximizes your puppy's nutrition with wholesome flavourful proteins like chicken and whole eggs to support muscle development.
With plenty of healthy fats from salmon oil and flaxseed, this puppy diet provides energy for the brain to develop and helps your puppy learn. And they're Canadian too, eh!
Inexpensive Dog Food for Large Breeds
Size matters when it comes to finding the right dog food. Large breeds carry around a lot of weight and therefore need a diet that is going to help support their hips and joints.
Moderate calorie levels and lean proteins for muscle maintenance is the best way to prevent big dogs from putting on more weight than they should. This helps to support and protect the connective tissues that allow for comfortable joint movement.
Many large breed dog foods also contain hip and joint supplements that protect against age and size-related deterioration of the joints.
Top Pick: Horizon Complete Large Breed Adult
Horizon Complete Large Breed Adult Dog Food starts with high-quality fresh chicken and is complimented by healthy whole grains to support appropriate digestion and weight management. The low glycemic formula helps your dog use energy more efficiently and leaves your dog feeling fuller for longer.
Hip and joint care ingredients, like glucosamine and chondroitin, help to reduce inflammation and protect the connective tissues that make up your dog's joints. Like all Horizon formulas, a pre and probiotic blend are added to boost digestion.
Affordable Dog Food for Small Breeds
Just like big dogs need a more specialized diet, so do their tiny counterparts. Small breed dogs tend to have a better metabolism than bigger doggos, so their diets may need to be more calorie-dense to help them maintain energy and muscle.
These calorie-dense diets are also helpful when it comes to portion sizes. Little dogs have little tummies, so they need food that can pack more nutrition into a smaller meal.
Top Pick: Amicus Small Breed
Another food from our friends at Horizon, Amicus Small Breed Dog Food, is specifically designed with the needs of small breed dogs in mind. Amicus is a meat-rich and low-glycemic formula that is well suited to the higher metabolism of small breeds.
The smaller and softer kibble is designed to be easier to chew and digest and helps to improve palatability for picky pets. The pre and probiotic booster on this kibble further enhances digestion and nutrient absorption.
Budget-Friendly Hypoallergenic Dog Food
Affordable dog food for allergies is one of the more difficult types to find. Hypoallergenic dog food is a term used to describe food that uses a single animal protein and a limited amount of other food ingredients. This is helpful in eliminating known or suspected dog food allergies from the diet.
Unfortunately, a lot of the animal proteins that are commonly used in hypoallergenic diets are a little more expensive. Common proteins like chicken and turkey are usually the first to be eliminated, and alternatives like fish, lamb, kangaroo, duck, or rabbit often come with a bigger price tag.
Fortunately, you have options when shopping for the best hypoallergenic dog food.
Top Picks: Kasiks
Allergy-friendly dog food isn't usually cheap, but Kasiks is the ideal solution for itchy pets on a budget. These single protein foods are grain and gluten-free, using limited ingredients and making it easy to remove common allergens from your dog's diet.
The low glycemic and high-fibre formula supports healthy digestion and appropriate weight management. Superfoods like kale, coconut, and blueberries provide natural sources of antioxidants and vitamins to support the immune system and skin and coat.
The more unique the protein, the pricier the food can be. Novel proteins like kangaroo or goat are few and far between and may not fit into your dog food budget. Start with less exotic proteins like fish or lamb to try to solve your dog's allergy issues.
Popular Budget Friendly Wet Dog Food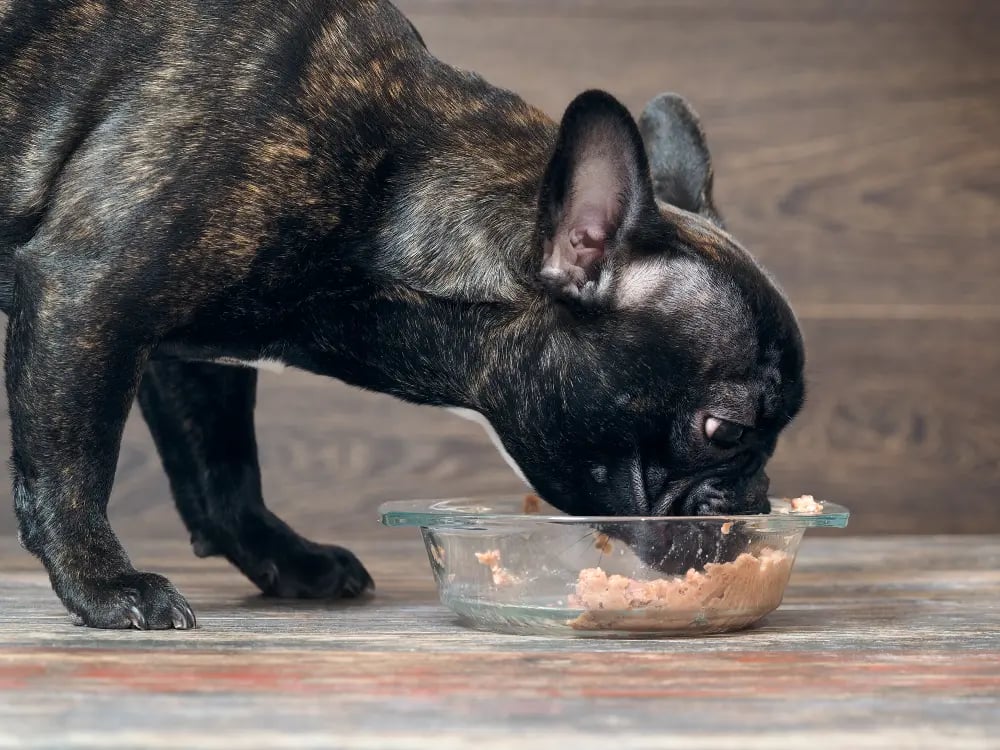 Moisture is a key component of digestion and your dog's overall health. Even though dogs will often drink water, they are designed to get a large chunk of their moisture from the food. Dogs that eat a strictly dry diet, like kibble, are unlikely to be properly hydrated for optimal health.
Even if you mainly feed kibble or another dry diet, including some canned or wet food in your dog's meals is a good idea.
Best Affordable Canned Dog Food
While there are many benefits to feeding wet dog food, the cost is not one of them. Wet food is typically a more expensive type of dog food, but some brands are more cost-effective than others.
There are many varieties of wet dog food, from grain-free to high protein to hypoallergenic, but affordable wet dog food is a little harder to find. Take a look at what we think is the best inexpensive wet dog food:
Top Pick: Nutrience Grain Free SubZero Canned Dog Food
We had to rank a Canadian brand first! OK, sure, we are a little biased, but one look at the price point and the formula, and you'll know why this canned dog food tops our list. Made in Canada, using Canadian-sourced ingredients, SubZero is meaty and flavourful, making it a popular option for picky pets.
Nutrient-dense vegetables and antioxidant-rich fruits help to balance this formula for dogs of all life stages. The pate-style formula can be fed as a complete meal or is a great meal topper or side dish for a kibble diet.
Feeding a completely wet food diet can add up, so if you choose this type of dog food, buy cases and, when available, larger cans to save the most. Keep some can lid covers handy so that unused food can be refrigerated for another day.
Best Affordable Raw Dog Food Canada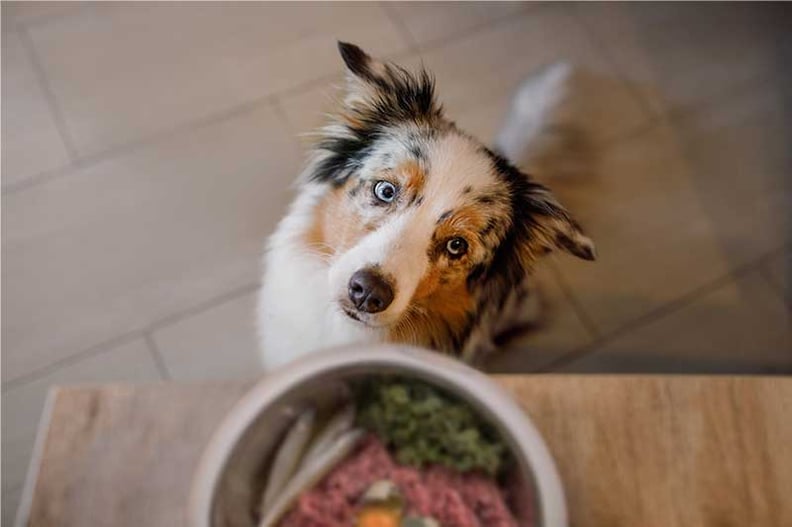 Raw dog food and cheap don't often go hand in hand, but there are some raw diets that work well for pet parents looking to keep within a budget.
It's unlikely that you'll be able to feed raw for less than you could feed a cooked diet like kibble, but there is a broad range of price points within raw dog food that allow you to feed a high-quality complete raw diet for a good price.
When it comes to finding affordable raw dog food, the kind of animal protein you want matters:
Chicken is almost always the cheapest option, with turkey and pork often being a little higher priced but the next most affordable option.

Red meats are even more expensive, and novel proteins like rabbit, venison, goat, and kangaroo will likely give you some serious sticker shock.

Feeding a diet that mixes a cheaper protein, like chicken, with a more expensive protein, like beef, will allow you to offer a wider variety of nutrients without draining your bank account.
Best Cheap Raw Food Diet for Dogs
Feeding raw dog food on a budget can feel almost impossible, but it can be done. A great tip for cutting costs for raw feeders is to feed mixed protein diets. Cheaper proteins like chicken can be mixed with pricier meat, like beef, to offer a more moderately priced option.
Some brands offer variety packs so that you can feed 2-4 proteins together, which is great for ensuring your dog gets the benefit of the nutrients offered by each meat type.
Top Pick: K-9 Choice Beef & Chicken Plus
Beef is the most popular red meat option in raw dog food, but it can also be very expensive. K-9 Choice Beef & Chicken Plus offers an affordable way to feed red meat by blending it with healthy, cost-effective chicken.
Using locally sourced Canadian ingredients, K-9 Choice Plus formulas use whole animals, ensuring optimal ratios of meat, organ, and bone inclusion. Fresh fruits and vegetables offer natural and easily digestible sources of vital nutrients like vitamins and antioxidants.
Buying in bulk is the best way to get the best price per pound when it comes to raw food. Other brands like Pets Go Raw, Legacy, and Carnivora are a few more Canadian brands that offer affordable raw dog food options for a variety of proteins.
Variety packs that offer more than one protein are the best way to get the best deal. Just make sure that the formulas are made from complete and balanced raw food formulas.
Most Affordable Freeze Dried Dog Food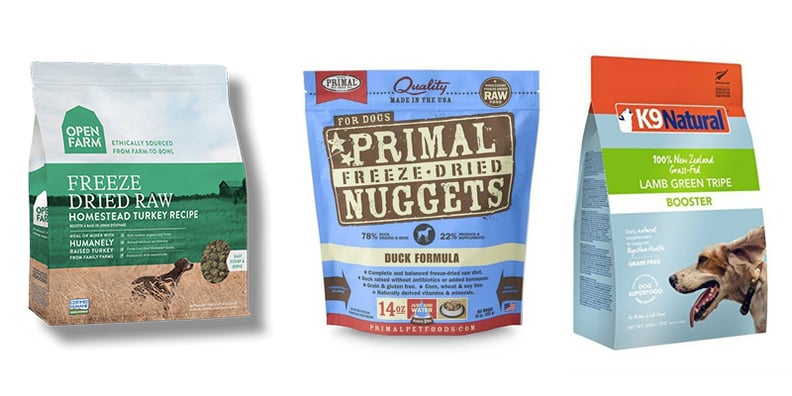 Raw dog food is highly nutritious but can be messy to prepare and takes up a lot of freezer space. Freeze-dried dog food is a great alternative to raw, but it's also one of the more expensive feeding options for dogs.
Freeze-dried dog food is loaded with nutrition from real food ingredients that have been dried without the use of heat, preserving the nutrients and flavour. This is an excellent option for kibble feeders who are looking for better nutrition than kibble can offer.
Affordable Freeze-Dried Dog Food
If you are trying to work within a budget, you may think that freeze-dried dog food may not be an option, but don't give up just yet. We have an option that might just fit within your budget and a few alternatives if they don't.
Top Pick: Sojos Complete
A lot of freeze-dried diets come with a hefty price tag, but our top pick might just be within your budget. Sojo's Complete isn't a true freeze-dried diet, but instead, a freeze-dried, dehydrated hybrid that offers raw nutrition in an easy-to-store, prepare and feed format.
Simply combine the dry Sojos mix with water and stir. The texture will be similar to canned food but will offer the benefits of raw dog food.
Feeding freeze-dried exclusively can add up, but there are other ways to offer nutritious freeze-dried dog food without going broke. One option is to try a freeze-dried meal topper, like Primal Cupboard Cuts Freeze-Dried Raw Toppers. Just add a scoop to your dog's regular meals, offsetting the cost of the freeze-dried with a more affordable kibble or canned diet.
Another option is to feed a kibble diet with a freeze-dried coating, like Nutrients Infusion. The kibble is sprayed with a freeze-dried coating after it's cooked, leaving an easy-to-feed kibble with a highly nutritious boost.
Quality Doesn't Have to Be Expensive
Now, you know that saving money doesn't have to mean losing quality. With prices continuing to rise, it's more important than ever that we are responsible with our buying choices so that we can continue to offer our pets the loving homes and premium nutrition that they deserve.
Switching dog foods isn't something that should be done on a whim, so make sure you do your research and look for the diet that is right for you and your dog. Compare it to your dog's current diet before switching, as the sticker price of dog food can be deceiving.
Consider how much food you are feeding. Sometimes a more expensive dog food will offer more concentrated nutrients, allowing you to feed less. This makes the food last longer and may help to balance out the cost.
Check out our dog food calorie calculator to find out how many calories your dog needs and compare the feeding guidelines from your current food to a more expensive one. This can be a great tool for deciding if it's time to make the switch or not.
Cheap Dog Food Frequently Asked Questions
Is cheap dog food necessarily bad for my dog's health?
While not all cheap dog food is inherently bad, many low-cost options tend to contain lower-quality ingredients and fillers that provide less nutritional value.
It's essential to carefully examine the ingredients and nutritional information on the dog food's label to ensure your dog is receiving the necessary nutrients for their well-being.
Choosing a higher-quality dog food, even if it comes at a higher price, can often be a better choice in the long run.
What are the potential risks of feeding my dog cheap dog food?
Feeding your dog cheap dog food can come with potential risks. Lower-quality ingredients and inadequate nutritional ingredients can lead to nutrient deficiencies, poor digestion, and even long-term health issues in some cases.
Cheaper dog food may contain more artificial additives, fillers, or by-products, which can be bad for your dog's health.
How can I determine the quality of dog food without solely relying on the price?
Price alone is not a reliable sign of dog food quality. When evaluating dog food, look for specific quality indications of high-quality protein sources (meat or fish), whole ingredients, minimal fillers, and a balance of essential nutrients.
Read the ingredient list and guaranteed analysis on the packaging, and pick only brands with a strong reputation for producing high-quality dog food.
Are there affordable dog food options that still provide good nutrition?
Yes, there are affordable dog food brands that can still provide good nutrition for your pet. Look for mid-priced dog food brands that prioritize quality ingredients and have a balanced nutritional profile.
Some brands offer budget-friendly options without compromising on essential nutrients. It's important to strike a balance when picking a dog food brand. Choose a band with adequate nutrition and an affordable price tag.