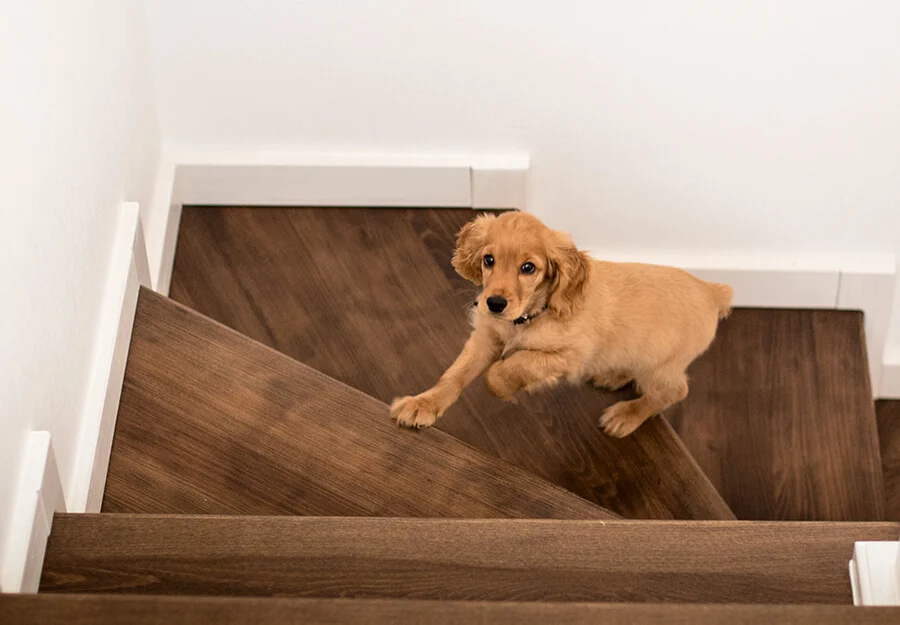 Like us, doggos and puppers alike need exercise on a regular basis. Find out the most fun and effective ways to exercise your dog daily and keep them fit, healthy, and happy.
If your dog defaults to being a couch potato or is constantly testing your patience with their needy behaviour, then adding more exercise into their daily routine will help!
Dogs get bored, lazy, and stiff, just like we do when we don't put effort into staying active every day. While some dogs are naturally active, they still need your help to channel their energy into safe and appropriate activities.
Lazy dogs will need extra encouragement to get them off their butts and find games, sports, and activities that will be exciting and suited to your pet's health, mobility, and interests.
Benefits of Exercising Your Dog
Dog exercise is not only beneficial to a canine's physical health but to its mental health too! Getting out and active and socializing with other people and dogs is crucial to shaping your pet's behavioural development while providing mental stimulation.
On top of health and behavioural benefits, exercising with your four-legged companion is a sure-fire way for the two of you to bond.
Dogs love to share experiences with pet owners. All of the exercise in the world isn't fun if your dog can't share the experience with you. In fact, many dogs become couch potatoes and face health risks simply because they don't want to carry out physical activity alone.
Working breed canines especially flourish with daily exercise with their humans, such as a long walk, job, or more. Speeding time with your doggo is a great way for your dog to learn close bonds with you while receiving exercise daily.
How to Exercise Your Dog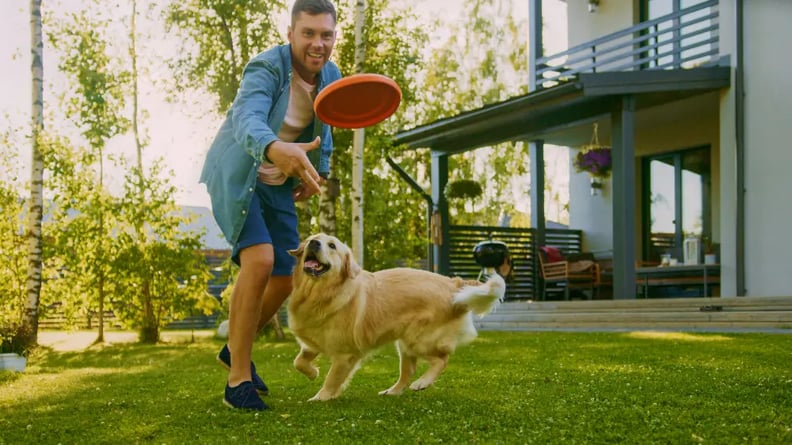 Every dog is different, so the dog exercises you choose will depend on many factors. High-energy dogs will need high-energy activities and may benefit from participating in organized dog sports, group activities, or strenuous activities like hiking.
Overweight dogs, seniors, and those with mobility issues need a more tailored exercise routine to accommodate their potential limitations. Start with basic daily walks and backyard fetch, and slowly work your way up to higher-energy games.
Here are some of the best ways to exercise your dog:
Best Dog Exercise Toys
If you want to exercise your dog, then invest in toys. Dogs love canine toys. Play a game of hide and seek by hiding the toys from your dog. Not all dogs like every toy. You'll have to carefully shop for discerning
ChuckIt! Classic Ball Launcher
Fetch is one of the best high-energy games to include in your dog's workout. Short games of fetch can be maximized when you use the ChuckIt! Classic Ball Launcher. This lightweight and durable accessory can send your dog's favourite ball two to three times further, giving your dog a fun and satisfying cardio workout.
A game of fetch is a fun way to exercise your dog. Most doggos enjoy the hands-free leash experience, and they can benefit from being physically active. However, how much exercise to provide does vary from dog to dog.
West Paw Zisc Flying Disc
Frisbees are a great alternative to the boring old tennis balls. The West Paw Zisc is built tough but made of flexible material, making it safer for your dog's teeth. Made from 100% recyclable material and backed by a 100% tough guarantee, the Zisc is a great addition to your dog's exercise routine.
It also floats, so you can take it to the lake and get your dog some water aerobics and they even offer a glow-in-the-dark version to accommodate evening playtime.
Jolly Pet Jolly Egg
Backyard playtime is an excellent way to keep your dog active when you can't get out and explore nature. The Jolly Egg is not a ball, and it's not a chew toy. This oblong, hard-shelled toy is meant for chasing, nudging, kicking, and rolling. Your dog can't pick it up but will have a blast trying.
Flossy 4 Knot Rope
Tug-o-war is a great way to get both your and your dog's blood pumping. You don't need a lot of space to interact, but you do need a durable rope toy, like the Flossy Chew 4 Knot Rope.
Indoor Obstacle Course
Using your home's natural landscape, you can amp up your dog's cardio routine by using your stairs. Fetch and tag are both great games to play using stairs. Your dog will work up a sweat after a few trips up and down those steps, and you will too.
Building a miniature indoor obstacle course is both a fun activity and a fantastic way for your dog to stay in shape. Use whatever you have, and get creative. A footstool is now a hurdle. Your couch cushions can make for an exciting maze. Teach your dog to crawl under your coffee table for more exercise.
The obstacles can be simple and geared for less active dogs, or you can test your high-energy dog with a more challenging setup. Use weave poles to play around. Hide small treats or other household items to encourage nose work.
For some fun, simple tips, check out the DIY Indoor Dog Obstacle Course for adult dogs and puppies. Any time you spend time with your canine companion, your dog's mind is stimulated, and they can enjoy short bursts of excitement.
Play Dates - Not All Dogs Love Them
There is no better workout buddy for your dog than other dogs. Invite a few of your dog's best pals over for some playtime. Even indoors, both you and the pups will be pooped by the end. It's a great way to bypass the dog park on a rainy day.
If your dog prefers the company of people, then invite over your friends and tell them to bring their kids. It's hard to turn down all those free belly rubs. Plus, kids will run circles around your dog, keeping him occupied and moving.
Enroll in agility classes or take your dog to an obedience class to learn basic commands and interact with other dogs. Pooches will learn social skills whenever they work with two or more dogs. Not all dogs get along, so a play date isn't ideal for such anti-social dogs.
Go swimming with your pet, and indulge in a game of tug of war while swimming. Interacting with a dog is a great way to think outside the box.
Workout with Your Dog
Got a treadmill at home? Make use of your treadmill by training your dog to use it. It should never replace all walks with dog owners, but it's a simple replacement for a short walk when the weather is particularly nasty. It's a perfect way for you and your pup to stay healthy.
One popular belief is that canines truly love spending time with their owners, whether with outdoor activities, daily walks, or a game of tug of war to burn off extra energy. Having a dog is a great way to stay fit.
Mental Stimulation for Pets
Dogs need to exercise both their bodies and their minds. Walking or jogging around the neighbourhood or through the park and discovering new smells provides great mental stimulation and also helps encourage physical exercise because you are keeping your dog moving.
On days when we spend more time inside than out, there are many ways to excite your dog's brain. If you are wondering how much exercise a dog needs mentally, just remember that the more you work with most canines, the more intelligent they become. Everything takes time with a pet or pup.
Here is a quick list of mental exercises you can practice with your puppy or dog.
Best Mind Games for Dogs
Interactive toys and games, such as puzzles, help dogs to develop problem-solving skills and are fun games. Indoor activities are also an opportunity to learn new tricks. Puzzle toys with compartments to hide treats make your dog work for their food while enjoying a fun activity. They can quickly become a great part of your dog's routine. Play hide and seek with the toys to encourage as much exercise as needed with your pet.
Nina Ottosson Dog Tornado
This top-selling puzzle toy for pets will test your dog's problem-solving skills. Hide a tasty treat in each compartment of the Nina Ottosson Tornado, and watch as your dog nudges, paws, and flips each piece to uncover the tasty treasure inside. Most dogs enjoy hours of fun with this toy. It's a great toy for indoor exercise.
Kong Wobbler
The puzzle toy bobs and wobbles, but it won't fall down. Throw a handful of treats or kibble into the Kong Wobbler and let your dog bat it around the house to knock out the goodies one at a time. In addition to being mentally stimulating, the Kong is a great low-impact workout for dogs with limited mobility. A kong is a great form if you are seeking ways to exercise.
Zippy Paws SmartPaws Puzzler
Another great puzzle toy, the Zippy Paws SmartPaws Puzzler, offers 3 adjustable levels of difficulty to keep your dog guessing and thinking each time he plays. Just fill the puzzle with your dog's favourite snacks or kibble, and he'll follow his nose to uncover the goodies. Help your dog learn to figure out puzzles while enjoying more exercise.
Nina Ottosson Treat Tumbler
Another great low-impact exercise, the Nina Ottosson Treat Tumble, is a treat-dispensing ball perfect for dogs new to puzzle toys. Your dog must learn to push and chase the weighted ball to get tasty snacks to fall out of the hole. Can an old dog learn a new trick? Modern dog game puzzles definitely show that the old adage is a misnomer because a dog can learn at any age.
Frequently Asked Dog Exercise Questions
Why is regular exercise important for my dog's health?
Regular exercise helps maintain your dog's physical and mental health, prevents obesity, and reduces the risk of behavioural issues.
How much exercise does my dog need each day?
The amount of exercise varies based on your dog's breed, age, and health. Most dogs need at least 30 minutes to 2 hours of exercise per day, depending on their age and life stage.
How to mix up your dog's exercise routine?
Dogs can enjoy various exercises, including walking, jogging, playing fetch, agility training, swimming, and interactive play with toys. Factor in the breed, too, when picking exercise because dogs with shorter legs or joint problems will be able to carry out the same tricks and exercises as working breeds or other canine athletes.
How can I tell if my dog is getting all the exercise he needs?
If your dog exhibits balanced behaviour, maintains a healthy weight, and doesn't display excess energy or restlessness, they are likely getting enough exercise. Keep your dog happy with ample activities.
What are the signs of overexercising my dog?
Signs of overexercising in dogs can include excessive panting, limping, reluctance to move, or exhaustion. Monitor your dog's energy level and adjust their exercise needs accordingly.
Are there special considerations for exercising puppies or senior dogs?
Yes, puppies should engage in age-appropriate exercises to avoid joint damage, and senior dogs may have limitations due to age-related conditions.