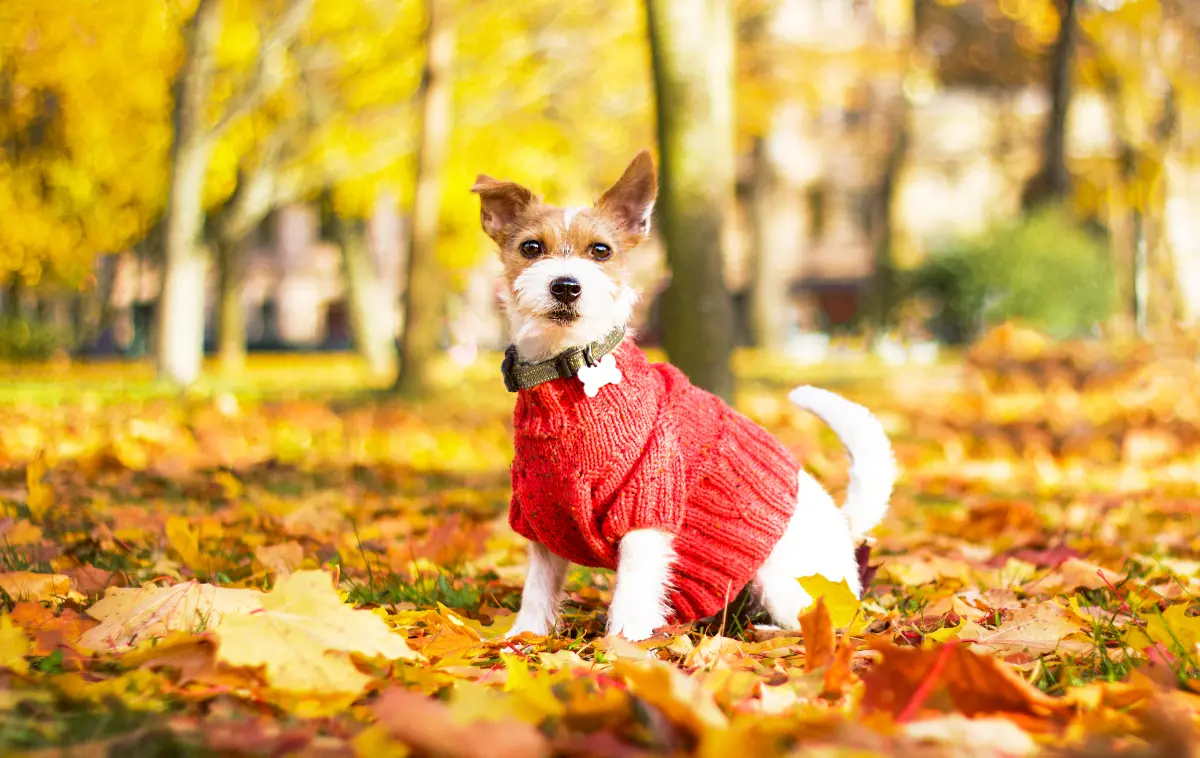 It's sweater season! When the leaves start falling, and the temperature starts to drop, your dog might need an extra layer to keep warm. Check out some of the best dog sweaters in Canada and some tips for finding the right style for your pooch.

Dog sweaters offer protection to your canine companion when the mercury drops. If your furry friend has short hair or is a senior, then they might have a tough time regulating their body temperature. The best dog sweaters Canada offer protection from the freezing cold to keep your pooch toasty warm.
Also, a dog with a sweater is plain cute and a fashion statement. Once your pup is outfitted in a colourful cable knit dog sweater or dog hoodie, you'll want to take a million pictures of your adorable pooch.
Top 15 Best Dog Sweaters
At Homes Alive Pets, we carry a wide variety of the best dog sweaters and best dog hoodies to keep your dog warm and cozy.
Sweaters for dogs come in all shapes and sizes. From knitted dog sweaters to pull-over dog hoodies, we have the highest-quality, most functional, and cutest dog sweater selection in Canada.
1. GF Pet Retro Dog Sweater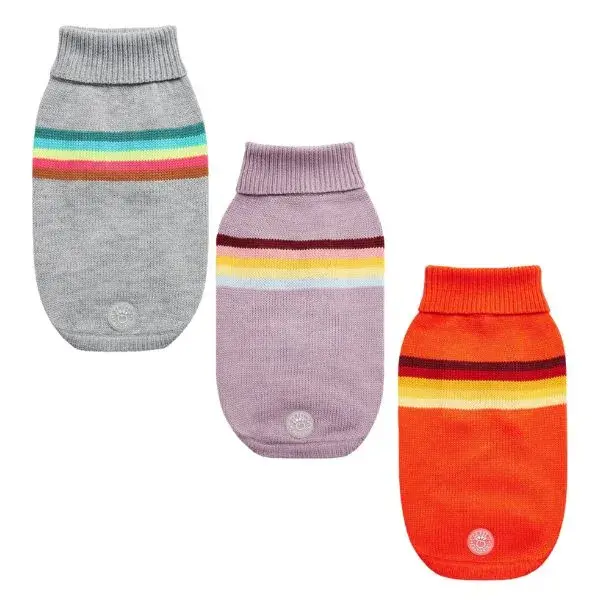 Retro is all the rage right now, and this GF Pet Retro Dog Sweater will give you flashbacks to the funky fashion of the 70s. This retro-chic dog sweater is made of 100% acrylic, so it's both soft and comfortable.
The turtle neck and ribbed leg holes ensure a secure fit that will help to block cool wind and keep your dog's core muscles warm in mild winter weather. The form-fitting sweater can also be used as a base layer when temperatures drop below zero.
2. Chilly Dog - Reindeer Sweater
Whether you want your pup to join Santa's team as a reindeer impersonator or you simply want your dog to look festive, the Chilly Dog - Reindeer Sweater is the perfect dog apparel for wintertime wear. Fashioned from organic wool, the dog sweater is warm and soft to the touch. The classic sweater is available in black/white or red/white.
Whether you are attending a holiday party with your pup, heading to a ski resort for a weekend getaway, or simply going for a stroll on a snowy day, your dog is sure to turn heads wearing this lovely, cute dog sweater.
Check out more of our favourite Dog Christmas Outfits and more to get your dog ready for the holiday season.
3. Ruffwear Hemp Hound Sweater
Made from organic cotton and natural hemp, the Ruffwear Hemp Hound Sweater is breathable, durable and, best of all, odour-resistant. It makes a great base layer in cold weather or a comfortable everyday dog sweater for walking on cool days.
The short, fitted sleeves help to blog cool air flow and insulate your dog's core muscles. The loose-fitting style makes this sweater ideal for dogs with deep barrel chests, wide shoulders and hard-to-size breeds.
4. Chilly Dog - Ragg Wool Fairisle Dog Sweater
A classic wool sweater, the Ragg Wool Fairisle Dog Sweater is soft and durable. Fido will look stunning sporting the cable knit sweater. Its heavy weave is sure to keep your pup warm even on the coldest day. When looking for excellent quality sweaters Canada, you'll want to add this one to your dog's wardrobe.
The sweater slips easily over your pup's head, and then his front legs slide through the leg holes. With a snug fit, the sweater keeps your dog's neck and core body warm and comfortable.
5. Silver Paw Venice Hoodie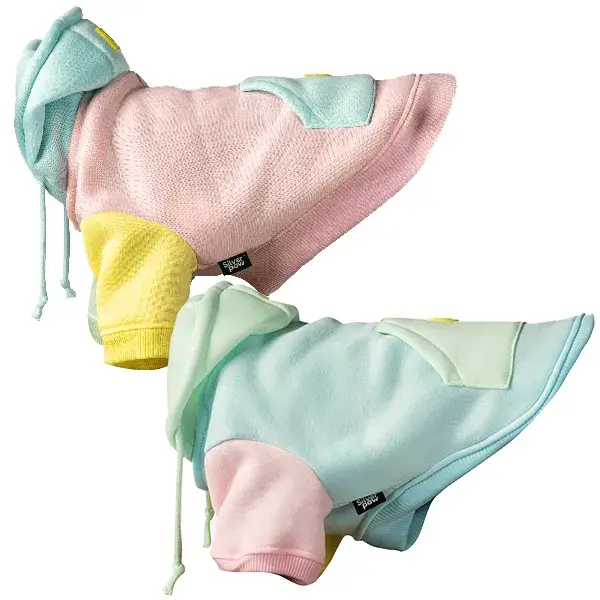 Hoodies for dogs? Yes, and they are as adorable as they sound. The Silver Paw Venice Hoodie is an all-weather, hooded dog sweater that will keep your dog warm and cute. The vibrant pastel colours are sure to turn heads and have strangers begging to come and say hi to your adorable pooch.
This Silver Paw dog hoodie has a leash access slit and a pocket that features a poop bag dispenser. All Silver Paw dog apparel is infused with SilverShield technology to eliminate odour-causing bacteria and prevent mildew.
6. Chilly Dog - Unicorn Dog Sweater
Dogs are just like people and want to have fun! The Chilly Dog Unicorn Dog Sweater is FUN! The sweater is designed to make your dog look like a unicorn. There is even an attached hood with a soft unicorn horn.
Anyone who sees your dog sporting this hilarious sweater will immediately start smiling. You know your beloved furry friend is magical, so why not highlight it by letting Fido pretend to be a mythical unicorn?
The Chilly Dog sweater is fashioned from soft organic wool and natural dyes. You never have to worry about Chilly Dog apparel containing any harmful chemicals.
9. Canada Pooch Over the Rainbow Sweater
This rib-knit sweater will have you singing, "Over the Rainbow," every time you see your pup in the colourful rainbow outfit. The Canada Pooch Over The Rainbow Sweater is a bold fashion statement that will turn heads every time your pup walks by.
The sweater's unique design has a half-zip located on the neck area, which you can use to adjust the level of protection for your pet. Leave it half-zipped or zip it all the way up to protect your dog's neck and core from the chilly wind.
The dog sweaters pullover design makes it easy to put on your pet. The sweater features a slit in the back where you can attach a leash to a harness or collar.
8. FuzzYard Ready Teddy Truffle Sweater
If you are seeking a super soft dog sweater, then look no further than the FuzzYard Ready Teddy Truffle Sweater to keep your bestie toasty warm. The sweater is fashioned from polyester. It has a ribbed trim around the legs to help lock in heat.
There is even a drawstring so you can pull the dog sweater up to your pup's ears to keep them warm on a Chilly day. This sweater for dogs comes in five sizes. When your dog puts on this gray sweater, you'll swear he looks like a stuffed teddy bear and just as soft!
9. Chilly Dog - Buffalo Plaid Hand Knit Wool Dog Sweater
When your dog wears this Buffalo Plaid Hand Knit Wool Dog Sweater, you'll swear you hear bagpipes playing. The dog sweater's classic Scottish Highland plaid pattern looks amazing on any canine. The handmade wool dog sweater is available in a variety of sizes and will fit your pup snuggly to ensure warmth.
10. Chilly Dog - Squirrel Patrol Wool Dog Sweater
Does your dog like to chase squirrels? For some canines, watching for squirrels in the backyard or at the park is their favourite pastime. With the Chilly Dog's Squirrel Patrol Wool Dog Sweater, you can outfit your dog in a knit dog sweater that truly shows off your furry friend's love of the chase.
The unique sweater pattern is sure to draw compliments from anyone seeing your pup dressed in the organic wool clothing item. It features a snug fit to help effectively keep your dog's core warm while looking fantastic.
11. GF Pet Cozy Dog Hoodie
A soft fleecy hoodie is just the thing to keep your dog warm on a cool fall walk. The GF Pet Cozy Dog Hoodie is made from 100% polyester sherpa fleece, meaning this dog sweater will be almost as soft and fluffy as your pooch.
The neon taffeta pocket can hold small walking accessories like poop bags or treats. This light-coloured dog sweater helps to increase visibility in low-light conditions and snow.
12. Chilly Dog - Spencer Dog Sweater
The Chilly Dog Spencer Dog Sweater is a classic spencer design that fits snug on your dog's body. The red, white, and blue woven design feature a crossover v-neck that dips down in front to show your pup's neck. The soft wool knitted dog sweater will keep your furry friend warm while making him look adorable.
This sweater is available in a variety of sizes. Remember, it is supposed to fit snug to provide optimum warmth, so be sure to measure your dog to determine the pet's size before ordering.
13. Chilly Dog - Foxy Hoodie
Do you want your dog to look foxy? You are going to fall in love with this adorable Chilly Dog Foxy Hoodie. It features a hood that comes up to cover your dog's ears and keep your puppy's head warm.
Best of all, the knitted wool hoodie features a pair of adorable black fox ears that stick out when the hood is up on your dog. People will do a double take when they see your pup sporting this dog sweater because they will wonder if your furry friend is a dog or a fox. The red, black, and red sweater design even has a fox tail that dangles off the back.
This cute fox sweater is a must-have for your dog's winter wardrobe. It is one of the best dog sweaters we have at Homes Alive Pets because it's simply darling.
14. Chilly Dog - Vintage Ski Hoodie Dog Sweater
Your furry sidekick will be ready to hit the snowy slopes with you when he wears this Chilly Dog Vintage Ski Hoodie Dog Sweater. The woven organic wool features a rainbow of colours set against a white background.
The hoodie that pulls up to keep your dog's ears warm has a classic pom pom like you find on ski caps. Every head will turn when your four-legged friend parades around in this darling dog sweater.
15. Canada Pooch Whatever the Weather Hoodie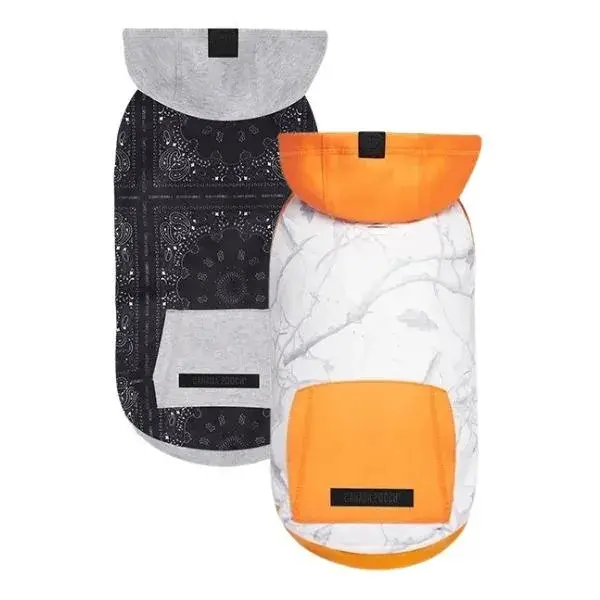 This stylish pullover dog hoodie is perfect for everyday wear. The Canada Pooch Whatever the Weather Hoodie is made with polyester material for warmth, comfort, and fit. The back slit allows for wear with a back clip dog harness.
The large function pocket allows your dog to carry his own walking accessories, like poop bags or treats. The snug fit helps to protect your dog's core muscles and block cool wind, and the functional hood can keep your dog's sensitive ears and neck warm.
FAQ on Dog Sweaters
A dog with a sweater is adorable, plus the material helps keep Fido toasty warm on a chilly winter day. Before you buy, you might have some questions about sizing, style, and even whether or not your dog even needs a sweater.
Below are a few FAQs about dog sweaters that will help you make the best buying decisions :
Are dog sweaters necessary?
Fall temperatures and mild winter climates lead us to pull out our favourite hoodie or sweater. This is a good indicator that your dog might need one as well. If you live in a cold region, like most parts of Canada, a small, elderly, or short-haired dog will benefit from a sweater when they go for a walk outdoors.
Check out does my dog need a coat to find out if your dog needs more than just a sweater. Most sweaters are suitable as stand-alone dog apparel or as a base layer for a winter dog coat.
Do dogs like to wear sweaters?
Dogs don't like to be cold, especially toys, short-haired breeds, and seniors. Your dog will quickly learn that a sweater makes them feel warm and comfortable. Dogs who do not like to go outside in the cold will especially appreciate a sweater.
Some dogs are designed for cold weather, like husky's, and are unlikely to need a sweater. Dogs with a thick double coat may dislike wearing a dog sweater because they simply don't need it to stay warm.
Can dogs wear sweaters all the time?
Yes, your dog can wear a sweater all the time if the canine is comfortable and happy. Just watch your pet to ensure that he does not become overheated or uncomfortable if the weather is too warm. If the temperature is too warm, then you'll want to take the sweater off the dog.
Where is the best place to buy dog sweaters?
You can buy dog sweaters at many department stores that feature a pet section or a pet store. Also, you can order dog sweaters online in Canada and have them delivered directly to your door from Homes Alive Pets.
How do you measure your dog for a sweater?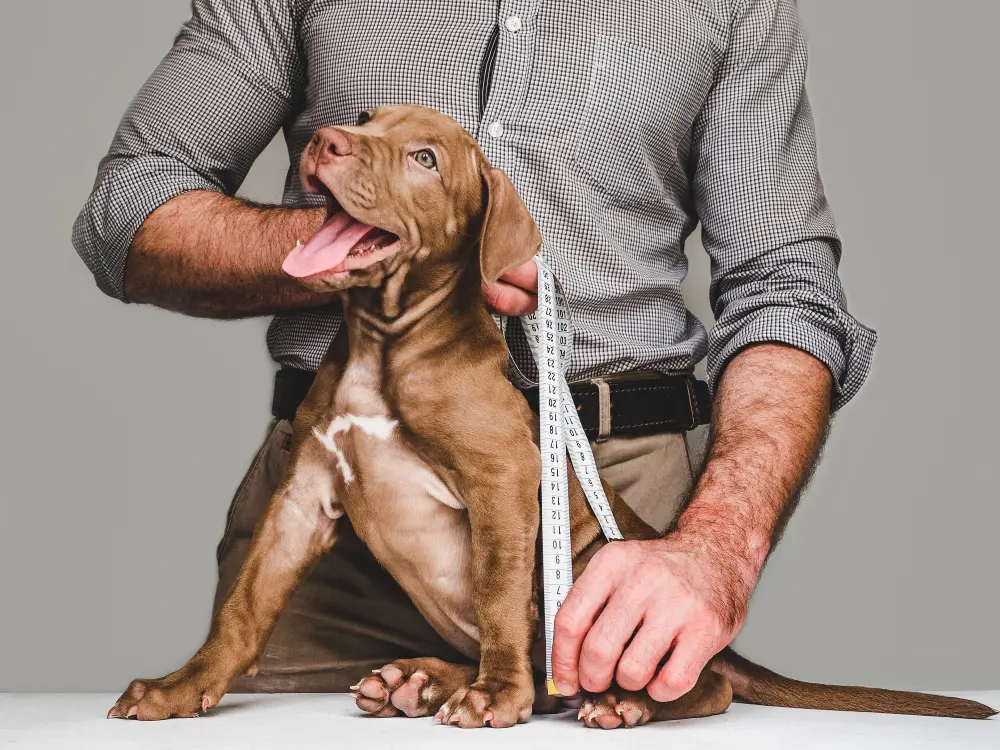 Measure the dog's neck circumference (leave enough space for two fingers when measuring).

Measure from the top of the dog's shoulder to the bottom of the floor and then measure from the dog's hip down the leg to the floor.

Measure the girth of the widest part of the dog's chest (right behind the front legs).

Measure from the top of the dog's shoulder, down the pet's back, to the base of the tail.
How to make a dog sweater?
Yes, if you are a crafty sort of person, you can always knit, crochet, or sew a dog sweater for your four-legged friend. You'll need to follow a pattern to create the dog sweater. Without a doubt, a hand knit dog sweater is a labour of love, but you'll need to know how to knit or crochet to create such a treasure.
Do dogs benefit from wearing sweaters?
Yes, seniors, short-haired, and small dogs can all benefit from the extra warmth in the wintertime. Many small and aging dogs have a challenging time retaining body heat.
They simply do not have the muscle mass needed to generate sufficient heat on a freezing day. A dog sweater can benefit your dog by helping the animal regulate their body temperature in a comfortable manner.
How do you know when your dog is cold?
If you are wondering if you should buy a dog sweater, then you should watch your furry friend for signs the pup is cold.
Shivering
Whining
Curling up in a ball
Not wanting to go outdoors
Moving slowly
Cold ears
Find out more about the importance of keeping your dog warm in How Cold is Too Cold for My Dog?
What temperature do dogs need sweaters?
Canada gets cold, so your dog will benefit from a sweater. Even if your canine companion has a thick coat, they can still suffer frostbite or hypothermia if the weather turns freezing.
The American Kennel Club (AKC) recommends that you put a dog sweater or coat on your pet any time the temperature dips down to 4.4 degrees Celsius or lower.
Keep Your Doggo Warm & Cozy
Dog sweaters are functional and trendy. The best dog sweaters not only keep your canine buddy warm, but they are also comfortable.
At Homes Alive Pets, we carry a large line of dog sweaters in a variety of styles. Whether you want a knit dog sweater, a wool dog sweater, or a dog pullover, you'll find it in our full selection of dog clothes.
Snap a cute pic of your pooch wearing their new sweater and tag us @homesalivepers for a chance to be featured!