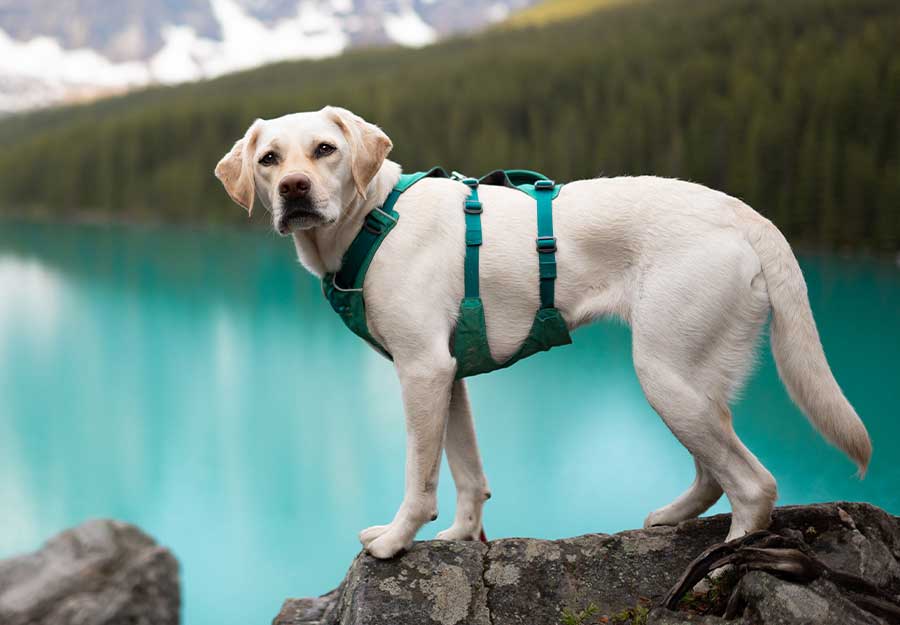 Dog harnesses are a great tool for keeping dogs safe and secure. Learn how to choose the best harnesses for your dog, including the best small dog walking harness and the best harnesses for working dogs that pull.
Do you use a collar or a harness for your dog? We believe that harnesses are best for walking, running, and other adventures with your dog walkers, but which is the best dog harness? Do you enjoy hiking with your dog?
From harnesses with a chest strap to those with reflective trim and straps that comfortably fit around their front legs--there are many characteristics to consider. Let's look at the many types of best dog harnesses to help you choose the right one.
Harnesses are an effective tool for dog owners, allowing you to safely and securely walk with your dog. However, choosing the best freedom no-pull dog harnesses for walking don't always make it easy. Picking the best harness for your pooch walk dog harness will ensure extra comfort and safety, which you can attain with the help of the following information.
If you are new to dog harnesses, then picking the right one may be tough. Before you can start shopping, let's go over why harnesses are an effective walking solution so that you can look for the style, type, and size that will best suit your dog and his favorite outdoor activities. Read on to learn about our top picks for dog harnesses in Canada. Best harness for puppy training?
Is a Harness Better Than a Collar?

If you are unsure whether you should be using a collar or a harness, you are not alone! To make the best choice, you have to consider how you are using the gear to ensure that it is the safest and most effective tool for your adventures.
Dog collars are perfectly safe for dogs that walk casually with a loose leash attachment point, but if your dog is still practicing his walking manners, then a collar might be a dangerous option. A dog that pulls, lunges, or rapidly changes direction could cause damage to its neck, throat, and spinal cord when using a collar.
For more intermediate adventure dogs, getting your dog used to wearing a harness will help them get ready for other adventure gear, like a dog backpack, a dog life jacket, or a dog cooling vest harness in the summer.
In addition, collars are easier to escape from if your dog is feeling frightened, anxious, or overly excited - especially on car rides or in the park.
Harnesses are more effective for correcting poor walking habits, and will evenly distribute pressure across their shoulders and chest loop, instead of their fragile necks.
Collars still have a place, though. Collars are especially important to ensure that your dog is properly ID'd and licensed. Collars can be left on all the time, whereas harnesses should only be used for walking and other outdoor activities.
Pros of a Dog Harness
If you have never used a harness for your dog before, you might be wondering if it's actually necessary. Dog collars are something most people and most dogs are already accustomed to, but if you find you are having trouble teaching your dog good walking manners or if you struggle to find the right collar for your dog's favorite activities, then you may want to consider a harness.
Here are some of the benefits of using a pull dog harness to walk your dog:
Reduces Pulling
If your dog isn't pulling you in a sled across the Arctic tundra, then pulling is unwanted behavior. A harness effectively covers the animal's shoulders, chest, and upper back to evenly disperse pressure throughout the entire surface area which gives you improved control over your four-legged best friend when you go for a dog walking harness or embark on training exercises.
No Unwanted or Damaging Pressure on the Dog's Neck
If you want to reduce pulling even further, then invest in a no-pull design harness. Whenever the pup pulls, the leash tension causes the animal to rotate back towards the owner which prevents the pooch from moving forward unless they reduce their speed and pulling strength.
The best chest harness for a dog never puts pressure on the dog's neck. Instead, it fashions only around the dog's chest and not the neck, so you never have to worry about painful or damaging pressure on the pet's trachea.
If your dog suffers from neck problems, then a comfortable harness is ideal to prevent future problems and alleviate current conditions.
Greater Security
Do you have a dog who acts like Houdini and can slip a conventional collar? If so, then you'll want to invest in the best harness for walking to ensure your pooch doesn't get loose.
A harness is more secure and can prevent accidents, such as your dog getting away from you. The added security and safety of a top pull dog harness provide pet harness owners with much-needed peace of mind.

Cons of a Dog Harness
Though the benefit of using a high-quality pull dog harness seems like it could be an excellent solution to some of your dog's behavioral issues while walking, there are some disadvantages too. Take a look at some of the reasons that a harness might not be the best choice for every occasion:
Inconvenient
A collar slips on but a harness is more intricate and takes time to fasten. Individuals who suffer from arthritis or some other disability might have a tough time fastening the harness.
Lack of Rings
Unlike a collar, many harnesses do not have sufficient rings to carry an identification tag. If having proper identification is necessary on the canine's collar, dog owners then try to examine the harness prior to purchase to ensure it has sufficient areas to attach.
Uncomfortable
Not all harnesses are designed with comfort at the forefront. Many are bulky and some dogs simply don't like wearing them. It often takes time for the canine to adjust to the feel of the device. However, many will continue to object because they simply find the restraint uncomfortable.
What to Look for in a Dog Harness
Before we get to the list, let's take a look at some of the styles and features of a harness that you need to consider when shopping around for the right harnesses for your unique dog.
What Are You Using the Dog Harness For?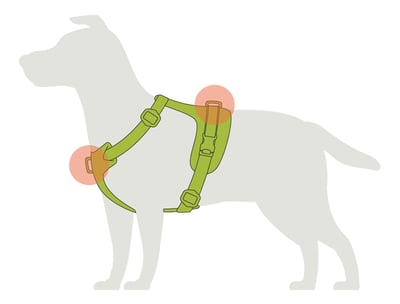 When we are talking about harnesses for walking your dog, one of the key differences in their function is where the front leash attachment points. A standard harness connects at the back, while other styles, especially those designed to stop your dog from pulling, come with a front attachment point.
Some harnesses offer both front and back attachments. This is designed to accommodate two-touch training. Though less common, two-touch training is an effective method for teaching appropriate walking manners using directional control.
When choosing a harness for your dog, make sure you are considering how the harness will need to function to suit your and your dog's activities of dog owners. If you are an avid hiker, then you may want a different style of harness than if you are just taking leisurely strolls in your neighbourhood email address.
Here are the 3 factors you should keep in mind:
1. Adjustability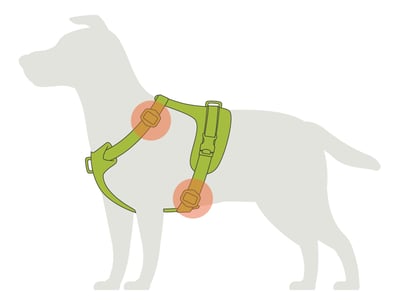 Harnesses should be adjustable so that they can be properly sized for your pet. Look for harnesses with multiple points of adjustment to ensure both comfort and security.
An adjustable harness is also a desirable quality for puppies. Dogs under the age of 12 months are going to grow quickly, so a harness that can grow with them will save you the money and hassle of frequently replacing your pup's harness after each growth spurt.
2. Comfort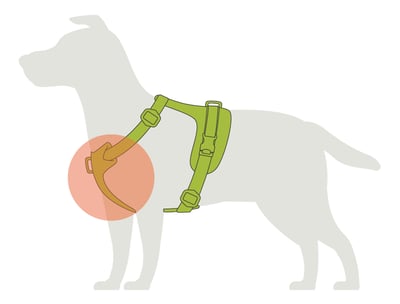 There are different styles of harnesses that may be more comfortable on certain types, shapes, and dog sizes.
A padded chest piece may provide more comfort than a strappier harness comes. Some harnesses can cause chaffing stops pulling on dogs if they are poorly sized, made with uncomfortable material, or are used in the wrong situations. The best no pulls good harness would work great in this situation.
3. Sizing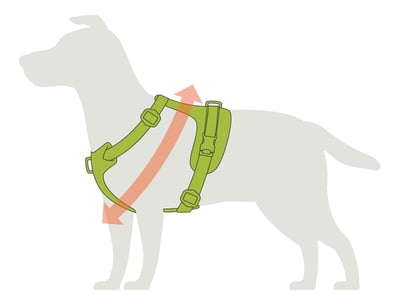 Some dogs align perfectly with the handy sizing charts for each harness, but for those dogs that don't fit the stereotypical dog shape or are an "in-betweener" size, you are better off looking for harnesses that offer a greater range of sizes.
When to Use a Harness
Any dog can benefit from a harness when properly sized and used. Unlike a collar that can be worn all the time, a harness is only needed when you are walking your dog on a leash attachment point. Though harnesses are useful for most dogs, in some situations, you should absolutely pick a harness over a collar.
Take a look at some of the dog breeds and situations that warrant a harness over a dog collar.
Brachycephalic Breeds
Pugs, French bulldogs, and old English bulldogs are all examples of brachycephalic breeds. They have a flat face which causes respiratory issues. A harness is usually a safer choice than a classic collar.
Tracheal Collapse
In the case of tracheal collapse, the trachea of the dog folds in on itself which makes the dog cough and have a challenging time breathing normally. A collar applies pressure on the trachea causing further compression which worsens the condition, so using a harness is a necessity.
Spinal Problems
Dachshunds and other long-bodied canine breeds often suffer from slipped discs (intervertebral disc disease. Removing pressure from the animal's neck by using a harness helps prevent discomfort and further damage.
Orthopedic Disease
Many large breeds have a genetic predisposition towards orthopedic diseases. Sometimes the dog has a demanding time getting up, but you can use the harness for leverage so you can assist the pooch in rising and moving around.
What's the Best Dog Harness?
Looking for the best dog harnesses in Canada?
A harness that suits one situation, may not suit all. Remember that you may need different harnesses for different adventures, or find a multi-purpose harness that comes. To help you make the best choices, we put together a list of the 10 pull dog harness.
1. Best Basic Harness – Rogz Step-In Harness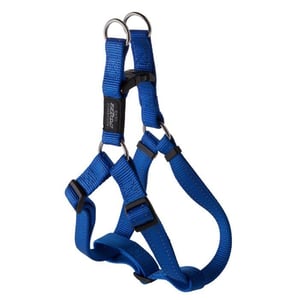 If this is your first harness, or you are just in need of a casual everyday harness, then the Rogz Step-In Harness is a great choice and is the best no-pull harness.
This easy-to-put-on back clip harness is suitable for casual everyday walks for dogs of all ages and a range of sizes. It's called a step-in harness for a reason. Just slip each other of your dog's paws through each side of the harness, and snap it up behind his shoulder blades, like a bra.
Your leash connects through both metal rings on the back of the harness so that any pressure from your dog pulling is spread across your chest and shoulders, not their neck. This easy-wear harness is a breeze to put on and use.
2. Best Front Clip Harness – Ruffwear Front Range Harness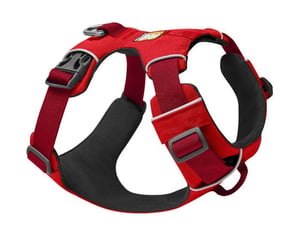 This lightweight harness is our most popular harness for a reason. It's comfortable, adjustable, and highly functional.
With two connection points, the Ruffwear Front Range Harness is versatile, but we chose it for our favorite front clip harness because of its fit. Many front clip harnesses fit different shapes of large dogs differently, but the front range is designed to fit more universally.
This harness fits securely and comfortably and attaches higher up on the dog's chest to give you better control over your dog.
3. Best Overall Dog Harness for Hiking – Ruffwear Web Master Harness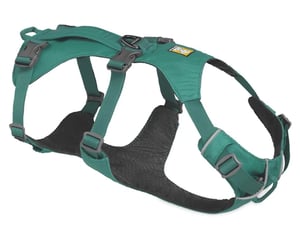 If you and your doggo are avid hikers, you'll want a dog harness with a handle on top! Adventure dogs need a multi-purpose harness to suit their challenging treks. The Ruffwear front-range Web Master is a supportive harness with a durable back handle to allow you to lift and assist your dog across tougher terrain.
The padded chest and long belly straps help to distribute pressure across their chest and torso evenly and comfortably with a freedom no pull harness comes. The five adjustment points ensure a secure and safe fit for your dog. The design also makes this the better harness for small dogs that pull on a hike.
4. Best harness for small dogs – RC Pet Cirque Harness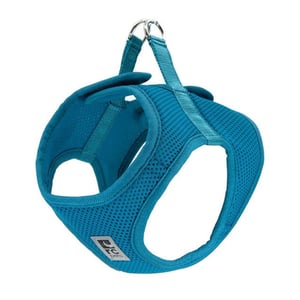 They may earn not have a lot of weight to throw around, but many spirited small-breed dogs still pull with all their might. Harnesses are highly recommended over harnesses for small breed dogs, as their delicate necks are more likely to sustain damage from a collar. This is also one of the best puppy gear choices due to its small size.
The RC Pet Cirque Harness makes it easy to use and is made from a soft mesh material to allow your dog to be comfortable and cool. The step-in style is preferable for a lot of small dogs as it keeps pressure from pulling lower down on the chest and fits comfortably like a sweater.
This is the best small dog harness so your little guy or girl can be safe while enjoying outdoor activities! This comfy harness is great for anything adjustment points you and your small dog might get into – from walks around the adjustment points leash attachment neighborhood to vigorous hikes, this harness has your dog covered.
5. Best Harness for Dogs That Pull – Walk Right Harness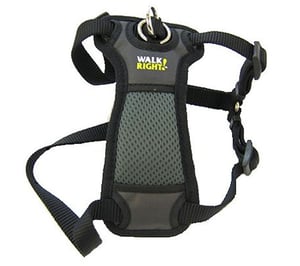 For strong pullers, the Walk Right Harnesses is designed to support the strength of your dog by turning the tables back on him, which makes it one of the best no-pull harnesses of dog choices. This harness is designed to pull back across your dog's shoulders and chest whenever he pulls, preventing him from using his full force to drag you around.
The soft pads for the chest area are comfortable and prevent pulling and chaffing, even in short-haired breeds. The Walk Right harnesses also has both a front and back connection point to best suit your dog's walking style. It can also be used for two-touch training and will reduce pulling and lunging.
6. Best Dog Car Harness – Kurgo Impact Harness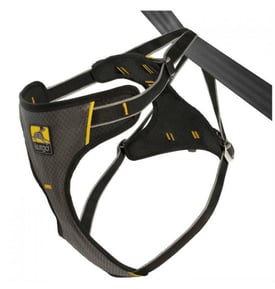 When it comes to car safety, not every dog's car harness is equal, and many aren't even crash-tested to prove that they can protect your dog in the event of a car accident.
The Kurgo Impact Harness is crash-tested for dogs up to 130 lbs. This comfortable harness is easy to fit and size and features steel buckles and durable tubular nylon webbing that is guaranteed to support the weight of your dog.
7. Most Fashionable Harness – Woof Concept Harness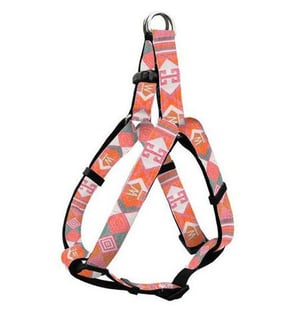 Being safe and making a statement don't have to be mutually exclusive. The Woof Concept Step-In Harness is a basic harness with unique and fashionable designs for dogs that love to walk but want to look good doing it.
Made with 100% dual-layer polypropylene webbing, these harnesses are comfortable and easy to keep your dog clean. With over a dozen patterns to choose from, Woof Concept offers matching collars and leashes for a complete head-turning look.
8. Best Dog Face Harness – Gentle Leader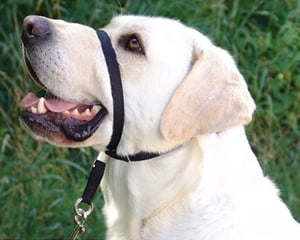 Some dogs respond well to face harnesses. This style of the harness allows you to gain better directional control over your dog and reduces pulling. The Gentle Leader is one of the most well-known face harness brands.
This harness is small but effective. It fits over your dog's snout and attaches to the leash clips below their chin. When your dog pulls, the harness will turn his head back towards you so that you can follow up with directions and verbal commands.
The Gentle Leader is not the right solution for every dog and does take most dogs some time to adjust, but it can be very effective when used properly.
9. Best dog harnesses for large dogs – Hurtta Weekend Warrior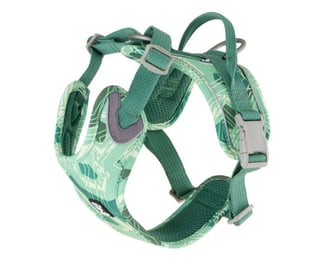 Big dogs need a comfortable, durable, and supportive harness. Finding the right harnesses for large breeds can be tough, so we chose the Weekend Warrior because it checks so many boxes.
It can be used for activities like hiking or running but is soft and comfortable enough to be used as an everyday, casual harness. The comfortable chest plate is designed to distribute its weight and strength so that you have better control.
The durable handle at the back of the harness allows for quick control or assistance and is adjustable around the chest plate and shoulders to accommodate larger and more muscular breeds.
10. Most Comfortable Dog Harness – Canada Pooch Everything Harness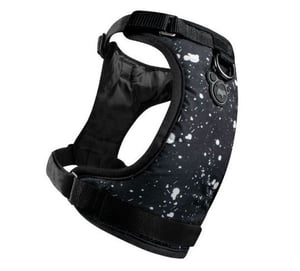 This soft and lightweight polyester harness is comfortable and secure. Its adjustable straps allow for the find the best fit, and the soft chest and back pieces prevent chaffing and discomfort during movement. Many consider this the dog harness for medium dogs.
The Canada Pooch Everything Harness has both waterproof and breathable mesh options to accommodate different activities. With both front and back leash attachment points and a built-in handle, the Everything Harness is suitable for a variety of activities and outings.
Bonus - Cooling Dog Harness - Canada Pooch Chill Seeker Harness
Summer temperatures can make your dog's regular outdoor adventures dangerous. The Canada Pooch Chill Seeker Harness is an easy and effective way to prevent overheating without keeping your dog from his favorite summer games.
Just soak the harness in water, wring it out, and put it on your large dog. The evaporation will help to draw out excess body heat. Plus, it still functions as a safe and secure dog harness.
Check out How to Cool Down Your Dog for more tips and tricks to prevent dehydration and overheating in warm weather.
How to Put on a Dog Harness
So you've found the best dog harnesses in Canada? If you are new to having a harness for your dog, you might find putting on the harness intimidating. Don't worry – it's actually super easy!
How you put the harness on will depend on the kind of harness that you purchased. There are three kinds: overhead harnesses, collared harnesses, and step-in harnesses.
Overhead Harness
Dog harnesses that go over your dog's head can look a bit confusing at first glance, but these simple instructions should help you figure it out. Overhead harnesses typically only have one front clip, buckle, snap, or velcro piece to close the harness.
This closure will tell you that this is the back half of the harness and the part that should go behind your dog's legs.
Gently put your dog's head through the neckpiece on the harness. Sometimes you may have to also help his leg through one of the leg holes.
Pull the straps down under your dog's

belly strap

.
Place the top strap across her back.
On the other

side buckles

, simply connect the side straps with the velcro, buckle, or clip.
Some overhead harnesses may have a buckle or closure at the neckline. This style is less common but is ideal for dogs that are too squirmy to put anything over their head.
Step-In Harness
Step-in harnesses may look confusing to put on, but they are actually quite simple. Think of them like putting on a bra. This may not be a helpful analogy for everyone, but it does help paint a bit of a picture for most of us.
Lay the unbuckled harness on a comfortable surface or on the ground.

Stand your dog over the harness

Place one of your pup's front paws in one of the loops and his other front paw in the other. The harness will have instructions that show which loop goes with which foot.

Snap the buckles together on your pup's back.
Regardless of which harness style you choose, you should then check to ensure that the straps are closed and secure. The harness should fit nice and snugly, but not too tight. A good rule of thumb is that you should be able to fit 2 fingers between the harness and your furry friend.
How to Measure Your Dog for a Harness
We mentioned that sizing is important, so make sure you are measuring your dog properly to find the right harnesses.
Tips for Measuring Your Dog
It's all about the environment when measuring your dog. Make sure to choose a calm space. If your dog isn't used to being measured, you'll want to do whatever you can to

keep your dog

calm so you get an accurate fit without distressing your best buddy.



Make sure your dog is standing tall when measuring him or her. If your dog is laying down or even sitting, measurements will be off, resulting in possibly getting the wrong fit for your dog.




Measure more than once! Mistakes happen. Measure your dog twice to make sure you get the same number! This will save you trips to the pet shop or returning online orders because the measurements were inaccurate. Better safe than sorry!


Make sure you search for the best harness in Canada. If you choose a product outside the country, you may be unclear about proper sizing. Make sure you write measurements in both centimeters and inches.
Check out How to Measure Your Dog for more helpful sizing tips. If possible, bring your dog in to try on the harness, or keep the receipt and packaging. It's not always easy to predict how a harness will sit, move, or flex with your dog's activities.
Do you use a collar or a harness? Let us know what your favorite walking gear is and how you use it!