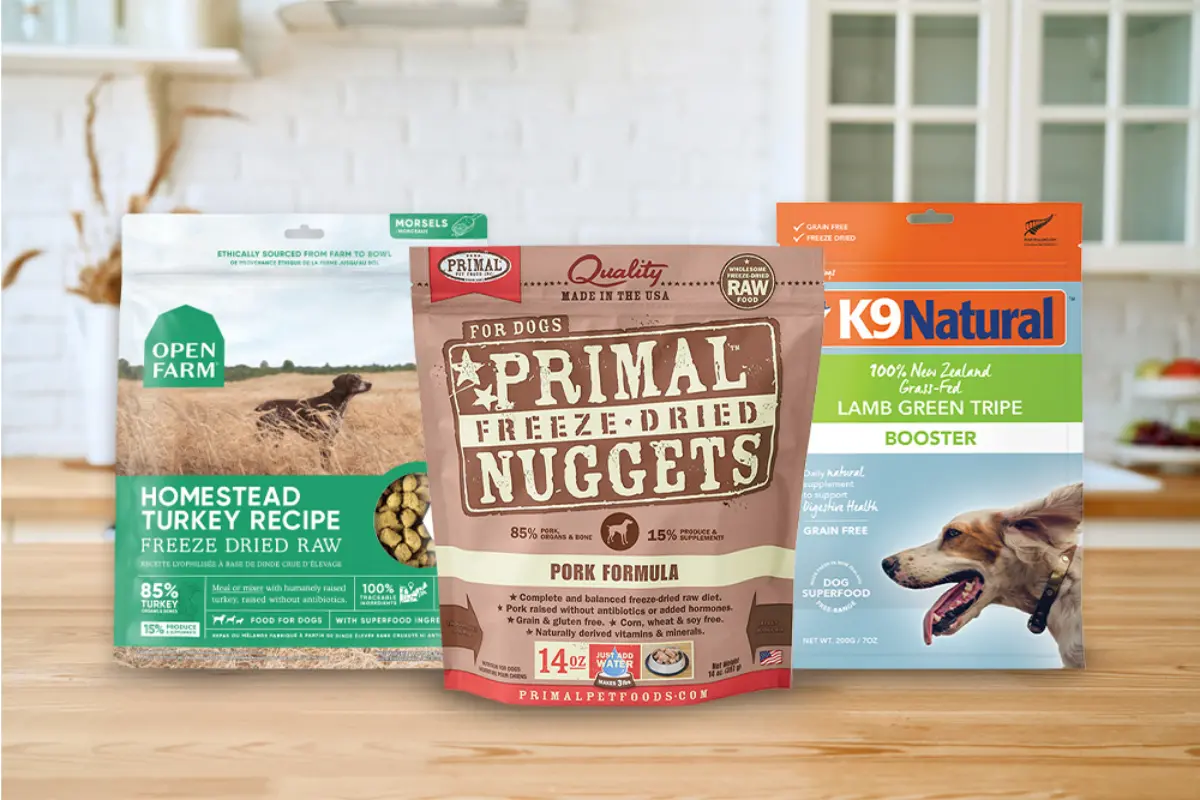 Dog food has come a long way in recent years. Now pet owners and their dogs no longer have to settle for bags of dry kibble that lack flavour or any significant nutritional value. Find out if one of the best freeze dried dog foods is right for your dog.
Freeze-dried dog foods have now become a leading pet food preference because of the food's wholesome nutritional benefits and the robust flavour that is akin to a wild canine's natural diet.
With the best freeze dried dog food, you enjoy the ease of use and long shelf life that makes it comparable to dry dog foods but also retains the raw and natural nutrients of a raw dog food diet. Best of all, most pups love freeze dried foods.
What is Freeze-Dried Raw Dog Food?
Is it raw? is it cooked? Is it healthy? While premium freeze-dried dog foods are relatively new compared to the most common food formats like kibble or canned dog food, these dry raw dog diets are quickly growing in popularity.
Riding the coattails of the raw dog food trend, good freeze dried dog food is considered to be a less messy and easier-to-feed alternative. Using the same principles as fresh raw dog food, the best freeze dried food offers raw nutrition in a dry shelf stable format.
Like raw, freeze dried dog food is meat-rich, low-carb, and loaded with nutrients from natural food ingredients.
How is the Best Freeze-Dried Dog Food Made?
Freeze-drying dog food is a multi-step process. It starts with fresh raw ingredients that are either chopped or ground together to create a complete diet. The ingredients are frozen solid before they are put into a vacuum chamber that evaporates the solid water(ice).
The freeze-drying process uses pressure and low heat (not enough to cook anything) to allow the solid water to change into a vapour that can be removed from the food ingredients.
A secondary drying process removes residual liquid water molecules, leaving a product with as little as 3% moisture.
The food can either be left as a loose mixture or pressed into pellets or pucks for easy portioning and packaging.
What are the Benefits of Freeze Dried Dog Food?
So what's all the fuss about? Freeze-dried dog food is considered to be one of the healthiest dog diets, but what's so good about it? Freeze drying has many benefits and just a few cons. Let's start by breaking down the top benefits of the best freeze dried dog food in Canada:
Freeze-dried is a preferred feeding format for pet parents that are looking for a raw diet that is easier to feed, store, and portion.
Now that you know how great freeze-dried dog food is, The cons are limited but may be deal breakers for some. Freeze-dried is rarely going to be the cheapest option, and finding the best freeze dried diet that fits into a budget may be a bit more challenging but not impossible.
There will also be less variety in freeze dried dog diets. With fewer options for puppies and seniors and for specific health conditions, like you might find in many kibble diets. Most freeze-dried dog diets are classified as either adult dog food or all life stages.
10 Best Freeze-Dried Dog Foods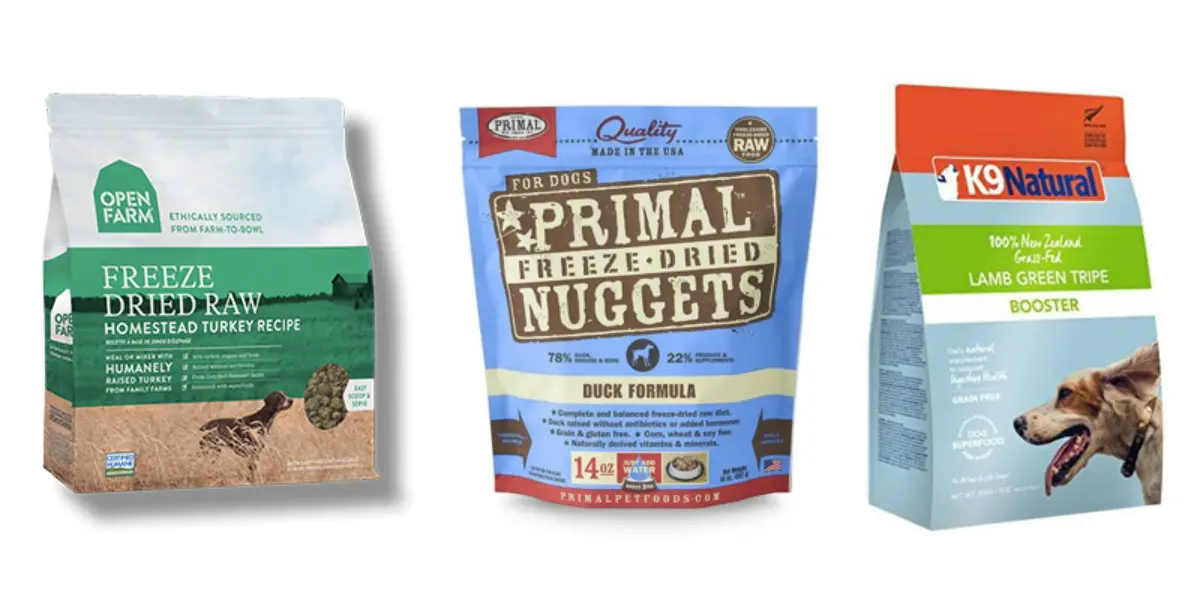 While freeze-dried dog food is a newer category, it's quickly growing in popularity, leading to a wider variety of formulas and styles to choose from.
The style of diet you choose may depend on how you plan to feed it. Freeze-dried dog food can be fed as a complete diet, as a side dish, or even as a meal topper for any other diet type.
To help you choose the best freeze dried dog diet for your pooch, we did a quick breakdown of each of our favourite brands. Are you ready to have Fido wagging his tail in anticipation of his dinner? If so, check out these freeze-dried dog food brands.
1. Primal Canine Freeze Dried Nuggets
Primal Canine Freeze Dried Nuggets were developed as an act of devotion between a man and his dog. Primal founder Matt Koss was heartbroken to learn that his dog Luna was in the preliminary stages of renal failure. In an effort to save her coconut oil, Matt focused on feeding Luna a diet that contained a combination of raw food and bones.
The BARF diet is designed to follow what a canine would naturally consume in the wild. Luna immediately responded positively to the diet, and Matt set out to develop the Primal Canine Freeze Dried Nuggets line of dog foods.
Each of Primal Pet Food products is developed from only the best ingredients. They use only antibiotic, hormone, and steroid-free proteins and certified organic fruits, veggies, and botanicals. Primal Nuggets are portioned into small, easy-to-feed and rehydrated sizes. To feed, simply rehydrate with water for five minutes and feed.
Not quite ready to make a full switch to freeze-dried dog treat food? Primal Cupboard Cuts Freeze Dried Raw Toppers are a great way to help your dog adjust to this new style of food slowly.
2. Instinct Raw Freeze-Dried Dog Foods
The Instinct brand of raw freeze-dried dog foods focuses on giving your pet a natural and raw food diet that is as close to nature as possible. The recipes are all completely free of fillers, by-products, or artificial preservatives.
Choose from two lines of complete freeze-dried dog diets to best suit your dog's nutritional needs:
Instinct also offers options for including raw into other dog diet types, like their Instinct Raw Boost Mixers, including some solution-based formulas for common health problems in dogs, like Gut Health. For die-hard kibble feeders, Instinct Raw Boost Kibble helps introduce some raw nutrition into your dog's diet.

3. Bixbi Freeze Dried Dog Foods
Bixbi freeze-dried dog food offers numerous premium recipes containing balanced proteins, vegetables, and oils. The food undergoes an optimum freeze-dried process that locks in the vitamins, nutrients, flavour, and freshness.
The formulas are calorie and nutrient-dense, offering 98% meat, bone, organs, and pumpkin. Other superfoods like coconut and salmon oil ensure balanced nutrition and skin and coat support for dogs.
Feed Bixbi foods as a complete meal by rehydrating the food with water, or put a few bites on top of your furry friend's foods to entice a picky eater and add a little raw nutrition. You can even use the foods as a treat for training.
4. Stella & Chewy Freeze-Dried Dog Foods
Stella & Chewy freeze dried dog foods contain only the best ingredients that have been responsibly sourced from cage-free, free-roam, farm-raised, and wild-caught sources. Each balanced food variety contains no artificial additives, preservatives, antibiotics, colours, flavours, or hormones.
The brand has quickly become one of the most popular frozen-dried dog foods. The line includes freeze-dried full meals, meal toppers, flavour boosters, and even freeze-dried coated, oven-baked kibble for dogs.
When looking for a full-meal, raw dog food, Stella & Chewy's Dinner Patties are the best choice. They consist of 95% raw meat, bone, and organs, and nutrient-dense veggies and fruits to meet your dog's nutritional needs. The patties can be easily rehydrated with water or your dog's favourite flavourful liquid for a quick and easy meal.
Other Stella & Chewy's freeze-dried feeding choices include:
5. K9 Natural Freeze-Dried Dog Foods
K9 Natural foods are made fresh from all-natural New Zealand ingredients. The origins of the brand herald from Otautahi, Christchurch in New Zealand, but these freeze-dried dog foods are now available globally.
All of the recipes are free of wheat, sugar, rice, soy, gluten and artificial flavours, preservatives or additives. The food is formulated for easy digestion, so is an excellent choice for dogs with sensitive stomachs or food allergies.
K9 Naturals Freeze-Dried Feasts are formulated to support skin and coat, hip and joint, and muscle and weight management with nutrient-dense ingredients like green-lipped mussel, kelp, and pumpkin.
Or try K9 Natural Tripe Boosters to help boost digestion and add flavour to your dog's regular diet.
6. Acana Bone Broth Infused Freeze Dried Patties for Dogs
We might be a little biased, but we love a good Canadian brand. Acana offers Bone Broth Infused Freeze-Dried Patties for dogs, which are formulated without preservatives. The protein-rich recipe is made using human-grade freeze-dried meats, vegetables, and fruits, along with organ meats and bone for a complete diet.
The whole prey formula uses an optimal balance of 90% meat, cartilage, and organ and 10% fresh organic vegetables and fruits. Nutrient-dense bone broth is added to support your dog's joints and connective tissues and improve skin and cat.
Find this premium dog food diet in two formats, patties or content morsels, making it easier to portion out this food for dogs of all sizes. Acana Bone Broth Infused Freeze Dried Morsels can also be used as a meal topper. Just add a small scoop of morsels to any meal.
7. Nulo's FreestyleFreeze Dried Dog Foods
Nulo offers a full line of one of our best freeze-dried dog foods and treats that are loaded with animal-based proteins and other natural ingredients such as vegetables, fruits, and probiotics. The foods have all been designed to meet your dog's daily nutrient needs and provide a balanced and complete meal.
Each formula pairs a high-quality animal protein with a vitamin and anti-oxidant-rich fruit, like Nulo Freestyle Freeze-Dried Lamb and Raspberries, Beef and Apples, or Duck and Pear, just to name a few.
8. Open Farm Freeze-Dried Dog Foods
With their goal focused on crafting ethical and sustainable pet food, Open Farm uses humanely sourced and sustainably farmed ingredients to offer you a dog diet that you can feel good about. Open Farm Freeze Dried Raw Dog Foods lock in the nutrition and flavour of fresh raw ingredients in easy-to-feed morsels.
The protein-rich diets are made from 85% meat, bone, and organs, and organic fruits, veggies, salmon oil, and botanicals to maximize nutrition for dogs of all life stages. Use Open Farm Freeze-Dried Raw Recipes as a tasty meal topper, or rehydrate and feed as a complete and balanced diet.
9. Grandma Lucy's Freeze Dried Dog Foods
One of the most unique freeze-dried options we carry, Grandma Lucy's, doesn't look like your typical freeze-dried dog diet. The flaked freeze-dried formula hydrates very quickly, making mealtime a breeze.
The biggest difference between this formula and other brands on this list is that Grandma Lucy's isn't technically raw like most of the best freeze dried dog foods on our list. Ingredients are briefly blanched to eliminate bacteria before it is freeze-dried.
The fast cooking process leads to minimal nutrient loss compared to a typical cooked diet that is subjected to much higher heat. Grandma Lucy's Dog Diets are loaded with flavour and perfect for picky eaters.
Another reason we love Grandma Lucy's is their variety. They have several different formula types, each with different proteins and flavours, making this diet versatile enough for dogs with unique and specific needs.
10. Boss Dog Complete & Balanced Freeze Dried Raw Diets for Dogs
Good digestion is the root of good nutrition, and Boss Dog Freeze-Dried Raw Diet for Dogs is designed with your dog's digestion in mind. With 100% human-grade ingredients and a special probiotic blend, Boss Dog Freeze Dried Raw Diets boast superior nutrient breakdown and absorption.
A fish oil blend of Alaskan wild-caught salmon, pollock, and herring oils contributes to superior skin and coat, hips and joints, and overall health. The three formulas are easily interchangeable to offer better protein and nutrient variety.
Still haven't found the right food? Check out our full selection of the best freeze-dried dog food to help find the best formula for your pup.
15 Best Freeze Dried Dog Food FAQs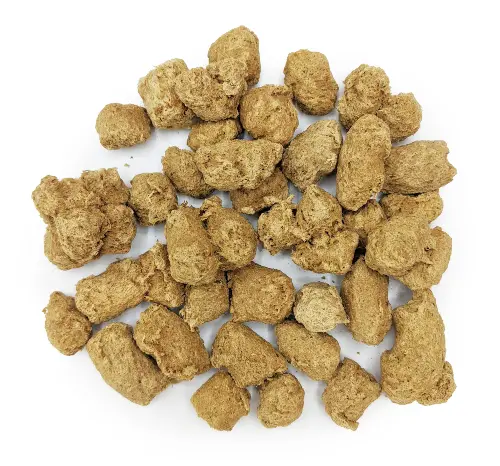 There is more to feeding freeze-dried dog food than just picking a high-quality formula. To help you prepare for this new dog food journey, we put together a list of the most asked question about the best freeze dried dog food.
1. What is the Best Freeze dried Dog Food?
It's hard to pick the best freeze dried dog food because different dogs have different nutritional needs. The best freeze dried dog food for your dog is a food that helps them thrive. Our list above is what we consider to be the 10 best freeze dried dog foods available in Canada.
Primal and Stella & Chewy's are some of the most popular brands, but there are plenty of excellent Canadian brands, like Acana and Open Farm, to choose from too!
2. What is the Difference Between Freeze Dried and Dehydrated Dog Foods?
The biggest difference between freeze-dried dog food and dehydrated dog food is that dehydrated foods aren't truly raw. The dehydration process requires hot air to evaporate and extract moisture, meaning that, in a sense, dehydrated foods aren't truly raw.
The heat used in freeze drying is so low that it doesn't cook or denature nutrients, leaving a food that is richer in nutrients and a more easily digestible final product than foods processed using higher heat.
3. Is Freeze Dried Dog Food Healthy?
Yes! Feeding the best freeze dried dog food is like feeding your canine companion a diet of fresh foods. The freeze-drying process locks in all of the nutrients and flavours of raw foods. Also, the freeze-dried process lets you store the food for an extended period without worrying about losing its nutritional value.
4. How Do I Feed Freeze Dried Dog Food?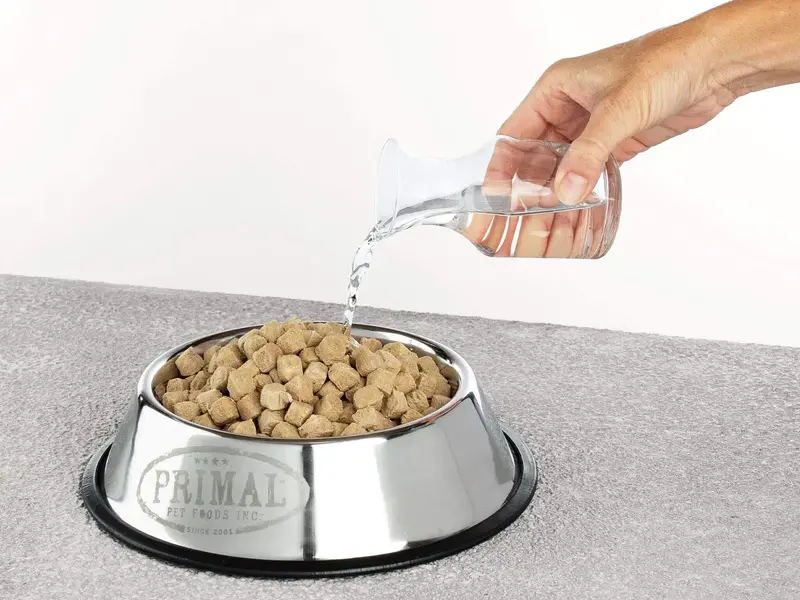 You can feed freeze dried dog foods right out of the package, but most manufacturers recommend rehydrating the food. Part of the benefit of raw fresh diets is the moisture, which can improve digestion and nutrient distribution.
Feeding a freeze-dried diet without rehydrating it could further dehydrate your dog, negating some of the benefits of the dog food format.
Many people add water to freeze-dried dog food to rehydrate the food prior to feeding, but you can add a little of your dog's favourite liquid treats, like goat's milk or bone broth, to further boost nutrition and palatability.
Feeding is simple. Just portion out your dog's meal, add the recommended amount of water, stir and serve immediately. The food can be made in advance and refrigerated or frozen for future meals.
5. How Long Can You Leave Out Freeze Dried Dog Food?
Once rehydrated, freeze-dried dog food should be treated similarly to raw meat. It should be fed right away, and never left out for more than 15-20 minutes, max. Uneaten portions can be refrigerated, but like raw meat, should be discarded if not used in 2-3 days.
6. Do You Have to Refrigerate Freeze Dried Dog Food?
Top freeze-dried dog food manufacturers usually sell their products in resealable bags to ensure freshness. There is no reason to refrigerate freeze-dried dog food in its dry form.
In fact, you can easily bring a bag of freeze-dried dog food when travelling if you have limited storage space and then rehydrate the food for your dog's meal when you get to your destination.
Once rehydrated, however, the food will need to be frozen or refrigerated to prevent bacteria growth.
7. How Long Does Freeze Dried Dog Food Last?
Always check the expiration date on the package of freeze-dried dog food to ensure freshness. Most popular freeze dried foods will last from 12 to 18 months, though once the package is opened, the food can get stale if not properly stored in a sealable package in a cool, dry area.
Hydrated freeze-dried dog food is only good for a maximum of 2-3 days if refrigerated. If you are meal prepping multiple meals in advance, a safe bet is to freeze the portion meals separately for up to a month.
8. How to Store Freeze Dried Dog Food?
Store freeze-dried dog food in an airtight container or resealable bag. Keep it in a dry location, away from humidity or direct sunlight, like a cupboard or a pantry. An air-tight dog food container is a good investment if the food you buy doesn't come in a resealable bag.
If you refrigerate unused or future portions, then ensure you have appropriate raw food bowls with lids, like Messy Mutt Raw Food Bowls. Metal will reduce bacteria build up and the lids will prevent cross-contamination, making the raw food safer to store in the fridge with your own food.
9. Is Freeze-Dried Dog Food Better Than Dry Kibble?
The freeze-drying process has the ability to preserve far more nutrients found in raw ingredients than dry kibble contains. With dry kibble, the cooking process denatures ingredients and their nutrients, leaving a product with fewer available nutrients that may be harder for your dog to digest.
Dogs should be getting a significant amount of moisture in their diets too, which is why we recommend rehydrating freeze-dried dog food instead of feeding it dry. Dry kibbles will gradually dehydrate your dog, while a rehydrated freeze-dried dog diet will hydrate them and improve overall health.
Learn more about why water is an important part of your dog's diet in How Long Can Dogs Go Without Water.
10. Is Freeze Dried Dog Food the Same as Raw Dog Food?
Almost. Raw freeze dried dog foods are essentially a raw diet without moisture. The nutrition, once rehydrated, will be almost identical, with insignificant differences.
Top freeze dried dog food brands, like Grandma Lucy's Artisan Pork Formula, are neither raw nor cooked but somewhere in the middle. They retain way more nutrients than cooked dog food, like kibble or canned, but do lose some nutrition in the blanching process.
Learn more about the benefits of raw dog food diets in our Raw Dog Food Beginners Guide.
11. Which is Better, Dehydrated or Freeze-Dried Dog Food?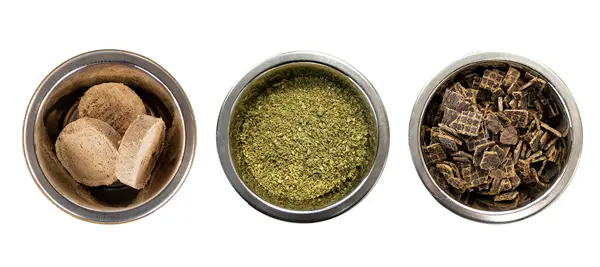 Both freeze dried and dehydrated dog foods are healthy options for your pet, though freeze-dried will be a little closer to fresh raw pet food than dehydrated dog food is. Both offer plenty of nutrients and flavour.
Some dehydrated foods are designed to be fed as is or not rehydrated, making freeze-dried dog foods a better option, especially for dogs with digestive or skin issues.
12. Is Freeze Dried Dog Food Safe?
The process of freeze-drying dog food carried out correctly results in safely preserved food that retains nutrients, colour and flavour. Most consider the process of freeze-drying one of the safest modern food handling methods available.
The best freeze dried dog food undergoes a sanitization process called High-Pressure Processing to eliminate bacteria like E. coli, listeria, or salmonella. While this does make the foods much safer to handle, HPP will also eliminate healthy bacteria that are naturally present in food.
Some believe that the food is no longer truly raw, but we still believe that freeze-dried diets for dogs are highly nutritious and digestible.
13. Does Freeze Dried Dog Food Contain Bacteria?
It can, just like a fresh raw dog food can. Fortunately, healthy dogs can easily combat this bacteria due to their acidic stomach acids and superior digestion. We, on the other hand, need to be aware of the risks when handling raw freeze dried dog foods.
Safe handling practices, the same you would use when handling any raw meat, are recommended. It requires a little bit of common sense, but handling your dog's food properly is essential, no matter what kind of dog food or dog treats you feed.
14. How Much Freeze-Dried Dog Food Should I Feed My Dog?
Feeding guidelines differ by brand, just like they would with kibble or canned dog food. You should always follow the manufacturer's recommended feeding instructions printed on the label of the dog food.
The brand will offer portion recommendations based on not only the formula and calorie content but also the size or shape of the food. Bigger patties or pucks are often measured by unit, while popular freeze dried dog foods that are flaked or pressed into small pellets will be measured in scoops or cups.
All feeding guidelines are an average recommendation based on weight, but that doesn't always mean they are right for your specific dog. Age, activity level, and even breed may contribute to how they process and use calories, so make small adjustments as needed to help your dog maintain a healthy weight and muscle mass.
15. How to Make Tasty Freeze Dried Dog Treats
There are so many homemade dog food and dog treat recipes out there, so you might wonder if you can freeze dry dog food at home. You can, but it would require a very expensive home freeze dryer, running up a bill of well over a couple of grand.
Alternatively, dog treats may be a little easier to freeze dry at home. The small pieces will naturally dry in the freezer if left long enough. A minimum of a week in the freezer is needed, possibly more, depending on how thick the treats are and how wet they started.
It's a lot of work, so if you don't have weeks to wait on dog treats, then check out our selection of delicious freeze-dried dog treats.
Does your dog's diet include one of our best freeze dried dog food? Let us know in the comments below!