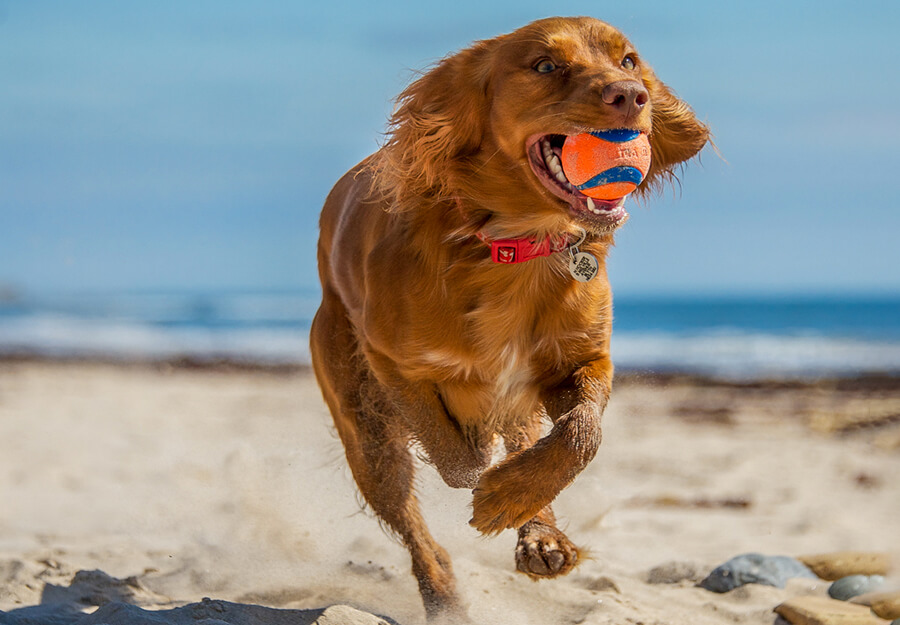 If your dog is a toy enthusiast, then you've probably spent some time browsing the toy section of your local pet store. Here are our 50 best dog toys for dogs that love to play!
Whether you are looking for outdoor dog toys, tough toys, floating dog toys, puzzle toys, or even the most obnoxious squeaky toys, it's always nice to find something new. This is our ultimate list of the best outdoor dog toys. Don't take our word for it, though.
Our list is by our customers, for our customers. We took a look at which outdoor dog toys our customers love the most and divided them up by the type of playtime these toys are best for.
These toys might be exactly what you need to spice up your dog's vast toy collection. Find the toys that best suit your dog's favourite activities and games.
Best Outdoor Dog Toys
Outdoor dog fetch toys are an important part of your dog's daily routine. They are designed to be tough enough to stand up to the elements and your dog's higher energy activities. Choosing the right outdoor dog toy depends on not only your dog's favourite games but also the environment you are playing in.
Toys for the dog park, for example, should be simple and ideally cheap because dog toys can easily get mixed up with another pup's toys and can get damaged or lost, so don't bring an expensive or treasured toy to the park.
Alternatively, summer dog toys for the backyard can be a little bigger and meant for different types of play, like tug-o-war.
If you are thinking, my dog doesn't like toys, don't worry, our list literally has something for any dog, no matter how rough or relaxed their favourite playtime activities are.
Later we'll talk about the best indoor dog toys, but first, let's look at our favourite outdoor dog toys:
Best Fetch Dog Toys


The farther you can throw it, the faster they run. Dogs who love fetch can be tireless, but these toys may just give them a run for their money. Fetch toys are perfect for the park, the beach, or even just the backyard.
1. Chuck It! Launchers
If your dog loves to fetch, but you hate slobbery, wet tennis balls, the Chuckit! Ball Launcher is the perfect addition to your dog's toys. You can throw tennis balls (and Chuckit has a variety of durable, unique balls to choose from, including glow-in-the-dark balls) without ever having to handle them.
What is not often mentioned is that you can actually throw tennis balls further with the Chuckit! Ball Launcher, so it also makes an excellent toy for the dog that never seems to get enough fetch.
2. West Paw Design Sailz Dog Toy
West Paw Sailz Dog Toy is made from recycled Zogoflex and Seaflex material, making it durable, lightweight, and gentle on your dog's mouth. The brightly coloured toy soars great distances to give your dog a high-energy workout.
This is an excellent toy for the dog park, where your dog has a lot of space to run free. It also floats for dogs who love the water and is backed by West Paws Love It Guarantee.
3. Ruffwear Huck-a-Cone
The Ruffwear Huck-a-Cone Toy is perfect for active fetchers. Its erratic bouncing quality keeps your dog engaged. The polypropylene handle gives the thrower a good grip so you can launch the toy farther and keep your dog moving.
Its soft rubber design makes the Huck-a-Cone easy to pick up and gentle on the teeth and gums. Although it is a great fetch toy, it can also make for a pretty fun game of tug.
4. Kong Wubba Fetch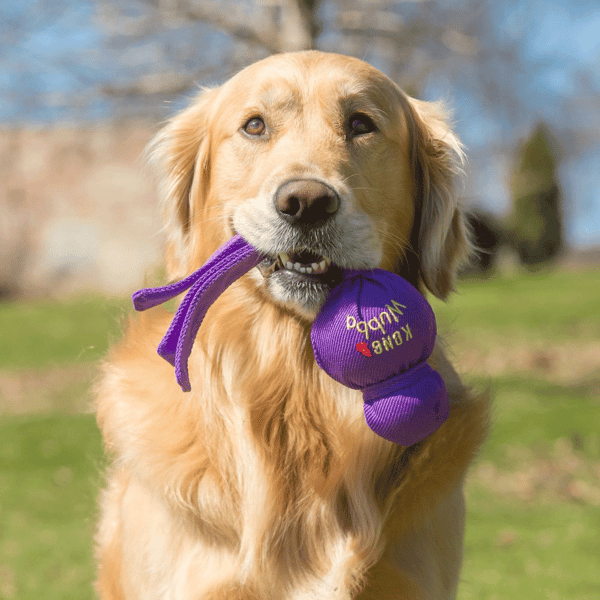 Kong is known for its wide variety of best summer dog toys, but when it comes to playing fetch, the Kong Wubba Fetch is one of our favourites. The durable nylon fabric is tough enough to stand up to dogs that fetch hard, and the larger squeaker ball is sure to get your dog excited.
The nylon tails make it easy for you to toss and even easier for your dog to pick it up. This fetch toy doesn't have a long range like some of the others on our list, so it's better suited to smaller outdoor areas like your backyard.
Best Fetch Toys for Small Dogs
Just because they have short legs doesn't mean that small dogs don't love to play, run, and wrassle just as much as their larger friends. Making toys fun for small dogs means choosing the right shape and size for their little faces.
5. fouFIT Pill Spiker
Small mouthes need small toys, and the foutFIT Pill Spiker is the perfect lightweight fetch toy for little dogs. This spiky rubber toy bounces erratically when it hits the ground to keep your little pooch guessing. The spikes are soft rubber, making this a comfortable chew toy as well.
6. JW Hol-ee Roller Ball
Regular tennis balls are just too big for most small breeds, but there is no reason that your tiny pooch should miss out on his favourite daily game of fetch. The JW Hol-ee Roller Ball comes in an extra small size for even the smallest breeds to chase after and pick up.
The large holes in the bouncy ball allow your dog to grip it easily, and it's light enough to catch mid-air if your pooch is graceful enough to do so.
Best Dog Balls
Balls are a dog's best friend and make for the best toys for active dogs. These unique toys are a twist on the old classic, giving your dog more of what they want.
7. Kong AirDog SqueakAir Tennis Balls
These Kong tennis balls might be a mouthful, but the idea behind them is simple. Dogs love tennis balls, and dogs love toys with squeakers. Put both together, and what have you got? The Kong Airdog SqueakAir Tennis Balls. They're more fun than ordinary tennis balls, and they come in different sizes to suit your dog.
8. ZippyPaws ZippyTuff Squeaker Ball
A fun twist on a classic ball, the ZippyTuff Squeaker Ball is lightweight and extra bouncy. The deep ridges of this ball offer an erratic bounce to keep your dog guessing where it's going to land.
Made from durable TPR material, this ball is tough enough to handle high-energy fetch and light chewing, plus it has a built-in squeaker for added entertainment.
9. JW iSqueak Bouncin' Baseball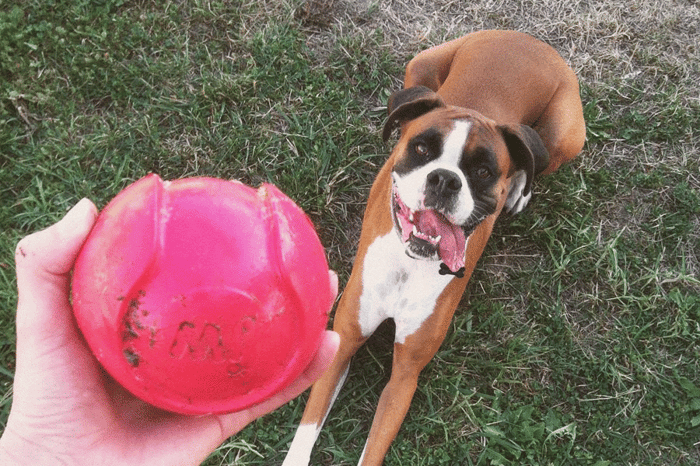 @thepuppytheycalljayne / Via Instagram
JW is known for its unique rubber toys, and the JW iSqueak Bouncin' Baseball is no exception. The appeal of this ball comes from its internal squeaker, nearly indestructible rubber exterior, and its unique ridges for better grip. It also has an excellent bounce.
Best Glow-in-the-Dark Dog Toys
Depending on your schedule or the weather, evening or dusk might be the ideal time for you to get some outdoor activities in with your pooch. These toys are designed for dogs that love the nightlife.
10. West Paw Zisc Glow Disc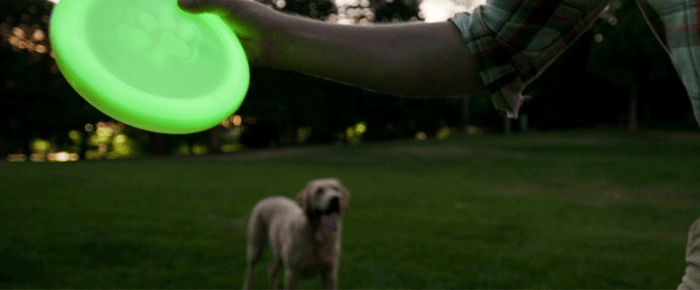 Frisbees are too easy to lose in the grass, especially when the sunlight starts to fade. The West Paw Zisc Glow Disc glows in the dark, allowing your dog to spot the disc from afar.
This disc is made of flexible, 100% recycled material that bounces, floats, and is dishwasher-safe for easy cleaning. To activate, make sure you hold the frisbee under light for at least five minutes to ensure that your frisbee is glowing bright colours.
11. Planet Dog Luna Ball
Another glow-in-the-dark option is the Spunky Pup Squeak & Glow Football. This tough football is an excellent fetch toy for low-light conditions that is made from textured, durable, non-toxic materials.
It bounces, floats, and comes in easy-to-see neon colours, making it perfect for any type of indoor or outdoor playtime.
12. Chuck It! Max Glow Balls
Sometimes the daytime temps are just too high, so evening playtime is safer. Never lose a tennis ball again with the Chuck It! Max Glow Ball. No batteries are required, just let it charge in the sun, and it will glow brightly for your next evening game of fetch with your dog.
This ball comes in two sizes and fits into the appropriate-sized Chuckit! Launcher to give your dog a really vigorous workout.
Best Dog Rope Toys
13. Playology Dri-Tech Rope
This is more than just your average rope toy. Playology knows that your dog is driven by scent, so all Playology Dri-Tech Rope toys are infused with some of your dog's favourite smells that release as he chews.
As a safer alternative to traditional rope toys, Dri-Tech Ropes are designed to be tougher than regular rope toys and are moisture-resistant to keep the rope drier and cleaner.
14. Mammoth Dog Ropy Toys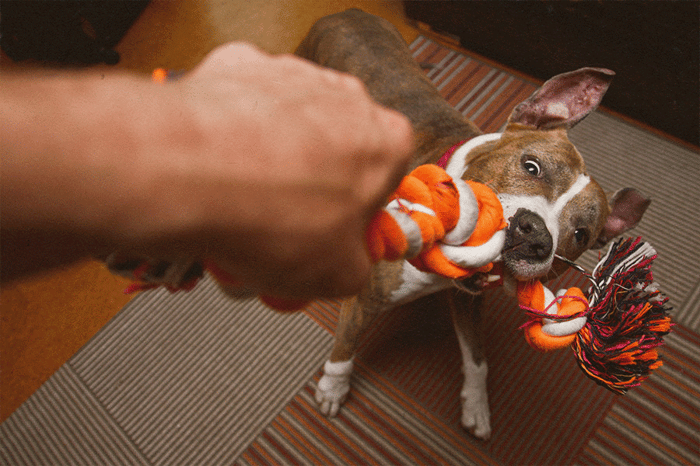 Flossy rope bones are some of the simplest yet best dog tug toys out there. The Mammoth Rope Bone Tug makes the perfect outdoor summer toy because of its sheer size.
At 48"+, it's the perfect toy for large and giant breed dogs, but your dog will have fun dragging this no matter what his size. Added bonus: the premium fibres also floss your dog's teeth during play!
15. Define Planet Hemp Braided Rings
Are you looking for a more eco-friendly rope toy? Then Define Planet is the brand for you. It is made from 100% hemp fibre for a durable rope chew that is made without the use of pesticides.
Even better, the hemp-fibre material is naturally antibacterial to prevent mould and mildew build-up. The Define Planet Hemp Braided Rings will help to gently remove oral bacteria as your dog chews to improve his overall dental health.
16. Beco Pet Ball with Rope
Finally, a tug toy that you can feel food about. The Beco Ball with Rope is made from 100% sustainably sourced natural cotton, and the ball is a durable and flexible rice husk rubber.
The material is soft enough to be comfortable to grip and chew but tough enough to stand up to rougher play. Either get your dog excited about a rowdy game of tug of war or use the rope to get some real distance with a game of fetch.
Best Dog Water Toys
Is your dog a water dog? Everyone loves a cool dip on a hot day, and that includes your dog. Swimming is a great way to exercise your dog, and a good floating dog toy can make every swim into a fun and exciting game.
Some dogs just love water. They head straight to the lake at the dog park, fearlessly dive into the pool at every opportunity, and even roll in every muddy puddle they pass. If this sounds like your dog, then these best dog toys are a must-have accessory.
17. Ruffdawg Peanut/Weenut Crunch Toy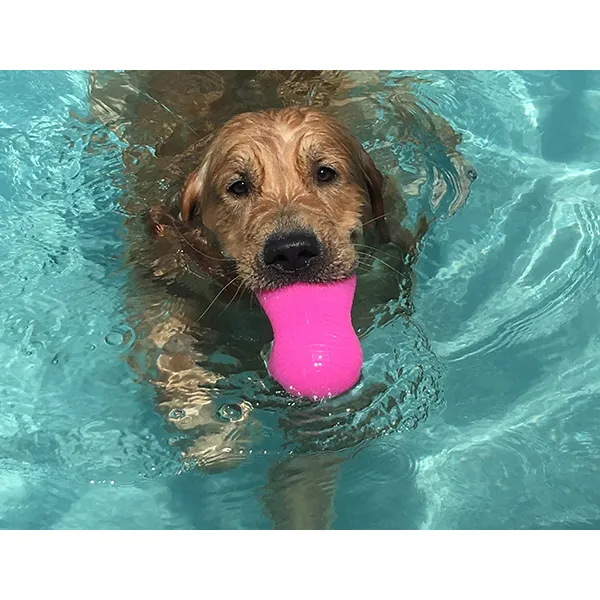 The Ruffdawg Peanut and Ruffdawg Weenut are the ideal toys for water dogs that play rough with their toys. The highly durable dog toy is lined with a crunchy material for a satisfying mouth feel. The floating toy is lightweight and suitable for water fetch, and durable enough for tougher chewers.
18. Ruffwear Floating Toys
We love Ruffwear so much that we couldn't pick just one, so all three of Ruffwear's floating dog toys made our list. These summer top dog toys include the Ruffwear Lunker, the Hydro Plane, or the Hover Craft to suit your dog's size and play style.
Made from durable fabrics (like nylon, polyester and kodra), Ruffwear toys are the best option for dogs who typically prefer a plushier texture. The Hydro Plane and Hover Craft are frisbee designs, ideal for long-distance fetch, while the lunker can be used in pools and for shorter distances.
19. Chuck It! Flying Squirrel
This water toy flies like a frisbee and floats like a ball. The Chuck It Flying Squirrel is a great lightweight toy for dogs that love water. Its durable canvas material is easy to catch and grab in the water.
It doesn't fly as far as a typical frisbee or fetch toy, making it ideal for short-range fetch in the lake. For evening activities, the rubber 'paws' on each corner will glow in the dark, making it harder to lose and will keep your dog focused on the game.
20. Jolly Pet Bounce N' Play
Not every dog has access to large bodies of water. If your dog is perfectly content in his very own backyard doggie pool, then you're going to need a toy designed for a different type of game. The Jolly Pet Bounce N' Play is available in two sizes, colours, and scents to encourage playtime for dogs of all ages and sizes.
The Jolly Pet Bounce N' Play Ball is designed to be pawed, nudged, and pushed around the pool. Its durable material can't be punctured but won't deflate. This is ideal for group play with multiple pets and kids.
21. JW Pets Mega Egg
Another dog-friendly pool toy is the JW Pets Mega Egg. This indestructible, hard plastic egg is perfect for dogs that tend to wreck their toys too easily. If they can't get their mouth around it, they can't bite it.
Because your dog can't use his powerful jaw to crush this toy, it's designed to be chased, pawed, and kicked. This floating egg will bob around the pool, giving your dog a workout as he chases and bumps the balls.
Best Dog Tug Toys
You can play a game of tug almost anywhere. But like most things in the summertime, it's just better outside. Check out these toys that your dog definitely won't mind getting a little dirty in the great outdoors this summer.
22. Chuck it Ultra Tug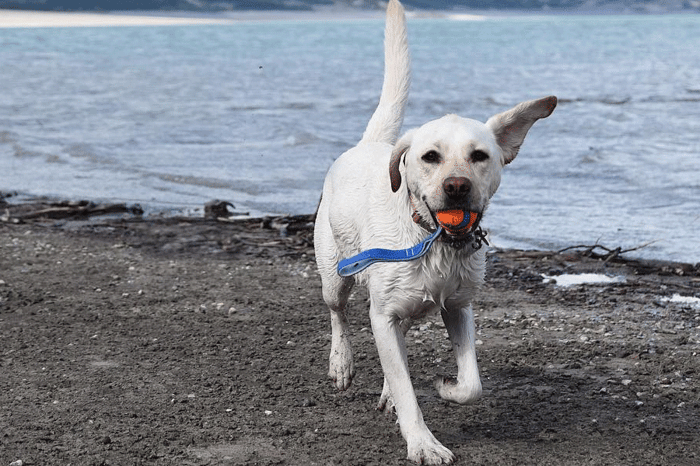 from @ farley_the_labrador/ via Instagram
Does your dog love balls but loves to tug too? Well, the Chuckit Ultra Tug might be the perfect solution. It throws like a normal tennis ball but has a durable handle to allow for mini tug o' war sessions between throws.
The Chuckit ball also floats, so go ahead. Launch that ball right into the lake and let your dog dive in after it. It also fits the Chuckit ball launcher to get some serious distance.
23.

Sodapup USA K9 Magnum Dog Toys
For serious pullers and powerful pups, the Soda Pup USA K9 Magnum dog toy is durable enough to withstand even the best tug-o-war champions. Plus, this rubber toy makes a great and long-lasting chew toy for dogs with powerful jaws.
The ridged sides give your dog a good grip but also help to massage your dog's gums and clean teeth while they chew.
24. Jolly Pet Jolly Tug
Tug games are often unbalanced, with our pets having a better grip on the toy than us, but the Jolly Pet Jolly Tug gives you a little more leverage. With two thick easy-grip handles, this tug toy allows both you and your dog to be evenly matched.
For multi-dog households, this is a great toy for group playtime. This is one toy that you can let them fight over.
25. West Paw ZogoFlex Bumi
The West Paw ZogoFlex Bumi is made from 100% recyclable materials but is strong enough for tough tuggers. All West Paw Zogoflex toys are backed with a 100% toughness guarantee, so let your dog pull to his heart's delight. Its unique shape makes it a great fetch toy too.
It's dishwasher safe, and it floats, so no matter how grimy it gets in the lake, you can keep your Bumi safe and fun for your pets.
Best Indoor Dog Toys
Though your dog may prefer to spend all day playing outside, having a good selection of indoor dog toys can provide your dog with plenty of stimulating activities to do in the house. Best dog toys are great for keeping your dog busy when you aren't home and even when you are, but you just need some time to do human stuff.
Whether your puppy needs a distraction when home alone or a quiet activity to provide some mental stimulation, then the right indoor dog toys will help. Here are some of our favourite indoor dog toys:
Best Puppy Teething Toys
New puppies may be delightful, but if you don't provide them with quality chew toys to satisfy their teething instincts, something in your house may suffer. And most likely, it's going to be something new and expensive.
Puppies explore with their mouths, and during their teething stages, they instinctively chew to soothe their aching gums and loosen those baby teeth.
Rather than stopping your puppy from chewing altogether, you need to teach your puppy what is acceptable for them to chew and what is not. The best way to ensure your teether doesn't chew up the couch (or something else) is to provide a variety of the best teething toys for your new puppy.
26. Kong Binkie

When it comes to the best toys for new puppies, Kong is a universally recognized brand. Their durable dog toys stand up to most chewers, and their toys come in interesting and engaging shapes that dogs just seem to gravitate to.
Aside from being absolutely adorable with its pacifier shape, the Kong Binkie is made of durable, high-quality rubber. The Kong Binkie is softer and has a bit more resistance than standard Kong chew toys for dogs.
It is the perfect blend of tough and tender – this soother will alleviate your puppy's sore gums and satisfy their need to chew. It also has an irregular shape that will bounce erratically, much to the delight of your puppy. Like most Kong dog toys, they can also be stuffed with treats or chews. The Kong Plush Beaver Toy is another great option for puppy toys.
27. Nylabone Puppy Teething Pacifier
Here's the second soother to make our list - the Nylabone Puppy Teething Pacifier. Other than just being cute, this puppy toy is textured, making it the perfect choice for soothing teething pain.
The nubs help to clean teeth and gums and remove bacteria that settle at the gum line. The two pacifiers move freely on the ring, so it makes for a fun toy that flops around when your puppy shakes it. Check out Nylabone Puppy Teething Keys too. They are a similar products with slightly different shapes and mouthfeels.
The only downside to this puppy toy for teething is that it is recommended only for dogs under 15 lbs, so it may not be the best choice for medium or large-breed puppies.
28. Beco Pets Bone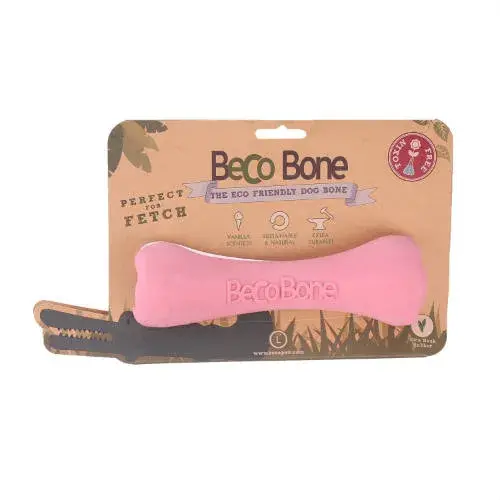 The Beco Pets Bone is made of all-natural rice-husk rubber and is our most environmentally friendly choice on this list. Made using an eco-sustainable production process and composed of green materials, the Beco Pets toys are an option that both you and your puppy can feel great about.
Your puppy will love gnawing on this bone, which sports a fresh vanilla scent that is completely non-toxic. The flexible yet durable Beco Pets Bone is soft on sensitive teeth and yet will stand up to tough chewing.
29. ZippyPaws ZippyTuff Squeaky Ring
The perfect mix of tough and gentle, the ZippyPaws ZippyTuff Squeaky Ring is soft enough to tooth the gums of your teething pup but tough enough to stand up to those sharp puppy teeth.
ZippyTuff Squeaky Ring can be tugged, chewed, or tossed for a variety of fun and engaging games. The enticing squeak is perfect for keeping your puppy's attention.
30. JW Snail Chew-ee Teething Toy
This multi-purpose toy is best suited for small to medium-breed puppies. The JW Snail Chew-ee Teething Toy is made of soft rubber and is covered in small nubs to help massage the gums and ease pain from teething.
This toy is suitable for light chewing but can also be a fun and safe fetch toy. The rubber material bounces erratically to keep your puppy guessing.


Best
Tough
Dogs Toys
If you have an aggressive chewer at home, then the term "indestructible dog toy" is laughable. Finding durable dog toys that your dog can't shred immediately can be very frustrating, but this doesn't mean we should deny them their favourite jaw-exercising pastime, right?
Of course not!
You need a toy that is safe, makes your dog happy, keeps him occupied, and doesn't feel like a waste of money. So if you're wondering which outdoor dog toys will last the longest, we've got you! Here are several of our top picks for the best dog outdoor toys Canada for a heavy chewer.
31. Kong Classic Extreme
Kong Extreme is another classic chew toy from Kong that continues to get recommendations. Built with ultra-strong and durable rubber, the Extreme Kong is designed to stand up to the toughest chewers. Stuff treats, treat paste, or peanut butter into the toy's cavity and watch your dog go crazy for it.
A lot of indestructible chew toys are just designed for chewing, but they can be so much more. Kong can be tossed, stuffed, frozen, chewed, chased and more. It's intended for both solo and interactive play. Although it's marketed to power chewers, that doesn't limit this toy to large breeds and big jaws.
Kong dog toys are available in small to extra, extra-large! Power chewers come in all shapes and sizes, and Kong has an option for all. Find out some cool ideas for how to use a Kong and make playtime even more exciting.
32. Benebone Chews
On a lazy summer day, why not give your dog a Benebone for something to do? With their easy-to-chew design and flavours, from chicken to bacon to peanut butter, your dog will thank you by munch, munch, munching away for hours.
These bones also work as a dog teeth-cleaning toy. They provide a super way to clean your dog's teeth and give their jaw a good workout. The best part? No artificial flavours or chemicals. They come in multiple sizes to suit most dog breeds.
33. Beco Pets Bone
Another durable dog toy that your canine family member will love is The Beco Bone! The Beco Bone is made of natural, sustainably sourced rice husk rubber. Rice husk rubber is non-toxic and completely safe for chewing.
The vanilla scent and soft texture are enticing for teething puppies but still durable enough for powerful chewers. The Beco Bone features a small opening on either side that allows you to stuff it with crunchy dog treats or food for mental stimulation or slow feeding.
It's available in small, medium and large, so you can pick the size that's right for your dog's jaw. Similar to some of the other super tough chew toys on this list, the Beco Bone also has a lifetime guarantee.
34. Playology Dual Layer Ring
Photo Credit: @bend.brothers
Not all chew toys are rock-hard. The Playology Dual Layer Ring is perfect for tough chewers of all ages. Its soft outer layer is pleasing to the palate, but the durable inside makes this toy stand up to the most determined chewers.
Don't think this one is just some boring old toy. The Dual Layer Ring is infused with microscopic scent bubbles to keep your dog chewing and focused. Dogs are guided by smell much more than taste, so this toy is sure to have their tails wagging. It's not just a chew toy, either. The Dual Layer Ring can be used for Fetch, tug, hide-and-seek and more.
All scents are naturally sourced from small amounts of protein. That means no chemicals or artificial ingredients. Choose from chicken, peanut butter, or beef. The Dual Layer Ring is available in three sizes to meet your dog's needs and preferences.
35. Tasty Bones
A durable nylon design and unique shapes make the tasty bone line an extremely popular chew toy. Tasty Bones infuse their products with natural flavouring to make them more desirable. They are not simply coated, like other products of this nature, but saturated throughout to keep your dog engaged for longer.
There are four size options for the most popular bone style and a variety of alternative shapes and flavours, like their toughest option, the Trio Bone.
Tasty Bone offers a 100-day guarantee on any of their Trio Bone products because they are sure that these toys will be able to hold their own. For most of us larger dog owners, 100 days may be the longest that any toy has ever lasted in our homes. Tasty bones are available in a variety of flavours, including lamb, chicken, bacon and even some fancier two-pack options like steak and prawns. Yum!
36. Planet Dog Guru Ball
The Tuff Guru Ball is the perfect blend of durability and puzzle. It has Planet Dogs' highest durability rating of 5 out of 5, meaning that it can stand up to even the toughest chewers.
The ball features 4 long vertical slits that can be stuffed with kibble, treats, or pet-safe peanut butter. Keeping your dog busy, thinking, and out of trouble has never been easier. Additionally, this toy is designed to hold larger treats to offer maximum chew time. Take your dog's favourite natural chew, like bully sticks, and slide them right through the center hole of the Guru Ball.
Best Plush Dog Toys
Most pet owners have a love/hate relationship with plush toys. Most dogs love them, but their instincts tell them to rip them apart. Best plush dog toys for chewers It's hard to justify spending money on something that will be destroyed so quickly. Before you rule out plush toys forever, take a look at our favourite, most durable plush dog toys that are totally worth it.
37. Tuffy's
Photo Credit @ivyinthewild
Another of our favourite brands here at Homes Alive Pets, the Tuffy's line definitely lives up to its name. They have an assortment of cute and cool animals, dinosaurs and shapes to try. They rate their toys based on durability, and although the shapes are usually the most durable, we can't resist the dinosaurs.
They make toys for large dogs of all shapes and sizes, from extra small to extra giant - up to 27 inches tall! Seven rows of stitching holding together seven rows of fabric are then improved upon with an additional layer of webbing for the mega and ultimate sizes to make these the most intense plush toys in the game.
A popular choice is the Triangle Ring. It's double-layered with durable polyester fibres and stitched together twice to make sure this plush can take a beating. It's lightweight enough for fetch and rugged enough for tugging and shaking!
38. Smart Pet Love Tender-Tuffs
Tender-Tuff toys use proprietary TearBlock technology to provide a more durable plush toy experience. Smart Pet Love makes toy options for all types of playing and for all sizes of dogs. Although your dog will play however they feel comfortable during solo play-times, Tender-Tuff has specific lines to encourage fetching, tugging and shaking during interactive play.
Perfectly sized options for both small and large breeds are available, and the comfort line is ideal for new puppies who desire to nap with a soft, cozy friend.
39. Spot Skinneez
Skinneez, named for their lack of stuffing materials, are available in a huge selection of animal styles and sizes to help you find the best, most exciting option for your dog. Skinneez are extremely lightweight and, of course, still contain that precious squeaker to encourage your dog's hunting habits.
They may not look tough, but they are surprisingly durable. Their stuffing-less nature makes them perfect for fetch, tug, or hide-and-seek games. These realistic-looking toys are ideal for hunting and retrieving breeds too.
40. Tall Tails Natural Leather
These dog rope toys are made using natural leather, wool felt coverings and heavy-duty stitching in various sizes and adorable shapes. Tall Tails has tug options made of natural untreated cotton rope to make this plush more versatile and interactive.
All of their natural leather products are free of any chemicals and artificial colours or flavours, making this toy not only durable but safe. They can be chewed, tossed, or tugged to spice up your dog's play routine.
41. Outward Hound Invincibles Snake

No one likes cleaning up stuffing, so try the Invincibles Snake instead. In place of stuffing are large squeakers that continue to squeak even after they've been punctured. It may not sound appealing to you, but your dog will love it.
This toy comes in three sizes to suit your pet: 3 squeakers, 6 squeakers, and the aptly named Ginormous Snake with 12 Squeakers – so if you're not a fan of toys with squeakers, I would stay away from this one!
Ever wondered why dogs love the sound of squeaky toys? It speaks to their hunting instincts! The squeak resembles that of a scared or injured prey.
Best Dog Puzzle Toys
Playtime doesn't always have to entail tugging or chasing. It can also involve learning and games for the brain! Our four-legged family members need smart dog toys that offer mental stimulation to prevent boredom and depression, which can lead to misbehaviour. Puzzle toys and treat-dispensing toys are an excellent way to exercise your dog's mind while rewarding him with a special treat at the same time.
42. Nina Ottoson Brick Puzzle
Give your dog a mental workout with the Nina Ottoson Dog Brick Puzzle. The perfect indoor game for cold weather and rainy Sundays, the Dog Brick combines a multi-step puzzle with some tasty and rewarding treats.
Stuff each slot with your dog's favourite snack and watch as they nudge, paw, and slide the pieces to uncover the hidden treasure.
43. ZippyPaws Smarty Paws Puzzler
The ZippyPaws Smarty Paws Puzzler is a fun, interactive puzzle toy that can be adjusted to your dog's level of difficulty. Each level involves treat-dispensing that gets more advanced each time.
For dogs that are new to puzzles, level one makes it easy for them to slide their paws into the compartment to win their treat. The second level takes it up a notch with rotating panels that hide the treats to give your dog an extra challenge. The third level makes it a little more tricky for them, with an additional flipping panel requiring a bit more effort to earn the treat!
44. Flipo Busy Paw Interactive Toy
With multiple puzzle styles in one convenient toy, the Flipo Buy Paw Interactive Toy will challenge your dog's problem-solving skills. Stash tasty treats in any of the several hiding spots and let your dog nose and paw the pieces around to uncover the hidden treasures.
The Busy Paw is just one of several interactive puzzle toys from Flipo, including slow feeders and options for small dogs and cats.
45. Aikiou Interactive Dog Feeder
Looking for a way to make mealtime fun again? The Aikiou Interactive Dog Feeder can be used as a fun puzzle toy to keep your dog's mind active or as an exciting way to make mealtime a little more challenging.
The puzzle has 14 chambers to store small treats, kibble, or even freeze-dried food. Your dog can paw, nudge, and sniff out the tasty morsels. It's even dishwasher safe, making clean-up a breeze!
Best Treat Dispensing Dog Toys
An effective way to get your dog interested in toys is to pair them with food. Treat-dispensing toys can be both mentally and physically stimulating and allow your dog to practice his foraging skills.
46. Outward Hound Carrot Stuffer Treat Dispensing Dog Toy
This versatile treat-dispensing toy is both soft and durable. The Outward Hound Carrot Stuffer can be stuffed with various treats or food to give your dog a fun and delicious task. The fabric carrot top makes the toy easy to chuck and pick up for interactive playtime.
Jam it full of goodies and give it a toss to get your dog excited. This is an excellent toy for slow feeding or just to keep your dog occupied and mentally stimulated.
47. West Paw Qwizl
West Paw has a patented soft elastic shell that is 100% recycled, BPA and Phthalate-free, called Zogoflex. It's meant for tough chewers and can be filled with a variety of treats and or used as a bully stick holder to encourage lost-lasting chew sessions.
The West Paw Qwizl is rated 4 out of 5 for toughness. The design enables this toy to squish and bend with pressure from the jaw instead of slicing or tearing. It's also completely dishwasher safe, so you can keep the Qwizl safer for your pet by sanitizing it as needed.
48. Flipo U.F.O. Ultimate Feeding Object
Another of Flipo's fun toys, the U.F.O. is our most exciting slow feeder. The Flipo U.F.O. spins and wobbles with the flip of a paw, letting your dog forage for his food or treats and slowing him down to improve digestion.
The top is made from silicone and is removable for easy cleaning, and the feeder is large enough to hold full meals or just your dog's favourite snacks for a variety of uses.
49. Kong Wobbler Toy
If your dog needs a real challenge or just a more time-consuming activity, the Kong Wobbler will do the trick. The Kong Wobbler wobbles, spins, and tips, but it just won't stay down, making sure that your dog has to continue to bat it around to get out his goodies one at a time.
This is not a chew toy, but it is made of thick, durable plastic to stand up to rough play from dogs of all sizes. It's available in two sizes to best suit your breed and their play style.
50. Kong Gyro Interactive Dog Toy
For a toy that will encourage even your lazy dog to move around, check out the Kong Gyro Interactive Dog Toy. This treat-dispensing toy is fun to push, flip, and roll across the room. It's a great option for dogs that are still learning how to use puzzle and interactive toys.
The spinning ball holds a variety of sizes of treats, or dog kibble, while the ring prevents the ball from rolling too much and dropping all its treasure too quickly or easily.
How Many Toys Does a Dog Need?
That's entirely up to you! Some pet owners enjoy spoiling their dogs with buckets of toys for every occasion. Others keep just a few of their favourites around the house. In our opinion, you can never have too many toys for your furry best friend!
If we had to decide on a number, we would say that it's best to keep at least four or five best dog toys Canada in rotation for chewing, fetching and other entertainment. You'll discover new fun quirks and other things about your dog when you introduce new types of toys to her!
We hope this ultimate list of the best dog toys provides you with ideas for your dog's next favourite toy! Play on :)