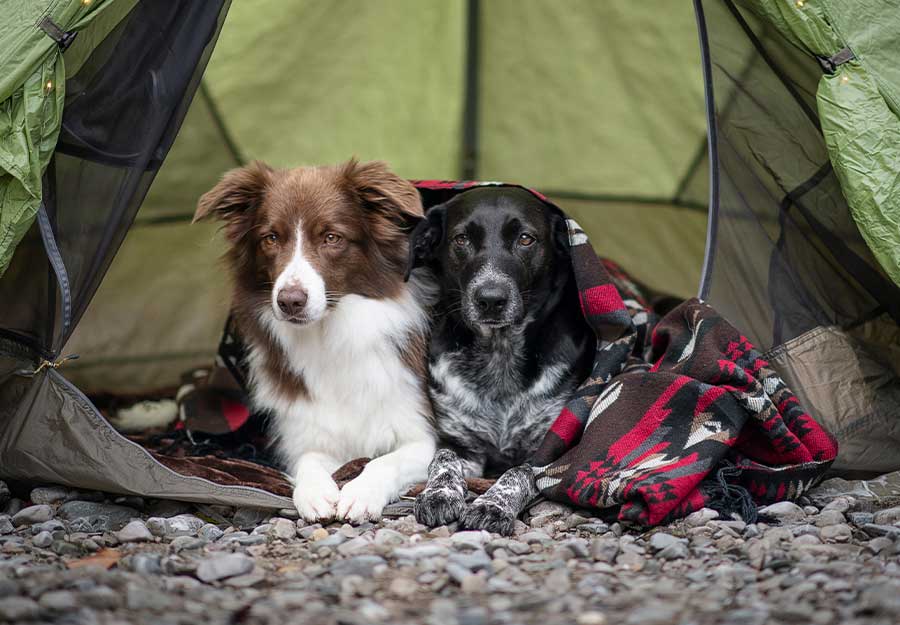 Be prepared when bringing your pet along on your next outdoor adventure with this ultimate checklist for hiking or camping with dogs. Get tips for what to remember, what to bring, and the best Canadian dog-friendly camping spots to enjoy.
Whether you are an expert outdoorsman or a novice fly-by-the-seat-of-your-pants adventurer (like me), bringing your dog along for the trip requires some planning and the right outdoor gear to conquer any trail hazards.
To help you keep your dog safe and leave no trace so both of you can enjoy the great outdoors safely and responsibly, we've put together this guide to everything you need to know about hiking and car camping with your dog.
As a dog owner, you want your canine companion to stay safe and enjoy the outdoor adventure on any backpacking trip.
Camping with a Canine Companion
Camping is way more fun when it's furry - that is if you bring your dog along! Most dogs love an outdoor adventure even more than we do, so next time you want to connect with nature for the weekend, consider letting your pooch tag along.
For you, a relaxing camping adventure is a wonderful escape from your daily routine. It is all about spending time out in nature to decompress, enjoy the fresh air, and unwind before a campfire.
For your dog, however, a camping outing is the opportunity to experience new and exciting sights, smells, and sounds!
Here are some of the top benefits of camping with dogs:
Physical Exercise - Car camping is more than just campfires and smores. Being out in nature provides ample opportunity for physical activity. Hiking and swimming are both great exercises for dogs.

Mental Exercise - In addition to providing access to tons of physical activity, the change of environment will provide cognitive enrichment for your dog.

Budget-Friendly - There aren't a lot of pet-friendly vacations that won't cost you an arm and a leg. Car camping is a great and budget-sensitive getaway for you and your favourite furball.

Bonding Experience - Sometimes, one of the best ways to strengthen your relationship with your pet is to have some quality one-on-one time.

Watch Dog - Your dog is just as protective of you as you are of them. Having an extra set of eyes and ears when you are out in the wilderness can help you stay safe.
Tips for Hiking and Camping with Your Dog
Before you head off on your next adventure, it's important to remember some basic adventure dog etiquette and safety tips. Bringing your dog along requires a bit of extra preparation to ensure you both have the best experience.
As adventure-loving pet parents ourselves, we've come to learn A LOT about the dos and don'ts of hiking and tips for camping with dogs. A lot more goes into it than simply packing a leash, some kibble, and a water bowl.
These hiking and camping with dogs tips will help you plan your trip and ensure you and your pet stay safe. Have fun when camping with your dog!
Get the Lay of the Land
This tip is more for camping with dogs than hiking! As soon as you get to the campsite, try to mark a perimeter and walk your dog around the border on a leash, letting him sniff and have a bonding experience with the area.
Giving him a boundary can offer comfort and help your dog feel safer in his "territory." You can even use visual cues, like flags or coloured strings, to mark the boundary.
Provide Shelter
One of the first things you do when getting to a campsite is to set up your tent. Be prepared to share that tent with him!
It's unsafe to leave your dog outside of the tent at night, so scooch over, don't hog the sleeping bag, or get him his own. Ruffwear is one of our favourite brands for adventure gear and a great choice for high-quality dog sleeping bags!
Stay Hydrated
Wilderness survival rule # 1 is to have fresh, clean water. This applies to your dog too. Hot summer days, hiking, and other adventurous activities are going to leave your dog feeling parched. Always bring more water than you need.
Ensure you know how much water your dog needs daily to stay healthy and hydrated.
Help keep him cool too. Dogs can quickly overheat, so make sure you keep their temperature down with the right shelter, protection, and hydration when hiking or camping with dogs.
Stick to a Routine
This may be a vacation, but if this is your dog's first camping trip, he might be a little nervous about being so out of his element. The best way to curb anxiety is to offer some structure and routine. Offer him some sense of normalcy.
Regular mealtimes, bathroom breaks, and physical and mental activity can all help. Bring toys and plan activities that will keep you occupied and calm.
Supplies for Hiking and Camping Trips
While camping and hiking are mostly fun, it's best to be prepared for unexpected situations. You need to pack a diverse array of dog camping gear and dog hiking gear for a day. Whether spending the night or even when bringing your dog hiking, you must be prepared for the unexpected.
Check out some of our top recommendations for the most important dog camping essentials!
Dog Food
Always bring more than you think you'll need, pre-portion in Ziploc bags or containers for ease, or bring a measuring cup for on-the-go portioning. Make sure your containers are airtight for pest control and to prevent food spoilage.
Freeze-Dried or dehydrated dog food is an excellent option for dog camping because it is light, healthy, nutrient-dense, and tasty! All you have to do is add a little filtered water.
Top Pick: Stella & Chewy's Patties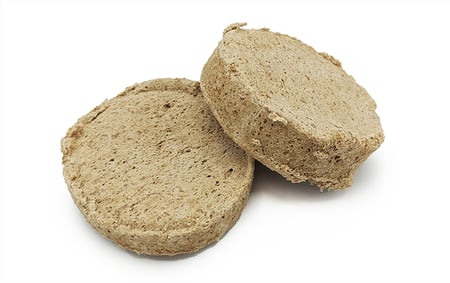 Portable Dishes
Make sure to bring along some dishes for your dog to eat out. Travel bowls are lightweight and easy to carry around if you go on any adventures. For dog camping, you need something durable.
Top Pick: Ruffwear Bivy Bowl
Treats
Bring your dog's favourites, of course. If you're hiking, bring high-quality and high-calorie treats that can give your dog more of the energy he needs. Natural jerky treats or freeze-dried dog treats are fantastic options.
Top Pick: Plato Thinkers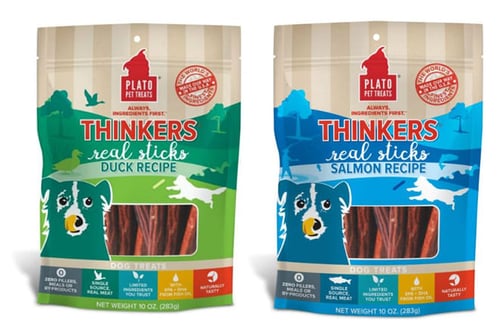 Long-Lasting Chews
To keep your dog busy while you're sitting around the campfire, get a long-lasting treat such as bully sticks or elk antlers. Frozen raw bones are also excellent choices if you have some refrigeration or a cooler available, but won't be well-suited to hiking.
Top Pick: Eldon's Free Range Bully Sticks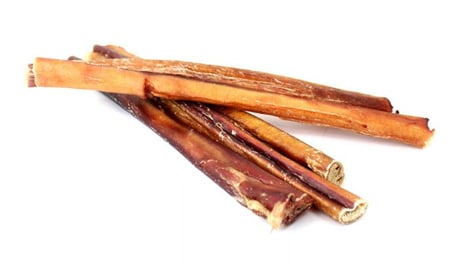 Check out Long Lasting Dog Chews for more ideas to keep your dog busy.
Water Dispenser
Staying hydrated is vital, and having the right tools to offer your dog water frequently throughout your dog camping trip or hike will ensure your dog remains adequately hydrated.
There are tons of options, but pick the style that best suits your dog's drinking habits. Bring one camping, in the car ride, for day trips, and for long dog walks
Tainted water can also make your dog sick. Don't let your pet drink from standing water, lakes, ponds, or streams that could be riddled with bacteria. Keep your dog hydrated to ensure a safe and fulfilling experience and prevent heat stroke.
Top Pick: Kurgo Gord Water Bottle & Bowl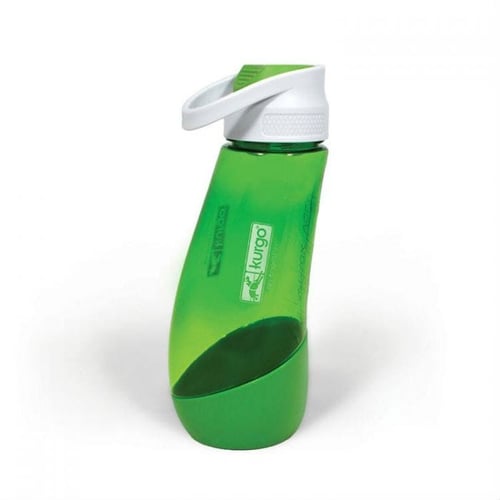 Dog Leash
Don't forget his leash at home! It's a good idea to stash an extra leash in the car camp, too, just in case one breaks or you find yourself in need of a spare. You won't want to be without one. Some people like to let their dogs roam in the great outdoors, but we don't recommend it for health and safety reasons.
Are you looking for a hands-free approach? Runners and hardcore hikers often prefer a hiking belt system over a traditional leash.
Leashed dogs are part of trail regulations and keep your pets and wild animals safe by preventing altercations.
Hands-free leashes can be used for jogging or biking, but it's also handy to have if you are walking. Keep your hands free to explore, use walking poles, or take pictures without losing control of your dog.
Safety Tip:

Keeping your dog on a leash is highly recommended if you are hiking or camping with dogs in bear or cougar country. Even for dogs with excellent recall who are used to being off-leash, keeping them close to you on a hike can prevent encounters with wildlife.
Top Pick: Ruffwear Hitch Hiker Leash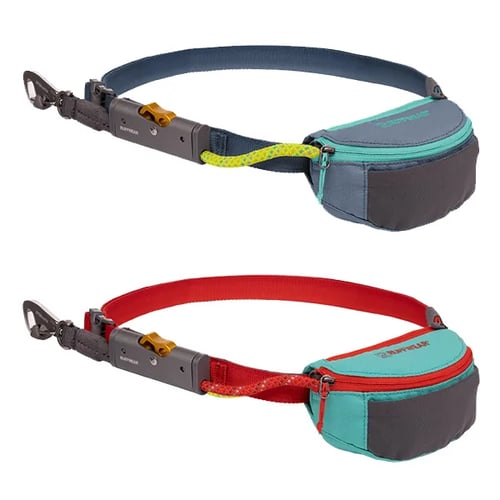 Dog Collar with ID Tags
Always make sure you fit your dog with an appropriately sized collar and that his collar has an up-to-date ID tag. Find the best collar for your dog with our Ultimate Dog Collar Guide
Don't forget to bring along any licenses or vaccination records too. They may be required by the province or state park that you are visiting or vacationing in.
With an engravable ID tag, you can customize the information you include. Staying out of town for a few weeks or headed to the cabin? Get a separate id tag made with your vacation info on it.
Collars are not always the preferred point of contact for your dog's leash, but a collar is important, even if you are using a harness or backpack to control your dog. The collar holds essential information just in case he gets away from you.
Our Top Pick: Ruffwear Front Range Collar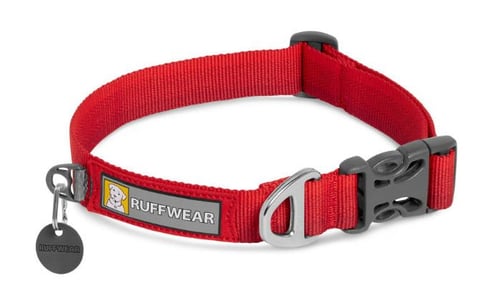 Dog Harness
Harnesses make for walking that is both more comfortable and safer for your pet. Choose a harness that fits your pet well and doesn't allow for pulling if it's a problem for your pet. An excellent no-pull harness for pulling dogs will make the treks more enjoyable.
There are many solutions, but the best dog harness for hiking and camping is a front clip harness option. Harnesses are a more secure option than collars. They keep pressure off your dog's neck, give you more control, and are especially useful to stop your dog from pulling on the leash.
Our Top Pick: Ruffwear Front Range Harness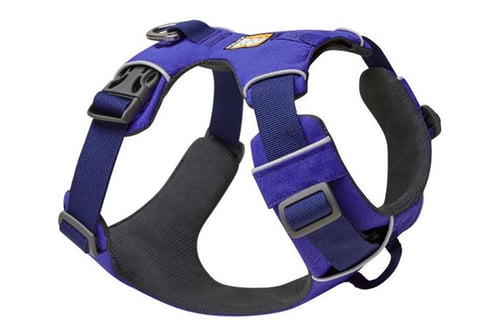 Dog Backpack
When heading out on a dog camping trip, hike, or long walk with your doggo, you'll want to ensure you bring extra supplies for him, like water, snacks, poop bags, and some of the other items listed here! The dog bags are a must-have for any successful camping trip.
Dog backpacks are not only a great way for your four-legged explorer to carry his own weight but also get more of a workout, so you push the dog's limits by carrying their own gear and own water.
It's important to find the trail pack that's right for your dog to make sure that they stay comfortable and safe while wearing it. Some of the essential things to look out for when deciding which backpack works best include the size, fit, durability, and whether or not it has all of the features for what you need it to do!
Top Pick: Ruffwear Front Range Day Pack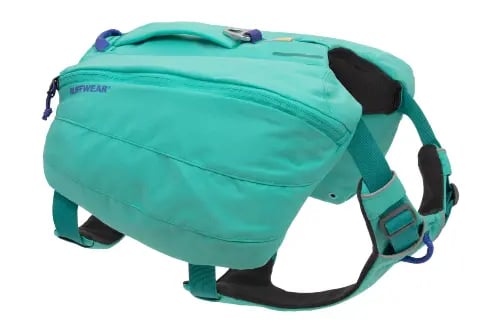 Poop Bags
Be a responsible camper and hiker with your dog. Just because you're in the wild doesn't mean you should let your duties slide. Keep poop bags on hand to pick up what your dog leaves behind so that other campers or hikers don't have to see or smell it.
Our Top Pick: Earth Rated Poopbags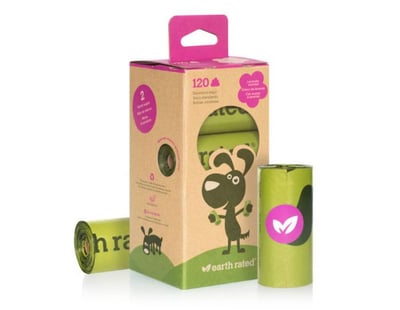 Safety Lights for Dogs
Dog Safety lights clip onto your dog's leash so that he can remain visible at night, which can come in handy for passing vehicles to see your dog or for you to find him if he happens to get loose.
Our Top Pick: Ruffwear Beacon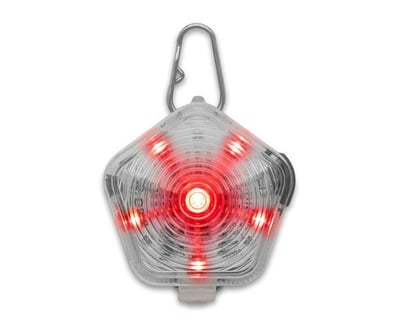 Dog Cooling Products
It's probably going to be hot during the day at your campsite, and sometimes you need more than a simple water bowl.
Remember not to exercise your dog too much in the heat of the day (from 11 AM-4 PM), and choose a campsite with shade or make your own with a shade tent or umbrella.
Top Pick: Ruffwear Swamp Cooler Cooling Dog Vest
Dog Life Jacket
One of the perks of camping is all the outdoor adventures you can take part in while you are out in nature. Some of the best camping activities to do with dogs include water.
If you'll be canoeing, kayaking, paddle boarding, or boating with your dog, you'll want to get him a dog life jacket for health and safety. There are a few things to look out for when picking the best dog life jacket, including the size and fit, practicality, and whether it suits your pooch's swimming style.
Top Pick: Hurtta Life Savior Jacket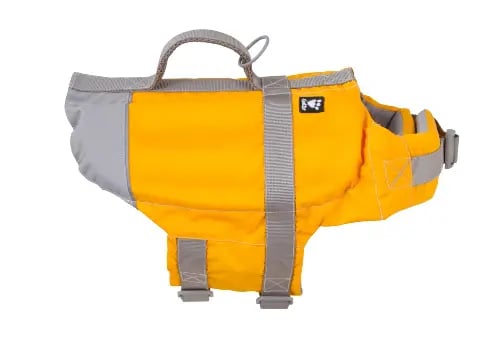 Dog Hiking Boots
When someone mentions hiking boots for dogs, you might ask yourself,… is that necessary? But when you think about it, we wear shoes to protect our own feet as we trek over different terrains. Why wouldn't we do the same for our dogs? Protect paw pads when hiking with a dog by investing in booties or socks.
The truth is dogs need shoes way more often than you might think, especially on a practice camping or hiking trip where you'll encounter harsher turfs. While your doggo's ancestors surely explored the earth bare-footed, domestication and city-living have made our pets' paws a little more vulnerable.
Hiking boots can protect your dog's paws from unexpected injuries, extreme temperatures, and any unnatural substances like chemicals, pesticides, or debris that might have been left over by other humans. Protect your dog's feet with the best dog booties.
Dog booties are also a must-have for winter camping and hiking to provide traction and warmth to your dog's feet. Not all dogs are built for arctic weather; many will appreciate foot coverings.
Our Top Pick: Ruffwear Grip Trex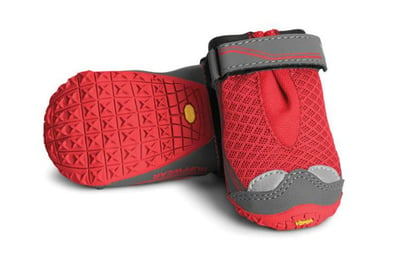 Dog Bed or Sleeping Bag
Where should my dog sleep when camping? When tent camping with dogs, you'll need to make sure your tent is big enough for you and your dog to rest comfortably with a soft sleeping pad to protect from the cold ground by laying on the tent floor.
Scooch over and make room for your dog's sleeping bag in your tent. Your dog will need a dog bed or dog sleeping bag for comfort at the campsite, and if she's used to being inside, she'll probably need a blanket for warmth, too. Make sure both are machine-washable and made of durable material for a successful camping outing.
Tie-Outs for Dogs
Tie-Outs are necessary for your dog if you want him to be able to enjoy the outdoors while you're out camping. Many campsites are for on-leash pets only. Get a good quality stake, particularly if your dog is a strong puller.
This is one purchase where a better-quality product can make a big difference. Also, choose a cable that is designed to withstand your pet's weight and pulling instead of just going with a plain leash. Keep your dog leashed for their own protection.
An exercise pen can provide off-leash entertainment for smaller dogs or puppies. Just ensure you always supervise if your dog tries to climb or jump out.
Top Pick: Howard Pet Products Retractable Tie-Out Cable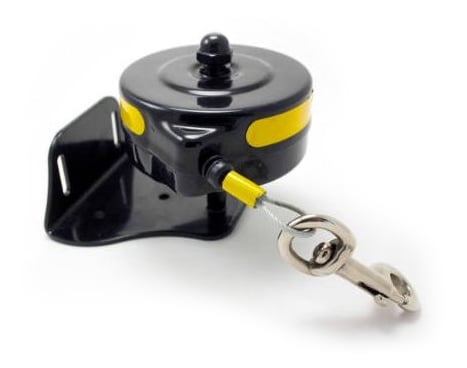 Coat or Sweater for Your Furry Friend
Just in case the weather takes a turn for the worse, you may want to dog pack along a coat or sweater for your dog, particularly if he's sensitive to cold weather.
If you are a winter hiker or camper, you are insane, but your dog will also need a thicker coat or more insulated gear to stay warm and safe. Check out the Best Winter Dog Coats for Canadian Winters to find the right gear for winter hiking with dogs.
No matter how well you plan, you can't predict the weather, so a dog raincoat, like our pick below, might be a valuable accessory to pack.
Top Pick: GF Pet Reversible Rain Coat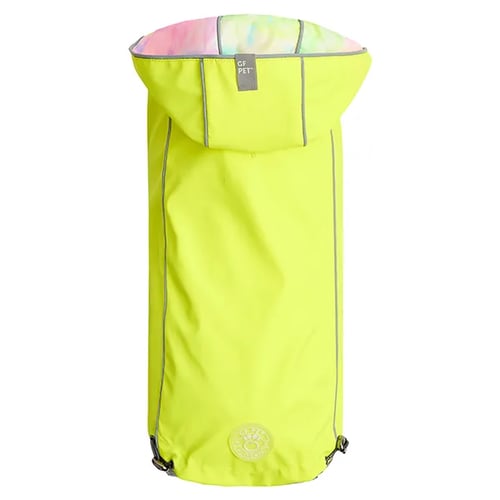 Toys
There are so many fun toys to enjoy at the campsite – Kong Classic and Flyer, Sodapup Dog Toys, RuffDawg Toys, and Chuckit! Ball Launcher, to name a few.
Top Pick: West Paw Dash Dog Frisbee
Check out this list of our 25 Best Outdoor Dog Toys for Summer for more ideas.
Pet First Aid Kit
Purchase a pet first aid kit for your trip. This will make sure you are prepared for minor injuries, like scrapes and bug bites. Cleaning and disinfecting a wound can prevent an injury from worsening or a cut from getting infected until you get back to civilization.
Our Top Pick: Kurgo Dog First Aid Kit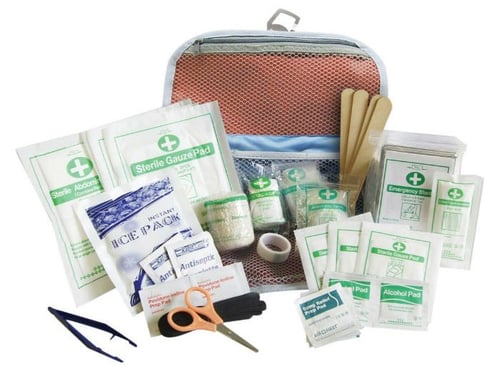 Get basic dog first aid tips and CPR techniques to help you stay prepared and keep your dog safe.
Insect Repellent
Use a pet-friendly insect repellent to prevent your dog from bug bites and the diseases that may come with them. Never use DEET products on pets.
Our Top Pick: Citrobug Insect Hunt
Flea & Tick Protection
You'll want to ensure your pet is protected against fleas and ticks, particularly if you go camping, hiking, or into areas with long grass or brush. Know your dog's body weight before purchasing flea and tick preventatives.
Our Top Pick: Elanco K9 Advantix II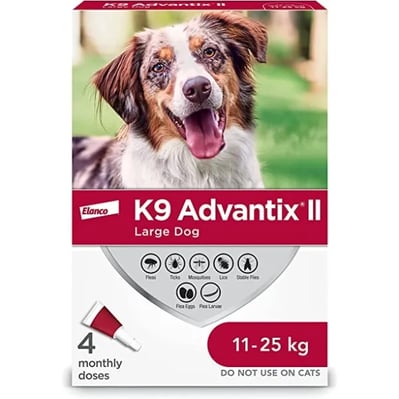 Sun Protection
Did you know dogs can get sunburnt, too? The areas around the muzzle, ears, back, and belly are most prone to sunburns. Hairless and white or light-colour-coated breeds are particularly susceptible to this. You'll want to find the right sunscreen to keep your dog safe from the sun's harmful rays.
Human sunscreen is not safe to use on dogs, and dog-safe sunscreens are hard to find. It's best to limit your dog's sun exposure even if you use pet sunscreen.
Try to find shaded paths or set up a covered area for your dog's skin to hang out in during the hottest parts of the day.
Where to Camp with Your Dog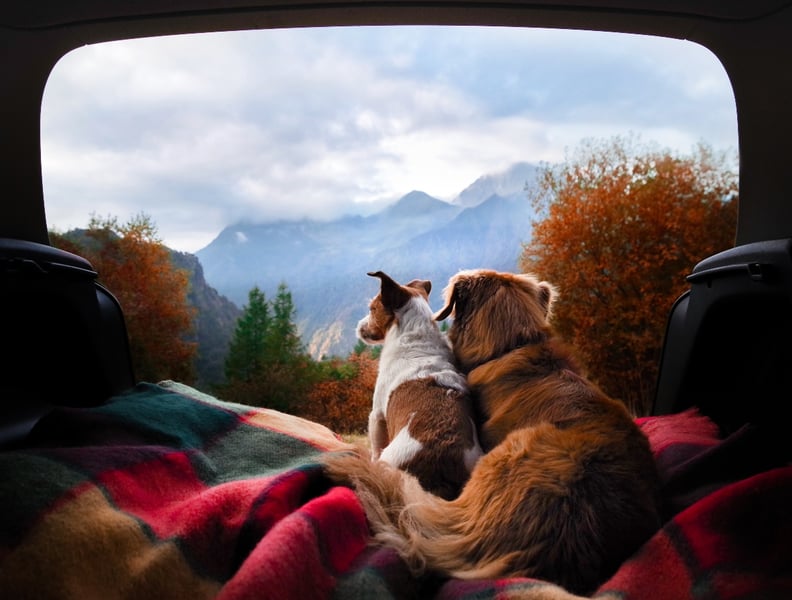 Where you choose to camp with your dog is important. If you are just trying out camping with dogs, you may feel more comfortable staying closer to civilization or choosing a site with more amenities.
Experienced adventure dogs can handle camping in more secluded areas. Whether you are dreaming about hiking the Pacific Crest Trail for a backpacking trip or simply taking a day's outing, you'll want to pick the perfect location.
Best Dog-Friendly Camp Grounds In Canada
If you are new to camping with dogs, we recommend you stick to managed campsites that have facilities and aren't too far from civilization.
We've put together the following list of our favourite pet-friendly campsites in each province:
1. Alberta
Marten River Campground
The campgrounds at Marten River on Lesser Slave Lake Provincial Park are a beautiful backdrop for your next outdoor adventure. All 112 campsites are perfect for families and those wanting to bring along their furry friends!
Find your way to the beach shore by taking a stroll down one of the several walking pathways and fairytale-like bridges!
One of the awesome parts about this campground is that there is a leash-free area for you and your dog to enjoy on the north side of the beach!
2. British Columbia
Marble Canyon Campgrounds
Up in the mesmerizing mountain vistas of the Kootenay National Parks, the Marble Canyon Campgrounds are another one of our favourite dog-friendly places to escape. If you don't mind camping with dogs in bear country, then this is the place for you.
You'll be amazed by the stunning mountain views and revived by the brisk air of the high country. It is situated in the center of several hiking trails for you and your dog to enjoy! Learn the dos and don'ts of camping with dogs in bear country.
3. Manitoba
Clearwater Lake Provincial Park
You'll discover a couple of amazing dog-friendly campgrounds at Clearwater Lake Provincial Park in Manitoba, including Pioneer Bay and Campers Cove. These campgrounds are a short walk to the beach and a great trip for prime fishing. Always use pick up the dog's waste when hiking with your dog.
4. New Brunswick
Fundy National Park
Within Fundy, there are several campgrounds that allow you to bring your pooch along with you, as long as you keep them on a leash and keep a close eye on them. The provincial park is overflowing with magnificent views and trails to explore.
Whether you prefer a front-country camping experience or a more secluded backcountry camping with dogs, Fundy National Parks welcome you and your four-legged family member to enjoy its untouched natural wilderness.
5. Newfoundland and Labrador
Pistolet Bay Campground
The Pistolet Bay Campground is noteworthy if you're looking for a beautiful waterfront campground on the east coast. Tucked away in Pistolet Bay Provincial Park, it's great for RV camping or tent camping with dogs and makes for a perfect island getaway with its hiking, swimming, fishing, and other family fun activities.
6. Nova Scotia
Whale Cove Campground
There are a wide variety of dog-friendly beach campgrounds in Nova Scotia. Our favourite is Whale Cove Campground! It's a picturesque location central to the most scenic hikes and activities.
7. Ontario
Bon Echo Campgrounds
If you are camping in Ontario with dogs, then check out Bon Echo Provincial Park. Within the Provincial Park, there are several family-friendly campgrounds for you to enjoy with your dog.
One of Ontario's best camping with dog spots, nestled between the Canadian Shield Lakes, offers a more secluded backcountry camping experience. Feast your eyes on the stunning views of 100-metre-high Mazinaw Rock and explore a variety of hiking trails ranging from 1-17km.
8. Prince Edward Island
Twin Shores Camping Area
If you and your pup are beach lovers, the Twin Shores Camping Area is a paradise! Although the private beach does not allow dogs, other public parts of the shoreline do, as long as your four-legged beach buddy is kept on a leash.
9. Quebec
Camping de la Joie
Camping de la Joie is another dog-friendly campsite we recommend! It's a great escape from nature without being too far from the city.
10. Saskatchewan
Craven World Campground
This campground is family- and pet-friendly for a peaceful getaway with your dog. Enjoy the tumbling hills of greenery and magnificent sunsets.
Best Dog-Friendly Hiking Trails in Canada
Ready for a hike with your pooch? Check out some of the best pet-friendly hiking trails in each province:
1. Alberta
Mistaya Canyon Hike
The Mistaya Canyon hike in Banff is perfect for hikers and dogs at any skill level! It's an easier and shorter trek, so if you're looking for more of a challenge, you might want to try another hike within the park. Enjoy the rock formations and captivating waterfalls.
2. British Columbia
St. Mark's Summit Hike
This hike in West Vancouver is another thrilling adventure that you can bring your pup along on! Starting at the Cypress Mountain Alpine Resort, St. Mark's Summit is not for inexperienced or incapable breeds. It is a steep climb but worth the gorgeous views of Howe Sound and the Strait of Georgia.
3. Manitoba
Walking on Ancient Mountains Hike
Located close to the Nopiming Provincial Park, this short but moderately difficult hike is a great way for you and your pet to get some exercise and take in the breathtaking views of the lake and forests in the distance once you reach the top.
4. New Brunswick
Laverty Falls Trail at Fundy National Park
In addition to the dog-friendly campgrounds within Fundy, there are a campsite number of hiking trails to enjoy ranging from easy to pretty challenging. One of our favourites is Laverty Falls.
Striking views of the forest, fall colours, and a curtain waterfall with a swimming hole that you can dip your feet in for a refreshing bookend to your hike.
5. Newfoundland and Labrador
Eastern Point Trail
This hiking trail on the NL's west coast is welcoming to dogs and people of any skill level! When hiking with dogs on this trail, you can enjoy a breezy meadow stroll along the ridge while taking in the rocky landscape and gorgeous greenery. It's topped off with a waterfall! You'll want an active breed like a Golden Retriever to tackle the rugged terrain.
6. Nova Scotia
Crow's Nest Trail
Surrounded by classic NS landscapes, this dog-friendly hiking trail is relatively challenging but incredibly rewarding! You and your pup can get your blood pumping while enjoying views of two lakes, a waterfall and a cliff-top vantage point once you reach the Crow's Nest. Grab trail snacks and head out into nature with your hiking buddy.
7. Ontario
Sherwood Park
Throughout Sherwood Park, you and your four-legged friend can enjoy one of the multiple loops for an easy-going hike. There is also an off-leash part of the park! Always maintain trail etiquette with your four-legged friend.
8. Prince Edward Island
Confederation Trail
This hiking trail begins and ends at each end of Prince Edward Island, and it's for those who are looking for a more serious hike with their dog. You'll follow a stoned path that makes its way through lusciously green forests and scenic ocean views.
9. Quebec
Sepaq Provincial Parks
As of May 2019, dogs are now welcome in Sepaq Provincial Parks! If you haven't taken your pooch on an adventure in any of the beautiful Quebec parks since they've become pet-friendly, you definitely should.
Be sure to check the list of authorized locations within the parks where your furry friend will be allowed before making the journey.
10. Saskatchewan
Grasslands National Park
Within Grasslands National Park, you'll discover a variety of dog-friendly front-country and backcountry hiking trails. Whether you and your pups are less experienced hikers or free-spirited, adventurous types, the wide-open prairie landscapes of Grasslands have plenty of trails to choose from for an invigorating experience!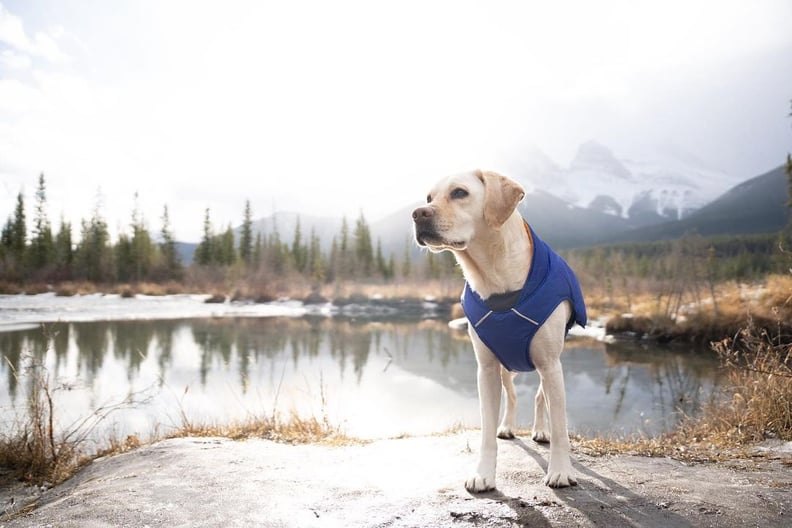 Photo Credit: @farley_the_labrador
Both camping and hiking offer a great way to help your dog explore new environments, get some exercise, and learn new skills. There really is no better companion for outdoor adventures.
Heading out into the great outdoors for an epic camping or hiking trip with your canines requires a lot of preparation to make sure everyone stays safe and has fun. So before you pack up your car and hit the road, ensure you have everything in order for you and your pets. Take the time to prepare now, so you can enjoy your time in nature as much as possible!
You and your dogs will be so glad you did :)
We hope these tips will help you keep your dog safe and make his first outdoor adventure fun, relaxing, and exciting! Enjoy!
Frequently Asked Questions About Camping with Dogs
Can I bring my dog on a hiking or camping trip?
Yes, you can bring your dog on a hiking or camping trip, but it's important to check the rules and regulations of the specific park or campground you plan to visit.
How should I prepare my dog for a hiking or camping trip?
Before heading out, make sure your dog is up-to-date on vaccinations and has a proper ID tag. Training your dog to respond to basic commands and be comfortable walking on a leash is also important.
What gear should I bring for my dog on a hiking or camping trip?
Essential gear for your dog includes a sturdy leash, collar or harness, food and water bowls, a comfortable bed or blanket, and poop bags for waste disposal.
How can I ensure the safety of my dog while hiking or camping?
Ensure your dog's safety by keeping them on a leash unless you are in an area where dogs are allowed off-leash. Watch out for hazards such as steep cliffs, poisonous plants, or wildlife that may pose a threat to your dog.
How can I minimize the impact of my dog on the environment while camping?
To minimize your dog's impact on the environment, always clean up after them and dispose of waste properly. Respect any regulations regarding dog access to certain areas and wildlife protection.
Are there any special considerations for hiking or camping with certain dog breeds?
Some dog breeds may have specific needs or limitations when it comes to hiking or camping. Brachycephalic breeds, for example, may have difficulty breathing in hot weather.