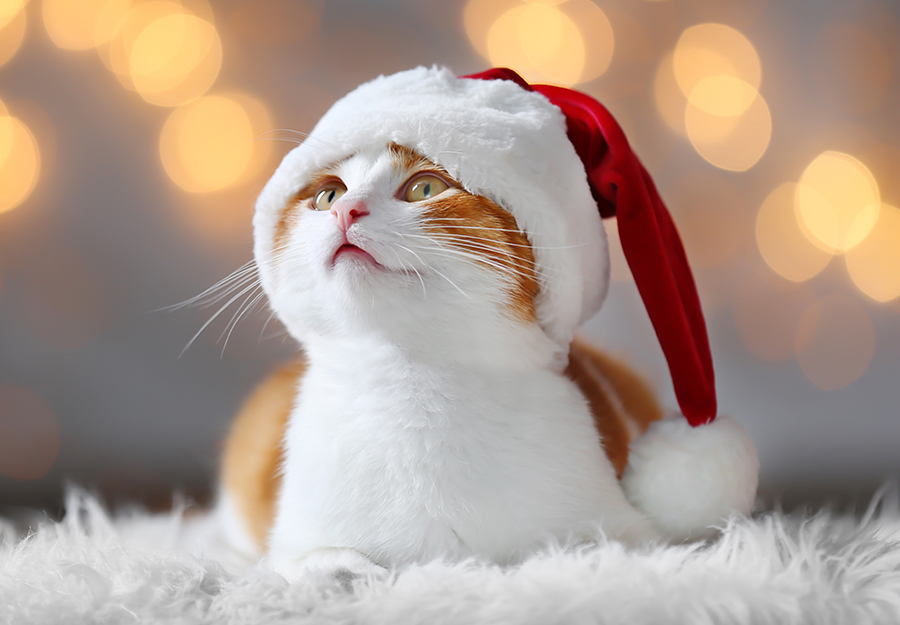 Is your kitty on Santa's naughty list or his nice list? Let's be honest... you were going to spoil her anyways. Check out our top Christmas gifts for cats to help your cat enjoy this festive season.
Our cats are family, and sharing the holidays with family is a big part of what Christmas is all about. We love sharing our festive traditions with our pets and we love to spoil them even more.
Not that you need an excuse, but we put together some exciting gift ideas and pretty good reasons your cat probably needs them. There are store-bought gift ideas, as well as DIY Christmas gifts for cats. No matter what kind you prefer for your cat, you'll be sure to find something in this article to make your cat's holidays a little merrier!
Practical Reasons to Spoil Your Cat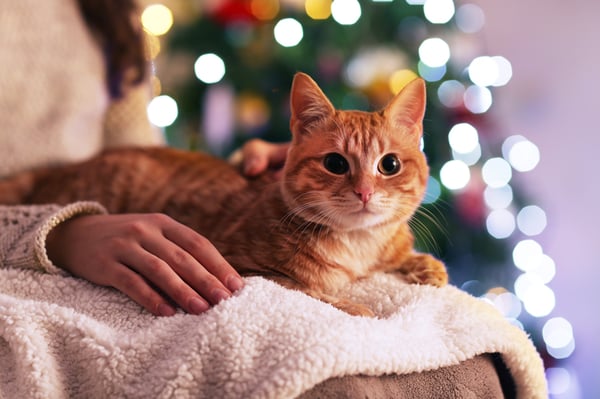 It turns out that there is a more practical purpose for hanging a kitty stocking up on the fireplace, though. of course just having them participate in our holiday activities is fun, but toys and treats can be beneficial to your cat's health and can make the holidays a little less chaotic for them.
Here are 3 reasons that you should include your cat in your Christmas shopping this year:
1. Help Manage Cat Stress
Christmas morning can be stressful, especially if you are doing any holiday hosting. The extra activities in your home can really throw a wrench into your cat's regular routines.
Prevent anxiety, stress, and destructive behaviours by getting your cat toys, scratchers or even chews to help keep their mind off of all the Christmas commotion.
2. Holiday Safety for Cats
Decorations, ribbons, and goodies like chocolate and candy canes will be freely circulating your home on Christmas day. Playful cats may be attracted to some of these common holiday hazards.
Offering your kitty appropriate toys, chews, or treats can limit their temptation to climb your Christmas tree, or chew on the wrapping paper shrapnel from eagerly opened presents.
3. Keep Your Cat Mentally Stimulated
The winter months tend to be lazier. Shorter days and less sun leave your pets with less energy and motivation. This inactivity could lead to your cat packing on some extra pounds.
Gifting some interactive cat toys or puzzles can help to keep your cat trim and active, even during the most indulgent time of the year.
Play also helps young kittens' coordination and physical development. When they grow older, their play changes but it's still very important!
By the time cats are 14 weeks old, play is directed towards objects. They love pouncing, batting, grasping, biting, and stalking. These are all instincts your cats have and the skills they need for hunting. Safe play allows your cat to have an outlet for her predatory instincts.
Play can also:
Reduce behaviour problems
Relieve boredom
Provide exercise to reduce weight gain
Prevent future health problems
If your cat is an indoor cat, play is especially important. We'll go through some of the best gifts for older and senior cats and all other ones so you can help your kitty stay safe, happy, and healthy this holiday season!
10 Exciting, Interactive, and Adorable Christmas Gifts for Cats
Every pet is different, so finding a gift that will be exciting for your cat, or a friend's, can be tough. Check out some of our favourites to get some inspiration for your pet Christmas shopping list.
1. Catit Senses 2.0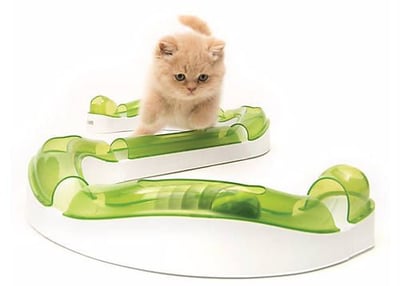 For cats that love to explore with all of their senses, Catit Senses 2.0 toys make a great gift. They offer a variety of products to stimulate any cat lover. The toys can be played with individually or can be linked together to form a complete track of sensory stimulations.
The wave circuit is our top pick for solo playtime and would be great for keeping a playful cat owners busy and active during all the Christmas kerfuffle.
2. Petstages Nina Ottosson Rainy Day Puzzle & Play Cat Game
For smart cats, the Petstages Nina Ottosson Rainy Day Puzzle & Play Cat Game is a great way to make them use their noggin, their paws, and their nose to slide the pieces around to discover the hidden treats.
Cats new to puzzles may not get it right away, but with the right motivation (food), cats of any age can enjoy this toy. It's as fun for us as it is for them, so make sure you have your camera ready. This toy can hold a variety of treat sizes, or just plain kibble if you are looking for a way to occupy your pet without spoiling their appetite.
3. Pawbreakers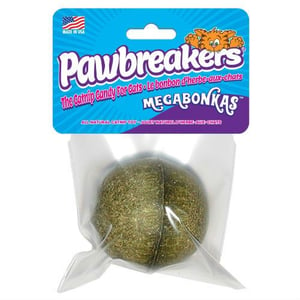 Cats who need to attend catnip anonymous are going to flip for PawBreakers MegaBonkas. These small catnip balls are fun to bat around, chew, and lick. The solid ball is great for cats that play aggressively and need a long-lasting chew toy.
4. Yeowww! Catnip Cigar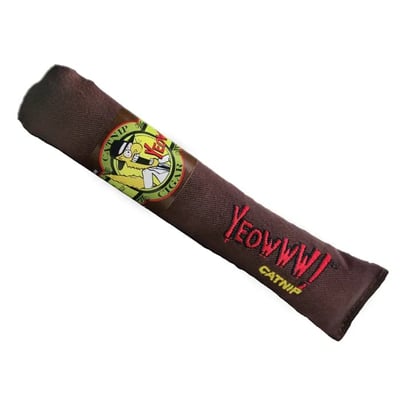 Sometimes the best gift is a simple one. The Yeowww! Catnip Cigar is filled with some of the strongest smelling organically grown nip on the market. The durable cotton twill fabric helps this cat-favourite stand up to all kinds of play styles.
Unlike cheap catnip toys that lose their appeal quickly, the catnip cigar will last longer and smell better. Just wet your hands and roll the toy between your palms a bit to bring out that minty catnip smell once again.
5. Petsafe Interactive Toys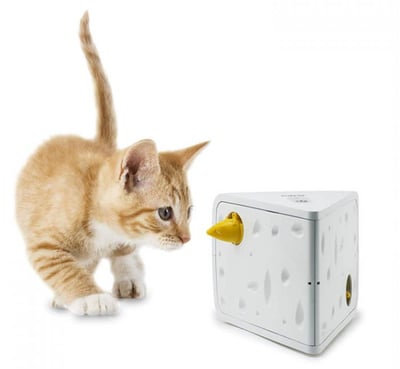 If your favorite cat needs some solo playtime, then Petsafe Interactive toys, like the FroliCat Cheese Teaser, are just what they need. These battery-operated toys encourage your cat's hunting skills by moving, spinning, and ducking.
Your cat is a natural predator, so let them flex their hunting skills with these fun, fast-moving toys. All toys come with a timed automatic shut-off to encourage your pet to take a break after a vigorous play session.
6. Sunny Seat Cat Window Bed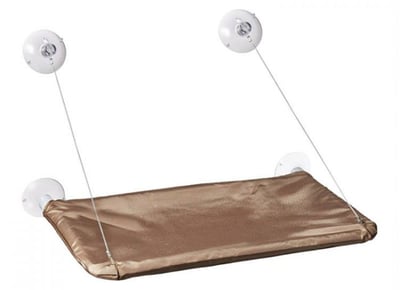 If your cat is less of a player and more interested in taking a break from all the holiday happenings, then the Sunny Seat Window Bed is what you need. This window seat holds up to 50 lbs with four strong suction cups.
This day bed will let your cat catch some sunshine and monitor the neighbourhood on a warm fleece platform.
7. Sleep Zone Cuddle Cave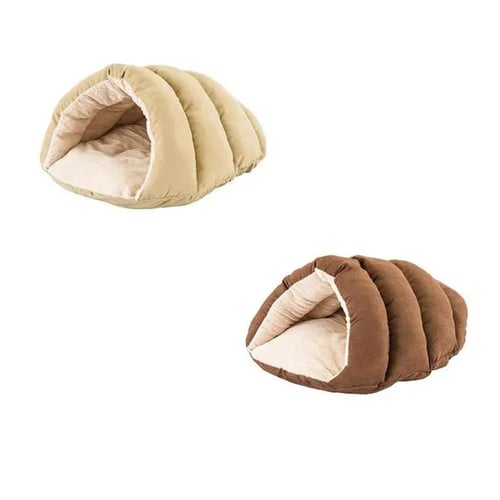 Cats love a cozy spot to stay warm. They'll find the warmest spot in the house and cuddle up for a nap. The Sleep Zone Cuddle Cave is the perfect winter gift for your little ball of fur. The soft, comfy bed will be your kitty's go-to napping spot.
This cocoon-style cat bed is made of a super soft suede exterior and a faux fur inside lining to create a perfect spot for your cat to burrow and relax. The 100% recycled polyfill stuffing won't clump or shift, so this kitty cave will stay comfy even after it's well used.
8. Be One Breed Intellicat Feeder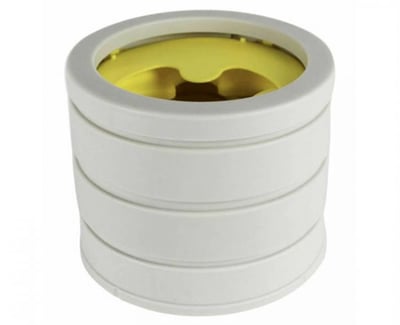 Encourage healthier eating habits by letting your cat play with their food. The Be One Breed Intellicat Interactive Feeder has over 50 possible combinations to keep your cat guessing.
Fill with food or treats, and your cat will spend hours working the rewards out. Multiple inserts allow you to start with easier combinations and slowly work up to the hardest levels. It's also a great way to slow down speed eaters.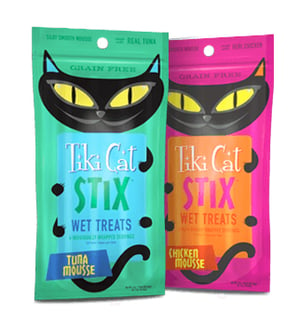 It's Christmas, and everyone deserves a special treat. Spoil your cat with the addictive Tiki Cat Mousse Stix. These finely pureed treat sticks come in two flavours: chicken or tuna.
They can be fed right from the tube, in a bowl, or added to their regular meals to boost flavour and nutrients. The soft texture makes them palatable and nutritious for cats of all ages.
The old wives' tale of cats drinking milk may be false, but that doesn't mean that all milk should be avoided. Goat's milk is loaded with digestive aids, like probiotics, and still satisfies that dairy craving that many cats seem to have.
The Honest Kitchen's Goat's Milk is a powdered milk product that can be rehydrated and fed supplementally, with meals, or for digestive support. Cat's love the taste, so it's an excellent Christmas treat and cat Christmas presents.
5 Fun DIY Gifts for Cats
Need more ideas? We got you covered! How about trying out some DIY pet Christmas gifts?
Buying gifts for your cats can get expensive fast, especially if you aren't sure of her tastes yet. If you aren't sure what she will use and what she will ignore, DIY gifts can be the perfect solution.
If you have the skills, tools, and time for DIY projects, you can make your kitty an adorable gift that she'll enjoy all year round! Whether you're trying to save some money or just want to make your special kitty something special, we've got you covered.
Here are some great ideas for DIY gifts for cats for when you're feeling crafty:
Crochet Mouse Toy
Cats will love this DIY stuffed mouse and it's the perfect option for any gifted crocheter out there! You can get a step-by-step crochet pattern here, and this project is definitely able to be done in just a few short hours.
You can even add a bit of catnip to the mouse's stuffing and the size of the finished piece makes it absolutely doable in one afternoon. Your cat will love this DIY pet Christmas gift!
Catnip Mouse Toy
If you aren't into crocheting, this toy is pretty similar but super easy. You can get a free sewing pattern for stuffed mice and sew one in under an hour! Your kitty will just adore these mice stuffed with catnip!
DIY Cat Toy Wand
Does your cat love wand toys but destroy them too quickly? DIY wand toys are the perfect solution for cats that love to play! In just a half-hour, you can create a wand out of upcycled materials and attach ribbons, small toys, balls, and more to it!
Your cat will love the different textures and sensory experiences, making it the perfect toy for those who love trying cool things for cats and playing. All you need to get started is a wooden dowel, some feathers, and some twine. Add a cat toy, ribbons, bells, or any other materials that will encourage your cat to chase the wand.
DIY Brushing Station/Pet Spa
Do you believe in experiences over products? Or maybe just want to treat your sweet cat to a mini spa experience? Or perhaps you need gifts for older cats?
You can create a homemade brushing station by using unused toilet brushes attached to plywood to create an experience that will delight your cat all throughout the day! You can even add a bit of carpet for a soft cozy place for your cat to relax. They'll feel like the royalty they are with this DIY gift for cats.
Cardboard Cat Scratcher
Have some extra cardboard?
You can create awesome DIY gifts for cats by rolling up some spare cardboard. You'll spool it until it's the perfect size for your cat, and then wrap it in hemp twine or ribbon. Or try making a cardboard scratch box like the one in this handy video:
This lets you create a cat gift that your furry friend will just adore, all while upcycling materials in your home. Environmentally friendly and a DIY pet Christmas gift? Win-win!
Other DIY options like a cat tree is a little more complicated, but you can throw together some relatively easy options with these IKEA cat hacks.
Tips for Holiday Play Time
No matter what kinds of toys you choose to buy or make, your kitty will love playing- especially with you. Make the most of your quality wintertime with your cat with these super simple tips for playtime.
Play for a couple of short sessions each day
Create play opportunities for playing with your cat, as well as allowing your cat to play independently
Provide a variety of toys
Tidy up anything that might pose a hazard to your cat at the end of each play session, such as toys with string
Don't force your kitty to play with you. She could get overwhelmed from being over-stimulated. The best way to keep your cat happy and playful is to follow her lead. Play when she's in the mood!
Have fun and enjoy time with your cat!
Cat's Out of the Gift-Bag!
Your kitty cat loves to play! These gifts for cats will help your cat stay active, reduce boredom, and be healthy all through the holiday season!
Whether you want to buy the newest toys or DIY them- or maybe something in between, we've got you covered!
What is Santa Claws bringing your cat this Christmas? Share your kitty's Christmas wish list in the comments below!