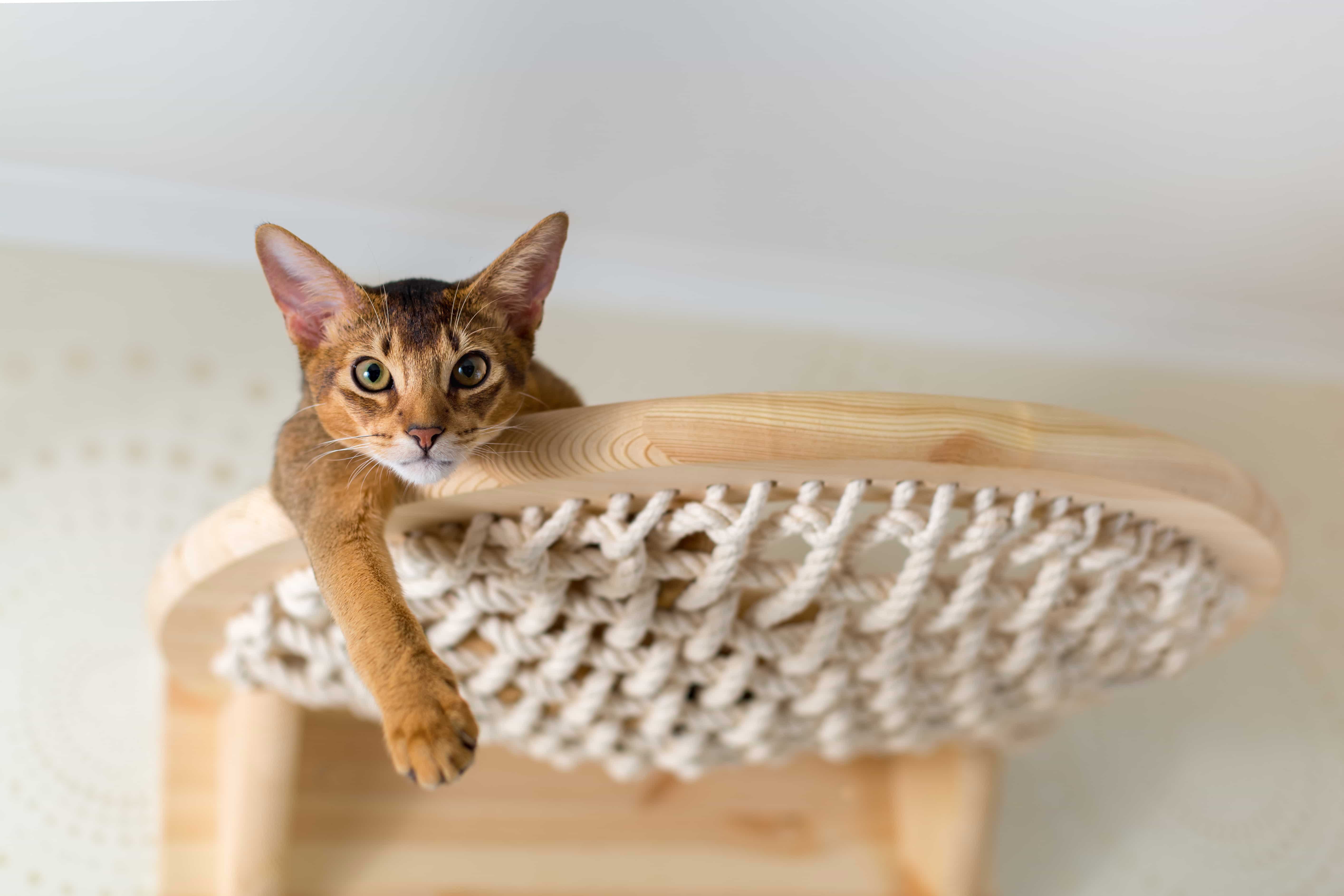 Who doesn't LOVE IKEA? Furniture that is trendy, affordable and a source of inspiration for DIY-ers everywhere. This doesn't stop with you, cat lovers. Try a few of these cat tree hacks and your cat will love IKEA as much as you do.
Feel threatened by tools? Some of these cat DIYs are so easy you can try them even if you are lacking in building skills.
Here are 10 Nifty IKEA Hacks:
1. LACK IKEA Cat Hacks Tree
This IKEA cat hack uses lack tables and minimal effort (and money) for a big pay-off. Most of the simple DIY projects for cat houses and cat scratchers that you see out there just don't have the SIZE and height that this one does.
You definitely need the space for affiliate links to this cute tree, but its simple style can be accommodated in any decor scheme. And, at only $12.99 per LACK side table, it's a super cheap fur baby, too.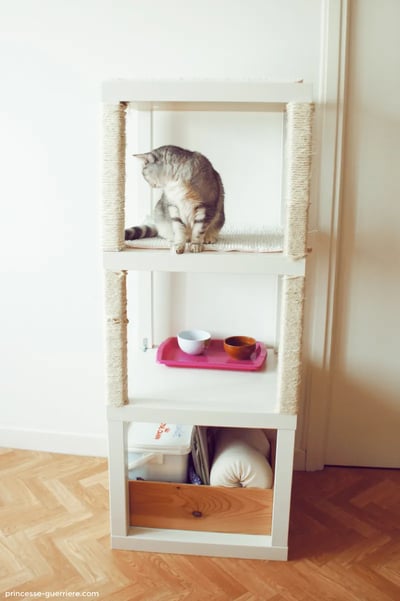 2. BESTA Litter Box Hider
There are a lot of litter box hiders out there, but I love this one for how simple and sleek it is. The cabinet doors make for easy cleaning, and the caster wheels keep them portable.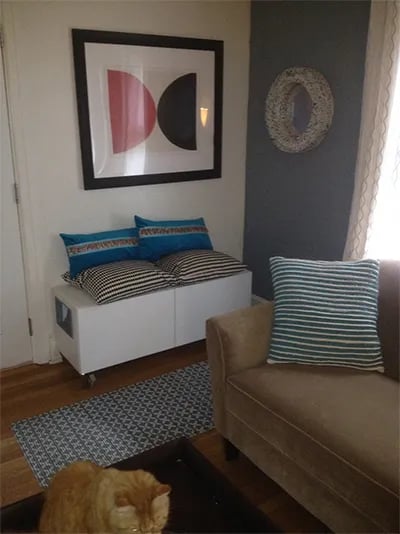 Credit: IKEAHackers, jlprittenhouse
3. JARPEN, BJARNUM, and BESTIS Cat Shelves
These slim, modern cat shelves are just right for your frisky, climbing kitty. Perfect for small living small with no space for bulky cat trees and cat lounge. Favourite part? The over-the-door bed. Or how about placing yours near a high window?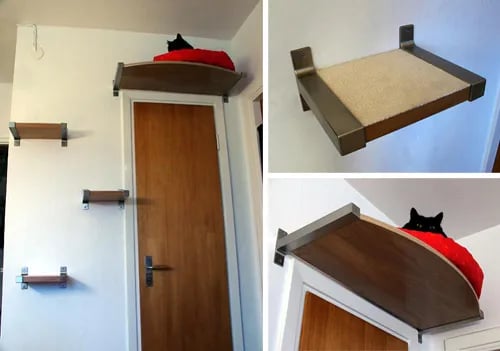 Credit: hauspanther
4. GOSIG Cat Nest
How adorable is this cat nest? And, not to mention, it's a simple DIY if you have some basic sewing skills. Take two GOSIG baskets (I think these were discontinued, but any pet Ikea bed or soft basket will do) and sew them together using a blanket stitch.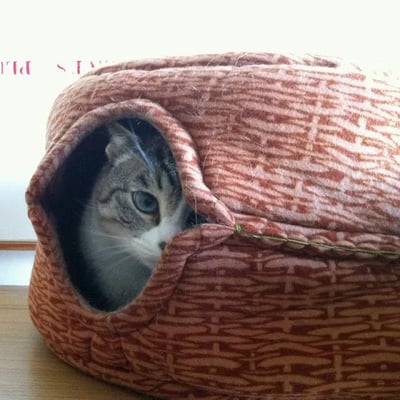 Credit: IKEAHackers, Jules
5. EXPEDIT Double-Decker Cat Snug/Scratch Post
Not a DIY-er? This is for you. This Ikea lack cat furniture hack has to be one of the easiest DIYs I have ever come across, but the best part about it is that it is very functional as well. All you need to do is wrap and secure sisal to make this a lovely kitty haven and mini scratch post.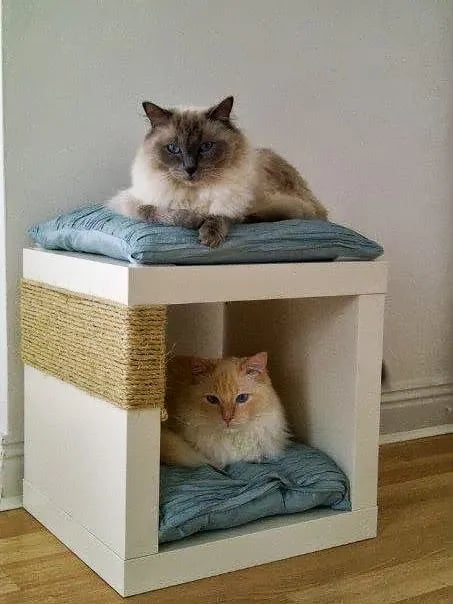 Credit: IKEAHacker, Jules
6. EXPEDIT Modern Cat Bed
This tree of cat and scratcher would fit beautifully into any modern decor. And it's a simple hack that would be easier for even a beginner DIYer. My only concern is the stability of this piece.
I would suggest anchoring this one to the floor or wall or somehow giving it a bit more weight at the bottom, particularly for larger cats love.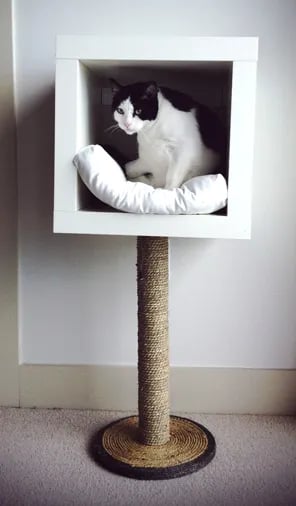 Credit: Deviant Housewife
7. Elegant Cat Litter Box
Wait... an elegant cat litter? Some things just don't go together. But your cat's open doll bedpan and this modified IKEA unit? YES. The result truly is elegant.
While no one you may not want to have this in your living room cat litter, cat wall, doll beds, cat hangout, and cat beds with carpet tiles and chicken wire, it still makes a better-looking addition to a bunk bed in your laundry room, email address picture ledges or wherever you keep your cat's litter pan and cat litter cabinet.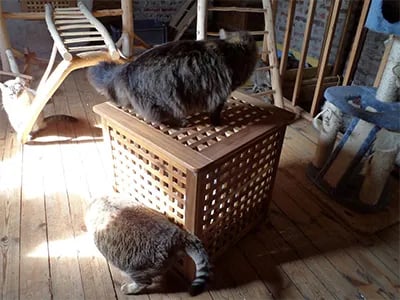 Credit: Instructables, bricobart
8. STOLMEN Cat Climbing Pole
If you have a jigsaw and know how to use it (or know someone who does), this cool IKEA cat hack and cat hammock are for you.
Custom design your own shelves and add them to the STOLMEN poles (from an IKEA duktig closet storage unit), and you have cat climbing shelves and litter boxes to the ceiling! This unique tree of cat design diy cat with scratching posts is space-conscious and nice enough to keep in your living room shelf units.
Not the handy type? Get your own shelves and build kallax shelf for the STOLMEN units from ContempoCat or Hollywood Franklin.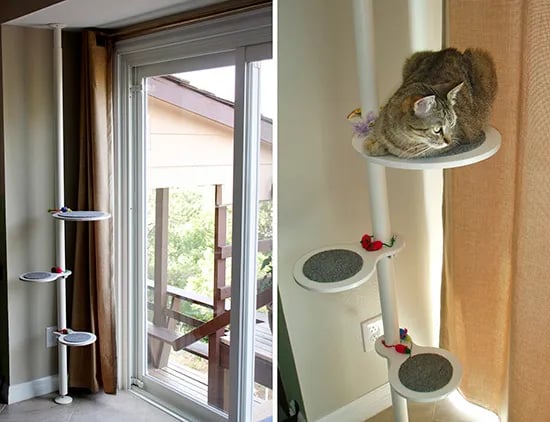 Credit: hauspanther
9. SINDAL Cat Scratch Mat
The very best DIYs involve no work whatsoever - just clever use of creativity! The hard part is done for you with this simple IKEA cat hack and cat hammock with a cat door.
To replicate side tables, this non-slip cat scratch mat and storage bench, scratching post with wheat grass, just buy a SINDAL door mat from IKEA coffee table. Presto - consider yourself handy!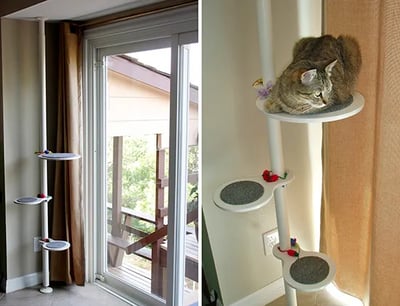 Credit: TymberDalton
10. Litter Box or Diner Hider
This hack is very similar to #2, but I love the modern industrial twist. These lockers would make a bold statement in a stylish apartment as well as hide the litter or the cat's food from any canine friends that may share your house. love the use of cat doors and scratching boards, as well. That would keep smells down to a minimum.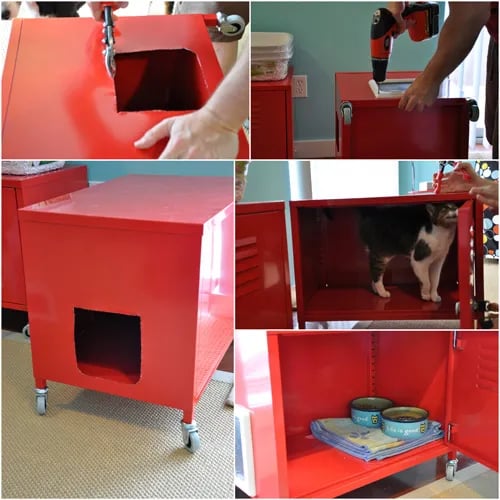 Credit: MoCrafty
Frequently Asked Questions
What furniture does a cat need?
The type of cat furniture you choose will depend on your cat's play style and the space you have in your home. Aim for at least one cat tree, scratcher, or piece of cat furniture on each floor of your home that your cat has access to.
Is a cat tree worth it?
Cat trees and other furniture are helpful tools to give your cat additional space, an opportunity to exercise, and a way to reduce boredom and stress. Cat trees vary in style and price, but regardless of which you choose, a cat tree is most definitely a worthwhile investment.
What can I get instead of a cat tree?
Cat trees are very popular because they act as a play space, a lounging spot, and a hiding place from other pets and people, but other kinds of structures will work too. Hammocks, wall-mounted cat furniture, and scratching boards are suitable for smaller spaces.
Does a cat tree need to be by a window?
While cat trees don't have to be near a window, they can help to encourage cats to use their cat furniture. Access to a window can make the play area more appealing and can help reduce anxiety in cats who want to go outside but can't.
Can I put a litter box next to a cat tree?
While cat tree-litter box enclosers are aesthetically appealing for cat owners, some cats prefer not to play where they poop. It's recommended to keep litter areas separate from sleeping and play areas.