Imagine walking in the house, expecting to be greeted by your friendly, rambunctious puppy with a shower of kisses and wags, only to instead be faced with that picture, as well as a room full of fluff from the couch cushion that your darling puppy decimated in your absence. Or maybe it was your favourite pair of leather designer shoes. Or the new kitchen chair legs that have been reduced to splinters. Nearly every puppy owner has encountered this situation before, in one way or another.
New puppies may be delightful, but if you don't provide them with quality chew toys to satisfy their teething instincts, something in your house will suffer. And most likely, it's going to be something new and expensive.
Puppy Teeth Development and the Puppy Teething Stage
All puppies go through a teething stage, usually spanning from around 3 weeks, when your puppy receives his first set of baby teeth, to about 6 months of age, when the adult teeth emerge from below the first set, in a similar fashion to our teeth. Smaller dogs' teeth mature a little slower, so you may see them experience an even longer period of intense teething.
Don't be alarmed! As your puppy's baby teeth are pushed up by their adult teeth below, you may find these teeth lying around the house. It's perfectly normal, and does not usually pose a risk to your dog. You should, however, clean up any that you do find lying around so that your puppy does not swallow them. Puppies will eat anything!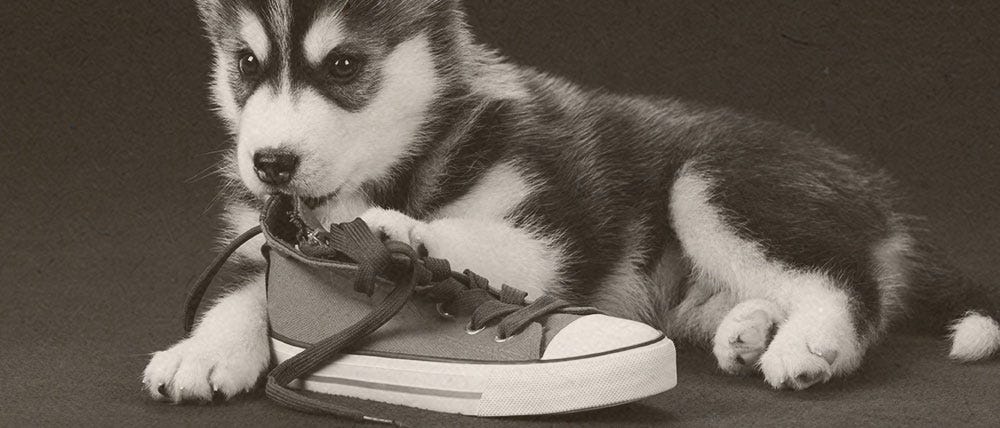 No Biting Allowed
At any point during the teething process, you may find that your dog is chewing more intensely and even chewing things that they normally wouldn't. In particular, this can be a time when puppies will try to chew on fingers or toes (for some reason, they have the perfect resistance, and who can resist the yelps that come from you and your housemates?).
It is important that you do not allow your puppy to chew on your fingers, toes, or any other body part of yours at this time. The puppy stage is when many bad habits are formed and these habits can be much more difficult to correct later in your dog's life.
Teething Puppies Need to Chew
You can't simply get your puppy to stop teething or chewing on things. Chewing is a normal dog behaviour, to clean teeth and maintain dental health, and to exercise jaws to keep muscles strong. Dogs chew for a variety of reasons: to alleviate boredom, to entertain, to soothe anxiety, and to relieve teething pain. Puppies will also chew just to explore the world around them. Since they can't grasp objects in their hands the way you do, they understand their world by smelling, tasting, and chewing instead. Your teething puppy's intense chewing is likely in response to the pain of new teeth coming in.
Picking the Best Puppy Chew Toys
Rather than stopping your puppy from chewing altogether, you need to teach your puppy what is acceptable for them to chew and what is not. The best way to ensure your teether doesn't chew up the couch (or something else) is to provide a variety of quality chew toys for your new puppy. Puppies have chewing preferences and you will likely need to supply your puppy with a selection of toys of different sizes, materials, and features to find the best matches for your particular dog.
If you are already dealing with a chewing problem, try to pick a toy that has similarities to the object that your puppy is chewing up.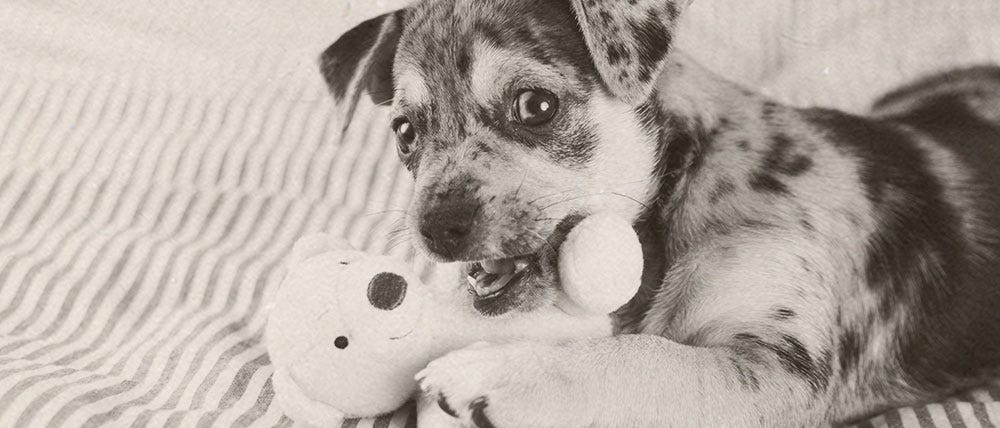 12 BEST CHEW TOYS FOR TEETHING PUPPIES LIST
While every dog is different, there are still some toys out there that seem to be almost universally adored by puppies. These top teething toys for puppies are well-made and designed and are some of our most popular choices for puppy owners.
DISCLAIMER: Even though these are our toughest chew toys, no toy is truly unbreakable when it comes to a puppy or dog that has the will to destroy it. That being said, these toys are some of the best chew toys that are available, and should stand up to most teething puppies and dogs under normal use.
When it comes to chew toys, Kong is a universally recognized quality brand. Their durable toys stand up to most chewers, and their toys come in interested and engaging shapes that dogs just seem to gravitate to.
Aside from being absolutely adorable with its pacifier shape, the Kong Binky is made of a durable, quality rubber construction. The Kong Binky is softer and has a bit more resistance than standard Kong chew toys for dogs. It is the perfect blend of tough and tender – this soother will soothe your puppy's sore gums and satisfy the need to chew. It also has an irregular shape that will bounce erratically, much to the delight of your puppy. Like most Kong toys, it can also be stuffed with treats or chews.
Kong has their own brand of puppy chews, Kong Stuf'n Ziggies, which fit in most Kong toys. These chews will not splinter or crack, and can help to clean teeth.
If you're not into the binky, the Kong Puppy is nearly the same, without the pacifier look.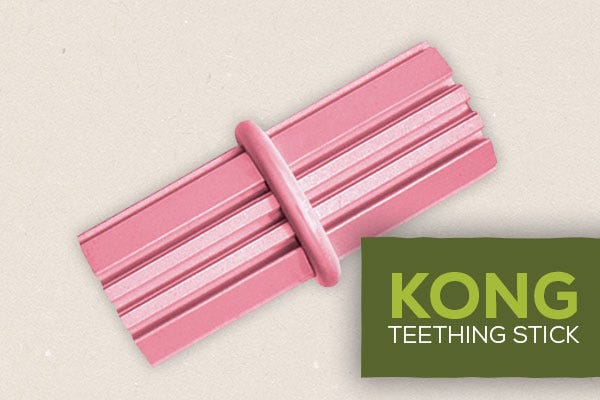 The second Kong toy to appear in our best chew toys for teethers list, the Kong Teething Stick is soft where it counts and yet durable, like the Kong Binky. The Kong Teething Stick has its own positive qualities, though.
First of all the Kong Teething Stick is a convenient stick shape, which makes it double as a fun fetch toy when it's not being munched on. Speaking of munch, the stick is hollow, which makes it the perfect vessel for yummy treats or chews. Lastly, there are ridges in the Kong Teething Stick which help the teether clean your puppy's teeth as they chew on it. Bonus!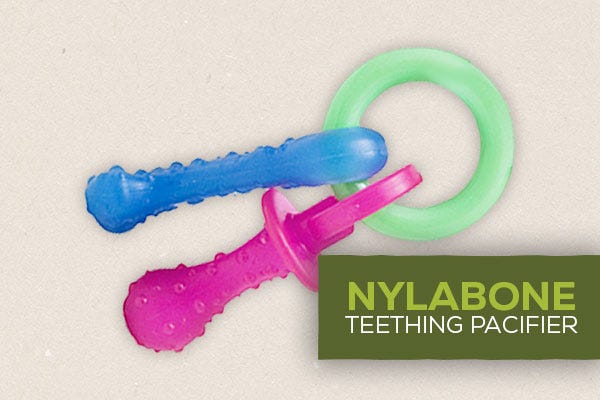 Here's the second soother to make our list - the Nylabone Puppy Teething Pacifier. Other than just being cute, this set of teething keys has a variety of textures and shapes in each key, making it the perfect choice for an indecisive or picky puppy. The nubs on each key help to clean teeth and gums and remove tartar. The individual keys move freely on the ring, so it makes for a fun toy that flops around when your puppy shakes it.
The only downside to this toy is that it is recommended only for dogs under 15lbs, so it may not be the best choice for medium or large dogs.
Also see Nylabone Puppy Teething Keys, which are a very similar product.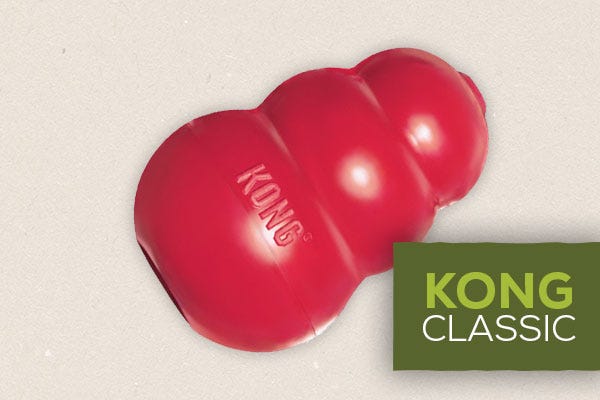 Another Kong toy? Kong didn't sponsor this post, I swear! Kong just happens to manufacture great dog toys, particularly when it comes to tough chew toys. There are a number of Kong chew toys that made my best chew toys for teething puppies list, but I just had to add one more. The Kong Classic has been around for over 30 years, and has been making dogs and their owners happy from the very start. Recommended by trainers, veterinarians, and dog enthusiasts, the Classic Kong is the original best chew toy for dogs and puppies.
What's the difference between the Kong Classic and the Kong Puppy toys?
The Kong puppy toys are made with a softer, more pliable rubber, which makes them a bit easier on the teeth and gums of teething puppies. But if you have a stronger, tougher chewer in your house, you may want to choose the Classic Kong or the Extreme Kong (their toughest line of chew toys) instead.
Rope bones are a puppy must-have! And Flossy rope bones are top quality cotton, and still a very affordable pet toy, particularly for their size. Your puppy, no matter how big or small, will love dragging this long rope around! The Flossy Chews 4 Knot Rope makes for an entertaining tug toy (particularly if you have a few dogs), but is also perfect for chewing on its own. Cotton rope bones work double-duty while your puppy is chewing on them. The fibres help to clean teeth of plaque and prevent tartar buildup by "flossing" your dog's teeth.
The Beco Pets Hoop is made of all-natural rice-husk rubber and is our most environmentally friendly choice on this list. Made using an eco-sustainable production process and comprised of green materials, the Beco Pets toys are an option that both you and your puppy can feel good about. Your puppy will love gnawing on the ring, which sports a fresh vanilla scent that is completely non-toxic. The flexible, yet durable Beco Pets Hoop is soft on sensitive teeth and yet will stand up to tough chewing.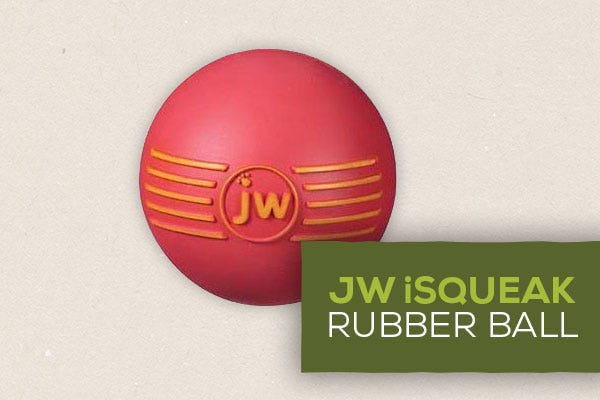 Balls are an excellent toy for puppies, and they're the type of toy that adult dogs can still be engaged with. The problem is getting a toy to last that long.
While not technically a chew toy, the iSqueak Rubber Ball should be able to hold up to a game of fetch and anything else your dog wants to do with it. The JW iSqueak is made of durable rubber – virtually indestructible, as the company claims. This rubber ball should even last through the teething stage, the true test for any toy's durability. As with all the JW iSqueak toys, the Rubber Ball also comes with an internal squeaker, as if your puppy needed any more reasons to love it. Multiple sizes to suit any size dog or puppy!
The JW Invincible Chains mean what they say – these heavy-duty rings are made out of natural rubber that are molded together to form a nearly unbreakable tug toy. They don't include any glue or seams that can weaken their bond. JW Invincible Chains make a perfect tug toy to "share" between a few puppies or dogs, or a one-on-one toy for tugging matches between you and your pup. Your puppy will also love shaking the chains himself.
JW Invincible Chains also come in a double chain.
As a brand, Kong works durable and practical play into every one of their toys. The Kong Squeezz is the most recent addition to the Kong line in this list, but it shows promise for a few different reasons, in addition to the top brand name it's sporting. Kong Squeezz is a hardy chew toy that includes a squeaker for even more enjoyment. The flexible material means your puppy will love chewing away at it and it will feel softer on his tender gums, than the Kong Classic or Extreme. The toy is also a non-toxic rubber and comes in four bright colours.
There are multiple toys in the Kong Squeez line, and all come in fun shapes that every puppy would love.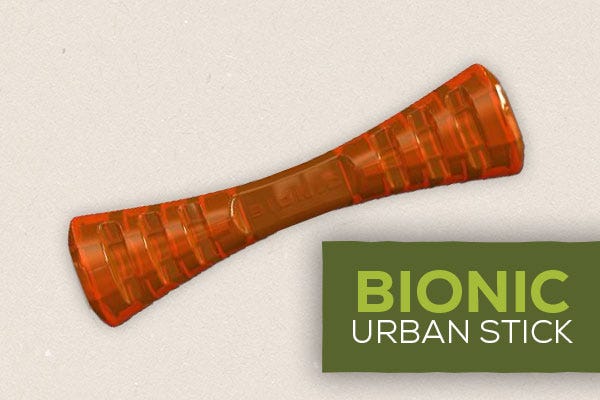 You know that a toy is going to be good when the company stands behind it 100%. All the Bionic toys include extremely durable rubber and they come with a satisfaction guarantee from the company. The Bionic Urban Stick is a top choice because the toy has deep ridges that allow your dog to get a great grip when chewing, and you can get a good grip when playing fetch with him. Each end of the toy is weighted, which makes it spin in the air while you throw it, adding to the fun! Bionic toys all come in an easy-to-see bright orange, so your dog will have no trouble finding her favourite toy, no matter where she plays with it.
Conveniently comes in 3 sizes, so you're sure to find one that fits your puppy.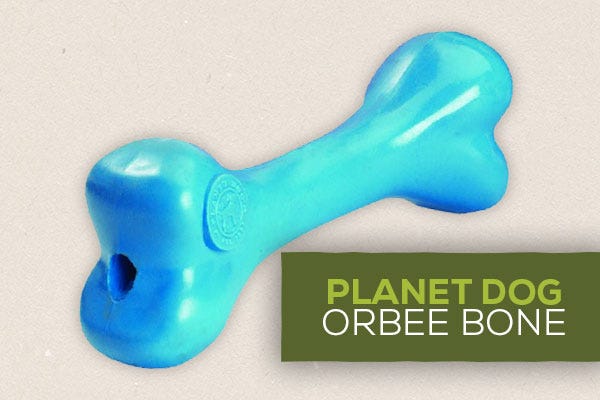 Who can resist a classic bone-shaped chew for their new puppy? Planet Dog Orbee Bone and the other toys that are in its line are completely non-toxic, recyclable, and come in a fun, irregular shape for your dog's chewing enjoyment. Uniform bones only have so many different feels in your dog's mouth, but with each angle of the Planet Dog Orbee Bone, your dog will have a new chewing sensation, giving him a longer-lasting chew experience. Planet Orbee Bones come in 3 electric colours with one company-backed satisfaction guarantee. That means that these cute and fun bones are as tough as they say they are, or you can get your money back.
You really have to check out the entire line of Planet Dog Toys. Each toy that Planet Dog comes out with is innovative, bright, fun, and too cute to resist.
Take a look at this fruity twist on the classic rubber ball for dogs. Besides the adorable shape, the Planet Dog Tough Raspberry comes with a small hole that you can stuff small treats or kibble in, adding even more long-lasting enjoyment for your puppy or dog. The bumps and ridges in this toy give it more interest for your puppy, who just loves sensing his environment through taste and touch with his mouth. The only problem with this toy is that it is only suited for small dogs and puppies under 15lbs.
Check out the full line of Planet Dog Toys for options for larger puppies and dogs, or browse the other cute styles for small dogs – there's a carrot, artichoke, and eggplant to name a few!