Most DIY project ideas get us dreaming, but these cat and dog backyard DIY ideas take it one step further. These 7 extreme pet yards may look bizarre, but they are real cat and dog owners' solutions to some pretty unique problems. And, let's admit - we
Extreme Backyard Pet DIYs
Most DIY project ideas get us dreaming, but these cat and dog backyard DIY ideas take it one step further. These 7 extreme pet yards may look bizarre, but they are real cat and dog owners' solutions to some pretty unique problems. And, let's admit, we're all a little strange when it comes to our pets.
1. Dog Play Yard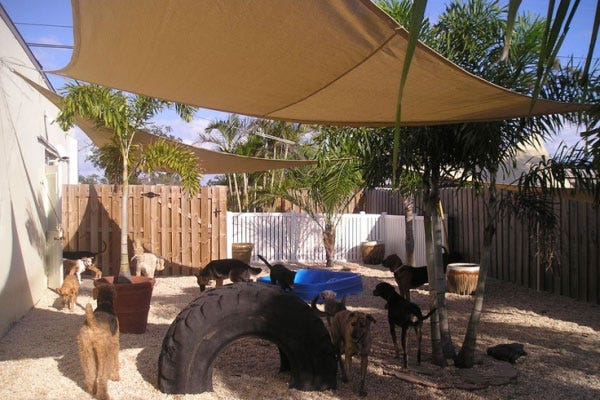 There are plenty of them around for kids, but what about those playful pups out there? Tires, sandboxes, hard plastic pools, and balls all make this yard perfect for dogs.
EXTREME FACTOR: Looks like a fun play yard for sure, but do you really want to devote your entire backyard to your dog's amusement? Yes? Hey - we won't judge!
See the pin on our Pet DIY Pinterest board.
2. Fence-Top Cat Walk
This fence-top cat walk is an intense solution for outdoor cat bylaws. This owner even included a multi-level outdoor pen for their cat's enjoyment.
EXTREME FACTOR: This cat walk looks like an extensive project to undertake. Not to mention a bit of an eyesore on your fencetop. But, kudos to you if you undertake a project like this. That's one big sacrifice for your cat to get a few outdoor rays safely and lawfully.
See the pin on our Pet DIY Pinterest board.
3. The Catio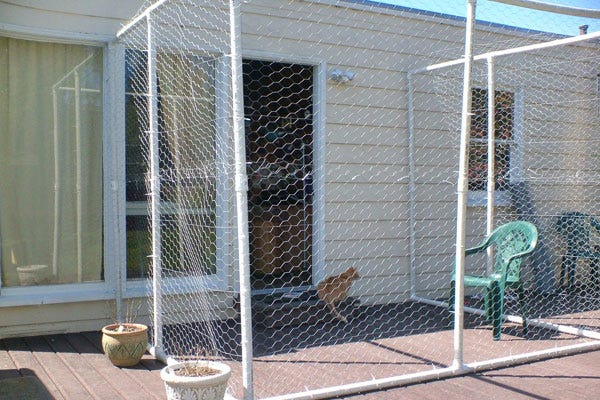 There are plenty of cat patios out on the internet. But this one takes the cake for scale. Once again, this is one cat owner's way to get past cat roaming bylaws.
EXTREME FACTOR: I love the idea of letting Fluffy get some fresh air, but this may not be the best way to do it. My question: how does one get out into the yard? Do you have to move the entire enclosure? Maybe they should have built in a door...
See the pin on our Pet DIY Pinterest board.
4. Cat Fence
Here's another extreme cat backyard. Nothing says crazy cat lady like a cat-topped picket fence. Wear it loud, wear it proud!
EXTREME FACTOR: It's good to let your pet love show, but is this too much? And, we must say: isn't this just a little bit creepy? Those hollow eyes staring at you...
See the pin on our Pet Decor Pinterest board.
5. Fence Porthole
This dog backyard takes the cake. Nosy Fido but no chain link? This fence peep hole is for dogs who "just need to know" what's going on in the neighborhood. Gives any watchdog peace of mind. Or, maybe it just makes the situation worse?
EXTREME FACTOR: If your dog loves to see what's going on in the neighborhood, you could cut him a special window in your fence. I mean, why buy a whole new chain-link fence? We just wonder if it's worth the stares you might get in the neighborhood. Not to mention the nose marks you'd have to constantly be wiping off.
See the pin on our Pet Decor Pinterest board.
6. Dog Poop Composter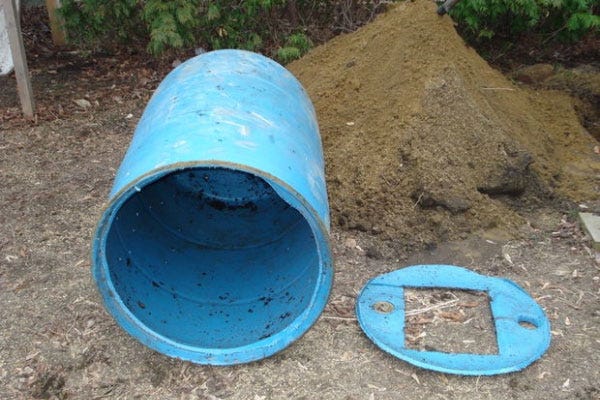 This dog poop composter is a simple solution to a dog yard clean up problem. Friendly to the environment and a practical manure source for your lawn.
EXTREME FACTOR: I love the environment, truly. But I don't think my nose can handle a barrel of poop in the yard.
See the pin on our Pet Solutions Pinterest Board.
7. Bone Pool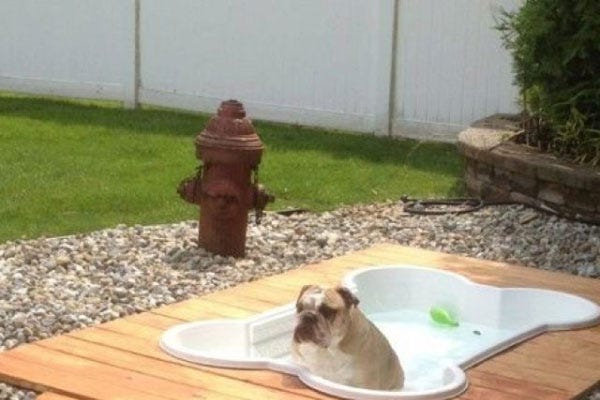 You may have bought a plastic kiddie pool to let your dog splash around in. But what about something a bit more permanent? Every dog yard should have a bone pool that is built right into the landscaping.
EXTREME FACTOR: Well, no one will doubt you love your dog. Just one glance into your backyard is all they need. I just have to wonder, how easily is this cleaned?
See the pin on our Pet Decor Pinterest Board.
While you may not have built a bone pool right into your yard, chances are you do some pretty strange things just for your dog. We all accomodate our pets. It's just part of loving our pets completely. If I haven't given you some ideas, I've at least made you feel a little more normal, right?
What extreme things do you do for your pet?