Getting a new puppy can be exciting and stressful. There are many things running through a new pet owners mind that can add even more stress if you don't know where to turn. What puppy products are necessary? What can't your puppy live without? And what can wait a few months? Here is a new puppy checklist complete with all the essential supplies you'll need for your new puppy.
What Do I Need for a New Puppy?
1. Puppy Food
Your puppies diet is the foundation of their health, so choosing the right diet is the first step of new puppy ownership. It's a good idea to pick up some of the food that your puppy is currently eating at their breeder or rescue.
Regardless of whether you keep your new pup on or not, it's best to minimize changes to their diet and routine until they have had a chance to get comfortable in their new environment. A new home is stressful enough on a puppy. Staying on the same food can decrease the likelihood of digestive upsets.
If you are planning on switching their diet, make sure that you leave yourself enough o the old food to properly transition. Check out What Should I Feed My Puppy? To learn what your new puppy needs.
When you are ready to change their food, it's best to slowly replace the old food with the new food over the course of 7-10 days.
2. Dog Food Dishes
There are many types of dog dishes to choose from: plastic, ceramic, steel, weighted, elevated, or automatic.
Plastic bowls are cost-effective, but they do have a few drawbacks compared to other materials. For a puppy that loves to chew, a plastic bowl may look like a fun chew toy. They are fairly light, so it's easy for your pup to pick up, push around, and destroy if they feel so inclined.
As the plastic wears, bacteria can hide in the scratches and grooves of the material. While this bacteria is unlikely to cause digestive issues, it can lead to puppy acne or small pimples that develop around their muzzle.
Puppy acne will go away if the source of the bacteria is removed. Stick to glass, ceramic, or metal to avoid puppy acne and bacteria build altogether.
If your puppy is a guzzler when it comes to food, try out a slow feed bowl. This will help them regulate the speed that they eat, and prevent gulping large mouthfuls of food at a time.
3. Dog Water Dishes and Fountains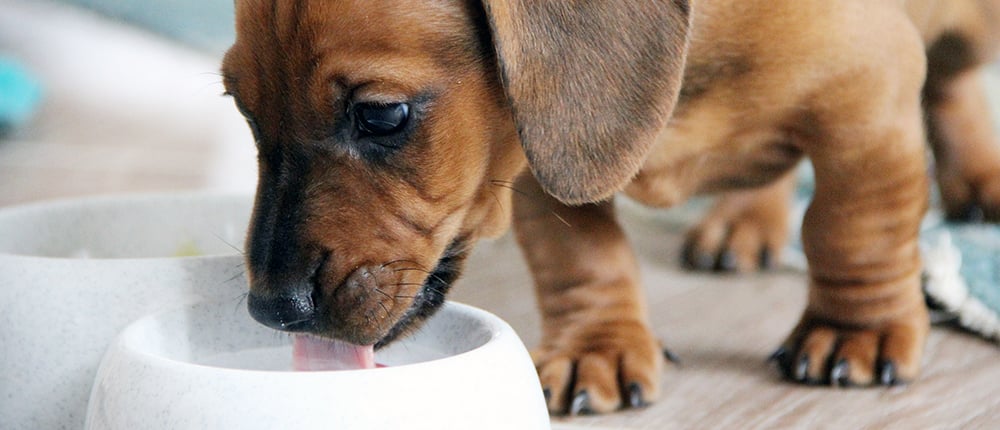 Avoid plastic for water dishes as well. Just like their food bowls, bacteria builds up in the dents and scratches of the plastic. Even if you are regularly cleaning the bowl and replacing the water, a plastic bowl will need to be replaced more often than metal, ceramic, or glass.
Dog water dishes are the old stand-by, but water fountains have certain benefits as well. Water fountains are an excellent choice to keep your puppy's water cool and clean. Dog water fountains only need to be topped off daily or every other day and changed completely at least once a week.
If you choose to use a dog water dish or bowl, make sure your puppy always has access to clean water. This may mean changing your puppy's water multiple times per day.
4. Dog Brush
You should be brushing your puppy at least once a week, no matter your dog's breed. Long-haired puppies may need even more frequent brushing. Brushing reduces shedding, matting, and stimulates healthy hair growth. Start with a small soft slicker brush, preferably one with rubber or plastic tips, as it will feel gentler on their sensitive skin.
The earlier you start brushing your puppy, the better. Try having some small reward treats on-hand whenever you brush your puppy. Treating can help them view grooming routines as a positive experience and make it much easier to maintain as they grow up.
5. Collar and Harness
Before they are fully vaccinated, your puppies interaction with the outside world should be limited, though getting them used to good walking habits can start right away.
Practice in the house or backyard so that by the time they are ready to explore the world, they are accustomed to the equipment.
Depending on your puppies breed, they may grow a lot over the next 18 months, or they may barely double in size. Either way, try to find walking accessories that fit appropriately now, but also give your puppy some room to grow. This will reduce the frequency at which you will need to replace the equipment that they have outgrown.
Even if they never leave your side, you should always make sure that your puppy is properly tagged. An ID tag on their collar can make it safer and easier for them to find their way back home if they happen to get out on their own.
A harness is a great choice for teaching your dog to not pull on the leash when they walk. Collars can add stress to their fragile necks, so a harness will be safer and will give you better control of your dog.
6. Tearless Puppy Shampoo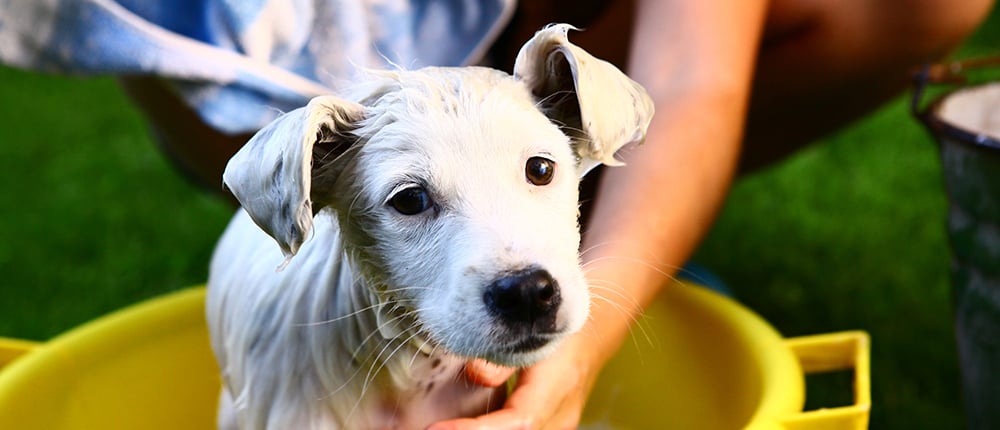 Puppies have very sensitive skin, so over-bathing or bathing them to young can reduce the natural oils that they produce to protect their skin. Avoid bathing puppies under 12 weeks of age.
Instead, try to spot clean or use natural wipes to clean your puppy when they get messy. Just because you can't bathe them, doesn't mean that they need to be stinky. If you do bathe your puppy, look for a shampoo made from natural and gentle ingredients. Here a few brands that make puppy-safe shampoos:
Always choose a shampoo designed for dogs - human shampoos are made to suit a different skin pH. The wrong shampoo can dry out your dog's skin and coat or even cause an allergic response.
7.Puppy Chew Toys
Teething puppies need something to chew. Choose tough toys meant for chewing that your puppy will not be able to swallow. Select quality dog toys of many different textures to get your puppy used to them.
If you are offering plush, stuffed, or rope toys, be mindful of all of the materials that your pup could potentially ingest. Stuffing, squeakers, and fabric can all cause digestive upsets and could be choking hazards.
At any age, and with any type of toy, supervise your pets chewing to avoid choking and ingestion of inedible materials. For teething pups, check out Best Chew Toys for Teething Puppies.
Never give a baby toy or other toy not designed for dogs to your puppy. For safety, avoid rawhide chews until your puppy is at least 6 months of age.
8. Dog Kennel
Choose a dog crate or kennel that fits your puppy properly - he should be able to stand up in it and turn around comfortably. Your puppy's kennel should be roomy, but an over-sized kennel can make house training difficult.
If left with enough space, your puppy will be tempted to relieve themselves in an open part of the kennel or crate. Your puppy is less likely to potty in the kennel if they will have to sit or lay in it.
Only want to buy one kennel throughout your puppy's life? Many kennels come with divider panels, so your kennel can grow with your puppy.
Look for a washable kennel mat that fits in your dog crate for your puppy's comfort.
9. Dog Bed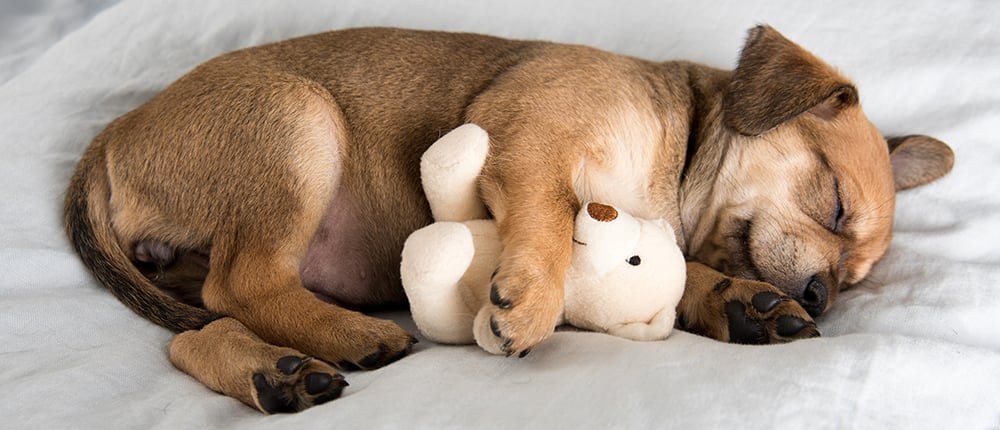 Dog beds are for more than just comfort. Great dog beds for puppies are stain-repellent, durable, tear resistant, and washable. Look for these features in a quality dog bed for your puppy.
You may even be able to find beds labelled as chew proof or chew guaranteed. These are a good investment for puppies with destructive tendencies.
Beds with removable covers are great too. The covers can be washed and you will avoid having to wash a big bulky bed that will end up being misshapen after a tumble in the washing machine.
10. Puppy Treats
Treats can make training easier and faster for your puppy. Try to find a variety of healthy treats that your puppy goes crazy for to help keep their attention during training. High-value rewards should be meat-based, smelly, or soft and chewy.
Look for dog treats with healthy, whole food ingredients. Make sure the treats are small enough and low-calorie so that you can feed many throughout the day as you train.
Soft treats can be ripped or cut into smaller pieces. Treats for training should be smaller than a piece of kibble. Check out 10 Healthy Training Treats for Puppies for some tasty ideas.
11. Natural Pet Cleaners
Cleaners are essential puppy items. Your puppy will have accidents - cleaning them completely and effectively decreases the chance your puppy will return to the same spot.
Look for natural pet stain and odour removers with active enzymes that eat away pet messes, such as Nature's Miracle. Chemical cleaners simply cover up pet messes, often incompletely.
12. Puppy Toothbrush and Toothpaste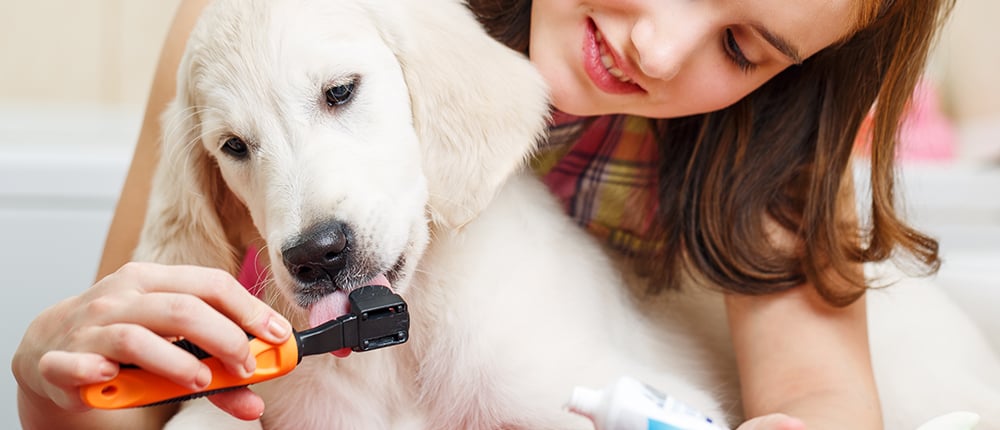 Get your puppy used to proper oral care from a young age. Try to get in the habit of brushing your puppy's teeth every day. Good brushing habits mean lower vet bills over the course of your dog's life. To learn more, check out The Complete Pet Dental Care Guide.
Small finger toothbrushes, like Petrodex Finger Toothbrush, are good for small mouths and can be easier for your puppy to get used to. You can gradually switch to a standard toothbrush over time.
Even if your puppy hates the process of toothbrushing, keep trying. No other dental care routine will completely replace regular tooth brushing.
13. Puppy Training Pads
Training pads are perfect for underdeveloped puppy bladders. Often scented with pheromones to attract your puppy, puppy training pads can be a great aid no matter how you plan to house-train your dog.
Start with the puppy pads in an area close to where your puppy normally spends most of their time. Using an exercise pen is a good way to give them room to play and still keep them contained. The pen will be large enough to fit a training pad and still have plenty of space for your pup to frolic.
14. Book
A good species-specific book can be a valuable resource throughout your pet's life. While the internet can be a good resource, it can be hard to sift the good information from the bad. Look for a book that covers all aspects of your puppy and dog's care.
You may need to add a few more seasonal items - such as boots and possibly a jacket or sweater for fall and winter, or a tie-out for summer, but these choices are dependent upon weather conditions and dog breed.
15. Re-purpose
Your puppy will outgrow a lot of equipment, but don't let those items go to waste just because your puppy is too big for them. Collars, crates, beds and dishes can all be donated to your local pet rescue. Even opened bags of food and treats can be very valuable to a dog in need.
To learn more about getting involved in your community, check out Community Outreach: Supporting Your Local Pet Rescues.

You will find that a dog's needs are individual, but this new puppy checklist should cover all the basics of any puppy's care. Finding the best tools for your puppy may take time and practice, but we hope that this list is a great way to start off your pups new life. Make sure you, your family, and your home are prepared for your new puppies arrival to make the transition as smooth as possible.
Best of luck with your new puppy!
---
Posted by Krystn Janisse

Krystn is a passionate pet nutrition enthusiast. She has worked in the pet industry for over a decade and loves to share her passion for animal welfare with others. She loves all animals but is currently channelling some crazy cat lady vibes with her five lovable, but rebellious cats.
---