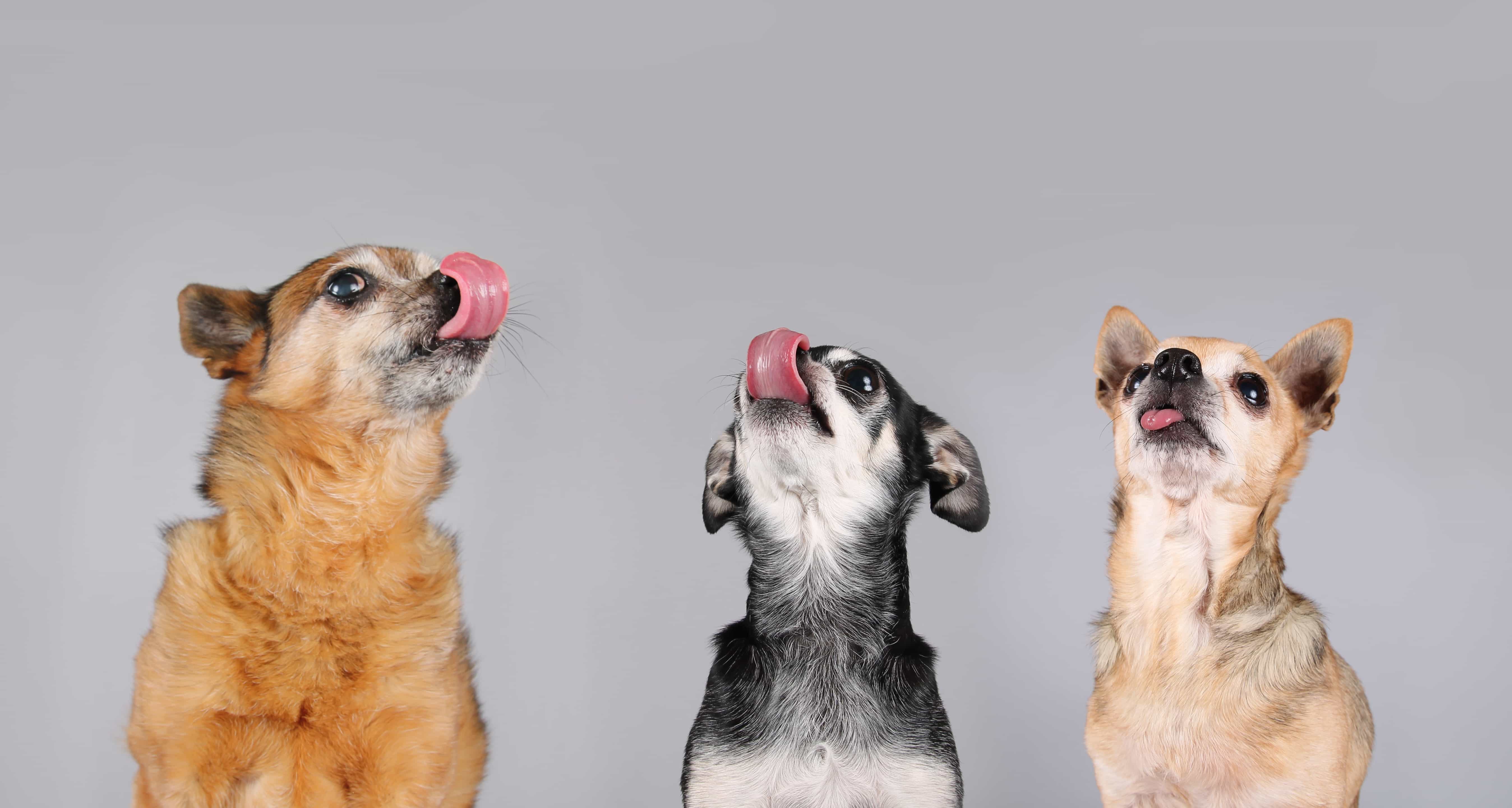 When it comes to popular dog treats, there is so much to choose from, each one promising to be more irresistible than the last. However, you know that it's not only the tastiest dog treat that you want for your dog but also the one with natural, high-quality ingredients that is free of cheap fillers.
Popular Dog Treats 2022
There are so many options to choose from, it can be a challenge to know where to start. You might be looking for hypoallergenic dog treats, high calorie dog treats, puppy training treats or just something tasty, like a pumpkin dog treat. Here are what our customers' dogs pick as their favourites:
1. Whimzees Dental Treats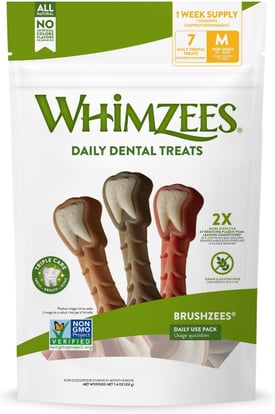 Whimzees are an all-natural vegetable-based chew, which makes them more digestible than most. With a convenient shape and size to fit in many toys or chew holders or just for your dog to chew on their own, Whimzees are versatile as well.
2. Greenies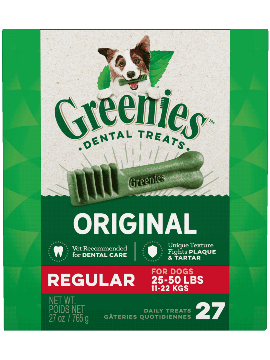 Greenies have been known for years as the number one chew for your pet's dental health. With an irresistible minty taste, Greenies fight plaque, freshen breath, prevent tartar buildup, and help maintain healthy teeth and gums.
3. Snack 21 Salmon Fillets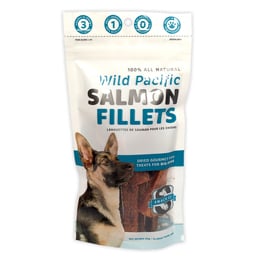 Move over cats – this fish is going to the dogs! Snack 21 Skins are 100% salmon skin, full of vitamins and minerals. Especially rich in natural Omega-3 fatty acids, these natural chews are a tasty and healthy treat with plenty of protein. No preservatives, no additives, no artificial flavouring, no by-products, and they're made in Canada.
4. Orijen Grass-Fed Lamb Treats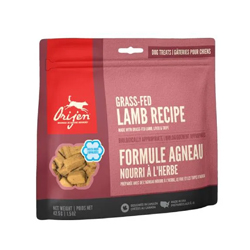 Orijen is one of our most popular Canadian dog foods, so it is not surprising that Orijen also shows up on our top-selling dog treats list. These treats are freeze-dried to preserve the natural nutrients and come from a single protein source, which makes them an ideal solution for sensitive pets or those with allergies. Only 3 ingredients – lamb, lamb liver, and lamb tripe.
5. Jay's Tid Bits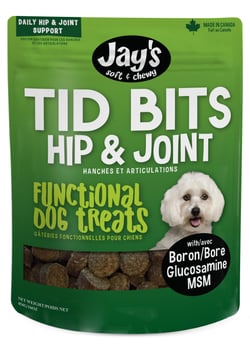 Jay's Dog Treats are a low-calorie, tasty treat that makes training easier! Enriched with DHA, these treats are gluten-free, easy to digest, and contain wholesome ingredients such as kelp and flaxseed. They even contain glucosamine and MSM to maintain healthy hips and joints.
6. Plato Hundur's Crunch Treats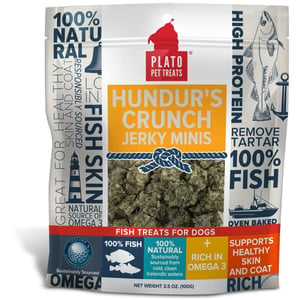 Seems like our customers' dogs just can't get enough fish jerky! These healthy treats are excellent choices for their high fatty acid content, which helps to moisturize the skin from the inside out. Plato crunchy jerky rolls are sustainably sourced and include a very limited ingredient list – only cod skin and golden redfish skin. No corn, grain, gluten, wheat, or soy.
7. Zoe Dental Sticks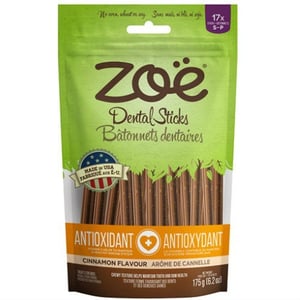 Zoe Chew Sticks are made out of organic quinoa, which has high protein, high fibre and provides plenty of energy for your dog. This reduced-fat variety is low-calorie and also contains L-carnitine for boosting metabolism. No gluten, wheat, corn, soy, dyes, or additives. Perfect for dogs with sensitive stomachs or those with allergies. They also help reduce plaque and tartar and freshen dog breath! What don't these treats do?
8. Polkadog Cod Skins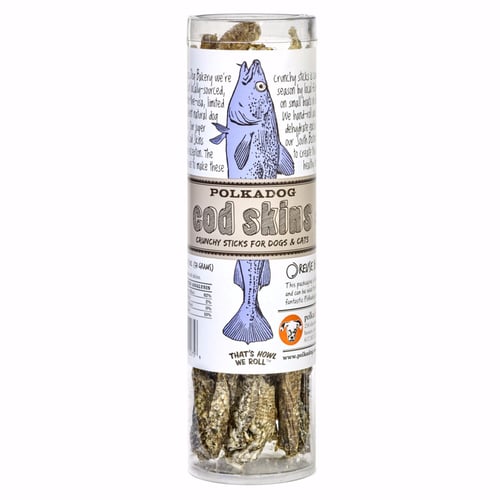 Something's fishy! Polkadog Cod Skins are 100% fresh-caught cod as the sole ingredient. Dogs love the smell and satisfying crunch. No preservatives, no additives, no artificial flavour. Something your dog will love for the taste, and you will love because you know it's healthy.
9. Zuke's Mini Naturals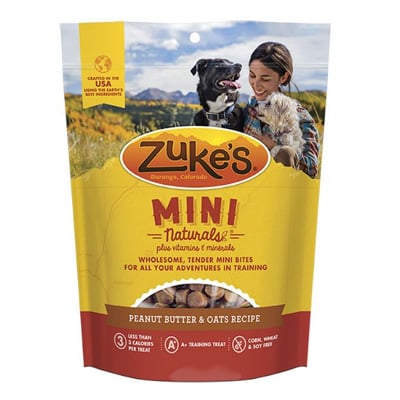 Zuke's Mini Naturals are a small, low-calorie treat that makes a perfect training treat. All-natural ingredients make these a safe and sensible choice – even if your dog happens to eat the whole bag. No artificial flavours, colours, by-products, meals, or added animal fat. And no corn, wheat, or soy!
10. Purebites Freeze-Dried Beef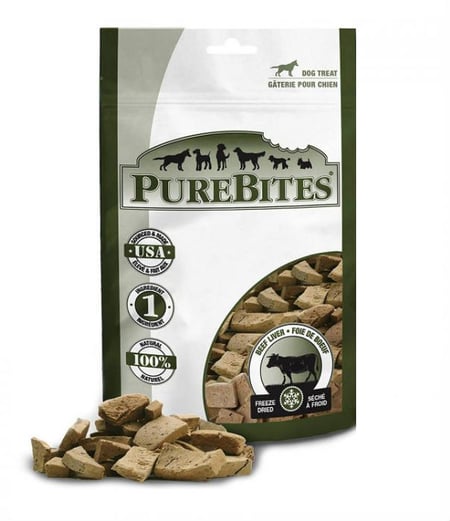 We just love seeing so many healthy, one-source ingredient treats on our most popular dog treats list. We know you're making the right choices for your pet. Purebites are 100% beef liver, which is high in nutrients, including protein for muscle maintenance and calcium for strong bones.
Purebites are highly palatable and come with a 100% satisfaction guarantee from the manufacturer. With ingredients like sweet potato, real chicken, oatmeal, and other grain-free mixtures--dog treats can be delicious and nutritious!
Is your dog's favourite treat on our list? Let us know which dog treat is essential in your house in the comments below!