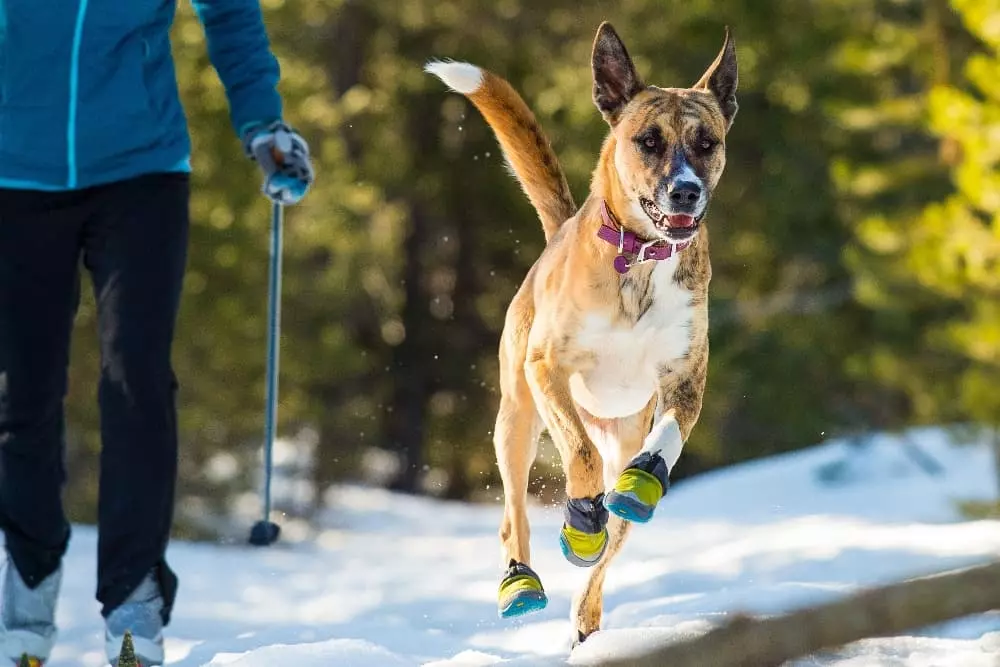 Does your dog need winter boots? Let's face it: dog boots can look hilarious, especially if your dog isn't used to them. But comedy aside, dog boots perform a necessary function and can improve the life of your pup.
Dog boots protect your dog's sensitive paws from the ice and snow as well as other winter hazards such as road chemicals. Read on for the benefits of boots, and get some great tips for getting your dog to put on boots.
Why Dogs Need Boots?
If you are unfamiliar with the idea of dog boots or sock boots, you might be wondering if they are really necessary to protect paws from cold snow or other hazards. Your dog's paw pads are naturally designed to traverse rough surfaces in different environments.
However, their ability to handle extreme temperatures is still limited. Before walking in extreme conditions, you'll want to pack socks or booties for your pup.
This is when the best dog boots can come in handy. Though dogs may not love wearing them, they allow your dog to handle more extreme temperatures and terrains. The best winter dog boots feature a rubber sole for traction and extra protection on hot pavement. You can also invest in sock boots.
All About Winter Dog Boots
Dog boots, or dog booties, are protective coverings for your dog's paw pads, shielding them from freezing weather, rough terrain, and injuries, akin to cowboy boots and popular in dog sled racing. They feature Velcro straps or hook and loop closures, with reflective strips for visibility. Components include the sole, uppers, and sock liner, often made from breathable mesh fabric.
Some boots have water-wicking, antimicrobial, and impact-absorbing features, along with grip paw pads for enhanced traction and stability during walks and hikes. These features ensure long-term comfort for dogs during inclement weather. They are a good option for any pup.
Benefits of Dog Boots for Winter
Is there anything cuter than a dog wearing snow boots? I don't think so. But besides how cute they can be, there are many other benefits to buying dog snow boots for winter, such as keeping your dog's paws warm in a windy climate.
Protection: Shields paws from extreme temperatures, hot pavement, sharp objects, chemicals, and snow, no matter the depth
Injury Prevention: Prevents cuts, abrasions, and infections, especially during outdoor activities such as hiking when wearing boots.
Traction: Provides grip on slippery surfaces from the rain, improving stability in the mud and preventing slips and falls during any season.
Comfort: Offers cushioning and support, enhancing comfort during walks and hikes.
Hygiene: Keeps paws clean, reducing the risk of infections and allergies.
Post-Surgery Use: Ideal for protecting bandages or surgical sites on the paws.
Allergy Prevention: Prevents contact with allergens like pollen and grass, reducing allergic reactions.
Preserve Flooring: Prevents scratches and damage to indoor floors and furniture.
Visibility: Some boots have reflective features, enhancing visibility during nighttime walks.
Next time you take your dog for a hike out in the wilderness, bring along a pair of boots, like Ruffwear Grip Trex Boots.

Is there anything cuter than a dog wearing snow boots? I don't think so. But besides how cute they can be, there are many other benefits to buying dog snow boots for winter.
Dog boots work by keeping the footpad dry and creating an insulating layer around it. With dry foot pads, your dog will be able to tolerate the cold weather for longer and will be more comfortable walking in the winter. So, do dogs need boots for winter? We would say yes, especially if you live in extremely harsh winters.
Boots also protect your dog's footpads from irritation caused by chemicals and salt (think of all the nasty stuff we put on our driveways and sidewalks to remove ice).
Hate wiping your dog's paws after coming in from outside? Boots keep dirt, mud, and snow from collecting on your pet's paws. Have hardwood floors? Dog footwear can protect your floors from scratches, too. There are many types of boots, so try out a few to find the best fit for your dog's training.
Boots aren't just dog shoes for winter walks, though that's when they are most commonly used. Extremely hot weather or rugged terrain can be harmful to your dog's sensitive pads, too.
Signs That Your Pup Needs Dog Winter Boots

Here are some tell-tale signs that your dog's paws are too cold and he needs dog shoes:
Signs your dog needs boots for the temperature extremes:
Picking up paws when walking outside
Excessive licking of footpads
Shivering from being chilly
Dry, split, or cracked footpads
Difficulty cleaning muddy paws indoors
Special conditions: illness, injury, age, or chronic disease
Paw injuries: clean and protect to prevent infections
Ignoring these signs risks paw damage and frostbite and may deter your dog from outdoor activities.
These are signs that it's too cold for your dog to be outside without paw protection from a good set of dog shoes. Ignoring these signs could lead to paw damage and frostbite. Plus, it may discourage your pup from wanting to go outside and exercise.
What are the Best Dog Boots?
As you can imagine, there exist many different types of dog boots. At Homes Alive Pets, we offer many of the best dog boots for deep snow, such as the Canada Pooch with Velcro strap closures and reflective accents.
Let's talk about the top five best boots available.
1. Muttluks Fleece-Lined Dog Boots
These Muttluks Fleece-Lined Boots are comfortable for your dog with a stretchy cuff and a reflective stripe on the strap. The snug and comfortable fit allows your dog to adapt to these boots quickly in a cold climate.
2. Muttluks Snow Mushers Dog Boots
Another popular winter dog boot from Muttluks, the Snow Mushers, has a flexible rubber sole, providing additional grip on slippery surfaces from wet terrain.
3. Ruffwear Polar Trex Boots
Are you looking for protection against extreme temperatures? Road salts and chemicals? Or boots for rough terrain? These Ruffwear Polar Trex Boots are the perfect solution. The length of the boots pulled up protects the ankles and heel. They won't slide or twist. These boots are great for hot pavement.
4. RC Arctic Boots

These boots are durable and made with water-resistant material. Additionally, the RC Pets Arctic Dog Boots have a sturdy sole that makes them perfect for slippery or uneven terrain. Built-in socks provide additional insulation and a more comfortable fit.
5. GF Pet Elasto-Fit Boots
If you are looking for a lightweight, breathable, and water-resistant boot for your dog, look no further. The easy slip-on design of the GF Pet Elasto-Fit Boots makes them a popular option.
Your dog may be less than thrilled to try on his new boots. If you are struggling to get the boots on and keep them on your reluctance dog, you are not alone. Training your dog to wear boots takes practice and consistent instruction. Plus, lots of treats. Get more tips and tricks in How to Train Your Dog to Wear Boots in Winter.
How to Measure Dog Feet for Boots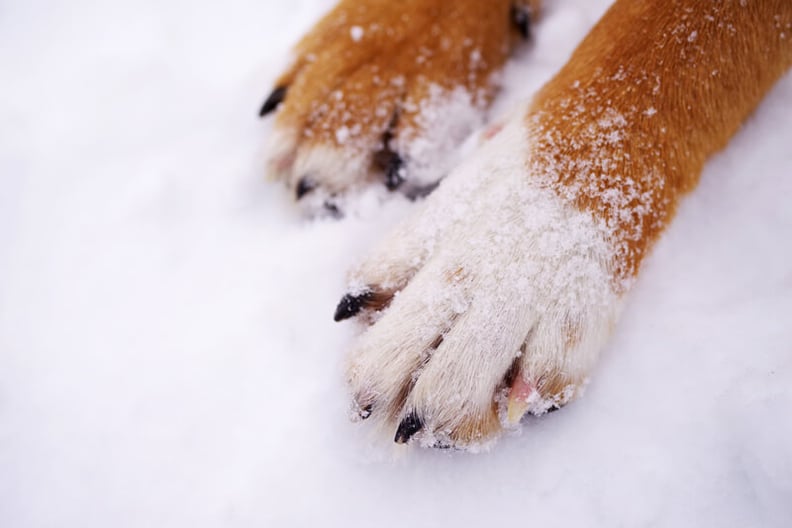 Properly fitting dog boots and socks dog boots are essential for comfort and effectiveness. They should fit snugly without being too tight or loose. Measure your dog's paw width at the widest part. If between sizes, opt for the larger size or consider different boot styles. Test the boots indoors, ensuring they fit your dog's paw shape securely and comfortably before use.
The foot should have enough room without fitting too tightly. Ideally, it should be the right size to fit securely with the narrowest part holding the boot in place on the leg.
Visit our website for sizing tips on all your dog's outdoor gear. How to Measure Your Dog for tips for sizing all your dog's outdoor gear and apparel.
Dog Boots Alternatives
Some dogs just won't wear boots, and other dogs who are more suited for cold weather may not need a fully insulated boot. However, these dogs can still benefit from road chemical and salt protection and wintertime dryness by using a dog boot alternative. The foot gear protects paws from cold temperatures.
Paw Wax
Paw wax is a thick wax that you place on the bottom of your dog's paws to protect them from the salt and road chemicals and snow and ice on your walks. It will keep your dog's footpads from drying out and subsequently cracking or splitting and provides a nominal waterproof barrier.
Paw wax is a great choice for cold-loving breeds such as Huskies, as well as any dogs who refuse to put on boots. There are a variety of options out there, but we recommend Musher's Secret.
Dog Boots Frequently Asked Questions
Do all dogs need snow boots?
While not all dogs require snow boots, those living in freezing climates or areas with snow and ice could benefit from them, as boots offer protection from freezing conditions, salt, and chemicals used on sidewalks.
Can salt on sidewalks harm my dog's paws?
Yes, salt and ice-melting chemicals can irritate and damage your dog's paws, leading to cracking, bleeding and pain. Boots or paw protection can prevent this.
Are there specific breeds that don't need insulated boots in the winter?
Extreme weather-adapted breeds, like huskies, may not need insulated boots, but they should don thin, waterproof boots for protection from salt and comfort in extreme conditions.
How do I choose the right snow boots for my dog?
Select boots that fit snugly without being too tight, and ensure they're waterproof and provide good traction. Gradually introduce your dog to wearing them indoors before venturing outside for an extended walk or hike.
Is it good for dogs to wear boots?
Dog boots protect from extreme weather conditions, harmful chemicals, rough terrain, and injuries to the feet or paws. Boots that fit properly enhance your dog's overall comfort and well-being while offering traction in slippery conditions.
Can my dog wear boots indoors?
While it's generally not necessary for dogs to don boots indoors, some pet owners use them to stop their dog's toenails from scratching flooring or provide traction for senior or mobility-impaired dogs.