It's summer and our pets might be even more excited than we are to spend time in the outdoors, having fun in the sun. Give your pet more reasons to play outside with these top outdoor dog toys. From chew toys to outdoor treats to fetch and floating toys, these balls, tugs, and tossers will keep your dog entertained for hours whether it's a BBQ, afternoon at the park, or day trip.
FOR THE WATER-LOVER
The summer is a wonderful time to enjoy cool and refreshing water. Whether you are visiting the lake or your dog is having a splash in the kiddie pool, waterproof toys are a must for making the most of a wet and wild adventure.
1. Kiddie Pool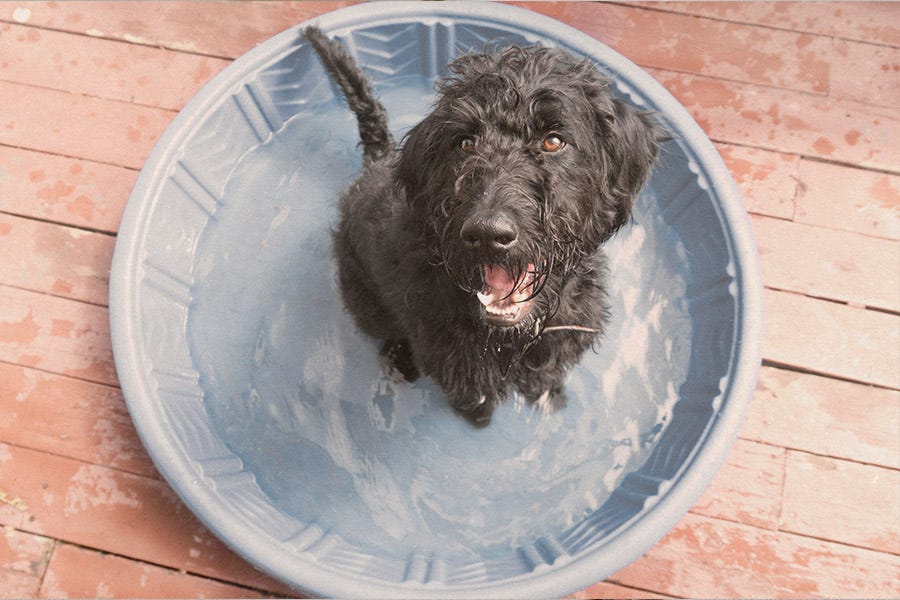 If you don't already have one, pick up a hard, plastic kiddie pool. There really is no better summer toy to keep dogs cool and having fun. The hard plastic shell prevents claws and rough play from ripping holes in soft plastic or inflatable pools.
2. Water Wubba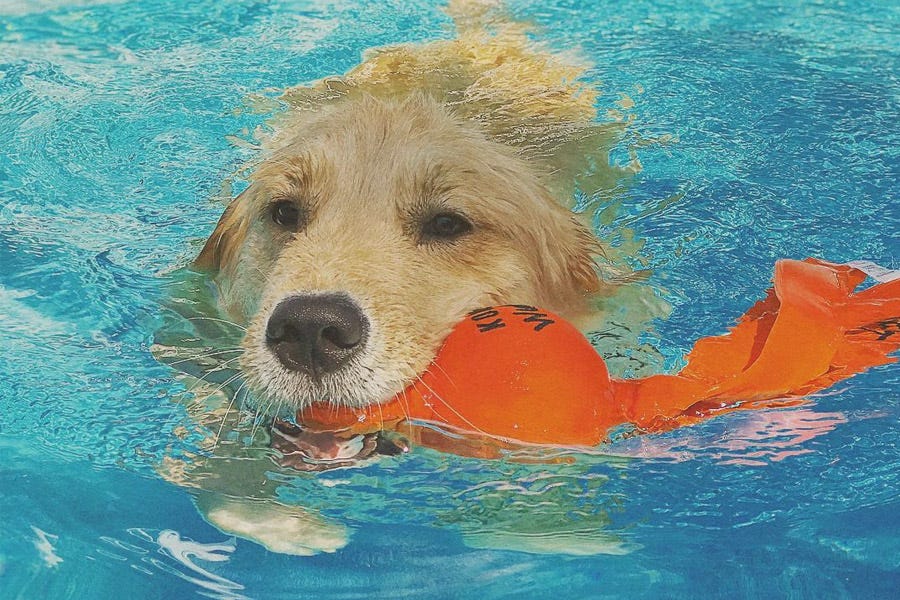 @esmebalent / via Instagram
The Kong Water Wubba comes in 3 bright colours, so they're perfect for taking out to the lake for play. They are covered in neoprene for fun water play, but they also dry quickly for a game of tug on the grass. Just be sure you don't leave your dog to chew on it. While Wubba is durable for toss and tug play, it's not designed as a chew toy.
3. Ruffwear Lunker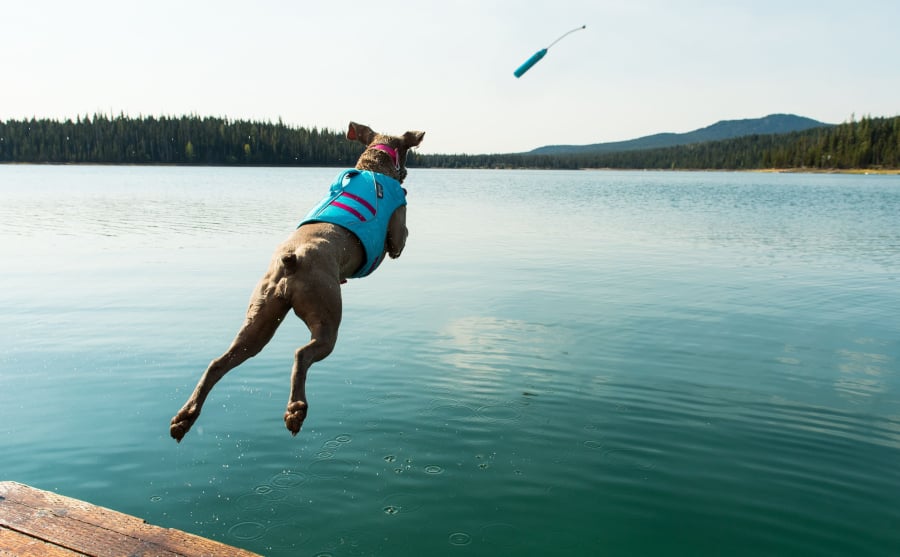 For Active swimmers, the Lunker is a great water toy. Just toss this baby right into the lake and let your pup dog paddle after it. It's soft and lightweight, made from recycled foam with a polypropylene rope handle for easy throwing and retrieval. The Ruffwear Lunker is a perfect water toy.
4. Chuck It Flying Squirrel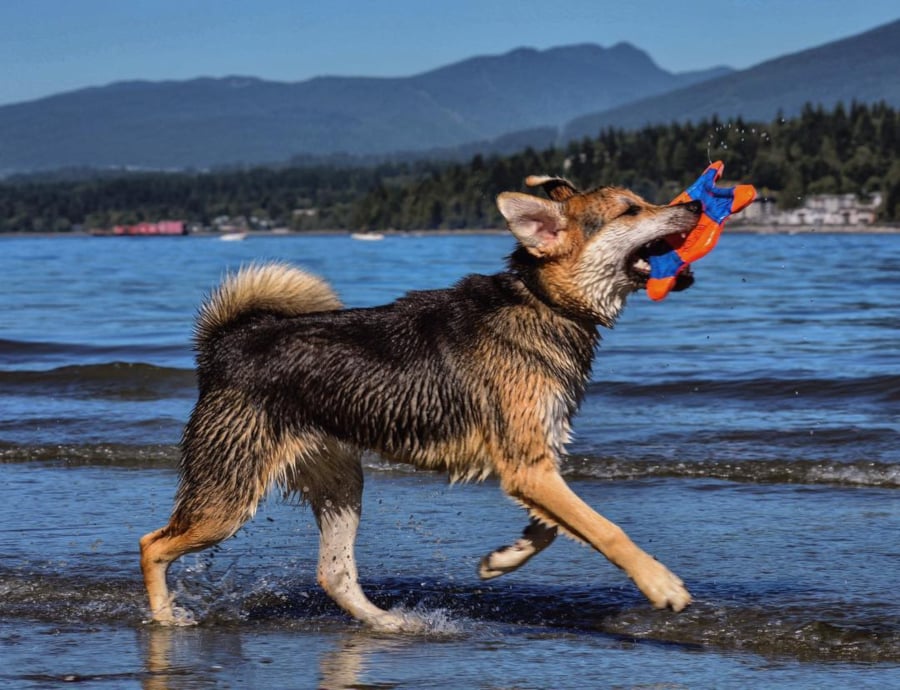 from @pnw.penny/ via Instagram
This water toy flies like a frisbee and floats like a ball. The Chuck It Flying Squirrel is a great lightweight toy for dogs that love water. It's durable canvas material is easy to catch and grab in the water.
It doesn't fly as far as a typical frisbee or fetch toy, making it ideal for short range fetch in the lake. For evening activities, the rubber 'paws' on each corner will glow in the dark, making it harder to loose and will keep your dog focused on game.
FOR THE FETCH ENTHUSIAST
The farther you can throw it the faster they run. Dogs who love fetch can be tireless, but these toys may just give them a run for their money. Fetch toys are perfect for the park, the beach or even just the backyard.
5. Chuck It Launchers

If your dog loves to fetch, but you hate slobbery, wet tennis balls, the Chuckit! Ball Launcher is the perfect addition to your dog's toys. You can throw tennis balls (and Chuckit has a variety of durable, unique balls to choose from including glow-in-the-dark balls) without ever having to handle them.
What is not often mentioned is that you can actually throw tennis balls further with the Chuckit! Ball Launcher, so it also makes an excellent toy for the dog that never seems to get enough fetch.
6. West Paw Zogoflex Dash Dog Frisbee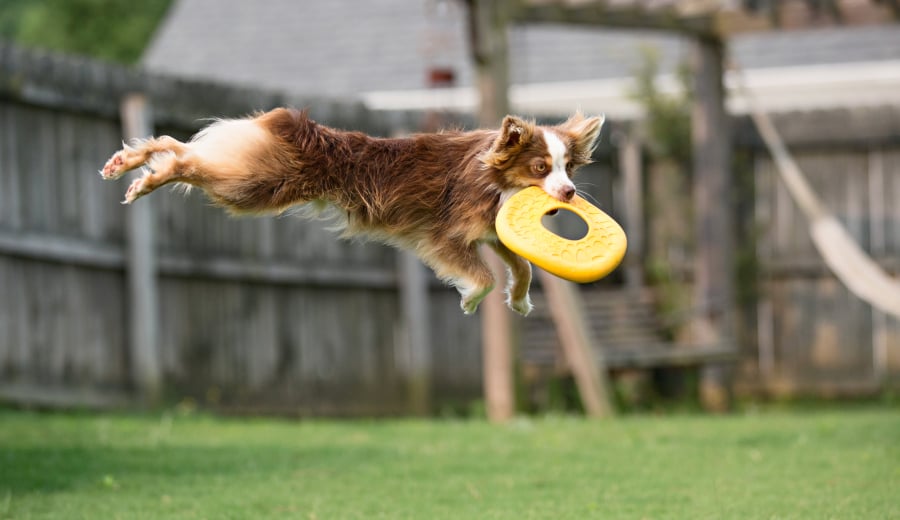 Looking for a toy that can stand up to your adventure dog? The West Paw Dash Dog Frisbee can fly up to 85 ft, uses an ergonomic design to make it easier to catch and pick up, and it floats, so it's the perfect lake toy.
This lightweight frisbee is made for dogs that are rough with their toys. It's made of the patented Zogoflex material, making it both durable and flexible, and is backed by West Paws tough guarantee. All Zogoflex toys are made from 100% recyclable materials that are free of latex and BPA.
7. Ruffwear Gourdo Rubber Fetch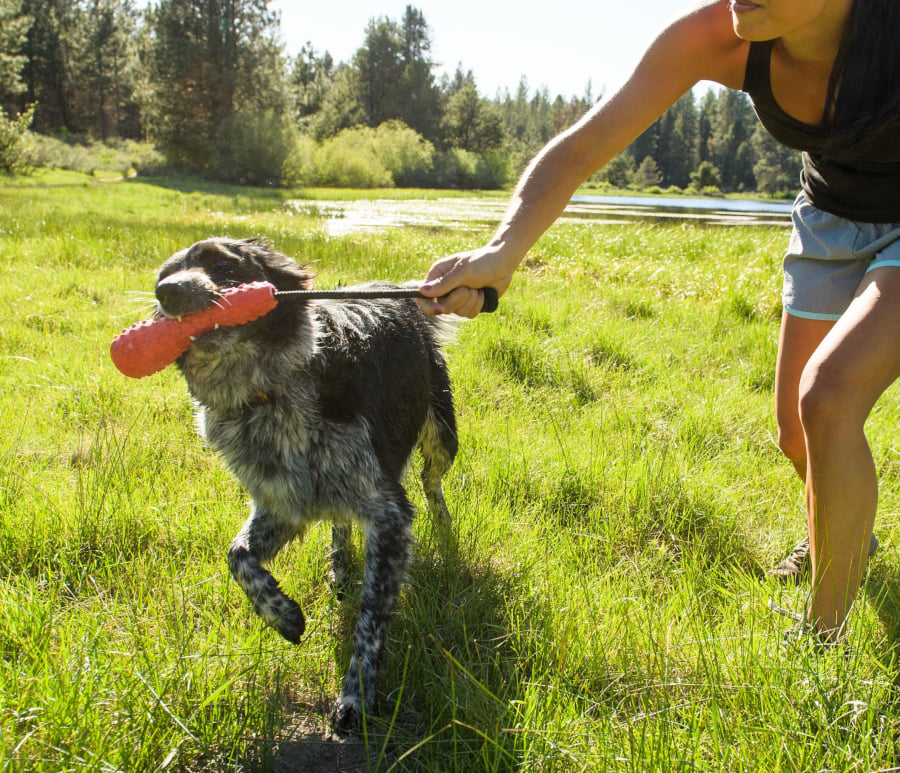 The Ruffwear Gourdo Rubber Fetch Toy is perfect for active fetchers. Its erratic bouncing quality keeps your dog engaged. The polypropylene handle gives the thrower a good grip so you can launch the toy farther and keep your dog moving.
Its soft rubber design makes the Gourdo easy to pick up and gentle on the teeth and gums. Although it is a great fetch toy, it can make for a pretty fun game of tug too.
8. Chuckit Kick Fetch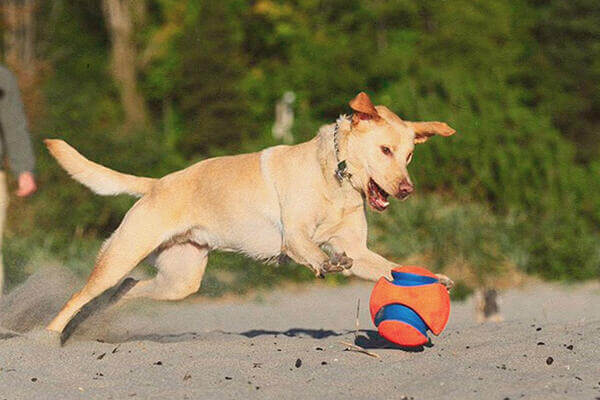 If your dog's favourite game is fetch, then have we got the summer dog toy for you – Chuckit Kick Fetch. Made with durable, natural rubber, it's not only super bouncy – it also makes for a less slobbery game of fetch. Its hands-free design allows you to kick instead of throw and it has reinforced "bite zones" enabling your pup to easily pick it up.
With its puncture resistant foam core, your dog can chew, chew, chew to her heart's delight without fear of destroying it. Recommended for large and giant dog breeds, since it's roughly the size of a soccer ball.
FOR THE BALL ADDICT
Balls are a dog's best friend. These unique toys are a twist on the old classic, giving your dog more of what they want.
9. Kong AirDog SqueakAir Tennis Balls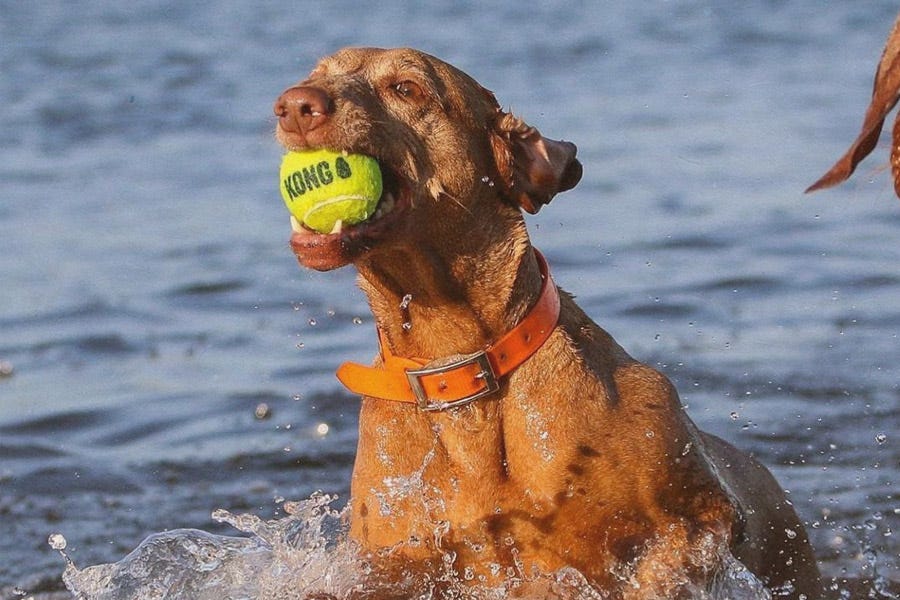 @the_prettypointers / Via Instagram
These Kong tennis balls might be a mouthful, but the idea behind them is simple. Dogs love tennis balls and dogs love squeakers. Put both together and what have you got? The Kong Airdog SqueakAir Tennis Balls. They're more fun than ordinary tennis balls and they come in different sizes to suit your dog.
10. Nerf Dog Football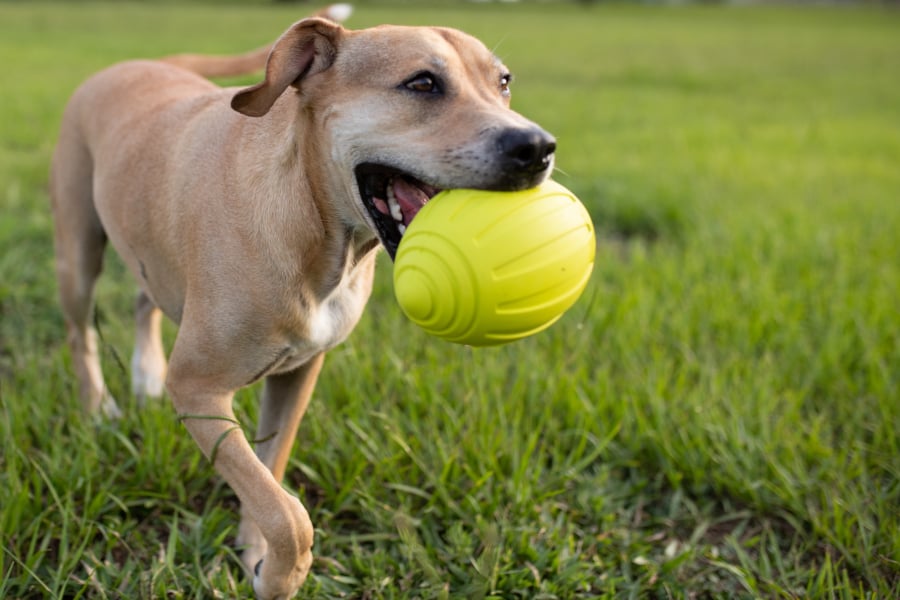 Throwing the pigskin around in the park is a favourite past time for many of us, so why not let our pups join in too. The Nerf Squeaker Football is durable and lightweight and the squeaker inside the football is a great way to keep your pet engaged.
The durable rubber will help keep the football intact and safe for year-round play.
11. West Paw Boz Ball
Made from 100% recycled materials, the West Paw Design Boz is a lightweight ball meant for tough dogs. Unlike many durable, solid rubber balls, this ball is light enough for your dog to safely catch mid-air, so throw them a pop-fly.
The Boz also floats, so take that puppy, and their ball, down to the lake or pool for some cool summer fun.
12. JW iSqueak Bouncin' Baseball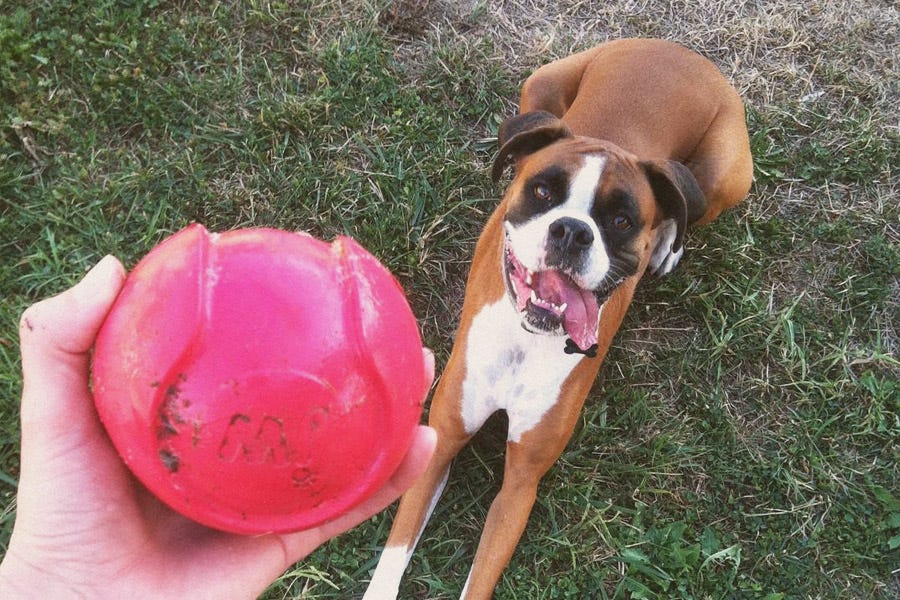 @thepuppytheycalljayne / Via Instagram
JW is known for their unique rubber toys, and the JW iSqueak Bouncin' Baseball is no exception. The appeal from this ball comes from its internal squeaker, nearly indestructible rubber exterior, and its unique ridges for better grip. It also has an excellent bounce.
FOR THE NIGHT OWL
Depending on your schedule or the weather, evening or dusk might be the ideal time for you to get some outdoor activities in with your pooch. These toys are designed for dogs that love the nightlife.
13. Nerf LED Bash Ball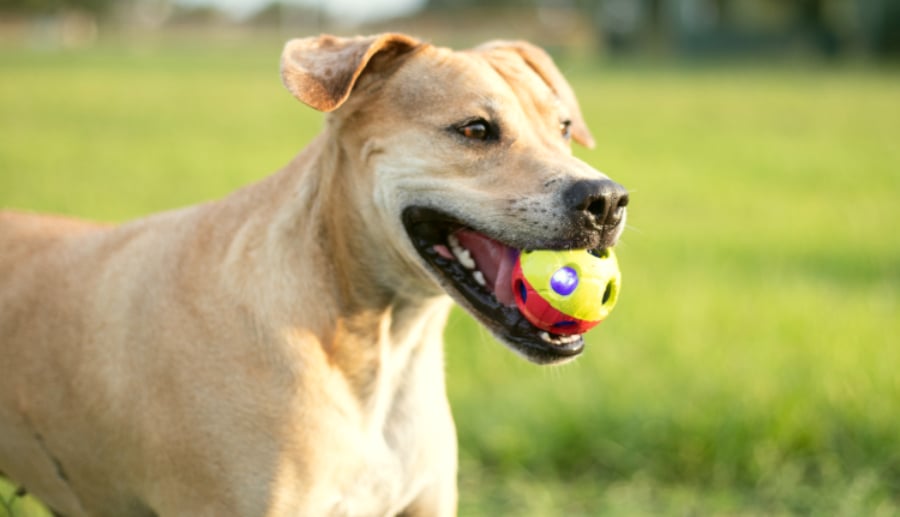 As the sun sets, it can be difficult for your dog to see their typical tennis balls. The Nerf LED Bash Ball activates when in motion, so once you launch this ball in the air, your dog will have no trouble following it and retrieving.
This ball can be seen for up to 300ft away, and the flashing lights make it easy to locate, even in taller grass.
14. West Paw Zisc Glow Disc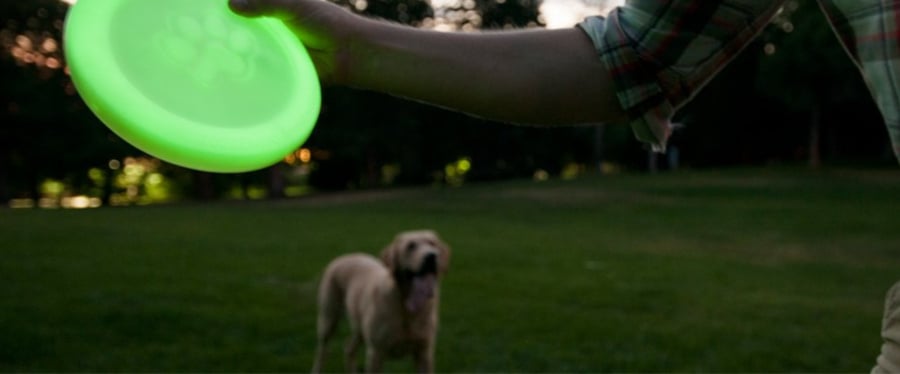 Frisbees are too easy to lose in the grass, especially when the sunlight starts to fade. The West Paw Zisc Glow Disc, glows in the dark, allowing your dog to spot the disc from afar.
This disc is made of flexible, 100% recycled material that bounces, floats, and is dishwasher safe for easy cleaning. To activate, make sure you hold the frisbee under light for at least five minutes to ensure that your frisbee is glowing bright.
15. Planet Dog Luna Ball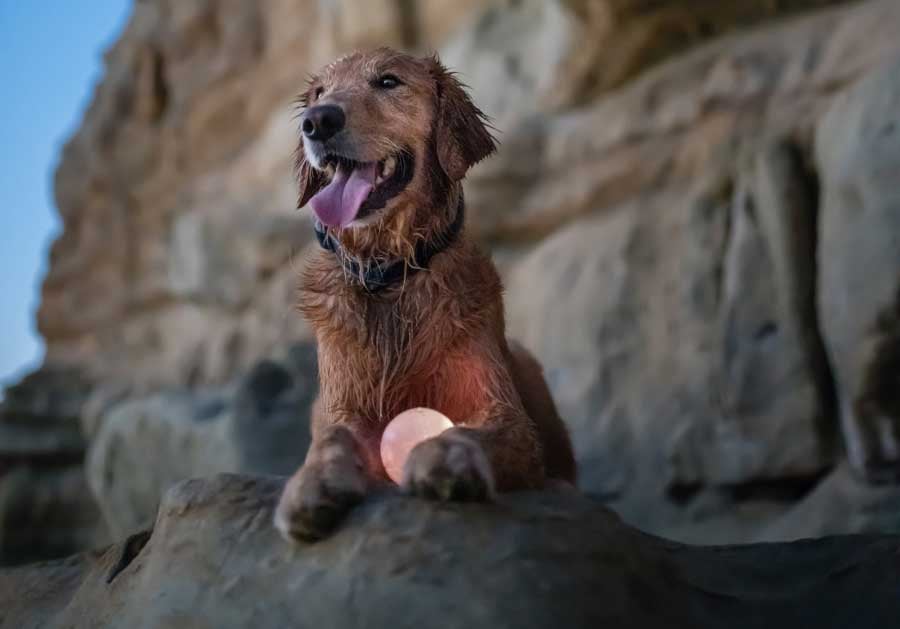 Another glow in the dark option is the Planet Dog Cosmos Luna Ball. This tough ball is great for dogs that are a little rougher on their stuff, with a 100% money-back guarantee. The Luna ball is rated 5 out of 5 on Planet Dogs toughness scale.
It bounces, floats and has a pleasant mint scent, making it perfect for any type of indoor or outdoor playtime.
FOR THE TUG O' WAR CHAMPION
You can play a game of tug almost anywhere. But like most things in the summertime, it's just better outside. Check out these toys that your dog definitely won't mind getting a little dirty in the great outdoors this summer.
16. Mammoth Flossy Chews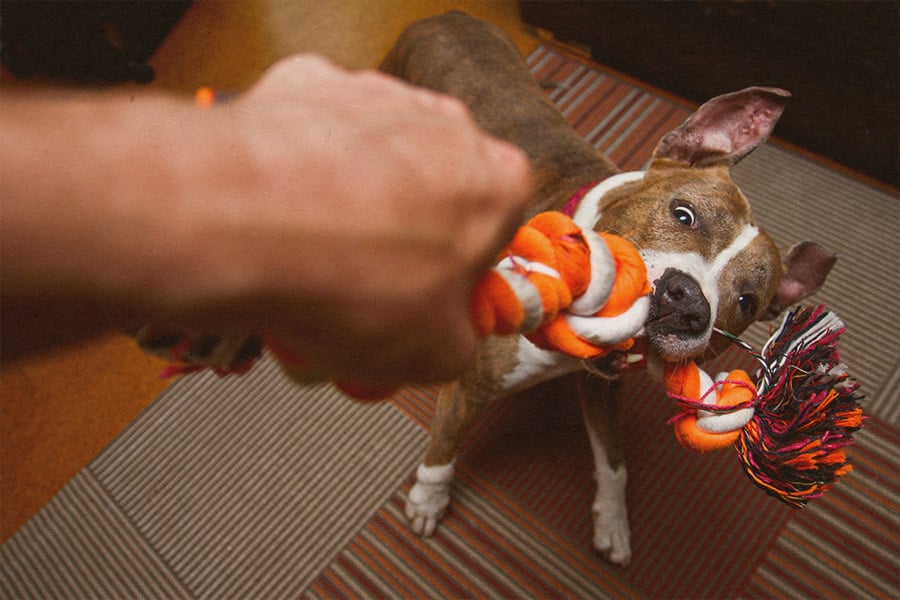 Flossy rope bones are some of the simplest, yet best dog tug toys out there. The Flossy Chews Mammoth Rope Bone Tug makes the perfect outdoor summer toy because of its sheer size.
At 48"+ it's the perfect toy for large and giant breed dogs, but your dog will have fun dragging this no matter what his size. Added bonus: the premium fibres also floss your dog's teeth during play!
17. Beco Ball with Rope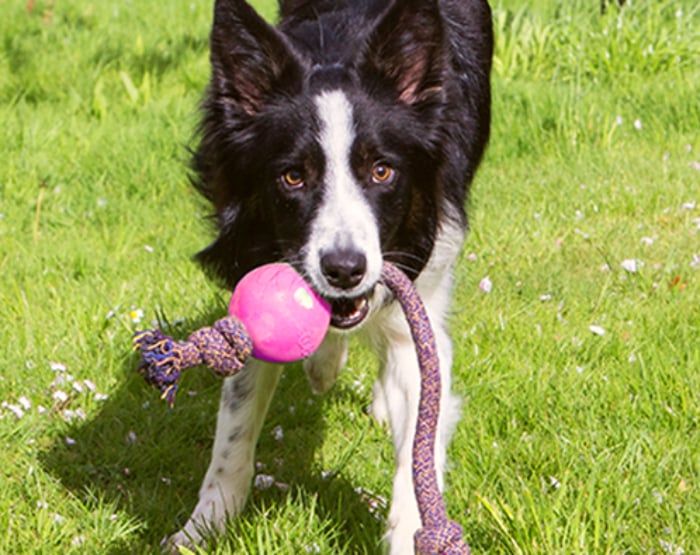 Finally, a tug toy that you can feel food about. The Beco Ball with Rope is made from 100% sustainably sourced natural cotton, and the ball is a durable and flexible rice husk rubber.
The material is soft enough to be comfortable to grip and chew, but tough enough to stand up to rougher play. Either get your dog excited about a rowdy game of tug o' war or use the rope to get some real distance with a game of fetch.
18. Chuck It Ultra Tug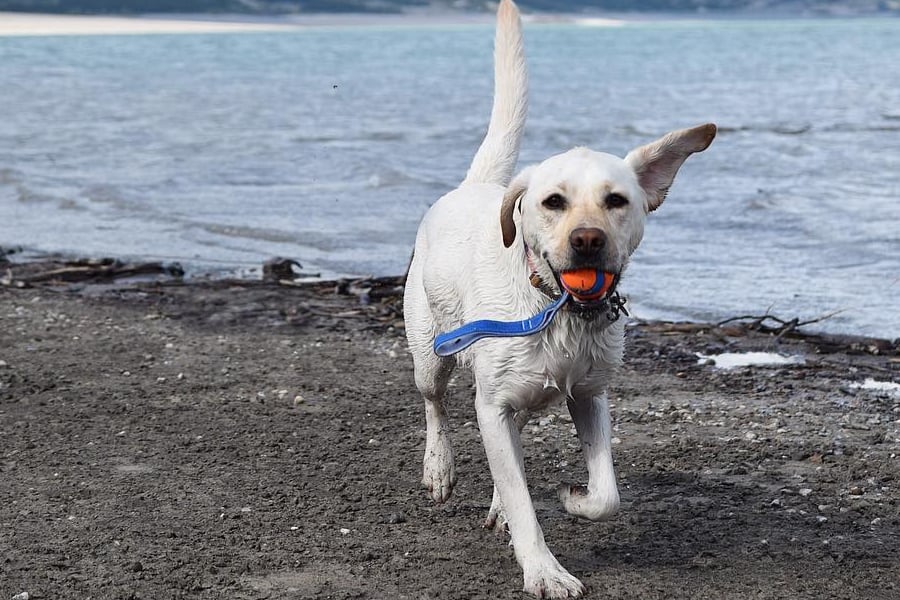 from @ farley_the_labrador/ via Instagram
Does your dog love balls, but loves to tug too? Well, the Chuckit Ultra Tug might be the perfect solution. It throws like a normal tennis ball but has a durable handle to allow for mini tug o' war session between throws.
The Chuckit ball also floats, so go ahead. Launch that ball right into the lake and let your dog dive in after it. It also fits the Chuckit ball launcher to get some serious distance.
19. Jolly Pet Jolly Tug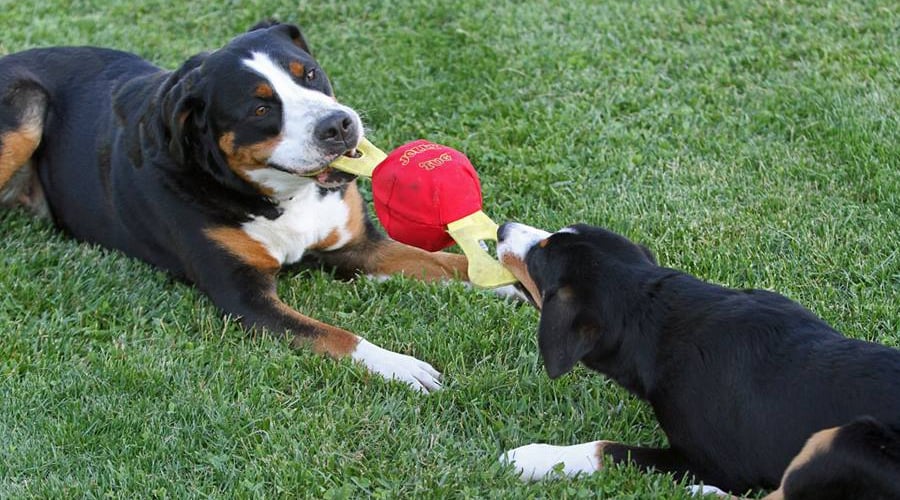 Tug games are often unbalanced, with our pets having a better grip on the toy than us, but the Jolly Tug gives you a little more leverage. With two thick easy grip handles, this tug toy allows both you and your dog to be evenly matched.
For multi dog household, this is a great toy for group playtime. This is one toy that you can let them fight over.
20. West Paw ZogoFlex Bumi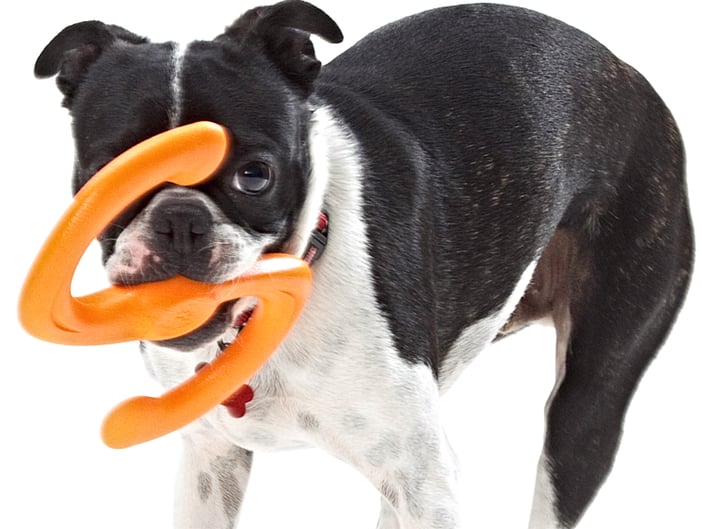 The West Paw ZogoFlex Bumi is made from 100% recyclable materials, but is strong enough for tough tuggers. All West Paw Zogoflex toys are backed with a 100% toughness guarantee, so let your dog pull to his hearts delight. It's unique shape make it a great fetch toy too.
It's dishwasher safe and it floats, so no matter how grimy it gets in the lake, you can keep your Bumi safe and fun for your pets.
FUN TOYS FOR PEOPLE TOO!
Being outside there are plenty of opportunities to let off some energy. Get your dog running and jumping with these unique toys designed for his energy level.
21. Jolly Egg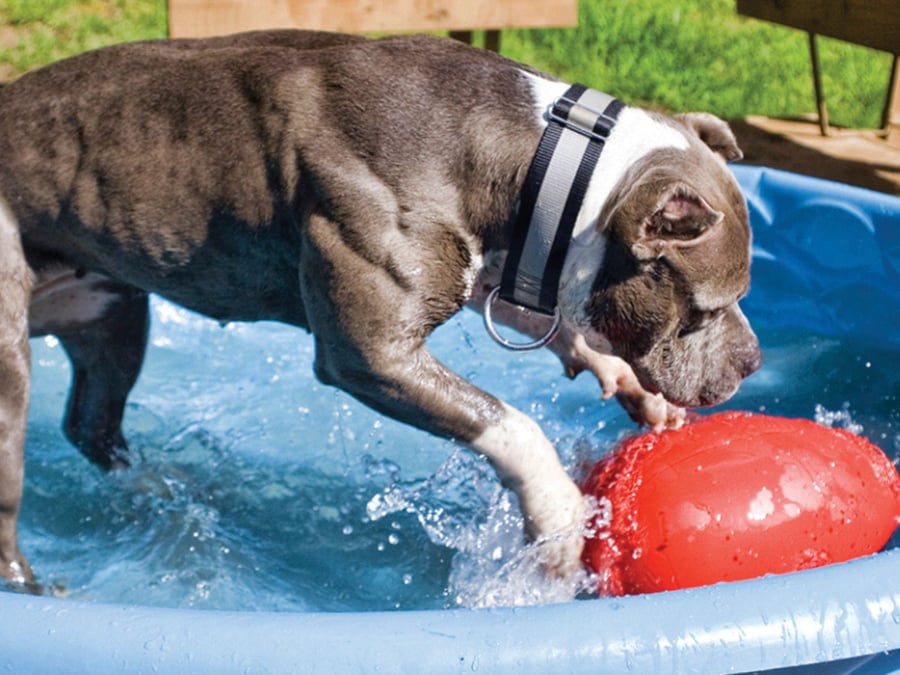 It's ideal to find dog toys that can perform many different functions and excel at each of them. The Jolly Egg is one of those toys. A fun egg shape, the Jolly Egg dog toy is made of durable plastic, bounces, and even floats to make it one of the best all-around outside dog toys. Comes in two sizes.
22. Kurgo Skipping Stones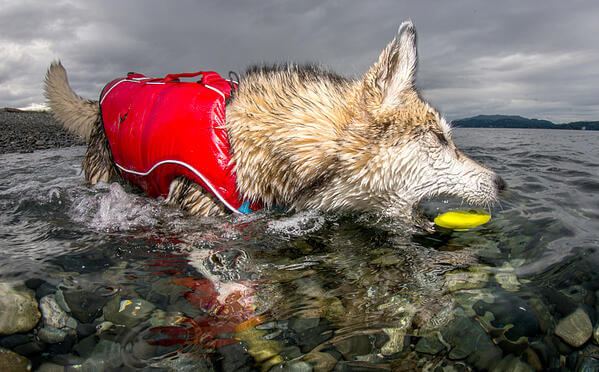 The only thing better than skipping stones down by the lake is getting your dog to bring back the stone. Kurgo Skipping Stones have a unique design allow you to skip stones like a pro. It floats too so it's easy for your avid swimmer to collect it and bring it back again and again.
FOR THE CHEWER
The greatest thing about chewing in the great outdoors - other than a lovely, cool bed of grass - is there's no mess to clean up! For even more toys for chewers, check out Tough Dog Toys for Extreme Chewers.
23. Kong Extreme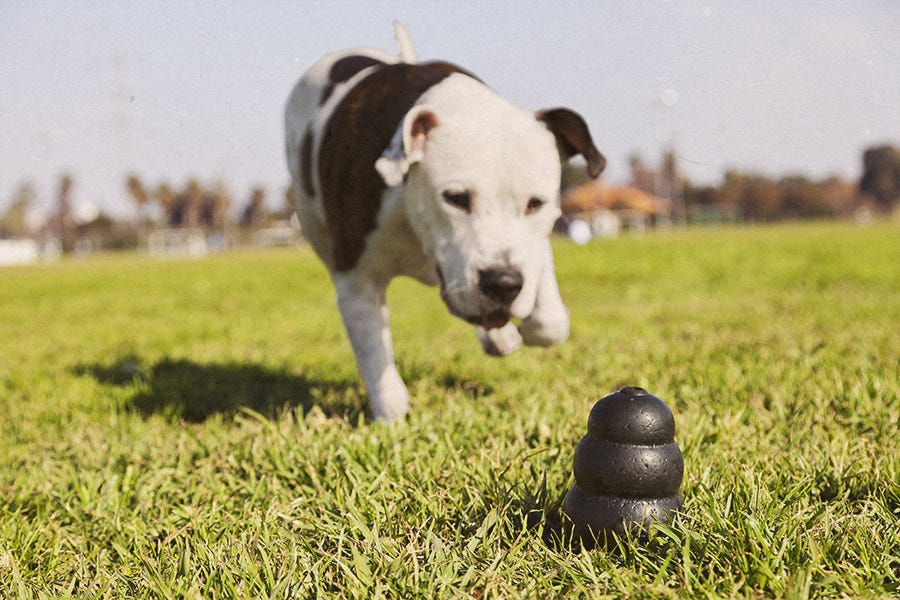 Kong Extreme is another classic chew toy from Kong that continues to get recommendations. Built with an ultra-strong and durable rubber, the Extreme Kong is designed to stand up to the toughest chewers. Stuff treats, treat paste, or peanut butter into the toy's cavity and watch your dog go crazy for it.
24. Raw Bones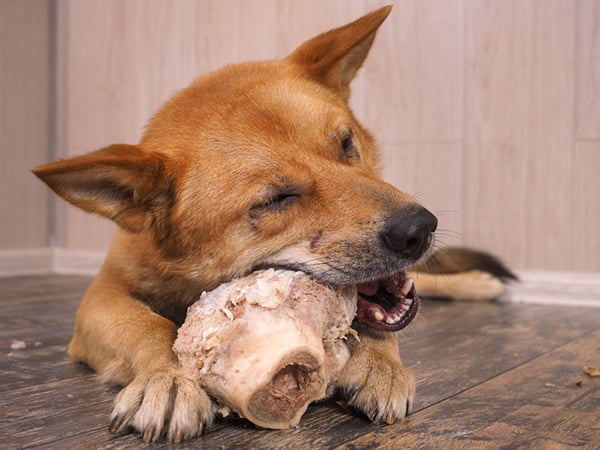 Keeping your dog cool and occupied on hot summer days is as simple as feeding them a delicious raw bone. Bones provide an enjoyable chewing experience that helps clean teeth.
Feed bones completely frozen, or defrost them in the fridge the night before. Your dog will be hydrated from the moisture content of the bones and marrow, and it's a perfect chilly treat for a hot day.
Avoid feeding cooked bones as they are more likely to splinter, break teeth, and result in digestive upsets. If you are uncomfortable feeding raw bones, the make your pup an ice block instead. fill a bowl, pale or tupperware container with water, broth and some of their favourite treats to make a giant pupscicle.
25. Benebone Chews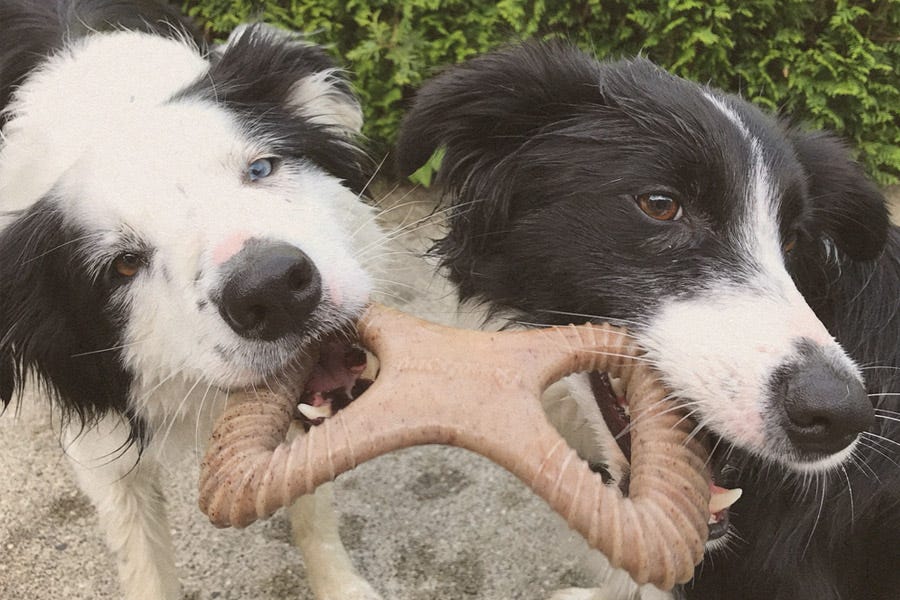 @thecolliebrothers / via Instagram
On a lazy summer day, why not give your dog a Benebone for something to do! With their easy to chew design, and flavours from chicken to bacon to peanut butter, your dog will thank you by munch, munch, munching away for hours. These bones are a super way to clean your dog's teeth, and give their jaw a good workout. The best part? No artificial flavours or chemicals. They come in multiple sizes to suit most dog breeds.
This article was updated in May 2019
---
Posted by Krystn Janisse

Krystn is a passionate pet nutrition enthusiast. She has worked in the pet industry for over a decade and loves to share her passion for animal welfare with others. She loves all animals but is currently channelling some crazy cat lady vibes with her five lovable, but rebellious cats.
---