There's no better partner to help you conquer the outdoors than man's best friend. Keep him safe on your adventures by getting him the best dog hiking boots to provide traction and protect his paws.
Whether you are trudging through dense forest or scaling mountains, you protect your feet with appropriate hiking gear, so why should your dog need anything less. Plain and simple, your dog's paws need to be protected from nature and the elements too.
Dog boots may seem a bit silly. Since when do dogs need shoes, right? It turns out they need shoes more often than you might think, especially when they are travelling across harsh terrain. To help you keep your dog safe, we rounded up our best dog hiking boots, as well as some tips for finding the right set for your dog.
Before we get to our recommendations, let's answer the question that everyone is thinking:
Do Dogs Really Need Hiking Boots?
Dogs have been roaming the earth bare pawed for thousands of years, but domestication and city living has left them a little less rugged than their ancestors.
Dog paws are tough but not invulnerable. Walking across rocks and dirt, through forests and up mountains, your dog is going to be travelling across terrain that he's simply not accustomed to. Sure, some dogs can probably handle this, but having that extra layer of protection can prevent unexpected injuries.
Nature is not quite as natural as it used to be either. Dog hiking boots can protect against chemicals, salt, pesticides, fertilizers and any debris left behind by human traffic through the area.
Lastly, hiking boots give your dog protection from extreme temperatures. Hot ground that's been baking in the summer sun can burn their paw pads.
You may even own a pair of winter dog boots to keep snow and ice from hurting their paws in extreme cold. Note that winter boots and hiking boots are similar but different. Winter boots are generally designed for warmth, which may not be suitable for summer activities.
It's best to stick to boots designed for summer activities or at least boots considered all season. This will ensure that the boots will allow for appropriate heat exchange.
For more information on this, check out this article: Do Dogs Need Boots?
What to Look for in a Dog Hiking boot
Finding the right hiking boot for your dog depends on a few factors. To help you pick the right set for your dog, we broke down the most important features in a dog hiking boot.
Your dog may not need every single feature, but it's best to know your options so that you can choose the right boot for your dog and your adventures.
Fit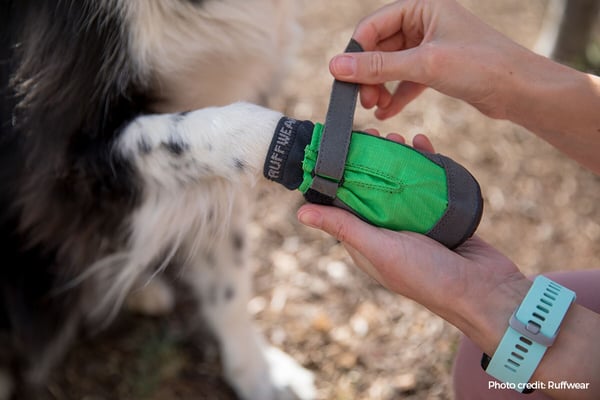 Finding the right fit is the most aspect of a dog hiking boot. If you've ever worn shoes that are the wrong size, shape, or fit for you, then you know it can be uncomfortable, painful, and will affect the way you walk.
Dog boots that don't fit well are more likely to cause pain, chafe, or just fall off. You also want the boot to fit the shape of your dog's paw, not just the size. A boot designed for a skinnier paw will likely be uncomfortable for a dog with flat, wide paws.
Check out How to Measure Your Dog for tips on how to take the proper measurements to find the perfect fit.
Breathability
All that hiking is going to get your dog's blood pumping and raise his body temp. Dog's sweat through their paws, and this helps them to regulate their body temperature.
A boot designed for cold weather or one that is not made of breathable material can further increase your dog's body temp, so look for boots that are made of thinner breathable or mesh material to allow them to sweat and release heat.
Water-Resistance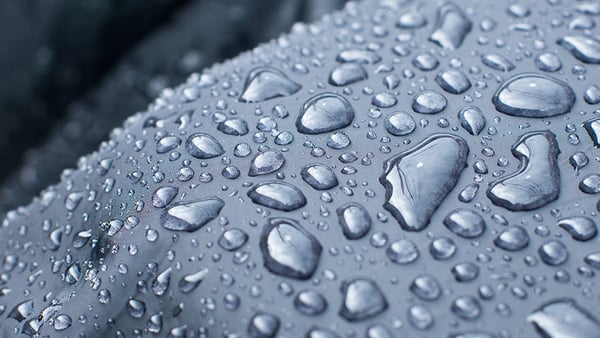 Rain or shine, your dog will be happy to tag along on your hike, but his rain gear is just as essential as yours. Look for dog hiking boots that are weatherproof to limit the amount of moisture getting to their paws.
Even on a clear day, you never know what kind of puddles, streams, or lakes you might come across. Keeping their feet dry and clean will prevent bacteria from getting trapped between their toes and causing irritation.
Durability
Avid hikers need gear that can handle the abuse of frequent hiking expeditions. Your dog is going to need a boot that will keep up with him.
Look at the material and stitching to ensure it is tough enough to brave nature and the wear and tear of an active lifestyle.
The sole of the boot needs to be tough enough to provide protection, but flexible enough to be comfortable to walk in. Many dog hiking boots use a rubberized sole to offer traction and stability.
Visibility
Choosing bright colours or reflective strips can help you keep an eye on your dog even in low light.
In combination with other reflective hiking gear, like led light attachments, like the Ruffwear Beacon, and reflective harnesses or backpacks, a high visibility hiking boot can help you keep your dog in sight and safe on your adventures.
4 Best Dog Hiking Boots (and a Bonus Tip)
Now that you know what you need to look for in dog hiking boots, let's look at our top 4 picks:
1. Hurtta Outback Boots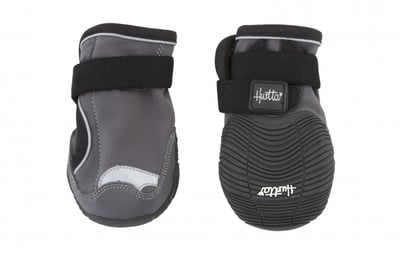 The Hurtta Outback Dog Boots are designed with adventure in mind. They are flexible, durable, and comfortable, making them suitable for just about any outdoor activities. They are ideal for casual to moderate hikers and explorers and suited for most terrains.
Here are some of the top features of the Hurtta Outback Dog Boots:
Soft-shell, non-stick rubber soles

3M reflective strips for increased visibility

Lightweight and breathable

Weatherproof to keep paws dry

Gusset-style opening to allow for easy on/off

Available in sizes S-XXL to accommodate most paw sizes and shapes

Boots labelled left and right to ensure comfortable, secure fit

Sold in pairs to accommodate sizing differences between front and back paws
2. Ruffwear Grip Trex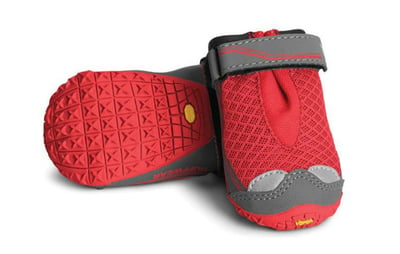 Ruffwear Grip Trex are a high-performance dog hiking boot that provides traction and protection for your dog's paws. These boots are for serious hikers. They are durable and comfortable enough for longer hiking excursions and trail running, even on more challenging terrains.
Here are some of the top features of Ruffwear Grip Trex dog boots:
Breathable mesh material allows for better heat transfer

Gusset-style opening to allow for easy on/off

Hook and loop cinch system keeps boots on securely and in position

Reflective trim for low-light visibility

High traction soles prevent slipping and improve stability

Available in three colours and 8 sizes (1.5"-3.25") to accommodate all paw sizes and shapes

Sold in pairs to accommodate sizing differences between front and back paws
3. Canine Equipment Ultimate Trail Boots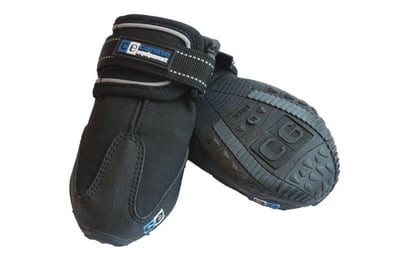 This all-terrain hiking boots will protect your dog's paws and improve their footing. The Canine Equipment Ultimate Trail Boots are ideal for casual to moderate hikers. A thin fleece lining makes boots suitable for cooler temperatures, too.
Check out the top features of the Ultimate Trail dog boots:
Wrap around rubber toe, and breathable, water-resistant shell keeps paws cool and dry

Flexible rubberized sole fits comfortably for a variety of paw shapes

Reflective piping for visibility at night

Cinch closer with two layers of hook and loop system keeps boot secure

Wide gusset opening allowing for easy on/off

Slight sizing difference between front and back paws for optimal fit

Available in XS-XL to accommodate most paw sizes and shapes
4. Ruffwear Summit Trex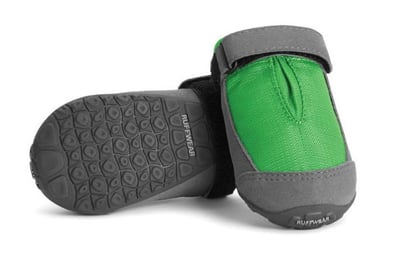 The ultimate everyday boot is tough enough for hiking and comfortable enough for everyday life. They are ideal for beginner to moderate hikers and warm and cold temperatures. We like this boot because it can be worn year-round, replacing the need for needing separate sets of boots for different seasons.
Check out the top feature of the Ruffwear Summit Trex dog boots:
Water-resistant ripstop material block moisture and debris

Flexible soles provide traction

Gusset-style opening to allow for easy on/off

Hook and loop cinch system keeps boots on securely and in position

All-season boot protects against heat and cold, as well as salt and other chemicals

Available in two colours and 8 sizes (1.5"-3.25") to accommodate all paw sizes and shapes

Sold in pairs to accommodate sizing differences between front and back paws
Bonus Paw Care Tip
Boots are not exactly a natural addition to your dog's life. Many dogs react poorly to boots at first, but soon adapt once they learn to walk in them. If your dog is not one of these dogs, then you might need to find a non-boot alternative.
Musher's Secret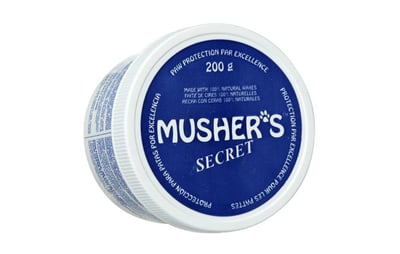 Some dogs just downright refuse to wear boots. Others just have odd paw shapes or sizes that make sizing boots impossible. If this is your dog, then check out Musher's Secret.
Musher's Secret is a natural paw protector made from food-safe waxes. It can condition pads and provide a protective layer against temperature, chemicals, and small debris.
The wax can be applied 2-3 times per week to keep paw pads healthy or can be used before hikes or other outdoor activities to protect against the elements.
They aren't a perfect replacement dog hiking boots but they are the next best thing if boots are not an option. If you choose this option of paw protection, make sure you pack some minor first aid gear, just in case your dog does end up injuring his paw.
How to Get a Dog to Wear Boots
If your dog is new to hiking boots, or any boots for that matter, then this will be pretty funny to watch, so get out your camera...
Here are some helpful tips for getting them used to this new gear.
Lots of praise and reward when putting on the boots

Practice in the house first to ensure you have the right fit, and the boots are comfortable (this way they are still returnable if they don't work out!)

Consistently reward your dog with tiny treats when he is wearing them

Try short walks with the boots to help him adjust before going on bigger adventures

If you keep moving your dog won't be able to stop to try to pull the boots off

Check throughout your walk to ensure the boots are staying on and in position

Try boot liners or dog socks under the boots to get a better fit for dogs that are in-between sizes

Many dogs take a little time to get over the funny feeling of wearing boots, but soon they will associate their boots with their favourite adventures

Don't leave boots on unsupervised – he will figure out how to get them off and may damage them in the process
What are you waiting for? Check out our full assortment of dog boots and socks to find the right gear for your adventure dog.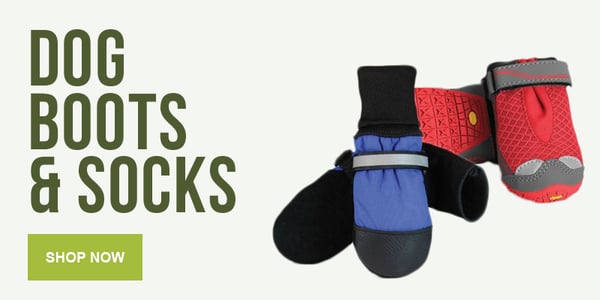 Does your dog wear hiking boots? Let us know what your favourite dog hiking boots are in the comments below!
---
Posted by Krystn Janisse

Krystn is a passionate pet nutrition enthusiast. She has worked in the pet industry for over a decade and loves to share her passion for animal welfare with others. She loves all animals but is currently channelling some crazy cat lady vibes with her five lovable, but rebellious cats.
---