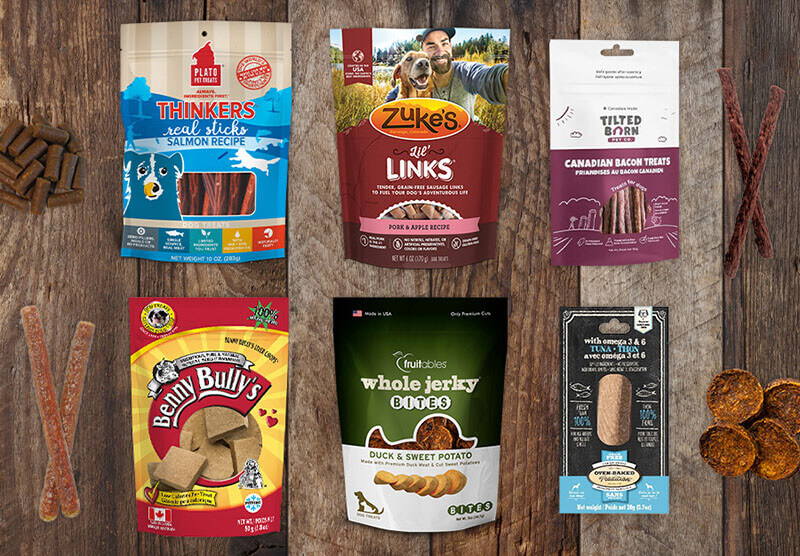 High-energy dogs need high-energy treats to fuel them on their adventures. Make sure to pack high-calorie dog treats on your next hiking trip to give your dog the energy he needs to keep up.
Snacks should be a staple in your dog's hiking gear so make sure one of these treats makes your checklist. Look for treats that offer lots of nutrition from healthy proteins, fats, and carbs so that your dog can maintain the energy levels needed for long hikes and navigating rough terrain.
Find out what other gear you should bring on your next hike with your dog:
15 Best High-Calorie Dog Treats for Your Next Hiking Trip
Your dog would probably be satisfied with just about any treat, but to fuel your pup on a challenging hike, you need a high-calorie treat to provide energy.
To help you find the right hiking treats for your dog, we put together our top 15 high-calorie dog treats:
1. Tilted Barn Dog Treats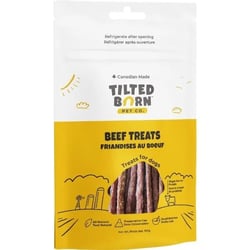 These tasty, meaty sticks are a real crowd-pleaser (yes, we've tried them, and they're delish!). They are easily broken into bite-sized pieces for on-the-go snacking but aren't too big or calorie-dense to feed whole.
Available in beef, bacon, or lamb, Tilted Barn soft and chewy dog treats are loaded with flavour, protein, and fat. Lamb is both the highest calorie and highest fat flavour in the line.
The only downside to this snack is that once opened, these snacks need to be refrigerated, so they are better to pack in a small cooler or with an ice pack.
These are just one of our favourite Canadian Dog Treats. Find out what other local brands your dog will love.
2. Benny Bully's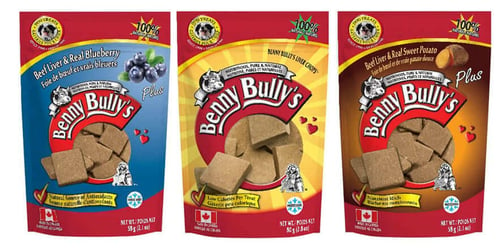 One of the original players in the freeze-dried treat game, Benny Bully's offers minimally processed beef liver in a conveniently portable format.
Choose from the original beef formula, or surprise your pooch with one of their 12 other flavours, including cranberry, pumpkin, or kelp. These treats are high in protein to provide your dog with long-lasting energy.
3. Crumps' Naturals Sweet Potato Chews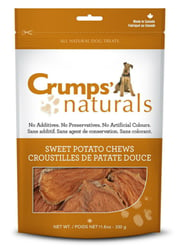 When your dog needs a quick energy fix, a good source of healthy carbs will hit the spot. Crumps' Naturals Sweet Potato Chews are made from complex carb that provides easily digestible calories to keep your dog feeling energized.
These sweet potato chews are firm but chewy. They are easily broken into smaller pieces or fed as a satisfying chew during downtime and short breaks.
4. Plato Thinkers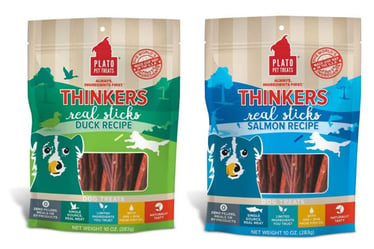 Everyone loves a pepperoni stick, so how about a pup-Peroni stick for your pooch? Plato Thinkers are made with over 90% meat and contain fish oil for an extra boost of healthy fats and oils.
Pick from salmon, duck, or chicken thinkers, all of which can be purchased in bulk sizing or handy, individually wrapped singles that make travelling with them a breeze.
5. Stella & Chewy's Wild Weenies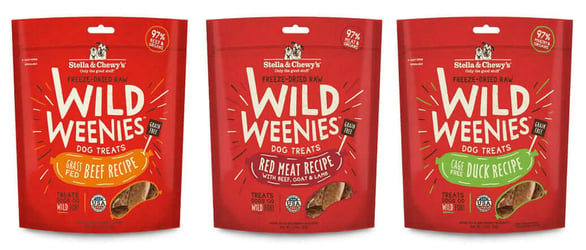 Nothing says outback adventures like hot dogs grilled over an open fire. Why not share your favourite campfire snack with your dog by offering him some Stella & Chewy's Wild Weenies?
These little sausage-shaped snacks are made with over 97% meat and organs for a high-protein punch to nourish your pet. Try one of these tasty flavours: Cage-free duck, game bird blend, grass-fed lamb, or the red meat recipe.
6. Oven-Baked Tradition Fillets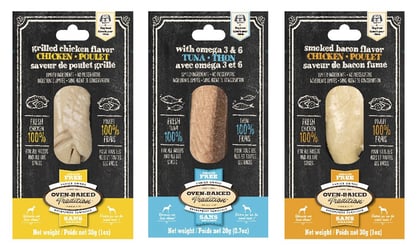 Based on classic homemade recipes and wholesome ingredients, these fillets are the easiest way to bring along 100% fresh chicken or tuna meat.
These individually wrapped snacks are an excellent way to supplement healthy protein and calories in between meals on your hike. Chicken fillets are offered in the original or the favoured bacon flavour. The tuna fillets provide therapeutic benefits like omega 3 and 6 fatty acids or glucosamine.
7. Blue Wilderness Trail Treats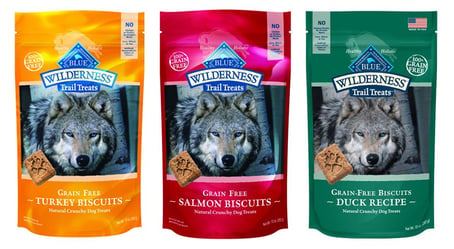 If your dog is more of a cookie monster, then check out Wilderness Trail Treats. Both high-protein dog treats and grain-free Trail Treats are made for dogs that feel at home in the wild.
These crunchy biscuits are available in turkey, duck, or salmon and offer healthy omega fatty acids from flaxseed.
8. Spot Farm Basic Jerky Tenders

This family-owned company has been a leader in premium jerky treats for dogs, and Spot Farms has raised the bar again with their new Wild Shreds treats.
Wild Shreds are made from human-grade, ranch-raised beef, free-range bison, cage-free duck, or free-range organic chicken. Being high in protein and calories, these tasty meat strips are an excellent snack to fuel your dog, no matter where your adventure takes you.
9. Dogswell Jerky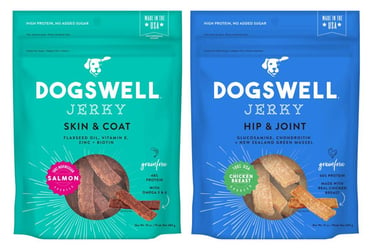 They are the perfect blend of high-energy nutrients and functional support all in one delicious snack. Dogswell treats are offered in chewy jerky, soft strips, tender nuggets, and grillers.
With choices like wild-caught salmon or farm-raised duck or chicken, what more can you ask for? How about superfood ingredients like turmeric, flaxseed, and New Zealand green-lipped mussels? These natural food supplements support hip and joint function, skin and coat care, and immunity support.
10. Zukes Lil Links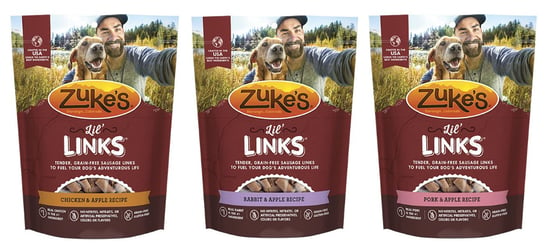 These grain-free tender links are offered in 4 irresistible flavours: duck, chicken, pork, or rabbit. Premium animal protein and nutrient-dense fruits and veggies, like apples and carrots, make these treats a popular choice.
Lil Links offer your dog a boost of healthy carbs and nutrients to support endurance, no matter where your adventures lead.
11. Cloud Star Wag More Jerky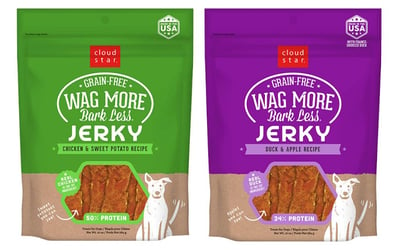 For a significant protein boost, Wag More Jerky is high in protein and fat for long-term energy. They are soft and chewy, allowing you to break them into bite-sized pieces for on-the-go treating.
They pair high-quality proteins like chicken, turkey, and duck with nutrient-dense superfoods like cranberry, apple, and sweet potatoes.
12. Cocotherapy Maggie's Macaroons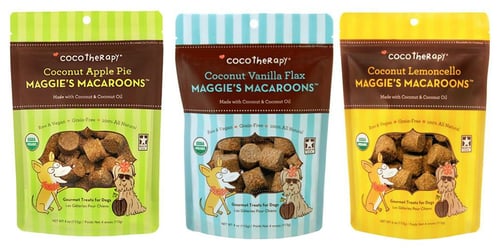 A sweet treat will boost both energy and spirit. Maggie's Macaroons use 100% human-grade, organic, and non-GMO ingredients in these decadent snacks. With flavours like Coconut Apple Pie, Coconut Lemoncello, and Coconut Vanilla Flax, they look and smell good enough to eat yourself (and you can!).
Dogs use fat for energy very efficiently, especially when that fat comes from healthy sources like coconut oil. Maggie's Macaroons contain over 40% fat, so these high-calorie treats are ideal for providing a simple and tasty boost of energy.
13. Hare of the Dog Rabbit Jerky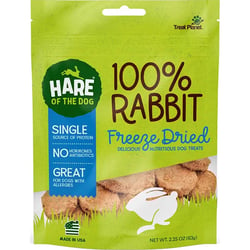 These freeze-dried rabbit treats are high in protein and packed with a flavour that dogs love. These treats are loaded with healthy protein that will provide your dog with much-needed energy to help him keep up on the trails. Made from only one ingredient, rabbit is a novel protein that is often suitable for pets with food allergies and sensitive digestion.
14. Spunky Pup Dog Treats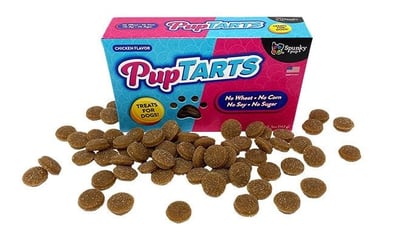 The perfect blend of your dog's favourite flavours and your favourite childhood candy. Spunky pup treats are smaller treats but still offer plenty of vital calories and energy for a strenuous hike with your pooch. The smaller size allows for more frequent treating to support training.
With some classic flavours like cheese, bacon, and chicken, these fun treats are sure to keep your dog energized and satisfied no matter where your adventures take you. Muttlikes have the highest calorie count at 12 calories per treat.
15. Fruitables Whole Jerky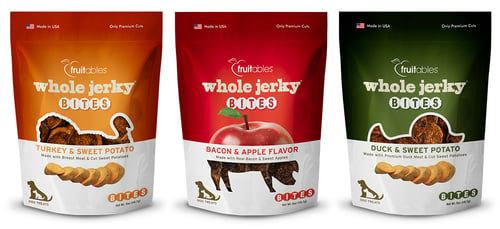 Our final pick for the top 15 high-calorie dog treats is Fruitables Whole Jerky treats. Offered in full-sized jerky strips or bite-sized jerky pieces, Fruitables Jerky is high in protein and calories for a snack that provides that extra boost of energy your dog needs.
Single ingredients bison or salmon are the top sellers, but Fruitables duck or turkey and sweet potato bites are among their mouth-watering options.
How to Safely Store Dog Treats on a Hike
Depending on where you are hiking, you may want to be sure that your pup's treats are safely stored. The smell of these high-calorie goodies could also be attractive to other dogs and wildlife.
When you are hiking the trails in the wilderness, you must always be aware that you may not be the only animal in that area. Keep your and your dog's tasty snacks in resealable bags or air-tight containers, and store them in backpacks. Never leave any food out, or you may end up with some unwanted visitors.
Frequently Asked Questions
What are high-calorie dog treats, and why are they beneficial for hiking dogs?
High-calorie dog treats are snacks packed with energy to fuel active dogs during hikes. They provide essential nutrients and help sustain energy levels during outdoor adventures.
What ingredients should I look for in high-calorie dog treats for hiking?
Look for treats that contain quality protein sources, healthy fats, and carbohydrates to provide sustained energy. Avoid treats with excessive fillers or artificial additives.
How can I determine the appropriate serving size of high-calorie treats for my hiking dog?
The serving size depends on your dog's size, activity level, and the duration of the hike. Consult with your veterinarian to calculate the right portion for your dog.
Are high-calorie treats suitable for all dogs, or are there specific breeds or conditions to consider?
High-calorie treats are generally suitable for active dogs, but it's essential to consider your dog's specific dietary needs, age, and any health conditions. Consult with your veterinarian if you have concerns.
Can I use homemade high-calorie dog treats for hiking, and are there any safety precautions to keep in mind?
Homemade treats can be a great option, but ensure they are made with dog-safe ingredients and avoid toxic foods like chocolate or raisins. Always carry fresh water for your dog during hikes.
What are some examples of high-calorie dog treats that are ideal for hiking adventures?
Some examples include energy bars, freeze-dried meat, peanut butter-filled Kongs, or high-quality jerky treats. These treats provide a boost of calories and nutrition for your hiking companion.