Camping is more fun if it's furry - that is, if you bring your dog along! Make your camping experience safe and fun with our dog camping gear guide.
Dog Camping Gear
Checklist
While camping is usually fun and relaxing, it's best to be prepared for unexpected situations. Check out some of our top recommendations.
Food & Accessories
Food is a must, but there's more to it than just a bag of kibble. You need to consider his whole nutrition and the accessories he needs to maintain healthy eating habits. Check out some of our top recommendations to make mealtime and snacking a breeze.
Dog Food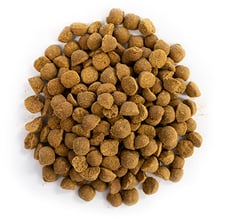 Always bring more than you think you'll need, and pre-portion in Ziploc bags or containers for ease or bring along a measuring cup for on-the-go portioning. Make sure your containers are airtight for pest control and to prevent food spoilage.
Freeze-Dried or air-dried dog food is an excellent option for camping because it is light, healthy, nutrient dense, and tasty! All you have to do is add water.
Portable Dishes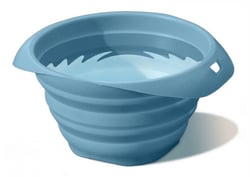 Make sure to bring along some dishes for your dog to eat out of. Travel bowls are lightweight and easy to carry around if you go on any adventures. For camping you need something durable, like the Ruffwear Basecamp bowl.
It's also smart to pack a collapsible bowl just in case you decide to venture out on a hike.
Treats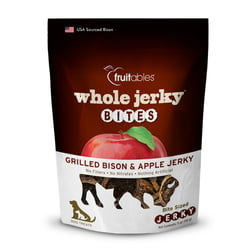 Bring your dog's favourites, of course. If you're hiking, bring high-quality treats that can give your dog more of the energy he needs. Natural jerky treats or freeze-dried treats are fantastic options.
Long-Lasting Chews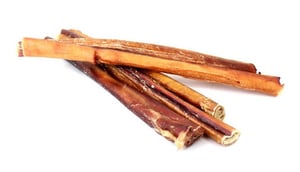 To keep your dog busy while you're sitting around the campfire, get a long-lasting treat such as bully sticks or elk antlers. Frozen raw bones are also excellent choices, if you have some refrigeration or a cooler available.
Check out Long Lasting Dog Chews for more ideas to keep your dog busy.
Fresh, Clean Water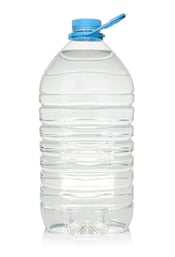 It is very important to keep your dog hydrated, so bring plenty if it's not going to be available at your campsite. Always take water with you when you leave your campsite to explore too.
Water Bottle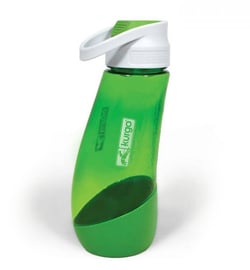 No spills or wasting water with a handy portable water dispenser, like the Kurgo Gourd Water Bottle. Bring it camping, in the car, for day trips, and even for longer walks. Don't let your pet drink from standing water, lakes, ponds, or streams that could be riddled with bacteria.
Adventure Gear
At night you sit around the fire, roast marshmallows, and relaxing, but during the day it's time for adventures. This could mean hiking, swimming, or other pet-friendly activities. Make sure you have the right gear to keep your pup safe while you explore the wilderness together.
Leash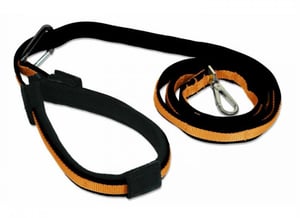 Don't forget his leash at home! It's a good idea to stash an extra leash in the car too, just in case one breaks, or you find yourself in need of a spare. You won't want to be without one. Hands-free leashes can be used for jogging or biking, but it's also a handy leash to have if you are walking. Keep your hands free to explore, use walking poles, or whatever you like with this useful belt leash.
Safety Tip: Keeping your dog on a leash is highly recommended if you are hiking or camping in bear or cougar country. Dogs can behave unpredictably and can encourage aggressive behaviour. Some people like to let their dogs roam in the great outdoors, but we don't recommend it for safety reasons.
Check out Camping with Dogs for more tips on keeping your pet safe on your next camping trip.
Collar with ID Tags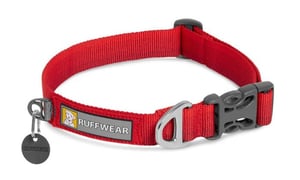 Always make sure your dog is fitted with an appropriate-sized collar and that his collar has up-to-date ID tags. Find the best collar for your dog with our Ultimate Dog Collar Guide.
Don't forget to bring along any licenses or vaccination records too. They may be required by the province or state that you are vacationing in.
With an engravable ID tag, you can customize the information you include. Staying out of town for a few weeks or headed to the cabin? Get a separate tag made with your vacation info on it.
Harness
Harnesses make for walking that is both more comfortable and safer for your pet. Choose a harness that fits your pet well and doesn't allow for pulling, if it's a problem for your pet. An excellent no pull harness for pulling dogs will make the treks more enjoyable. There are many solutions, but we recommend the front clip harness options.
Trail Pack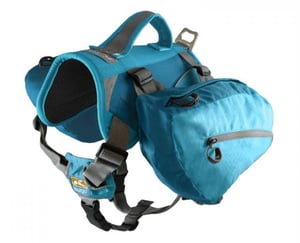 Have your dog pull his own weight with a dog backpack. Your dog can carry his own treats and water so that you don't have to, or you can simply give your energetic dog more of a workout.
To find the right one for your dog, check out Best Dog Backpacks for some honest reviews from real adventure dogs.
Bear Bell
Bear bells can help warn wildlife and other people that you and your dog are around. One of the best ways to avoid a bear attack is to prevent surprising them. While bear bells may help aid, they aren't completely foolproof.
Make sure you check for announcements on bear activity before camping or hiking, make extra noise around places bears like to frequent, and travel during daylight hours to prevent an encounter.
Safety Light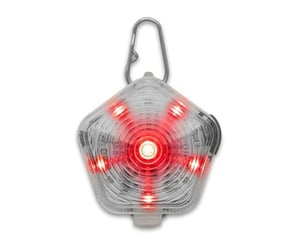 Safety lights, like the Ruffwear Beacon, clip onto your dog's leash so that he can remain visible at night, which can come in handy for passing vehicles to see your dog or for you to find him if he happens to get loose.
Poop Bags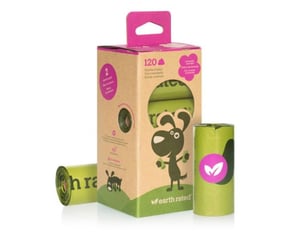 Be a responsible camper and hiker with your dog. Just because you're in the wild, doesn't mean you should let your duties slide. Keep poop bags on hand to pick up what your dog leaves behind so that other campers or hikers don't have to see or smell it.
Cooling Products
It's probably going to be hot during the day at your campsite. Dog cooling vests can help keep your pet cool for hours, so they are excellent for the campground or while on a hike.
Remember not to exercise your dog too much in the heat of the day (from 11AM-4PM) and choose a campsite with shade or make your own with a shade tent or umbrella.
Check out How to Cool Down Your Dog for some tips for dealing with hot weather.
Life Jacket
If you'll be canoeing, kayaking, paddle-boarding, or boating with your dog, you'll want to get her a dog life jacket for safety, like the Kurgo Surf N' Turf Life Jacket.
At the Campsite
All the hard stuff is out of the way now, so let's make sure your dog can enjoy the rest and relaxation that comes with camping. Here's some of the best gear for making sure your pup is comfortable and safe at the camp site.
Bed or Sleeping Bag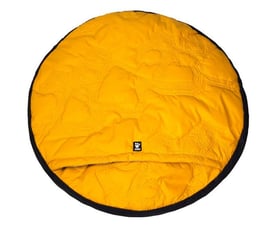 Your dog will need a bed or dog sleeping bag, like the Hurtta Outback Dreamer, for comfort at the campsite, and if she's used to being inside, she'll probably need a blanket for warmth, too. Make sure both are machine-washable and made of a durable material.
Tie-Outs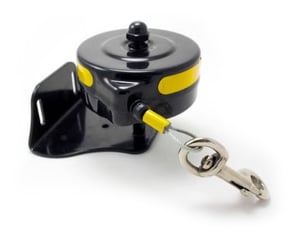 Tie-Outs are necessary for your dog if you want him to be able to enjoy the outdoors while you're out camping. Many campsites are for on-leash pets only. Get a good quality stake, particularly if your dog is a strong puller.
This is one purchase where a better-quality product can make a big difference. Also choose a cable that is designed to withstand your pet's weight and pulling instead of just going with your pet's leash. Check out the Howard Pet Products Retractable Tie Out Cable.
For smaller dogs or puppies, an exercise pen can provide some off-leash entertainment. Just make sure you always supervise; in case your dog tries to climb or jump out.
Crate or Kennel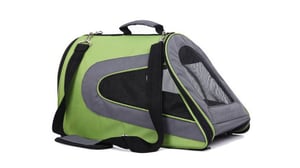 You'll want to bring a crate or carrier along for your dog to sleep in or for when you need to keep him safely contained (and a blanket to cover at night). Soft carriers are best for smaller breeds, and the carrier can easily be brought into the tent with you at night.
If you are bringing a metal crate, make sure you place it in the shade for your pet's comfort – those metal bars can get hot! Alternatively, you can share your tent with your pooch. Just make sure you call dibs on big spoon.
Kennels and crates are also good for travelling too and from your camping trip. Precision crates are easily foldable for easy storage when they are not in use. They can be used to safely secure your dog in the car.
Coat or Sweater
Just in case the weather takes a turn for the worse, you may want to pack along a coat or sweater for your dog, particularly if she's sensitive to cold weather. You can't predict the weather, so a raincoat, like the Hurtta Rain Blocker may be a valuable accessory to pack.
Towel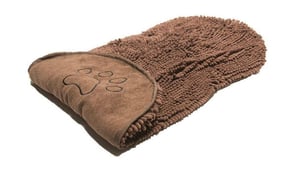 For quick drying off after swimming or if it rains. Your dog probably doesn't mind shaking it off the natural way, but you probably want to keep the camper or the tent clean and dry. The Dirty Dog Shammy is a highly absorbent towel that can quickly dry your dog off.
Toys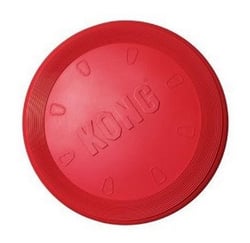 There are so many fun toys to enjoy at the campsite – Kong Classic and Flyer, Nerf Toys, Rubber Toys, and Chuckit! Ball Launcher to name a few. Check out this list of our 25 Best Outdoor Dog Toys for Summer for more ideas.
Pet First Aid & Safety
Pet First Aid Kit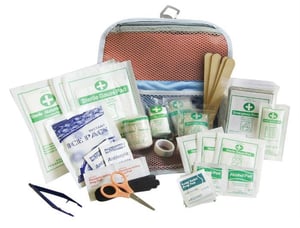 Purchase a pet first aid kit for your trip. This will make sure you are prepared for minor injuries, like scrapes and bug bites. Cleaning and disinfecting a wound can prevent an injury from worsening or a cut from getting infected until you get back to civilization.
Insect Repellent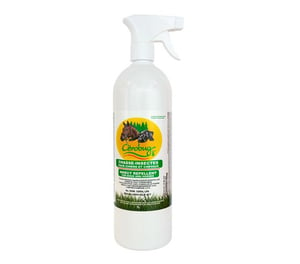 To prevent your dog from bug bites and the diseases that may come with them, use a pet-friendly insect repellent, like Citrobug Insect Hunt. Never use DEET products on pets.
Or look for pet products labelled coat conditioner or outdoor spray that contain natural pest repellent ingredients like citronella, cloves, peppermint, or lemon grass.
You can also make your own natural version at home. Check out DIY Natural Bug Spray to see how simple it is.
Flea & Tick Protection
You'll want to make sure your pet is protected against fleas and ticks, particularly if you are going out camping, hiking, or into areas with long grass or brush.
Check out preventative treatments like Bayer K9 Advantix II. This can get rid of and protect against fleas, ticks, and mites. It even helps to reduce mosquito and black fly attacks.
De-Wormer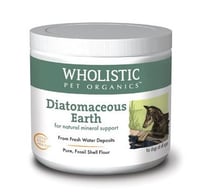 While de-wormers may not be necessary while you are away camping, you'll want to keep a close watch on your pet once you get home. Pets can be in contact with other pets and wildlife, and the excrement of both, where your pet could pick up worms.
If you are looking for a natural preventative measures, check out Diatomaceous Earth for Dogs.
Anxiety Treatment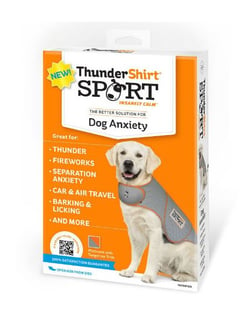 Does your pet have anxiety issues? You will want to bring along something to help keep your anxious dog feeling calm and relaxed, as anxiety can be worse in new places. The Thundershirt is an effective anxiety solution that uses gentle pressure, not sedatives or other drugs, to calm your pet.
Vet Records
You should always bring a copy of your pet's vet records when you travel with your pet, especially if you are crossing provincial or country borders. You never know when you might need them.
Paw Protectant
If you're going to be traveling in rough terrain, you might want to bring your pet's hiking boots. If you choose not to use boots, pay close attention to the condition of your dog's paws. Paw balms or waxes, like Musher's Secret, can help soothe rough or cracked foot pads after hikes or camping trips.
Sunscreen
Did you know dogs can get sunburnt, too? The areas around the muzzle, ears, back, and belly are most prone to sunburns, and hairless, white or light-colour coated breeds are particularly susceptible. Try a Hurtta Sun Blocker to keep your dog safe from the suns harmful rays.
Our sunscreen is not safe to use on dogs, and dog-safe sunscreens are hard to find. It's best to limit your dog's sun exposure even if you use pet sunscreen. Try to find shaded paths or set-up a covered area for your dog to hang out in during the day.
Regular Supplements or Medication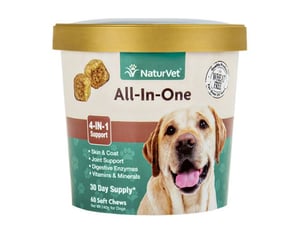 Make sure you keep your pet on their regular supplements or medication for their continued comfort and relief. Pet supplements for hip and joint care, skin and coat care, and seasonal allergies are especially important to keep up with as these conditions can get worse when your pet is spending more time outdoors.
Odour Control and Cleaning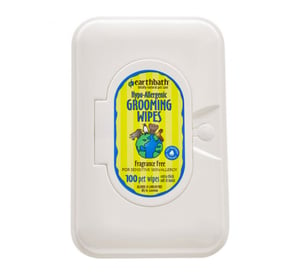 Your pet is likely to get dirty while out camping or hiking. While you may not want to bring your dog's shampoo with you, it's a good idea to bring along pet wipes, like the ones from Earthbath, for cleaning quick messes off your pet's coat.
Be Prepared
Make sure you go through this list before you head out on your next adventure. It's better to be a little over prepared, than to realize you need something after it's too late. This way both you and your pet are prepared for any type of adventure that you might choose on your camping trip.
Have anything else to add to our list? What dog camping gear can YOU not leave the house without?
---
Posted by Krystn Janisse

Krystn is a passionate pet nutrition enthusiast. She has worked in the pet industry for over a decade and loves to share her passion for animal welfare with others. She loves all animals but is currently channelling some crazy cat lady vibes with her five lovable, but rebellious cats.
---