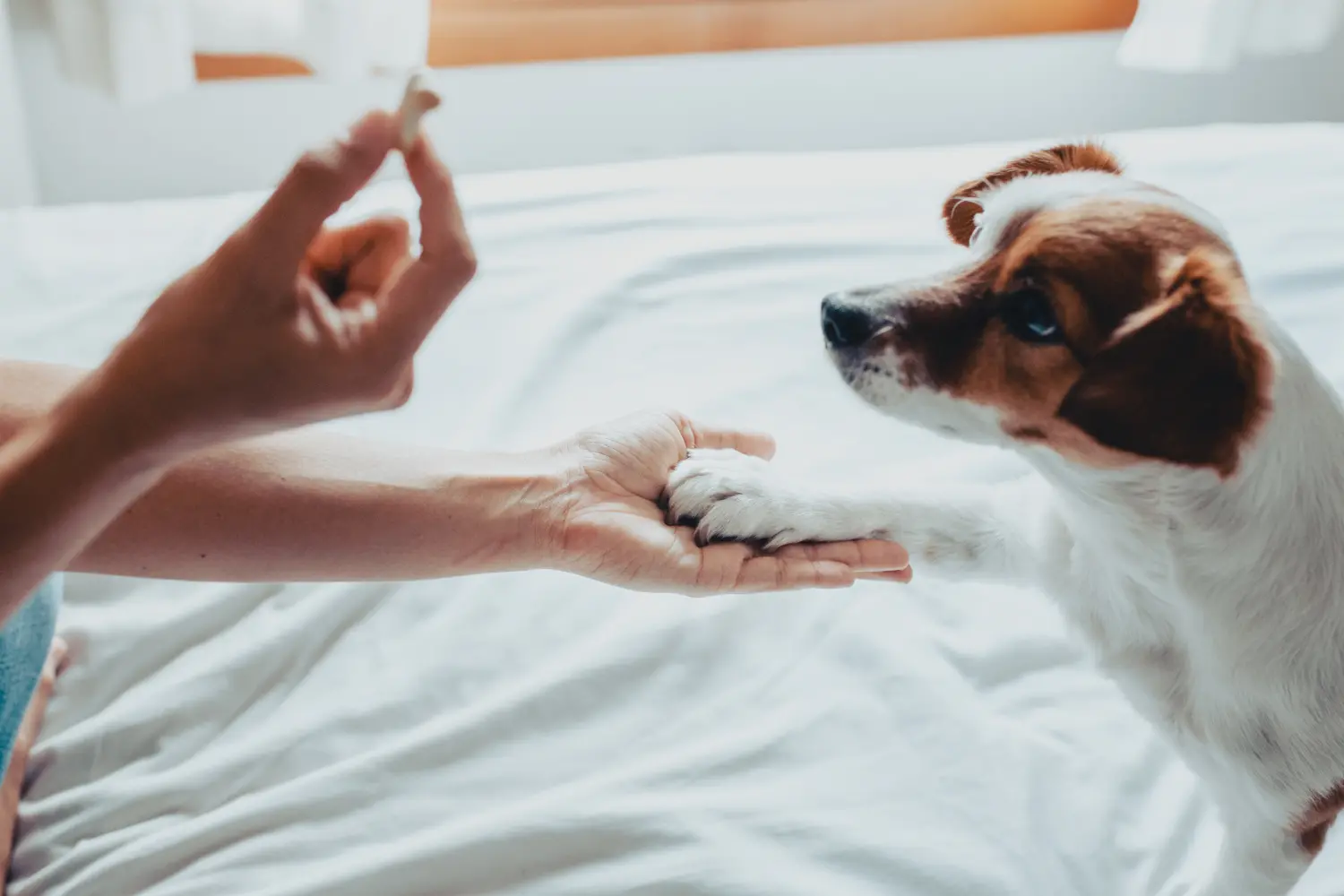 Does your dog know any cool tricks? Don't you wish he did? Teaching fun dog tricks is a great way to bond with your pooch. Check out some of our favourite easy dog tricks to start practicing with your pooch today!
Dogs, often hailed as man's best friend, bring boundless joy and companionship into our lives. Beyond their loyalty and affection, these intelligent creatures possess an incredible capacity to learn and perform various cool dog tricks. The antics of your furry friend can spark amusement and strengthen the bond between both of you. Let's examine some fun dog tricks to teach your pup!
Teaching your dog tricks not only provides mental stimulation and physical exercise but also enhances communication and mutual understanding. Whether you have a playful puppy or a seasoned adult dog, the world of fun dog tricks offers an exciting opportunity for training and entertainment.
In this guide, we will explore a delightful variety of the best funny dog tricks that you can teach your canine friend. These dog training tricks are suitable for dogs of all breeds, sizes, and temperaments.
Benefits of Teaching Your Dog Tricks
Dogs can learn a lot more than most people realize. From basic obedience tricks like "sit" and "stay" to more advanced feats like "roll over" and "high five," your dog is capable of doing some amazing advanced dog tricks.
Teaching your dog cool tricks is about more than just showing off. Of course, it's fun, but taking the time to train your pooch in the art of showmanship actually has some mental and physical benefits:
Provide mental stimulation to keep your dog engaged.
Reduce boredom with their daily routine.
Strengthen your bond with your pet as you work together.
Can reduce stress and anxiety by building your dog's confidence.
Daily trick training can help your dog work out excess energy in a low-impact dog exercise.
Whether you are just starting out with the basics or ready to learn more advanced dog tricks, this list will give you the inspiration needed to try something new and exciting with your pooch.
Additionally, teaching dog tricks is a great way to get your dog used to vocal commands and to follow your lead. This can be helpful in other types of dog training, like behavioural training.
Whether you are teaching recall training for dogs, good leash manners, or basic behavioural corrections, a strong bond and plenty of practice using vocal commands can be an asset.
10 Best Dog Tricks to Teach Your Dog
Below we examine the top fun dog tricks to teach your pup. Each one is easy to learn and entertaining for both you and your furry buddy. These tricks, while simple, are a great foundation for training your dog to develop even more advanced skills and providing a fun and stimulating routine.
Our collection of dog tricks will not only impress your friends and family but also bring endless amusement and fulfillment to both you and your beloved pet. Best of all, they are easy to teach!
Get ready to have some laughs and fun with your doggo training and bonding as we look at how to teach dog tricks.
1. Shake a Paw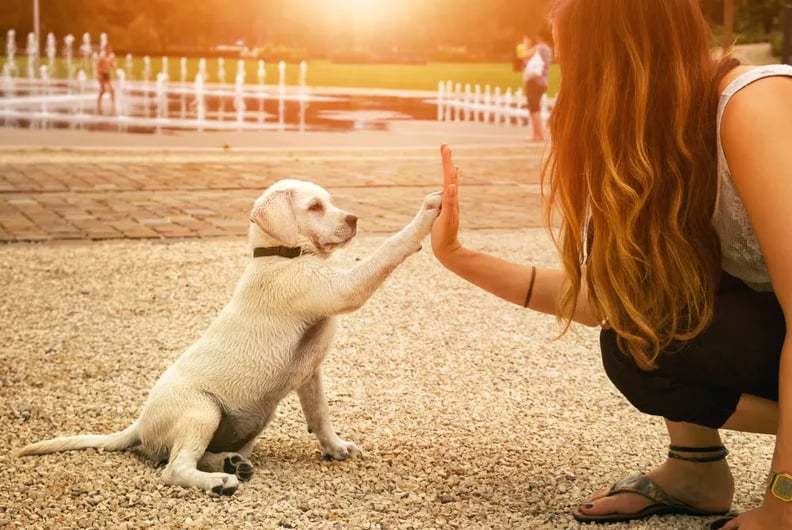 Teach your dog to offer his furry paw in salutation. You want your dog to have manners - so why not teach your pup to shake hands when they meet someone? This is one of the first tricks to teach puppy dogs. It is a great way to extend a warm welcome by offering a furry paw to someone.
Start by holding a training treat in front of your dog, but don't let him take the treat yet. He will lick and sniff, but wait until he tries to use his paw to pull your hand closer. As soon as his paw touches your hand, offer the treat. Now it's just a matter of choosing your hand placement, incorporating your chosen vocal command, and lots and lots of practice.
For a high five, practice the same skill but raise your hand higher to get your dog to reach up. Here's a helpful video to break down the steps. Keep in mind that short legs mean short high fives, so make sure to keep that in mind when setting expectations for a high five.
2. Bow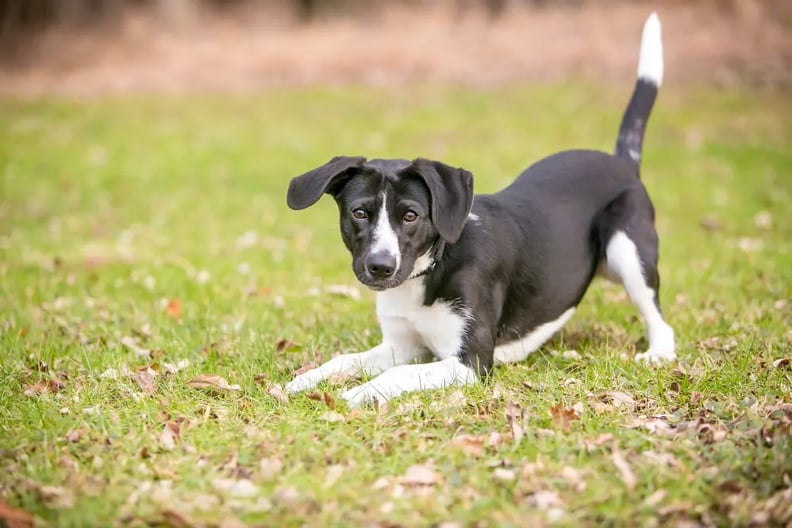 One of the unique dog tricks you can teach your canine is to bow. This is a crowd-pleaser for dogs that enjoy showing off their skills to their human friends. After demonstrating some of their other tricks, your dog can end his performance by taking a bow which will melt everyone's heart.
The steps for this trick are fairly simple. It's kind of just a slight modification to the motions used to teach your dog to lie down. Hold the dog treat in front of your dog's nose and slowly guide them to the floor. This should result in your dog lying down.
Once you've gotten this method down, try it again, but place your hand under your dog's belly. With your hand preventing your dog from lowering her hips, use the treat to guide your dog's head and shoulders toward the ground. This might take some practice, but eventually, your dog will get the bow position trick.
3. Catch-a-Treat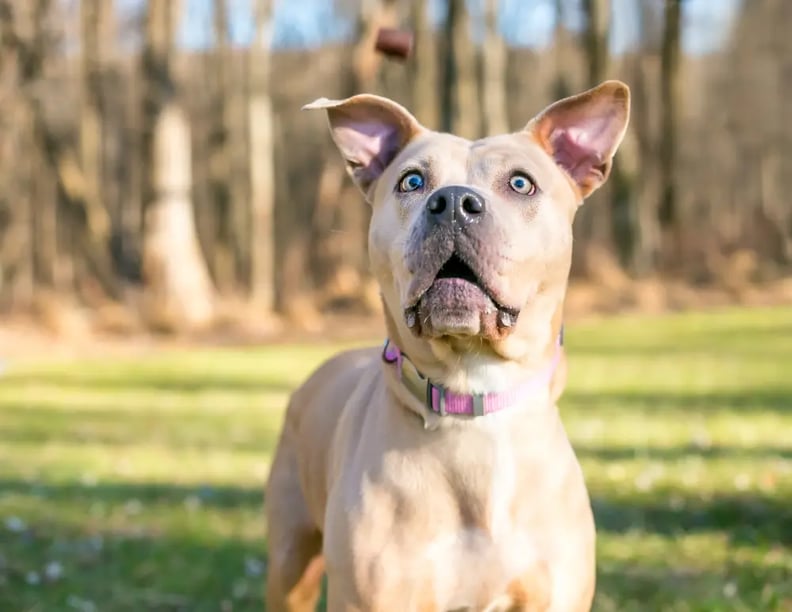 When exploring easy dog tricks for beginners, be sure to check out the catch-a-treat trick. You'll be combining two things that dogs love best: dog treats and playing fetch. Some pups are natural at catching a treat, and it takes very little work to teach this dog trick.
Load up on your furry friend's favourite treats or dry dog food and get to tossing them. A good practice is to teach your dog the hand motion to prepare him for the toss. Use the same motion you'd use to toss the treat to slowly hand your dog the snack. Next, take a couple of steps back and, using the same motion, gently lob the treat. Watch this video for the full dog trick training method.
4. Roll Over
Teaching your dog to roll over is a delightful activity that showcases your dog's trust, eagerness to please, and the unbridled happiness they feel when they are with you. This is an intermediate skill, but most dogs can learn with relative ease.
This trick first starts by teaching your dog to lay on its side. Hold the treat in front of your dog's nose and move your hand up and forward towards their ear so that your dog turns their head without standing up. This will encourage them to roll their elbow under their body and be able to lay flat on their side.
Once on their side, you can use a dog treat to lure them to roll over to their other side. Remember to use a consistent vocal command, and be prepared to treat quickly, even if the trick is not completed 100%. Every attempt should be rewarded. Watch this video for a more detailed breakdown of the steps.
One thing to note about teaching the rollover command. Not every dog will be a pro at this. Senior dogs with mobility issues may not be capable of making a complete rotation, and some dogs, like bulldogs, are just not in the right shape for rolling over and might end up turtling.
5. Spin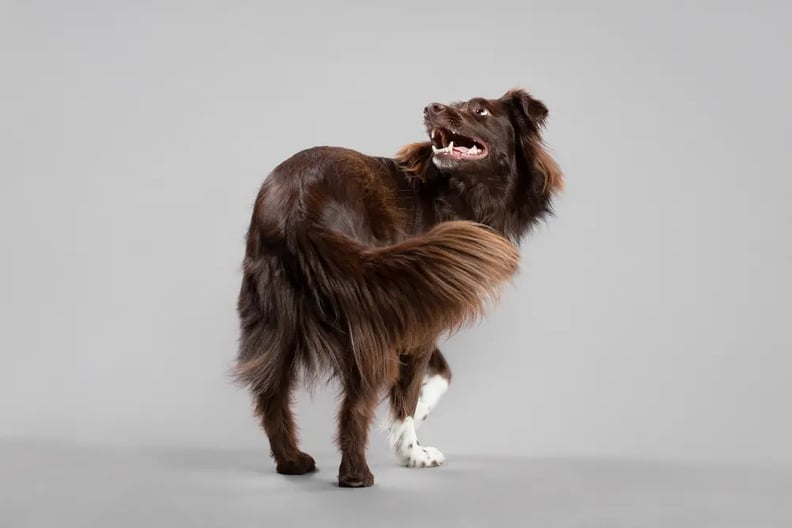 Another of the more basic dog tricks to teach your pup is to spin. The spin is almost like a dance of excitement and joy. Spinning is one of the easy dog tricks for beginners and is a great option for young puppies who are just starting to respond to verbal commands.
With your dog in a standing position, ask them to spin and hold the treat right against their nose as a lure. Move the treat in a fluid, circular motion to encourage your dog to follow. Don't allow them to take the dog treat until they have completed the rotation.
Practice this a few times, and then start to hold the treat further away from them, allowing them to practice the same motion without the need for the lure. Get more tips for teaching spin in this training video.
6. Walk Backwards
Imagine your furry friend taking confident steps in reverse, their eyes fixed on you, trusting your cues completely. It's a skill that goes beyond the ordinary, turning your dog into a talented performer and demonstrating the depth of your communication.
Teaching your dog to move with you is a skill that requires lots of practice. Forming a bond of trust is important for getting your dog to anticipate your body movements. Grab some tasty dog treats and hold them at snout level with your dog. Take a couple of steps backward and stop. If your dog follows, reward him with a treat and repeat.
Next, try switching direction, and take a couple of steps towards your dog. Keep the treat close to your dog's snout and slowly guide your dog back, just a few steps at a time. Move, stop, reward, move, stop, reward. In time and with enough practice of this bond-building dog trick, your dog will be able to follow your movements even without the food incentive.
7. Speak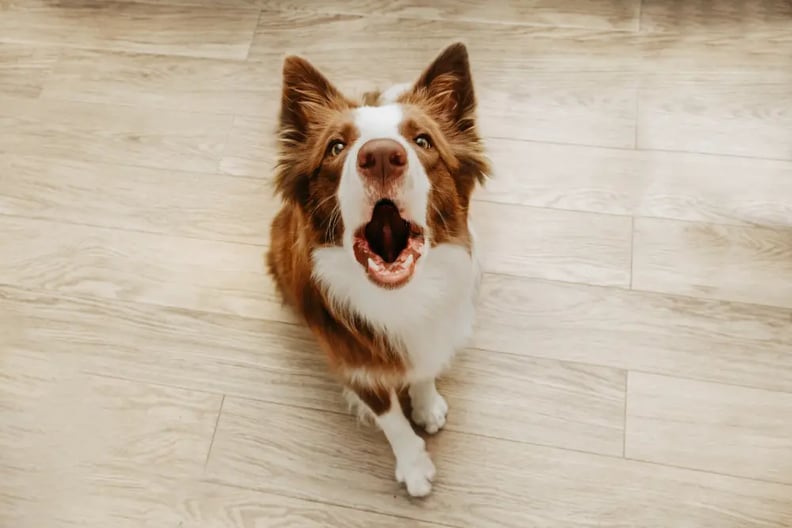 Everybody has something to say, and your pup isn't any different. Let your doggo speak up by teaching the dog trick: speak. This is one of the simpler dog tricks to teach.
Training this dog trick requires some patience. Start by holding up a small dog treat and asking for the behaviour you want by saying speak in a quick and excited tone. Then you have to wait. Your dog may try to offer other behaviours that he's learned, like shake or sit, but if wait a little longer, your dog will eventually get vocal about his impatience.
No matter how big or small the sound, reward your pooch immediately. Then ask for the behaviour again. With practice, your dog will build the confidence to "speak" loudly and proudly every time you ask. Watch this helpful video for more tips.
8. Play Dead
If you have ever watched dogs in movies, then one of the good tricks to teach your dog is to play dead. This fun trick got its start in movies, such as old Westerns, where the gunslinger would point a pistol at a pooch and tell the dog to play dead. The doggo would immediately drop to imitate being shot.
This intermediate skill can be taught in just a few steps. Start with your dog in a prone position. Use a dog treat to guide your dog into the play dead position by holding the treat to their nose and slowly moving the treat up towards their shoulder.
This will encourage your dog to lie on its side. Next, move the treat to the floor where you want the dog's head to end up. As soon as your dog's head touches the floor, give the reward. Practice this using the play dead command. Watch the full technique here to master this skill and add as much flare and drama as you'd like.
9. Wave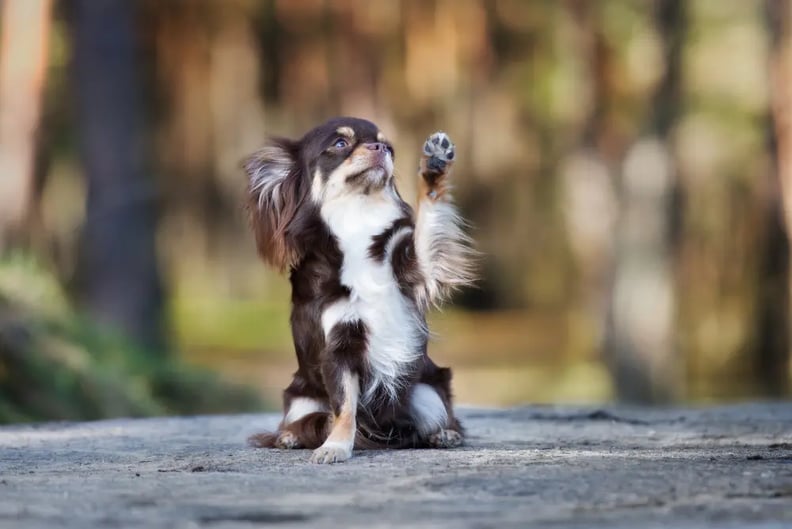 Most trainers consider the wave one of the more advanced dog tricks. With a simple wave of the paw, your dog can say 'hello' or even 'goodbye.' The almost human-like action is sure to charm anyone.
This skill does have a prerequisite. Before teaching your dog to wave trick, he needs to have a good understanding of the simpler doggy high five.
Similar to a high five command, the wave can be taught by slowly practicing your dog's high five while moving your hand higher and just out of reach of your dog. This will encourage him to reach his paw up even without the crisp contact of a good high five. Check out this simple breakdown of the dog wave technique.
10. Crawl
This advanced dog trick is one that dogs already know how to do, they just need to learn to connect the vocal commands with the action. This adorable trick is a great skill to practice and can be combined with other tricks to create an impressive display of your dog's skills to show off.
The trick with this skill is to stay low. You need to keep your hand on the ground while you use a treat to lure your dog forward from a lying position. Start with one step at a time, literally. Moving too fast will likely result in your dog standing to walk forward, so reward each step of the crawl. Here's a demonstration to get you started:
When to Start Teaching Puppy Tricks
It's best to start teaching puppy tricks as early as possible. Puppies have a natural curiosity and eagerness to learn, making them quick learners during their formative months.
Basic commands like sit, stay, and come can be introduced as early as 8 to 10 weeks of age. However, keep training sessions short, fun, and positive to account for their short attention spans.
As your puppy grows, around 12 to 16 weeks, you can gradually introduce more complex tricks and behaviours. Teaching fun tricks to your puppy not only provides mental stimulation but also strengthens the bond between you and your furry friend.
Here are some delightful tricks you can teach your puppy:
Sit: One of the basic commands, teaching your puppy to sit, is essential and forms the basis for many other tricks.
Stay: Teaching your puppy to stay in one place until given a signal is not only a useful command but also important for safety.
Lie Down: Similar to sitting, this trick teaches your puppy to lie down on command.
Come: Teaching your puppy to come to you when called is crucial for their safety and your peace of mind.
Roll Over: A classic trick, rolling over is a fun and impressive behaviour that many dogs enjoy doing.
Spin: Teaching your puppy to spin in a circle is a charming trick that can be a real crowd-pleaser.
Fetch: Retrieving a ball or toy is a favourite game for most dogs. Teaching them to fetch and return items can provide hours of entertainment.
Crawl: Teaching your puppy to crawl on their belly is not only adorable but also a fun trick to show off.
Jump through a Hoop: Once your puppy has mastered basic commands, you can introduce a hula hoop and teach them to jump through it.
Always use positive reinforcement, treats, and lots of praise during training sessions. Keep the training sessions short, fun, and engaging to maintain your puppy's interest and enthusiasm.
Early training not only establishes a strong foundation for obedience but also strengthens the bond between you and your puppy. Remember to be patient, use positive reinforcement, and make training sessions an enjoyable experience for your furry friend.
Teaching an Old Dog New Tricks
Teaching tricks to a senior dog is not only possible but also beneficial for their mental stimulation and overall well-being.
While it might take a bit more patience and understanding, older dogs can certainly learn new dog tricks. Here are some tips for teaching tricks to a senior dog:
Be Patient: Understand that it might take more time for a senior dog to grasp new commands. Be patient, and don't rush the process.
Use Positive Reinforcement: Older dogs respond well to positive reinforcement. Use treats, praise, and affection to reward your senior dog when they successfully perform a trick.
Keep Sessions Short: Senior dogs might tire more quickly, so keep training sessions short and enjoyable. Five to ten-minute sessions a few times a day can be more effective than one long session.
Adapt to Their Abilities: Consider your dog's physical limitations and health conditions. Avoid tricks that require too much physical effort or put strain on their joints. Focus on tricks that are mentally stimulating and low-impact.
Use Hand Signals: Senior dogs might have hearing or vision impairments, so incorporating hand signals alongside verbal cues can help them understand commands better.
Choose Age-Appropriate Tricks: Opt for tricks that are simple and easy on their joints, such as "paw," "high five," or "spin." Modify tricks to suit their abilities and make the learning process enjoyable.
Celebrate Small Achievements: Even small progress is a reason to celebrate. Acknowledge and reward your senior dog's efforts, which will encourage them to keep learning.
Stay Calm and Positive: Dogs can sense your emotions. Stay calm, positive, and encouraging during training sessions, as your senior dog will respond better to a relaxed atmosphere.
The key lies in understanding your dog's limitations and abilities, adapting the training methods accordingly, and, most importantly, enjoying the process together. Training not only provides mental stimulation but also strengthens the bond between you and your senior furry companion.
Tricks Lead to Trust
Teaching your dog new tricks is not just about fun and games; it's a journey that strengthens the bond between you and your furry companion. The patience, consistency, and positive reinforcement you invest in training sessions create a language of understanding and trust between you and your dog.
Learning tricks to teach your dog not only enriches your dog's life by providing mental stimulation but also enhances your own, finding immeasurable joy in moments of accomplishment and connection. You'll end up cherishing the unique relationship that blossoms as you teach your dog new tricks—it's a rewarding and heartwarming endeavour for both of you.
Frequently Asked Dog Trick Questions
What's the best way to start teaching my dog tricks?
Begin with basic commands like sit, stay, and come to establish a foundation. Use positive reinforcement, treats, and praise to motivate your dog and make the learning process enjoyable.
How long does it typically take for a dog to learn a new trick?
The learning speed varies from dog to dog. Some tricks might take just a few days with consistent training, while others, especially complex ones, may take several weeks of patient practice and repetition.
Can older dogs learn new tricks, or is it easier to teach puppies?
Dogs of all ages can learn new tricks. While puppies might grasp commands quickly due to their natural curiosity, older dogs can also learn effectively with positive reinforcement and patience. It's never too late to teach an old dog new tricks!
How do I keep my dog motivated during trick training sessions?
Use high-value treats, praise, and toys as rewards. Keep dog trick training sessions short and engaging to maintain your dog's interest.
What should I do if my dog is struggling to learn a particular dog trick?
Break the dog trick into smaller, manageable steps. Be patient, stay consistent, and practice in different environments to help your dog generalize the trick.
Are there specific tricks suitable for certain dog breeds?
While all dogs can learn basic commands, some dog tricks might align with a dog's natural abilities. For example, herding breeds may excel at agility tricks, while retrievers might enjoy fetching tricks.