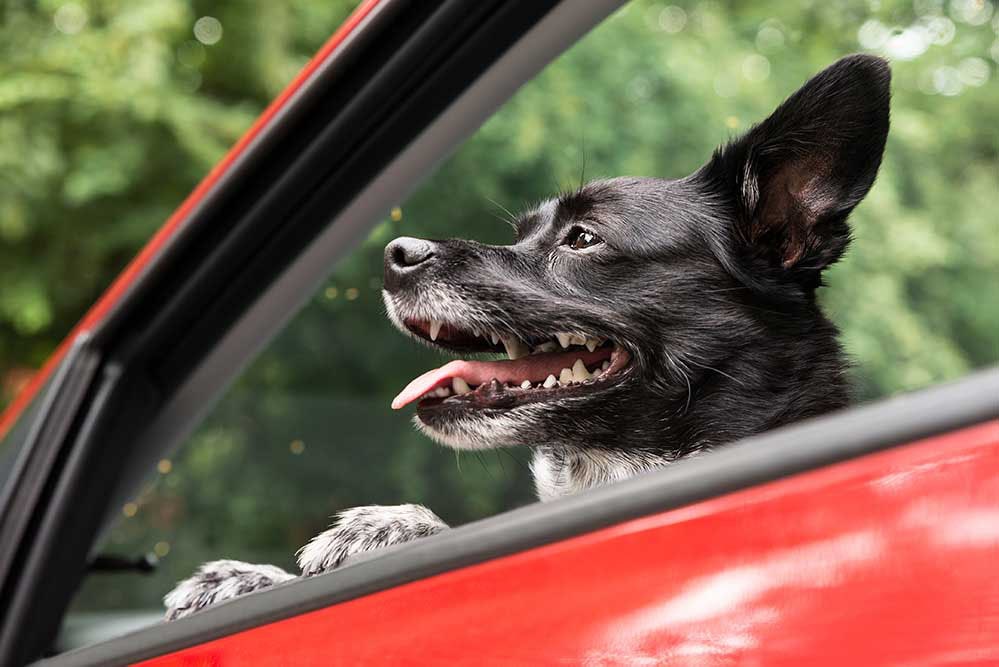 Learn why a dog car seat is so helpful for travelling with your pup and other actionable tips for travelling so you and your favourite furry friend can enjoy your next adventure.
Taking your dog with you on your next road trip is a lot easier and safer if you have the right gear. The best dog car seats are designed to give your dog a secure and comfortable spot in the car, but they also keep your dog in one place so that you can drive without being distracted.
Car Safety for Dogs
You've probably taken your dog on a car ride or two already; a quick trip to the groomer or maybe a drive to the dog park. Whether your dog is well-behaved in the car, a nervous wreck, or a ball of energy, giving them free roam of the car may be more dangerous than you think.
Of course, you want to protect your dog in the car, but driving with your dog unsecured is just as much of a hazard to you as it is to them. According to a survey done by Kurgo:
"Sixty-five percent of dog owners admit to engaging in at least one potentially distracting activity while driving with their dog."
It could be as simple as a quick pat on the head or handing them a treat. The most common distraction while driving with your pet is trying to keep your dog from climbing into the front seat. These small distractions can quickly lead to a dangerous situation.
Additionally, your dog could become a serious safety hazard to your and other passengers in the event of a crash. An unsecured dog could be thrown around the car if you do get into an accident or have to slam on your breaks. According to Canadadrives.ca:
"In the event of a crash, even the smallest dog can generate up to 500 pounds of projectile force. A bigger dog, like a husky, could become a 2,400-pound projectile!"
Don't take any chances with yours or your pet's safety. To make sure you are doing everything you can to keep your pet safe in the car, here are a few basic things to consider before going for a drive with your dog:
Be Careful of Open Windows. Your dog probably wants nothing more than to stick his head out the window and let their ears flap in the wind, but keeping your window rolled down too far could lead to your dog jumping out of your car. Keep windows rolled up enough that your dog can't fit through it, or keep them in an area of the car that doesn't allow them to reach a window.
No Smoking. Smoking in your vehicle with your pet increases how much smoke they are breathing in. Stick to smoking on your pit stops outside of the car if you must.
Keep the Volume Low. Your dog's ears are much more sensitive than yours. You may love rocking out to some tunes at max volume when you are driving, but this could be painfully loud for your dog. Keep the volume low to prevent stressing out your dog.
Don't Overcrowd Your Dog. Pack light, or keep your luggage in a separate area of the car from your dog. You don't want him to feel crowded or trapt in a car that is loaded to the brim with stuff.
Provide Shade. Your windshield provides you with some protection from UV rays, but your other windows might not. This means that your dog could be baking in the sun for your whole drive. Window guards that provide shade can help keep your dog cool and prevent sunburns.
5 Tips for Teaching Your Dog Good Car Manners
Before you hit the road, it's important to teach your dog some basic car manners. If your dog is not used to car rides or is too excitable in the car, you will need to teach them how to behave appropriately when they are in a moving car.
Not only will these techniques help your dog stay calm, but they can also help keep him safe. A dog moving freely around the car can easily get injured, so setting rules about where and how much they can move will help make road trips easier and safer.
1. Try on the gear
Once you find the right travel gear for your dog, you will want to make sure he's comfortable with it. Allow him to check out any and all safety gear. Try on harnesses, and use treats and verbal praise to encourage him to check out your new dog car seats, crates, or dog car seat covers.
You want him to associate his car gear with a reward, so don't be stingy on the treats and "atta boys!".
2. Practice getting in the car
Getting in and out of the car safely is a big part of your road trip plans. If your dog isn't used to car rides, you will need to practice getting in and out of the car safely. Bigger dogs usually don't have an issue making the leap into the car, but they may still be nervous doing so.
Smaller dogs may need a hand getting in, so you should either be prepared to lift them in or get some pet stairs or a pet ramp to make your vehicle more accessible to them. You can use treats or toys to encourage and reward them for practicing.
3. Let them explore the car
Once they are in the car, let them take a sniff and explore the areas that they are allowed to be in. Allowing them to explore a bit can help to ease some of the anxiety they may have about the car. Keep them focused on only the areas that are for them by blocking off access to other parts of the car and using verbal commands to encourage them to stay in their areas.
Install the travel gear and get them used to the process of getting strapped in. Teach them to sit and stay still while getting strapped in and reward them for good behaviour. Practice the process of unstrapping them too. They should be encouraged to stay calm during this process too.
4. Take a short drive
Practice makes perfect, but you should start small and work your way up to longer car rides. Once you have your dog strapped into their seat, take a short drive around the block to get them used to being in a moving vehicle.
If possible, have someone else drive so that you can focus on your dog's behaviour. This will allow you to notice fearful or anxious behaviours and help teach your dog to stay calm and relaxed in the car. This will also leave you free to reward your dog for good behaviour.
5. Practice
Now that you have an idea of how your dog reacts to car rides, you can practice frequent, short drives. This will give you time to see which car safety gear works for your dog and what you may need to change or add to make your dog comfortable.
Practice driving locally, increasing the length of the drives to get a feel for how your dog reacts if he gets bored or sees something exciting outside the car.
Best Dog Car Seats: Does Your Dog Need One?
Many people don't consider getting a dog car seat. However, they can be a real game-changer when riding in the car- whether it's across the country on a road trip or a simple trip to the store!
Different dogs need different dog styles of car seats. While you may be thinking of a puppy car seat, that's just one of the ways to secure your pooch in the car.
The style of car gear you choose will depend on the type of vehicle, the size of your pooch, and where in the car you want your dog to be secured. Dog car seats for medium dogs are great for smaller pets as well, but you might need another solution for bigger dogs or dogs with travel anxiety.
In this blog, we'll show you our favourite dog car seats and plenty of other car safety gear for dogs, like harnesses, barriers, and even some protection for your car.
Getting a dog car seat has a ton of benefits!
A dog car seat protects your dog. Not only do they protect your dog by keeping him in place in the event of a turn or stop, but it also keeps you more focused on the road instead of controlling your pup.
Car seats for dogs help entertain your dog. They let dogs be able to see out the window while safely keeping them inside the car. If your dog can't see where you are going, it could lead to anxiety and restlessness during the trip.
Your dog will feel more secure. A dog car seat helps your dog feel more secure. Dogs can get anxious in cars and start pacing, whining and panting. A car seat keeps your dog in place, helping her feel calmer and relaxed.
A dog car seat reduces motion sickness. Plenty of pups get motion sickness, especially from long car rides. D

og travel seats for cars

help reduce this and alleviate anxiety.
Car seats protect your car's seats and upholstery. Muddy paw prints, car sickness, and more can do a ton of damage to your car's upholstery. Doggie car seats help protect your car and are super easy to clean!
What is the Best Dog Car Seat?
There are several styles of elevated booster seats for dogs, ranging from inflatable to padded to hanging car seats. The style you choose may depend on just how small your dog is and how high you want to elevate them.
Kurgo Skybox Rear Booster Seat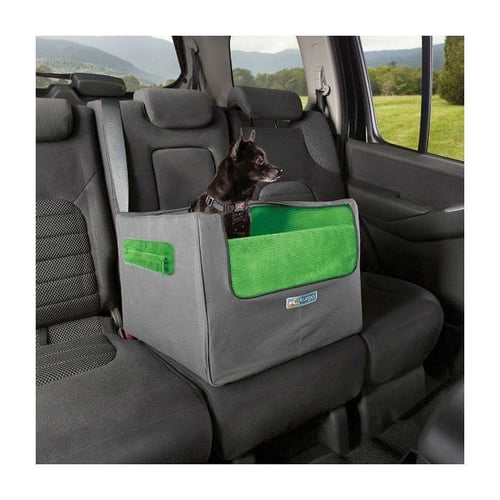 The Kurgo Skybox Rear Booster Seat is perfect for any furry friend under 30 lbs. The booster seat gives your dog a padded, comfortable seat. Safety is key with this booster seat- it attaches to your pup's harness, ensuring that he or she is safe and sound in the booster seat.
Plus, cleaning up is a breeze! The stain-resistant, waterproof seat is super easy to take care of and helps keep your car from getting dirty, even if your pup is playing in the water or the mud.
Most car seats are designed to fit the front seat or a pilot seat in the back, but this car seat is fitted for a regular bench-style seat. The Kurgo Skybox Rear Dog Car Seat is perfect for smaller dogs.
It's super comfortable with low walls and a cozy padded interior. Dogs are able to see their surroundings and out the car windows while in their seat, making it perfect for long and short trips alike.
Best Back Seat Barriers
Is your dog too big for a dog car seat? There are other products that help keep your dog comfortable during car rides! There are several variations of back seat gear that will provide many of the same benefits as a car seat.
Barriers can be used to keep your pet from jumping to the front seat. Not only can your dog be a distraction while driving, but the front seat can also be a more dangerous place to be in the event of a collision.
This gear has many options, but they all have similar benefits:
A dog car barrier keeps your dog safer. Keeping your dog in the back seat can keep him safer in the event of an accident and also keep them out of your hair, so you aren't the cause of one.
Your dog will feel more secure. A dog car seat helps your dog feel more secure. Dogs can get anxious in cars and start pacing, whining and panting. A car barrier keeps your dog in one area of the car, helping her feel calmer and more likely to stay that way.
A dog car seat reduces motion sickness. Plenty of pups get motion sickness, especially from long car rides. Keeping the sequestered to one area of the car encourages them to stay calm and may prevent motion sickness.
Car seat barriers limit the mess. Never-ending shed, car sickness, and more can do a ton of damage to your car's upholstery. Car seat barriers will keep the mess in one area, making it easier to clean!
Back seat barriers for dogs come in plenty of shapes and sizes, giving you plenty of options to best match your vehicle and your dog. Check our favourite car barriers for dogs.
Kurgo Backseat Barrier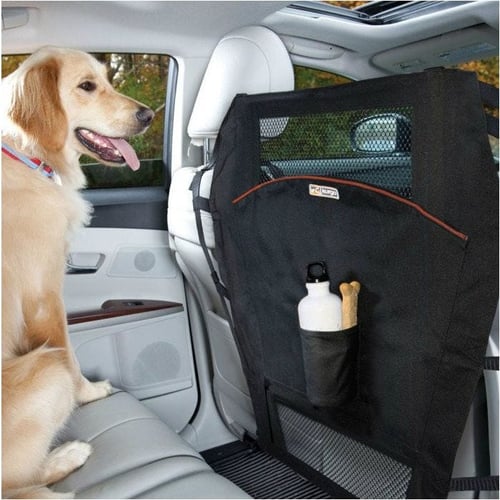 If your dog insists on being in the front seat with you, then the Kurgo Backseat Barrier is the gear for you. It forms a barrier between the front seats, keeping your dog out of your way. Top and bottom mesh screens allow your dog to see without being able to touch and allow for proper airflow between the front and back seats.
Kurgo Backseat Bridge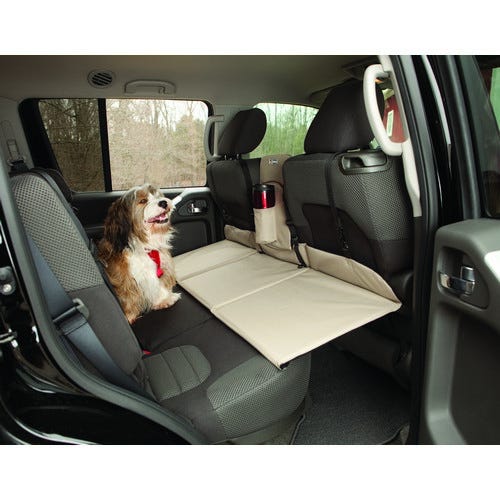 The Kurgo Back Seat Bridge keeps your dog safe while providing her with extra space. Filling in the gap between the front and backseat allows your pup to be more comfortable without falling into the leg space.
The fold-up centre barrier ensures that your dog stays in the backseat. While cuddles are nice, they don't have any place while you're in the driver's seat. The Back Seat Bridge keeps both you and your pup safe, happy, and comfortable.
Bonus: The Back Seat Bridge is waterproof and great for after a messy adventure, so you can let your dog have fun without worrying about damaging your upholstery.
Kurgo Heather Half Dog Hammock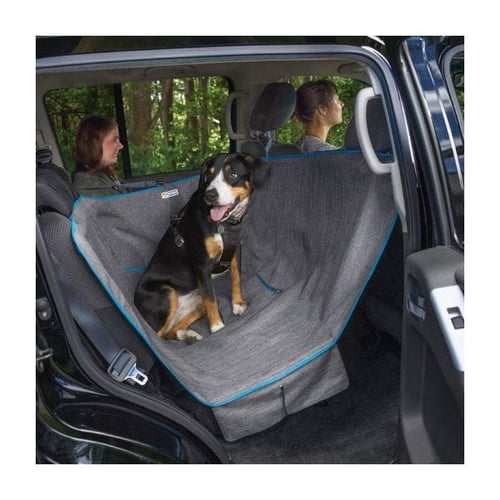 The hammock is the ideal solution for big dogs that need to be encouraged to stay put. The Kurgo Half Hammock allows you to keep your dog on one side of the back seat while protecting your car from fur, dirt, and other messes.
Though it's available in a full backseat size, this hammock allows you to keep a seat free for other passengers or luggage and can be beneficial for dogs that need a little sensory deprivation to prevent motion sickness.
Best Car Harnesses
If you only pick one car safety tool for your dog, then we highly recommend it be a car harness. Even dogs that are calm and stationary in the car should have this protective gear.
No matter how safe you are, accidents can happen anytime, and a durable and tested car safety harness could be the difference between life and death. It's like a seatbelt for your dog. It is better to have and never need, than to need and not have.
Car harnesses have many benefits:
They protect your dog in the event of a crash. Almost any harness can be used in the car with the right gear, but only crash-tested dog car harnesses will truly provide protection in an emergency situation.
Keep your dog in one place. Car harnesses allow minimal movement keeping your dog in his seat. The seat belt allows enough movement to stand, sit, and lay but not enough to leave the chair.
It makes for versatile travel gear. Most car harnesses are fundamentally still a harness. These are great for travel because you can use the same harness for the road trip as you do for your other vacation activities with your dog.
Compatible with other car travel accessories. The best reason for using a car harness is that it can and should be used with any of the car travel gear we mentioned above.
No one wants to think about the possibility of getting into a car accident, but even a minor fender bender or a sudden stop could lead to injury for your dog if they aren't properly and safely secured.
Kurgo Impact Dog Car Harness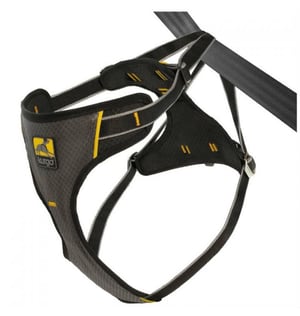 The Kurgo Impact Harness is the most durable dog car harness on the market. This harness is made from strong tubular webbing with 4000 lbs of tensile strength and steel-reinforced nesting connections to safely secure dogs up to 130 lbs.
The harness attaches directly to your car's seat belt system, ensuring effective response time to sudden stops and accidents.
RC Pets Moto Control Harness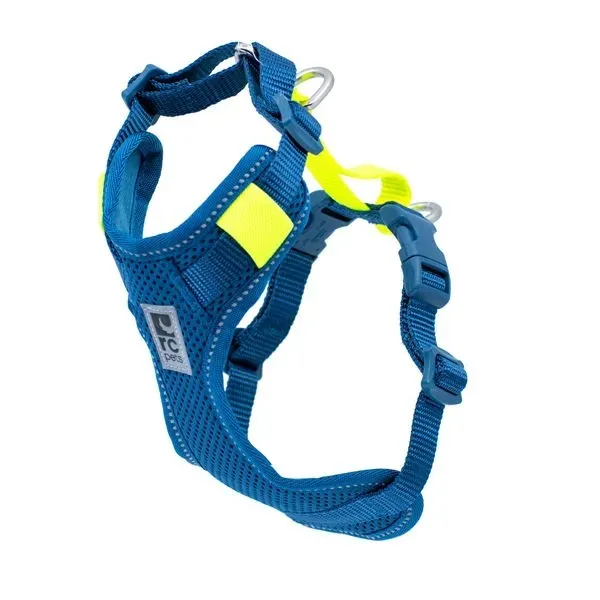 This multi-purpose dog harness is the perfect accessory for dogs on the go. It works as a secure and comfortable dog walking harness but can also be used to secure your pet in the car.
The built-in safety loop makes it easy to attach your dog's harness to your seatbelt, keeping them in their seat and providing support if you need to brake suddenly. The mesh chest plate is breathable and soft and helps to spread out the pressure of your dog pulling on the harness.
Best Dog Seat Belts
While car safety harnesses are useful, you might already have a durable and safe harness that you use for walking or hiking. Instead of buying a separate harness just for the car, try a dog car seatbelt.
These handy tools will either attach your dog's harness directly to the seatbelt buckle or allow the seatbelt to slide through a secure loop on the harness.
Benefits of dog seat belts:
No need for multiple harnesses - use it with any harness you have
Easy to use and not cumbersome
Helps to keep your dog in his seat and prevents driving distractions
Leave it in the car so it's always available when you need it
Kurgo Seat Belt Tethers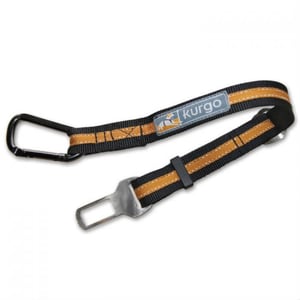 If you prefer to stick with your dog's current harness, you can use a seat belt tether to hook your dog up to the seat belts in your car. Though your regular harness isn't crash-tested, it may still provide some protection. It will also help keep your dog in one area of your car, preventing distractions for you.
Here are a few of the best seat belt tethers for dogs:
Crating Your Dog in the Car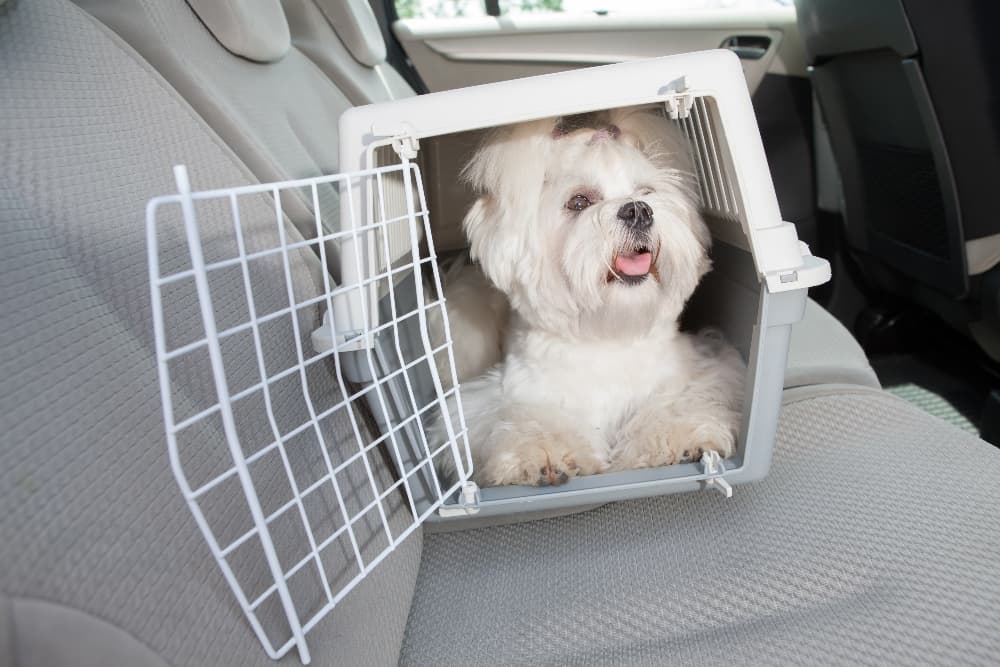 Sometimes dogs are just too eager, excited, or nervous to use the standard car travel gear, so crating them might be the safest option. This isn't the perfect solution for every pet. Small cars and big crates don't often mix well, so this may not be an option available to you.
Alternatively, if your dog has never been crate trained, travelling by crate might cause anxiety. If you think this is the best solution for your road trip, then take some time before you leave to get your dog used to and comfortable with the crate.
Precision Pro Value Dog Crates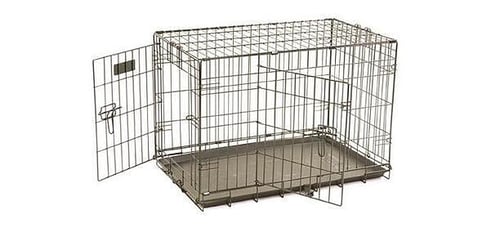 These wire crates are ideal for keeping dogs of any size safe in the car. They provide your dog with a secure and comfortable place to relax and prevent them from becoming a distraction to the driver.
It's easy to secure the crate in place using your vehicle's seatbelts to prevent the crate from moving or shifting. Bring along a soft blanket or crate mat to make your dog's car travel experience cozy and relaxing.
Check out Crate Training for Puppies to find out how to slowly and safely crate training your dog. You want the crate to be a positive and comfortable place, especially if they are going to be travelling in the crate for long periods of time.
Dog Car Seat Covers
Dogs can be messy. They shed, they drool, and they track in dirt and mud. Protect your car with a variety of covers and protective gear. A long road trip means lots of stops and lots of opportunities for your dog to track in the dirt.
Keep your car clean and damage-free with the right car gear. Fortunately, Kurgo comes to the rescue again!
Kurgo Wander Loft Bed
The cozy Kurgo Loft Wander Dog Bed is perfect for travelling. It has a water-resistant non-slip material, making it perfect for your pup and clean-up dog bed. The cozy bed can roll up quickly and even has a handle for carrying it during travelling.
Molly Mutt Car Seat Cover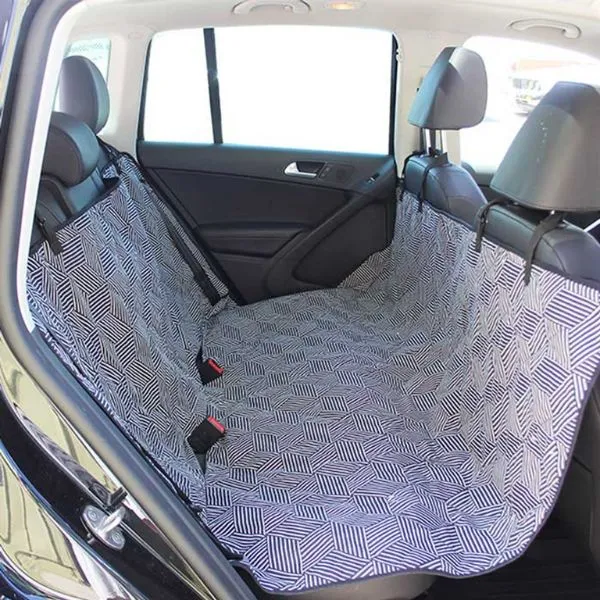 The Molly Mutt Car Seat Cover helps keep your seat protected from dirt, mud, water, and dog hair. The seat has a durable material that is stain and water-resistant. It's machine washable, making it super easy to clean up! This 3-in-1 cover can be used as a seat cover, a hammock, or a cargo cover.
Kurgo Car Door Guard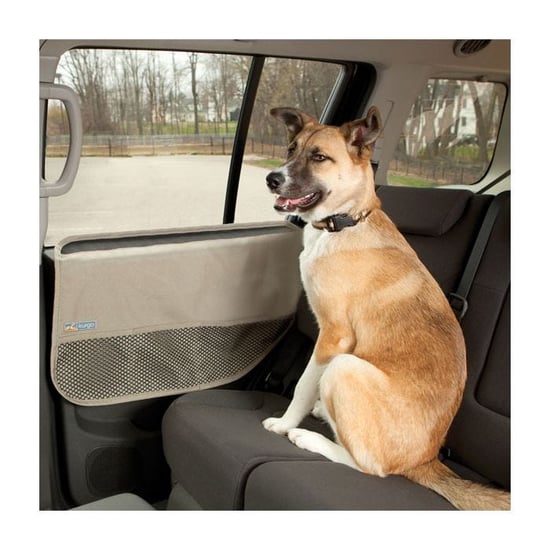 If your dog likes to gaze out the window and take in the scenery, then the Kurgo Car Door Guard is just what you need to protect your car doors from claws, noses, teeth, and fur.
Dog Road Trip Checklist
Road-tripping with your dog will be safer and more fun if you pack accordingly. If your drive takes you long distances, then you may find it hard to restock your supplies, especially your dog's supplies, so it's important to pack thoroughly for the journey.
Here's a quick road trip checklist to help you pack:
Food
Some dog food is easier to travel with than others, so make sure you have a plan for how to keep your dog fed and healthy no matter how long your trip is. Properly stored kibble or canned food will be the easiest, but if you are a raw feeder, you may want to get your dog used to a similar freeze-dried diet.
Fresh Water
Fresh clean water shouldn't be scarce on your road trip, but it's a good idea to bring along a few extra bottles for your dog. Just in case.
Travel bowls
There are a ton of travel-friendly bowls on the market, like the Kurgo Collapsible Bowl. Having a travel-friendly bowl means your pup can enjoy convenient water and feeding breaks. It easily collapses and stores away when finished, making travel a breeze!
Towels
Towels can be used to dry or clean your dog or can act as a water-absorbent bed for your car. You can just bring a few towels from home, but we have some better options. BRB HydroPet Towels are the perfect travel accessory because they are both super absorbent and quick drying. Tall Tails waterproof mat is the ideal material to protect your cat from a wet or dirty dog.
Cleaning supplies
Accidents happen, and we don't mean car accidents. Nervous dogs may have accidents in the car, get motion sick and throw up, or might get wet or dirty on a pitstop. Pet-safe cleaning supplies will help you keep your car and your pet clean.
Poop Bags
You will need to stop for bathroom breaks, and so will your dog. Make sure you have enough poop bags to clean up after your dog along the way.
Treats
Long road trips can be tough on dogs, so you may want to have some small, light treats to reward and reinforce good behaviours. Long-lasting treats, like natural chews, may be helpful for occupying your dog but might be a bit too heavy for dogs that are anxious or nervous about the trip. You want to avoid them getting car sick or nervously gulping their snack.
Toys
Dog toys are another great option for keeping your dog busy on your trip. You may enjoy the drive, but your dog will likely be bored. A sturdy chew toy or puzzle toy for dogs can help keep them calm.
Leash
Make sure you have a good leash (or two), so you can safely let your dog out for a quick walk and bathroom break at each pit stop. The last thing you want is for your dog to get lost in unfamiliar territory.
Collar and ID tag
Though a harness is the best way to keep your dog secured in the car, a collar should always be worn so that your dog can carry his ID tags. Special travel ID is a good idea so that if your dog does make a break for it, he can be safely returned to you no matter where you are. Government IDs, like licenses and vaccine tags, should be worn too.
If your road trip is going to lead you to some awesome outdoor adventures like camping or hikes, then you may want to check out our full Guide for Hiking and Camping with Your Dog.
5 Tips for Road Trips with Dogs
Taking your dog on a family vacation is a ton of fun for everyone! You may be excited to hit the road with your doggie, but first, you should consider a few things to make the trip safer and more enjoyable for everyone.
Though travelling is a lot of fun, it can be stressful. Planning ahead is the perfect way to make sure your trip goes according to plan- resulting in more fun for your family and pup.
1. Consider Your Destination
You may be fully prepared for where you started, but you need to know the rules and have the right gear for your final destination. Weather and amenities may be very different at the other end of your journey, so make sure you are prepared.
If you are staying at a hotel or a campground, ensure that you know all of the rules about pets to make sure your pet stays safe, and you don't get in trouble. If your drive will take you along a more rural path, make sure you bring the necessary supplies, as you may not be able to find them locally.
Additionally, be aware of bylaws that apply to pets. Each country, province/state, and city may have different rules about where pets are and aren't allowed to be, as well as which pets are even allowed. In Canada, for example, we only have one provincial-wide Pitbull ban, which is in Ontario, but many cities and provinces still have restrictions in place for Pitbulls.
See the full list of pitbull restrictions and bans in Canada here.
When crossing an international border, there are rules about foods and other goods coming into a country. You may not have a problem bringing your pet across the border, but their food may be an issue.
2. Plan Bathroom Breaks
Frequent bathroom breaks are key to a successful road trip!
Not only do they allow your dog to answer the call of nature, but they also provide valuable entertainment. Getting out and stretching your legs isn't just for humans! Letting your dog get out to go to the bathroom helps relieve anxiety and stress and keeps your pup healthy and happy.
Before leaving home, train your dog to relieve herself on many different kinds of surfaces instead of just grass. Being able to go on mulch, concrete, and gravel will make sure that no matter where you stop, your dog will be able to relieve himself.
Make sure you practice "leave no trace behind" when you travel. Be sure to bring a pooper scooper and bags so you can easily clean up after your dog. And, of course, make sure you keep your dog safe by keeping him on a leash so he can't accidentally escape.
3. Prevent Overheating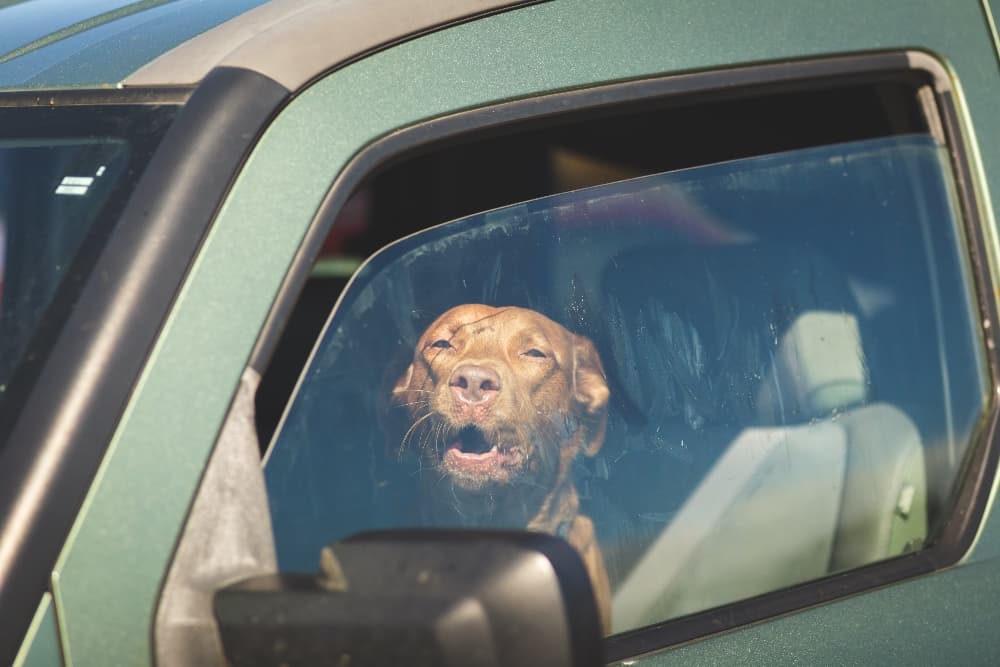 Most road trips happen during the spring and summer months, so warm weather may be a factor in your dog's safety. Air conditioning in your car, or a nice breeze will typically keep your car at a comfortable and safe temp while you are driving, but what about when you make pit stops?
Even a quick trip to the bathroom or a speedy meal can leave your car and your pooch baking in the hot sun. Even just a few minutes on a hot summer day can put your dog in danger. Check out our car temp chart to see just how dangerous it is to leave your dog locked in a hot car.
When possible, avoid leaving your dog alone in the car. It may be unavoidable if you are travelling alone with your dog, but you should take every possible measure available to you to keep your dog safe. Leaving your car on with the AC running (locked, of course), or sticking to drive-throughs for as many of your stops as possible will reduce the risk for your dog.
Remember that if you are too hot, then so is your dog. Proper hydration and air circulation in hot weather are key to keeping your pet comfortable and safe.
4. Keep Your Dog Safe Outside the Car Too
Keeping your car safe and sound during a long trip is obviously the most important part of your vacation. There's nothing scarier for a pet owner than losing your favourite furry friend far from home.
If your dog does manage to be separated from you or your family on your trip, you can recover your pup by making sure she or he can be easily identified and returned to you.
Keep a recent picture of your dog with you, as well as identifying records, health records, and vaccinations.
Consider (before your trip!) getting a permanent identification form, such as a microchip. Microchips allow you to know where your dog is and can help return her to you if the dog is turned in by a good samaritan.
Make sure your dog has a sturdy harness or collar and leash. Having

identification tags

on the collar is key! Information should include your dog's name, your name, and a phone number, as well as proof of rabies vaccination.
5. Be Prepared for Emergencies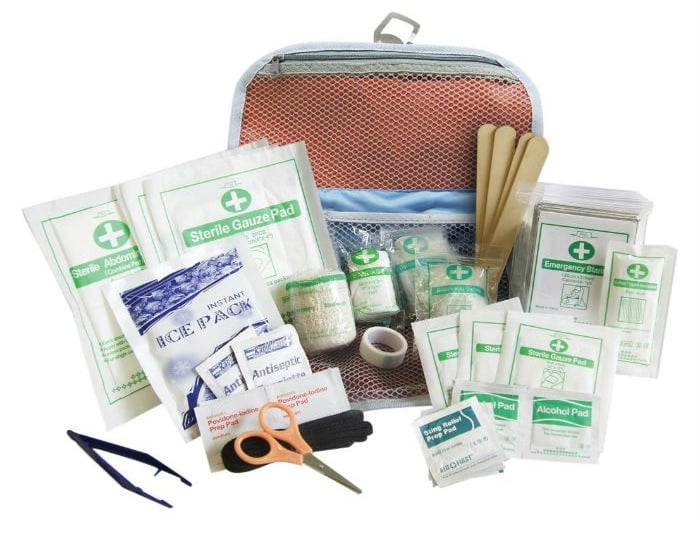 Emergencies are part of life. While it can be scary to think about, planning ahead is key. Being prepared for an emergency means your dog will have the best access to medical care, should the need arise. Follow these tips to keep your dog safe:
Pet first aid kits are something you should always have handy. Being able to treat minor wounds and scrapes is handy, but you never know when you might need to deal with an emergency medical situation.
Health Checks. Take your dog for a check-up at the vet before you go on an extended trip. Make sure vaccinations are current, and take the shot records with you. Health certifications for your dog are required by law for things like airline travel or

crossing the border.

Don't forget bottled water and medication. Depending on where you're going, tap water may not be as readily available or safe to drink. Make sure you bring any

medication

that your dog needs.
Find the number of the nearest 24-hour veterinary emergency hospital and save it into your cell phone contact list. Make sure you also keep the contact information of your current veterinarian in your phone so you can reach him or her in case of emergency. This is especially important if the emergency vet has questions about your dog's health.
If you are going to be travelling quite a distance, it makes sense to be safe instead of sorry! You may want to consider researching emergency hospitals across your route so you can make sure your pup always has access to medical care.
While this may seem overboard, it's better to have it planned and out of the way than something happening and not knowing what to do! You'll rest easier and enjoy your vacation knowing your furry friend will be safe and well taken care of!
Planning Ahead
When you plan out your trip with a dog car seat, bring lots of water and food, plan for exercise and breaks, and prepare yourself for an adventure, you are one step closer to being able to relax and have fun!
With these tips and a little planning, you and your dog can enjoy yourselves on your next adventure or vacation. Travelling can be stressful, but usually, a calm owner means a calm dog.
Try to enjoy yourself and remember it's a vacation. The journey is just as important as the destination!
How do you keep your dog safe in the car? Let us know in the comments below!