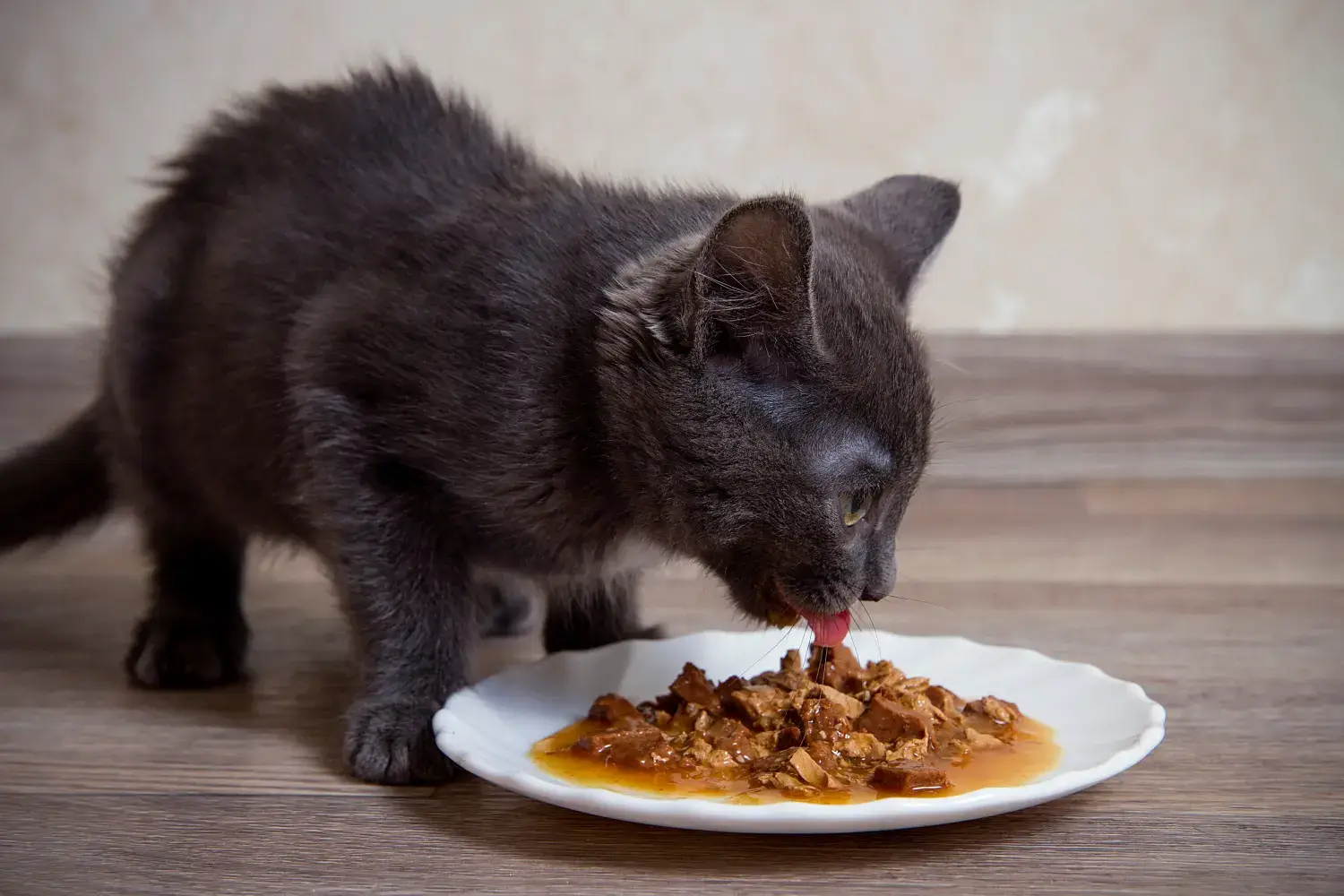 The best wet cat food brands are loaded with flavour and valuable nutrients to entice even the finickiest kitty. Check out the top 10 best wet cat foods Canada to give your pretty kitty the very nutrition they deserve.
When you pop the can or open the pouch, the food releases a robust fresh aroma that should have your feline purring in anticipation. The scent and flavour are much more exciting than boring old kibble, so it's not hard to understand why cats go cuckoo for canned cat food.
Benefits of Wet Cat Food
Pet owners feed the best wet cat food brands to make their cats happy and encourage good eating habits, but there are many more benefits of feeding wet cat food. When comparing wet food vs dry food for cats, a major perk of wet food is the added water content.
Many cats simply do not drink enough water to meet their physical needs, even if you offer fresh, clean water from a filtered cat water fountain. This dehydration can lead to urinary tract and kidney problems. Feeding the best high-quality wet food helps your cat receive extra hydration.
Here are a few more of the top benefits of wet cat food:
Calorie and nutrient-dense
Low carb compared to dry cat food
Tons of flavour, ideal for picky cats
Variety of texture options
Check out Can I Mix Dry Cat Food with water to learn more pros and cons of wet cat food.
Best Wet Cat Food Brands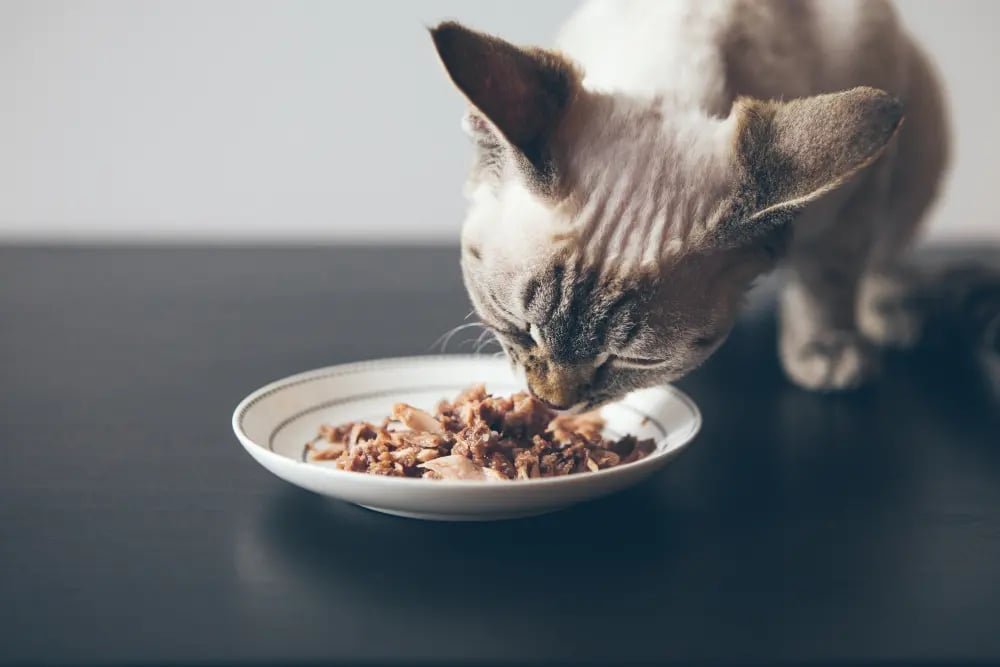 Choosing the right food for your cat can feel a little overwhelming. There are so many choices, and it's hard to know which cat is the best for your unique kitty.
If you've settled on a wet cat food diet, or even if you are just looking to incorporate a little wet cat food into your cat's dry diet, then it's a good idea to know which brands offer the best quality, the best variety, and the best price.
This article will look at the best wet cat food brands at Homes Alive Pets. Each one is jam-packed with healthy and fresh ingredients to meet your kitty's nutritional needs.
1. Almo Nature Wet Cat Food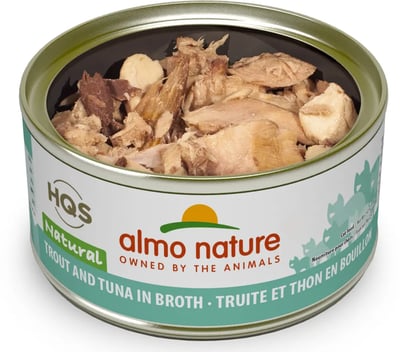 Almo Nature offers all-natural wet cat foods that have been formulated using only the freshest and highest quality ingredients. Each can of wet cat food is loaded with flavour and contains the protein levels your kitty needs and craves.
The moist cat food also contains an acceptable balance of moisture. The simple ingredients are delicious. The Almo Nature brand also takes pride in ensuring that the meats that go into their wet cat food products are cruelty-free.
Almo Nature has high-quality wet cat food formulas to tantalize even the pickiest eaters. With recipes like fresh tuna and pumpkin, chicken with turkey and gravy, and salmon and carrots.
When you purchase Almo Nature wet cat food, you are not only treating your kitty to high-quality, nutrient-packed moist food but all of the proceeds collected by the brand go to its non-profit Fondazione Capellino, which fights climate change.
Almo offers both complete and balanced diets and foods to help supplement extra flavour, moisture and nutrition into another diet. Top your cat's dry food with some Almo Nature Chicken and Pumpkin. Your kitty will absolutely love it!
2. Weruva Cat Food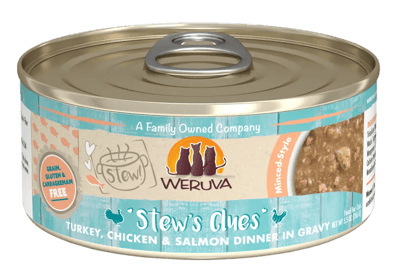 If you search for premium wet cat food, you'll want to check out the wet cat food Canada brand Weruva. They offer a large assortment of recipes formulated using only human-grade ingredients.
With flavours like pumpkin lickin' chicken, goldie lox, and funk in the trunk, Your picky eater is going to fall in love with this tasty food choice.
The ingredients that go into the Weruva foods are cage-free and boneless, so you never have to worry about kitty choking. All of the foods offered by Weruva are free of gluten and grains.
They use only GMO-free ingredients to create a truly wholesome diet for your kitty. The ingredients that go into this cat food brand are so premium that even humans can even enjoy wet cat foods, but we still don't recommend sharing.
The Weruva's Truluxe line of wet cat foods features delectable choices like hormone-free duck and chicken or wild-caught salmon. These foods are some of the best wet cat food sensitive stomach recipes.
Weruva's Cat's in the Kitchen Line is formulated for adult cats. The line contains pates and stews to satisfy and spoil any kitty.
3. KOHA Wet Cat Food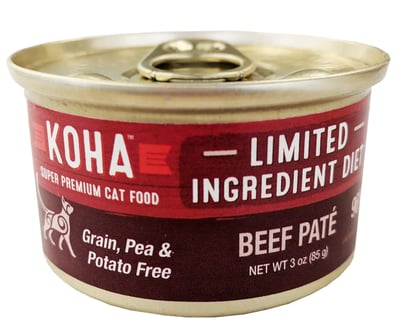 One of the great things about KOHA wet cat foods is that they incorporate truly unique protein sources into their recipes. Your cat can try duck, kangaroo, rabbit, and other unique and nutritious animal proteins.
Each of the meats are fresh and clean. The food is free of potatoes, grains, and gluten, so they are ideal for any kitty with a sensitive stomach. Choose from limited (single ingredient) wet food diets, chunky stew-style blends, or delicious pate.
The proteins that go into KOHA food are moisture-rich, with levels of 70 to 90%, which makes them deliciously moisture-laden with flavour. If you worry that your kitty doesn't drink sufficient water throughout the day, then KOHA food is definitely worth consideration.
It doesn't showcase the key differences between wet food vs dry food for cats because the recipes contain an exceptionally prominent level of water for optimum hydration.
Cats who frequently suffer from urinary tract infections could definitely benefit from KOHA's high moisture-laden foods.
All the ingredients that go into KOHO foods have been carefully selected and undergone optimized cooking methods to ensure that the food remains rich in flavour and easy to digest.
4. The Honest Kitchen Wet Cat Food
There is nothing more comforting than a natural home-cooked meal, and your cat would agree. The Honest Kitchen believes that your cat's food should be made from fresh, human-grade ingredients that are minimally processed and humanely sourced.
Cats can be a little picky, so The Honest Kitchen Cat Food offers several flavour choices like Chicken, Beef, or Salmon in chunky minced and smooth pate styles.
These protein-packed and moisture-rich recipes use cage-free, wild-caught, and ranch-raised animal proteins and wholesome fruits and vegetables like pumpkin and cranberry to provide a complete, balanced, and flavourful meal option for your cat.
The BPA-free tetra paks are free from preservatives, by-products, corn, wheat, soy, and GMO ingredients. All Honest Kitchen Wet Food Recipes are suitable for cats of all life stages.
5. FirstMate Cat Foods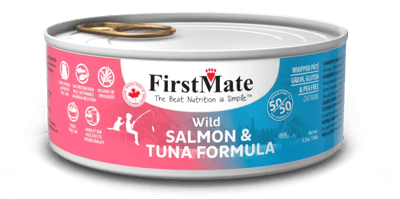 FirstMate is one of the best wet cat food Canada brands. The various foods in the line provide both grain-free and grain-friendly recipes. You can choose from single or multiple sources of protein.
The variety of choices makes these foods one of the best wet cat food sensitive stomach formulas on the market.
With a limited ingredient formula, your cat's digestion is improved while still enjoying a balanced and nutritious diet. Choose from wild-caught Pacific salmon, wild tuna, or cage-free turkey.
With their grain-free recipes, you can pick between chicken or cage-free chicken. The 50/50 recipes provide three protein choices: chicken & tuna, turkey & tuna or turkey & salmon.
6. Feline Natural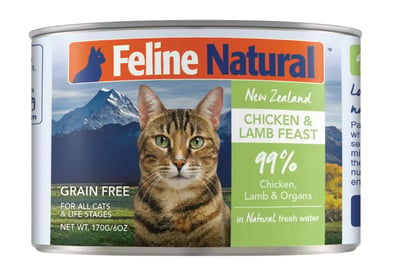 Feline Natural was founded in 2006 with a focus on providing nutritious, natural, protein-rich pet foods from natural ingredients sources in New Zealand.
All their food features products that are cage-free, free-range and grass-fed. They offer wild-caught sustainable seafood choices. The recipes even contain fresh vegetables for optimum balance.
Feline Natural offers both freeze-dried and wet cat foods. Choose from chicken, lamb & salmon, chicken feast, beef & hoki, and more. You can even opt to purchase a variety box of cat foods.
If you are wondering how much wet food for cats is needed to make a complete meal, then you can buy small cans, large cans, or pouches of Feline Natural cat foods.
7. Canada Fresh Cat Food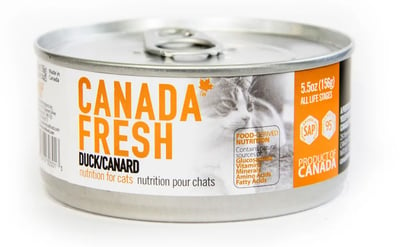 If you are shopping for one of the best wet cat food brands, Canada Fresh Cat Food might be one of your best choices. Every can is loaded with 95% fresh meat.
All of the foods are sourced fresh locally in Canadian locations. The complete and balanced formulas give your cat exactly what they want and need.
When researching what is best wet cat food, you'll find that many felines benefit from a single quality ingredient that meets all of your feline's needs and cravings. Pick from red meat, chicken, duck, salmon, beef, and lamb.
8. Farmina Cat Food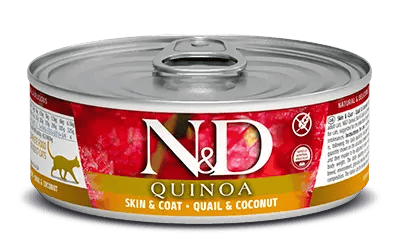 Farmina strives to create a balance between science and nature. They use only all-natural ingredients that cats love. They focus on mixing raw ingredients to meet the needs of carnivores.
Choose from Farmina N&D lamb, pumpkin & blueberry, venison & pumpkin, cod, shrimp, & pumpkin, chicken & pomegranate, quail & pumpkin, and more. Farmina also offers a specialized line of wet cat foods for digestion, weight management, and skin & coat.
With nutrient-dense ingredients like eggs, blueberries, and pumpkin, Farmina Wet Cat Food is designed to support your cat's immune system, skin & coat, urinary health, and digestion.
9. Open Farm Cat Food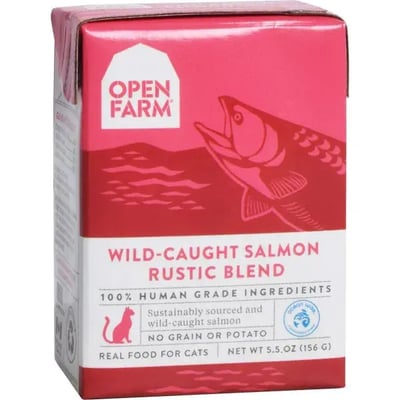 Open Farm Cat Food contains human-grade ingredients. The food's ingredients have all been naturally sourced and are completely sustainable. The foods are grain-free, potato-free, antibiotic-free, and growth hormone free.
The foods are suitable for all of your cat's life stages. Their wild-caught salmon mix and beef mix contain coconut oil, turmeric, and vegetables.
The recipes contain tasty and nutrient-rich ingredients like chicory root, turmeric, pumpkin, and more.
If you are wondering how much wet food for cat you'll need to buy, you can buy Open Farm Cat food in singles containing 5.5 ounces or a case of twelve packs to stock up or for feeding multiple cats.
10. Acana Premium Pate Cat Food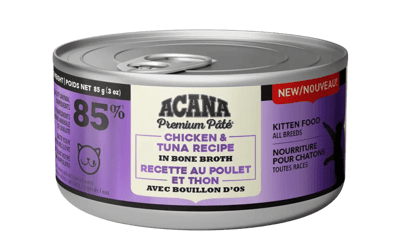 Acana brand cat food understands the nutritional needs of your cat. Cats are carnivores and require a protein-rich diet containing whole animal ingredients. With over 85% high-quality animal ingredients, Acana Premium Pates are loaded with flavour and healthy proteins and fats.
Acana formulas include heart, liver, and bone broth to supply your kitty with vital amino acids, fatty acids and collagen for strong, healthy bones and muscle.
They offer a full line of wet cat foods that contain essential minerals and vitamins that your cat needs for optimum health. Choose a variety of cat food pates such as lamb, chicken & tuna, beef recipe, salmon recipe, tuna recipe, and more.
Best Wet Cat Food FAQs
What is the Best Wet Cat Food for Picky Cats?
Cats can be very picky, so consider taste and aroma when choosing a food for a picky cat, but don't forget to consider texture. Many cats prefer stew or chunks in gravy style foods, which is why Weruva Stews are some of our most popular sellers.
Is Wet Cat Food a Complete Meal for Cats?
Yes. When compared to dry food, wet cat food offers just as much, if not more calories. Not every cat food is a complete and balanced diet, so make sure to check the food label to make sure.
Choosing the Right Wet Cat Food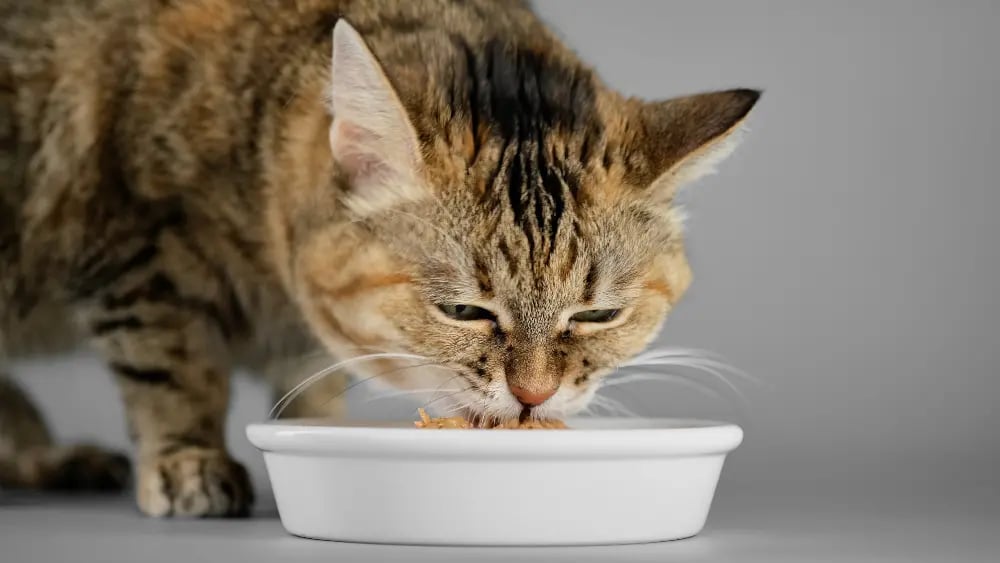 With so many choices, it can be hard to choose just one. Good news! You don't have to. Many cats do very well on a rotating diet of wet food. Feeding different proteins can help to give your cat's diet a more diverse nutrient profile.
This could mean finding a brand that offers many flavours and ingredient choices or mixing and matching different brands, styles, and textures. Your cat will never get bored with her dinner again!
We offer the best wet cat food Canada brands at Homes Alive Pets to entice your kitty. The foods provide nutrients your feline needs to thrive. When trying to decide what is the best high-quality wet cat food, any of the above brands are all outstanding choices.