There are so many dog chews available that you can even pick them up at the grocery or convenience store. But all
natural dog chews
are not created the same, and there are varying degrees of "natural".
Here is a selection of our top 10 best-selling natural dog chews, picked by you, our customers for their quality, value, and because – let's face it – your dog can't get enough of them.
1. BULLY STICKS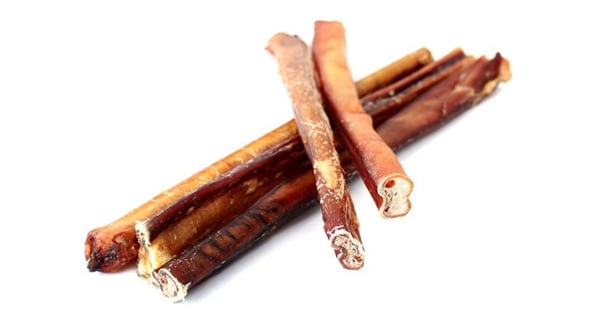 Bully Sticks are a classic dog favourite. Their high protein and low fat Eldon's Bully Sticks are a product of Brazil, where they are sourced from free-range, grass-fed cattle.
Available in a variety of sizes, Bully Sticks are available odour reduced or regular, and are affordably priced. Choose the size that suits your dog best, and watch as they chew their way to better dental health.
Learn more about how Bully Sticks can benefit your dog in What are Bully Sticks: The Facts, Myths, and Nutrition.
2. ANGUS STRIPS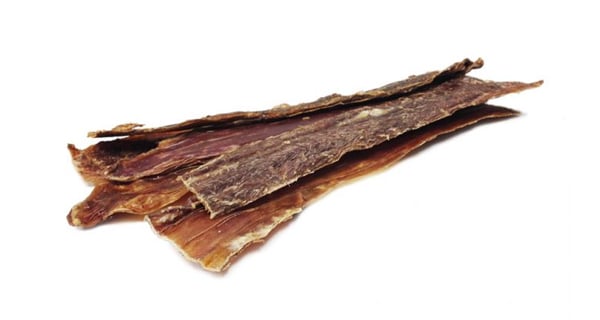 Angus Strips are made from the beef esophagus. Our Angus Strips are sourced from grass-fed cows in Argentina, and are always hormone and antibiotic-free! No smoke flavour or preservatives added. The texture is similar to a crunchy jerky, and are great for less aggressive chewers.
3. BEEF TENDONS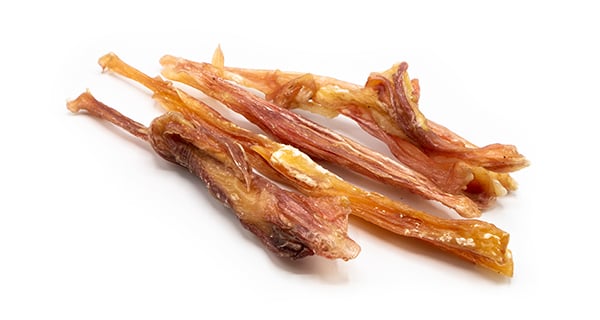 Improve your dog's dental health with nature's floss. Beef tendons are a great way to remove bacteria and build up from your dog's mouth. Sourced from free-range, grass-fed cattle from Brazil, our natural chews are not just healthy but your dog will go nuts for them.
They are not hard like a bone, so they are safe to feed to puppies and seniors too. Tendons are naturally low in fat, so they are the ideal chew for dogs that are counting their calories.
4. BEEF CHOMPERS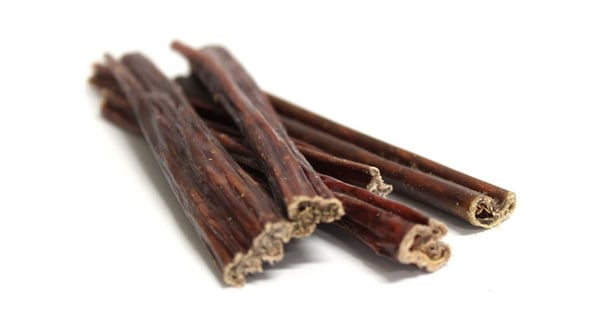 Just like the Angus Strips, our Beef Chomper Sticks are made from the same Argentinian sourced cattle. These sticks are a little tougher than the Angus Strips, but are still suitable for all breeds and sizes. The thinner shape also allows them to scrape against hard to reach teeth as they chew.
Chompers are highly digestible, so you can feel good knowing that you are offering your pup a safe and tasty natural chew. They are available in two sizes 6" and 12", so always choose the size that best suits your dog.
5. YAK CHEESE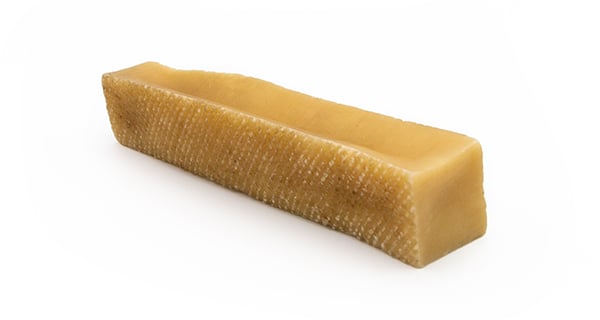 For anyone looking for a tough treat for a tough chewer than Eldon's Yak chews are the solution. Yak chews are made of Nepalese yak milk, and is preserved with a pinch of salt and flavoured with a hint of lime juice. Once cooked, Yak chews become a tough block of delicious, lactose free cheese for your dog to chew.
While it is an unconventional chew, Yak chews are very palatable and have climbed the ranks of best natural chews quickly. Don't waste any pieces. Take small chunks or end pieces and toss them in the microwave for 30-45 seconds. Let them cool and you have a puffed cheese snack for your dog.
Avoid feeding Yak chews to young puppies and dogs with poor dental health, as the hard format may damage delicate teeth.
6. PIG & BEEF EARS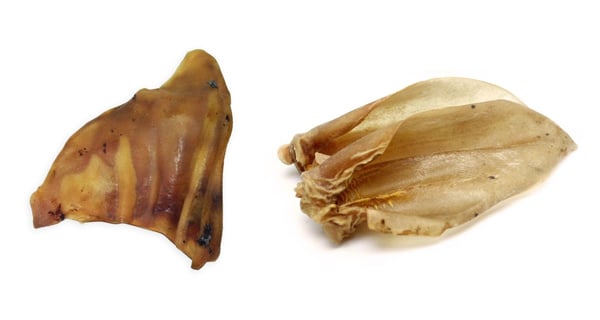 Dogs love the texture and taste of natural pig or cow ears, which makes them an easy guess for this top list. We offer to different natural ear options to accommodate the needs of individual pets.
Our pig ears are made from North American ingredients right here in Canada, conveniently packed and priced with your best value in mind. Our Pig Ears are smoked, leaving them crunchy and irresistible to dogs.
Our beef ears are baked and dried for a lower calorie option. Our beef ears are sourced from free-range, grass-fed cattle from Argentina. Beef ears are another great dental care option, as they are thinner than pig ears and can work hard to reach places in your dog's mouth.
7. KANGAROO STICKS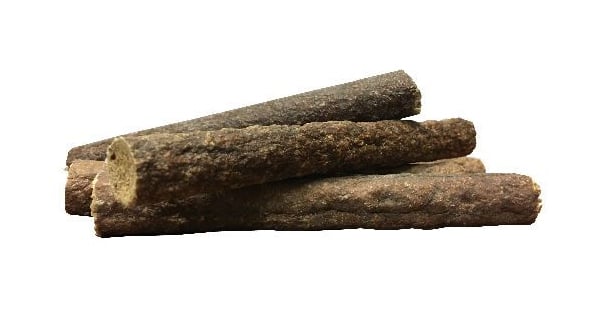 For a quicker crunchier chew, these Australian sourced Kangaroo Sticks are perfect. They are made from 100% ground kangaroo meat that is pressed into a 5-6" stick before cooking. They are far from the longest lasting chew on our list, but they are still a fan favourite.
Kangaroo is an exotic protein, so these chews are preferred for dogs that suffer from allergies and sensitive digestion. They are very lean, are are less likely to cause reactions than some of the standard proteins commonly used for natural chews.
8. BEEF TARTAR BONES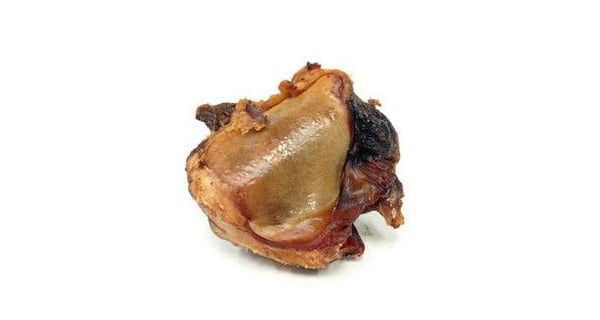 Tartar bones are one of our best-selling natural treats, made of 100% beef kneecaps. These are composed of mainly beef cartilage and bone, which makes them beneficial to hip and joint health. Our kneecaps are approximately 4" and made in Canada with North American ingredients.
Unlike many other recreational bones, kneecaps are less likely to splinter, and are a safer alternative for tough chewers. They are a smaller bone, so they may not be suitable for large and giant breeds. Always supervise your dog to prevent from choking or swallowing larger chunks.
While kneecaps are safer than traditional cooked bones, there is still a risk in feeding any type of cooked bones. When bone is cooked it becomes brittle and the risk of splintering, however small, is still there.
Looking for more safe bones for your dog to chew? Check out our Guide to Feeding Raw Bones for some helpful safety information and recommendations.
9. BLADDER STICKS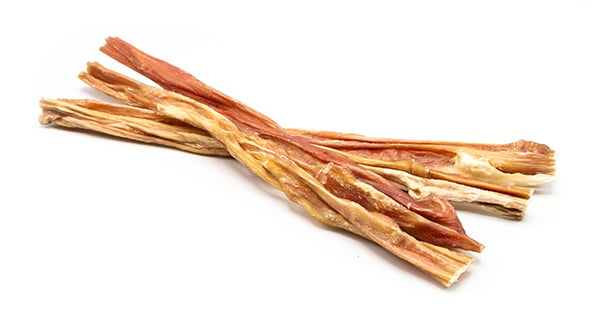 They may seem like an odd animal part to chew on, but bladder sticks are cooked long sticks of the bladder of a cow. They aren't the most pleasant smelling chew either, so they are best fed outdoors, in kennels, or just away from people who can't handle the stink.
Bladder is made of muscle and connective tissues, similar to a tendon or ligament. They are firm when cooked and dried, but soften as your dog chews. Similar to a tendon, Bladder Sticks are great for dental health, and provide a healthy source of collagen to your pet.
10. ELK ANTLERS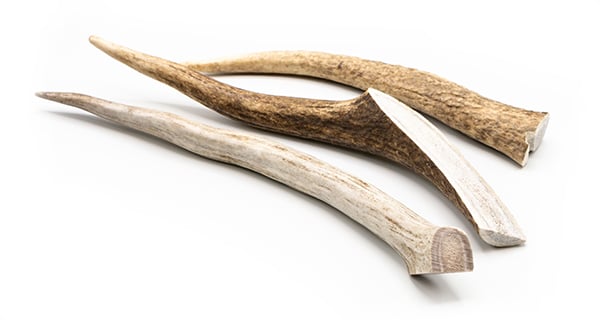 Naturally shed elk antlers are the toughest natural chew around. They are hard like bone on the outside and are filled with crunchy marrow on the inside. The marrow holds most of the flavour, but dogs that love to chew will still be tempted to to go to town on a whole antler.
Use caution when feeding antlers, as they are hard enough to damage teeth, especially those in puppies and seniors. Antlers come in many shapes and sizes, so we recommend choosing the shape that will be the most challenging for your pet to get their whole mouth around.
Split antlers are a better option for recreational chewing, as this will allow your dog to dig out the marrow without having to break through the tough exterior.
Want More Choices?
These may be some of our favourites, but the list continues. Always choose the natural chew that is the right size and texture for your dog's chewing habits.
Natural chews are great for dental health, but are also a great tool for keeping your dog mentally stimulated. They can be helpful in reducing destructive behaviours cause by anxiety or boredom.
Does your dog have a favourite natural chew? Let us know which natural chew is a staple at your house in the comments below!
---
Posted by Krystn Janisse

Krystn is a passionate pet nutrition enthusiast. She has worked in the pet industry for over a decade and loves to share her passion for animal welfare with others. She loves all animals but is currently channelling some crazy cat lady vibes with her five lovable, but rebellious cats.
---