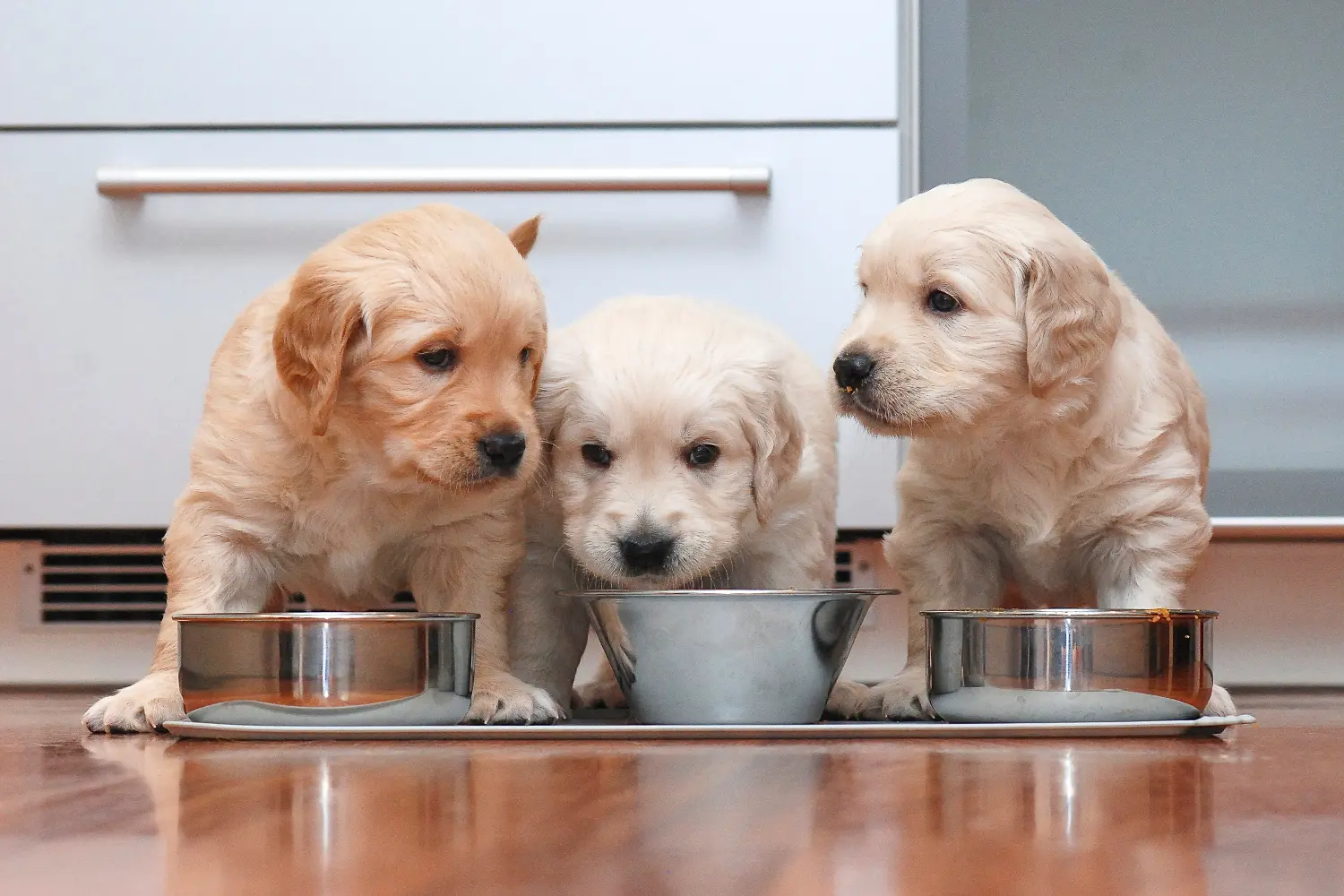 Choosing the right puppy food is an important decision. So much of your baby dog's health depends on the quality of their diet, so it's a good idea to do some research to determine what kind of puppy food will best support your growing pup.
Big or small, all puppies have unique nutritional needs to help them develop both physically and mentally. The best way to ensure they get the nutrition they need is to choose a high-quality puppy food or an all-life stage canine diet that meets the needs of developing puppies.
Whether your puppy is new to your home or you are just looking to offer better nutrition to your growing pooch, food should be at the top of your puppy checklist!
What is the Best Food for Puppies?
We know that every dog is different, which means that there isn't just one puppy food that is going to be best for all puppies. You need to consider breed, size, health, and lifestyle when determining what kind of puppy food to choose.
There are lots of good puppy food brands to choose from, and you might find it helpful to learn a little more about our top 10 puppy food picks.
Our list below includes the best grain free puppy food brands, the best Canadian puppy food, the best large breed puppy food and many more to help you find the diet that helps your puppy thrive.\
Puppy Food Red Flags
Choosing the right puppy food means weeding through a lot of fancy marketing and advertisements to narrow your options to only the diets that are wholesome, natural, and appropriate for your unique puppy. A great way to approach this is to look for some of the top red flags in puppy food and avoid them.
Here are a few things to keep an eye out for that could indicate that your puppy's food may not be appropriate for their life stage:
Adult Dog Food - Foods that are labelled as adult dog food are not formulated to meet the needs of growing puppies. This includes weight management and senior dog foods. These may not offer the calories or nutrients to support growth.
Vegetarian Puppy Food - Though some dogs do well on plant-based dog foods, it's not appropriate for puppies. Some nutrients that puppies need, like DHA and Taurine, are difficult to find in the right quantities from plant ingredients. Fresh, named animal proteins are a must for complete and balanced puppy food.
Limited Ingredient Diets - These solution-based diets can help adult dogs identify sensitivities but aren't the ideal option for growing pups. Puppies need a variety of proteins and nutrients from real food ingredients to thrive, not synthetic additives, to boost an incomplete diet.
Low Protein - Puppies of all sizes need protein to grow healthy muscle and bone. Low protein diets may result in your puppy being underweight and could lead to poor hip and joint health when they're older.
These are a few things to avoid when choosing puppy food, but there are plenty more red flags to keep top of mind when shopping for any dog food. Check out 24 Bad Dog Food Ingredients to help you avoid choosing food that doesn't nourish your pooch.
1. Best Overall Puppy Food
If you aren't sure where to start, you are not alone. There are a ton of puppy food brands to choose from, and it can be challenging to find the right food for puppies. Different foods offer different benefits, and to help you narrow down your options, we chose one brand that we think is the best quality puppy food Canada.
Acana Puppy Dry Dog Food
Acana offers one of the best puppy foods in Canada. Acana Puppy Food is crafted with biologically appropriate ingredients so that you can feed your puppy the natural ancestral diet that your puppy deserves.
Using fresh, never-frozen ingredients, like free-run chicken, whole grade-A eggs and wild-caught flounder, your puppy will get nutrition from wholesome real food ingredients that taste great.
This diet is loaded with omega-3 fatty acids to support healthy skin and coat and cognitive development of growing puppies. Additionally, this top puppy dry food is infused with freeze-dried liver to provide an irresistible flavour.
2. Top Grain Free Puppy Food
If you are trying to cut back or avoid grains in your puppy's diet, then you'll need to look for grain-free puppy food. These diets are perfect for managing sensitive digestion and dog food allergies. Take a look at our top pick for the best grain free puppy food.
Go! Solutions Carnivore Puppy
Feed your puppy like a carnivore with go! Solutions Carnivore Puppy Food. This protein-rich grain-free puppy formula helps to support lean muscle, strong bones, and optimal skin and coat health using premium ingredients.
With over 87% protein from high-quality animal ingredients, this meaty puppy food is not just nutritious. It's delicious! Essential fatty acids from fish and duck offer key nutrients that puppies need during their developmental stage.
3. Healthiest Grain Friendly Food for Puppies
With the rise of grain-free pet food, it became a common misconception that grains are bad, but they aren't. There are plenty of healthy whole grains that provide valuable nutrients for puppies. It wasn't easy, but we picked our favourite grain-inclusive puppy food.
Nutram Sound Puppy Food
Puppies need plenty of easily digestible proteins and nutrients from real whole-food ingredients. Nutram Sound Puppy Food is a multi-beneficial puppy formula that includes wholesome ingredients like whole eggs, oatmeal, cranberries, and more.
Nutram Sound uses a unique combination of ingredients to support healthy skin and coat, good digestion, and a strong immune system. Nutram Puppy is packed with healthy omega fatty acids, EPA and DHA, to help support cognitive development during your puppy's growth stage.
4. Most Popular Large Breed Puppy Food
What's the best puppy food for large-breed dogs? Many puppy foods are marketed as one-size-fits-all, but big puppies have unique dietary needs because of their size and their longer growing period. Check out our best large breed puppy food.
Farmina N & D Ancestral Grain Puppy Food
Bridging the gap between nature and science, Farmina Natural & Delicious Ancestral Grain Maxi Puppy Food uses wholesome ingredients like fresh lamb and herring, whole grain, and nutrient-dense vegetables and fruits.
Farmina puppy food is a low glycemic, high protein recipe that helps large breed puppies build muscle gradually to support their larger frame and protect their hips and joints as they grow. With fibre-rich ingredients like pumpkin, spelts, oats, and apples, this formula is not only digestion friendly but highly palatable for picky pups.
5. Best Puppy Food for Small Breeds
When you are shopping for the best small breed puppy food, there are a couple of things to consider. Small kibble is a common trait in small-breed puppy foods, but small-breed puppies have some nutrition differences too. Little pups need more calorie-dense diets that support common small breed problems like weight issues.
Now Fresh Small Breed Puppy Food
Your small puppy needs a diet that looks out for his tiny but unique needs, and that's why we've chosen Now Fresh Small Breed Puppy Food as our top pick. This multi-protein formula features turkey, duck and salmon to offer superior flavour and nutrition.
Wholesome berries and nutrient-dense veggies provide real food sources of essential nutrients that tiny puppies need to grow. Pre and probiotics and L-carnitine support healthy digestion and metabolism to ensure appropriate weight and muscle development.
6. Top Rated Canadian Puppy Food
As Canadians, we might be a little biased, but we are partial to Canadian brands, which is why you'll find the Best Canadian Dog Foods at Homes Alive Pets. It wasn't easy choosing the best puppy food in Canada because there are so many awesome choices, but this brand just checks all the right boxes for us.
Orijen Puppy Food
There is a reason that Orijen is rated one of the best rated puppy foods in Canada. Orijen knows that your puppy thrives on meat, which is why Orijen Puppy Food is crafted to be biologically appropriate and high in protein to help your giant pup build healthy muscle, support their hips and joints, and prevent unwanted weight gain during the long growth period of large and giant breeds.
Feed your giant puppy like their wild ancestors with locally sourced fresh and raw ingredients from trusted Canadian farmers, ranchers, and fishermen. With biologically appropriate ingredients like chicken, turkey, fish, and whole eggs, you can ensure your puppy gets the right nutrition from the best puppy food Canada.
7. Most Sustainable Puppy Food
Wanting the best for your puppy and wanting the best for our planet don't have to be mutually exclusive. As we shift our focus to more sustainable practices, we are finding more and more ways to responsibly source and craft pet food. Here is our favourite sustainable puppy food.
Open Farm Ancient Grain Puppy Food
Open Farm Ancient Grain Puppy Food offers maximum nutrition in ethically sourced and responsibly made formulas that you can feel good about. Using certified humane chicken, ocean-caught whitefish, and responsibility-sourced whole grains and fresh fruit and vegetables, this puppy food offers maximum nutrition to your growing pup.
Growing puppies need a diet rich in animal protein, and Open Farm delivers. 90% of the protein in this kibble comes from animal ingredients to help develop healthy muscle for your growing pooch. Omega fatty acids from salmon and coconut oil aid in healthy skin and coat, a stronger immune system and support cognitive development in puppies.
8. Best Wet Puppy Food
We talk a lot about kibble, but we can't forget about the many nutritious, moisture-rich wet puppy food choices. Canned puppy food is loaded with moisture that helps to improve digestion and nutrient absorption. Plus, picky puppies can't resist the taste of our best wet puppy food!
Nutrience SubZero Canned Puppy Food
Nutrience SubZero Canned Puppy Food is a tasty puppy pate loaded with meaty and easily digestible proteins, like chicken, turkey, fish and whole eggs. Fresh harvest vegetables like pumpkin, squash, and carrots add nutritious fibre to support your puppies developing digestion.
This canned puppy food offers natural food sources of key nutrients from ingredients like fish oils, chicory root, and peppermint leaf to support total puppy health. This complete and balanced puppy food is great as a sole diet or can be combined with dry puppy food, like Nutrience Subzero Puppy Food.
9. Best Dehydrated Puppy Food
The more natural your puppy's food is, the more nutrition they get from it. This flavourful diet offers you the convenience of kibble with the nutritional benefits of raw. Plus, the flavour is absolutely irresistible. We know your puppy will absolutely love our top pick for the best dehydrated puppy food.
The Honest Kitchen Whole Food Clusters for Puppies
Kibble is easy, but the high-heat cooking process can eliminate vital nutrients. The Honest Kitchen Whole Food Clusters for Puppies are the perfect blend of nutrition and convenience. Just scoop and serve to give your puppy a balanced natural diet.
These dehydrated puppy clusters are made from 100% human-grade ingredients like hormone-free chicken, coconut oil, and kelp, just to name a few. Honey Kitche Clusters are made in small batches, cold-pressed, slow-roasted, and gently dehydrated to maximize quality, flavour, and consistency.
10. Perfect Freeze Dried Puppy Food
Raw puppy food is the healthiest and most natural way to feed your puppy, but it's not always the easiest to store, handle, or clean up after. Freeze-dried puppy food gives your growing pooch the benefits of raw without the fuss and mess of raw.
Check out our top pick for the best freeze dried puppy food.
Instinct Raw Longevity Freeze Dried Puppy Food
Your puppy deserves the best, and that means feeding them a diet specially crafted to meet the unique dietary needs of a growing puppy. Instinct Raw Freeze Dried Puppy Food uses 85% real chicken organs and bones to provide a meat-rich and nutrient-dense diet that supports growth and development in puppies up to a year old.
Key nutrients, like omega fatty acids, taurine, and zinc, are added to this freeze-dried puppy diet to ensure a strong immune system, soft and shiny skin and coat, and proper muscle and bone growth. Instinct Freeze Dried Puppy is not just nutritious. It has an irresistible taste to encourage consistent and healthy eating habits in puppies.
Best Puppy Food FAQs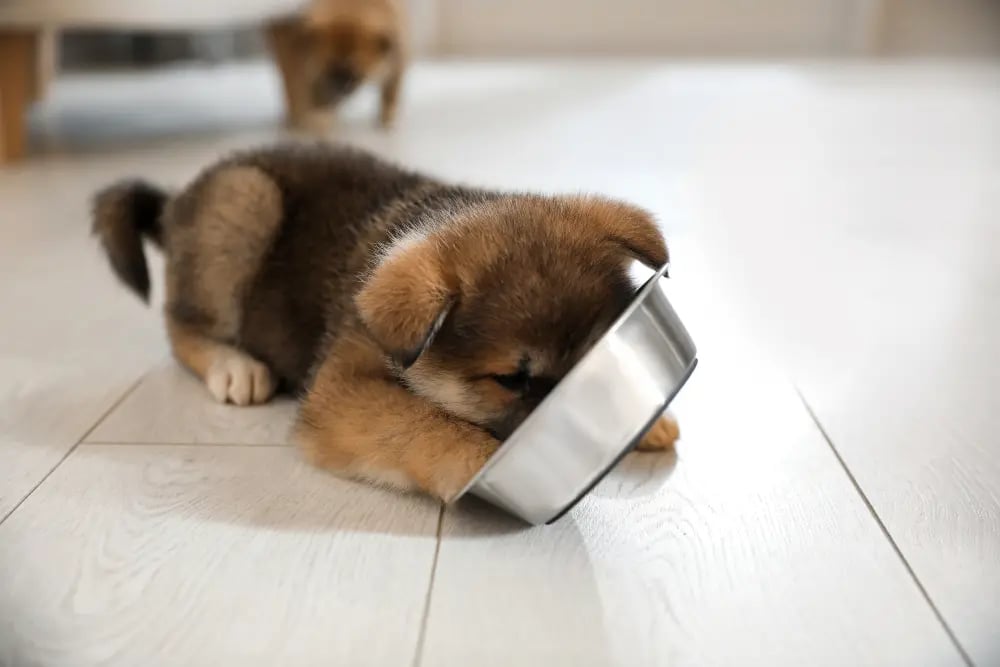 Do You Have to Feed Puppy Food?
You don't need to feed a puppy-specific diet, but you do need to feed a diet that is suitable for growing puppies. This means that you should look for either puppy food or an all-life stage diet.
To learn more about the dietary needs of growing puppies, check out What Should I Feed My Puppy.
How Long Should Puppies Eat Puppy Food?
Most puppies should eat puppy food until about 12 months old. Larger dogs, especially giant breeds, may need to stay on puppy foods for longer. Check with your vet or breeder to determine the best age to switch your puppy off of puppy food.
Should 8-Week-Old Puppies Eat Dry or Wet Food?
Yes! There are benefits to both. Crunchy kibble can help during teething, while wet food can provide valuable moisture. A mixture of both diet types is recommended for optimal health.
How Much Puppy Food Should I Feed?
Feeding guidelines depend on both your puppy and the food. Diets that are calorie-dense, like raw or freeze-dried, require smaller portions, while foods that are lighter in protein and calories will require larger or more frequent portions as your puppy grows.
What should I look for in the best puppy food for my new puppy?
When choosing the best puppy food, look for a product specifically formulated for puppies to support their growth and development. Choose only high-quality protein sources, essential nutrients like DHA for brain development, and a balanced blend of carbohydrates, fats, and vitamins.
Should I feed my puppy dry kibble or wet food?
Both dry kibble and wet food can be suitable for puppies, and the choice depends on your puppy's preferences and specific needs. Dry kibble is convenient and is often more cost-effective. Wet food can be more palatable and provide additional hydration. Some puppy owners choose to mix both types for variety and optimal nutrition.
How often should I feed my puppy, and how much food should I give?
Puppies have different feeding requirements than adult dogs, so it's important to establish a proper feeding schedule. Usually, puppies require more frequent meals, typically three to four times a day, until they are around four to six months old.
Can I transition my puppy to adult dog food?
It is recommended to feed puppies puppy-specific food until they reach adulthood. Puppy food is specially formulated to provide the nutrients and energy levels needed for proper growth and development. Changing to adult dog food too early may result in an inadequate nutritional balance for your puppy.
The Right Puppy Food Makes a Difference
As a pet parent of a goofy but lovable puppy, you want the best for your little fluff, and that starts with their diet. Nutrition is the foundation of their health, and the food you feed them can have a great impact on not just their puppy stage but the rest of their life.
Their food affects more than just their short growth and development phase. An appropriate, natural, and high-quality puppy diet can have long-term health benefits that can save you money and heartache as your pet ages.
We picked our top puppy foods to help you find the right diet for your growing pup, but there are so many more choices. Shop our full selection of puppy foods from Homes Alive Pets. We ship our pet food Canada-wide right to your door!