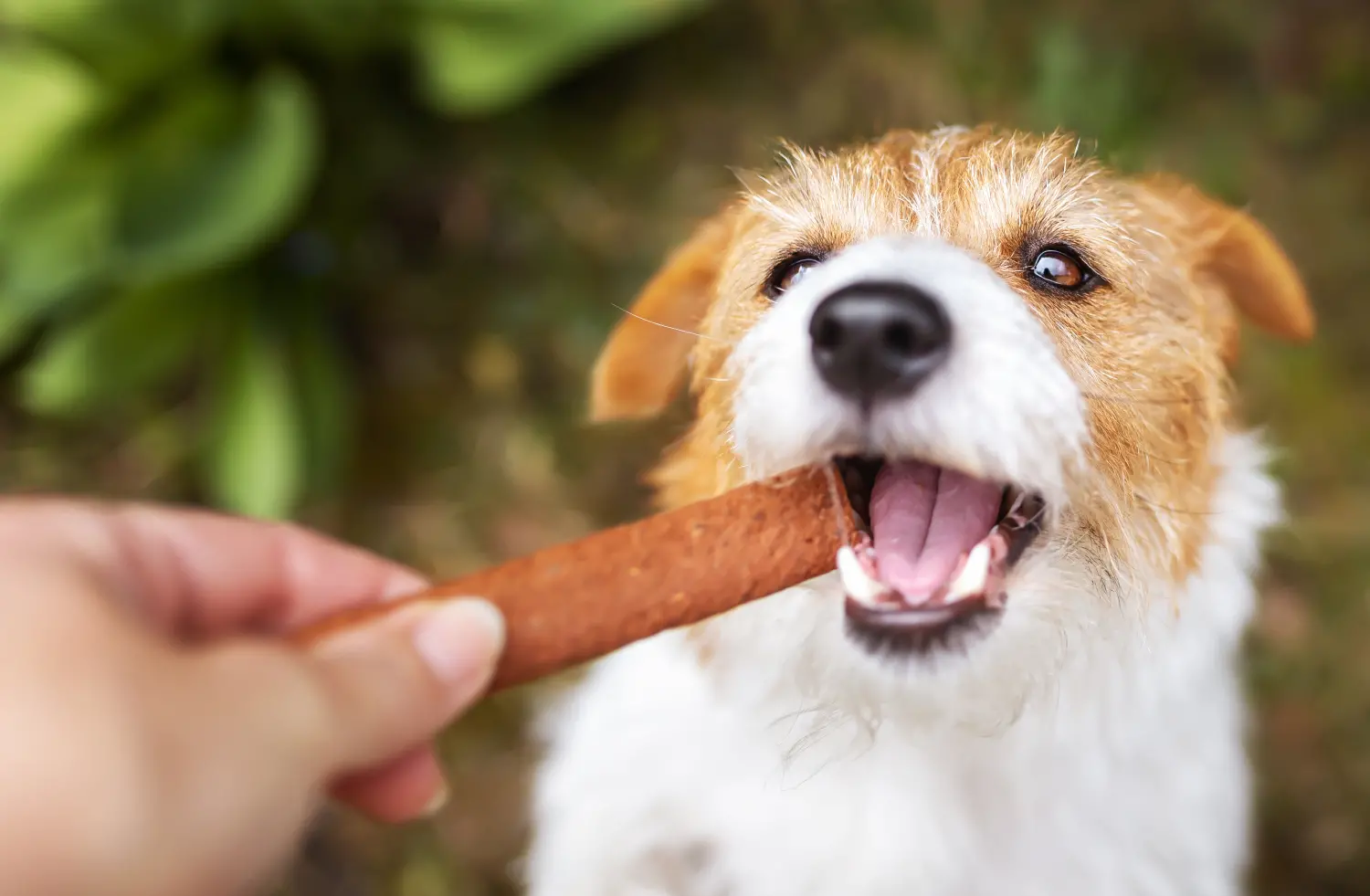 Dental chews are one of the best ways to keep your pup's teeth clean and healthy. Not only do they help prevent plaque build-up, but they also help freshen their breath. The key is to choose a dental chew that is specifically designed for dogs.
There are many types of dog dental chews available on the market. Each type is designed with different ingredients to provide your pup with a variety of benefits.
Some are designed to help strengthen teeth and gums, while others feature special flavours that freshen breath. Many dental chews also contain vitamins and minerals, which can help improve your pet's overall health.
When choosing a dental chew for your pup, it's important to read the label to make sure it is designed specifically for dogs. If your dog has certain food allergies, you should also make sure that the ingredients used in the dental chew do not include any of the allergens they are sensitive to.
In this article, we've chosen some of the best dog dental chews for your pup to help you make the right decision!
Benefits of Dog Dental Chews
Bad dog breath is no fun, and furthermore, it's a sign of even worse things happening in your pooch's mouth.
Dog dental chews and treats are a great way to boost your dog's dental care routine by helping to remove bacteria and debris in their mouth that can lead to plaque build-up and dental disease.
Here are some of the top benefits of dog dental treats:
Freshen breath
Massage gums
Remove debris and bacteria
Prevent plaque build-up
How to Choose the Best Dog Dental Sticks
Which dental chew is right for your dog? The first thing to consider is size. Dental chews and sticks should be large enough to encourage your dog to chew but not so large that the chews offer excessive calories that can lead to poor eating habits and weight gain.
The shape is another important factor. Different shapes can allow the chews to work different areas of the jaw. Sticks are a common option for dental chews, but some brands offer dental chews with ridges or some that are twisted or curved to help your dog clean those hard-to-reach teeth.
Not all dog dental treats have to be long-lasting. If your dog prefers a quick crunchy snack to help freshen their breath, then look for dog dental treats that have bad-breathing-fighting ingredients like mint, charcoal, or parsley in them.
10 Best Dog Dental Chews and Treats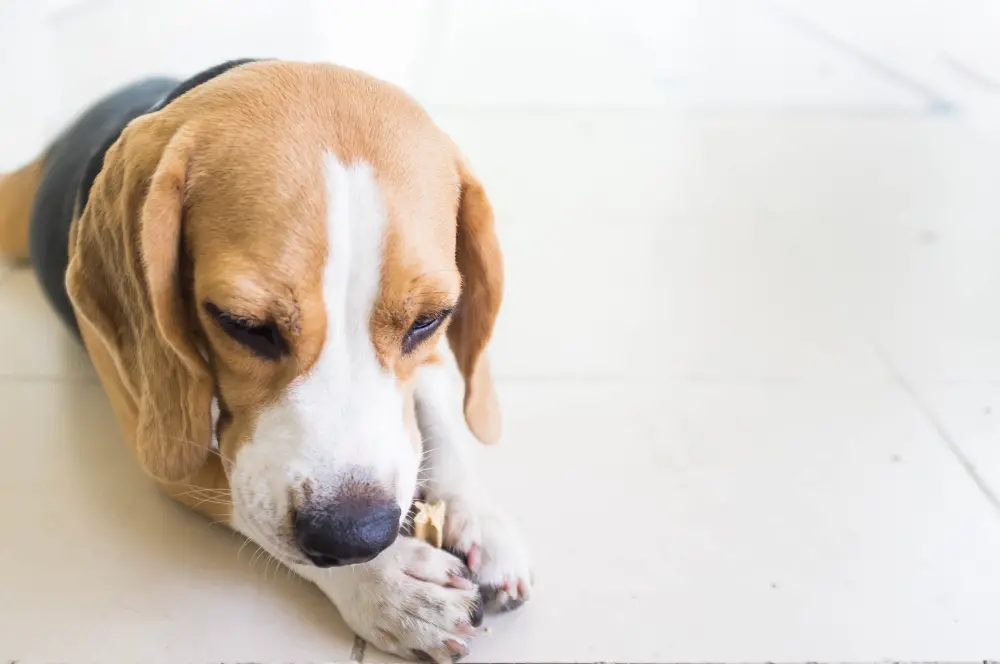 With so many incredible high-quality choices available to use, it is easier than ever to find the very best dog dental chews in 2023. Whether you are searching for the best brands like ProDen, Greenies, or Get Naked, we've got you covered with highly recommended choices at the very best prices.
The best part is that no matter where you are in the country, we ship our dog dental chews all throughout Canada- so you can get the best ones delivered straight to your door!
Here is a list of the top 10 best dog dental chews and treats:
1. Greenies Dental Chews
Greenies Dental Treats are the perfect way to fight tartar and plaque psoriasis, as well as freshen your dog's breath. As the #1 vet-recommended dental chew full of nutritious ingredients, your dog will love the balanced and complete treat. There are added minerals and vitamins for complete oral care.
Greenies also have a blend of protein and highly soluble ingredients- making it super easy on a doggie's tummy! In fact, Greenies is so sure you'll love these dog dental chews that they have a one hundred percent satisfaction guarantee!
2. Get Naked Dental Sticks
Get Naked Dental Sticks are an all-natural reward for your adult dog. There are many health benefits. These sticks are delicious and low in calories. Additionally, they contain l-carnitine, which can help your dog maintain optimal weight.
Get Naked Dental Sticks also help reduce tartar and remove plaque, which helps improve overall oral health and freshen your pup's breath. All natural ingredients include chicken, organic oat fibre, organic brown rice powder, parsley, organic flaxseed, and chia seed. You can rest easy knowing your dog is getting a natural, high-quality treat that's good for her!
3. Proden Plaque Off Dental Bones
ProDen PlaqueOff Dental Bones are another great option and one of the best dog dental chews. This is a bone-shaped dental treat. It comes in many flavours, including bacon, chicken and pumpkin, vegetable fusion and blueberry, and turkey and cranberry.
The dental bones clean off tartar and plaque, helping your doggo to stay clean and healthy. With Norwegian seaweed, this bone is rich in both minerals and vitamins. It's gluten, soy, and grain free. These are available in 17 ounces bags and are suitable for dogs that are ten pounds or higher.
4. Crumps' Naturals Plaque Busters
Crumps' Natural Plaque Busters
is a dental stick that's all natural and full of minerals and vitamins. These treats are made with locally sourced Canadian sweet potatoes, finely ground oyster shells and coconut oil. This gives these dog dental chew sticks a crisp and solid texture that's perfect for munching on.
These dental sticks are also super healthy. They provide an excellent source of calcium, fibre, beta-carotene and other essential minerals and vitamins that your dog needs on a daily basis. This is particularly helpful for dogs that are sensitive to particular protein sources. Pick from popular flavours like Pumpkin Spice, Bacon, or Beef.
5. Merrick Fresh Kisses
Merrick French Kisses is another great choice of dog dental chews. This dental chew is designed to clean teeth while freshening breath. It uses a natural potato-free and grain-free approach, which is perfect for doggos with sensitive stomachs and digestive issues!
These dog dental chews are infused with coconut oil, lemongrass, peppermint, and rosemary oils. This helps keep your pup's breath nice and fresh. The toothbrushes help remove tartar and plaque with each delicious chomp, leaving your dog's teeth super clean and healthy!
6. Ark Naturals Brushless Toothpaste
A crunchy dental dog chew is a great way to help reduce and remove plaque and tartar and freshen their breath. Ark Naturals Brushless Toothpaste Dental Chews have a crunchy, ridged outer layer and a gooey filling that helps to brush away debris and bacteria that can contribute to bad dog breath.
These dental chews use human-grade ingredients like honey, clove, and cinnamon that combat bad breath bacteria and sodium bicarbonate, or baking soda, to help scrape away stuck-on bacteria. Ark Naturals Dental Sticks are available in four sizes and in an easy-chew formula for dogs with sensitive gums.
7. Whimzees Dental Treats
Whimzees Natural Dog Treats are healthy and fun for your dog. Whether she is small or large, there is a Whimzees product for your pup. These dental treats clean your dog's teeth, including removing plaque and tartar removal. This means your dog will have healthy teeth and fresher breath.
The ingredient list is super healthy and simple and includes plant-based recipes for gluten-free and vegetarian diets.
8. Bocce's Bakery Dailies Brushy Sticks
Bocce's Bakery Dailies Brushy Sticks are chewy and soft dog dental sticks created with natural ingredients that are wholesome and healthy for optimum teeth health.
These brushy sticks are made with apples, coconut, parsley, and other nutritional and all-natural ingredients. This stick helps to keep your dog's gums and teeth healthy and her breath super fresh. Try the Bocce's Bakery Dailies Brushy Sticks for Small Dogs for pups weighing 5-25 lbs.
9. Tropiclean Fresh Breath Dental Sticks
Give them the best dental care possible with Tropiclean Fresh Breath Dental Sticks. Keep your dog happy and healthy by giving them a treat they enjoy while helping keep their teeth and gums in great condition. Get yours today!
We guarantee your dog will love the fresh breath they get from each delicious treat, while you can feel confident knowing that you are providing them with a healthy and nutritious snack that is packed with essential vitamins and minerals. Additionally, they are grain and gluten and made with natural ingredients like vanilla, mint, and green tea.
10. Darford Grain Free Breath Busters
Enjoy fresh breath with every bite! Get your doggy some Darford Grain-Free Breath Beaters today and help keep those smelly odours away. Your pup will thank you for it! They are super yummy with fun flavours your dog will love.
As an added bonus, these treats are also grain-free and suitable for dogs with grain allergies or sensitivities. They contain no wheat, corn, or soy and are free of artificial colours, flavours, and preservatives.
So you can feel confident in feeding them to your pup, knowing they are getting the best nutrition possible. Darford Grain-Free Breath Beaters Dog Biscuits are sure to become one of your dog's favourite treats!
Frequently Asked Questions about Dog Chews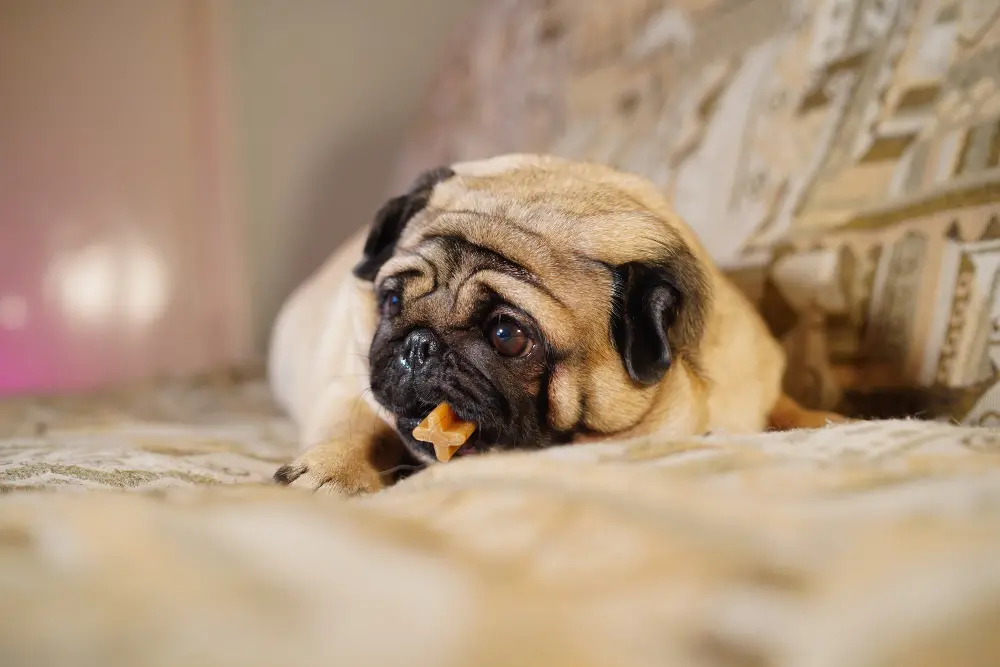 Are dental chews good for dogs?
Absolutely! Chewing helps to keep your dog's teeth and gums healthy, as well as providing mental stimulation.
It can also help to reduce boredom in dogs and reduce destructive behaviours such as digging or chewing on furniture. Additionally, chews provide essential minerals and vitamins that can help to promote overall health.
Are there any risks associated with giving my dog dental chews?
A: Some chews can present a choking hazard if they are not the right size for your pet, so it is important to select an appropriate size and type of chew based on your pet's age, size, and chewing habits.
Additionally, some chews can splinter or break into pieces, which can cause a choking hazard or intestinal blockage if ingested. It is also important to be aware of any dog food allergies your pet may have and select chews that do not contain ingredients which could trigger an allergic reaction.
How often should I give my dog dental chews?
The frequency with which you give your dog chews will depend on their age, size, and chewing habits. Generally speaking, it is recommended that adult dogs receive one to two chews per week, while puppies can usually tolerate up to three chews per week.
It is important to monitor your pet while they are chewing to ensure that the chew is not becoming too small and presenting a choking hazard.
Are there any natural dog chews I can give my dog?
Yes! There are many natural chews available on the market made from ingredients such as raw bones, beef or pork jerky, bully sticks, and dried fruit.
These chews are often healthier than traditionally processed chews and provide essential vitamins and minerals that can help to promote overall health. It is important to read labels carefully and select natural chews free of artificial colours, flavours, or preservatives.
Are any dog dental chews unsafe for my pet?
Some chews can be unsafe for dogs, particularly those made with rawhide, as they can get gooey and expand and present a choking hazard or even an intestinal blockage. Additionally, some chews contain artificial ingredients or preservatives that can trigger allergic reactions in certain pets.
For these reasons, it is important to read labels carefully and select chews made from natural ingredients. Additionally, it is important to select a chew that is the appropriate size for your pet and monitor them while they are chewing.
Is there any benefit to giving my dog different types of chews?
Absolutely! Not only can varying the type of chew you give your pet help keep their interest, but it can also provide different benefits. For instance, certain chews can help to promote dental health while others can provide essential minerals and vitamins.
Best Dog Dental Chews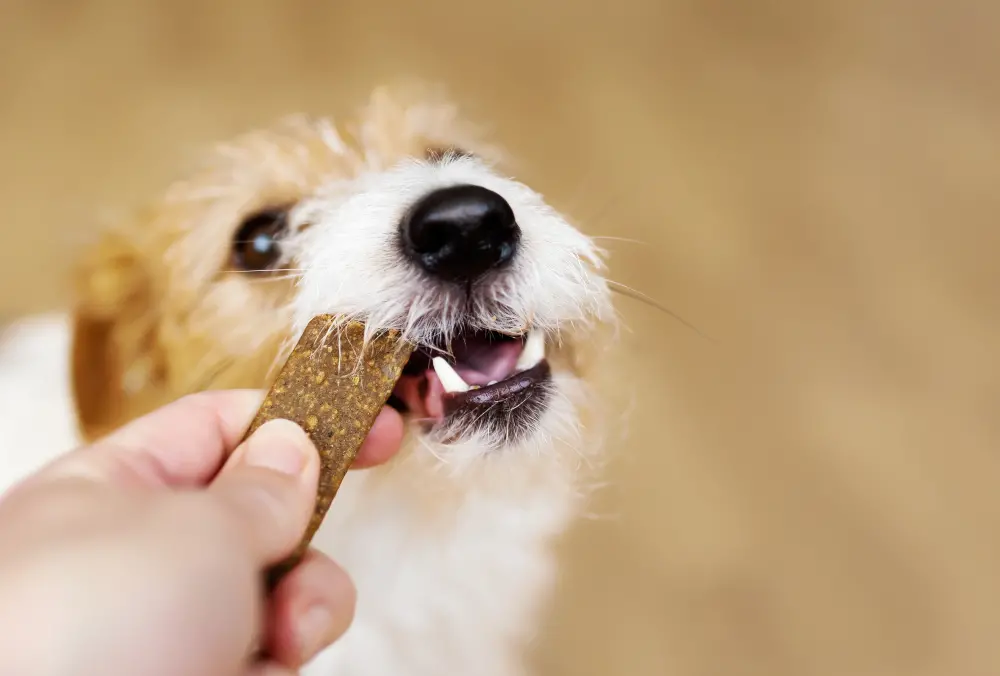 There are so many tasty and healthy dental chews for dogs to choose from, so don't limit your dog to just one type. Different types and shapes of dog dental chews can be useful for cleaning different areas of your dog's mouth.
Try to pick two or three options that you can rotate between. This will not only help to enhance your dog's dental care routine but will keep the treats fun and exciting for your pooch.
We proudly recommend any of the above best dog dental chews for your pup. There are a lot of great choices, and will largely depend on the needs of your dog. Find the one that is right for your pet, along with other products, to keep your dog safe, happy, and healthy at Homes Alive Pets!
What's your favourite Canadian best dog dental chew? Let us know in the comments below!