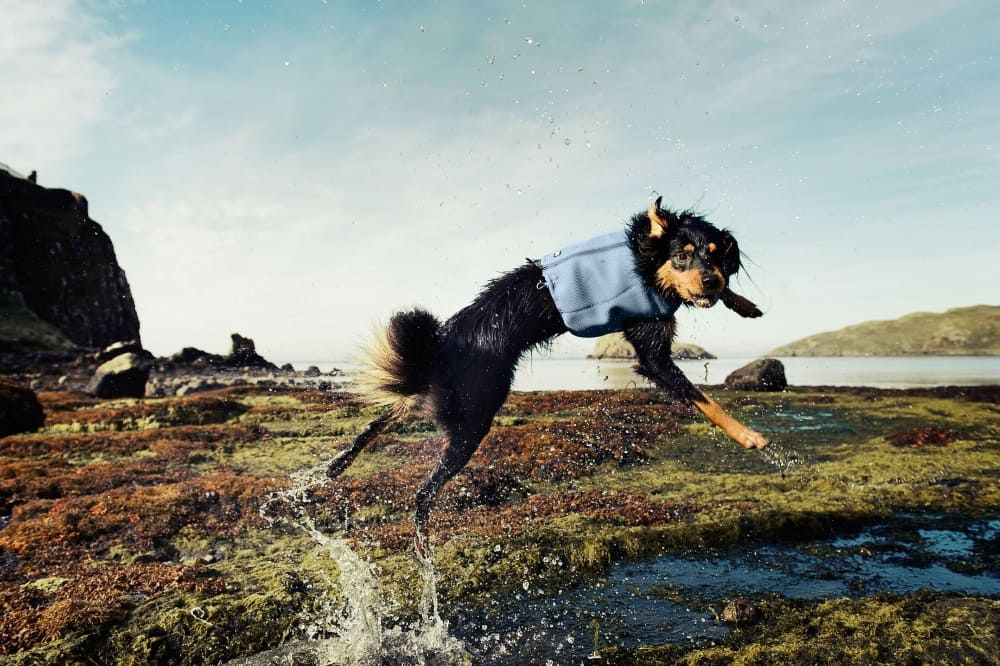 Hot weather can put a damper on your dog's favourite outdoor activities. Keep the fun in the sun going with the best dog cooling vests!
Summer is in full swing, which means extra fun in the sun is pencilled in on the calendar. Depending on where you live, this can also mean that making the most of all that sunshine might prove to be a little difficult in the heat.
How Hot is Too Hot for Dogs
Even in Canada, where the summers can be short, it's important not to underestimate the power of the sun! There can be a fine line between your dog being a little overheated to progressing into more serious problems, like heat stroke.
Additionally, there are more factors than just the weather and UV index that affect your pet's heat tolerance. Certain factors, such as your dog's breed and weight, can also cause them to overheat.
This means that you can't just look at your weather app and decide whether your dog will be comfortable on a summer hike. A day that may be perfectly comfortable for you in your tank top, shorts and flip-flops might be too toasty for a shepherd with a thick double coat.
Before any outdoor summer adventure with Fido, consider how much shade will be available, check the humidity as well as the temperature, and even think about the terrain you'll be walking on. Walking on reflective trim hot pavement will contribute to your dog's chest temperature.
A good trick for assessing whether your dog could overheat is to look at how the weather affects you. Does the sun protection feel like it's burning your skin? Can you put on and take your hand on the pavement and leave it there? Does the humidity have you sweating buckets?
If it's too hot for you, then it's definitely too hot for them. This is when sgoda dog cooling vest gear can come in handy, making it safer for your dog to enjoy his favourite summer heat activities.
How to Tell If Your Dog is Too Hot
While you're busy romping around, it's important to take the time to be familiar with the signs of overheating in dogs can get so that you can help your pooch live their best life. If you notice your pet panting or sweating on their paws more than usual, don't be discouraged by the weather! It might just be time to consider some cooling accessories.
There are some products available to keep the breaks from fun to a minimum and to keep overheating at bay. In this guide, we'll talk about our favourite cooling vests for dogs cool, along with some other accessories that can take your playtime and adventures to the next level!
Check out How to Cool Down a Dog for simple and clever tips for helping keep your dog cool on a hot day.
But before we get to the fun part, we want to do our due diligence and talk about the importance of keeping your pet cool.
The Dangers of Dog Overheating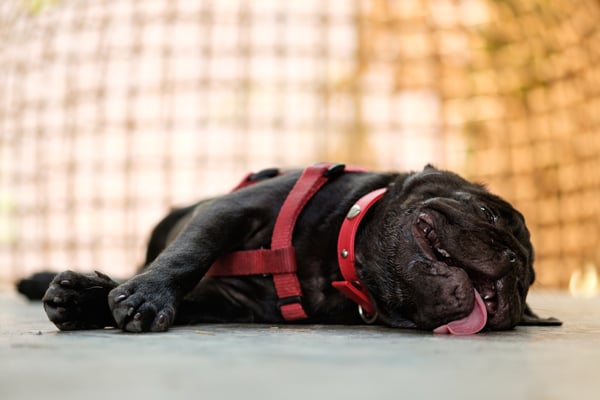 Overheating and the consequences that come along with it is one of those things that we're all aware of but are not always consciously thinking about, especially for those of us living in places that don't necessarily experience harsh summer days.
Dogs are usually pretty good at regulating their own body temperatures, but certain conditions (like hot temps and physical activity) can make reflective trim more difficult and easy to put them at risk.
One method you'll likely recognize that dogs use to keep your pup cool off that is panting. Your pooch will take in extra air conditioning by opening their mouths wider and taking quick breaths in an attempt to take in as much as possible cool air conditioning as possible to help keep disperse body heat.
Panting in heat, even without physical activity, is expected and is not cause for immediate alarm. Just your dog's body doing its job!
Another method dogs use to help cool themselves off is sweating. (Relatable.) The difference is that dogs only sweat through their paws. As this sweat evaporates, it is able to take somebody's heat with it and allow your pup to cool off.
These two cooling methods are effective, but sometimes these temperature regulation systems can't do it all. Your pup can become overheated, and overheating goes beyond just feeling thirsty.
When your dog's body temperature becomes too hot for them to regulate on their own, this causes something called heat stroke. When left untreated, this can lead to things like cell death, organ damage, seizures, and even death.
Obviously, this is something that needs to be taken seriously. Here are some signs that what your dog is experiencing is a bit more than just hot weather:
Lethargy
Vomiting or retching
Shaking
Seizures
Excessive panting
Glazed eyes
Difficulty walking
Collapse
Luckily, if you intervene when you first start seeing signs, the prognosis is usually good! But if your pet parents are showing signs beyond lethargy or excessive panting, you need to get them inside in a well-ventilated area and call your vet for better instructions.
If your water vests dog's body temperature keeps your dog pet showing severe signs such as seizure, disorientation, or collapse, it is best overall to take them to the vet immediately.
Know that it is ill-advised to take measures to lower your pooch's temp all at once. Avoid things like ice packs or ice baths or forcing them to drink a cold water bottle, as this could send them into shock.
To lower your pet's temp safely, bring them inside or at least into a cool shaded area. Provide water, but don't force it! You can also offer high-moisture foods, like watermelon, to encourage fluid intake.
If you have a thermometer available, take their temperature. Normal is 101.5 degrees F; slight elevations are fine but note that moderate overheating is measured at 104-106, and anything over 106 is considered severe and requires immediate attention.
You can take a wet towel and lay it on your pup, but be careful not to use cold water wring as this can send them into shock. Continue to monitor their status and try to bring their temperature to drop gradually, and when in doubt, call your vet.
As with most things, prevention is everything. So without further ado, let's talk about cooling gear!
Best Dog Cooling Vests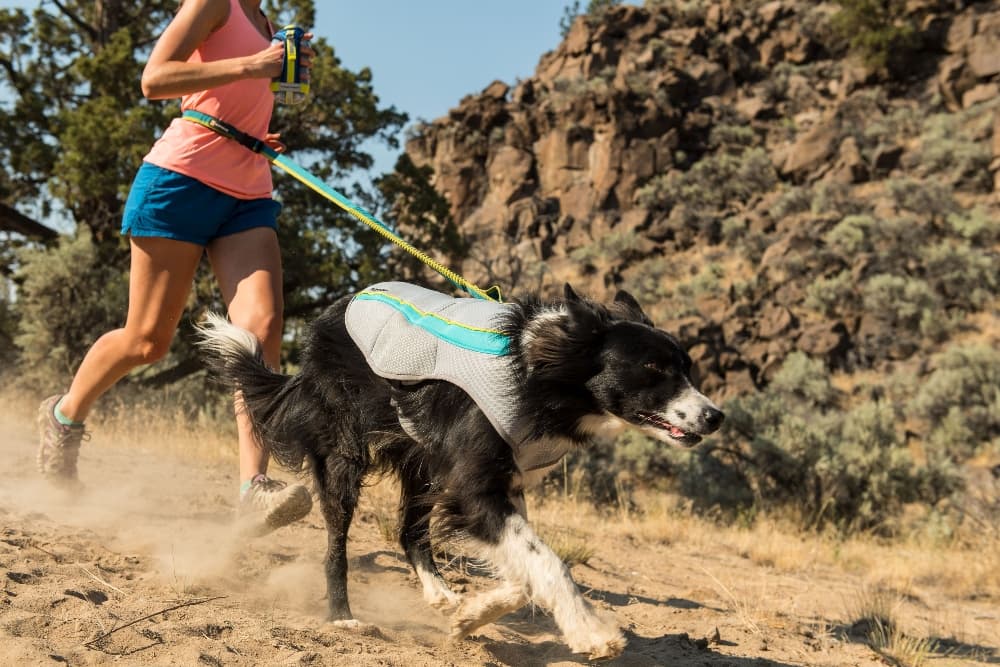 Cooling jackets for dogs are a great option for hot weather. It might seem counterintuitive and easy to put more layers on in hot weather, but the way it works is that when you put a wet garment on your pup, the water evaporates and takes body heat away with it.
Cooling gear is about more than safety; it's about comfort. We know when it's too hot days for outdoor activities, but try explaining that to your dog. He's only interested in having fun, so why not make sure that he can in 15 minutes?
1. Ruffwear Swamp Cooler for Dogs
The Ruffwear Swamp Cooler uses the evaporative cooling method to help cool off your pet in the heat. It's designed for adventurers who are highly active dogs and enjoy trail running, hiking, and mountain biking. Spandex on the back provides some of 50 protection from the sun's rays (UPC rated up to 50+).
Or try the Ruffwear Swamp Cooler Harness for your active pooch. Get the benefit of the cooling technology in a premium-quality, durable dog harness of UV rays compatible that will match any adventure dog lifestyle.
2. Kurgo Core Cooling Vest for Dogs
We like the Kurgo Core Cooling Vest for Dogs because the lovely blue colour doubles as a reflective panel against the sun's heat. It's lightweight, so it won't get in the way while your pooch is running around and uses evaporative technology to keep them cool.
This vest features adjustable buckles on the side buckles, along with a reversible zipper for secure leash attachment. Kurgo's vest is machine washable and comes in several different sizes!
3. Canada Pooch Chill Seeker Best Cooling Vest
The Canada Pooch Chill Seeker Cooling Vest is another lightweight option that utilizes evaporation cooling technology as opposed to chemical coolants, with added mesh layers for air circulation.
The adjustable strap ensures that the dog is comfortable and secure snug fit, and the front and back coverage helps to pull even more heat from your dog's back body, keeping him cool on a hot day.
If your summer activities include long walks or hiking with dogs, then the Canada Pooch Chill Seeker Cooking Harness is the ideal outdoor dog gear. It has the same cooling technology as the vest comes but also offers front and back D-rings for leash attachment.
4. Hurtta Cooling Wrap

The Hurtta Cooling Wrap is a dog's best cooling vest option made from 100% PES technical moisture-wicking linking with PES 3D mesh knit fabric to help keep cool down your furbaby's body temperature in warm weather. It's highly absorbent and lightweight, with buckle attachments for easy dressing.
Just pour cool water over the wrap and put it on your dog, allowing the evaporation to draw out your dog's excessive body heat.
5. RC Pets Zephyr Cooling Vest
The RC Pets Zephyr need a Cooling Vest is a lightweight, affordable option for pet owners who aren't interested in all the frills. It uses the same evaporative cooling method as the fancier options - just wet it, wring it, and get ready to go! It's machine washable, and it comes in a variety of sizes and funky patterns of affiliate commission.
Additional Cooling Accessories for Dogs
Vests work are a great piece of cooling gear for dogs, but not dog owners will be comfortable wearing something so cumbersome or anything at all. Fortunately, there are more options to keep your dog cool on a hot summer day.
We've put together a list of other great accessories so you can both look and feel cool all summer long.
Dog Cooling Collars
Cool your dog pooch off on your walks with cooling collars! Cooling collars are helpful because they target major arteries that then circulate blood throughout the rest of your pet's body. We put together a shortlist of options to acquaint you with some brands that we like. We're sure you'll find a favourite on this list!
fouFIT Cooling Collar
The fouFIT Cooling Collar features gel beads that soak up water - they're highly absorbent and slow-releasing and can stay cool for up to three days! Run water over the collar and keep the fun going all day. The collar can be reused by size chart and size options up to 30+ times and is available in several different sizes and colours.
Cooling Bandanas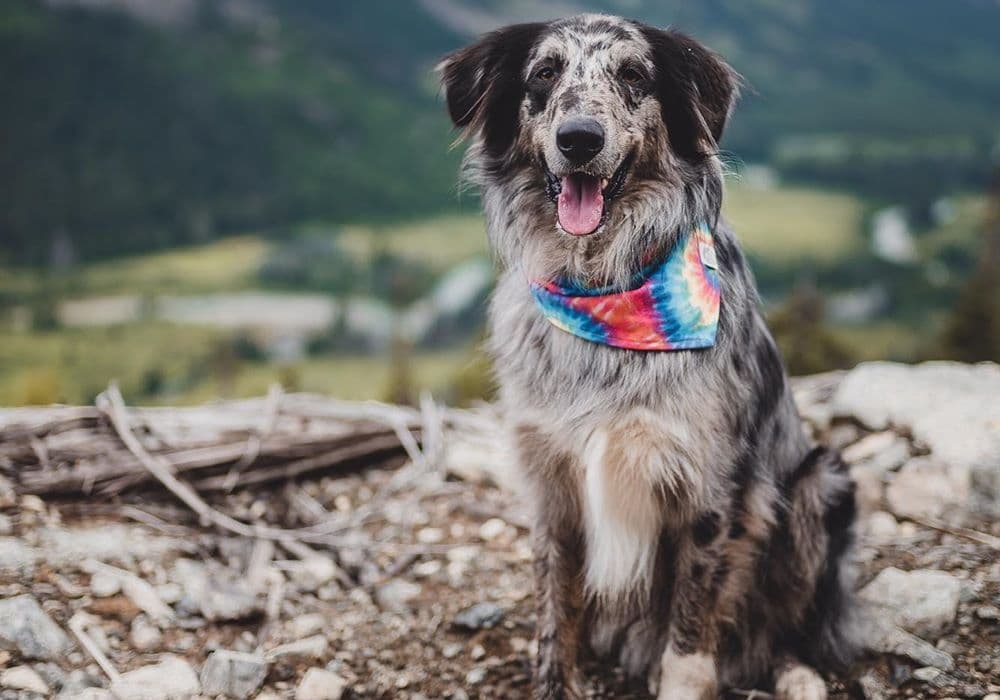 Bandanas are a simple and extremely lightweight option for your pet on hot days! While again, it might seem counterintuitive to be adding three layers in heat, trust us - it works. Applying a cooling agent on the neck is highly effective because you are able to cool off major neck arteries, which translates into full-body comfort sgoda dog needs a cooling vest.
Canada Pooch Chill Seeker Cooling Bandana
The Canada Pooch Chill Seeker Cooling Bandana is a lightweight cooling bandana for any pet or pet owner seeking some chill jackets for dogs. Made from 100% polyester and 50% rayon, and 50% polyester interior, it uses evaporation cooling technology along with a mesh middle layer and outer layer for air circulation instead of chemical coolants. Plastic button clasps keep it secure while on your adventures - choose from a variety of funky designs!
RC Pets Zephyr Cooling Bandana
RC Pet's Zephyr Cooling Bandana is lightweight and made from 55% polyester and 54% nylon to help maintain your pet's body temperature in hot weather. This is another accessory that uses evaporative cooling methods - just pour water on the bandana, wring it out to d ring, put it on your pet, and get back to having fun! Check out their sizing and design options.
AFP Chill Out Ice Bandana
The AFP Chill Out Ice Bandana water dish helps combat the heat with added cooling gel technology that helps lower body temperature. It's non-toxic, comfortable, and looks as cool as it makes your pup feel! This bandana is suitable for smaller dogs and is probably best overall for short excursions when the weather isn't too unbearable.
Cooling Dog Beds
Perfect fit for those days you just need some relief! Dog-cooling fabrics are great not only for hot summer days when you're desperate to cool off but also for achy joints and muscles.
K&H Pet Coolin' Pet Pad
K&H Pet Coolin' Pet Pad is one of the best overall dog cooling beds we've seen on the market. It is made of a thin gel pad that has a cooling effect - no refrigeration or freezing swamp cooler is required! This pad is easy to put transport and affordable, free of toxic gels and BPA, and available in a couple of sizes. Use this cooling pad for dogs year-round for elderly pets who are looking for some achy reflective trim joint relief as well as the best dog cooling vest.
Cooler Pet Hydro Cooling Mat
A new player in the dog cooling gear game, ruffwear swamp Cooler Pet Hydro Cooling Mat uses the cooling power of water to keep your pet comfortable in hot weather. No more gels, and no more wet dogs; the hyrdo mat uses a refillable FlexiFreeze ice packs mat to provide your dog with a safe and cool place to take a load off the cooling effect.
GF Pet Ice Mat Pet Cooling Mat
These colourful mats are a great tool to keep handy in hotter climates. Filled with non-toxic cooling gel, the GF Pet Ice Mat stays up to 7 degrees cooler without water or refrigeration. Use them at home, or fold them up and take them on your next outdoor adventure best dog-cooling vest.
It's Cool to Keep Your Dog Cool
While we're all about fun here at Homes Alive Pets, we also know that safety comes first. The right accessories can help you make sure that you have the most fun possible while keeping your health and comfort in mind!
It's always better to be safe than sorry, and we can all relate to how uncomfortable the heat can be. Overheating is no joke! Deck your pooch out in some of these accessories to take your fun to the next level!
What's your go-to dog cooling gear? Share your favourite products and tips in the comments below!