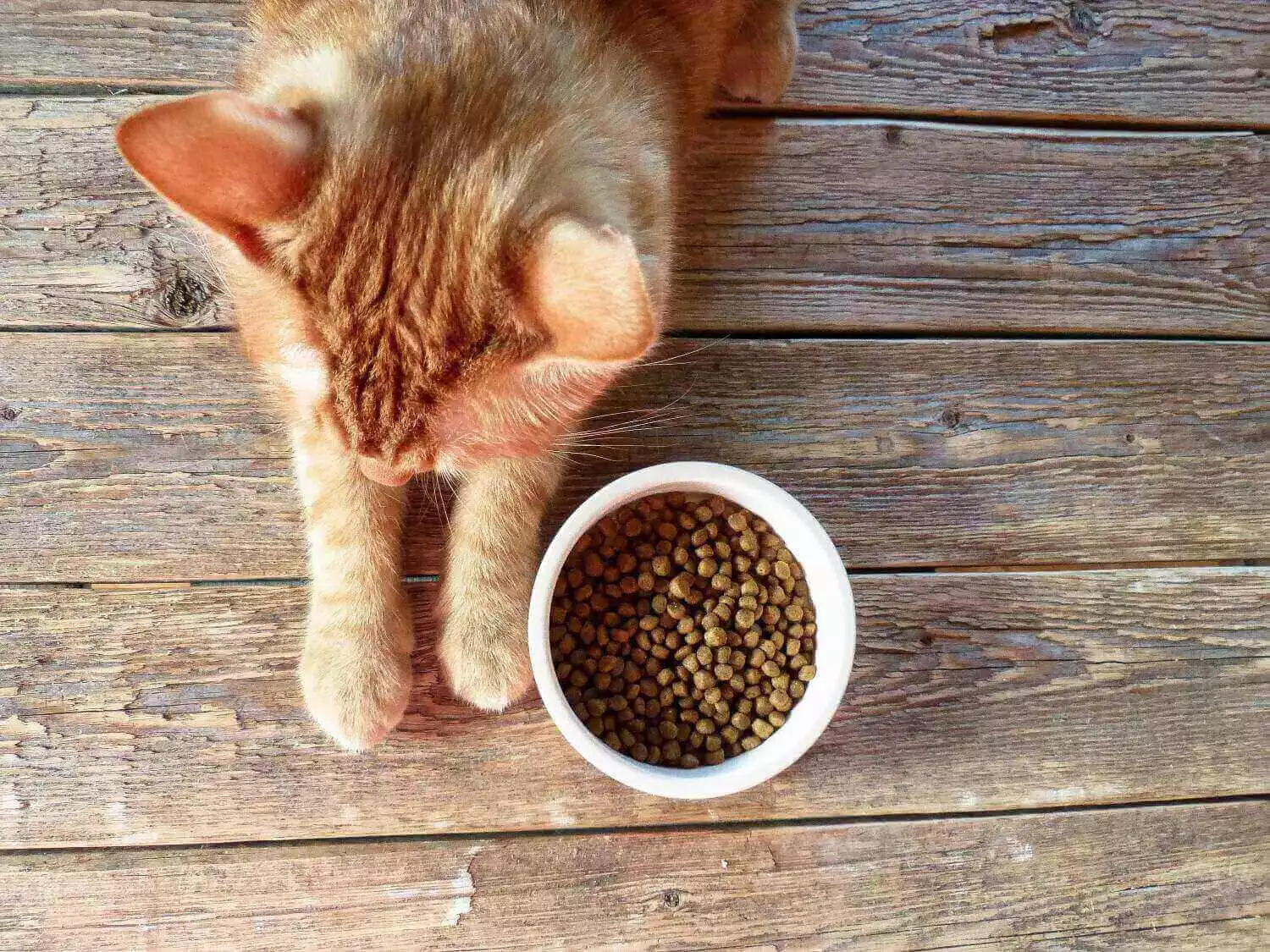 Kibble is the most popular and convenient food for cats, but is it the best? Learn about the best dry cat food brands to meet your cat's nutritional needs and satisfy your feline's finicky nature.
Food fuels life, which is why choosing the right dry cat food can feel a little overwhelming. There are sooo many options, and you might not know exactly what your cat needs to truly thrive. To help you make a more confident choice, we put together a list of our favourite dry cat foods.
In this article, we will examine the best dry cat food formulas. Cats are notoriously finicky, and many develop a fixed food preference, so you want to make sure that whichever cat food brand you pick provides nutritional balance and a flavour that promotes healthy eating habits.
Before we get to the recommendations, it's a good idea to get to know a little more about dry cat food to help you choose the perfect diet for your kitty.
A Brief History of Dry Food for Cats
Since the invention of commercial dry pet foods, we've come a long way in a short time. The earliest commercial cat diets hit the market around the mid-1900s, and newly developed extrusion technology wasn't used to make the dry cat food that we recognize today until the '60s.
This innovation was a game changer for cat nutrition, but this was both good and bad. It was good that domesticated cats were getting regular nutrition and were no longer surviving off mice, milk, and scraps of horsemeat as they did in the 1800s, but like most innovations, solving one problem usually creates another.
To help you make an informed decision about your cat's diet, take a look at the benefits and downsides of feeding dry cat food.
Benefits of Dry Cat Food
There are many benefits to feeding dry cat food, most notably, how easy and convenient it is to feed. The idea of being able to scoop, serve and forget about it is appealing to many modern pet owners because this makes it easier to fit a cat into our busy and sometimes hectic families.
Though there are many styles of foods to choose from, cat kibble still remains the most common option for domesticated cats. Here are a few reasons why you might choose to feed dry cat food.
Easy to store, portion, and feed
Long shelf life
Huge variety of types and flavours
Cost-effective
No refrigeration required/Can be left out all-day
Works in automatic feeders and puzzles
The best dry cat foods provide so much more nutrition and flavour than the original cat chows that were developed.
You can find dry cat food designed to support a variety of different needs, including life stage, weight, skin and coat health, and much more. This diversity makes it easier to provide tailored nutrition to every unique cat.
The Disadvantages of Dry Cat Food
Modern dry cat foods bear little resemblance to your cat's natural ancestral diet. Though the benefits of dry cat food are undeniable, it's an imperfect solution to making cat food both better and easier.
Unlike a fresh raw diet that offers nutrients in their most natural form, dry cat foods are most often extruded. This means they are finely ground, pressed through a mould, and cooked at high temperatures to create the crunchy kibble textures that many cats love.
This process leads to a number of key differences when compared to the nutrition in fresh raw cat food:
Heat degrades nutrients

-

This either reduces the number of available nutrients in the food or alters the nutrients in such a way that makes them harder for your cat's body to digest.

Dry Food Requires Carbs

- Starches and grains are necessary to provide the structure of dry cat food. Imagine baking a cookie with no flour. It wouldn't stay together. Carbs are the foundation of kibble.

Dry Food Dehydrates

- Wild cats get moisture from food. It's not in your cat's nature to drink large amounts of water every day. So cats that eat only dry foods tend to be perpetually dehydrated.
These are some pretty serious arguments against dry cat food, but don't let them scare you off just yet.
Our knowledge of cat dietary needs has changed a lot in the past couple of decades, and the best dry cat food brands have refocused their recipes to offer more nutrition and support better overall health than the ghosts of cat food past.
Many brands have started to use lower cooking temperatures, better ingredients, and even completely different cooking methods to make dry cat food not just convenient but healthy too!
Is Dry Food Good for Cats?
So an important question looms, 'Is dry food good for cats?'
It can be! Despite its disadvantages, kibble is one of the easiest ways to ensure that high-quality nutrition is available to all cats. It's nutrient-dense, palatable, and affordable, and there are ways to supplement your cat's dry diet to reduce the impact of some of its not-so-great qualities.
You can help solve the moisture problem by adding water, goat's milk, or bone broth to your cat's dry meals. The additional moisture from this cat cereal will support digestion and nutrient absorption.
Also, consider feeding other foods with your cat's dry diet. Feed canned cat food once a day to help boost moisture and protein levels. There are also a ton of fresh, cat-safe human foods that can be fed as treats or added to meals to supply natural food-sourced nutrients.
Is dry food the best diet for your cat? Well, that's up to you to decide now that you have the information to help you make the best choice for your cat's health.
Tips for Choosing the Best Dry Cat Food
Before we start talking about specific brands, it can be helpful to know what to look for when choosing the best dry cat food.
Dry cat foods have both pros and cons, so it's smart to look for a formula that offers the most appropriate nutrition for your unique cat. Here are a few things to look for in dry cat food to ensure that your cat can thrive:
Animal Inclusion
As carnivores, cats need a diet high in animal protein to thrive. Dry cat food is often moderately high in protein, but you should stick to dry foods that are high specifically in animal protein. Plenty of high-quality cat food brands will tell you how much of the food's protein comes from an animal source.
To ensure your cat gets the nutrients they need from the protein, look for foods that have a 60% meat inclusion or higher. This means 60% of the protein is animal protein. The higher, the better!
Low Carbohydrates
Carbs are a necessary evil when it comes to kibble diets. Grains and starches are key components and give kibble that crunchy texture and long shelf life that makes it so easy to feed.
This can't be completely avoided, but you can stick to low-carbohydrate diets that use whole grains or low glycemic starches instead of corn, wheat, soy and other inferior-quality carbs. Cat foods with high protein and high animal inclusion will often have fewer carbs.
Essential Nutrients for Cats
Cats have some unique dietary requirements that are best met with a diet rich in animal ingredients. Fatty acids are a great example. They play an important role in your cat's health, including skin and coat, digestion, and immune system.
There are lots of sources of fatty acids, but cats need specific fatty acids called EPA and DHA, which are very difficult to source from plant oils in sufficient quantities. Good dry cat food should include fish oils, like salmon or mackerel.
Cats also have a high requirement for the amino acid taurine. This essential amino acid supports eye and heart health, and without sufficient amounts, cats can get seriously ill. The best source of taurine for cats is meat, fish, and eggs.
10 Best Dry Cat Foods in Canada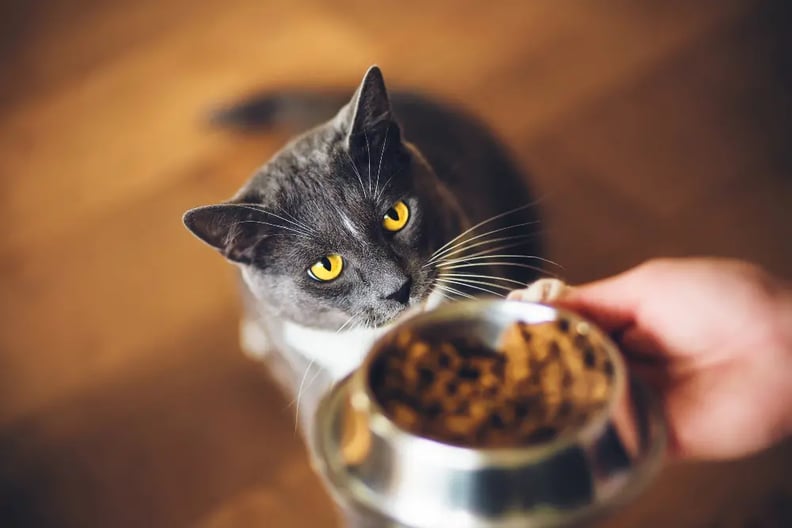 There are many excellent dry cat foods to choose from, but finding the right one for your cat requires a little research. You need to consider style, flavour, quality, and even the brand.
Chicken and fish are common protein choices for cats, but cats with allergies or digestive issues may do better on a more unique protein. Or maybe you would prefer a brand that sources its ingredients locally.
No matter what you are looking for in your cat's kibble, Homes Alive Pets can help you find the cat diet that helps your kitty thrive.
1. Acana Dry Cat Food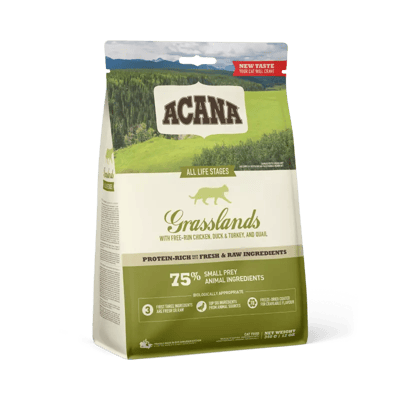 When it comes to taste, many concur that Acana Dry Cat Foods rule. The award-winning Canadian pet food brand focuses on a combination of taste and nutrition in their recipes. They use regionally sourced ingredients to craft tasty dry cat foods, like Acana Grasslands.
Acana focuses on your cat's carnivorous needs by providing foods rich in protein. They strive to offer the best dry kitten food and cat food for all stages of the pet's life.
The Acana Homestead Harvest Adult Cat Food variety is a protein-rich formula that contains human-grade meats, veggies and fruits such as duck, turkey, chicken, eggs, blueberries, and butternut squash. The food has EPA, DHA, and taurine to maintain your cat's eye and heart health. It also has omega fatty acids for a shiny coat.
If your finicky feline enjoys the taste of seafood, then they will fall in love with Acana Bountiful Catch Adult Cat Food which is made from regionally sourced seafood favourites like hake, trout, herring, and salmon.
2. Vetdiet Cat Food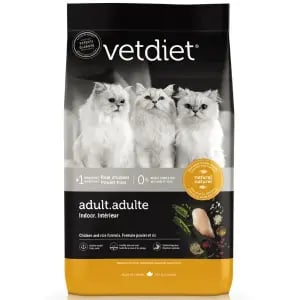 Vetdiet is specially crafted by both science and nature to offer a complete and balanced, premium cat food to support cats of all breeds, ages, and lifestyles. All Vetdiet dry cat foods start with real meat as the first ingredient, ensuring a diet that helps your little carnivore thrive.
If you are shopping for the best dry cat food for indoor cats, then check out Vetdiet Dry Indoor Adult Cat Food. The low-carb recipe and nutrient dense line contains a variety of feline formuals to support your cats overall wellness and long termhealth goals.
The Vetdiet cat line includes formulas for a cats of all ages and lifestyles as well as options to help your cat overcome specific health concerns, like dental care, weight management, and skin and stomach sensitivities.
3. FirstMate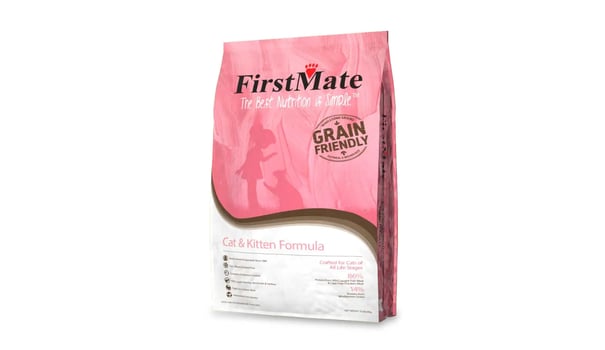 FirstMate offers grain-free and grain-friendly dry cat food recipes that feature either single or multiple protein sources. Each food in the FirstMate line has a limited ingredient list to help your cat's digestion process.
FirstMate Grain Free Chicken with Blueberry Cat Food is formulated at a family-owned facility located in Chilliwack, British Columbia. The formula is suitable for cats during all life stages.
The limited ingredient list provides optimum nutrition and is easily digestible, so a fantastic choice for kitties with allergies. The food's recipe features free-run chicken, blueberries, and potatoes but has zero grains.
FirstMate Grain Free Chicken with Blueberry Cat Food contains free-run chicken and blueberries to maintain your cat's immune health, vision, cognitive function, and urinary tract health. It features 92% protein to meet all your feline's needs and ensure optimum taste.
4. Fromm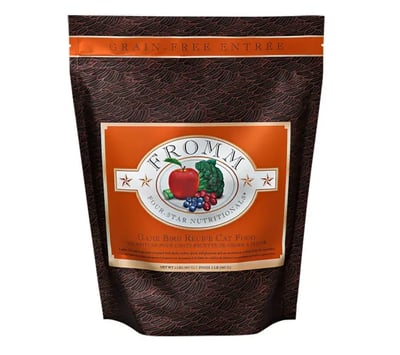 The Fromm Pet Food Company is a family-owned business that focuses on creating balanced and nutritious food for your cat. They have made pet food for five generations and continue to make each recipe a work of art which contains all the nutrition your cat needs to thrive.
In the 1940s, the Fromm family was one of the first to create a dry pet food kibble using meats and grains. The Fromm family is well-known for founding Fromm Laboratories, which developed the canine distemper vaccine that has saved innumerable animals.
Fromm Cat Food - Salmon À La Veg is one of the best cat food choices if your kitty loves a fresh fish taste. The food also contains apples, carrots, and broccoli with ample omega fatty acids and probiotics. All of the cat food recipes have no wheat, corn, or by-products.
5. GO! Solutions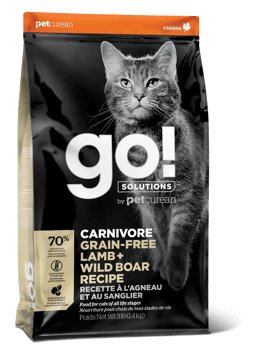 Petcurean is an independently owned Canadian pet food manufacturer that offers GO! Solutions cat food recipes that focus on essential nutrients like high-quality proteins to give your pet energy. The optimum nutrients mean you can feed your pet a smaller amount of food while resting, assured that the kitty receives optimum nutrients.
Many pet owners are having to pinch-pennies, so are shopping for great food at an affordable price. Why buy cheap dry cat food when you can buy the best dry cat food and simply feed less to save money?
GO! Solutions features grain-free and grain recipes to focus on everyday health, weight management, skin and coat, sensitivities, gut health, and carnivore needs.
6. Nutram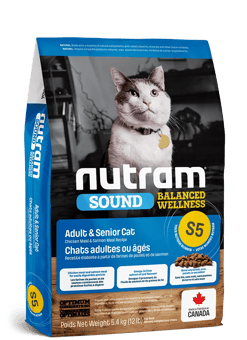 Nutram is a Canadian family-owned business with a team of in-house Certified Nutritionists who develop each recipe to ensure nutrient absorption. The foods contain natural ingredients and are sold in over 30 countries.
If you are seeking one of the best dry food for older cats choices, then check out Nutram Sound S5 - Balanced Wellness Adult & Senior Cat Food features a combination of high-quality ingredients such as salmon meal, chicken meal, salmon oil, celery seeds, cranberries, and pumpkin. The formula is rich in fibre to meet your aging cat's needs.
Nutram Sound Balanced Wellness S1 Kitten Food is one of the best dry kitten food choices. It will entice your little furry eater with chicken meal and more. It even has tiny, delicious kibble bites for small mouths.
7. Nulo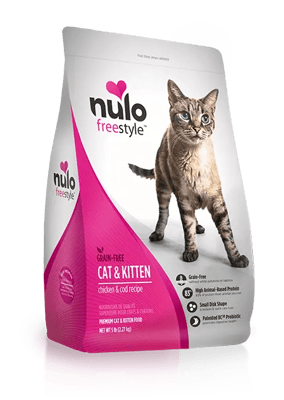 Nulo has risen to the top in pet food and has become one of the largest pet food manufacturers in California. All the foods are made in the USA.
The Nulo Freestyle Indoor Cat Food focuses on the nutrition your indoor cat needs to thrive. The formula is rich in protein, omegas, and vitamin A. The food's proper balance promotes digestion and heart health. The small kibble size ensures that your cat can easily enjoy each bite of kibble.
If your kitty regularly suffers from hairballs, then check out Nulo Freestyle Hairball Management Adult Cat Food. The delicious food features ample animal-based protein combined with other wholesome ingredients, including miscanthus grass, taurine, and a special patented probiotic known as Ganeden BC30.
The food is specially balanced with proteins, minerals, fats, and vitamins to help your cat naturally pass hairballs.
8. Orijen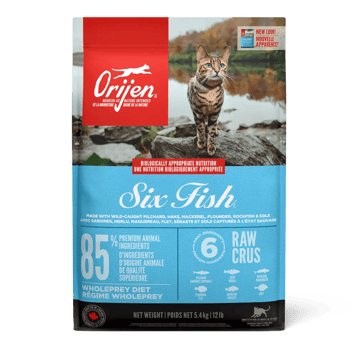 Orijen is a leading Canadian brand that focuses on providing foods based on your cat's ancestral roots. The best dry food for cats' recipes is rich in protein with low carbs. All the ingredients in Orijen's foods focus on maintaining a lean, healthy weight and muscle mass.
If you are looking for an everyday dry kibble that provides your cat with exactly what the pet needs, then Orijen Adult Cat and Kitten Food is an ideal choice. The food is made of 85% prey animals such as turkey, chicken, chicken liver, chicken heart, hake, and herring.
The recipe is free of unwanted fillers like grains. The food meets your cat's carnivorous needs while supporting the skin, coat, heart, and digestive system.
9. Farmina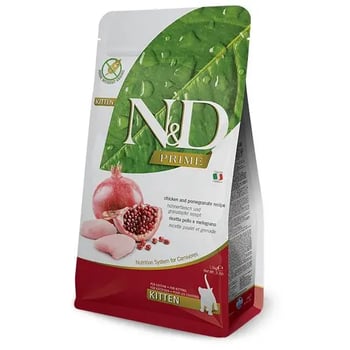 Farmina blends science and nature to create the perfect cat food. The foods include all-natural ingredients to create delicious meals that felines love.
If you are looking for one of the best dry cat food formulas for urinary tract health, then check out Farmina N&D Quinoa Functional Feline Cat Food - Urinary Duck. The food contains all-natural proteins to help your cat's urinary tract health.
The recipe contains 96% duck with chamomile, cranberries, and blueberries. The food is rich in vitamins A and C. The ingredients have been specially formulated to maintain your cat's urinary tract and prevent bladder stones and struvite stones from forming.
Farmina Natural & Delicious Grain-Free Feline Adult Cat Food Formula - Chicken and Pomegranate is a grain-free, low glycemic food that contains 98% free-range chicken along with pomegranate, carrots, blueberries, and apples to assist the immune system and improve the skin/coat.
10. NOW Fresh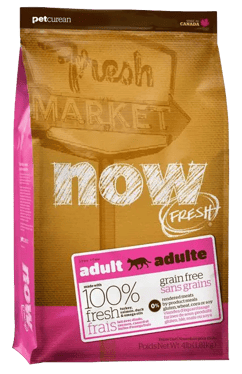 The Canadian-owned company NOW Fresh launched in 1999. It is a part of Petcurean, which focuses on creating outstanding pet foods made from fresh ingredients. All the food is made from market fresh meat and fish along with produce.
NOW Fresh offers the best dry cat food for every stage of your cat's life, such as kitten, adult, and senior. Each of the foods is grain-free. All the meats used are natural, deboned, and hormone-free. NOW Fresh is considered one of the best dry cat food Canada brands.
Best Dry Cat Food FAQs
Is dry cat food actually good for cats?
Yes! High-quality dry cat foods, like the ones in our list above, can be perfectly safe and highly nutritious when properly supplemented with water or other high-moisture foods.
Which dry cat food brand is the healthiest?
It's hard to pick just one. Orijen is widely considered one of the best overall dry cat foods in Canada, but there are many premium brands that offer unique and healthy formulas, like Farmina, Nulo, and FirstMate, just to name a few.
What's the best dry cat food for indoor cats?
Acana Indoor Entree offers carefully balanced calories and essential nutrients to ensure appropriate weight in indoor cats.
For Even the Pickiest Felines!
Luckily, when shopping for the best dry cat food, there is a wide array of brands offering premium ingredients to ensure a lifetime of nutrition for every stage. All the 10 brands above offer outstanding dry cat foods to satisfy even the pickiest feline.