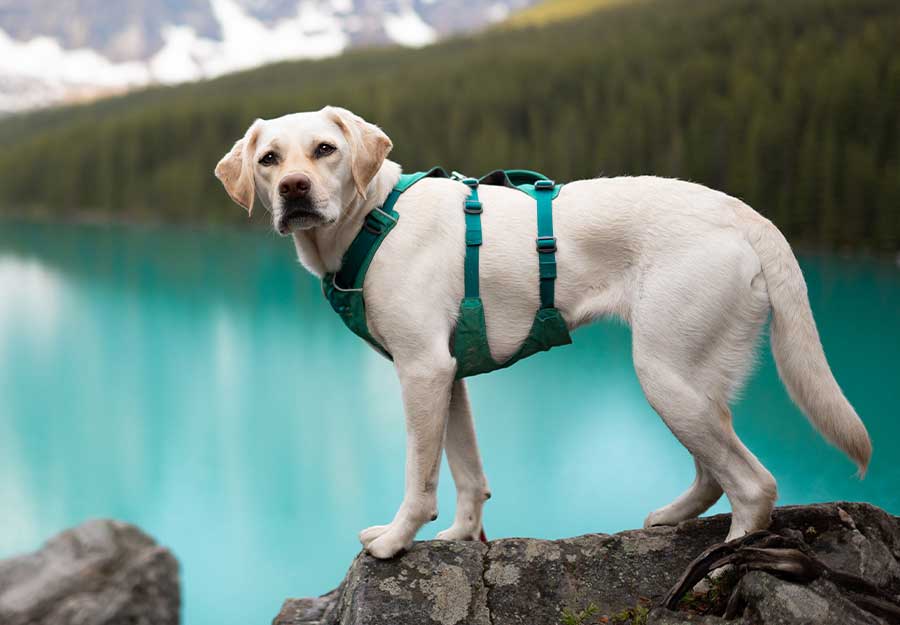 Do you use a collar or a harness for your dog? We believe that harnesses are best for walking, running, and other adventures with your dog, but which is the best dog harness? Let's look at the many types of dogs harnesses to help you choose the right one.
Harnesses are an effective tool for safely and securely walking with your dog, but choosing the right walking gear isn't always easy. Picking the best dog harness for your pooch will ensure comfort and safety.
If you are new to dog harnesses, then picking the right one may be tough. Before you can start shopping, let's go over why harnesses are an effective walking solution, so that you can look for the style, type, and size that will best suit your dog and his favourite outdoor activities.
Is a Harness Better Than a Collar?
If you are unsure whether you should be using a collar or a harness, you are not alone! To make the best choice, you have to consider how you are using the gear to ensure that it it the safest and most effective tool for your adventures.
Dog collars are perfectly safe for dogs that walk casually with a loose leash, but if your dog is still practicing his walking manners, then a collar might be a dangerous option. Dogs that pull, lunge, or rapidly change direction could cause damage to their necks, throat and spinal cord when using a collar.
In addition, collars are easier to escape from if your dog is feeling frightened, anxious, or overly excited.
Harness are more effective for correcting poor walking habits, and will evenly distribute pressure across their shoulders and chest, instead of their fragile necks.
Collars still have a place, though. Collars are especially important to ensure that your dog is properly ID'd and licensed. Collars can be left on all the time, whereas harnesses should only be used for walking and other outdoor activities.
What to Look for in a Dog Harness
Before we get to the list, let's take a look at some of the styles and features of a harness that you need to consider when shopping around for the right harness for your unique dog.
Function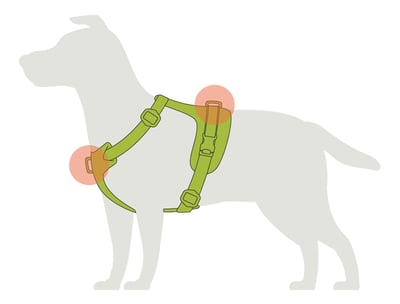 When we are talking about harnesses for walking your dog, one of the key differences in its function is where the leash attaches. A standard harness connects at the back, while other styles, especially those designed to stop your dog from pulling, come with a front attachment point.
Some harnesses offer both front and back attachments. This is designed to accommodate two touch training. Though less common, two touch training is an effective method for teaching appropriate walking manners using directional control.
When choosing a harness for your dog, make sure you are considering how the harness will need to function to suit yours and your dog's activities and needs. Here are the 3 factors you should keep in mind:
1. Adjustability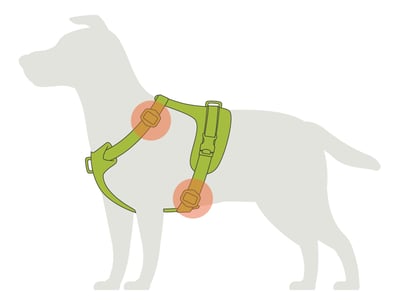 Harness should be adjustable so that it can be properly sized for your pet. Look for harnesses with multiple points of adjustment to ensure both comfort and security.
An adjustable harness is also a desirable quality for puppies. Dog's under the age of 12 months are going to grow quickly, so a harness that can grow with them will save you the money and hassle of frequently replacing your pup's harness after each growth spurt.
2. Comfort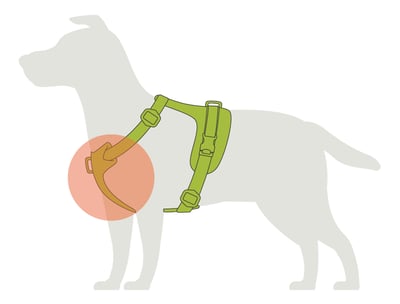 There are different styles of harnesses that may be more comfortable on certain types, shapes, and sizes of dogs.
A padded chest piece may provide more comfort than a strappier harness. Some harness can cause chaffing on dogs if they are poorly sized, made with uncomfortable material, or are used in the wrong situations.
3. Sizing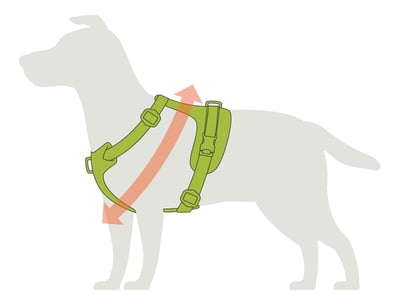 Some dogs align perfectly with the handy sizing charts for each harness, but for those dogs that don't fit the stereotypical dog shape or are an "in-betweener" size, you are better off looking for harnesses that offer a greater range of sizes.
10 Best Dog Harnesses
A harness that suits one situation, may not suit all. Remember that you may need different harnesses for different adventures, or find a harness that is multi-purpose. To help you make the best choices, we put together a list of the 10 best dog harnesses:
1. Best Basic Harness – Rogz Step-In Harness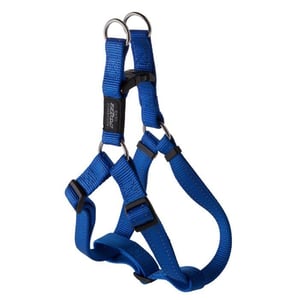 If this is your first harness, or you are just in need of a casual everyday harness, then the Rogz Step-In Harness is a great choice.
This easy to put on back clip harness is suitable for casual walks for dogs of all ages and sizes. It's called a step-in harness for a reason. Just slip each of your dog's paws through each side of the harness, and snap it up behind his shoulder blades, like a bra.
Your leash connects through both metal rings on the back of the harness so that any pressure from your dog pulling is spread across your chest and shoulders, not their neck.
2. Best Front Clip Harness – Ruffwear Front Range Harness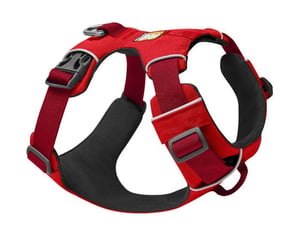 This lightweight harness is our most popular harness for a reason. It's comfortable, adjustable, and highly functional.
With two connection points, the Front Range Harness is versatile, but we chose it for our favourite front clip harness because of it's fit. Many front clip harnesses fit different shapes of dogs differently, but the front range is designed to fit more universally.
This harness fits securely and comfortably and attaches higher up on the chest to give you more control over your dog.
3. Best Dog Harness for Hiking – Ruffwear Flagline Harness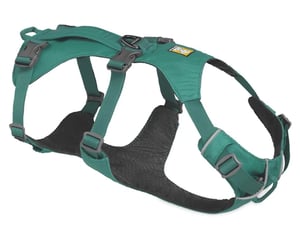 Adventure dogs need a multi-purpose harness to suit their challenging treks. The Ruffwear Flagline is a supportive harness with a durable handle to allow you to lift and assist your dog across tougher terrain.
The padded chest and long belly pieces help to distribute pressure across their chest and torso evenly and comfortably. The three adjustment points ensure a secure and safe fit for your dog.
4. Best Small Dog Harness – RC Pet Cirque Harness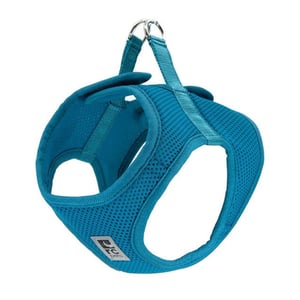 They may not have a lot of weight to throw around, but many spirited small breed dogs still pull with all their might. Harness are highly recommended over harnesses for small breed dogs, as their delicate necks are more likely to sustain damage from a collar.
The RC Pet Cirque Harness is easy to use and is made from a soft mesh material to allow your dog to be comfortable and cool. The step-in style is preferable for a lot of small dogs as it keeps pressure from pulling lower down on the chest and fit comfortably like a sweater.
5. Best No Pull Harness – Walk Right Harness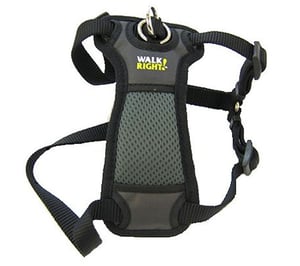 For strong pullers, the Walk Right Harness is designed to support the strength of your dog by turning the tables back on him. This harness is designed to pull back across your dog's shoulders and chest whenever he pulls, preventing him from using his full force to drag you around.
The padded chest piece is comfortable and prevents chaffing, even in short-haired breeds. The Walk Right harness also has both a front and back connection point to best suit your dog's walking style. It can also be used for two touch training and will reduce pulling and lunging.
6. Best Dog Car Harness – Kurgo Impact Harness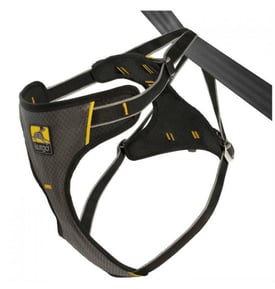 When it comes to car safety, not every dog car harness is equal, and many aren't even crash tested to prove that it can protect your dog in the event of a car accident.
The Kurgo Impact Harness is crash-tested for dogs up to 130 lbs. This comfortable harness is easy to fit and size, and features steel buckles and durable tubular webbing that is guaranteed to support the weight of your dog.
7. Most Fashionable Dog Harness – Woof Concept Harness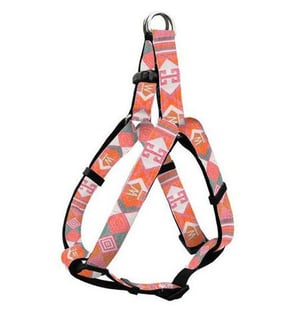 Being safe and making a statement doesn't have to be mutually exclusive. The Woof Concept Step-In Harness is a basic harness with unique and fashionable designs for dogs that love to walk but want to look good doing it.
Made with 100% dual-layer polypropylene webbing, these harnesses are comfortable and easy to keep clean. With over a dozen patterns to choose from, Woof Concept offers matching collars and leashes for a complete head-turning look.
8. Best Dog Face Harness – Gentle Leader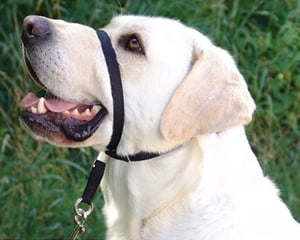 Some dogs respond well to face harnesses. This style of harness allows you to gain better directional control over your dog and reduces pulling. The Gentle Leader is one of the most well-known face harness brands.
This harness is small but effective. It fits over your dog's snout and attaches to the leash below their chin. When your dog pulls, the harness will turn his head back towards you so that you can follow up with directions and verbal commands.
The Gentle Leader is not the right solution for every dog and does take most dogs some time to adjust, but it can be very effective when used properly.
9. Best Large Dog Harness – Hurtta Weekend Warrior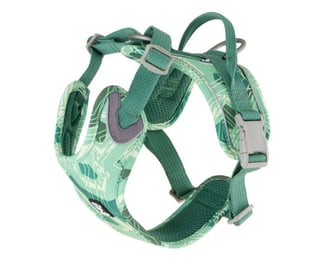 Big dogs need a comfortable, durable, and supportive harness. Finding the right harness for large and giant breeds can be tough, so we chose the Weekend Warrior because it checks so many boxes.
It can be used for activities like hiking or running but is soft and comfortable enough to be used as an everyday, casual harness. The comfortable chest plate is designed to distribute their weight and strength so that you have more control.
The durable handle at the back of the harness allows for quick control or assistance and is adjustable around the chest and shoulders to accommodate larger and more muscular breeds.
10. Most Comfortable Dog Harness – Canada Pooch Everything Harness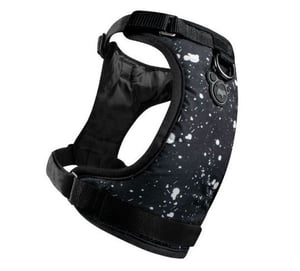 This soft and lightweight polyester harness is comfortable and secure. It's adjustable straps allow for the best fit, and the soft chest and back pieces prevent chaffing and discomfort during movement.
The Everything Harness has both waterproof and breathable mesh options to accommodate different activities. With both front and back leash attachments and a built-in handle, the Everything Harness is suitable for a variety of activities and outings.
Size Matters
We mentioned that sizing is important, so make sure you are measuring your dog properly to find the right harness. Check out How to Measure Your Dog for some helpful sizing tips. If possible, bring your dog in to try on the harness, or keep the receipt and packaging. It's not always easy to predict how a harness will sit, move, or flex with your dogs activities.
Do you use a collar or a harness? Let us know what your favourite walking gear is and how you use it!