If you walk into a dog collar aisle at a pet store or browse selections online, you are likely to be overwhelmed by all of the options available. Different colours, textures, widths, sizes, and designs make for hundreds of choices. Unfortunately, many pet owners make common mistakes with their dog collar selection and practice, simply because they are unaware of how important a decison buying your dog's collar is, as well as sizing it properly and using it safely.
This dog collar buying guide is designed to help you make an educated decision about what type of collar is best for your dog, easing the selection process. We'll also go over dog collar troubleshooting, as well as common mistakes that pet owners make when choosing and using a dog collar and how you can avoid them.
How to Size your Dog Collar
Before you begin looking for dog collars, it is important to know what size your dog's neck is. The easiest way to measure your dog's neck size is with a measuring tape. A shoestring and measuring tape or ruler works in a pinch, too.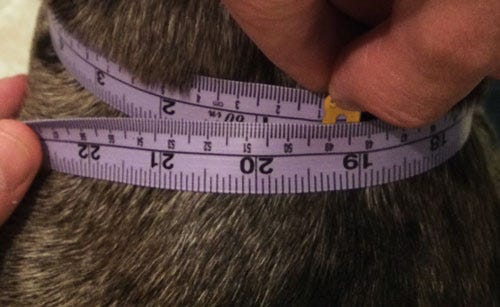 Take the shoe string or measuring tape and wrap it around your dog's neck between the ears and the collar bone, where your dog will wear his collar. Add 2 inches to this measurement, and you have your dog's neck size.
When you put your dog's collar on, you should be able to fit two fingers underneath, between your dog's body and the collar. You want the collar to be tight enough that it won't slip over your dog's head, but you want it loose enough that it won't choke or strangle your dog.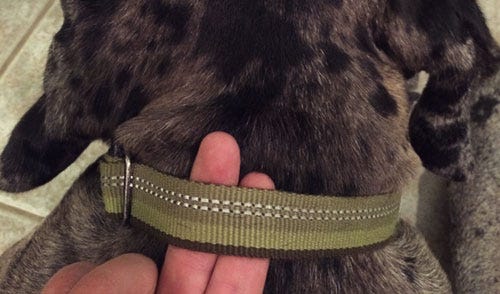 Types of Collars
When choosing a type of collar for your dog, consider what your dog's needs are and his daily activities. You may like to have a few different types of collars on hand for various uses.
Standard
Standard dog collars are by far the most common. These collars are easy to put on and take off, and can be as simple or as fashionable as you please. Standard collars are generally nylon or leather, and come with plastic or metal buckles.
Martingales and Chain Collars (Training Collars)

Choke chains (also called slip collars) can be very damaging to your dog if not used properly. Some trainers still argue that they are effective for teaching stubborn dogs to walk well on a lead, but there are safer options out there, like the martingale collar.
Martingale collars are effective training collars that are similar to choke chains, but they are safer and more comfortable. These collars are essentially half nylon and half chain, allowing the collar to synch up a certain amount if your dog pulls. This prevents you from doing any damage to your dog's esophagus.
TIP: When sizing your dog's martingale, fit it so that you can place 2 fingers underneath when the chain is slack. This will make it effective if your dog tries to pull.
Safety Collars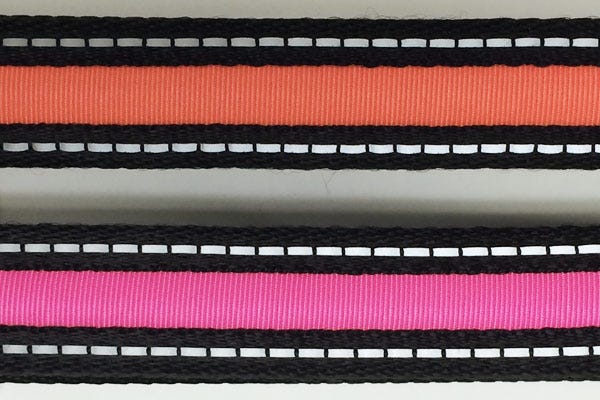 Safety dog collars, such as EzyDog collars (pictured above), are ideal for when you walk your dog early in the morning or in the evenings when it is dark. These collars provide either solid or flashing lights so that cars and other pedestrians will be able to clearly see your dog when you are out for a walk. Many standard nylon collars include reflective safety strips. As an alternative, you can also find attachable lights or reflectors that fit most collars.
Materials
Once you have determined the type of collar that would work best for your dog, you can look at material types. Most dog collar types come in a variety of different materials, each with unique benefits and drawbacks. To help you understand the differences between the materials used in dog collars, here are some of the pros and cons of each.
Neoprene
Neoprene is a soft rubber material that is used in wetsuits, and its reinforced with nylon webbing for added strength, stretch, and durability. Neoprene makes for excellent waterproof dog collars.
Pros
Cons

Comfortable
Perfect for dogs that like to swim
Fast drying (moisture-wicking)
Good for pets with skin allergies

More expensive
Bulkier than nylon
Limited designs
Chain
Chain collars, also called slip collars, should only ever be used for training purposes and never left unattended on a dog. They pose a strangulation risk for dogs left alone, a risk that increases in the cold weather months when the chains move less easily. Choke chains can be very effective when used properly, but can also be very harmful if they are not used properly, causing severe neck and trachea damage.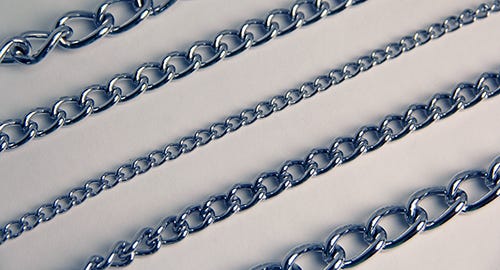 Pros
Cons

Durable
Tough image
Will not stink
Can be helpful for training stubborn dogs

Should not be left on unattended dogs
Not for extreme cold temperatures
Can be harmful if not used properly
Incompatible with certain leashes
Here is a quick video to help you make sure that you know how to use choke chains properly:
Nylon
Nylon dog collars are the most prevalent types of collars. There are a huge variety of patterns, colours, widths, and qualities within this dog collar category. Ideal for dogs to wear around the house, on walks, and for attaching ID tags, nylon collars are the multi-purpose, standard collar. Fashion-forward pets (and people!) can have fun with the myriad of styles and designs of the most common, but certainly not most boring, of canine accessories.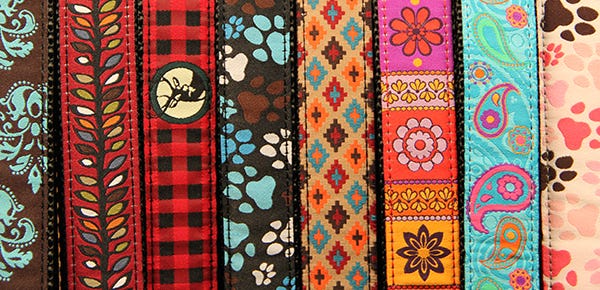 Pros
Cons

Inexpensive
Unlimited variety of patterns & designs

Can become smelly over time

Less durable

Difficult to clean

Dogs can have an allergy or sensitivity to nylon
Leather
Leather dog collars are a classic, durable style of collar that provide a great balance of both looks and practicality. While more expensive than most collars, quality leather collars can be expected to last for years.
Make sure when you are buying your dog's leather collar that you choose a collar made from genuine leather. Bonded leather, while made from real leather, is a conglomerate of scrap leathers with a bonding agent to bind them. This type of leather may look and feel like genuine leather, but it is not as durable and is an inferior product. While bonded leather would still be suitable for a dog collar, it won't have the same durability.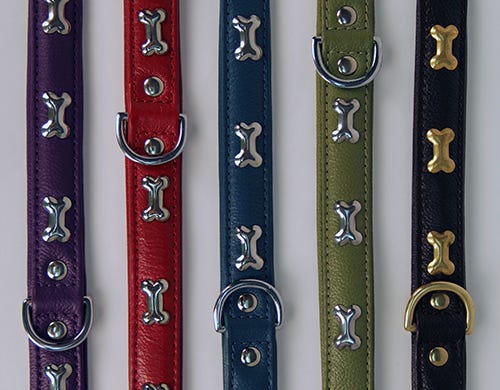 Pros
Cons

Durable
Good for pets with allergies or skin sensitivities
Natural material
Breathable (can help with smell
Easy to wipe clean

Limited designs
Expensive
Can still become smelly over time
Faux Leather
Faux leather, also called vegan leather or pleather, is an inexpensive material that makes up a lot of cheap dog collars that are on the market. While collars made from this material may be less expensive and fashionable, they won't last as long or be as durable as standard leather. Avoid this material for everyday use, only using it for fashion collars (if you so desire).
Pros
Cons

Inexpensive
Comes in many colours and styles
Can be a viable vegan option (not all artificial leathers are vegan, however)

Breaks down quickly; not durable
Cheap materials
Man-made materials
Other Considerations
Buckles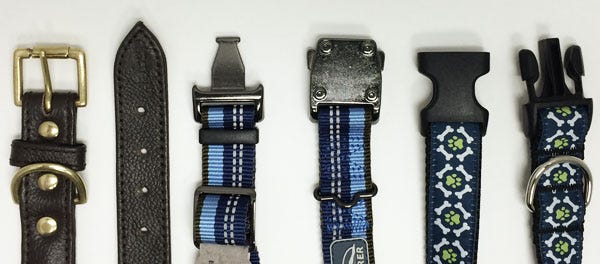 Buckle style often comes down to personal preference, but there are some considerations to make. Plastic buckles are easier to put on and take off, but these can get brittle in cold temperatures and also lose integrity with weather exposure (sun and other elements), so plastic buckles may not be the best choice for outdoor pets. Metal buckles are stronger and generally more secure. These durable buckles may be better for dogs who are prone to chewing their collars (or their housemates' collars) or larger, stronger dogs who pull more.
Certain buckle designs, such as those in Rogz dog collars, offer buckle locks for a more secure fit.
Colourfastness
Every once in a while, collars will bleed the colours of the dyes into your dog's fur. This is most common with nylon collars. This is particularly a problem with dogs who have sensitive skin or allergies. If this happens, consider a higher quality nylon collar, or even a leather collar.
DIY Collars
With the prevalence of Pinterest and pet blogs, DIY projects for pets have gained a surge in popularity, but there are a number of precautions that you should bear in mind when deciding to make or buy a homemade collar. DIY safety should always be your first concern when making a homemade project for your dog. One of the worrying things about these types of collars is that they can contain inferior materials, including old leather belts (which are more porous than new leather used in commercial collars and prone to stretching), yarn, ribbons, nylon cord, T-shirt material, and more. While these collars may be cute, they are of dubious strength and safety. The same goes for store-bought collars that are very cheaply made.
It's also popular to add beads, feathers, sequins, bows, charms, treat holders, and other fashionable, decorative elements to dog collars, but these can be dangerous for dogs to ingest and should be avoided unless you are closely attending your dog.
Though you may choose to make a pretty collar for the holidays or a photo session, NEVER leave your dog unattended with a DIY collar or collar accessories. Homemade pet collars have not gone under any safety testing, contrary to most well-made collars. While DIY collars can be fun, only use these when the dog is under your supervision for their safety. It's not a good idea to attach leashes or ID tags to these types of collars, either.
Collar Accessories
There are a number of dog collar accessories that are made to complement your pet's collar for various reasons, including decoration, safety, storage, and more. While these may be helpful, I would refrain from using them as there are often other safer and more comfortable options out there. Lights, reflectors, and treat compartments are often available as leash accessories, and there are even backpacks for storage that you can get for your dog for hiking trips. Avoid attaching anything unnecessary to your dog's collar as it can irritate or add stress to your dog's neck, or pose other risks such as ingestion. If you do attach something decorative or functional, only use it when you are with your dog and remove it when your dog is unattended.
A simple engraved ID tag with your contact information and any vet or municipality-issed tags should be all that is on your dog's collar.
Dog Harnesses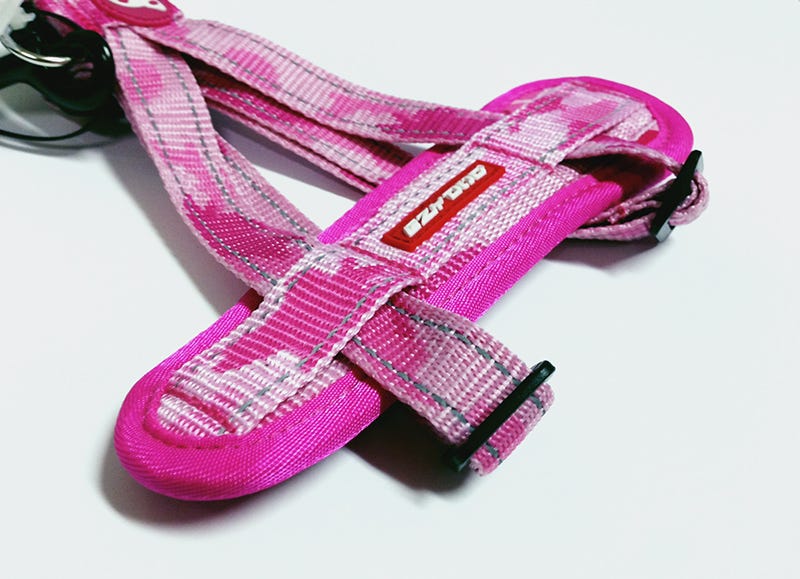 Dog harnesses are an effective tool for walking, transporting, and handling your pet. With reduced stress on your dog's neck and increased control, harnesses provide better functionality than collars in many situations. They can be helpful for training and essential for dogs with slim necks, such as whippets or greyhounds, and brachycephalic dogs, such as pugs and bulldogs. But you don't have to choose between a collar and a harness. Collars are still more comfortable for pets to wear 24/7, and so are recommended for almost all pets to wear with their ID tag at all times. Harnesses can be on hand for more controlled walks, easy trips to the vet, training, and more. Like collars, dog harnesses come in many different materials and types, such as training harnesses, halters, and pull harnesses.
Buying a Collar for your Puppy
Buying a puppy collar is a little different than buying a collar for an adult dog. Puppies experience quick and sporadic growth, and therefore require more attention to their collar selection by their caregivers.
Here are a few tips to consider when buying a collar for a puppy:
Buy a collar that fits well now. When buying your puppy a collar, you want to get the most for your money, but don't let a few pinched pennies put your dog at risk. Buy a collar that fits your puppy well at his current size. While you should keep the future in mind, the most important thing is that your dog's collar fits well at all times. A collar that is too big can fit over the dog's head, be chewed on, or even pose a strangulation risk. Too small collars can choke your dog, cause skin irritation, or even obstruct breathing.
Lay the one collar myth to rest. If you are fitting a collar for your puppy, you will buy another collar at some point in your dog's life. Very few dogs will fit the same collar from when they are a couple months old through adulthood. Expect that you will need to buy another collar when your dog reaches adulthood (or perhaps before).
Find a collar that leaves room for your puppy to grow. Puppies grow. Fast. While buying a cute and impossibly small collar might be tempting, it's better to choose a collar that will fit your dog in a couple of months. Puppies grow a lot, particularly in the first few months, so you want to make sure your puppy's collar has at least a couple of months of use out of it. Usually there is some overlap between sizing. If you can find a bigger collar that fits well, choose it over a smaller one that fits.
Size your puppy regularly. Because of your puppy's rapid and unpredictable growth pattern, you should be sizing its neck at least every two weeks. You should be able to slip two fingers underneath your dog's collar at any time. Readjust your puppy's collar as needed or purchase a new one. If your dog seems like he is gasping for air or is having breathing issues, check to make sure his collar is not too tight.
Matching a Leash to Your Dog's Collar
While the options for
dog leashes
can be as extensive as choosing your dog's collar, you should consider how your dog's collar choice might affect the type of leash that is appopriate for your dog. Conveniently, many leashes are designed to match perfectly with your dog's collar.
| | | |
| --- | --- | --- |
| Dog Lead Type | Compatible Collars | Incompatible Collars |
| Standard | All | None |
| Retractable | Standard, Safety | Martingale, Choke Chain (Slip Collar) |
| Leash Splitter (Double-Leash) | Standard, Safety | Martingale, Choke Chain (Slip Collar) |
| Training Leash (very short) | Standard, Safety | Martingale, Choke Chain (Slip Collar) |
Conclusion
To recap: Ultimately, choosing the right dog collar for your pet comes down to five questions:
What will your dog's collar primarily be used for: everyday wear and tear, swimming, walking at night, or training? Remember that you may want to have a few different types of collars for various uses.
What materials would be appropriate for your dog's collar function, your personal preference, and your dog's well-being?
What, if any, considerations or accessories would enhance your dog's collar functionality?
Is a dog harness appropriate?
What kind of leash would work with my dog's collar?
You're done! Now you should be fully equipped to begin shopping for your dog's perfect collar with confidence, knowing that you have educated yourself, explored all the options out there, and weighed the pros and cons of each. You've been warned about common dog collar buying and using mistakes, putting your dog's safety and well-being first.
If you have found this guide helpful in your decision-making process, please share it with your friends.