Many pet owners are rightfully concerned about where their dog treats are coming from these days. With more recent pet illnesses and deaths attributed to dog jerky treats from China because of products from well-known stores such as Costco, people are worried that their pet may fall victim to tainted treats.
How do you avoid dog treats from China? Choose locally-sourced products made with quality ingredients and high manufacturing standards. Such as these all Canadian dog treats. Many companies try to hide where their ingredients come from by using misleading marketing ploys, such as including "Made in Canada" or "Quality Checked in Canada" on the package when the processing plant is the only thing Canadian about them.
Avoid dog treats sourced in China by choosing these proudly Canadian natural dog treats and chews. Each of these products is 100% Canadian, including all ingredients and manufacturing.
1. Puppy Love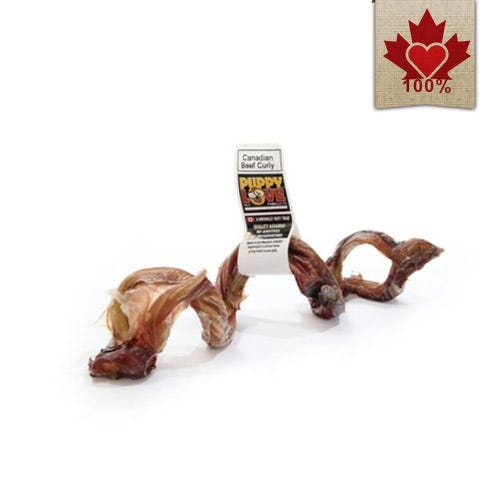 Made in our very own Lethbridge-neighbouring town of Fort MacLeod, Puppy Love sources all of their raw materials from right here in Canada. Puppy Love treats are guaranteed to be made and processed right here in Canada. Puppy Love boasts an impressive line-up of delicious and unique natural chews, including beef tendons, bison backstraps, and elk livers. More to love, eh?
2. Snack 21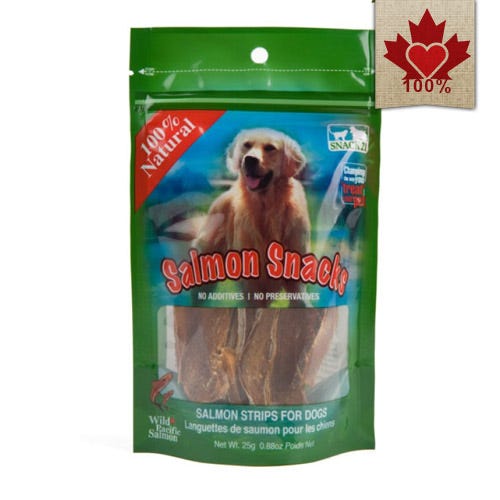 Snack 21 is well aware of the games that pet treat manufacturers play, and they steer very clear. Snack 21 only uses the meat portion of the Canadian Wild Pacific fish in their treats, with or without the skin (depending upon the product). Nothing else. No hidden ingredients, preservatives, or additives of any kind. Unlike other treat companies that go around the world outsourcing products or ingredients, Snack 21 treats are 100% sourced in Canada and manufactured close to home at their facilities in Richmond, B.C., Canada. They are in full control, from the cutting of the fish to the packaging of the product, to maintaining product quality, consistency and traceability.
Snack 21 also makes Canadian cat treats - good news for Canadian cat lovers.
3. Orijen Freeze Dried Treats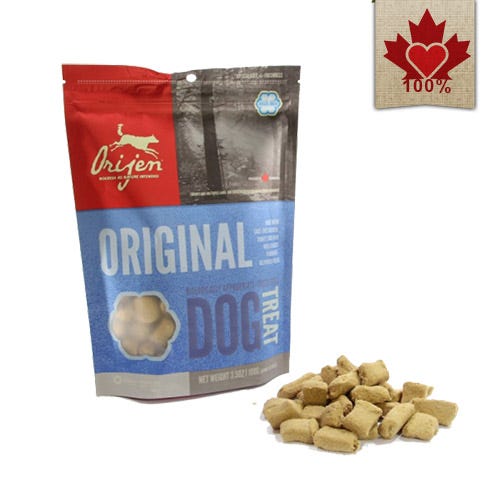 Orijen is one of the most well-known Canadian pet brands, and for good reason. You may know them for their top quality grain-free dry dog food, but Orijen has more to offer your pets. Orijen freeze-dried treats only use fresh, regional ingredients -- never outsourced -- and they are made in Orijen's own facility in Oakville, Ontario, Canada. These freeze-dried treats are protein-rich and loaded with flavour, not to mention adored by every dog I have ever given them to.
The only exception for Orijen Freeze Dried Treats is that their Venison is sourced from a reputable supplier in New Zealand. I confirmed with Champion that this is the only ingredient that they could not source from within Canada.
4. True Raw Choice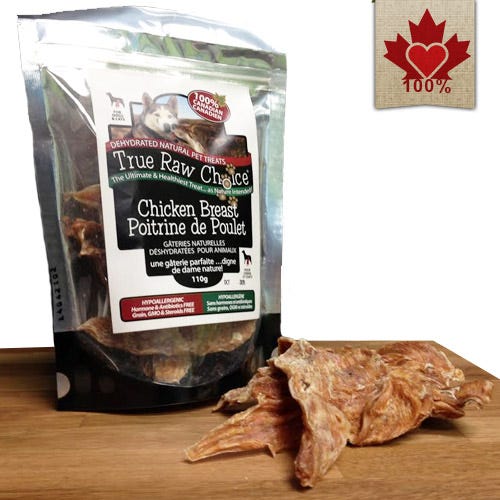 True Raw Choice is a new, family-owned and operated natural dog treat brand founded in Guelph, Ontario, Canada. Owner Paul Spindler is a certified pet nutritionist, behaviourist, and trainer, and as such is committed to your pet's health and well-being. True Raw Choice treats are certified organic, grain free, hormone free, additive free, and 100% Canadian. Choose from an array of all natural, dehydrated protein sources such as duck, Alaskan pollock, green tripe, and rabbit.
5. Urban Dog Elk Antler Treats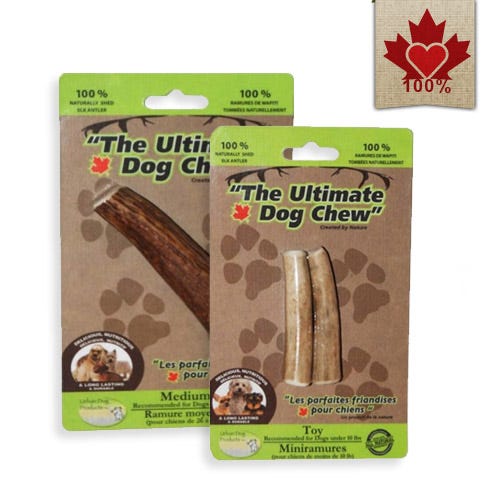 Each spring, male elk shed their antlers so a fresh set can grow. That's where Urban Dog gets the 100% naturally shed antlers for their dog chews - government-inspected Canadian farms. The antlers that go into Urban Dog Ultimate Dog Chews are collected and shipped to their facility where they are cleaned, sterilized, and then prepared for sale. Urban Dog treats are a naturally odourless, artificial flavour and colour free, all natural treat for your dog, and they happen to be one of the longest lasting dog chews out there. Chew on that!
Are you concerned about where your dog treat ingredients come from?
---